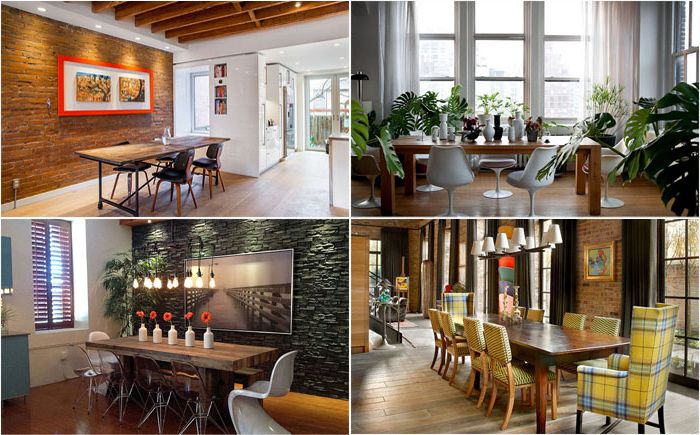 20 industrial dining rooms – beautiful, colorful and functional

As you know, fashion moves in a circle, and interior design is no exception. In recent years, there has been a revival of styles and trends, which designers are giving a new elegant look. Industrial is one of the main styles, whose influence is felt the most in the modern world. Discreet, putting ergonomics over beauty, it returns again. An overview of the best dining rooms with a timeless design.
Brick, metal and wood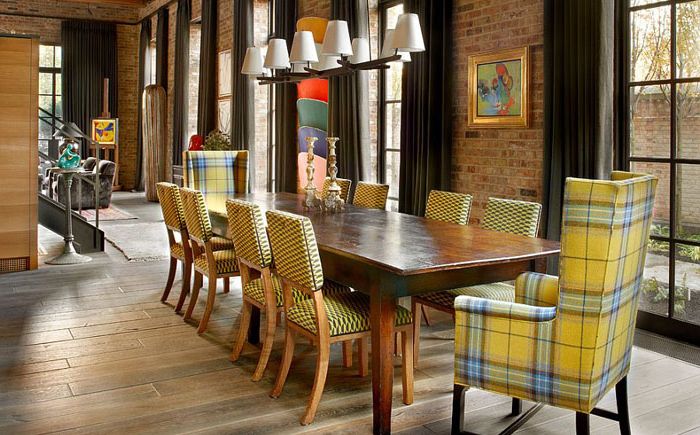 Bright yellow in the dining room by Bruce Fox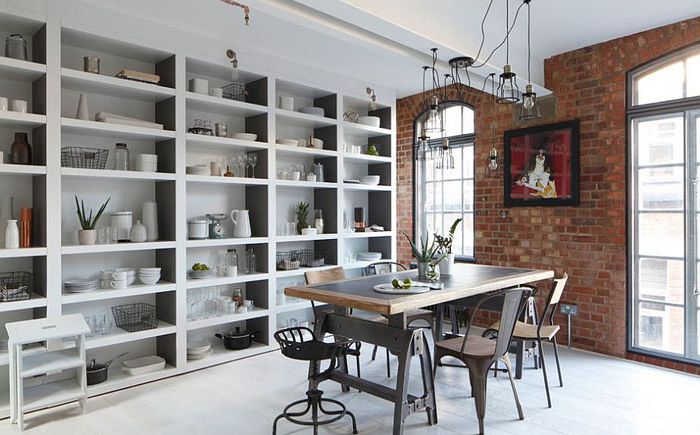 Industrial style charm by Oliver Burns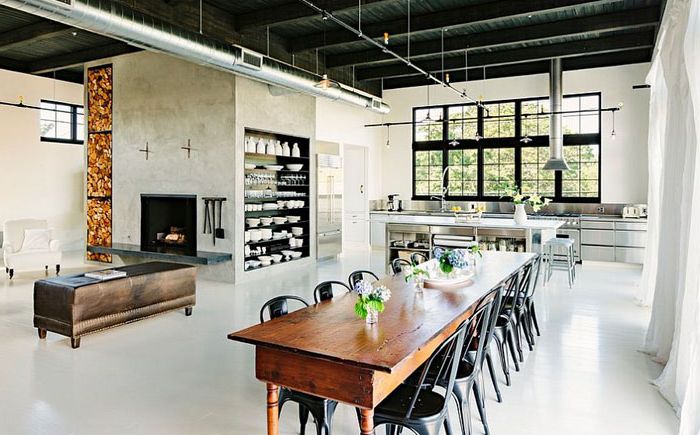 Open plan by Emerick Architects
To decorate the interior in the style you like, you definitely need to understand its main components. In the case of industrial style, they can even be called driving forces. Since its inception, since the era of industrial revolutions, it has not been supposed to focus on the visual beauty of the place, it is a working atmosphere. That is why modern designers have an amazing mix of contrasting textures. The dining room should fully correspond to the chosen direction.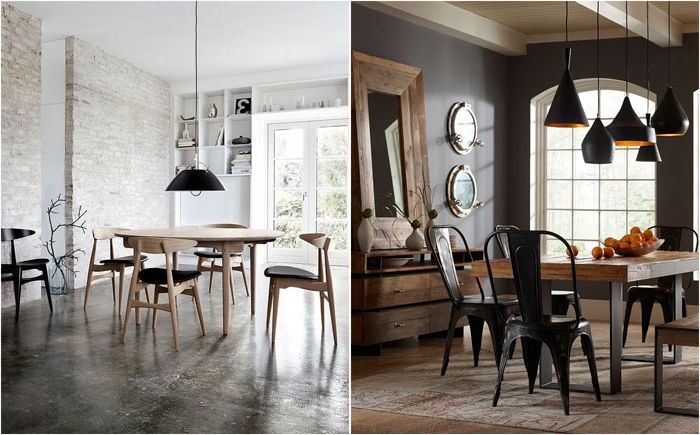 Industrial dining rooms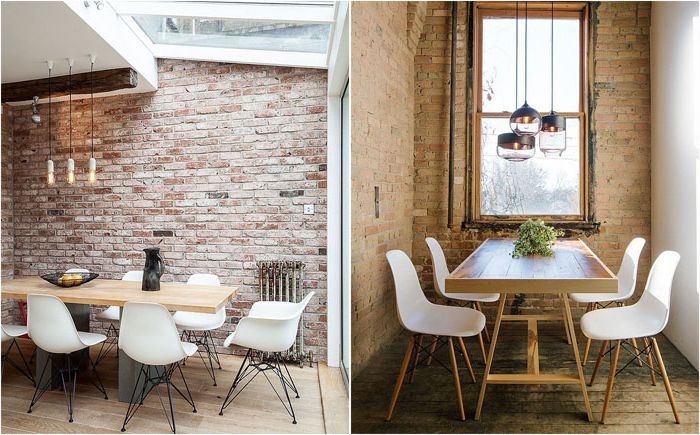 Brick wall – the main texture of the style
Brick walls are a clear favorite among homeowners for industrial-style dining rooms. They help to achieve harmony that combines home comfort and interior avant-garde. Metal window frames, solid wood beams, raw concrete surfaces are the perfect combination to create a unique dining room. All that remains is to supplement all this with a correctly selected color scheme..
There is never too much light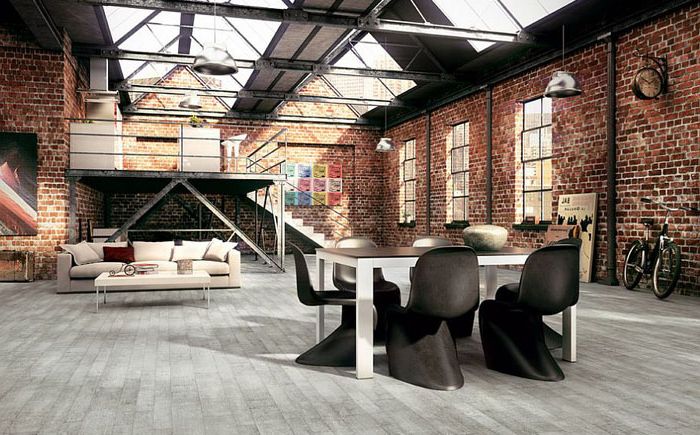 The visual contrast of the black chairs by APAVISA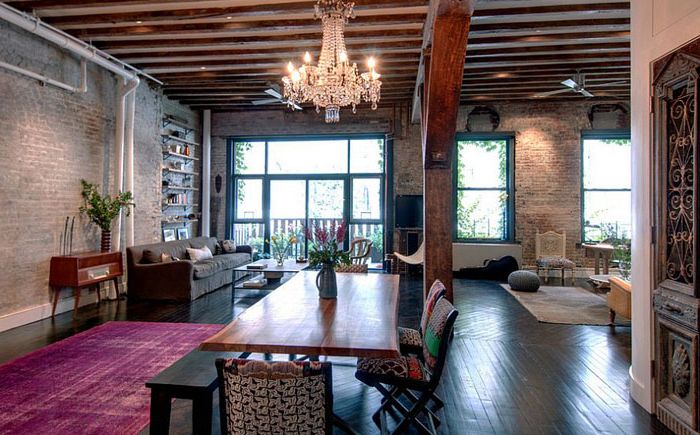 Unconventional industrial chandelier by Reiko Feng Shui Design
Lighting plays a decisive role in any interior, but in Asian, Mediterranean and industrial styles, it becomes twice as important. In general, preference is given to traditional large metal lamps that fit perfectly into this interior.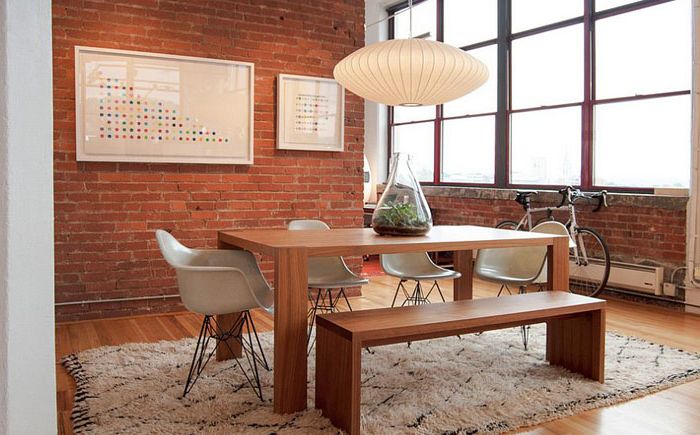 Cozy industrial dining room by KEA Design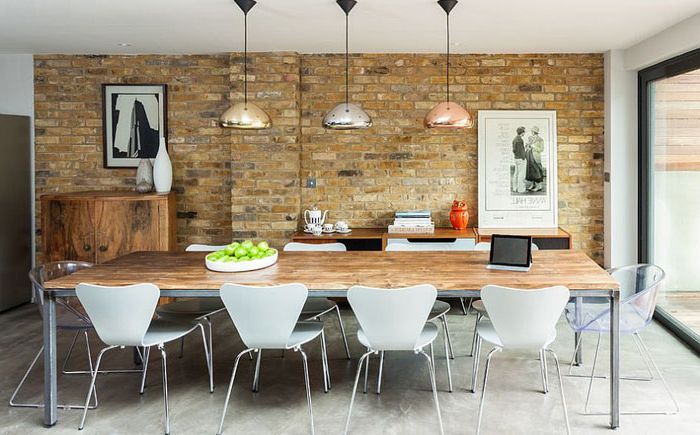 Industrial dining by Casey & Fox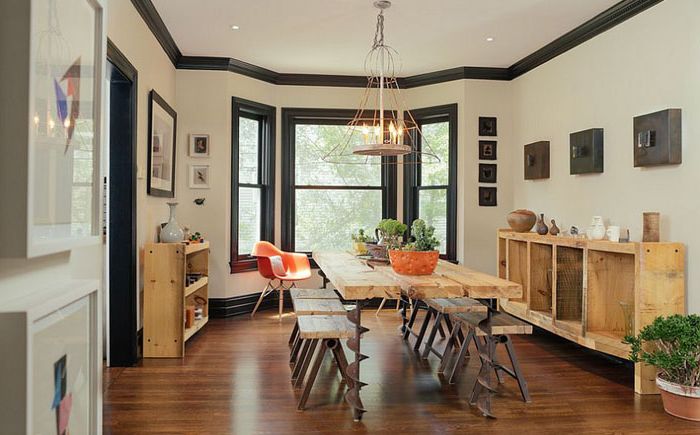 Original dining room chandelier by McIntosh Poris Associates
There are also alternative options that are in no way inferior to the generally accepted choice. For industrial dining room lighting, any chandelier that has the appropriate ambiance will do. They only add modern charm or medieval magic to the interior, creating an amazing fusion of styles. It can be luxurious chandeliers from Tom Dixon, and handmade lamps. The main thing is that they match the colors and other decorative elements..
Functionality comes first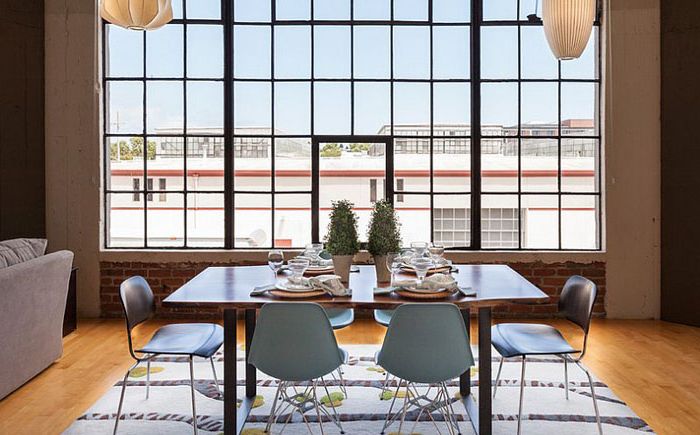 Mix of vintage chairs and wooden table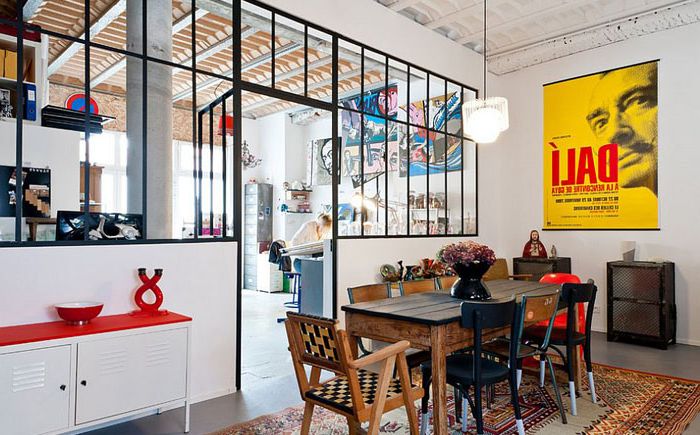 Dining room with bright accents from 161 degrés




Indoor flowers as a feminine element
Most often, an industrial-style room is a large open space, but a small room will also look great. True, for this, the dining room will need to pay more attention. First of all, you need to solve the issue with lighting. If the room is really small, then you will have to visually expand it at the expense of the living room. The color gamut should be minimal. Only one dominant texture is chosen as a background – brick, metal or concrete.
Unusual avant-garde look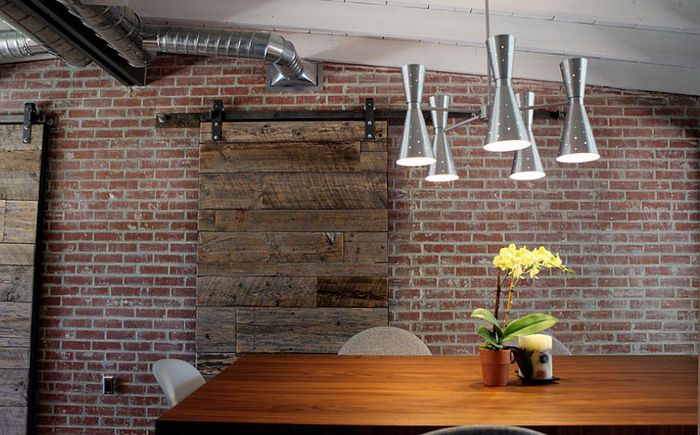 A mix of contrasting textures from The Ranch Mine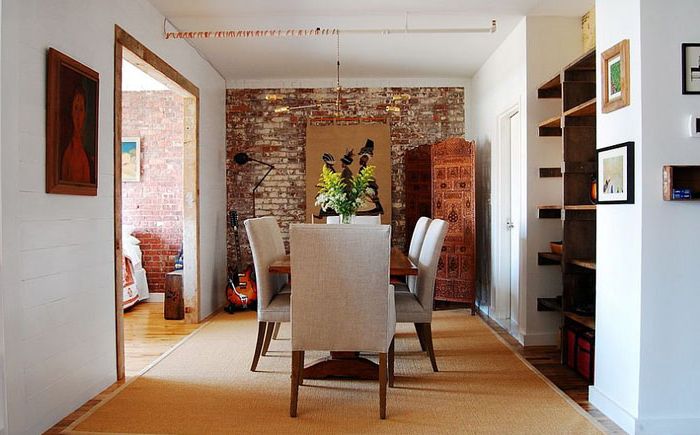 Painting in the interior of the dining room in an industrial style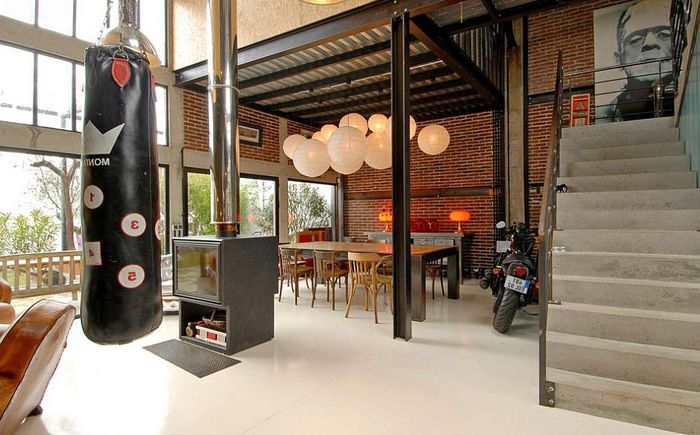 Industrial-style loft by Zoevox
An industrial-style dining room allows you to experiment with decor and accessories much more freely than any other. Huge chandeliers, daring paintings on the walls will look original, even a vintage bicycle will come in handy. A custom-made dining table, an eclectic mix of chairs, an unexpected splash of colors can all create a unique dining atmosphere and become a stunning backdrop. True, you need to watch out so as not to overdo it with details..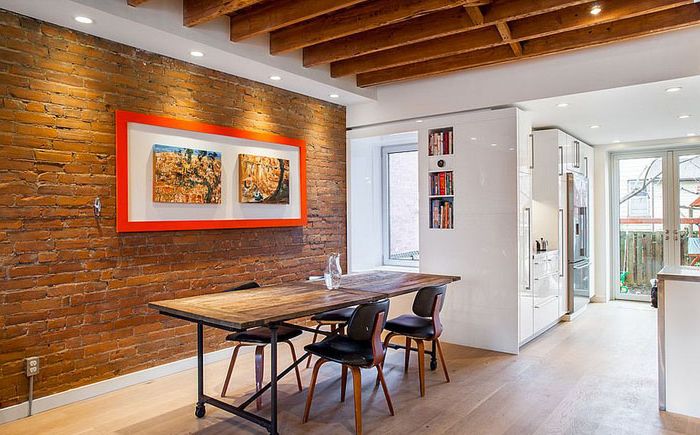 Industrial dining room by Wanda Ely Architect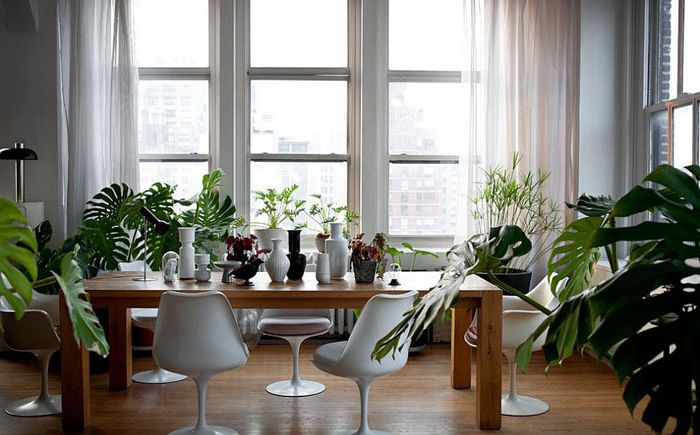 Luxurious modern industrial dining room by Studio Recreation Inc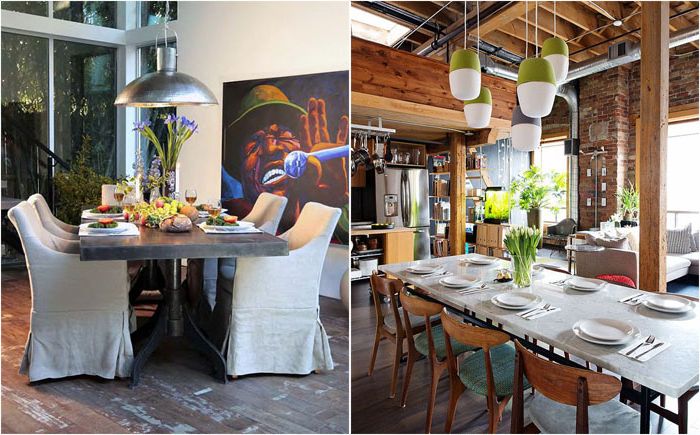 An amazing mix of retro and industrial styles
Used items, restored decor are also an integral part of the industrial style. It could be old painted car parts, a vintage vase on the dining table – anything you can find at a flea market. The interior must certainly be given individuality, and this will require imagination.