The turquoise interior is particularly attractive. It is aquamarine, the first grass, fresh greenery, a light sea breeze.
Turquoise gets its name from the color of the mineral, hydrated copper and aluminum phosphate. This mineral is a valuable semi-precious semi-precious stone bearing the Persian name "firuza", or a stone of happiness.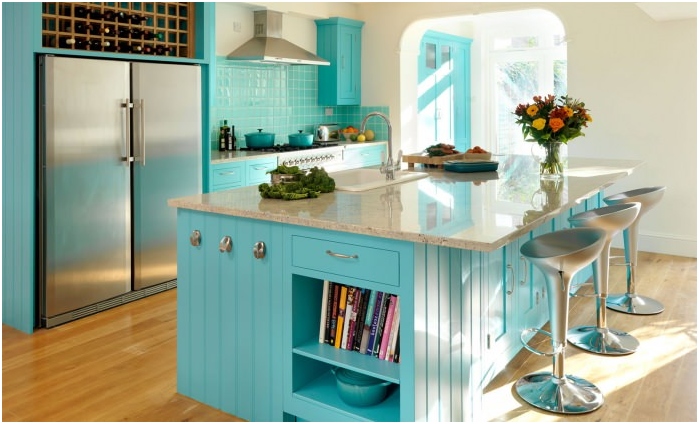 Turquoise comes in different shades and saturations, respectively, and turquoise can have a lot of different variations. Interiors with a turquoise color can be safely considered natural, since this color is found quite often in nature: these are the waters of the sea, and the colors of the sky before sunset, and the leaves of exotic plants.
Depending on what colors are next to turquoise, it can change its shade. Blue gives turquoise blue, green – juicy tones of grass. And this ability must be taken into account when using turquoise in the interior..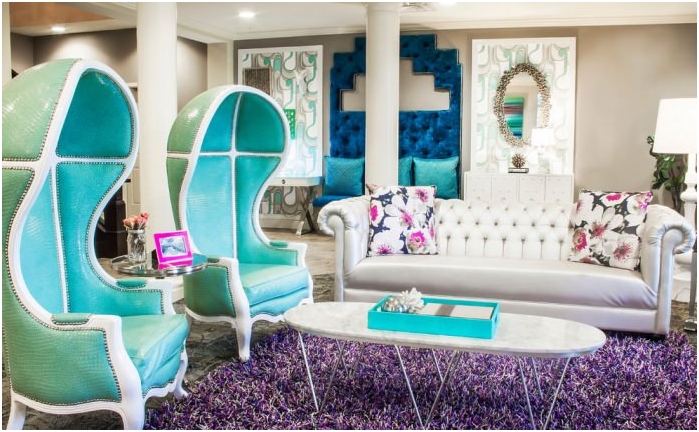 Combinations
White. Together with white, turquoise will create a feeling of freshness, and is especially suitable for a nautical style. This combination is also used in Mediterranean styles, especially in its Greek version..
The black. Quite a rare combination, suitable for exclusive interiors. Looks great in gloss. This combination can be supplemented with white.
Beige. Interiors with turquoise color can be in beige tones. Bright turquoise will beautifully set off light beige shades, playing the role of a color accent, and delicate turquoise tones in combination with beige create a calm color scheme. This combination is very fond of designers, and is used especially often..
Red. The interior in turquoise colors can be supplemented with shades of red and yellow – raspberry, orange. These are expressive, creative combinations that will help you create bright, memorable images..
Brown. Shades of chocolate go well with turquoise. Dark or light warm tones of wood are in perfect harmony with the coolness of turquoise and form "tasty" a couple like a chocolate mint gastronomic duo.
Silver. The shine of the metal matches well with the turquoise color in the interior. Silver metallic surfaces and soft turquoise tones are modern and stylish together. Silver fabrics and accessories look spectacular.
It is better to use turquoise in bright rooms with windows facing south. Where daylight is not enough, turquoise can look a little gloomy..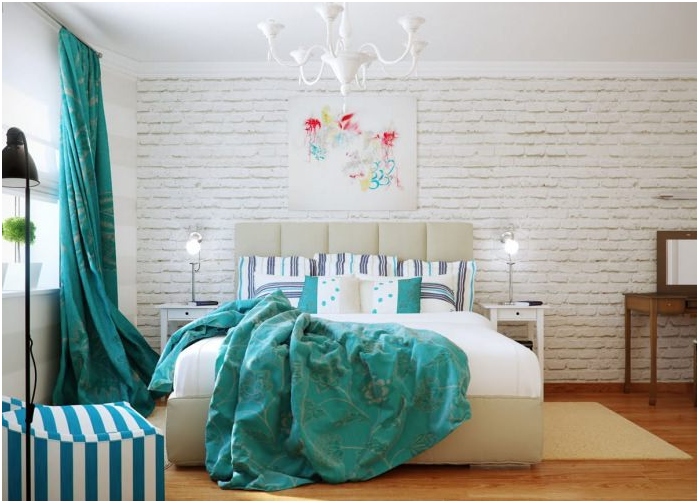 Shades
The color palette used in turquoise interiors is very wide. The lightest, pastel colors can be used as the main tone when painting walls, furniture, and even the ceiling..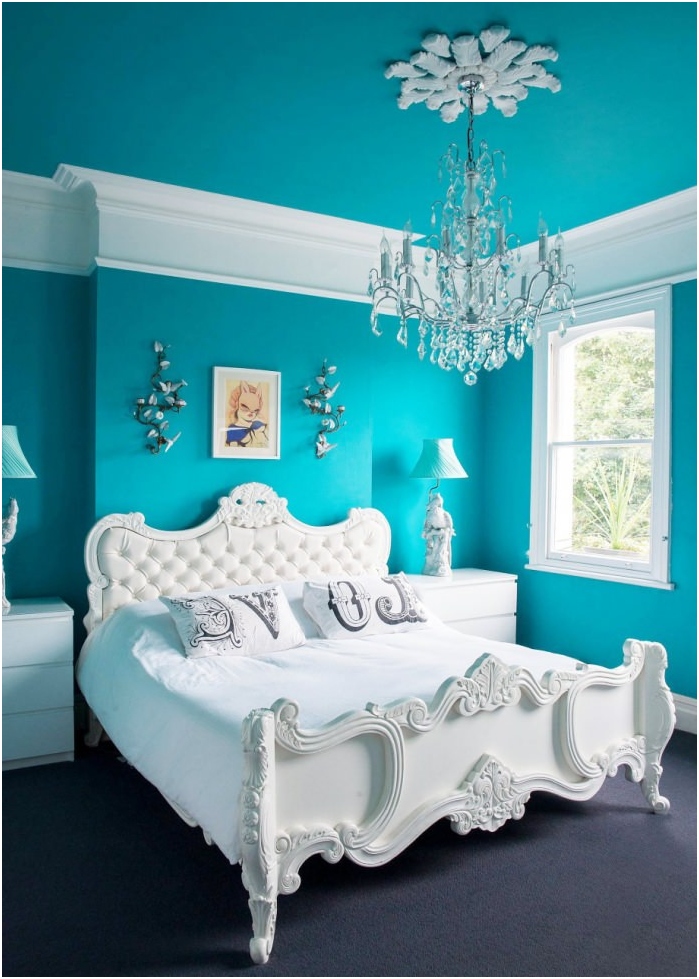 Complemented with bleached blue, beige, brown tones, they will create a calm, gentle atmosphere full of warmth and comfort. Such combinations are good for bedrooms, children's rooms..
The richest, brightest shades of turquoise work best for accent. This way you can paint individual pieces of furniture, protruding beams or columns, moldings and cornices..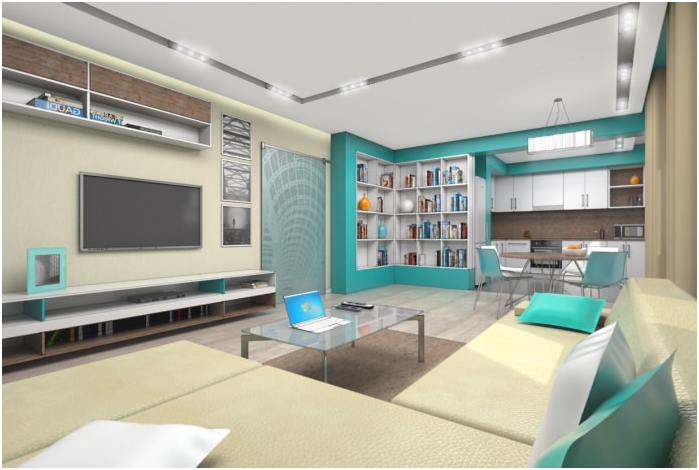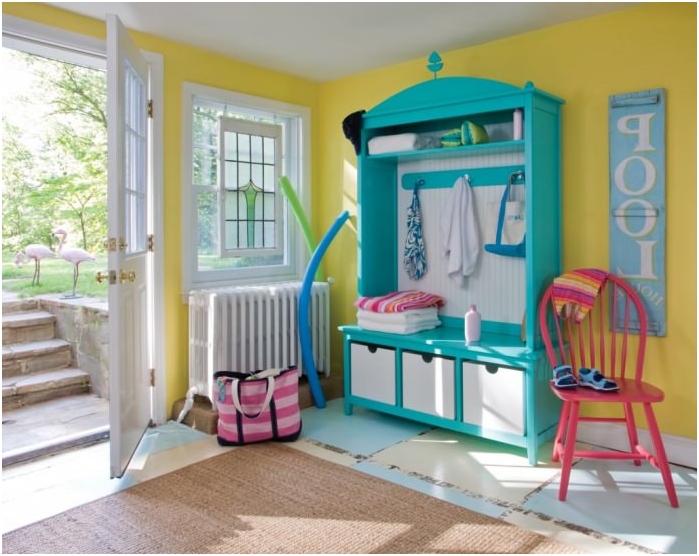 Textile and other decorative elements can be bright turquoise.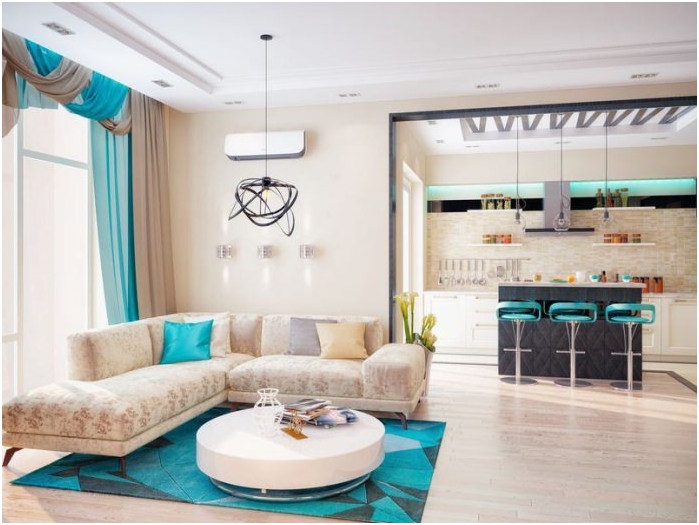 You cannot create an interior in turquoise tones using only its various shades. It is imperative to add at least one or two matching tones..
In addition, turquoise tends to require at least two different shades, such as light on the walls and bright in detail. Since it is an active color, it should not be used in large quantities..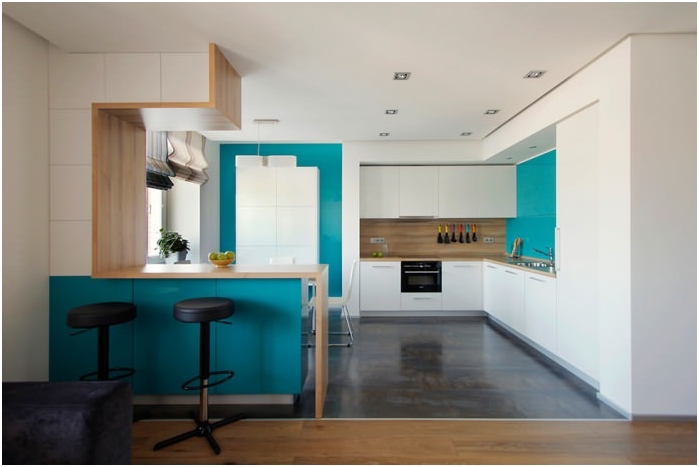 Tip: Turquoise is a complex color and is perfect for an aged surface. It is often used to make "aged" furniture, giving it "shabby" species. You can also "age" walls. Usually a similar technique is used when decorating interiors in Provencal style, shabby chic style.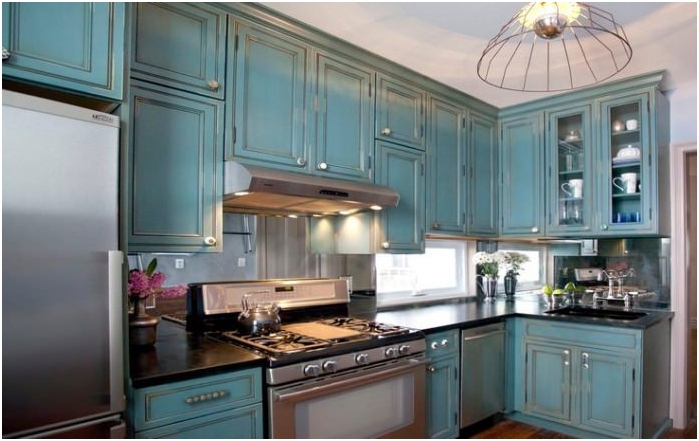 The turquoise color in the interior does not limit the designer's choice of style, it is equally well suited to modern minimalism, and to a man-made loft, and to folk Provence, and to the cold northern Scandinavian styles.