A small entrance hall is a problem in almost all standard apartments on the secondary market. A dark, uncomfortable and ultra-compact room is difficult to improve. But at the same time – the hallway is considered the face of the house, and the more comfortable and attractive it will be here. the better for the entire apartment as a whole and for each of the tenants separately. So how to equip a small hallway?
Content
The main ways to increase space
Choosing the right color and light
We design the walls correctly
Rules for the selection of finishing materials for the floor and ceiling
What furniture is suitable for a small hallway?
The main ways to increase space
Magic is impossible here, and various redevelopments are not always advisable. And the main principles of visually increasing space include:
Use minimalism as the main design style. It is better to allocate a corner in the bedroom for vases, figurines and napkins, and not to clutter up the hallway with them, which already suffers from a lack of space.
Open hangers should be replaced with closed, compact and spacious cabinets. So the room will practically not be fragmented, but will acquire integrity..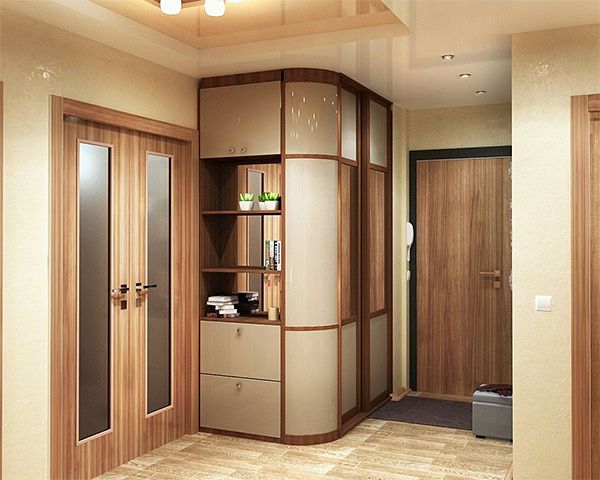 Let there be several mirrors in a small hallway or one large one on the facades of the cabinet. A floor-standing design will also work, just make sure it's safe to install.
It is better to choose interior doors translucent, with glass or mirror inserts. You can do without them altogether by decorating the openings with arches or pretty curtains. Then there will be more light in the hallway.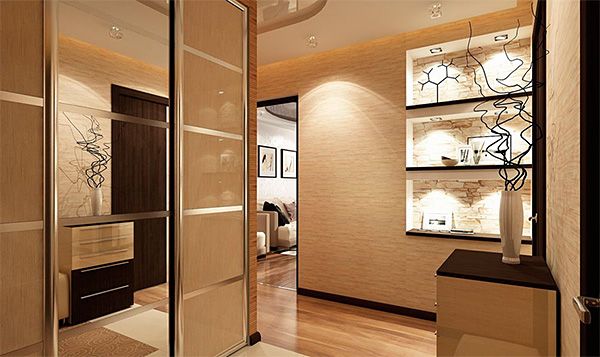 Lighting fixtures can be placed around the perimeter of the ceiling – when the whole room is lit up and loses its dark corners, it will become visually larger.
Choosing the right color and light
In a small hallway, exceptionally light shades are welcome – they expand the walls and look attractive and fresh.
Council. If you need to include bright accents in the design, make sure that there are few of them. Each such «blotting» must be surrounded by perfectly clean surfaces, otherwise the area will look uncomfortable.
And do not forget about the competent combination of shades – you should not combine more than three complex tones in a small hallway, and each of the shades should be used at least twice.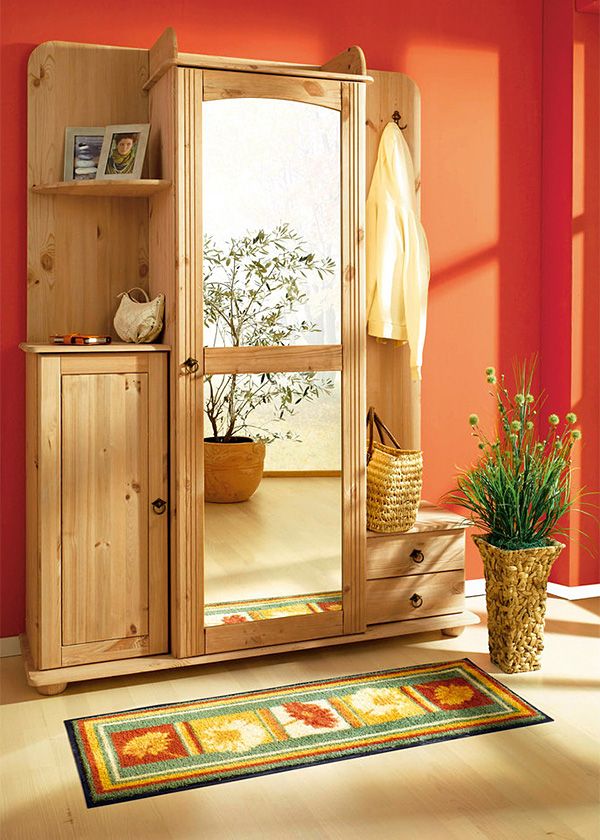 Painting the walls bright red
Lighting also plays a huge role in the perception of a room. And in the hallway there are no sources of natural light, so you will need to carefully choose lighting fixtures. If we are talking about a long corridor, place spectacular sconces or small lamps in a row on the wall, and in a compact square it is better to perform a bright ceiling light.
We design the walls correctly
The choice of finishing materials for a small hallway is a real art. After all, here practicality should be in perfect harmony with style and modern design solutions. Among the popular finishing materials, it is worth highlighting painting, wallpaper and panels..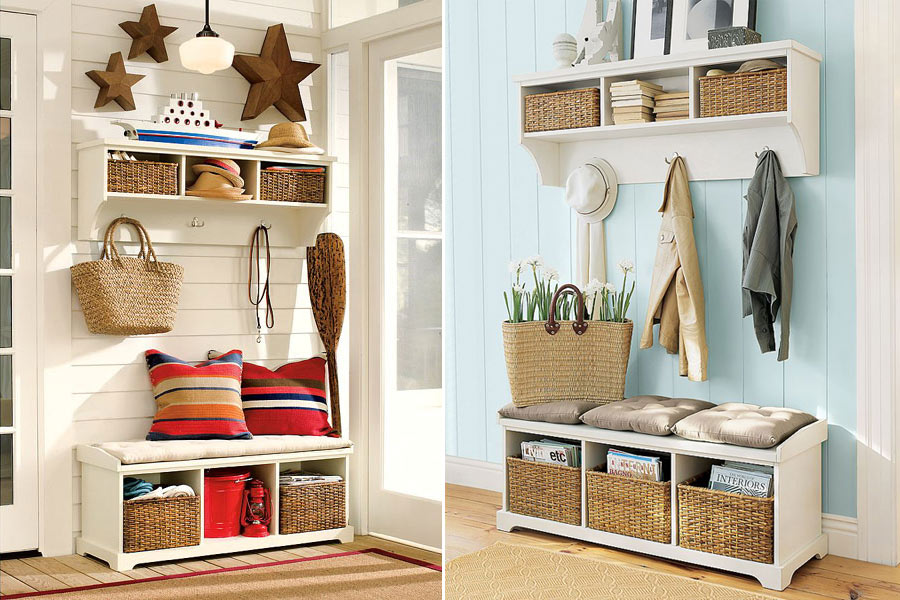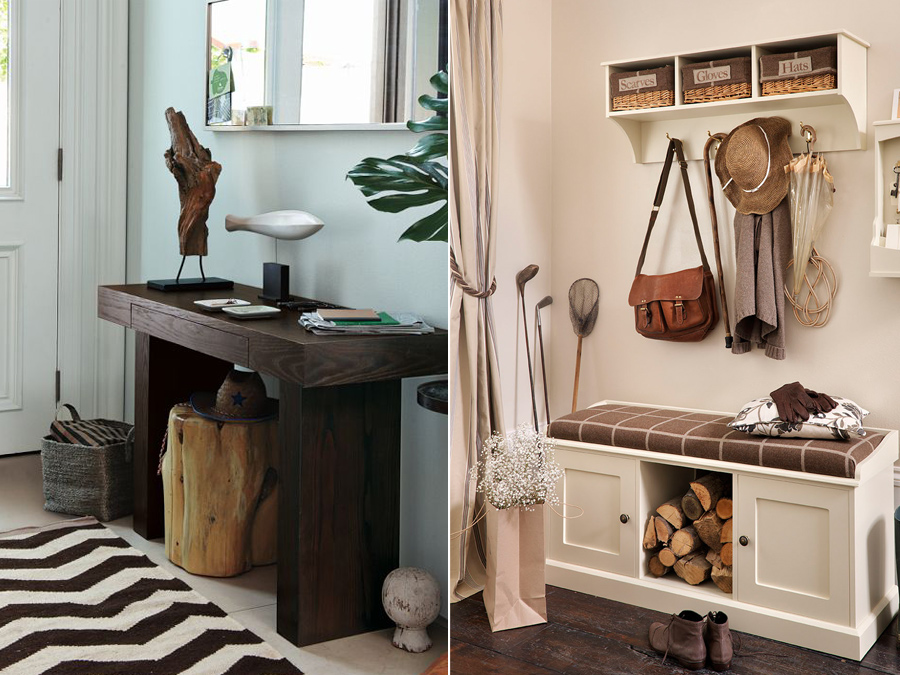 Painting the walls in light color
Wallpaper decoration
In the current catalogs, it will not be difficult to choose spectacular light canvases in any of the interior styles. But in the hallway, a special role should be given to the material. Paper wallpapers for walls are not suitable, as they are not strong enough and moisture resistant.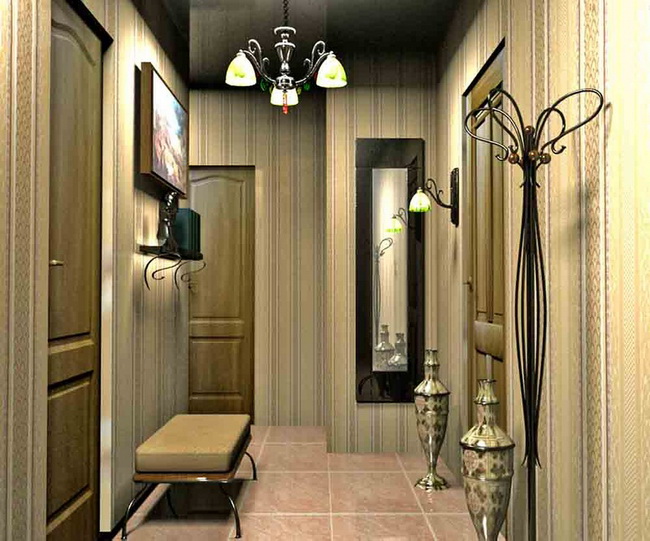 Wall decoration with wallpaper
The best choice is vinyl and non-woven coatings with a pronounced relief texture and with a special moisture-resistant coating. In this segment, you can also choose wallpaper for painting, which is very easy to update..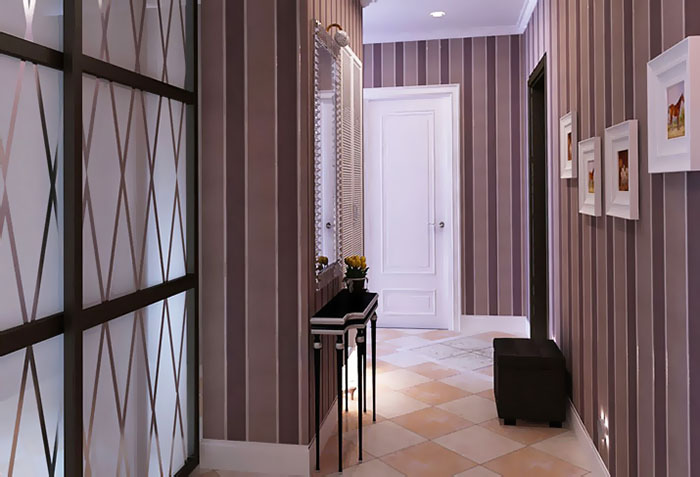 More expensive glass wallpaper is also suitable, allowing you to additionally reinforce the walls, as well as liquid wallpaper – a special composition based on textile fibers, which is applied according to the principle of decorative plaster. This material attracts with a wide range of colors and good maintainability..
Paneling
For the walls of a small hallway, you can choose panels – MDF and PVC as a finishing material. They are mounted on a frame and are characterized by: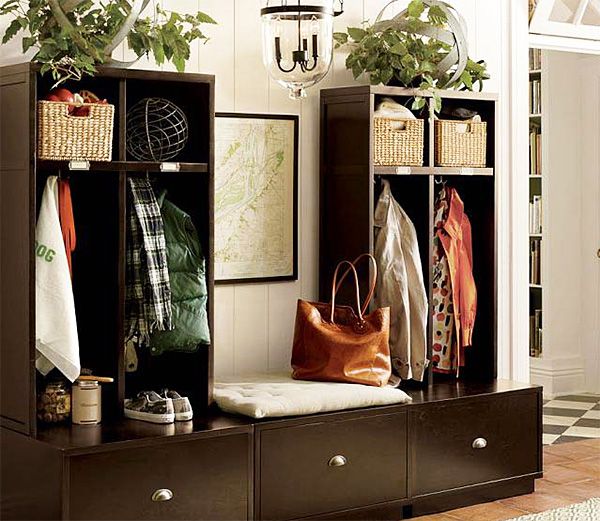 Hallway wall decoration with panels
durability;
ease of care;
ease of installation – there is no need for thorough preparation of the base;
increased impact resistance;
various designs – it will not be difficult to find high-precision imitations of wood and stone in the range.
Sometimes decorative stone is used to decorate the walls of the hallway and corridor..
Rules for the selection of finishing materials for the floor and ceiling
Do not forget that in a small hallway, practicality of decoration is especially important, but the aesthetic properties of materials cannot be ignored..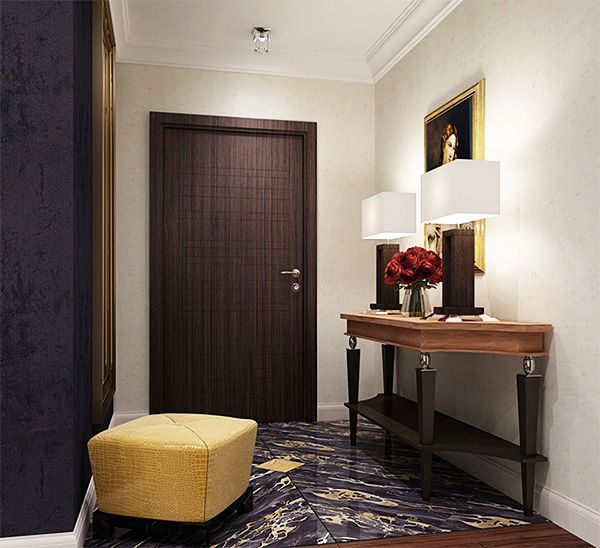 Tiles on the floor in the hallway
Council. The most practical and stylish materials for floor surfaces in a small hallway are laminate and tiles. However, they should not be textured – it is better to leave all complex patterns and multi-texturedness for the living room, and a smooth coating should be chosen in the hallway.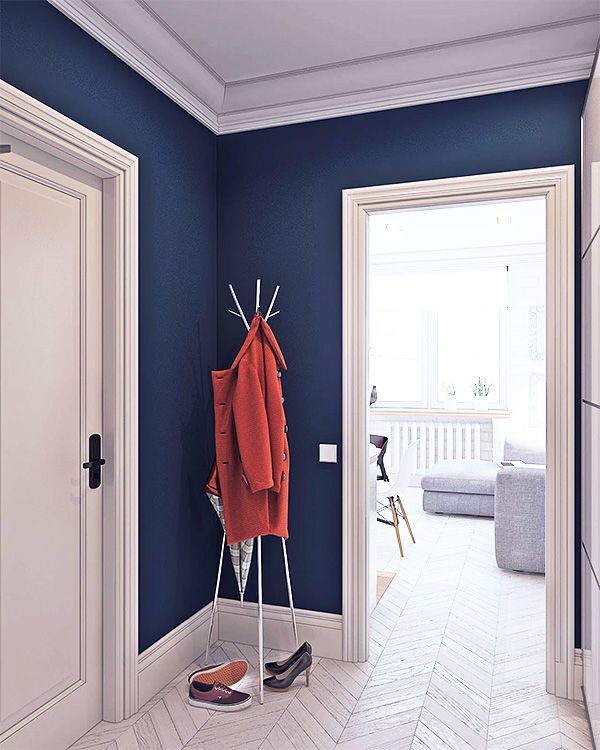 Parquet floor in the hallway
You can combine these two types of flooring by decorating the area directly at the entrance with more practical and durable tiles, and then join with the other covering not in a straight line, but in a semicircle. Use a diagonal installation method to visually expand the room. You should also exclude expressive thresholds in the transition zones to other rooms..
The nuances of ceiling design
To make a small hallway stylish, it is recommended to use suspended or stretch ceilings. These types of finishes have the following advantages:
easily level the original surface without prolonged manipulation of the putty;
characterized by durability, long operating period;
ease of care;
the ability to use built-in spotlights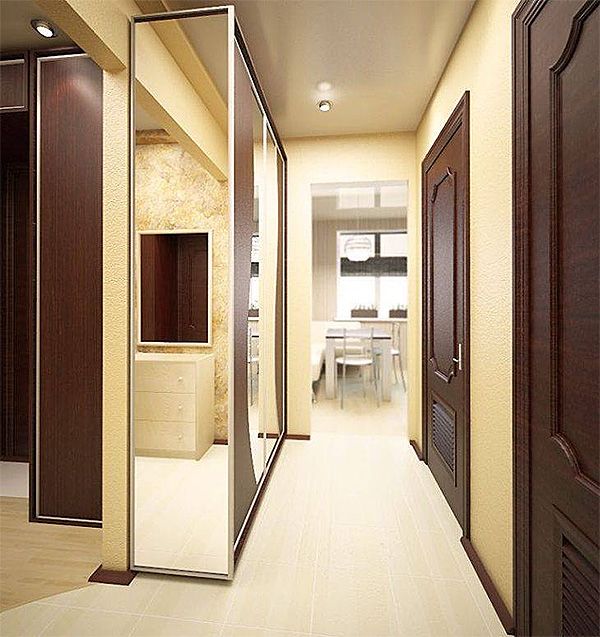 Photo: stretch ceiling in the hallway
In stretch ceilings, you can use canvases with photo printing, with absolutely any image, from clouds to the starry sky. This is a great way to get rid of visual upper bounds. Don't want to complicate things with a drawing? Then give preference to a smooth glossy canvas – it will reflect everything like a mirror..
What furniture is suitable for a small hallway?
A lot of furniture should not be placed here. Optimal – choose one wall for the location of the built-in wardrobe, and choose a mirror for the design of the doors. Sliding systems are good because they do not require additional space to open..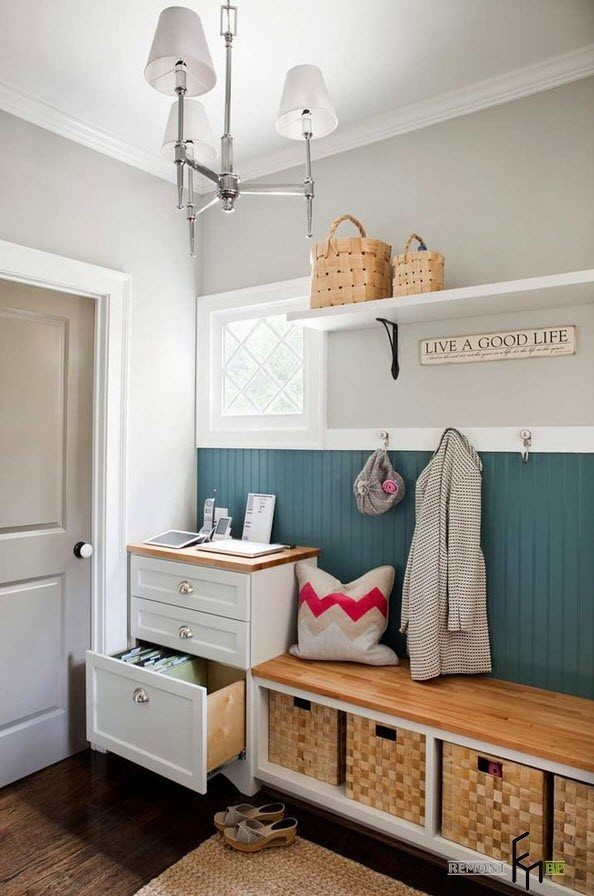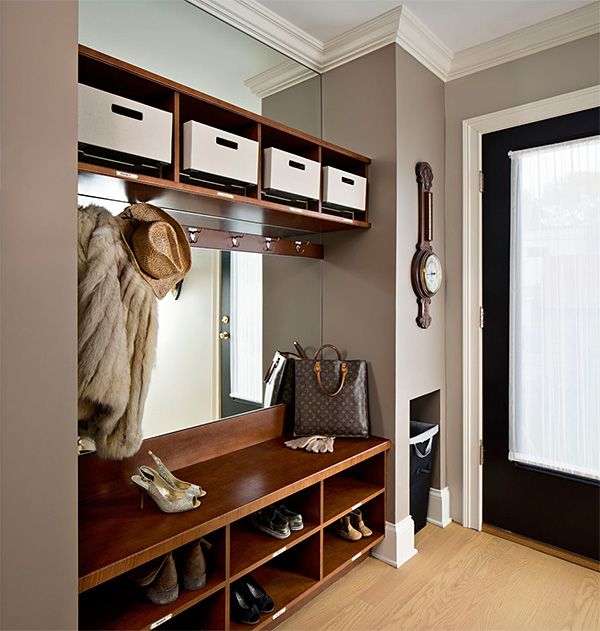 Wardrobe with open shelves
The sliding wardrobe is best made to order so that it occupies the entire wall, from ceiling to floor. In such a design, it is worth considering:
mirror;
shoe shelves;
a bedside table for little things;
neat open shelves;
hangers for the upper wardrobe;
boxes.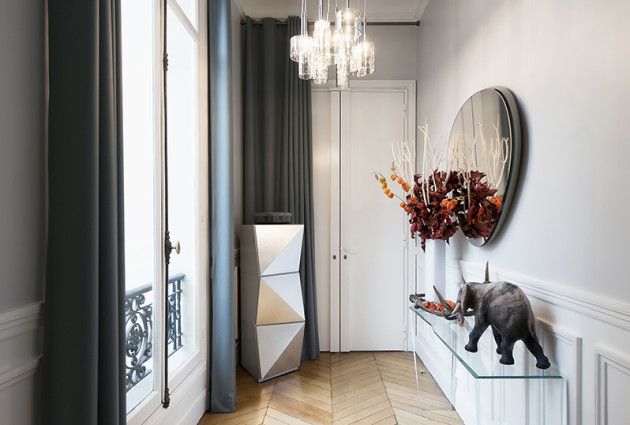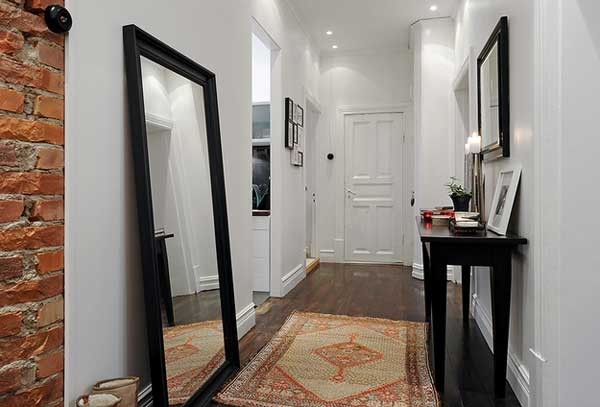 Hanger with bedside table
You can also design such a structure, in the lower part of which there will be an ottoman or a bench. You can make furniture even more compact – corner cabinets are almost more spacious, while they really take up very little space. We will talk about the options for the internal filling of the wardrobe in a separate article..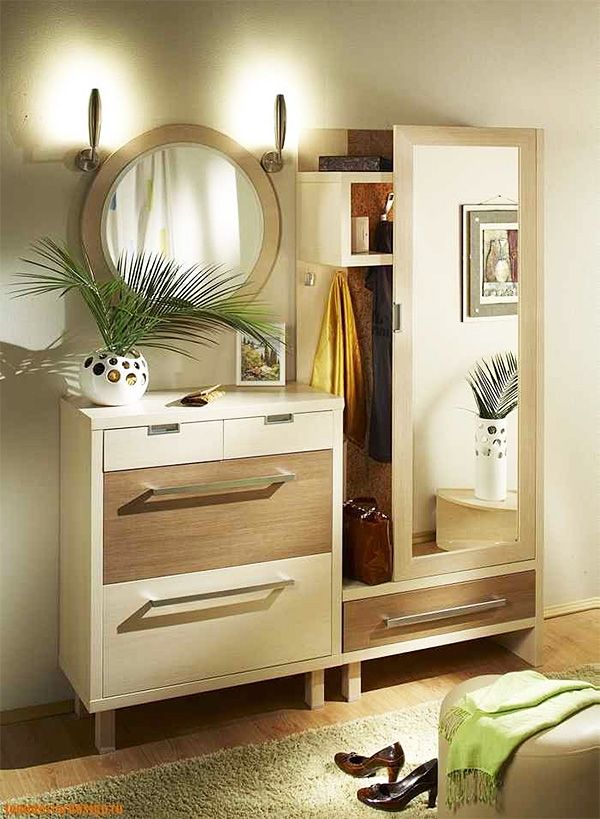 Important. If complex storage systems are not needed in your hallway, then you can use an open rack-rack designed for outerwear instead of a closet. They are produced in laconic forms and do not clutter up the space. Choose metal or wood products – on the market they are presented in a huge assortment and vary in size, design and colors.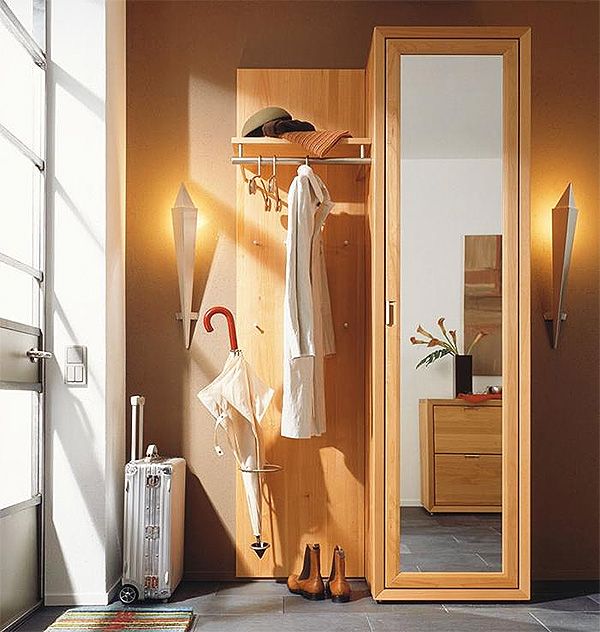 Open and closed lockers
Open shelves are also suitable – they are used for various little things. But there should not be many of them, as they crush the space, attracting too much attention to themselves..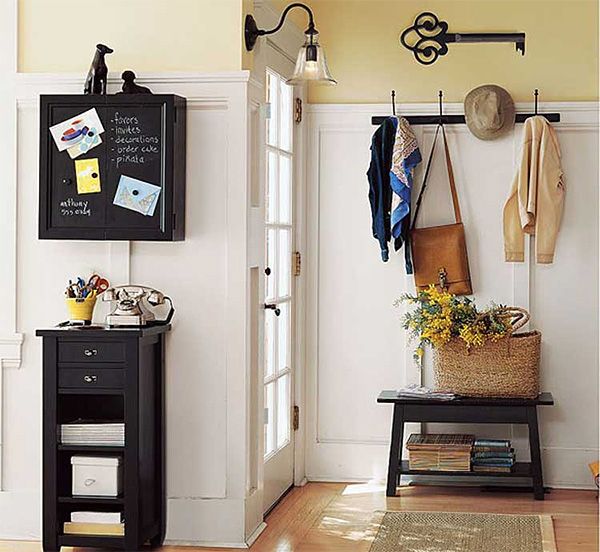 Small hallway in country style
At the last stage, it remains only to pick up decorative elements. Volumetric frames with photos and porcelain figures are not the best decoration for a small hallway. It is better to prefer wall coverings with a background texture that will accentuate the elegance of the furniture. Translucent glass shelves or fancy forged items are also good choices, just don't go overboard with the amount..