A clothes hanger is both a functional fixture and a stylish accessory that can transform the space in your hallway. Modern designers create spectacular models of hangers – both classic and unusually bright, but each option will remain practical.
Content
Main selection criteria
Pay attention to the material
Choosing the right design
Even if you choose some exotic piece of furniture in the form of pipes with valves or tree branches, you can be sure that it will cope with the task of storing things perfectly.
Main selection criteria
When choosing a hanger for a hallway, you will need to answer the following questions:
What material do you need the product from? The variety is amazing – from plastic to forged metal, from laminated chipboard to respectable solid wood.
Style – can be either neutral or pronounced.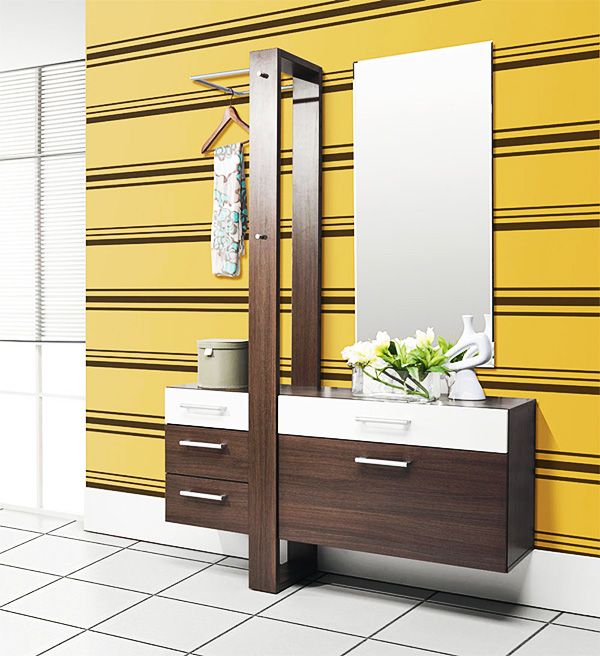 Stylish hallway hanger
Construction type – floor and wall options are common. If the hallway is compact, then you should not give up the hanger – it is quite enough to choose an angular structure.
The availability of free space determines how much space your hanger should take in the hallway.
Do you strive for originality or give preference to typical furniture solutions.
The original design of the hanger made of wood
Consider all these nuances, and you will choose a wonderful element of the corridor arrangement – it will be both functional and stylish. Moreover, modern hangers are not just hooks arranged in a row. They often take on unusual and intricate shapes, complemented by several rows of hooks, baskets for umbrellas, even equipped with shelves, pedestals and banquets.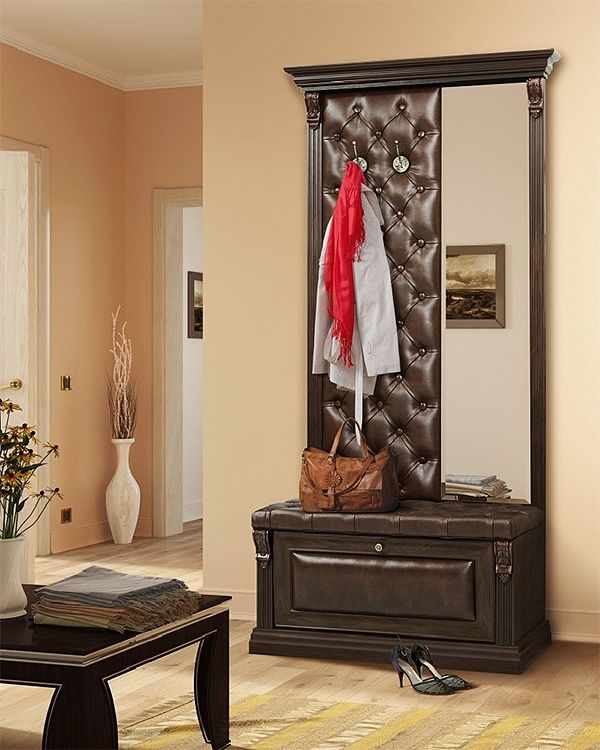 Leather hanger
Just in pursuit of stylish design solutions, do not forget that the hanger should be functional and practical, because it will have to withstand rather heavy loads.
Pay attention to the material
Hangers can be made from both natural and artificial materials. But the leaders in this segment are still wood and metal – versatile, practical solutions that can be used in almost any interior.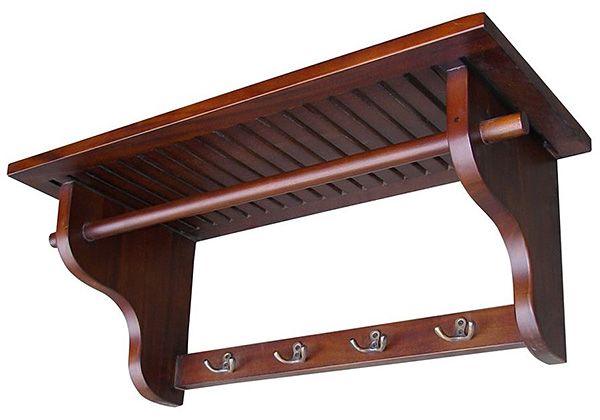 Solid wood hanger
Wooden hangers harmoniously fit into the hallway, decorated in the following styles: classic, provence, country, Scandinavian and ecl. They are perfectly combined with natural materials – stone, clapboard, parquet board or their high-precision imitation in modern finishing materials such as laminate and agglomerate.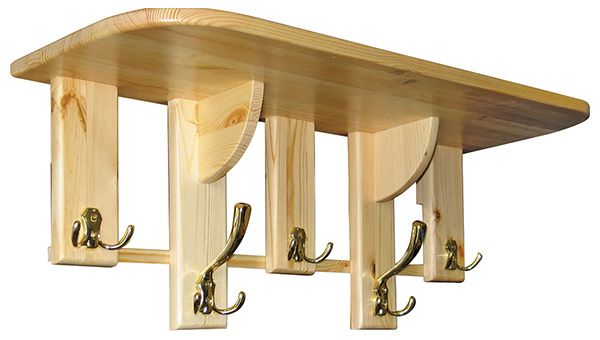 A hanger with hooks made of wood – this can be done on your own
Wood itself does not determine the design of the product – it can be both classic designs with rows of hooks, or richly decorated carved forms or minimalistic solutions from «unprocessed» or artificially aged boards. Wooden hangers also differ in design – there are bulky and very light models.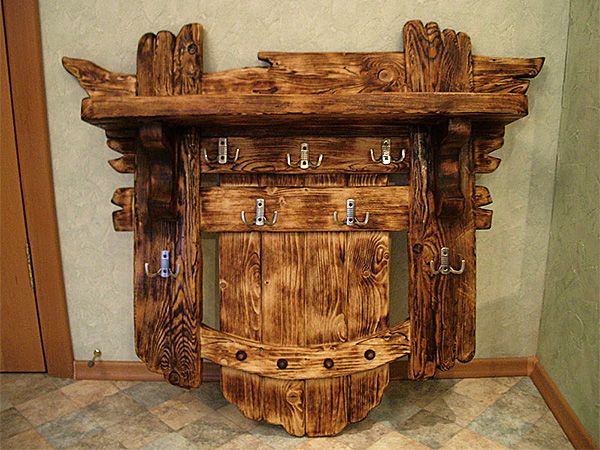 A massive structure may be too bulky for an apartment
You can choose the right metal hanger for any interior – from Provence and classics to high-tech and loft. There are also floor designs, in which the upper row of hooks for outerwear is complemented by the lower one for accessories and bags, products in the form of long rods with legs, wall models that differ in the number of hooks.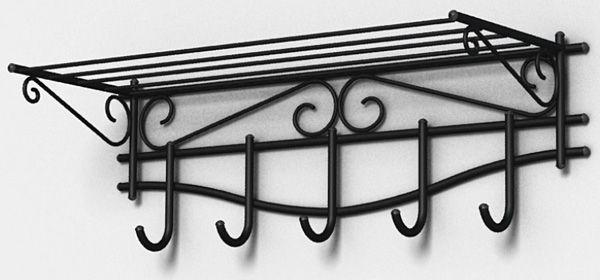 Photo: metal hanger
Important. Metal hangers attract with their various colors – it will not be difficult to choose a chrome-plated product, as well as any stylish shade: gold, red, black, white, gray, brown, blue. The most popular are the classic colors – gold, chrome, black graphite and brown «wood».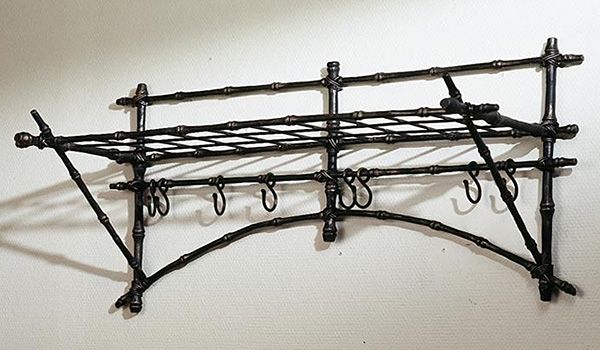 Photo: forged hanger in the hallway
Metal models can be laconic even strips, they are appropriate in a minimalist interior, but forged models will provide the greatest chic – they can be so original and bright that they will become the central element of the hallway design.
In addition to metal and wood, the most unusual solutions are also used for modern hangers – glass, plastic, polymers, real tree branches, plumbing pipes, animal horns.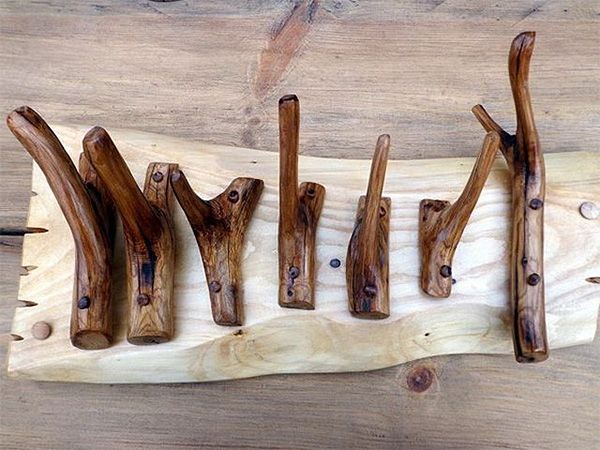 Photo: hanger made of branches
Laminated chipboard is also popular in the budget segment – laconic designs with metal fittings are created from it. However, the material can be anything – the main thing is that it is reliable in operation..
Choosing the right design
There are a huge variety of hanger models, and designers continue to come up with new futuristic solutions. But most often we choose from two types of structures – floor and wall, which differ in functionality, practicality, convenience and can be made in different sizes..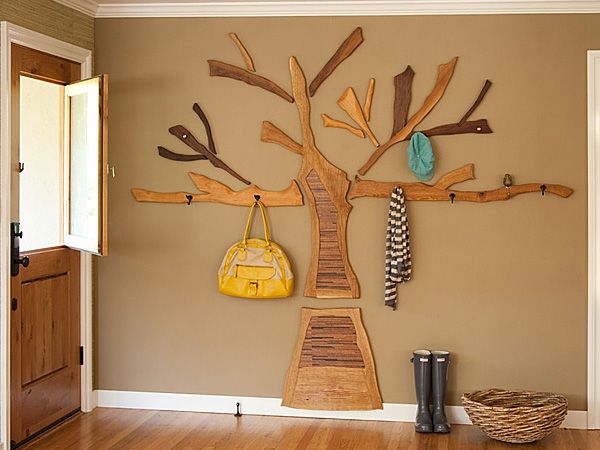 The original design of the hanger in the shape of a tree
Advantages of wall structures
A wall hanger is, first of all, compactness and convenient location. After all, it is attached to the wall, adjoins it closely and does not take up space on the floor.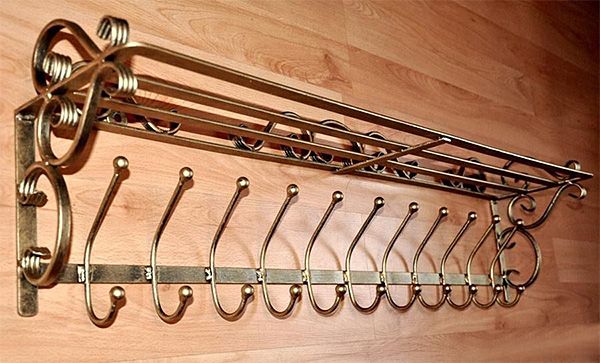 Wall hanger with shelf
Among the common models of this type are noted:
with hooks in one row;
with fittings in several rows – multi-tiered products are more spacious, since the upper row can be used for a wardrobe, and the lower one can be used for children's things or bags;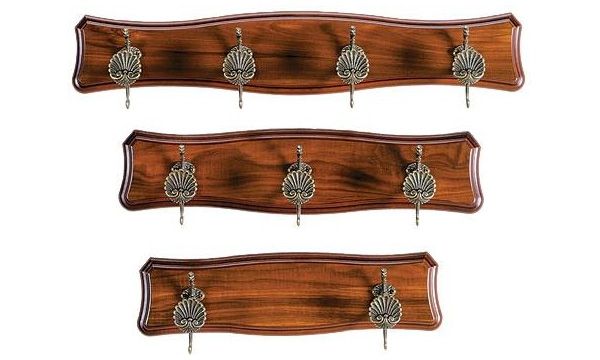 Hanger with three planks with hooks
with an additional compartment for storing umbrellas, keys;
with a crossbar for hangers;
with top shelf for hats.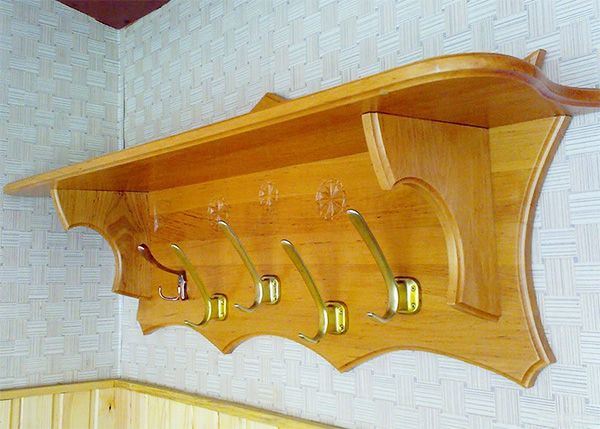 Above the hooks a shelf for hats
Floor models of hangers
The floor hanger requires more free space in the hallway. They can be placed in a corner or along one of the walls and represent a tripod extended upwards with hooks located in a circle. Several hooks for umbrellas or bags can also be provided at the bottom.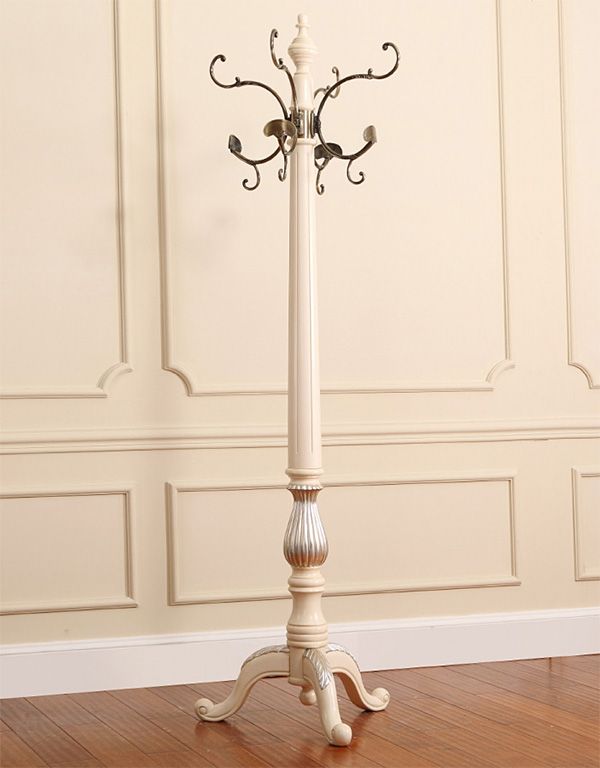 Luxury floor hanger
Another option for the floor construction is crossbeams on racks. In order to hang clothes here, it will need to be supplemented «hangers».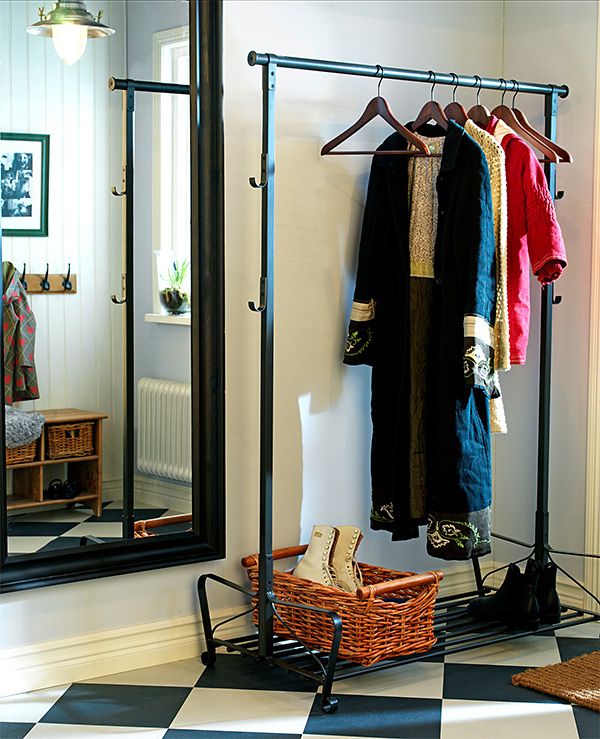 Floor hanger with space for shoes
For such models, wood and metal are most often used. They can be equipped with wheels for moving around the room, and for stability, the lower base is additionally strengthened.
Combined solutions
Combined solutions are considered more functional – for example, a hanger with a curbstone. The hanger itself here is a wooden or forged panel with hooks and an upper shelf, and at the bottom, a stand serves as a support for storing shoes. This is an ideal solution for hallways, regardless of their area, as it allows you to remove all unnecessary items from the floor in the lower cabinet.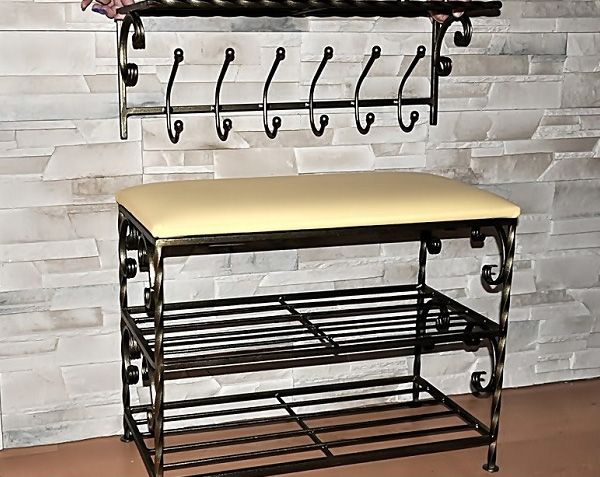 Wall + floor structures
Often, banquets are also added to the structures of hangers – they are very convenient to put on shoes on. There are also models in which the actual hanger is combined with a mirror – this is most often an open element of the headset in the form of a combined wall surface.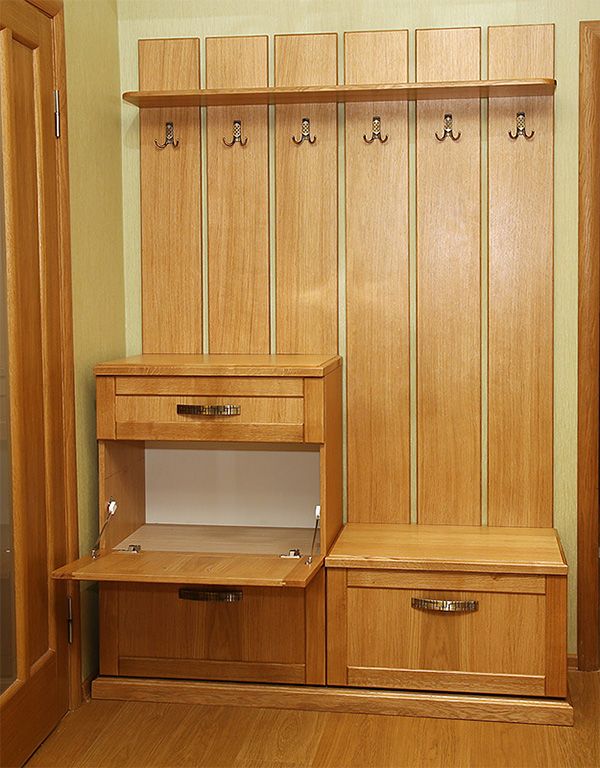 Hangers in one design with shoe drawers
Hangers in the hallway can also be built into the closet – this is a fairly large solution that requires free space. There are also ceiling structures (they must be attached to a concrete slab) – such products are not designed for heavy loads and cannot be combined with suspended or suspended ceilings. Folding portable products are also used – they «waiting in the wings» in the pantry and are used only when guests come to you.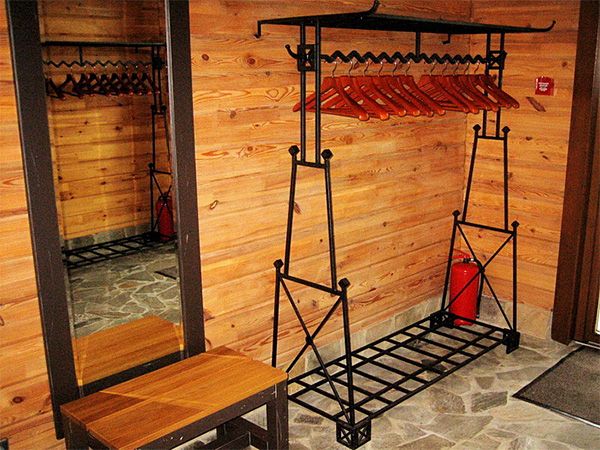 Wrought iron floor hanger
Among the variety of design solutions, it will not be difficult to choose the design that will fit optimally into your hallway. Keep in mind that it must be functional, practical and durable, and therefore preference is given to products with high build quality and reliable fittings. You should not choose an interesting design just because of its unusual design – be sure to think about whether it will be convenient to use it every day.