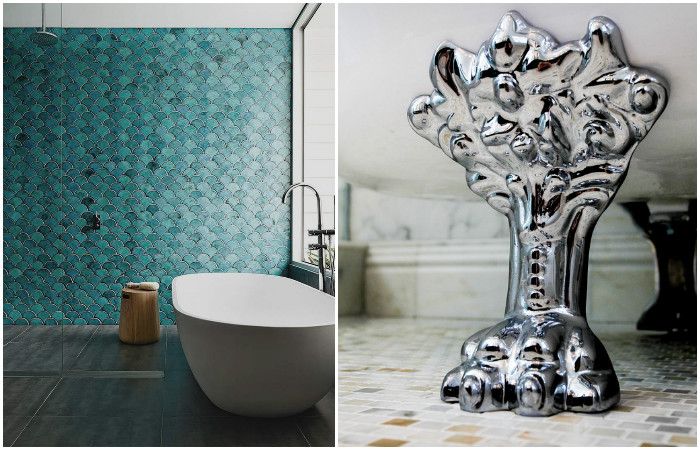 Compliance with simple rules will make the bathroom design perfect.
Bathrooms are so diverse that it begs the thought – there are no rules in their design, and any idea can be realized. But there are a number of guidelines that can help make your bathroom look great. These rules apply no matter what style is chosen for this room..
1. «Yes» free space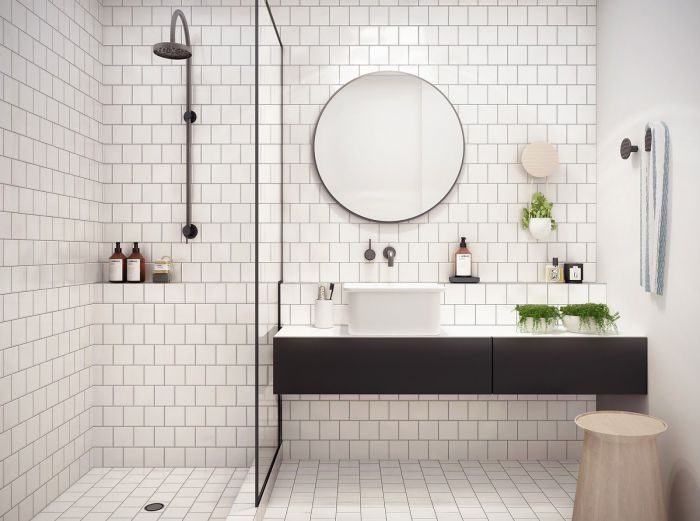 Small bathroom can be spacious.
A solid area is not among the advantages of most bathrooms. But, forgetting about this, many are trying to fill the space to the maximum. As a result, a small bathroom has a lot of furniture and sanitary ware intended for large rooms. The key to success is finding compact analogs. For example, a shower combined with a bath instead of a separate booth; a suspended mini-washbasin instead of a built-in one. A person feels comfortable in the bathroom if he can freely turn around, while not accidentally touching any piece of furniture.
2. Critical storage systems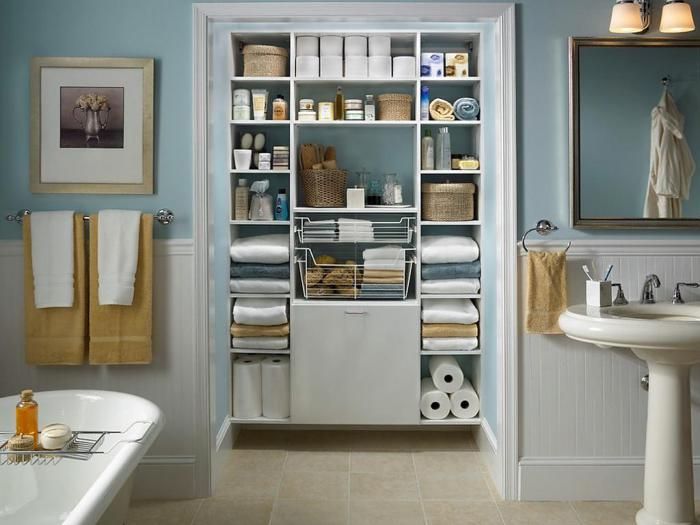 Several storage systems in the bathroom interior will definitely come in handy.
The bathroom is a place where countless bottles and bottles of cosmetics mysteriously accumulate. Add towels, bathrobes to the overall picture … The result – the bathroom begins to resemble a warehouse. To avoid this state of affairs, do not forget that the interior of the bathroom must include storage systems. There are many options – from tall shelving to hanging open shelves.
3. Details are as important as the big picture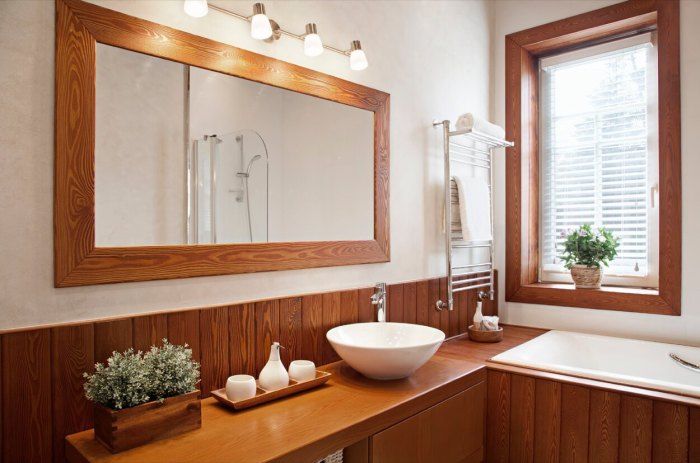 Convenience of the bathroom – in the details.
Even an exclusive bathroom design can be hopelessly ruined if the importance of detail is forgotten in the process. A prime example is the top edge of a tile laid at half the height of the wall. Dust and dirt constantly accumulate on this edge. To avoid this problem, tile the entire wall or add an extra layer of drywall above the tiles before plastering. A glass shower screen adjacent to the bathroom wall can also make an unpleasant impression. Cleaning the space between them, which is visible during the shower, is very problematic..
4. Ergonomics comes first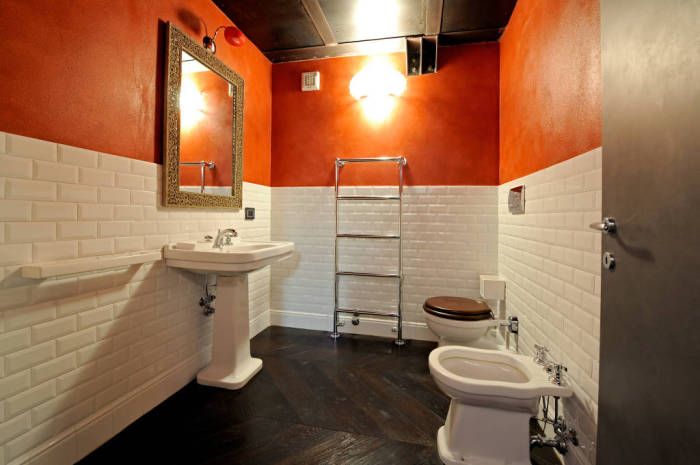 Even an unusual bathroom can be ergonomic.
Ergonomics often take a back seat in the pursuit of luxurious design. What «ergonomic bathroom interior»? This is a room that is easy to clean and where every element is functional and easy to access. Any of the selected interior styles can be implemented in such a way that the space is ergonomic.
5. Global spatial thinking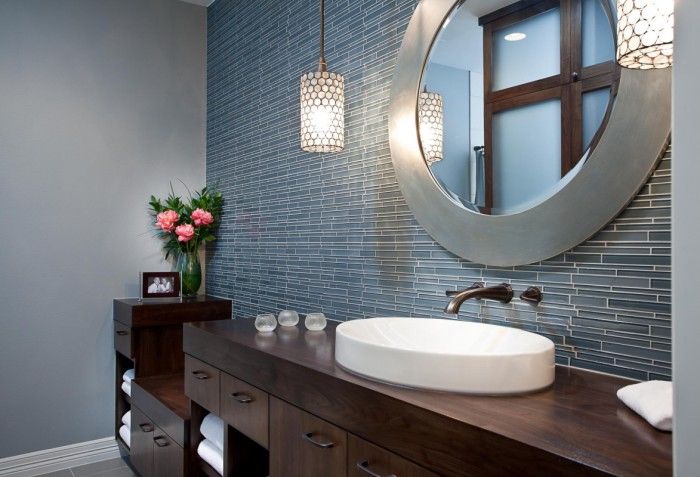 Extravagant yet holistic interior.
To make the bathroom interior look unified and holistic, think of it as a space consisting of a set of horizontal and vertical planes. For example, the plane of the floor, walls, bath and washbasin screens, shelves … Ideally, each of these planes is not divided into smaller parts and is kept in a single design. So, in most cases, laying a few bright tiles on a plain wall will not be the best idea..
6. Sharp and obtuse angles are prohibited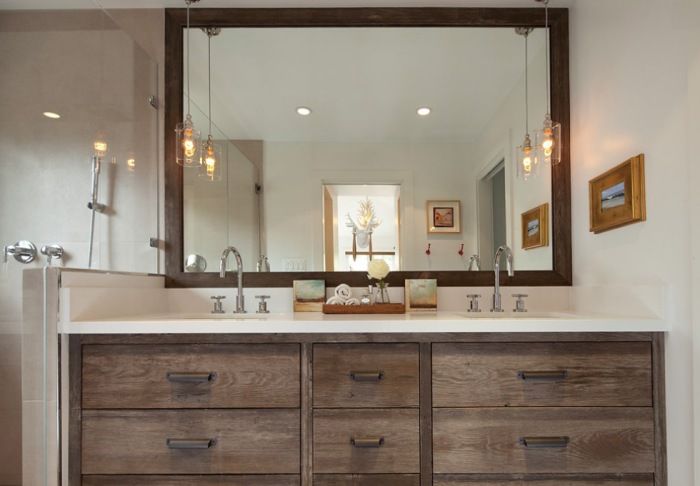 The more straight continuous lines in the bathroom, the better.
A bathroom with angles less than or greater than 90º in the interior is visually harder than one where they are absent. We also do not recommend installing corner plumbing. Interiors with sharp and obtuse angles are good in science fiction films about the future, but in practice they look disharmonious and turn out to be inconvenient to use..
7. Open plan – a good solution for the most daring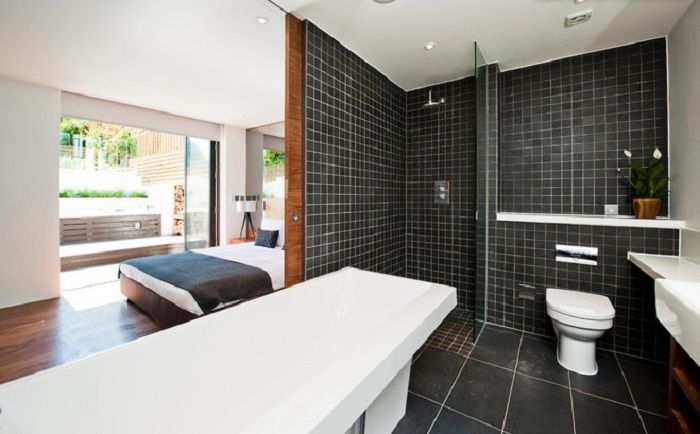 Semi-open bathroom is a fashionable western trend.
Small bathrooms make them not the most suitable space for creative experimentation. So why not combine it with a nearby room, like a bedroom? The partial absence of a wall allows the bathroom to be well lit, and both adjoining rooms to be more spacious. A compromise option could be a mobile glass partition.
8. Freedom of natural light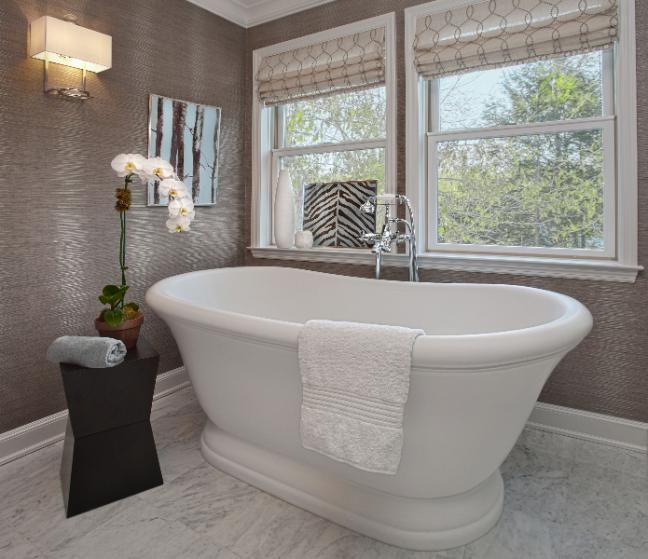 In a private home, provide a window in the bathroom during the construction phase.
The more natural light in the room, the more pleasant it will be to be in it. Of course, the layout of most apartments does not allow sunlight to enter the bathroom. But if there is such an opportunity, do not refuse it, carefully covering the window with thick curtains. To maintain privacy, use frosted glass panes. It will be useful to recall the construction practice that existed in Soviet times. It provided for a small rectangular window between the bathroom and the adjacent room at the top of the wall. Such a window can be made even if one of the bathroom walls is not load-bearing.
9. Multilevel artificial lighting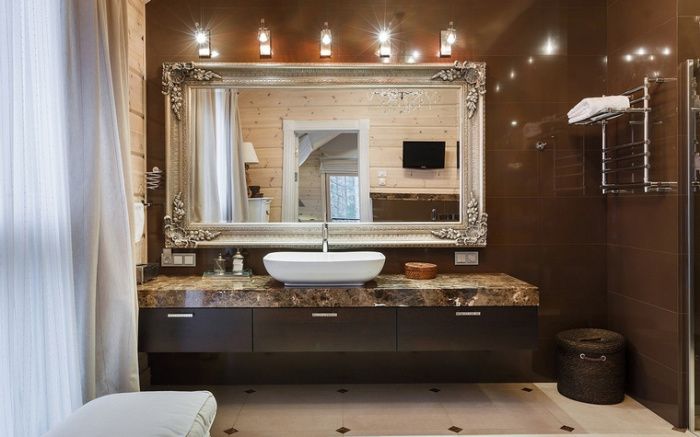 Lighting above the mirror is not a whim, but a necessity.
The bathroom requires multi-level lighting no less than other rooms. Perhaps a little more. After all, for example, applying makeup only in the light of ceiling lamps is very difficult. Therefore, do not forget about a small lamp near the mirror..
10. Original detail for interior exclusivity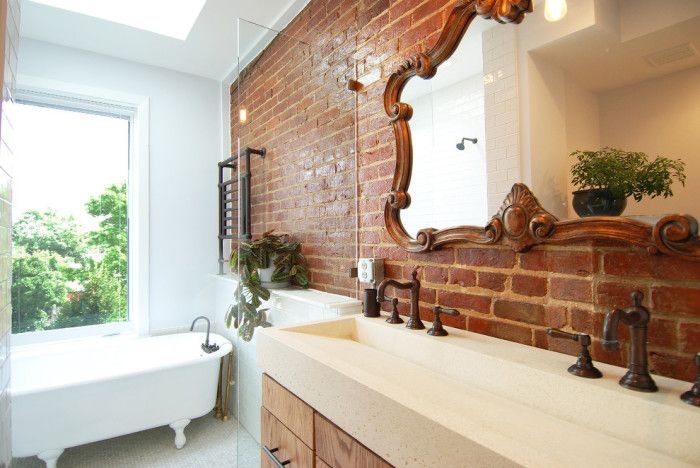 An accent wall will make the interior non-standard.
The trendy interiors of most bathrooms are designed in a laconic white and cream color scheme. It's a win-win one-stop solution. But if there is a desire to make the environment exclusive, then non-standard details are necessary. The main thing is to strike a balance between good taste and bad taste. One or two bright accents in the interior of the bathroom will be enough. For example, such original details can be a bathtub of a non-standard color or one wall lined with decorative tiles..
Continuing the topic, we recommend reading the article about, how to correctly decorate a small bathroom.