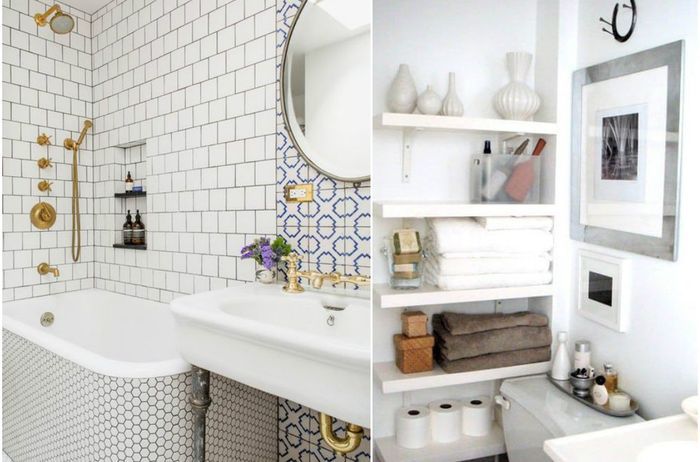 10 best small bathroom ideas that will surprise and inspire
In the bathroom, it is important to create a zone of special relaxation, where you could forget about the difficulties of everyday life, relax your body and soul. It is possible to achieve this effect not only in a spacious room. One has only to fall in love with your small bathroom and add a few important details to it, and its interior will cease to be gloomy and depressing. We have selected worthy ideas that will certainly appeal to the owners of small sizes.
Charisma and character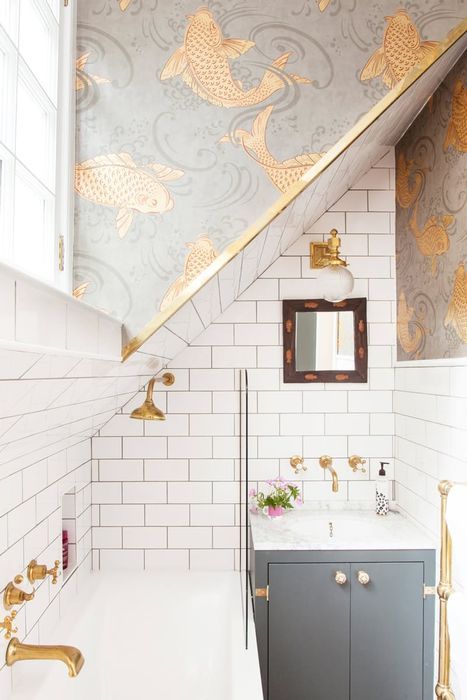 When a person has a special charm and charm, they say about him that he is charismatic. The same definition applies to the characterization of an interior, if not only to arrange it in a practical way, but also not to forget about its character. How to make a small bathroom space special? For these purposes, designers advise using stylish details, for example, if the interior is decorated in a monotonous manner, then bronze, gold or copper elements (wallpaper, faucets, mirror, towel holder) will help to dilute it.
Blue overflow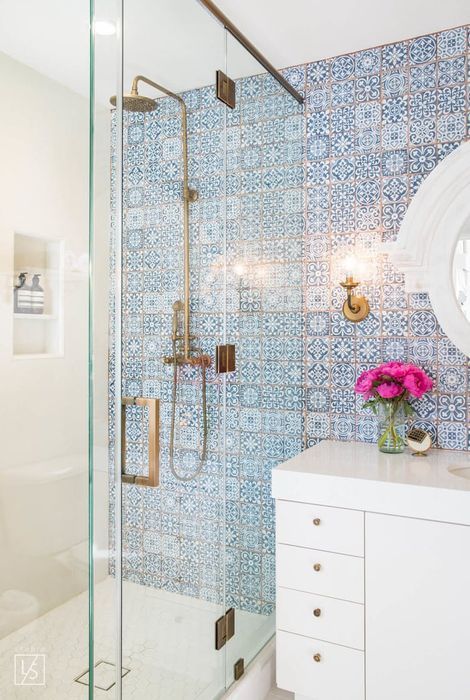 Often you want not only to make the interior beautiful, but also to visually change it for the better – to expand the area, play with the uniformity of proportions, raise low ceilings or give the space a perspective. Therefore, it is immediately necessary to pay attention to a finish suitable for these purposes. For example, blue tiles are considered the most ideal color scheme for a small interior. It visually makes the room larger, neater and more spacious..
Mirror cabinet
In the bathroom, you cannot physically do without a mirror and storage systems. The best option is to install an object that combines the functions of both at once. Today there are many successful options, do not be afraid to take hanging cabinets that reach the ceiling. They will look great in a small room, make it visually more voluminous, and in such a cabinet will fit a lot of hygiene items.
Minimalism and conciseness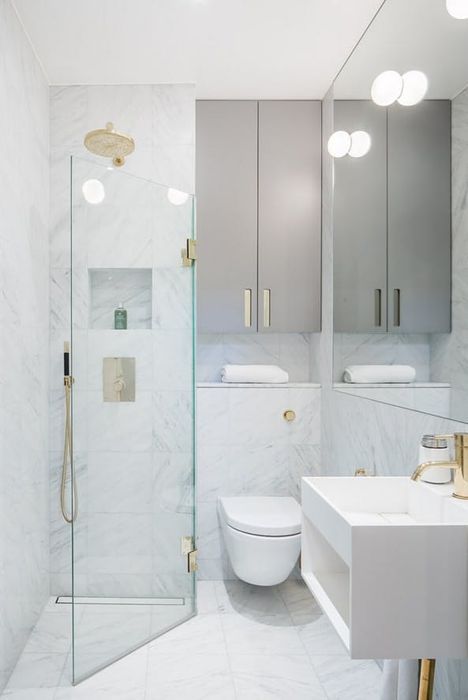 A small bathroom more than other rooms in an apartment needs an extremely laconic interior. there may be a minimum number of pieces of furniture and decor, but the selected materials for decoration must, of course, be of high quality and stylish. If the issue of saving is not acute, then you can choose high-quality imitations of marble for decoration, since it is imitations that will last longer than natural stone and will not turn yellow over time. Thus, it will turn out to create a laconic and stylish atmosphere..
Focus on flooring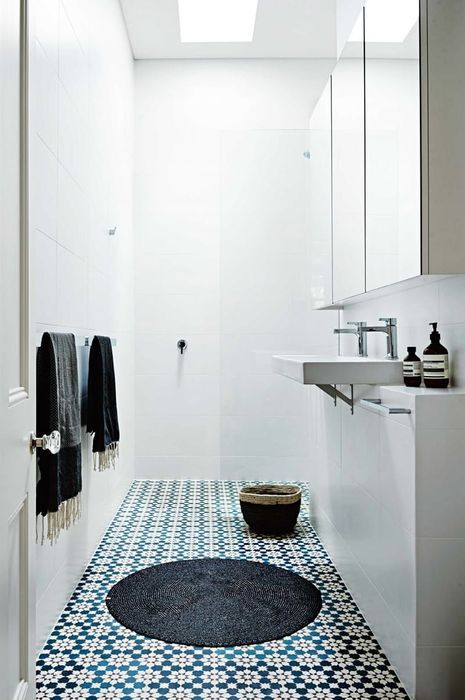 Flooring is a powerful tool wherever it is necessary to divert attention away from small areas, curved walls or sloped ceilings. It is better to stop your attention on options with a geometric pattern, which will allow you to set a certain dynamics and will be interesting to look even in the most neutral interior.
Corner shower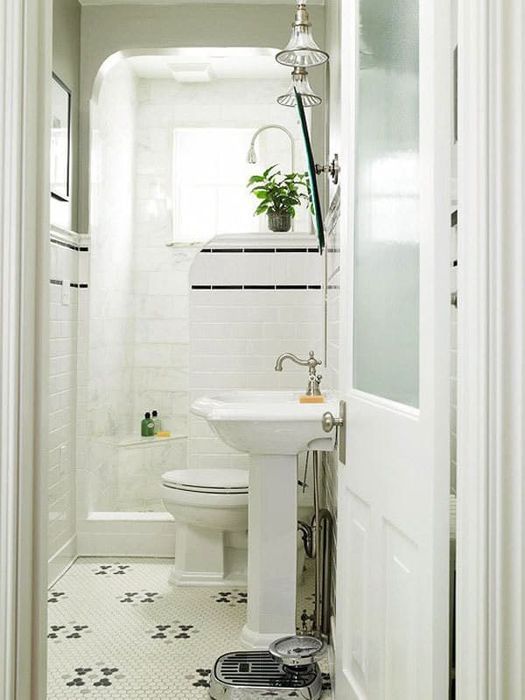 When decorating a small bathroom, you need to immediately think carefully about whether you need a bathtub there or can you do without it? In very tiny spaces, it will be out of place, an alternative to it would be a corner shower. Clear glass is ideal as a zoning partition. It will add extra lightness to the interior and prevent dripping..
The door as an element of decor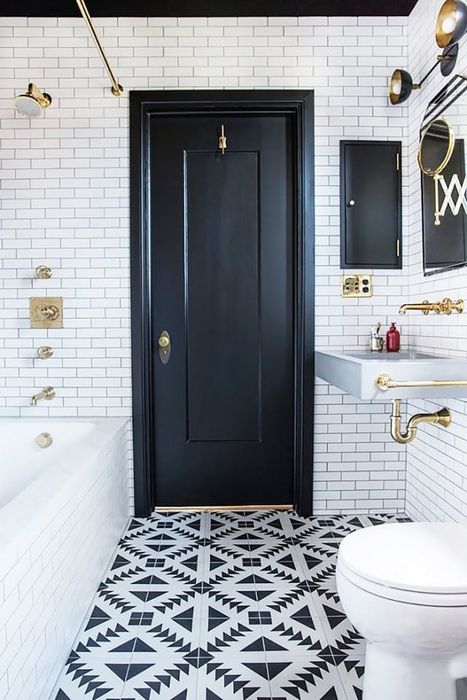 The door as an element of decor
There is rarely room for decor in a small bathroom, so alternatives should be considered. One of these is the use of a door as a decorative element. To do this, it is enough to paint it in an interesting shade, for example, yellow or black. True, it should not fall out of the general style and color scheme..
When every corner counts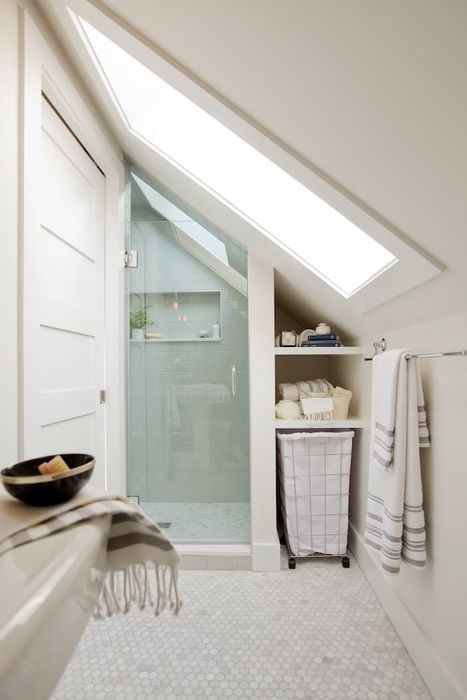 When every corner counts
Free space in a small bathroom is worth its weight in gold! Here you need to use literally every corner, every niche with maximum benefit. Open shelves will be additional helpers in this matter. Shampoos, gels and towels can be placed on them. It's good if they are located from the shower area..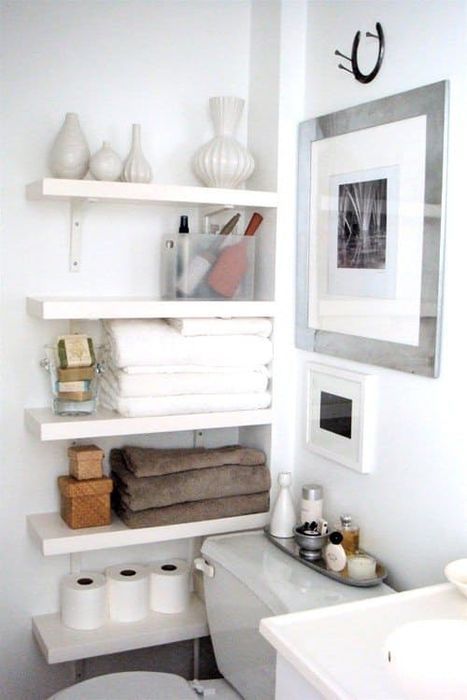 Storage systems in unusual places
Experiment with tiles
In one bathroom, they rarely experiment with several types of tiles. Usually, the walls are made in the same style, sometimes highlighting separate zones with decorative types of finishes. But the bathroom looks very unusual, in which 3-4 types of different tiles are used at once, of course, you need to select it as much as possible so that it matches in style, color or shape. This technique will allow you to diversify the space and bring fresh notes into it..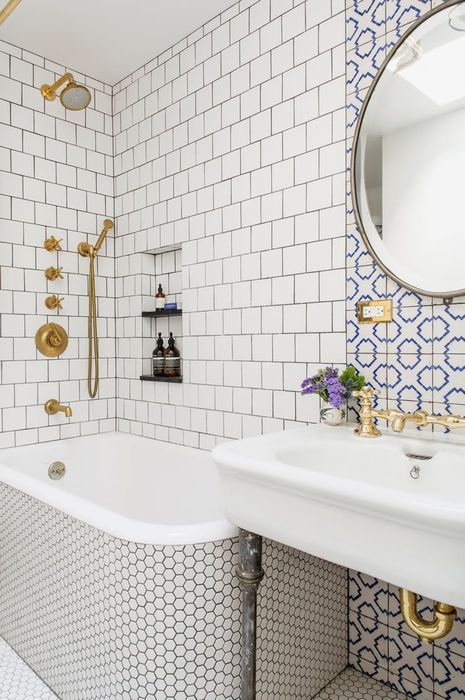 Experiment with tiles
We know the 5 steps to take to a luxurious and functional bathroom. These tips are not worth passing by!
Good luck!