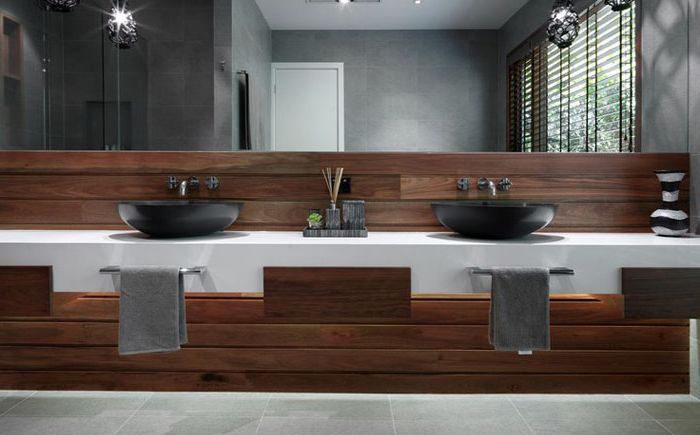 How to choose the right bathroom sink

The washbasin is not just a sink. Not. Many people often wonder if they made the right choice. First of all, you need to decide for yourself which bathroom you need it in and who will use it. Then read our tips for all the pros and cons of existing washbasins..
Furniture washbasin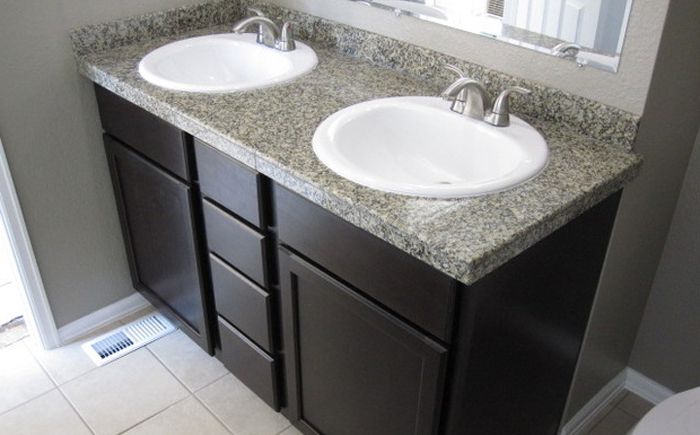 Furniture washbasin
Perhaps this type of sink is used most often. Overhead or built-in washbasins are made to fit easily on the countertop. Quite frankly, most are below the level of the countertop, and only the side of the sink is visible from above. This side can be narrow or wide, it all depends on the style.
Advantages: Furniture washbasins can be built into any worktop, including wood and laminate. Since the sink itself is below the level of the countertop, and the rim covers the edges of the countertop, the risk of water damage to the surface is minimal. In addition, the installation of such a sink in a stone countertop is cheaper, since it does not require grinding the edges, as when installing a recessed sink.
Disadvantages: It will not be possible to brush off accidentally spilled water on the countertop in the sink, since the sides will interfere.
Flush-mounted washbasin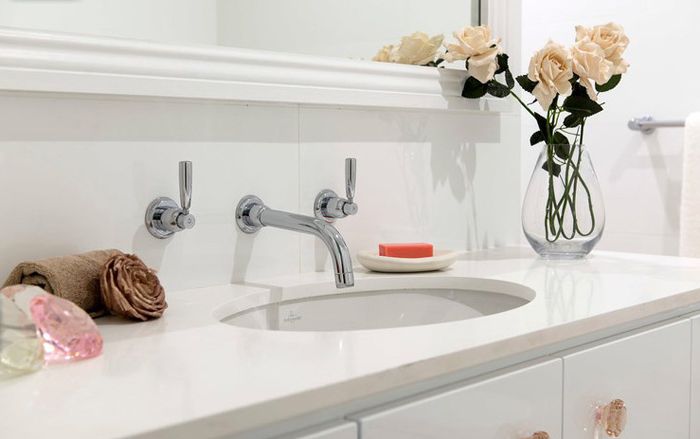 Flush-mounted washbasin
This washbasin is completely below the surface of the countertop. Its sides are completely hidden under it.
Advantages: The washbasin is invisible. Water and drops that fall on the countertop can be swept directly into the sink without soaking. Vanity top is easier to clean.
Disadvantages: The recessed washbasin can only be installed in a worktop made of durable materials, including stone, but not laminate, as water will damage the surface. Installation of such a washbasin is more expensive.
Wall-mounted washbasin


Wall-mounted washbasin
This washbasin is directly wall-mounted and does not require a countertop. It looks modern and emphasizes minimalism in decor.
Advantages: The wall-mounted washbasin does not require furniture to be installed underneath, which significantly saves space. When installed, all the pipes through which water flows in and out are hidden in the wall for an aesthetic look.
Disadvantages: There is no storage space under such a washbasin, since its installation does not imply a cabinet. Before installing, you should think about whether you need additional space for all sorts of little things. Perhaps a wall-mounted washbasin is more suitable for a washroom, where warehouses are usually not arranged.
Pedestal washbasin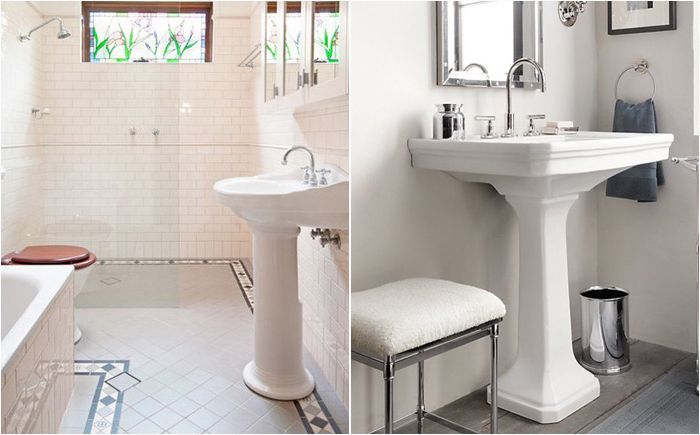 Pedestal washbasin
If you want to install a wall-mounted washbasin, but there is no way to hide the drain pipe, then use a pedestal.
Advantages: The pedestal is installed under the sink on the floor to hide the drain pipe. It has an aesthetic appearance and is suitable for classic designs. Best suited for bathrooms in temporary living areas.
Disadvantages: Make sure you don't need extra storage space. In addition, you will have to make an effort to clean the floor around the pedestal, since there will be a space between it and the wall where dirt accumulates..
Semi-recessed sink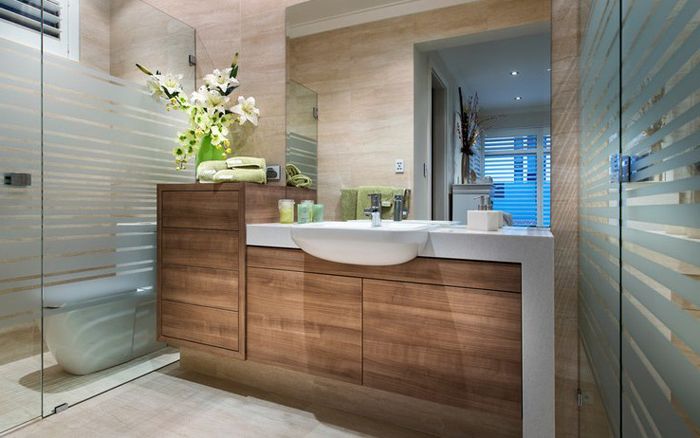 Semi-recessed sink
If there is not a lot of space in the bathroom, but you also want to install cabinets under the washbasin, then a semi-recessed washbasin will do..
Advantages: The semi-recessed washbasin is installed in such a way that its main part protrudes forward by up to 30 cm, allowing you to install cabinets under it. In addition, there is ample space on top for storing shampoos and other detergents and cosmetics. You can safely bend over the sink without resting your feet on the cabinet. Suitable for installation in small bathrooms and children's bathrooms
Disadvantages: Limited space under the sink. Since there is no countertop around the washbasin, water may spill onto the floor.
Flat washbasin


Flat washbasin
Such washbasins are mainly installed in expensive hotels or restaurants. They are slim, trendy and stylish.
Benefits: Flat washbasins require very little space and are therefore ideal for bathrooms with limited space, such as a washroom. They are made from ceramics, glass and porcelain, they can even be offered from granite, marble and rare stones. To collect water, a special tray is installed under the sink, from which water flows into a drain pipe built into the wall. Suitable for toilet installation.
Disadvantages: Flat washbasins are suitable for washrooms where it is needed just to wash your hands. They are not sold complete with plumbing fixtures, in addition, they are flat and do not retain water.
Bowl-shaped washbasin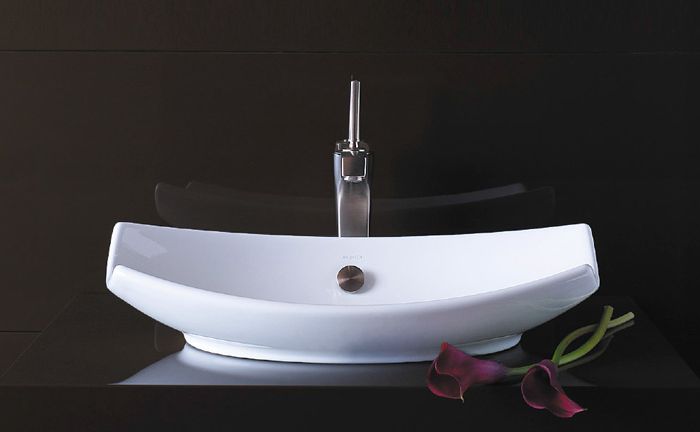 Bowl-shaped washbasin
The bowl-shaped sink is simply installed on top of the countertop, but there are models that go a little deeper.
Benefits: Like no other, this washbasin sits on top of the countertop and should look perfect as it becomes the centerpiece of the bathroom. If necessary, you can even draw enough water into it..
Disadvantages: Since this is a fairly high sink, and is installed on top of the countertop, only an adult can reach it. Therefore, you will have to either install cabinets with a countertop below, or refuse such a washbasin.
Two in one: washbasin and cabinet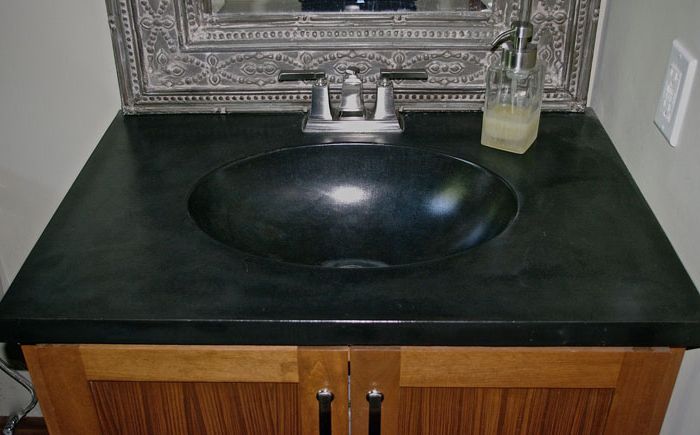 Two in one: washbasin and cabinet
In the store you can buy a cabinet with a built-in sink. The cabinet can be made of any materials.
Advantages: The sink is easy to clean. It looks stylish and modern and is suitable for a family bathroom. These washbasins are sold in one size, but it is possible to make an individual order based on individual requests. Suitable for those who have little time for repairs, and they can purchase a ready-made object in the store.
Disadvantages: Since the sink is deepened inside the cabinet, there is little space for storing things, in addition, it will not be possible to put cosmetics on top either.