Originally word "loft" meant an attic, so that all the characteristic features of attic spaces can be used in any combination. A loft-style bathroom must have at least a few elements in the interior that match the style. This is brickwork, beams on the ceiling, interweaving of communications and pipes.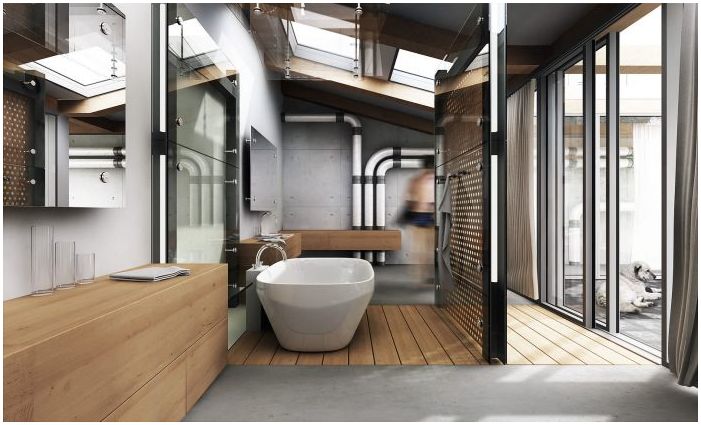 Features:
A loft in the bathroom provides for the use of industrial motives: rough materials, not plastered, without finishing the walls, perhaps even bare concrete surfaces. If they are, great. No – you need to create them, and here it is permissible to use imitations: artificial brick for masonry, specially aged plaster, even wallpaper "under the old brick".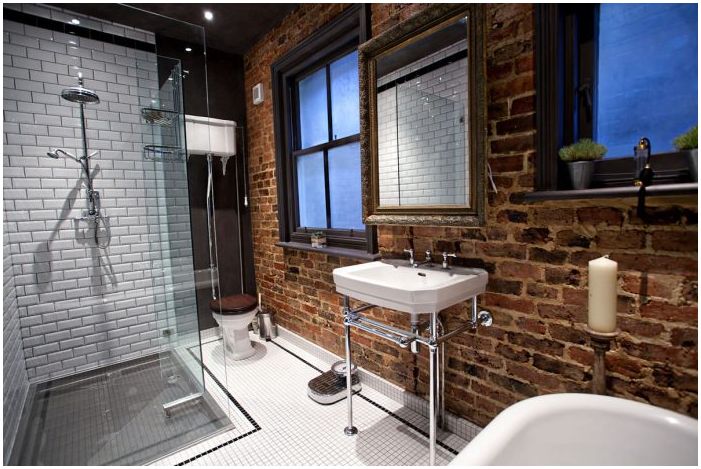 Loft-style in the bathroom favorably treats slightly rusted pipes, floors made of concrete or boards, practically untouched by processing. Will go into business and "old" ceramic tiles. Special "chip" style – ceilings. There simply must be beams, and if they are not there, they must be made! False beams look no worse than real beams and make the style!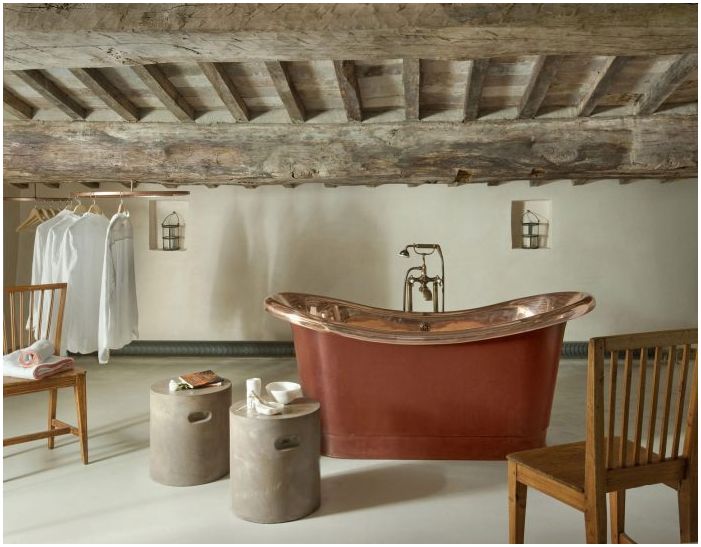 On the ceiling of a loft-style bathroom, pipes with communications must not only pass, but they can "get confused" wires to lamps.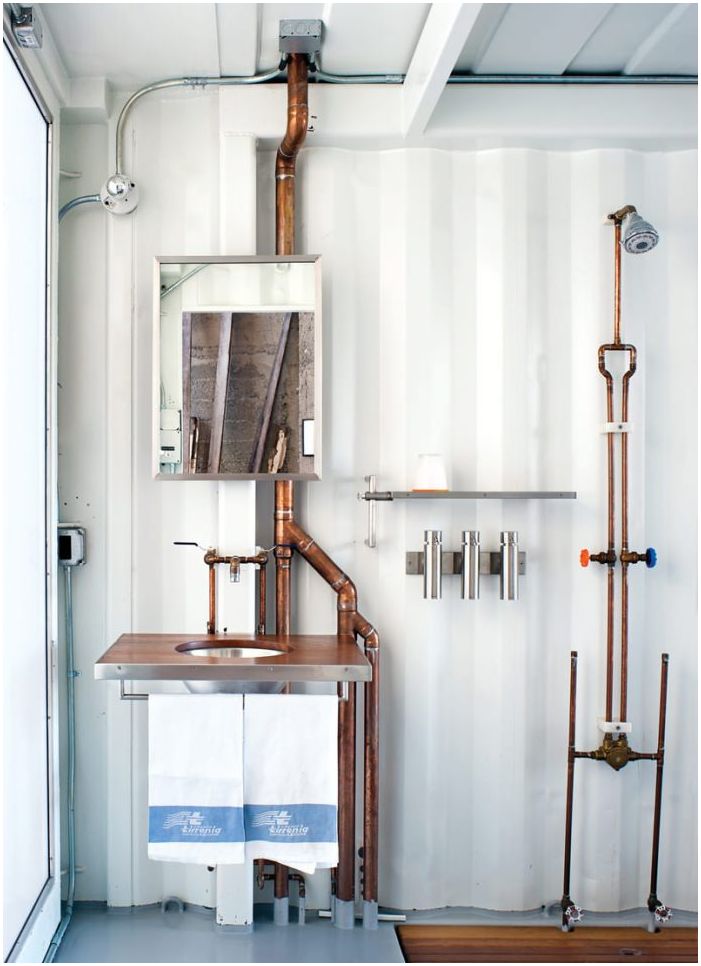 There is also a place for completely modern materials: tiles made of steel and mirrors, ultra-modern sanitary ware and structures fit perfectly into the loft design and act as friendly neighbors of rusty pipes and concrete coatings.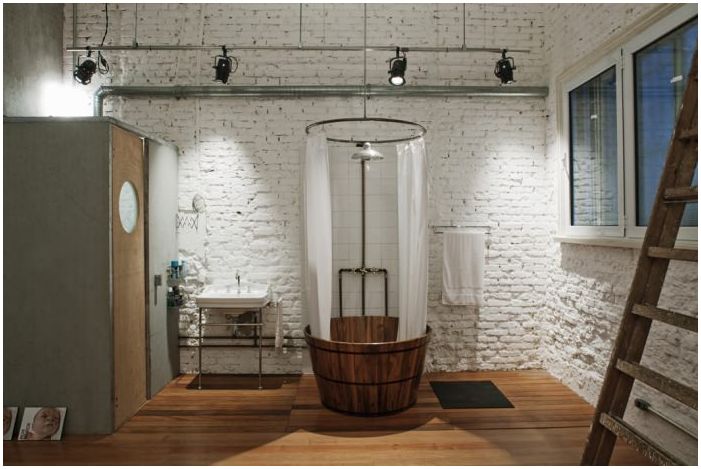 Colour
Loft-style in the bathroom can be created in different colors, but there are the most preferable ones:
gray and its tones, from almost white to almost black;
white and shades with the addition of gray, beige, olive;
intense red and blue (in combination with black), the aging effect is required;
brown in dark shades;
steel and silver (pipes, pipelines).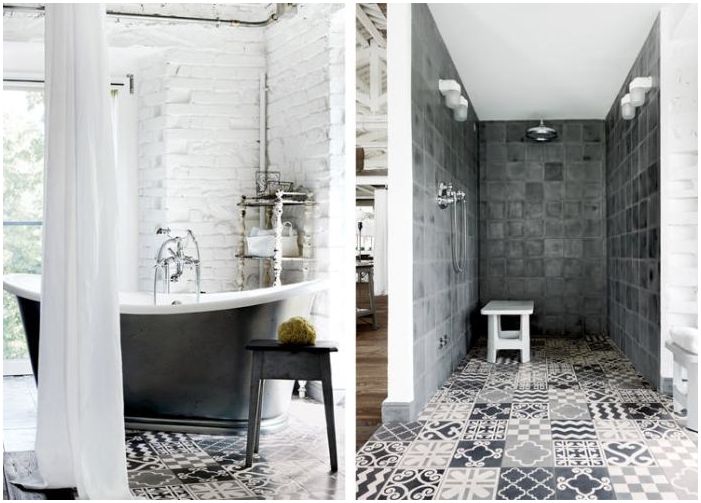 Details
A loft in a bathroom can be enhanced and decorated with unusual details for the interior, for example, wall graffiti, road or building signs. Even parts of some large mechanisms, for example, gears or springs, are suitable as decoration. Posters of the industrial era, abstract compositions will successfully fit into the atmosphere of the loft.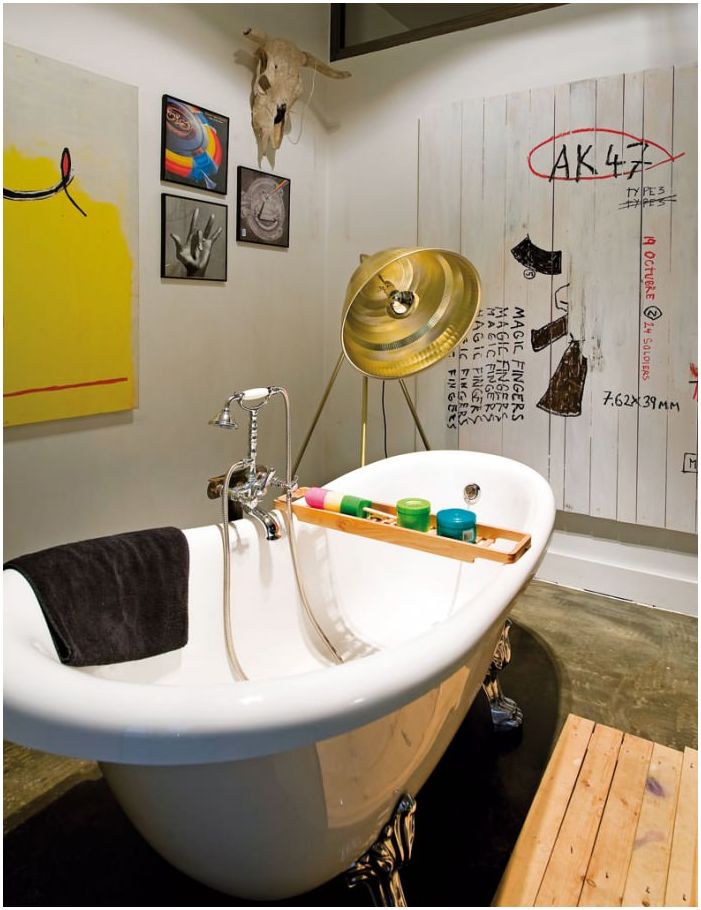 Layout
Partitions in a loft-style bathroom are not acceptable, it must be completely open, and this rule also applies to the bath itself. In order not to spray water around the room, curtains are allowed, but extremely transparent.
At the same time, the room can and should be zoned, but such zoning should be exclusively visual: the loft-style in the bathroom is emphasized by antique tiles around the bath itself, combined with exposed brickwork in the area near the washbasin.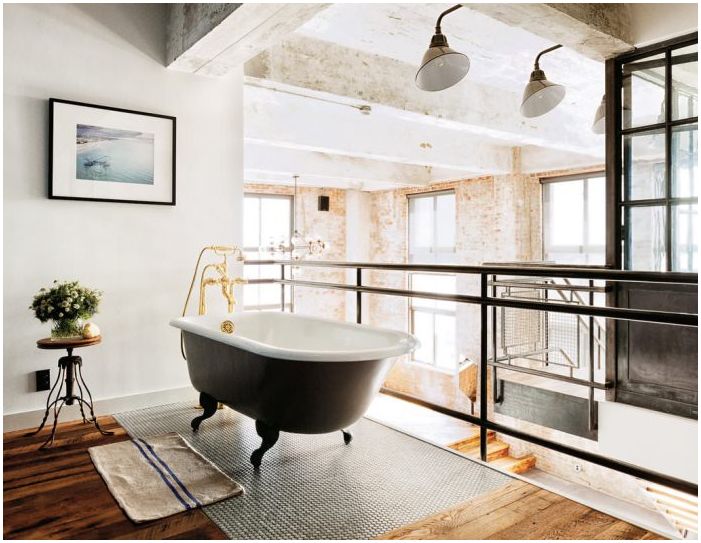 Furniture
Furniture items, in addition to fulfilling their main role, storing necessary things, can also play the role of a kind of partitions for zoning space.
The loft in the bathroom allows the use of absolutely any furniture, but it is advisable to pay attention primarily to retro design, and especially to real rarities, for example, "grandmothers" bedside tables and small dressers. Glass and chrome parts are perfectly combined with them: shelves, suspensions, holders.