To create an exclusive and expressive interior, designers advise using gray tiles in the bathroom. This non-standard solution has many advantages. Unlike traditional white tiles, gray tiles are not so easily soiled, and maintenance is somewhat easier. It looks no less impressive than black – but at the same time does not bring gloominess into the atmosphere..
Gray is a truly versatile color that allows you to use any style of interior decoration, perfectly combines with almost all other color shades, looks noble and strict.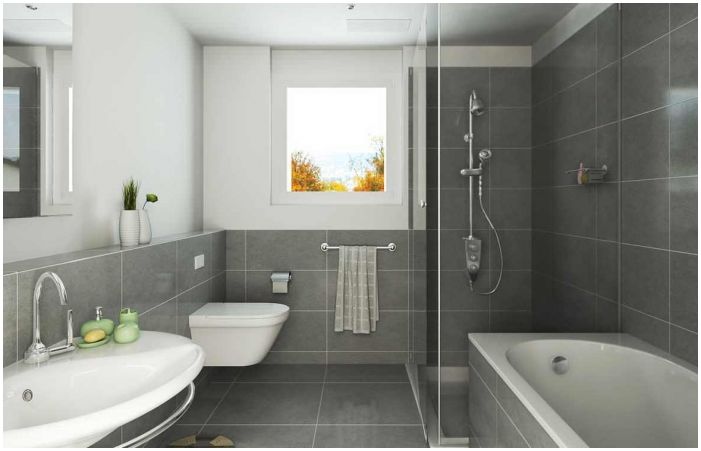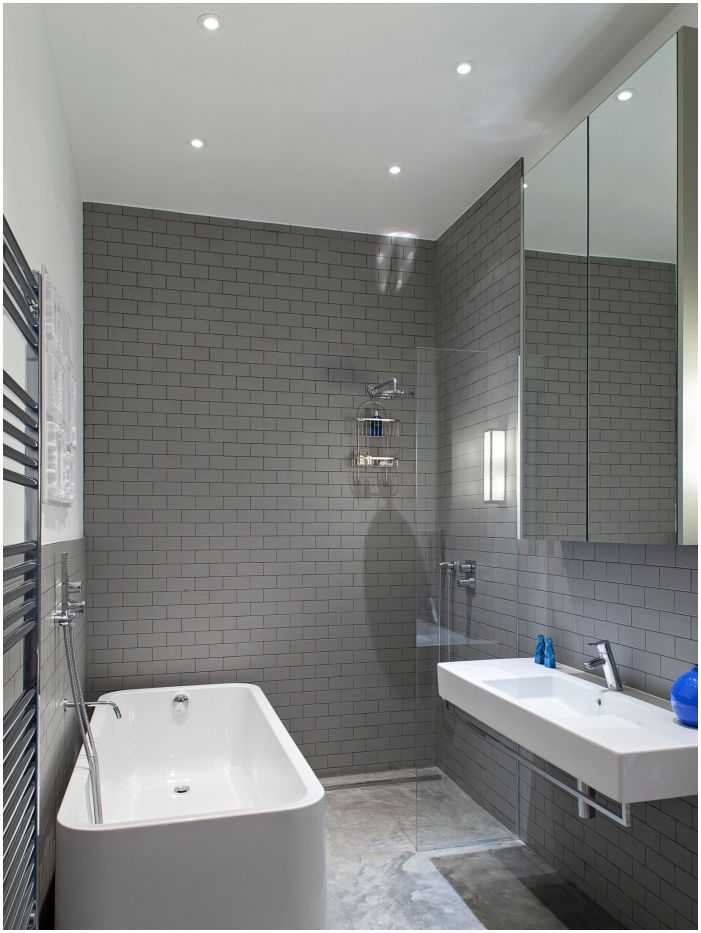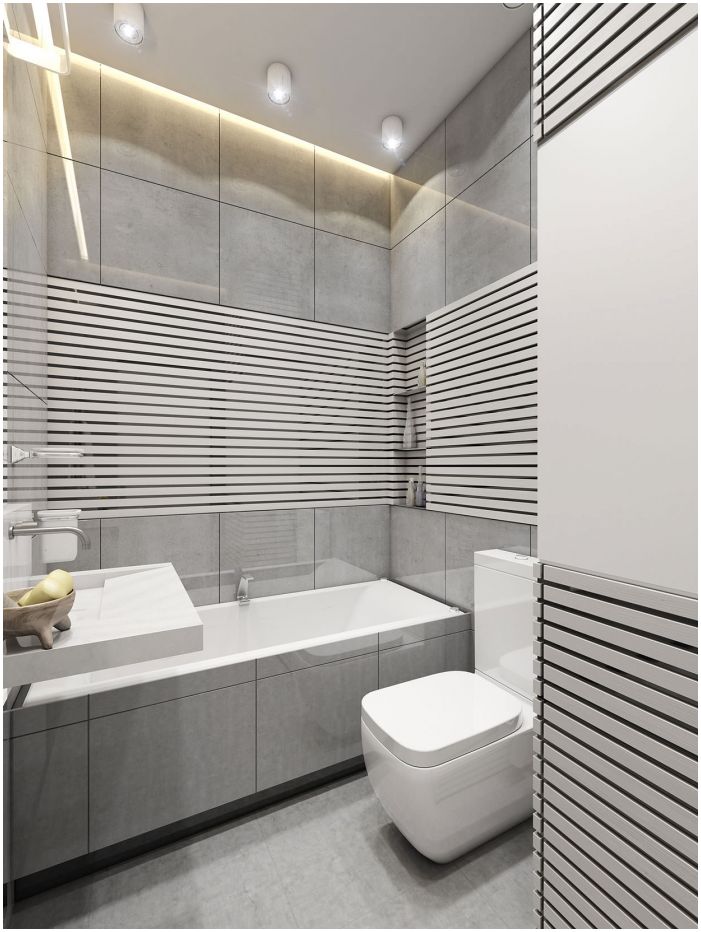 Styles
Gray is often used in art deco, minimalism, loft and modern classic interiors. If your bathroom will be decorated in one of them, it is worth choosing gray as the main color, especially for the minimalism style.
Minimalism
Actually, gray is not a color, rather it is a complete absence of colors, which fully corresponds to the spirit of minimalism. It is gray that will emphasize the philosophy of this popular style today..
Gray bathroom tiles can be of various textures, shapes, sizes. Usually, with a minimalist design, large tiles are used, as well as "hog". In this case, the grout for the joints is chosen "tone on tone", giving the impression of a monolith.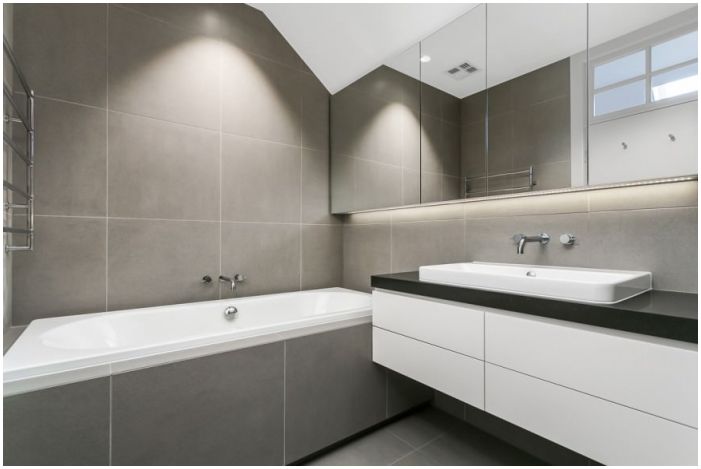 Loft
In the loft style, tiles with a texture that imitate concrete, stone or metal surface are used. Combinations with white tiles like "hog", as well as with brick and metal elements.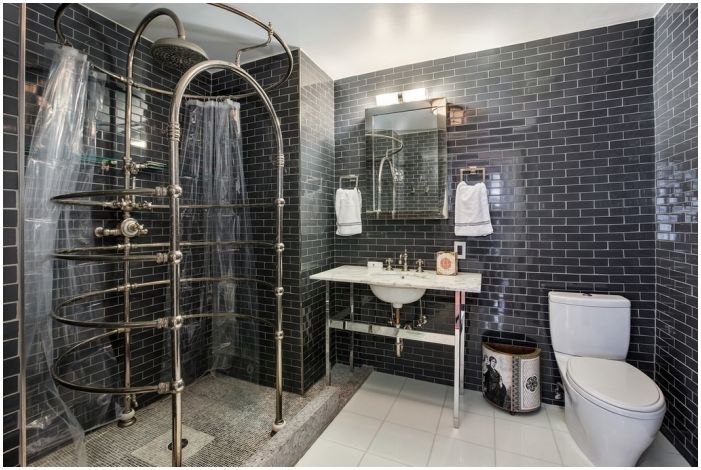 Art Deco and Classics
Art Deco and modern classic styles involve the use of textures that imitate stone, sometimes metal. Smoky tones are preferred to create an atmosphere of respectability..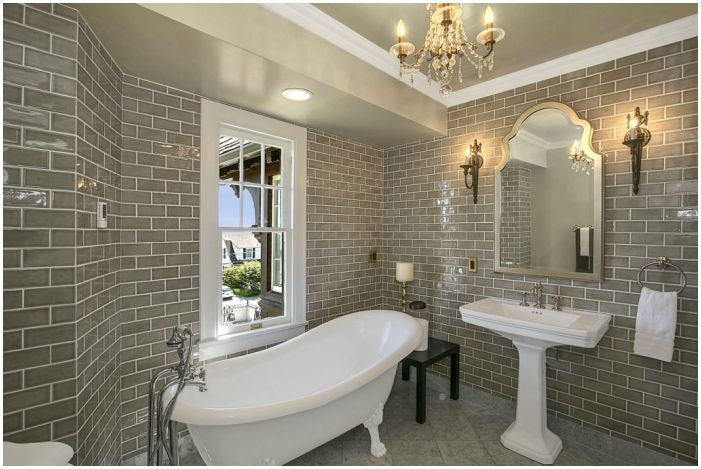 Country
Gray color allows you to get an elegant and discreet interior, emphasizing the stylistic features favorably. Gray tiles in the bathroom will look good in all varieties of country style (Provence, rustic).
Combinations
Should you combine gray tiles with tiles of other colors? Usually recommend "dilute" gray surfaces are white in order to avoid whipping up gloom. However, are gray interiors really gloomy? Gray itself is very rich in shades. It can be warm and cold, light and dark, beige or bluish, have many different tones..
Using gray with a cream or beige tint for decoration, you can get a light and cozy interior. White plumbing, glass and mirror elements and a well-thought-out lighting scheme can add brightness and radiance to the room. Furniture is also better to use light colors..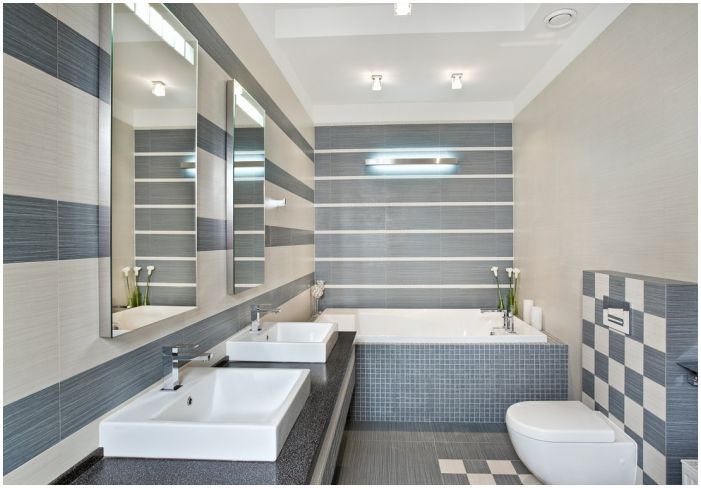 You can avoid the monotony of the interior by choosing gray tiles for the bathroom, not only in different shades, but also in different textures and sizes. Part of the walls can be laid out with large tiles, and some can be covered with mosaics, or laid out with small tiles of a different tone.
Tiles with different surfaces are effectively combined with each other – glossy, matte, "under concrete", "under the stone", metallized tiles. Even if they all match in color, the interior will not look boring – the play of textures will fill it with inner content. Of course, nothing prevents you from combining gray tiles with colored ones, or with painting the walls in different tones. The combination with white, as well as with blue and blue looks especially advantageous..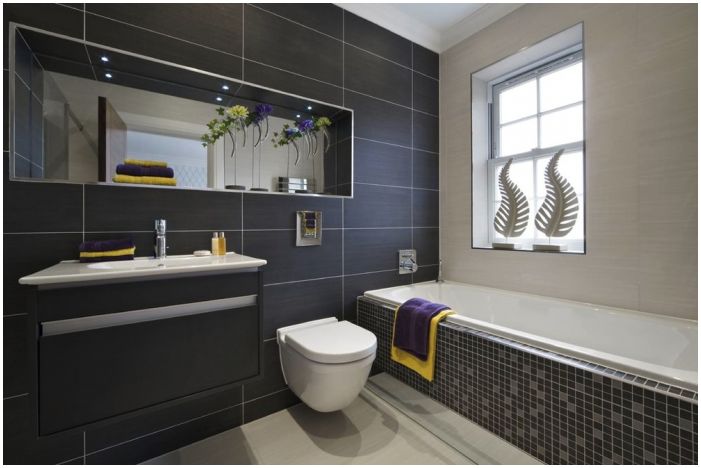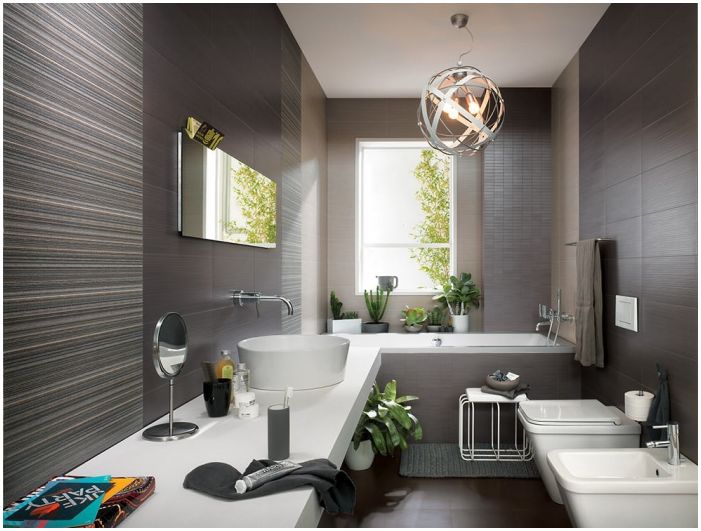 Gray tiles in the bathroom go well with shades of beige – peach, apricot, as well as light green, pink and lavender. The classic combination with black and white also cannot be neglected, it is always relevant and gives elegance. Beige tones will bring warmth to the interior, green and blue – cool.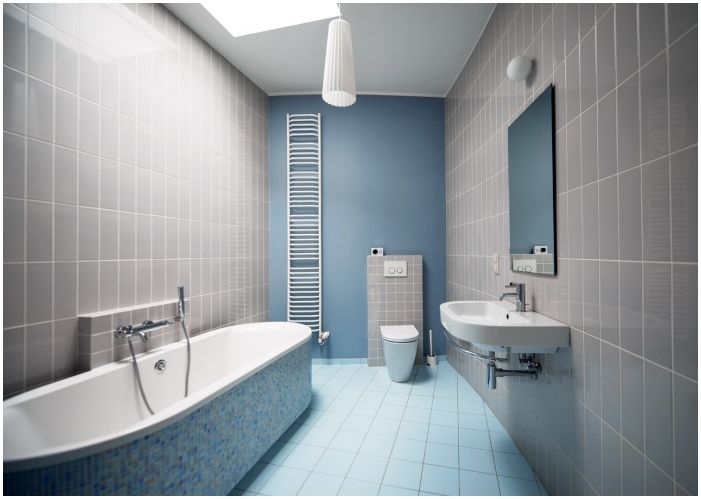 Furniture
Furniture can be selected by color, or by texture. White furniture will give the bathroom brightness, black – graphic, gray will merge with the walls and make it possible to focus on other interior details, for example, plumbing or mirrors.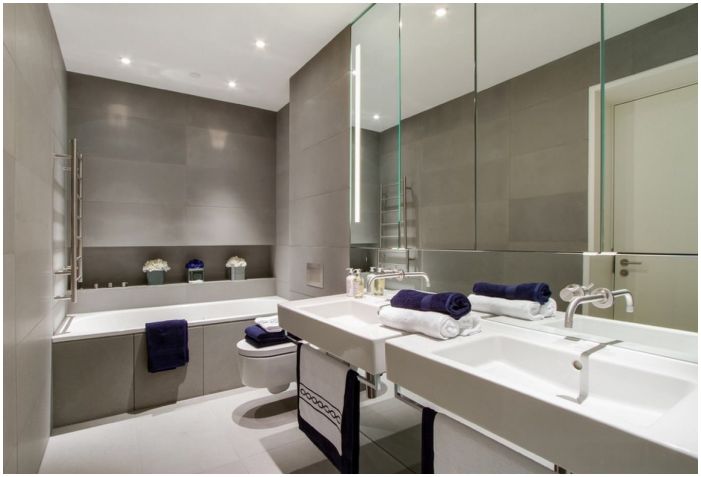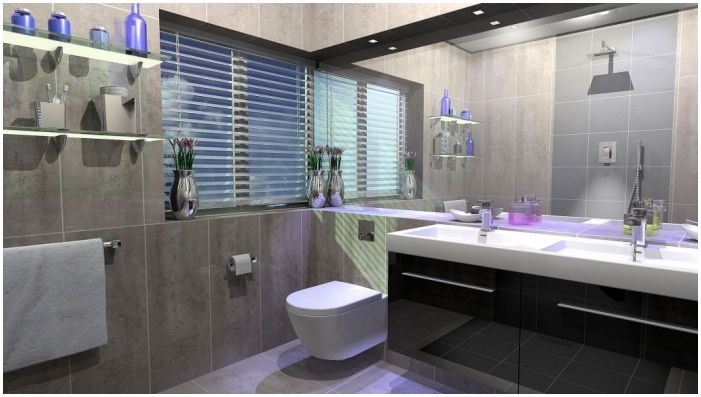 Dark brown furniture – for example, chocolate or wenge – looks good in a gray environment. A more interesting option is the choice of furniture by a combination of textures. If the surface of the tile imitates a wood pattern, you can choose wood furniture with the same pattern, while it can be of any color, including a contrasting one.
Gray bathroom tiles combined with natural wood texture in furniture are the typical choice of designers when decorating interiors in modern styles. To make the room brighter and more cheerful, you can use furniture as an accent element by painting it in an active color, for example, scarlet, turquoise, yellow.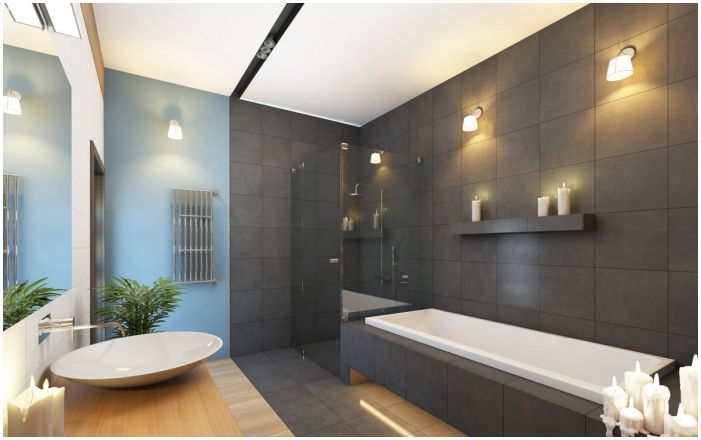 The choice of plumbing can greatly affect the perception of the interior. For example, a stone countertop or a sink will be in perfect harmony with the color of the walls and will give the bathroom room solidity and respectability..
To make the bathroom seem larger and lighter, try to make large interior elements lighter. So, a small cabinet can be black, but it is better to make a large one light gray, white or even mirrored. Large-area countertops should be in light colors. Try to maintain a balance between light and dark elements so that the interior turns out to be harmonious..