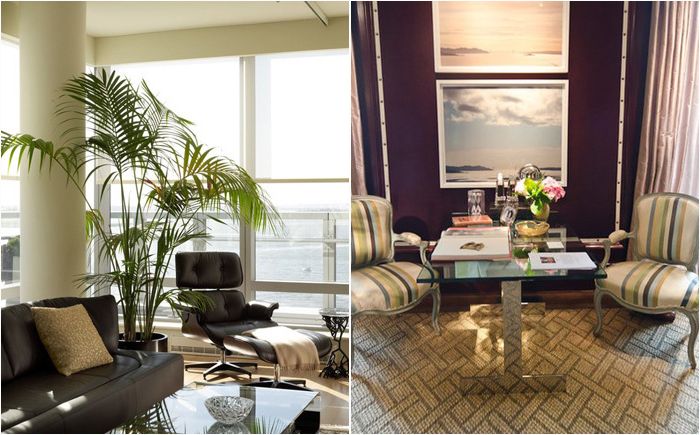 10 simple tricks to make a large living room cozy

Large rooms have their own laws and rules, therefore, the principles of their design differ from all others. We offer simple ideas that will help make the room harmonious and comfortable..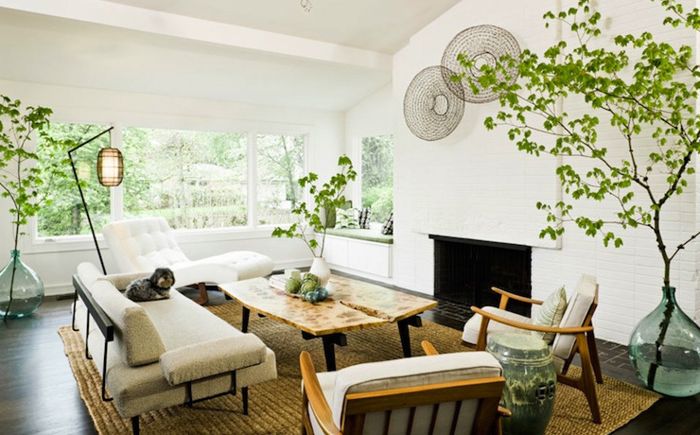 Plants in flowerpots
1. Potted flowers. It is necessary to correctly select and arrange flowers in flowerpots around the room. In a room with high ceilings or unfilled «dead» it is better to put tall trees at the corners. True, you definitely need to pay attention to the lighting of plants..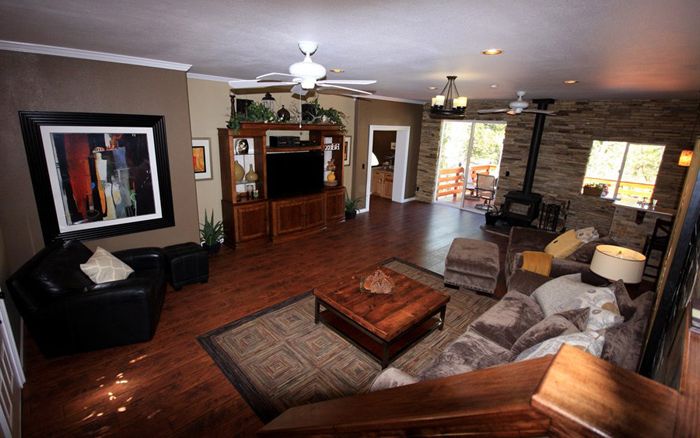 Two-color walls
2. Two-color walls. Tall plants are necessary to draw attention to themselves and emphasize the height of the ceiling, but sometimes the opposite effect is necessary. If the walls are painted in two colors, then this will not only make the room more attractive, but also visually reduce the ceilings.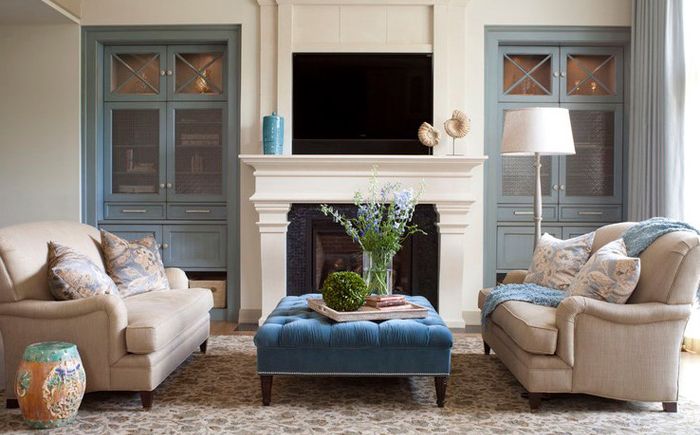 Ottoman instead of a coffee table
3. Ottoman. The huge soft corners sometimes look rather empty and isolated. This is because there is too much distance between the sofas and the coffee table. If you put a large ottoman instead of a table, it will eliminate the feeling of emptiness and add some softness..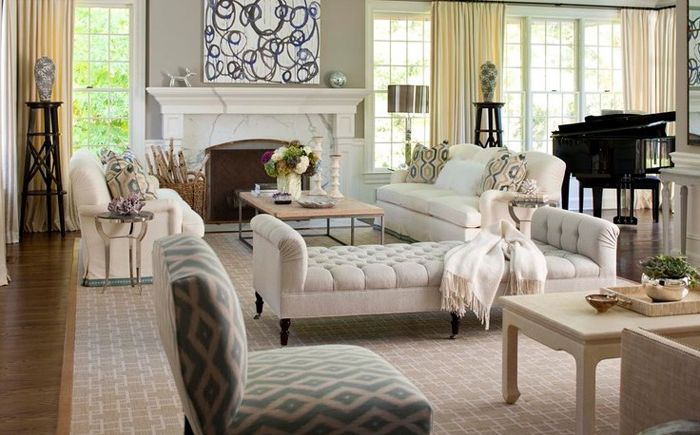 The couch as a divider in the living room
4. The couch. In a huge living room, one seating area may not be enough. Therefore, it is best to divide the room into two zones, limiting them to furniture that does not interfere with the view. It could be a couch, a bench, a chest.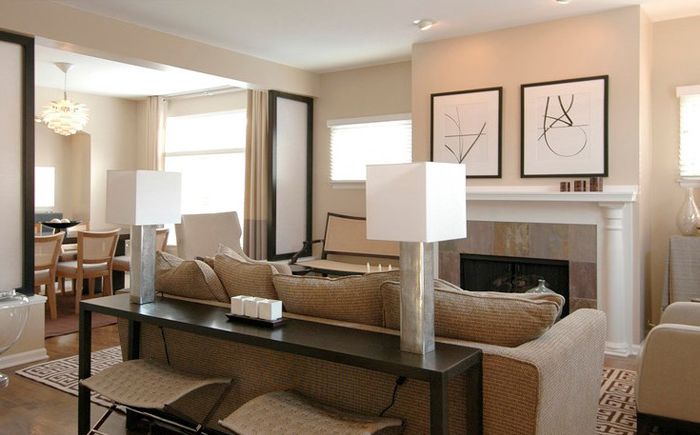 Side table
5. Side table. You can also divide a large room with a side table. True, in this case, the couch should be placed in the center of the living room..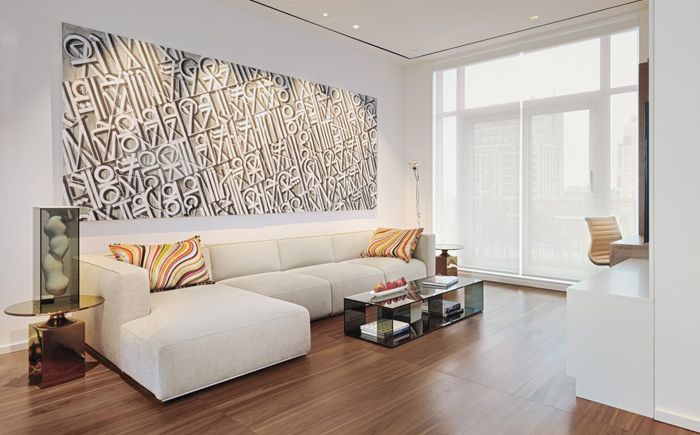 L-shaped sectional furniture
6. Sectional furniture in the shape of the letter L. Large modern living rooms are perfectly suited for seating areas in the shape of the letter L. Such a sofa is simply a symbol of comfort..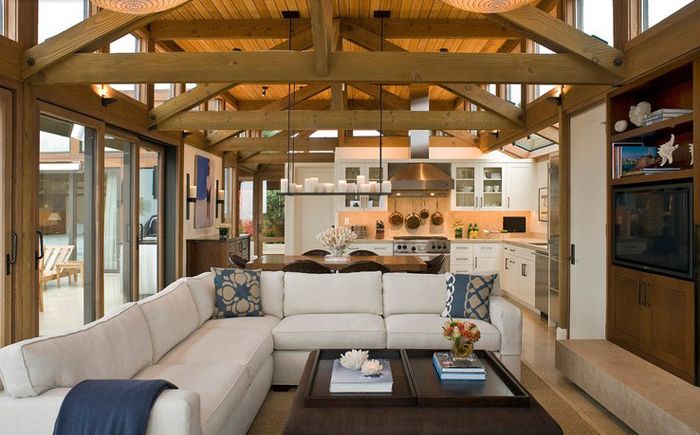 L-shaped sectional furniture as divider between zones
On the other hand, such furniture is perfect as a zone divider. It will look organic between the living room and the dining room..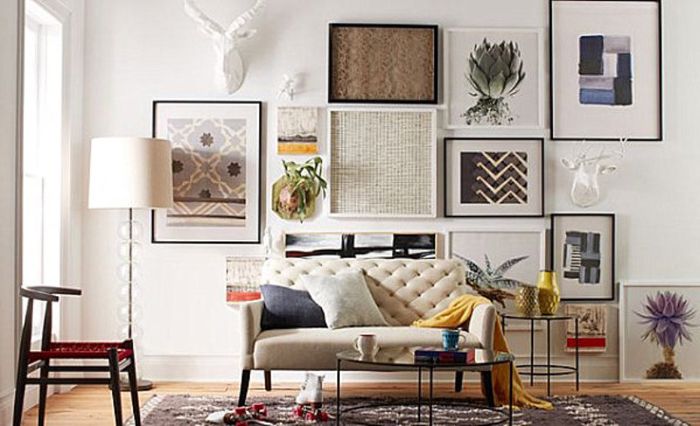 Filling the dead zones
7. Dead zones. In spacious rooms, many areas often turn into «dead», depriving living rooms of coziness and comfort. It is better to get rid of such zones. To do this, it is best to move the furniture away from the walls, forming a cozy corner in the center of the space. However, another problem is possible. The walls will now look bare. It can be solved with a side table and a couple of benches, or you can arrange a gallery.


Side table and two armchairs
8. Chairs. If suddenly, after arranging the furniture, it turns out that there are many bare walls in the room, you will have to purchase several additional chairs. A side table between a couple of pretty armchairs, a large mirror, the picture will always look stylish and original. If necessary, the chairs can be moved closer to the guests.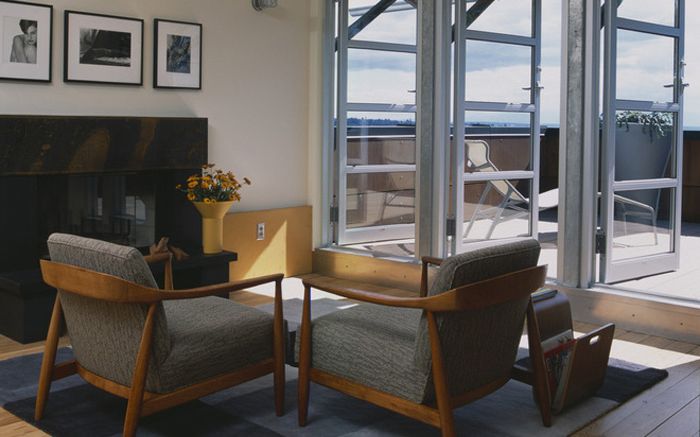 Intimate corner for two
9. An intimate corner for two. Huge living rooms are most often designed to receive large numbers of people. But guests do not come every day. Therefore, a corner for personal leisure can be organized near an empty wall. A small table, a couple of chairs – and you can read a book or chat with someone alone. Designers advise using decorative tape on the wall to mark this place..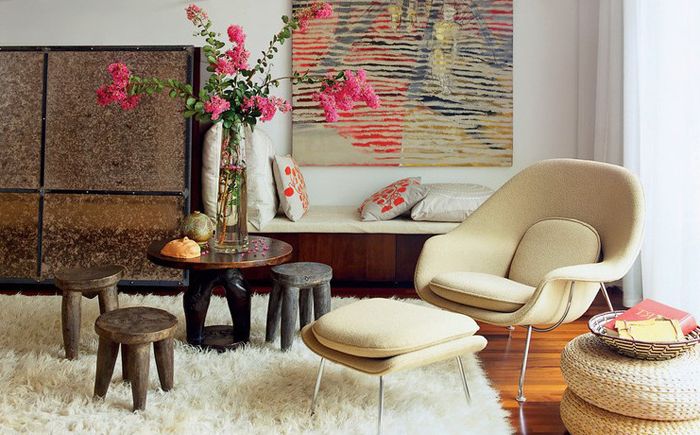 Cozy sitting area in the living room
10. Recreation area. In a large living room, even after arranging all the main furniture, at least one unfilled corner will certainly remain. Surprisingly. But it can be turned into a main recreation area, a favorite corner.