The modest size of the living room is not yet a reason to deny yourself the opportunity to realize your ideas of comfort, coziness and elegant appearance of a room for the rest of the family. Of course, the small area of ​​the room limits the owners in the choice of the color palette, the number and models of furniture, the placement of decor, but there are many design techniques that can visually expand the available space, create the illusion of spaciousness in the room.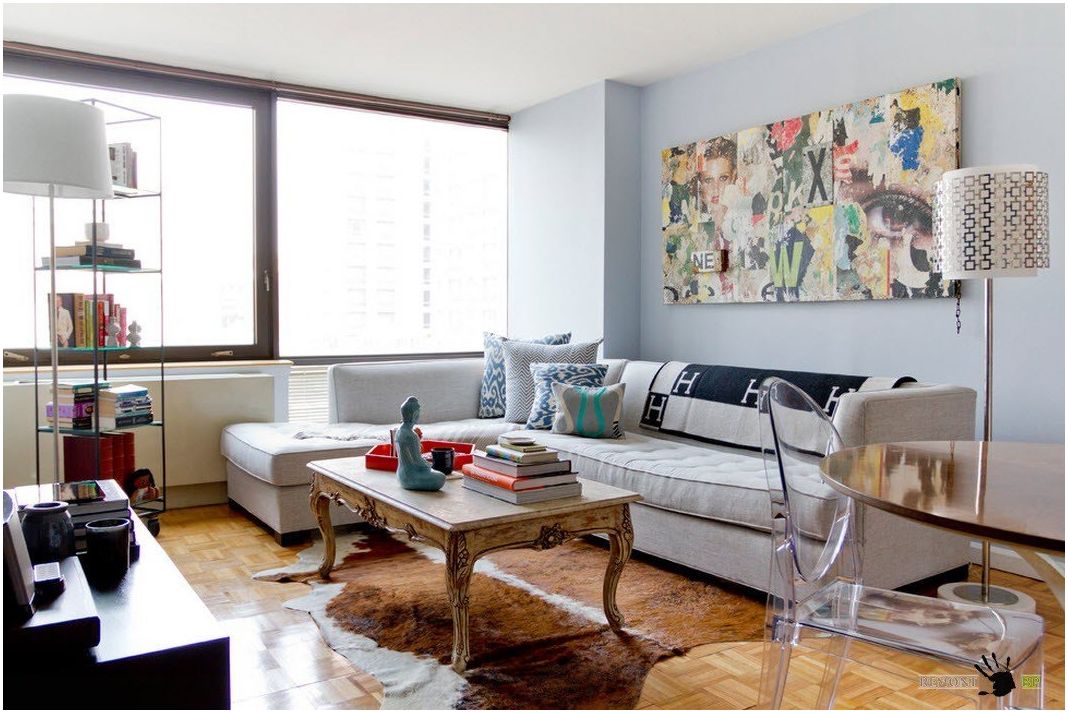 From the choice of color schemes to the placement of decorative elements, there are a number of unspoken rules for arranging small rooms, rooms with an asymmetrical shape or inconvenient layout. We hope that the examples of living room design projects presented below, made in various interior styles, will help you plan a renovation in your own small lounge for the whole family..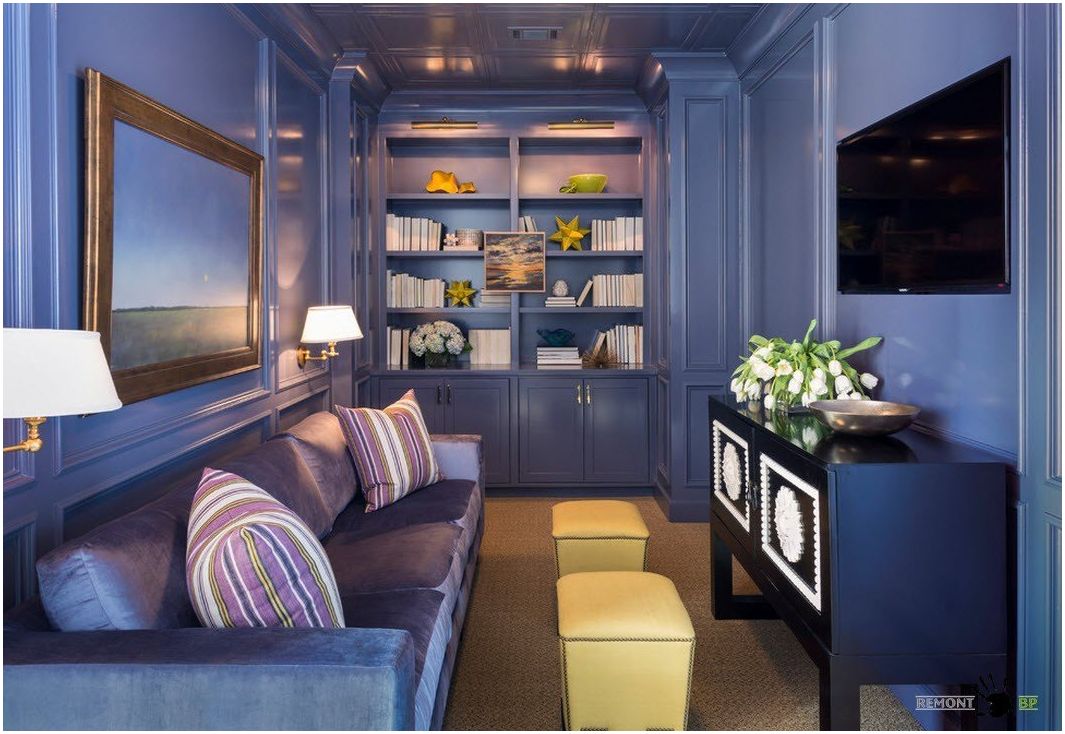 Color palette is the key to success in small spaces
We all perfectly understand that the light color scheme of the room visually expands it, creates the illusion that the space is larger than it really is. Many stylistic directions for interior decoration of certain premises are based on snow-white wall decoration and furnishing of rooms using furniture in natural shades with the use of bright accessories as accents. And such design techniques are very popular, because they are the simplest and most understandable option for homeowners for arranging a small room. The white color of the living room finish allows you to feel a certain freedom when choosing other interior items – furniture, decor, lighting fixtures, textiles. Any color looks great on a white background, even neutral shades acquire a special charm and you do not need to worry about combinatorics.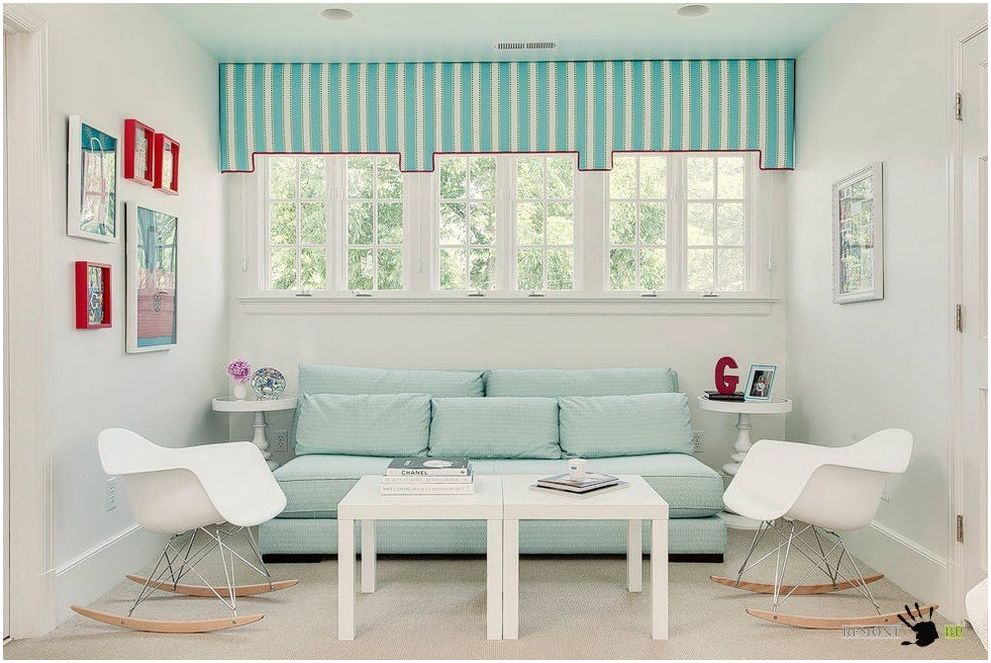 If in your room the ceiling and walls are decorated with white, and the flooring is in much darker colors, then such color solutions will visually expand the boundaries of a small family room..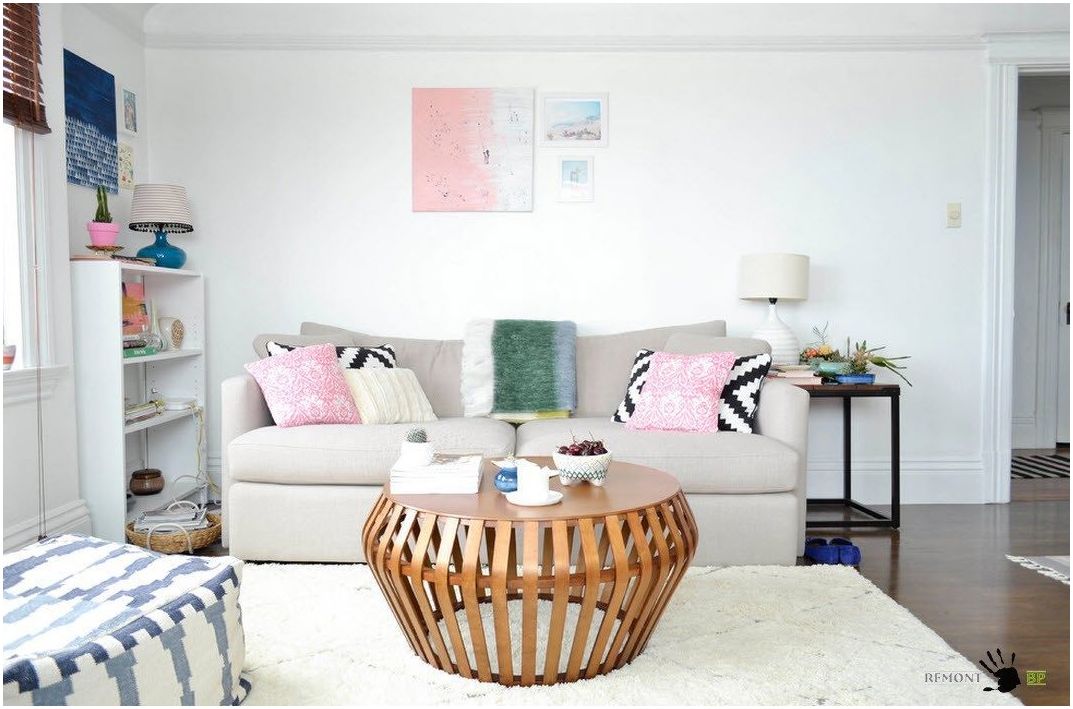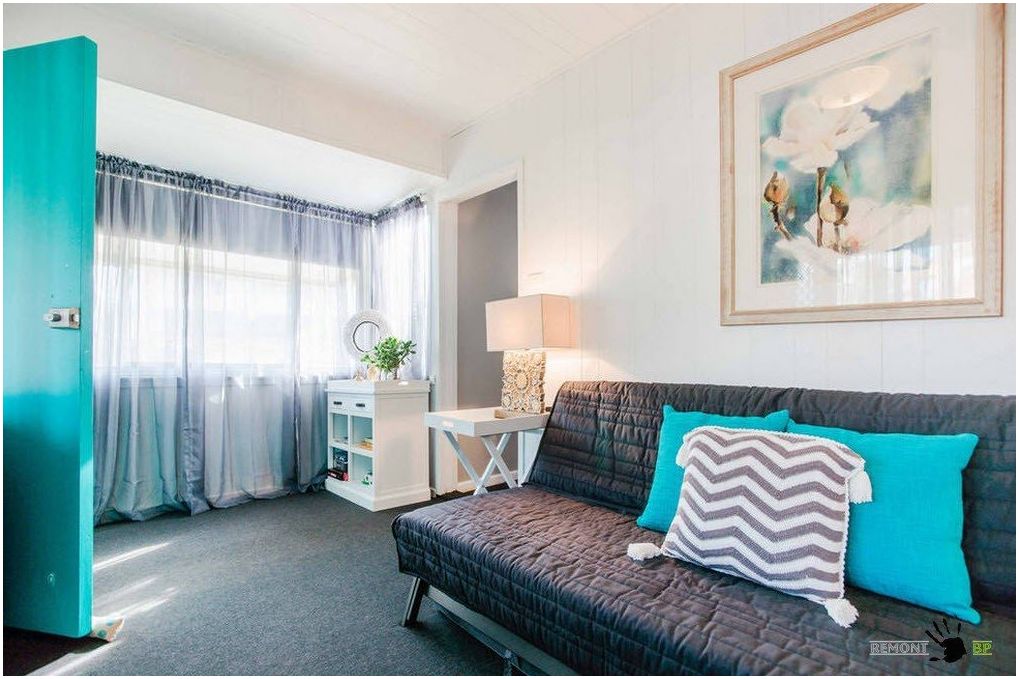 Snow-white walls, against which furniture in neutral shades is located, can add up to a very boring image of a living room. You can create accents in decoration by using interesting wallpaper with photo printing or textured finish of the same color to decorate one of the walls of the room. This approach will not violate the overall color scheme of the room, but it will bring an interesting and unique design element into the living room interior.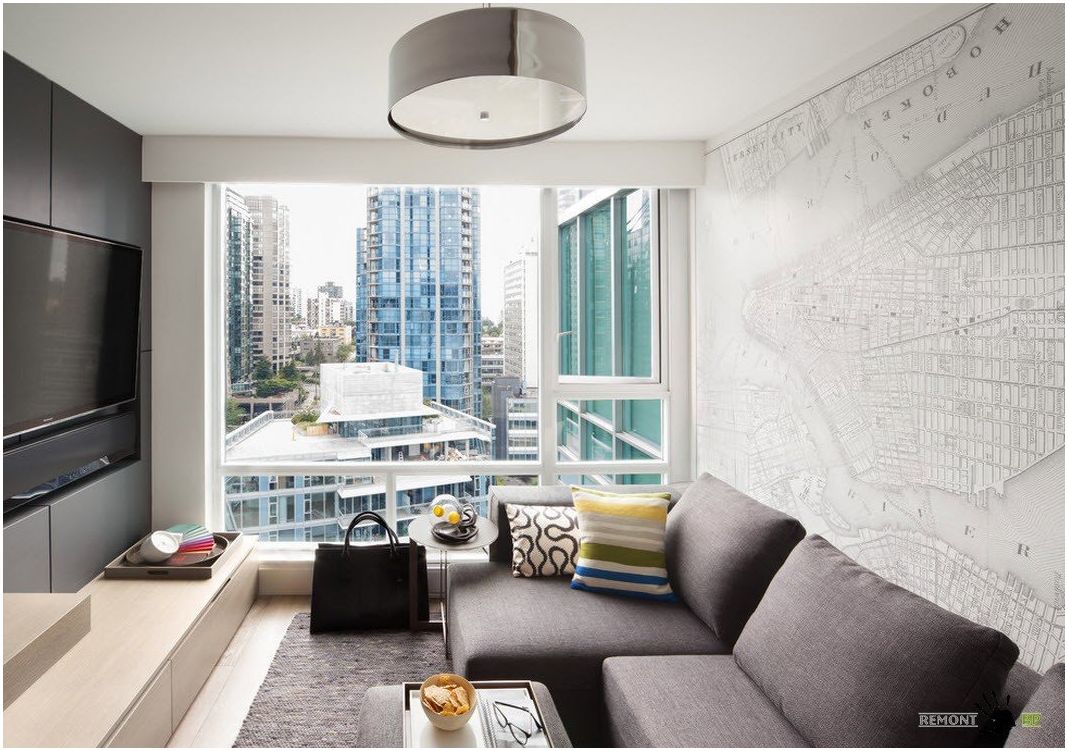 Creating an accent wall among the crisp white finishes is a snap. Even the use of light, pastel shades allows you to highlight the surface, draw attention to the furniture (and what does it all turn out to be a sofa), which is located on its background. To create a more effective focus, you can use a contrasting or bright decor – a photo in frames, a painting, a panel or collectibles displayed for all to see on open shelves.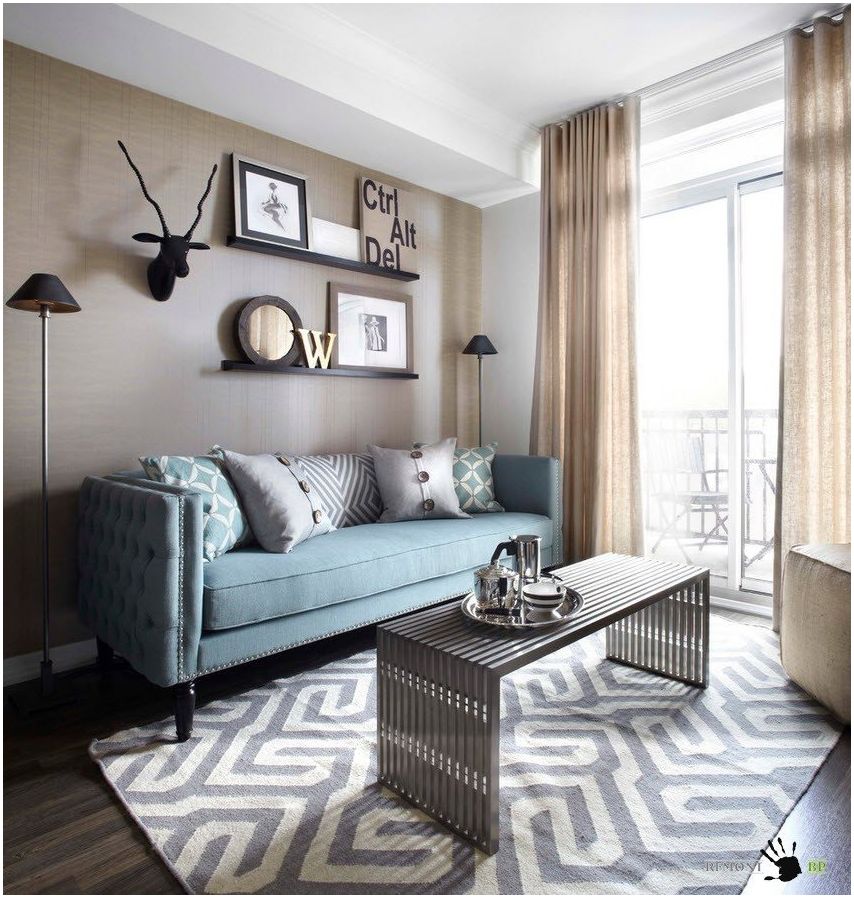 The use of pastel colors to decorate and furnish a living room can be a successful alternative to using white to decorate the vertical planes of a room. The beige palette will create a warm and welcoming atmosphere. Bluish gray tones will provide a neutral backdrop for contrasting furnishings and give the room a fresh and cool feeling. Light greens, mint, pistachio and olive shades, generously diluted with a white tone, will create a relaxing environment conducive to purifying thoughts and emotions, rest after a hard day at work.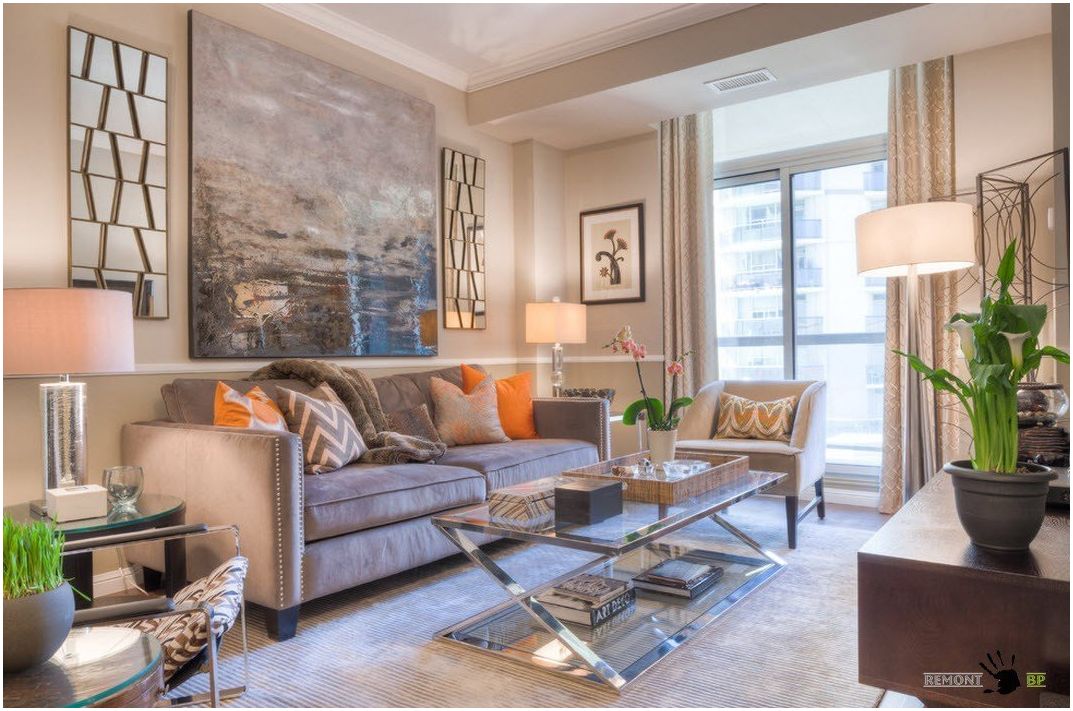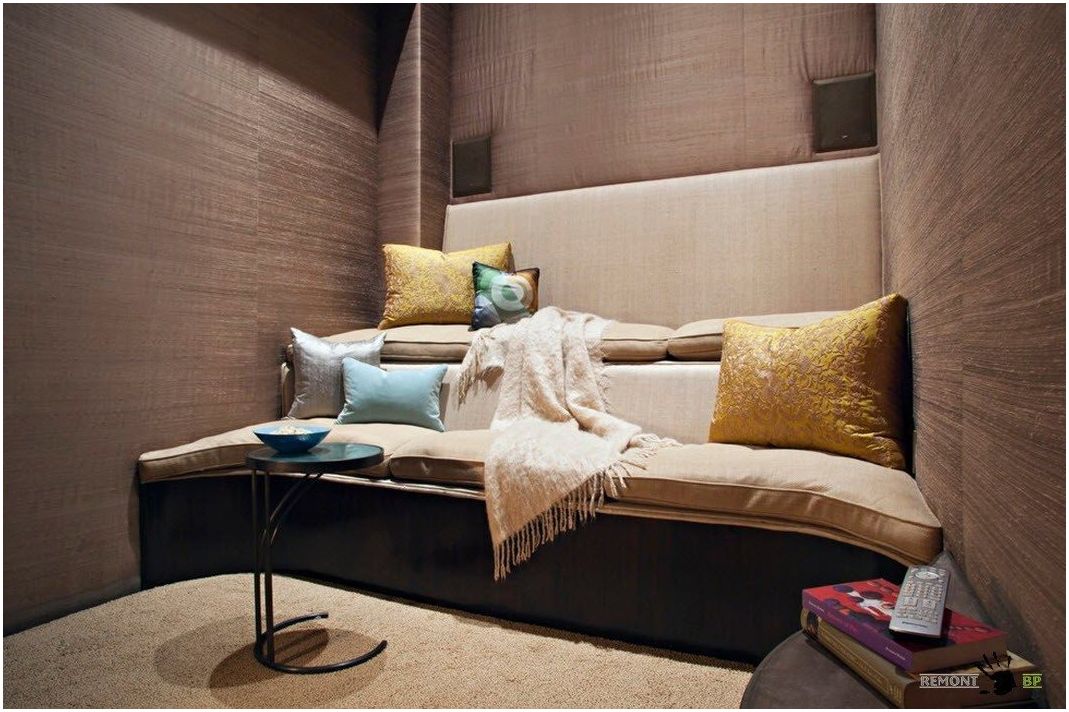 The use of warm natural tones contributes to the creation of a pleasant, cozy atmosphere in the living room. This is especially true for the decoration of the room, which uses natural materials, such as wood wall panels. This design allows you to create an atmosphere of closeness to nature, both in dwellings outside the city limits and within city apartments..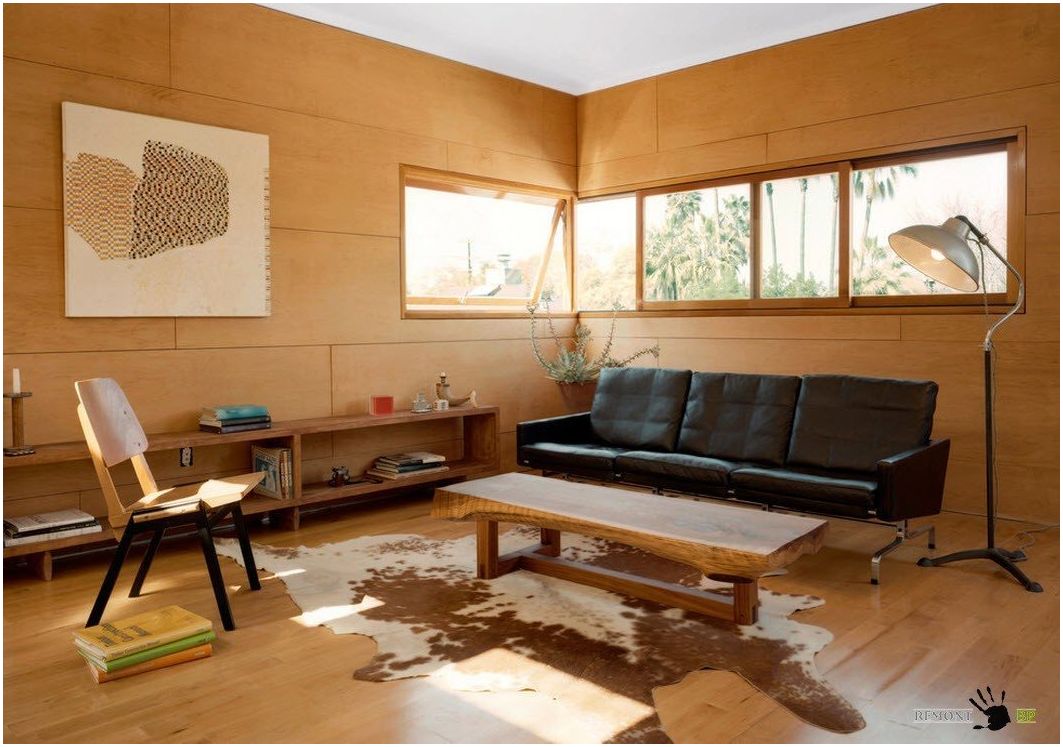 Contrasting combinations of light and dark tones are a universal option for creating an interesting interior for rooms of all sizes. But it is important to consider that for small rooms it is necessary to use white as the predominant color, intermediate (one of the shades of gray) as a color solution for large items (sofa or armchairs), and black tones for dosed use in decor, textiles..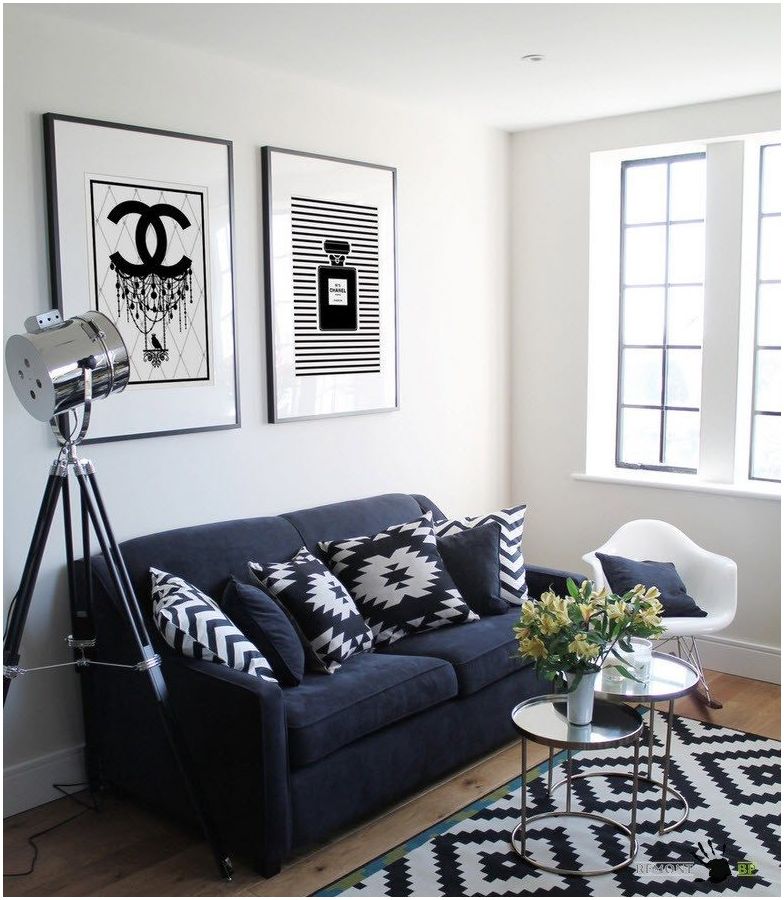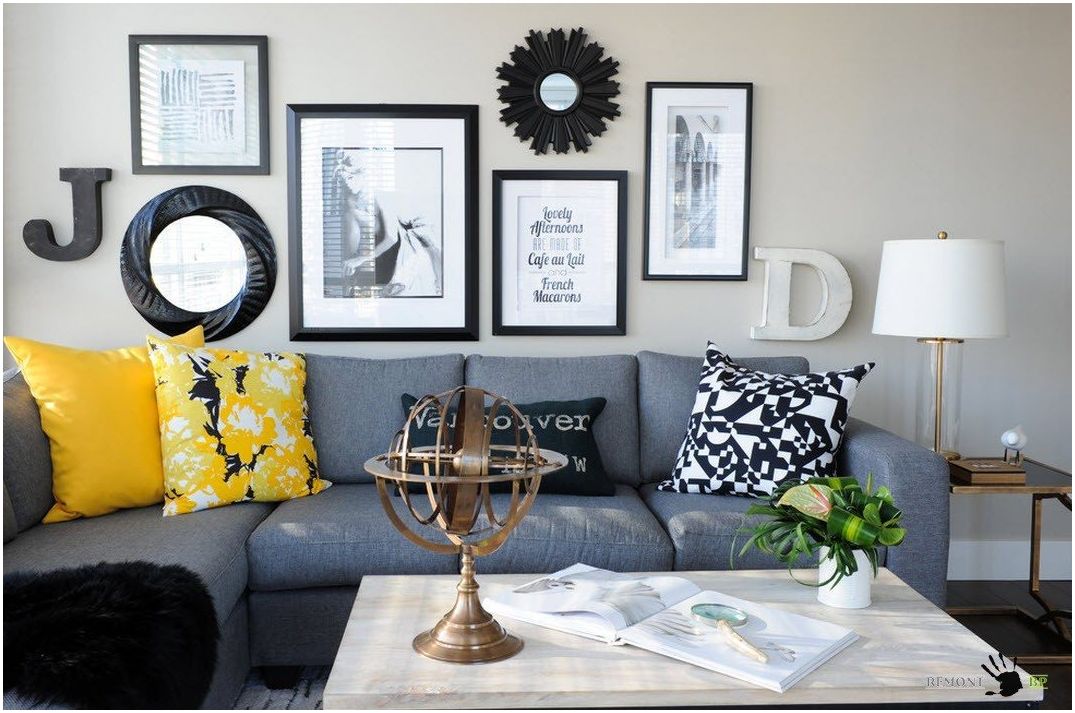 If, for some reason, plain walls do not suit you and you decide to use wallpaper with a print to decorate the walls in a small room, then remember that the use of a large pattern will create the effect of a slammed box, narrowing an already small room. A small drawing will create the illusion of a larger space, the same applies to textiles used in the living room..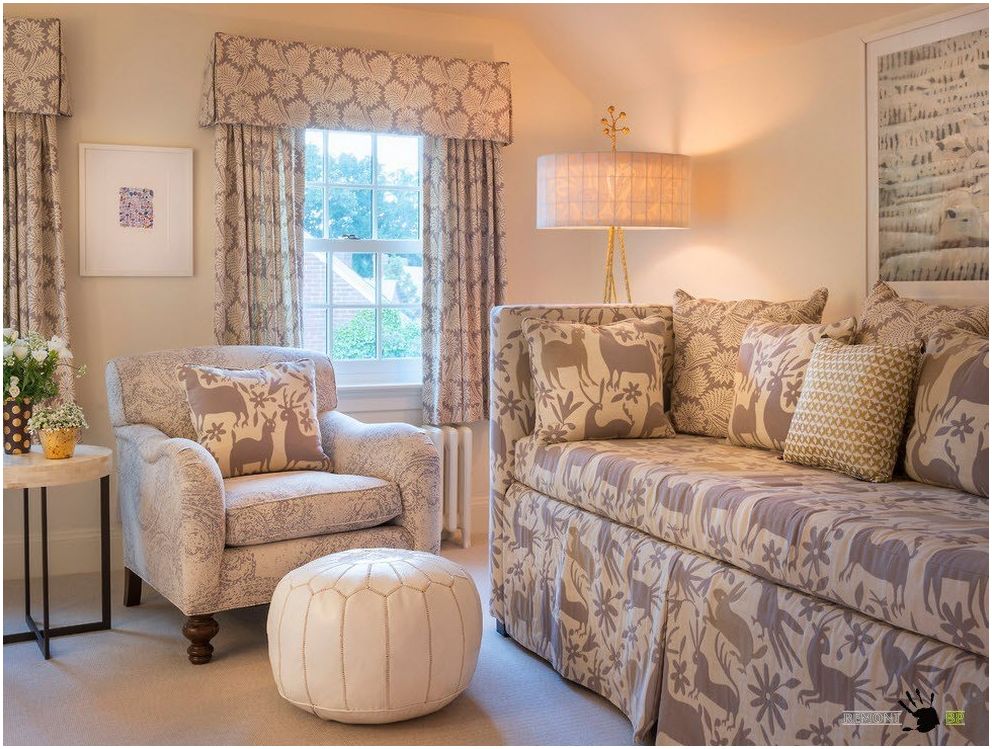 Use horizontal and vertical stripes in decoration to visually expand the space in height or width as you wish. The same effect can be achieved with striped prints on upholstered furniture or carpets. But remember that the stripes should not be too variegated, this will affect the visual perception of a small room..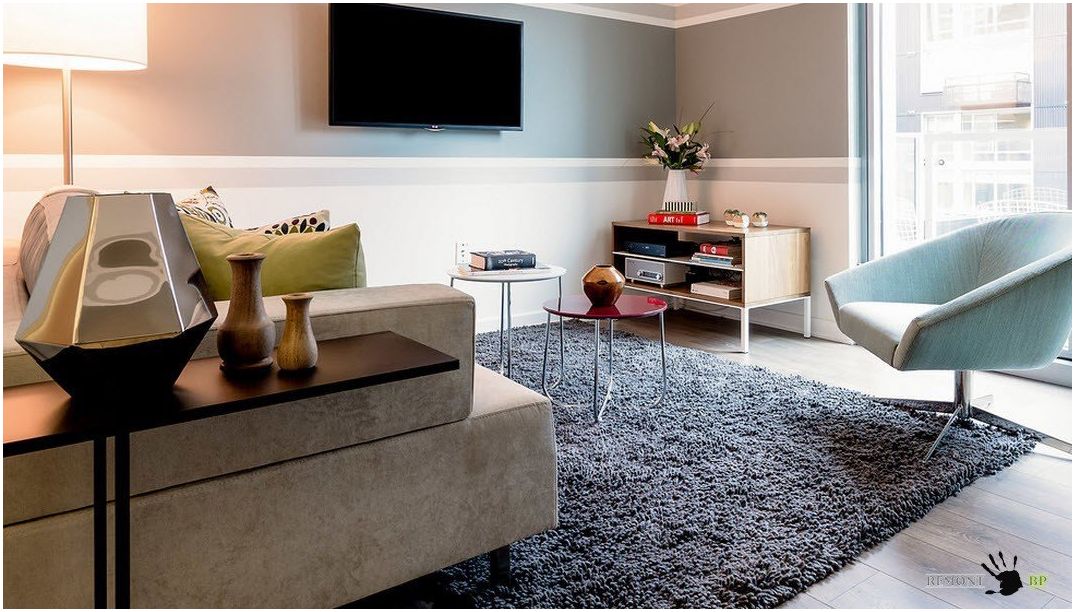 Visual zoning of space – ergonomic interior of the common room
It often happens that even in a small living room, you need to place another area, in addition to the recreation segment. This can be a workplace, a creative corner, or a dining area. It is obvious that the use of partitions, screens and other enclosing elements in a room with a modest size is unacceptable, they all hide the space, clutter it up. In order to carry out conditional zoning, the easiest way is to imagine the furniture of a room inscribed in a geometric figure – a triangle, square or rectangle. By placing the main pieces of furniture of this or that segment in the imaginary vertices. You can achieve an ergonomic and rational layout of even a small room.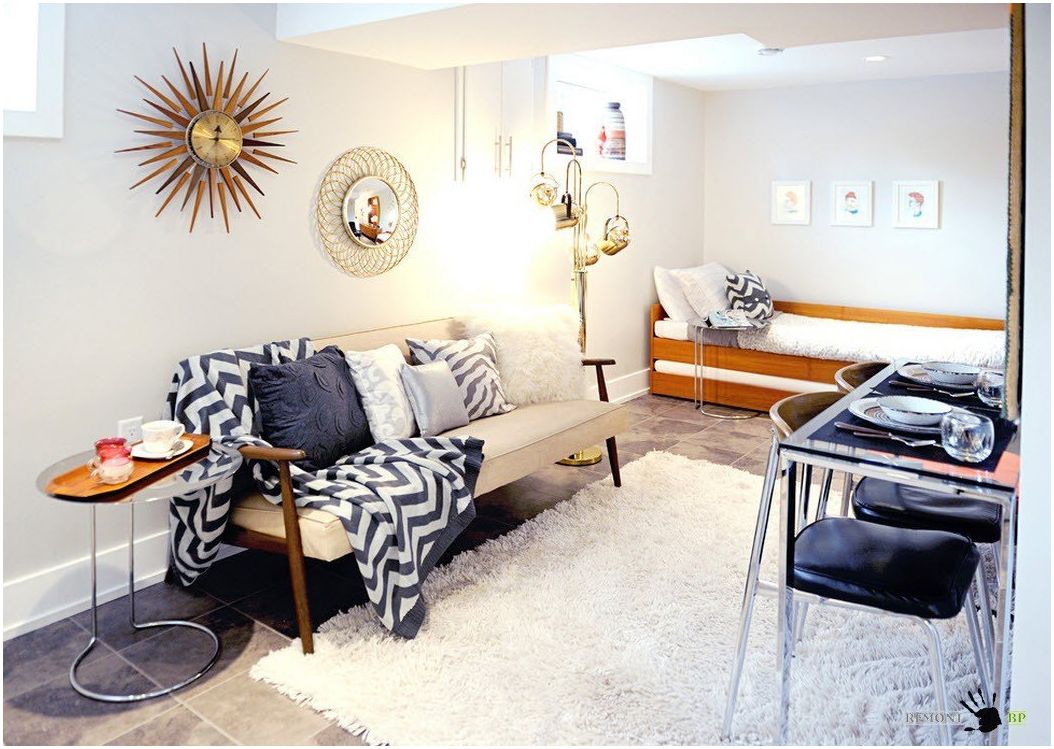 For example, in a small living room, the apexes of the triangle are the sofa (soft area), TV (video area) and the dining group (dining area). A sufficient amount of free space will remain in the room, if you do not use excess furniture and try to limit yourself only to wall decor.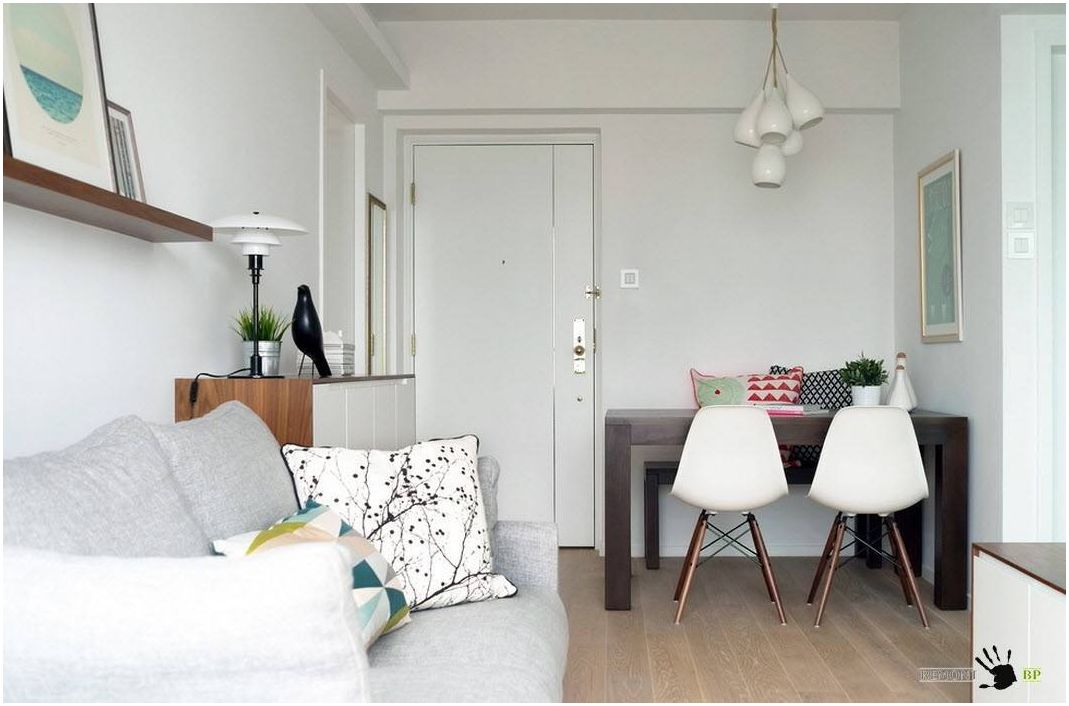 Our vision is arranged in such a way that smooth and monochromatic objects seem to us larger in size than colored and textured ones. You can use these illusions for visual «approximations» or «distancing» the planes you need. If you paint a smooth wall in one tone, and place a plane next to it, decorated, for example, in the form of brickwork, then we will perceive them in different ways. Thus, it is possible not only to zone the room, but also to focus the attention of anyone entering the room on the objects we need – pieces of furniture, appliances or decor..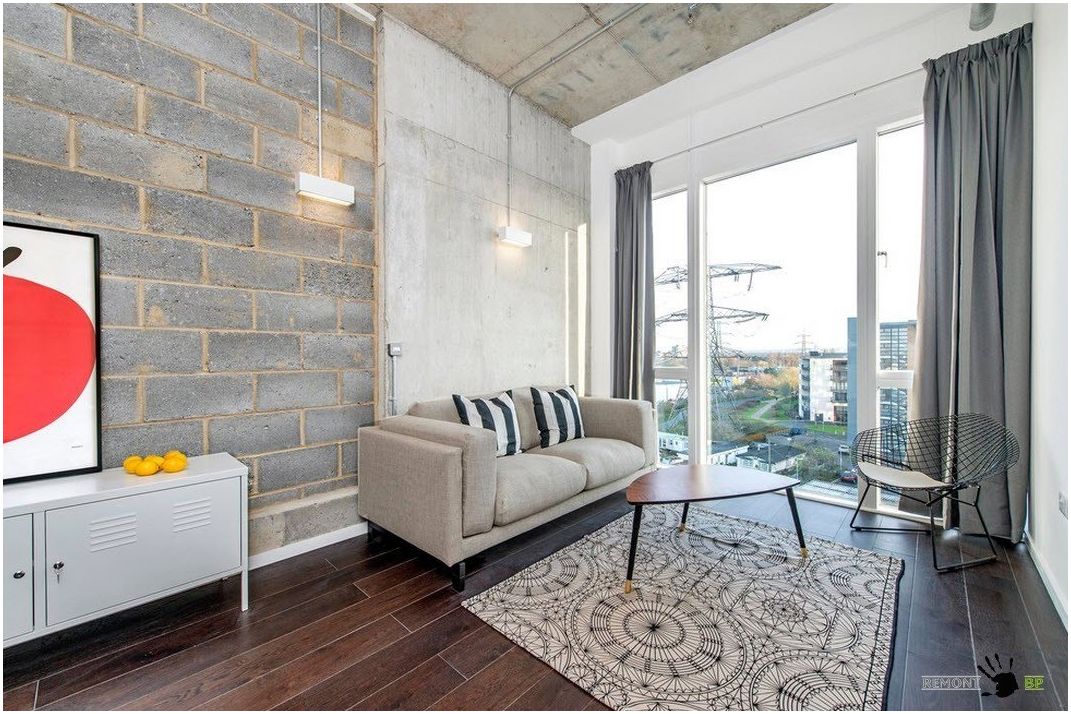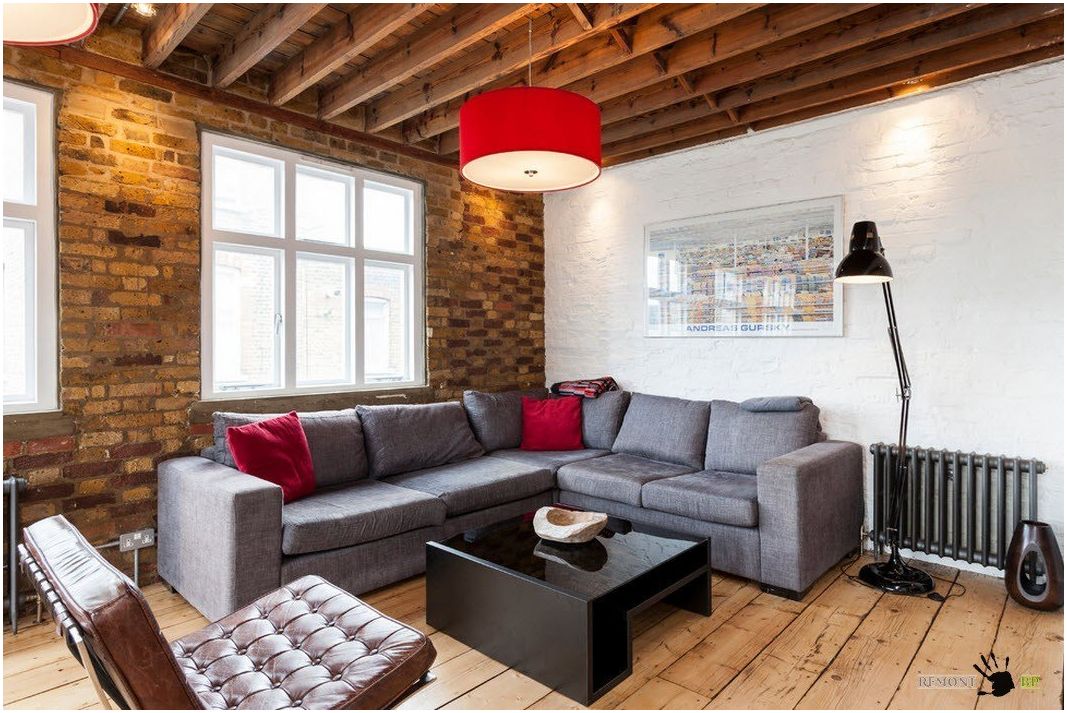 Use the asymmetry and irregular shapes of the room to your advantage as much as possible. If the living room is located in an attic room with ceilings that have a large bevel, then try to place seating and low storage systems from the places of the lowest ceiling height. If the room, due to the original layout, has niches and nooks, you can always build in storage systems or equip soft seating areas. In this case, just hang a wall lamp next to it and the reading space is ready..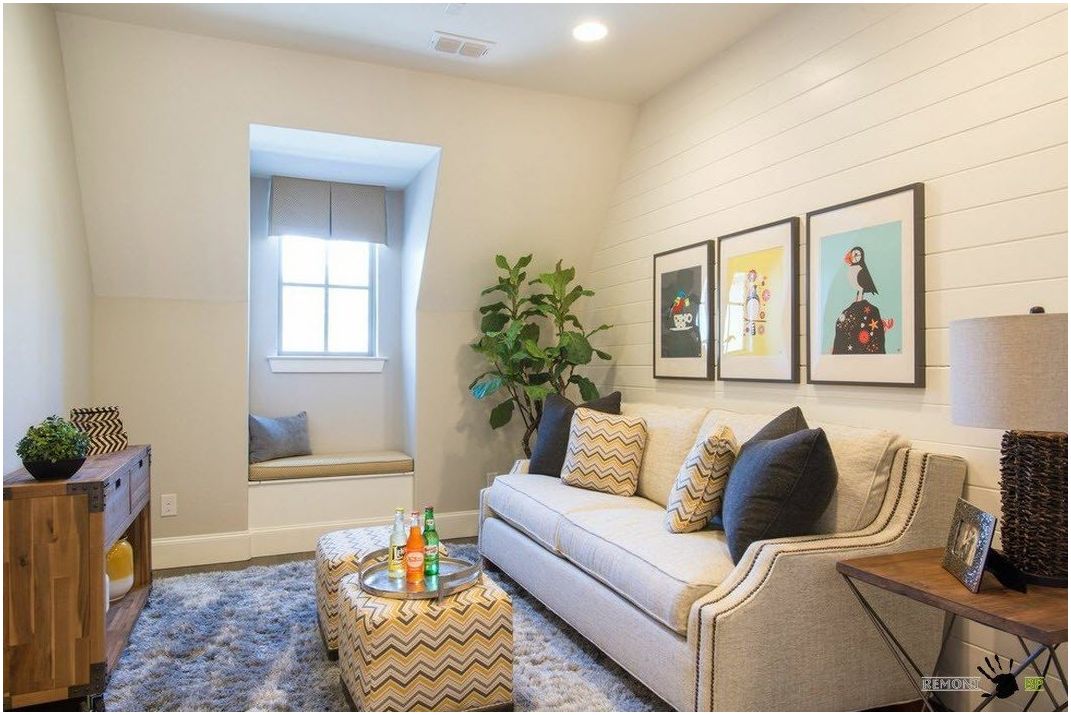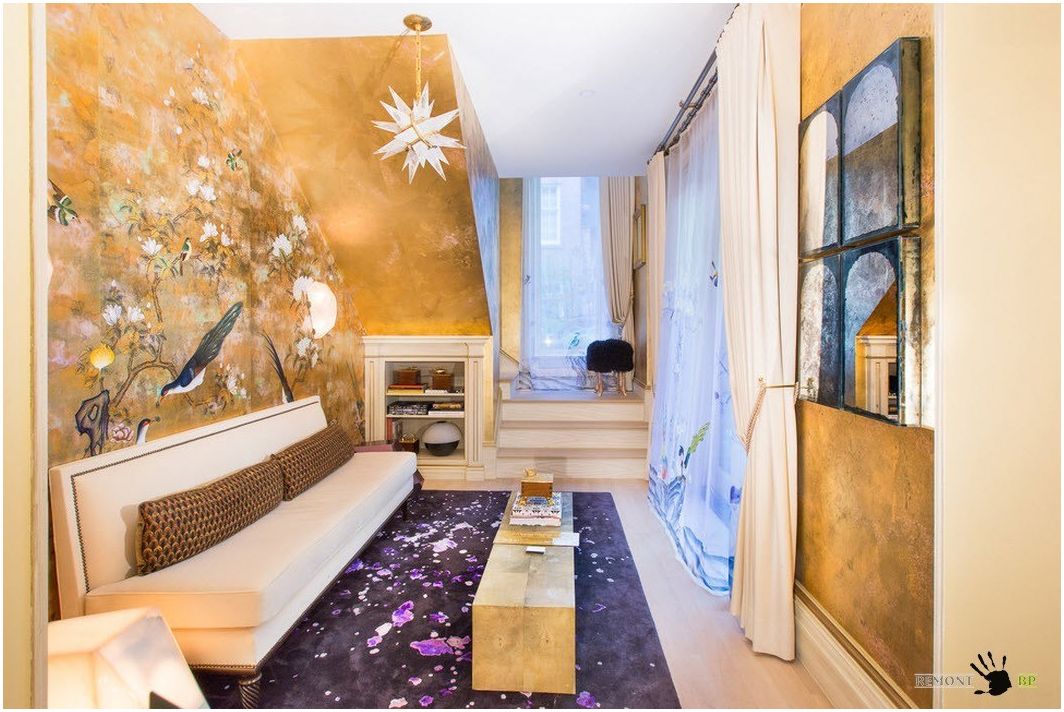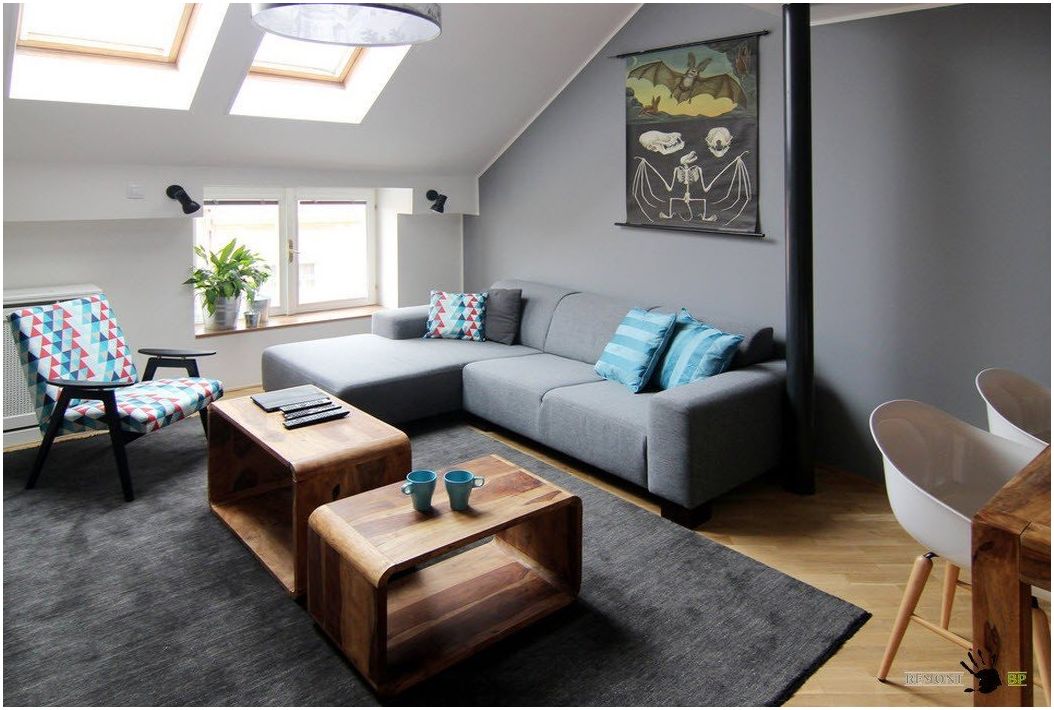 A fireplace in a small living room is a reality
Most European and American homeowners cannot imagine the comfort and coziness of a common lounge without a family hearth – a fireplace. The popularity of this piece of interior, which can not only warm the room, bring an element of natural relaxation, but also decorate the living room design, is growing among our compatriots. If, within a private house, the construction of a fireplace does not cause any obstacles, except for your desire and a certain budget, then in a city apartment you will most likely have to limit yourself to an electric imitation of a hearth or a fake fireplace, the purpose of which is limited to lighting candles and aromatic lamps.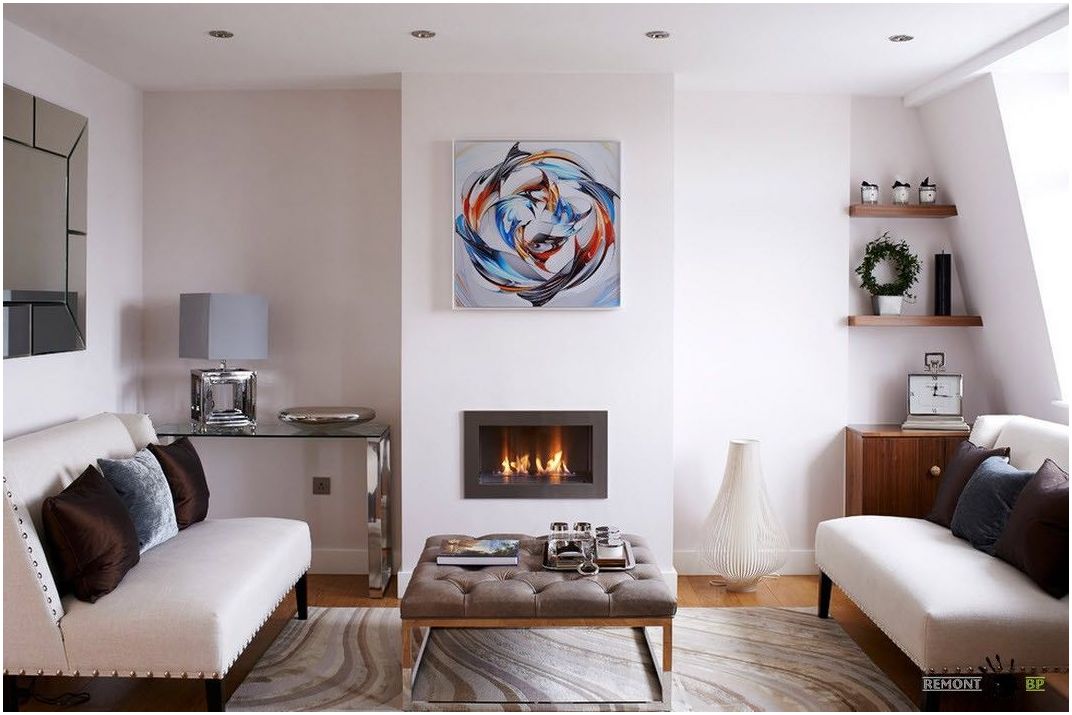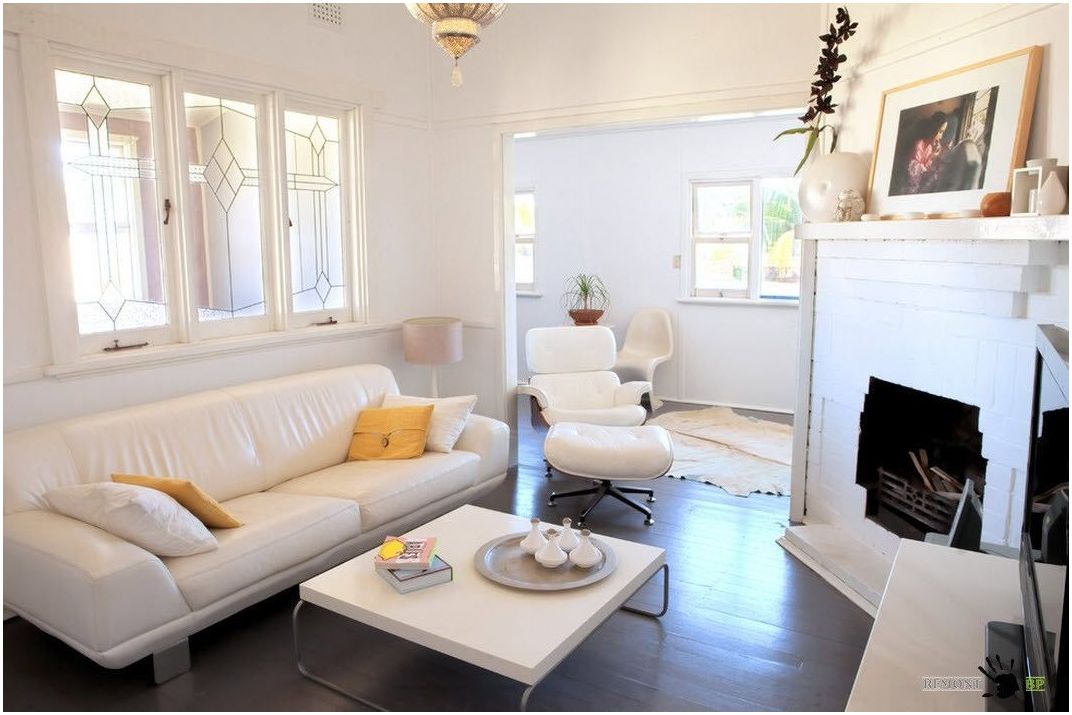 To equip a fireplace, it is necessary to allocate not so much space, in addition, the space above it can be used for organizing a TV zone or hang a large mirror in a beautiful frame, which, in addition to its main purpose, will visually increase the scale of your living room.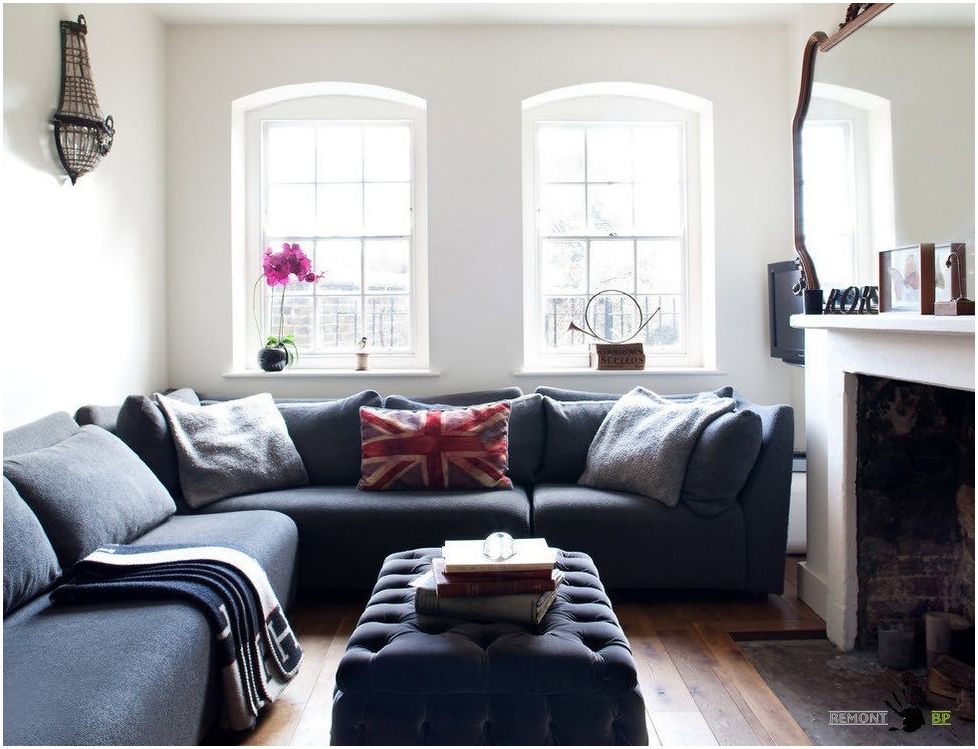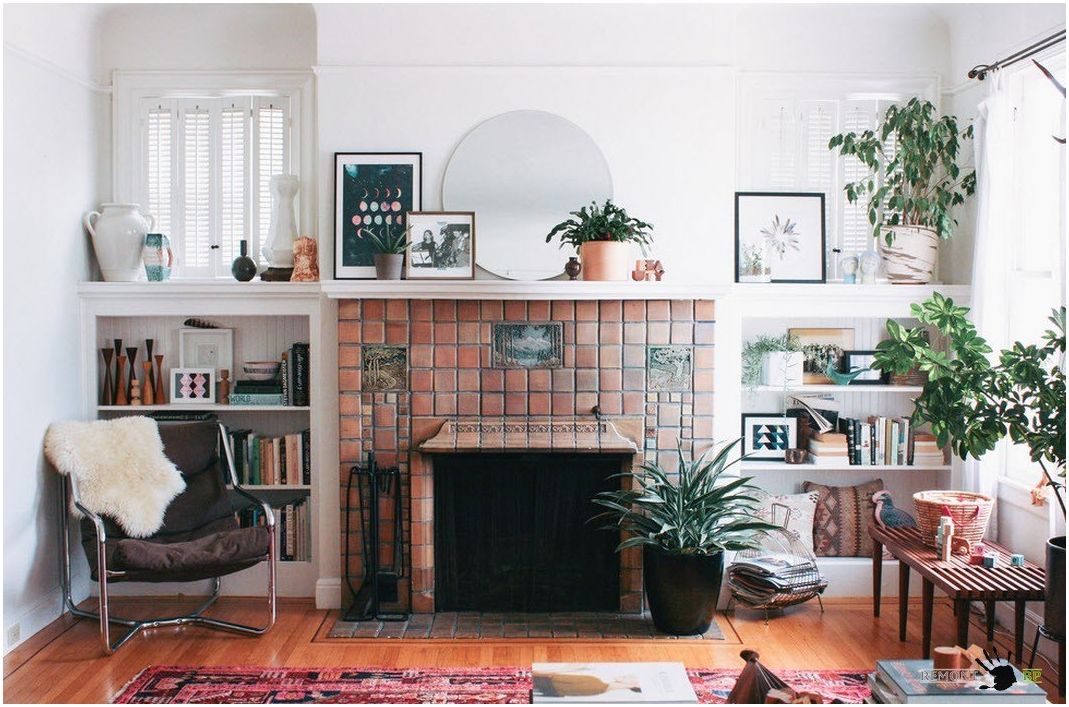 The right choice of furniture – comfort and rationality of arranging a small living room
To make the space of a small living room seem larger and retain some space, it is necessary to choose furniture of compact sizes. Currently, the range of models of modular sofas and armchairs that can be transformed into different situations is very wide. There are many small folding furniture options on sale that can provide enough seating in the living room for family members and a small group of guests..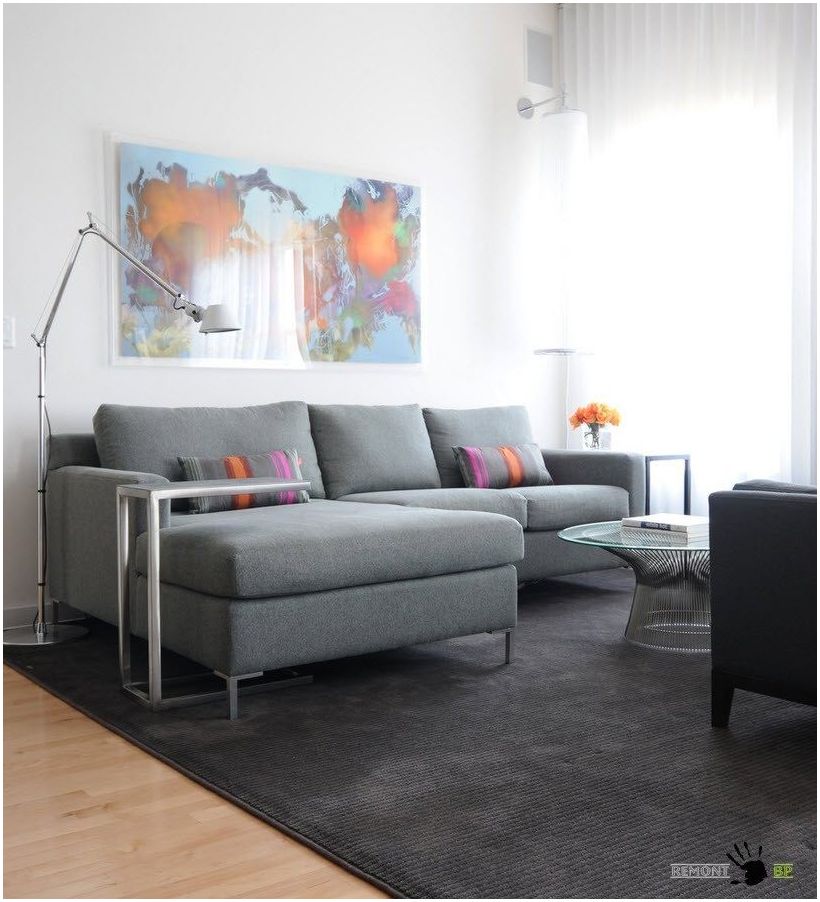 The sofa is an integral part of the living room interior, no matter what style it is designed in. The choice of a central piece of furniture should be approached with all responsibility. Corner sofa models can help save living room space while creating a spacious seating area. Most of these models assume the possibility of folding at least two people under a berth. If any of your guests stayed overnight, you only need to disassemble your multifunctional piece of soft furnishings.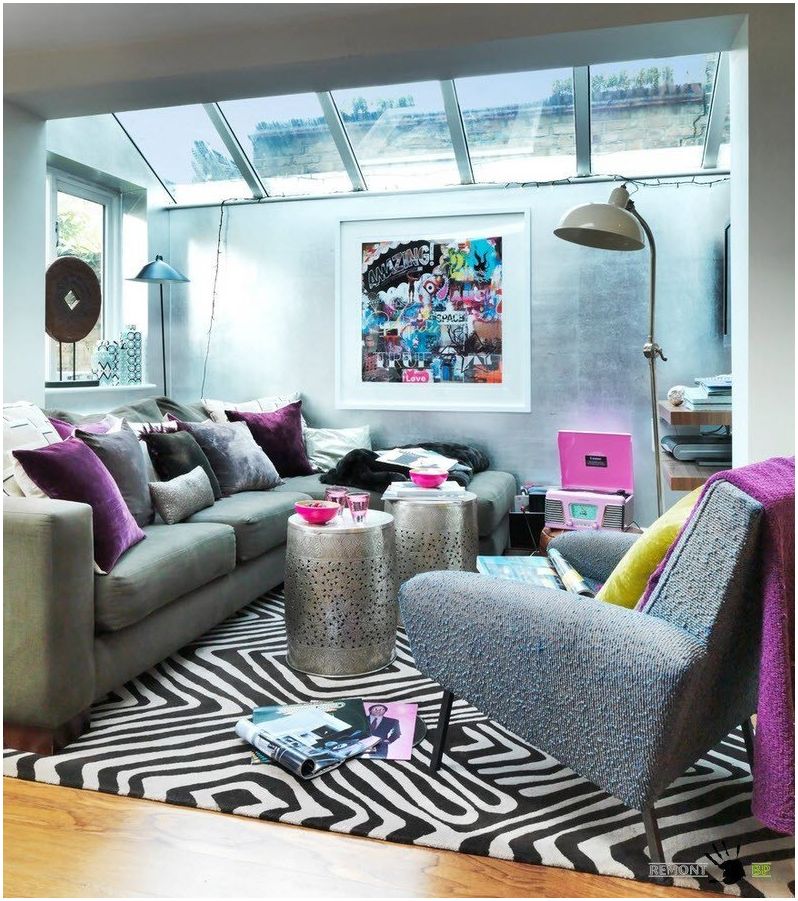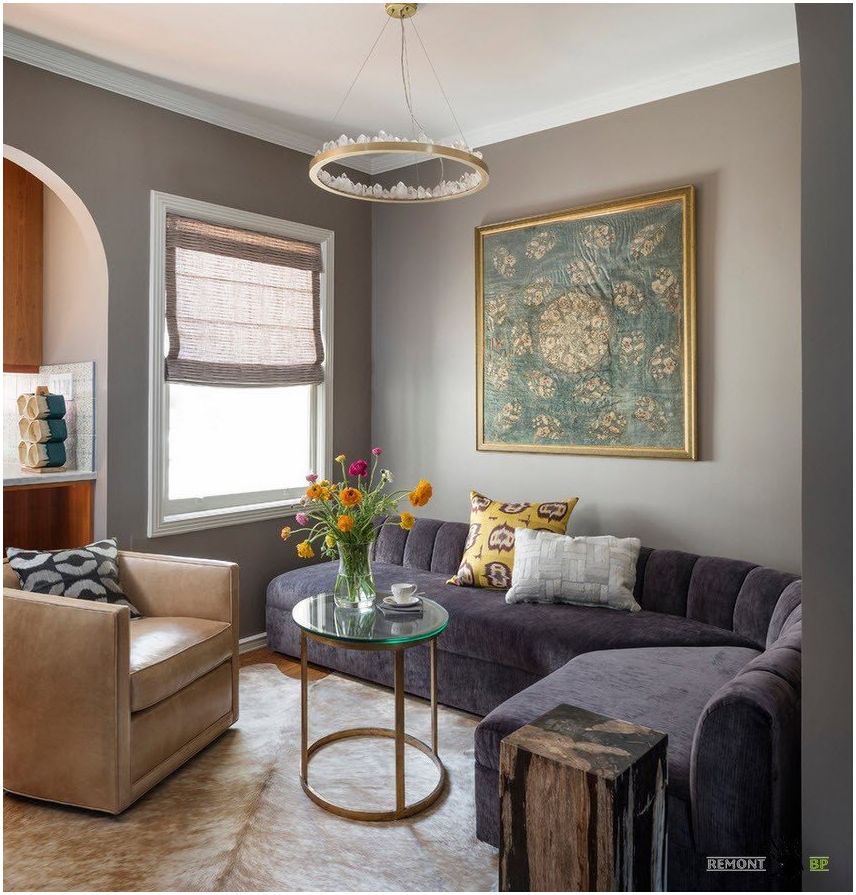 When choosing a sofa for the living room, try to remember not only about the combination of the color of its upholstery with trim and other interior items, but also that it will be subjected to quite active use. There are many models with removable covers that are easy to wash in the washing machine. You can also order the sewing of a sofa cover made of practical fabric, the model of which does not provide for the removal of textiles.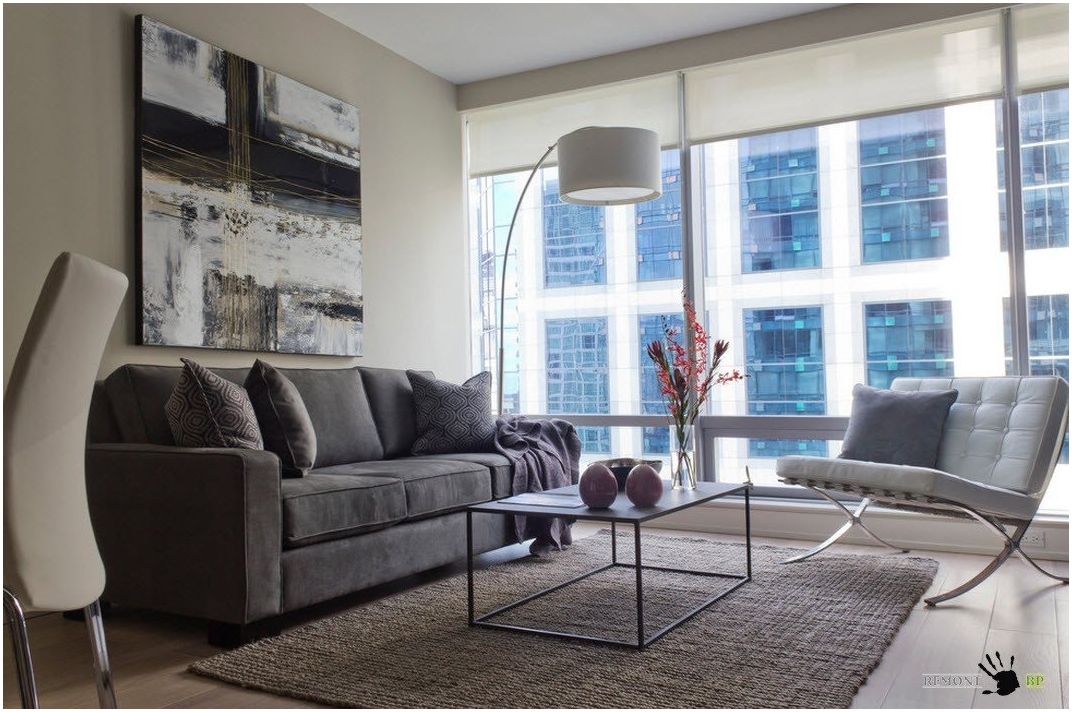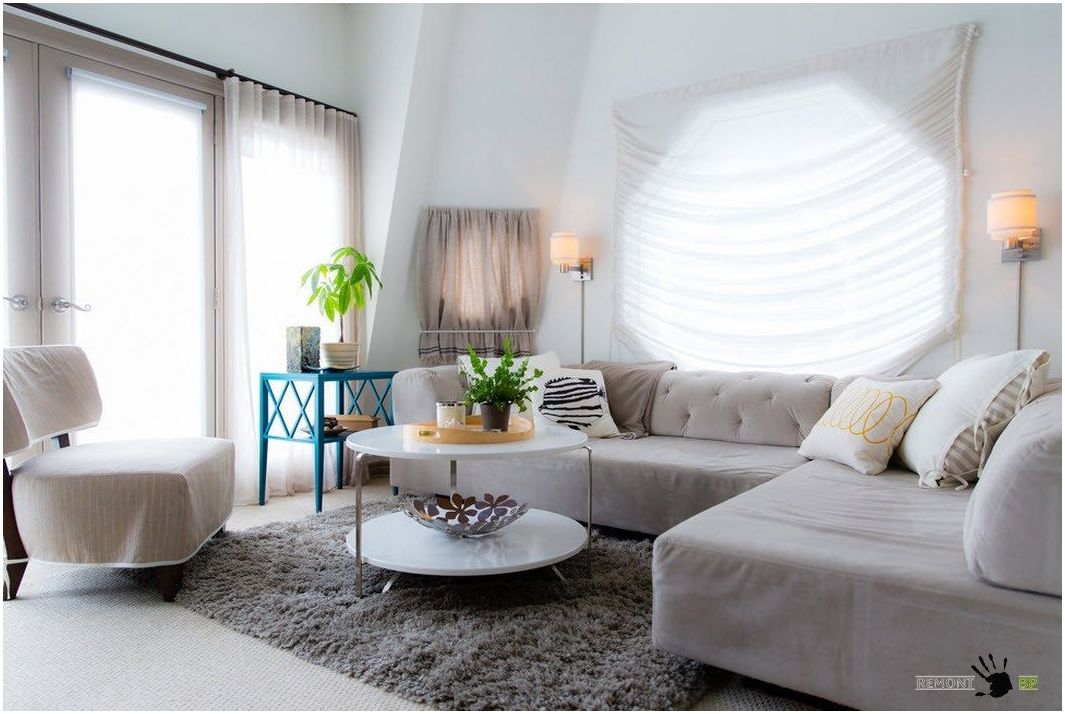 A leather sofa is the easiest to care for – its surface is easy to clean. In addition, many homeowners love leather upholstered furniture for the noble and wealthy effect that natural material (or a successful artificial imitation of it) brings to the interior. But it is important to remember that in hot weather the leather surface does not provide the necessary ventilation, and in cold weather it does not warm. In the presence of forced ventilation and space heating systems, these problems are removed.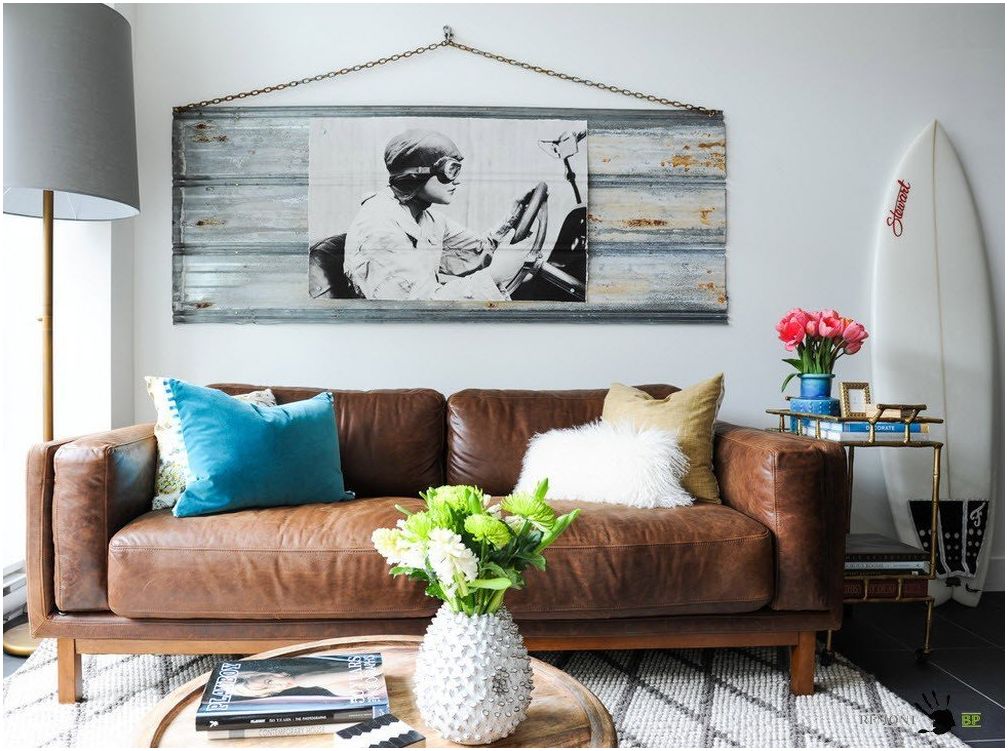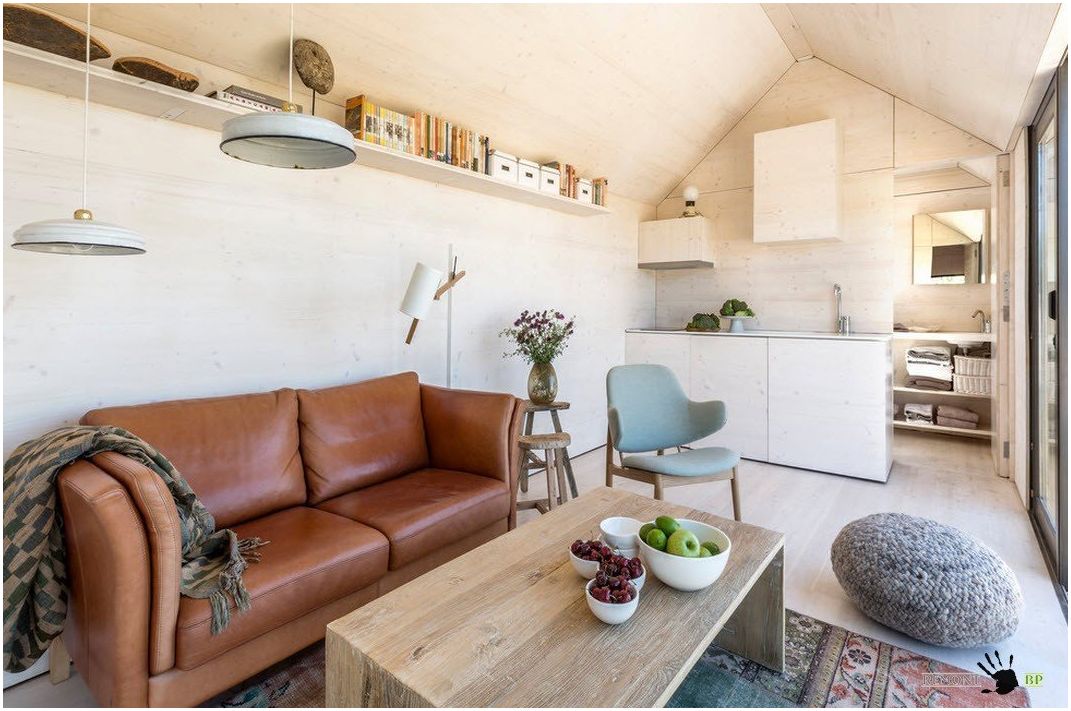 An object appears larger than it actually is when surrounded by other much smaller elements. By installing a small sofa in the living room and surrounding it with even smaller pieces of furniture and decor, we manage to create an optical illusion and increase the scale of not only the central focal element, but also the space in which it is located.
Built-in furniture, namely storage systems, will help save useful space in a small living room. There is no need to talk about the location of large built-in wardrobes, but even a small living room can accommodate compact swing or drawers, shelves and shelves. For example, a wall with a window cannot be used to install large furniture near it, but the space around the window (especially under it) can be given for built-in storage systems.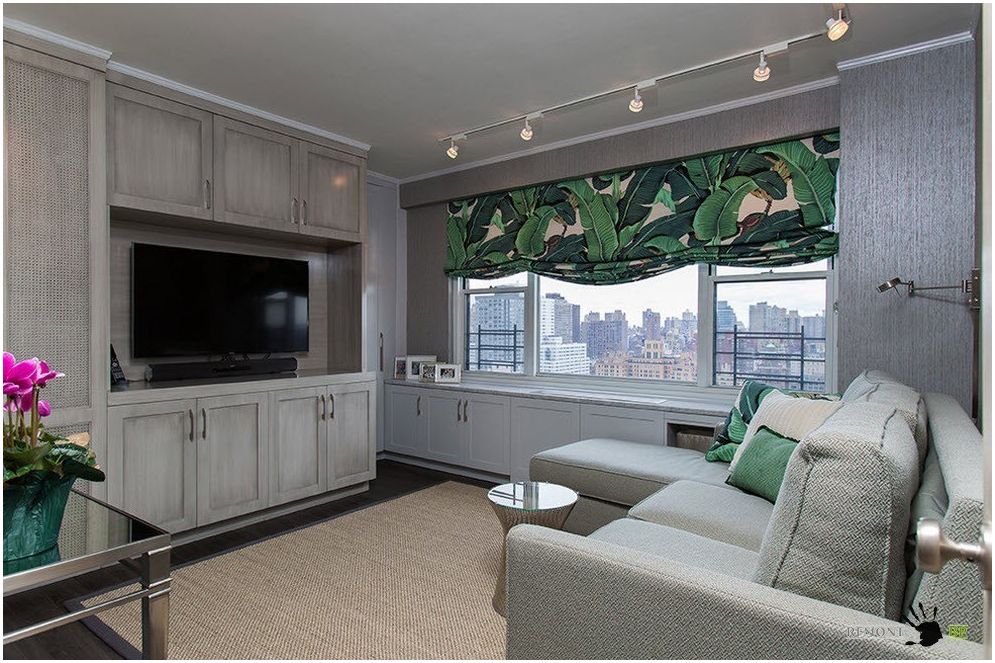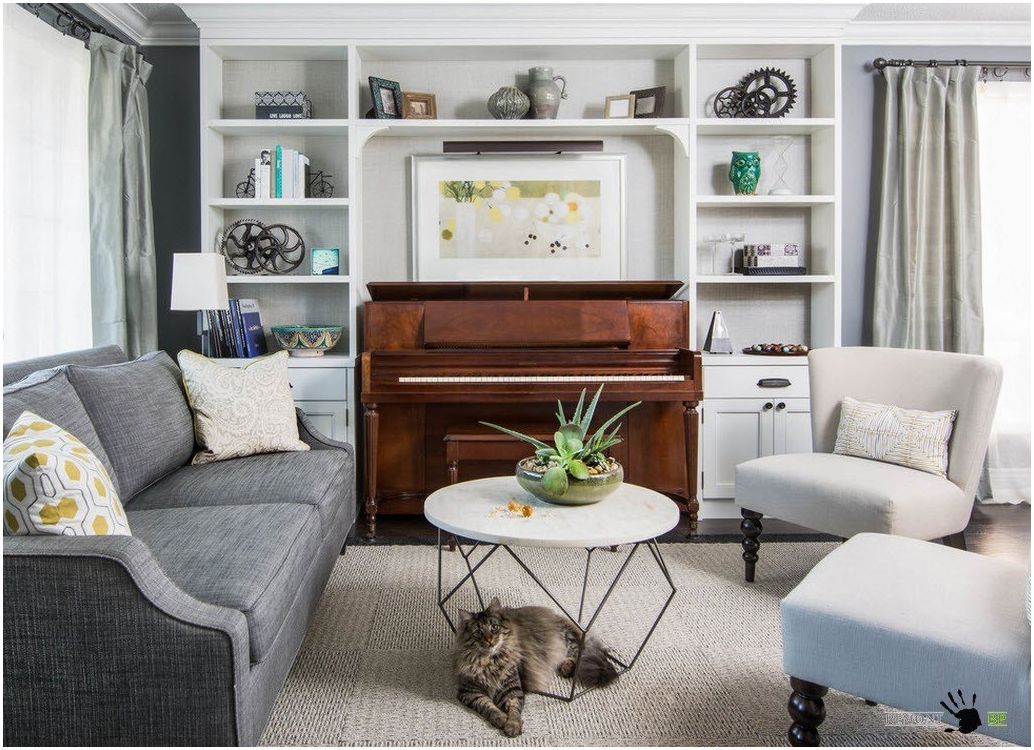 It is proved that objects located horizontally are perceived by us to be shorter than similar elements occupying a vertical position. If you place open shelves on the walls, then our gaze perceives them as smaller objects than they really are. This is due to the speed of perception of information by our eyes. Thus, you can place quite a few items you need on open shelves in the living room, even if its area is very small..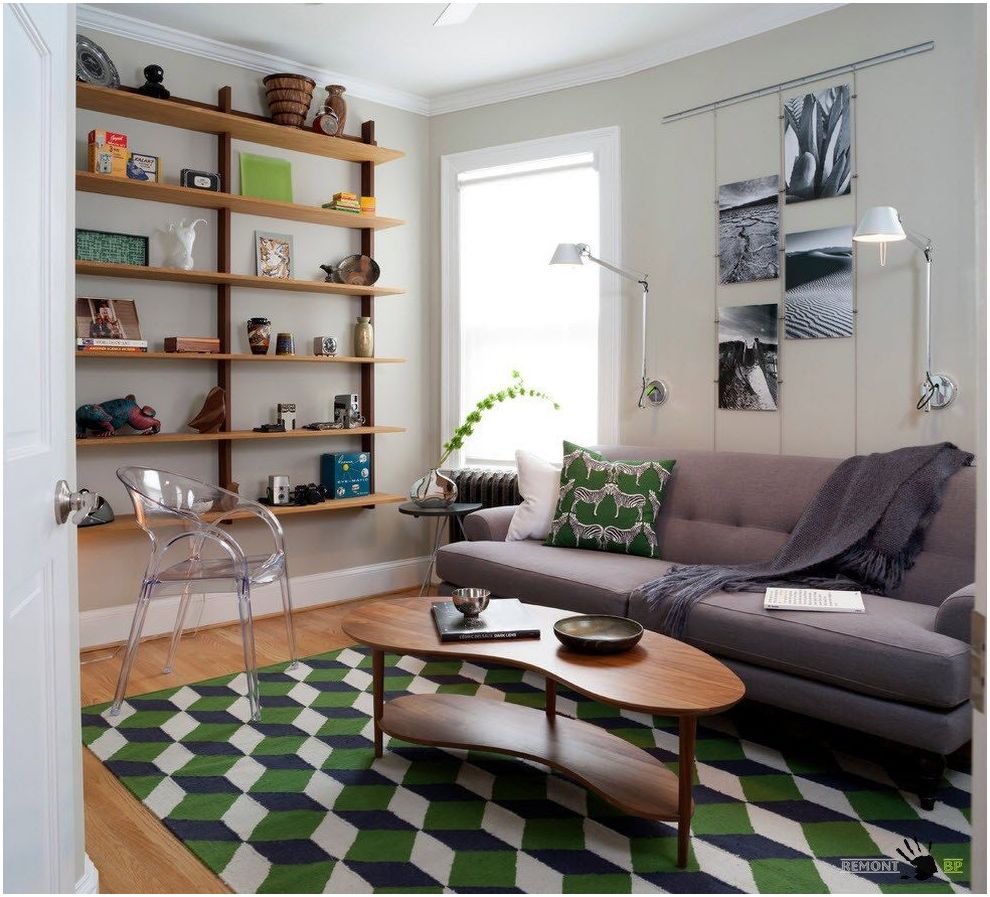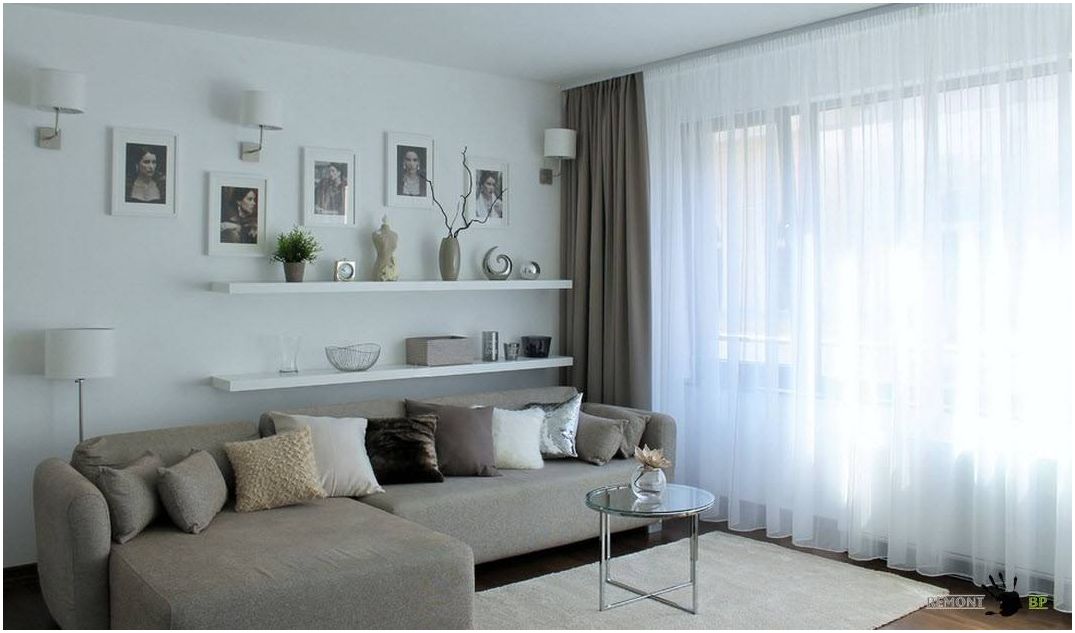 Using pieces of furniture that can be assembled into one another on the principle of matryoshka dolls will help you save valuable living room space. For example, small tables-stands, which can also serve as a seating place, compactly slide one under the other when you are relaxing with your family and are taken out during the reception.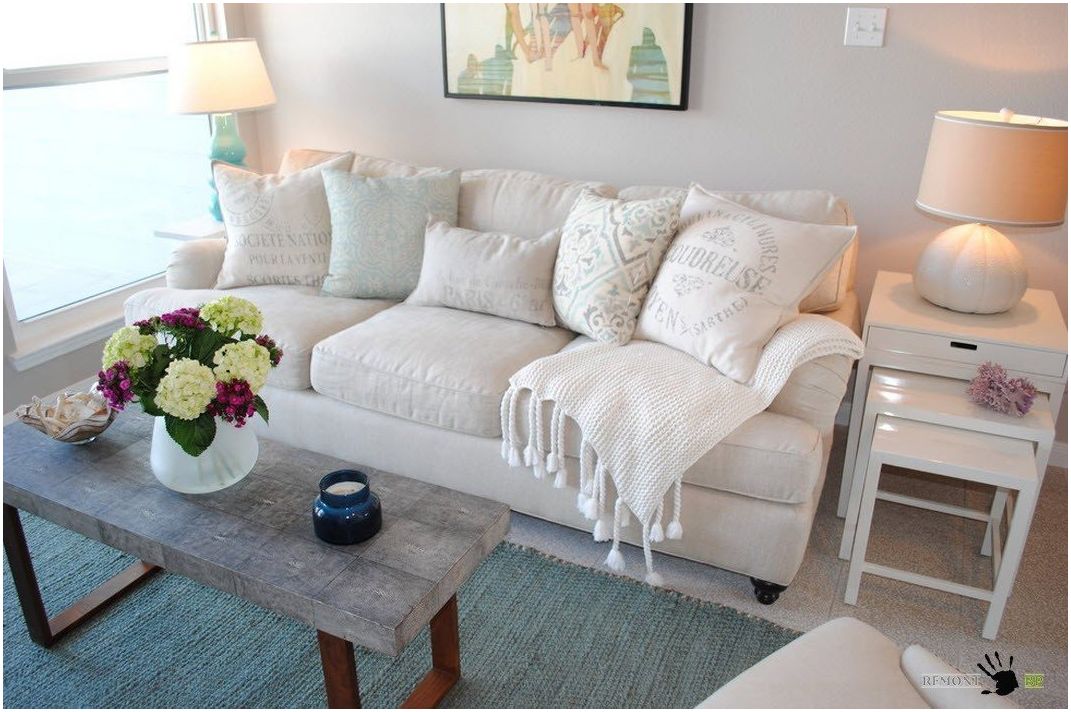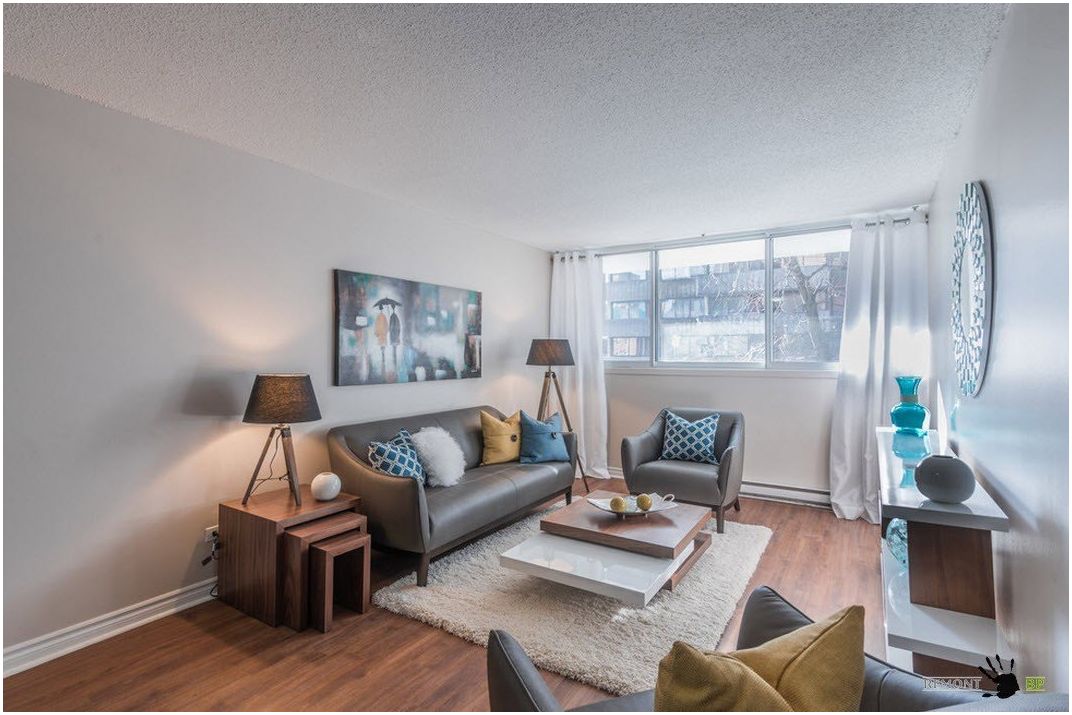 In small spaces, the use of multifunctional furniture becomes especially relevant. For example, a pouf-stand with soft upholstery, but a rigid frame, can serve both as a seating place (for one or two people) and act as a coffee table.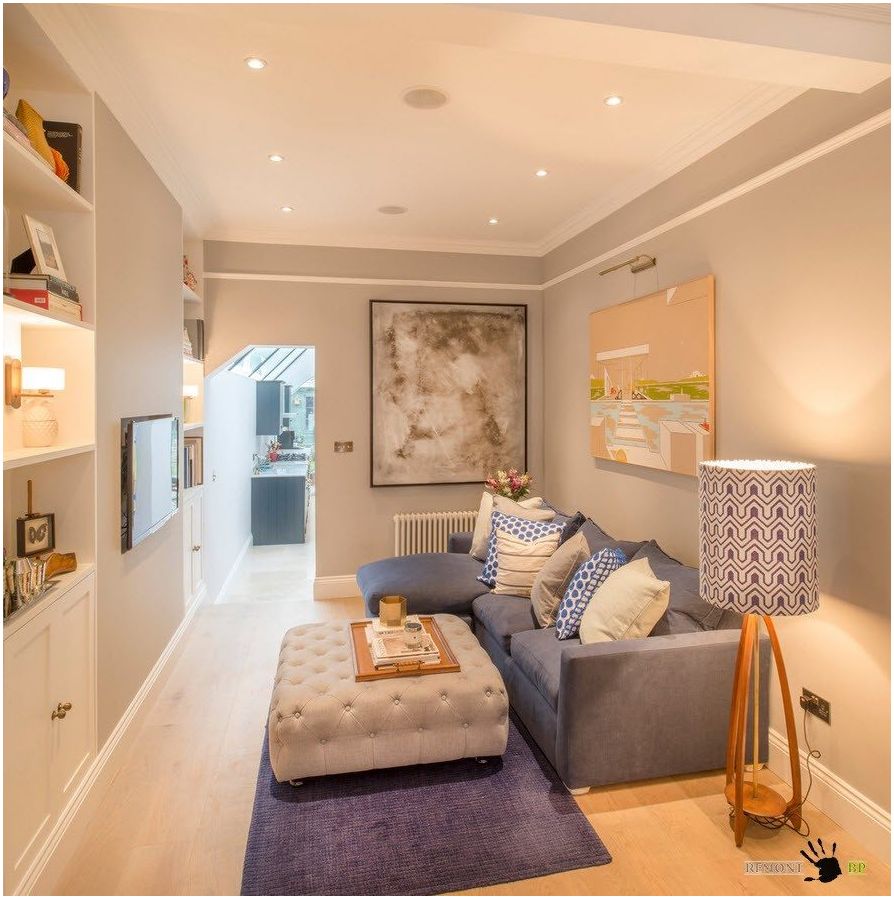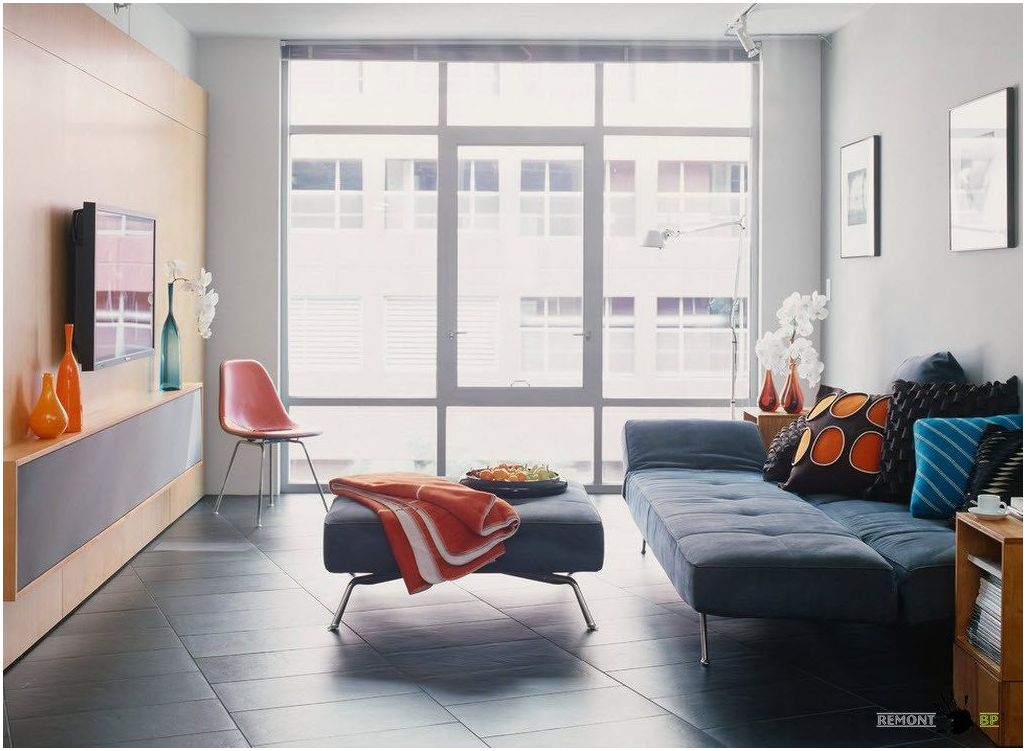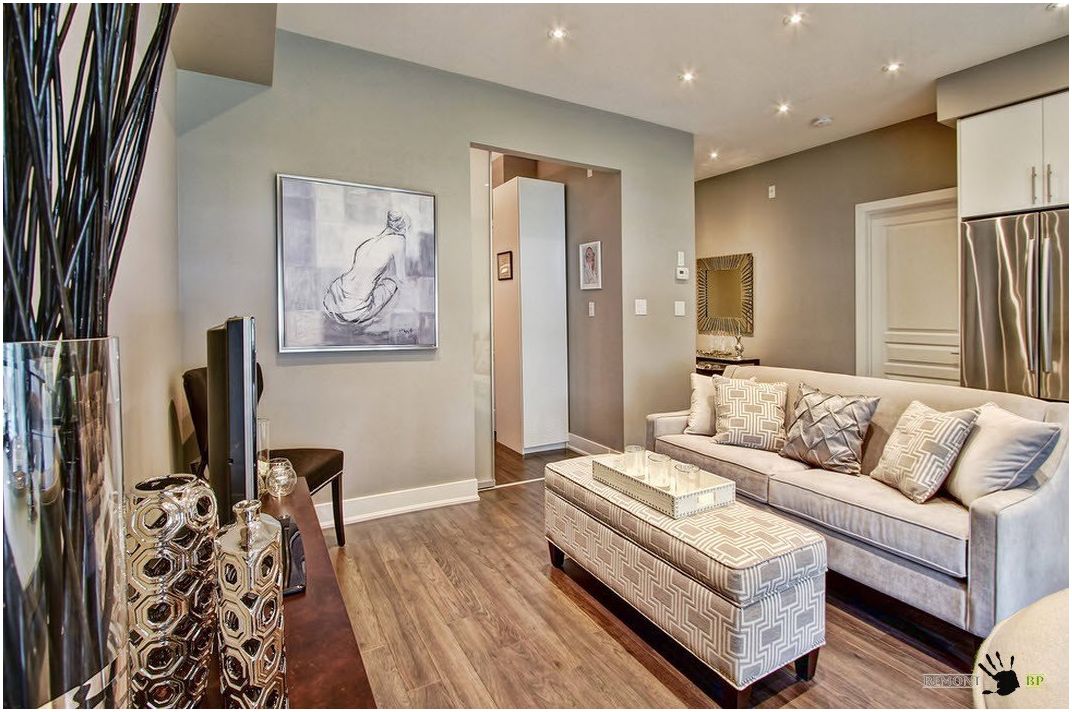 Create the right lighting and visually expand your small room
For small spaces, the lighting system plays a particularly important role. If you have the opportunity to increase the amount of natural light in your small living room by increasing the size or number of windows, this should not be neglected. But most often (especially within the framework of dwellings in apartment buildings), the problem of a sufficient level of illumination can be solved only with the help of an artificial lighting system at different levels.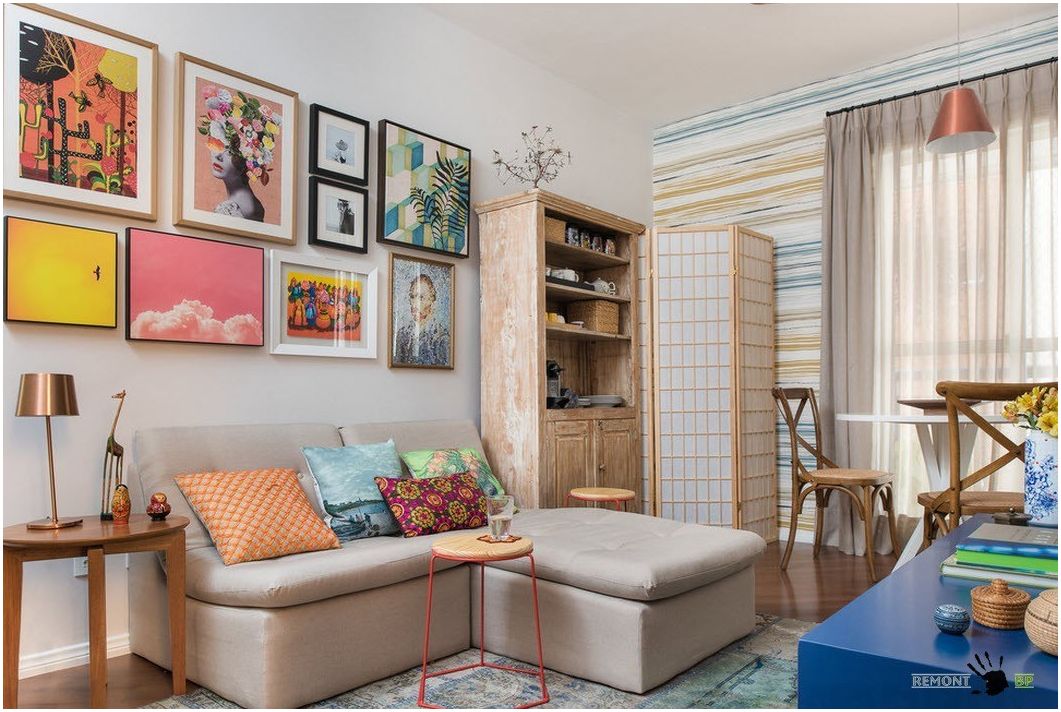 The fact that the living room has a fairly modest size does not mean that one central lighting device – a chandelier – will be enough to create the necessary atmosphere. If your room is conditionally divided into zones (workplace or dining room), then it is necessary to provide each functional segment of the living room with its own lighting system. For a mini-office, it can be a table lamp or a wall sconce, for a recreation area – a chandelier and a floor lamp.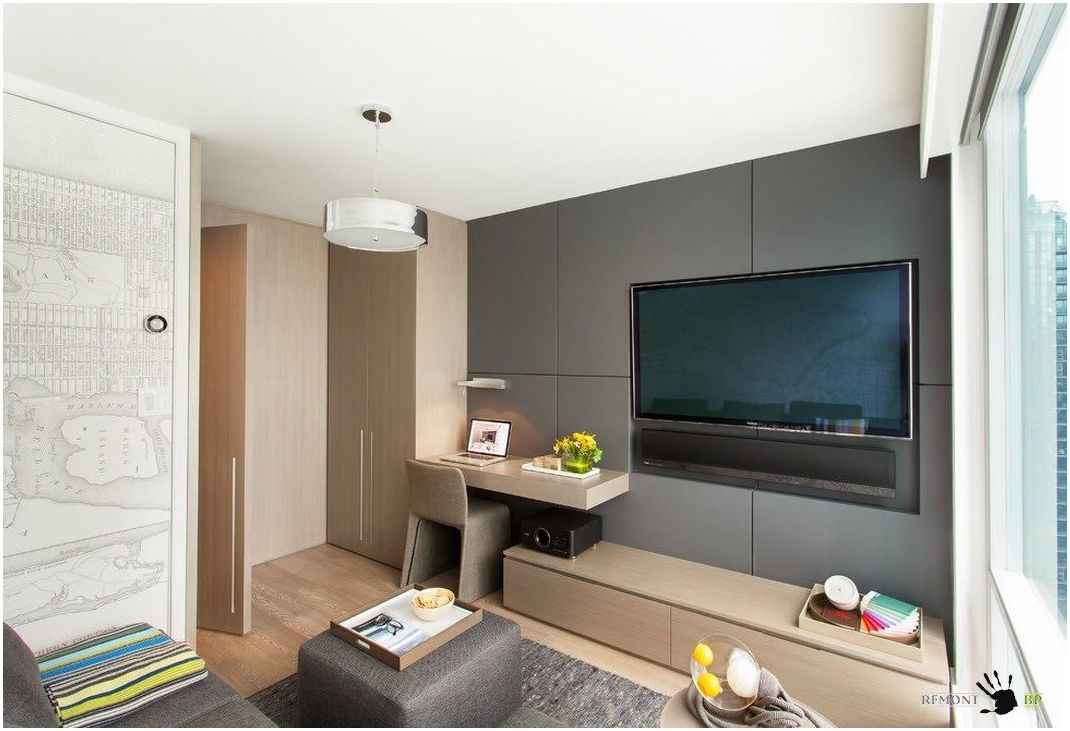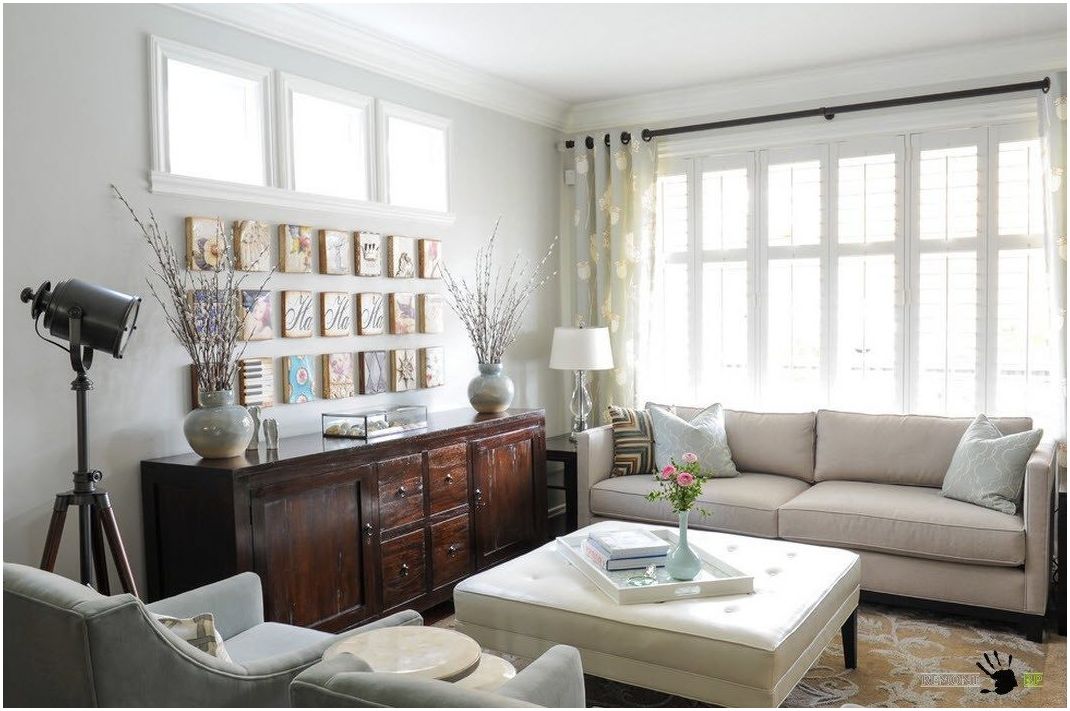 A built-in lighting system can blur the boundaries of your small family lounge. And we are talking not only about the illumination familiar to many, hiding in the depths of the suspended ceilings, but also about LED strips. Transforming the look of cabinet furniture, structural elements of a room or decor items.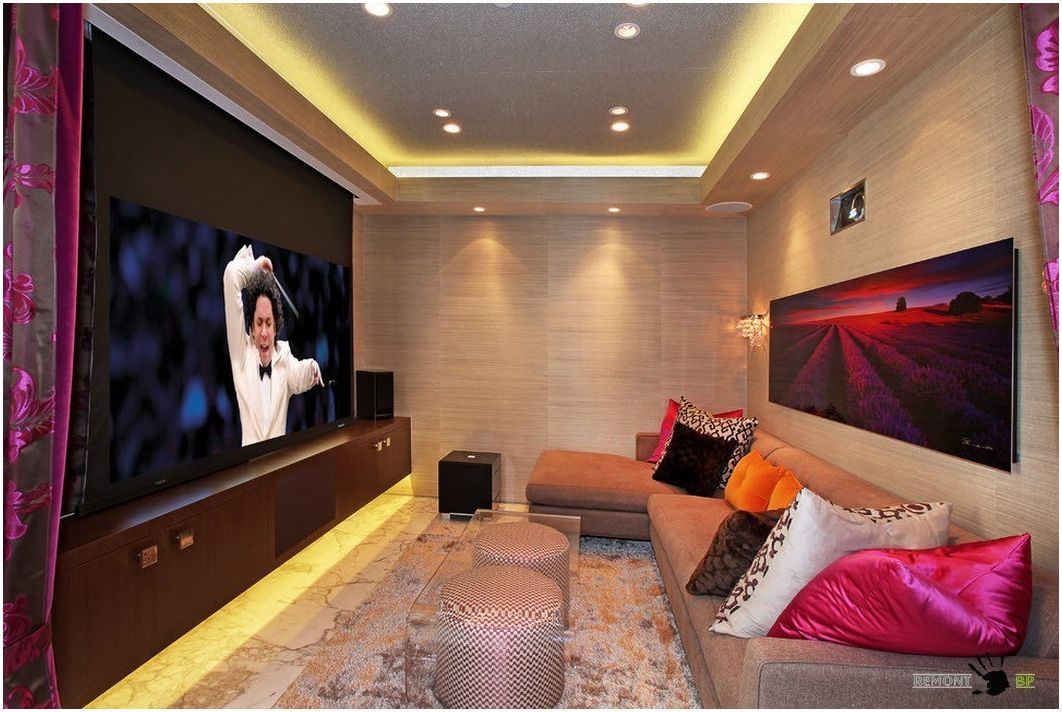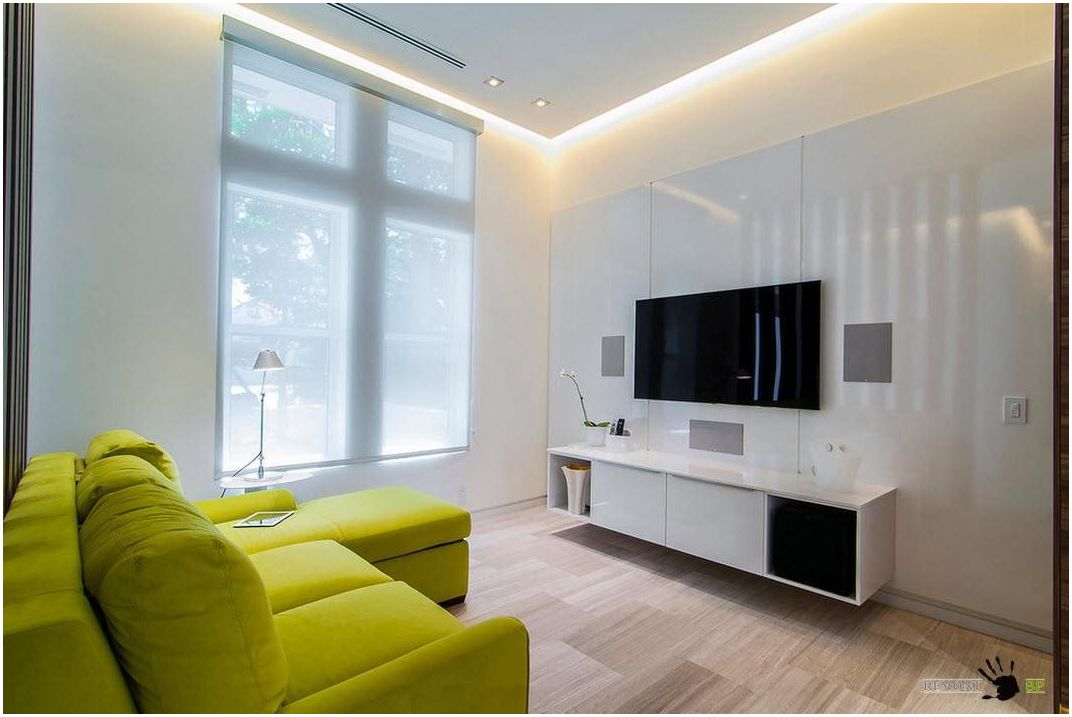 Good luck!