Any homeowner expects that his living room will not only be a comfortable and convenient place for gathering the whole family and receiving guests, but will also perform additional functions, for example, it will become an area for installing a spacious storage system. Even a very modest living room can accommodate storage systems made in the form of open shelves and hanging cabinets, and in a spacious room you can not limit the possibilities and install a full-fledged home library.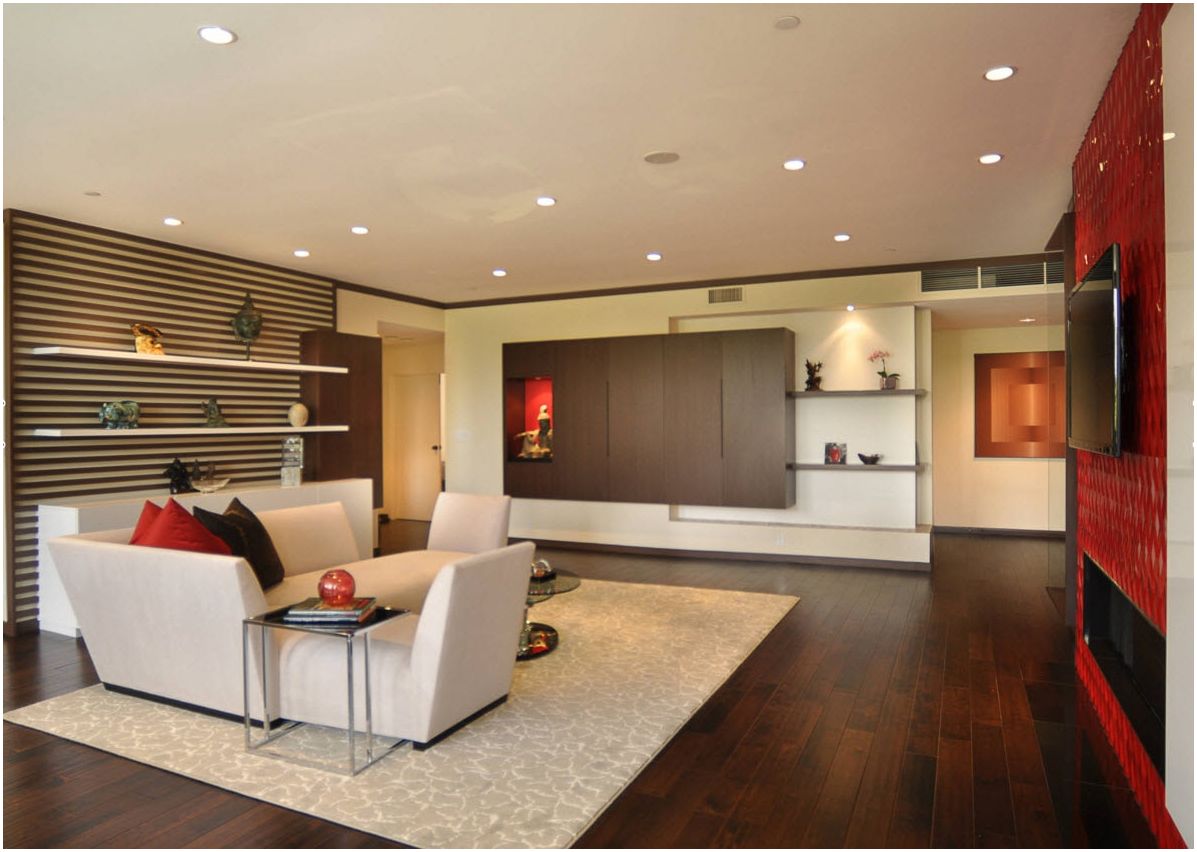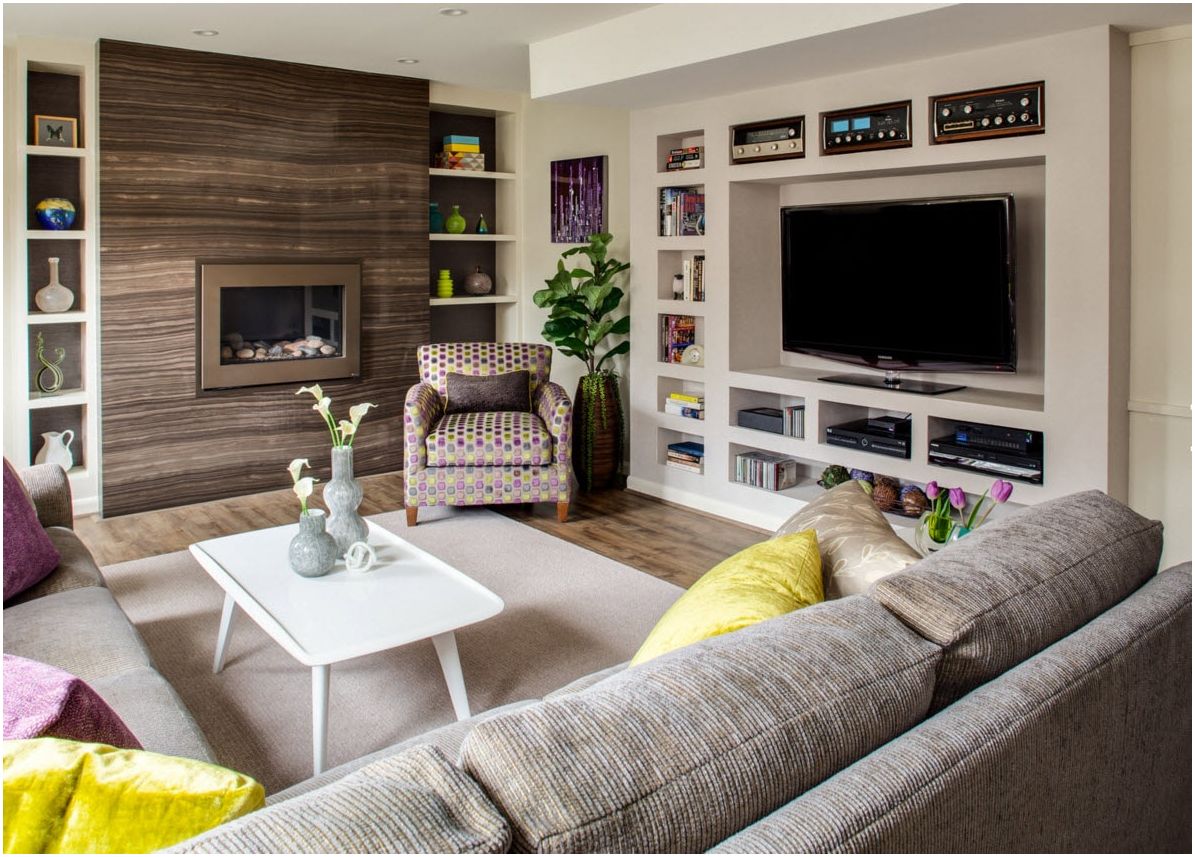 An original facade or an unusual color choice, modern decor or the use of non-standard materials – to create a non-trivial storage system, it is enough to complete one of the points. It is difficult to imagine a living room today without a modular storage system, even taking into account the striving of modern style for minimalism – such furniture is a must. It's just that over time, the so-called walls lose their decor, simplify in designs, but do not lose the quality of execution. But modern modular solutions can boast of high functionality, attractive appearance and ergonomic designs..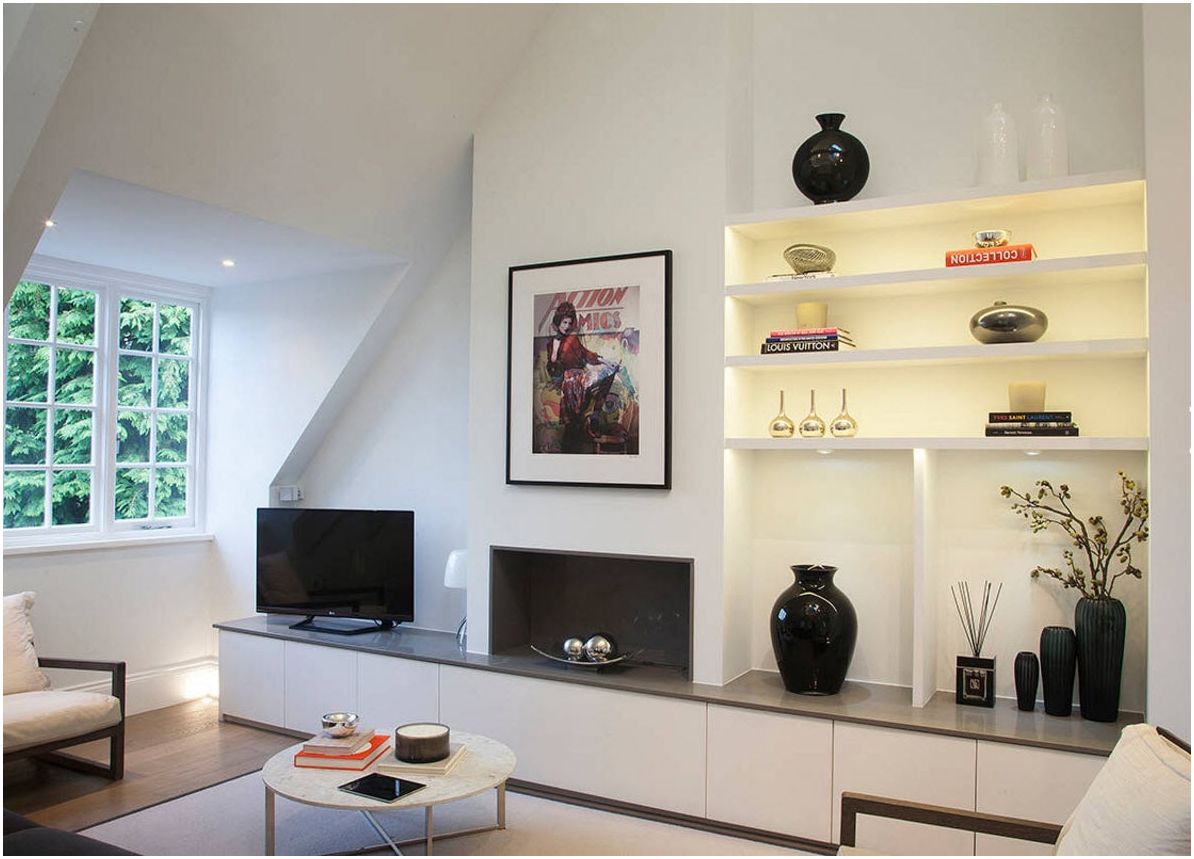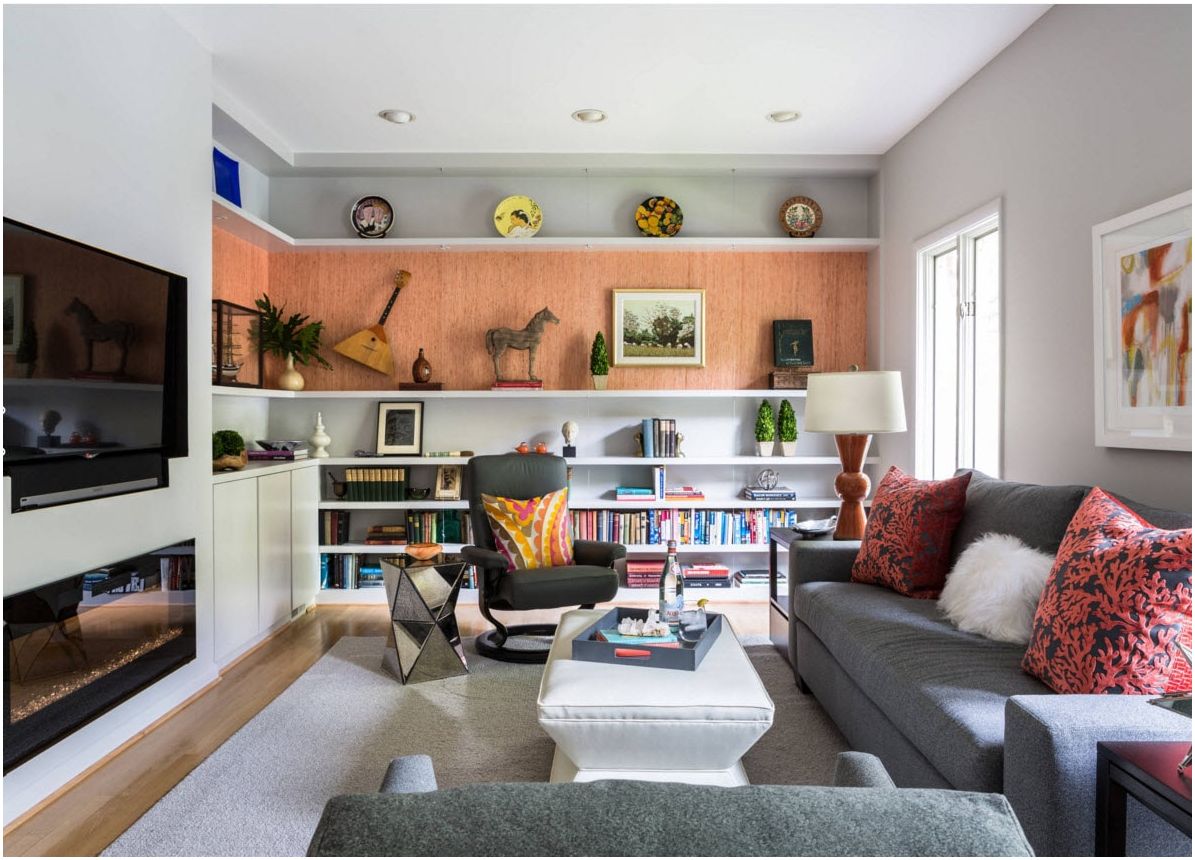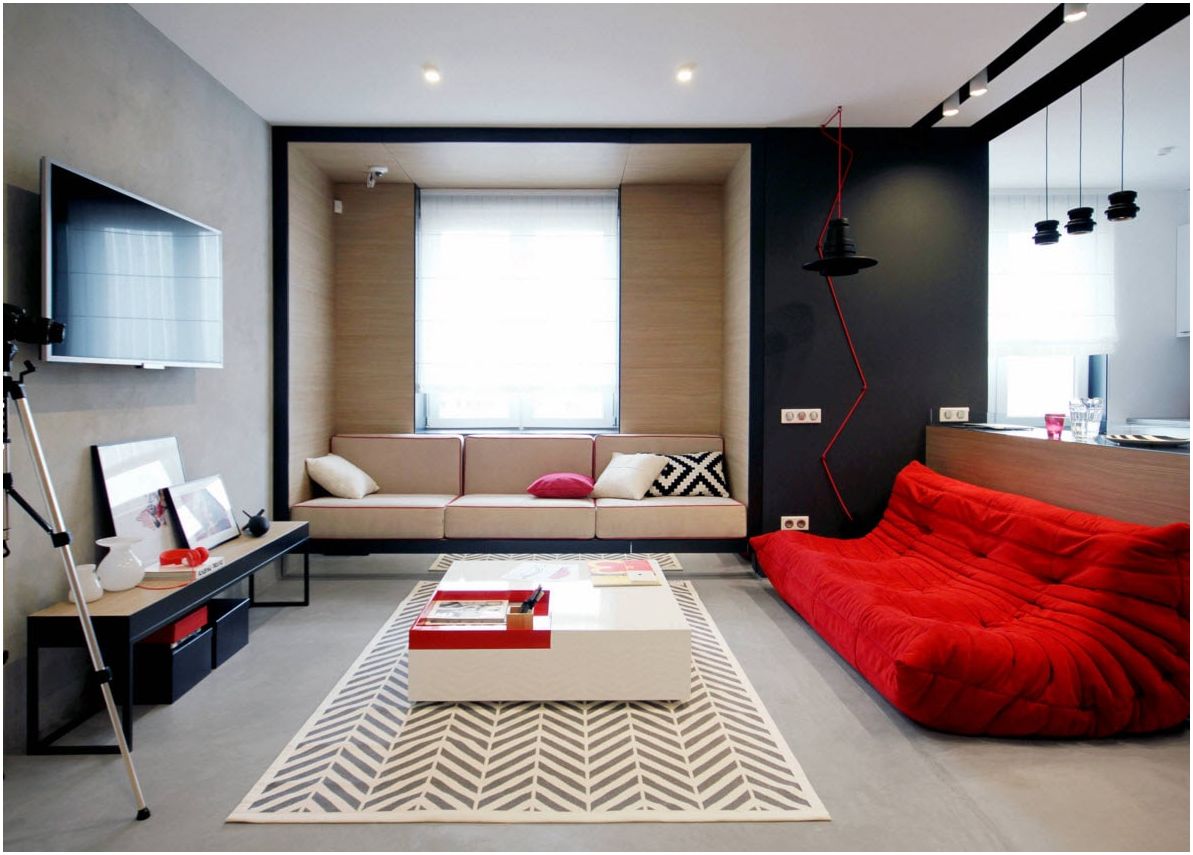 No one will argue with the fact that a modular storage system in the living room is necessary. But if you cannot do without it, then why not bring variety, originality and creativity to the interior of the room due to this piece of furniture? But how an extraordinary storage system differs from a typical wall, you can find out from our impressive selection of design projects for modern living rooms. We hope that from the variety of storage systems presented, everyone will be able to find their own model, which perfectly adapts to the existing interior or will be initially incorporated into the project of the room..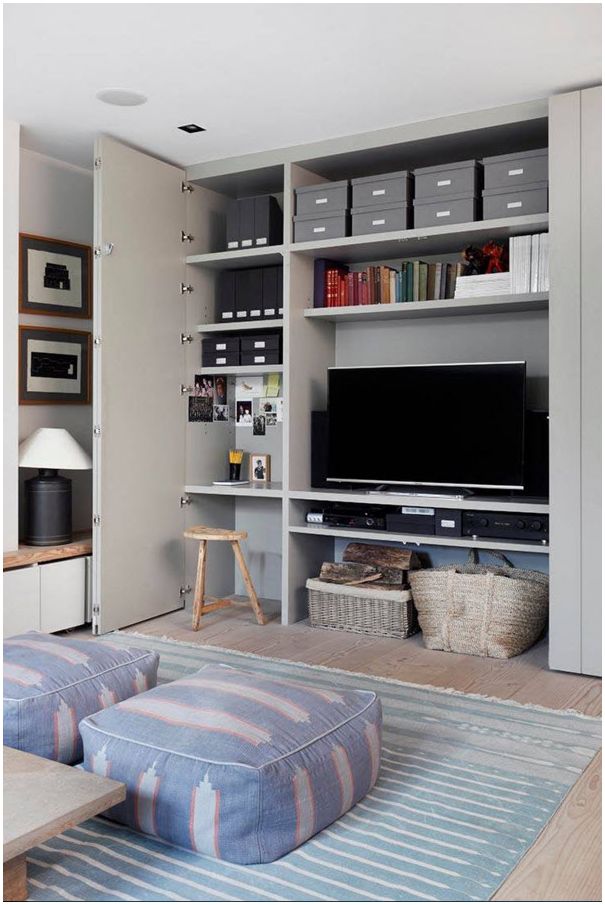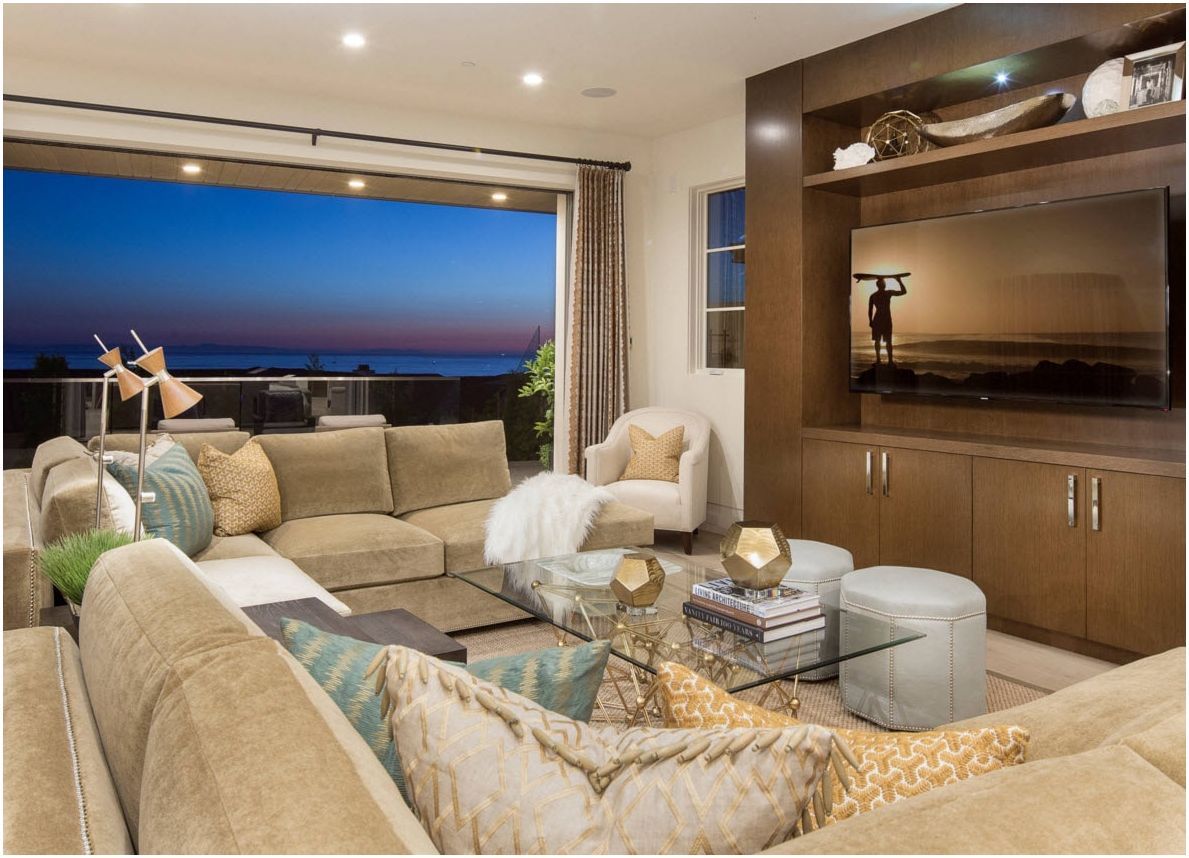 One of the main conditions for creating a non-trivial wall model is the presence of a zest in the design or appearance of the furniture. This can be an extraordinary choice of color, an original material coating, an atypical design – broken lines, beveled elements, non-linear shelves. A carved facade, lacquered surfaces, glass inserts, built-in lighting – all possible design techniques are used for the originality of models.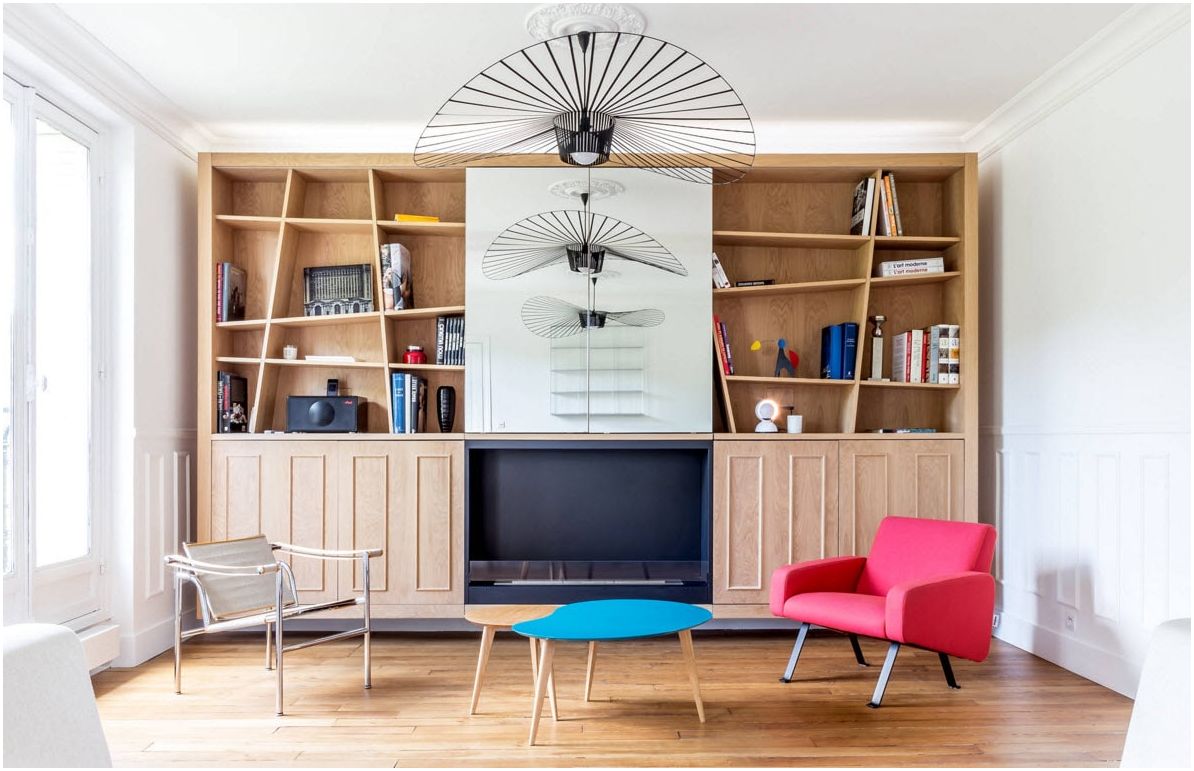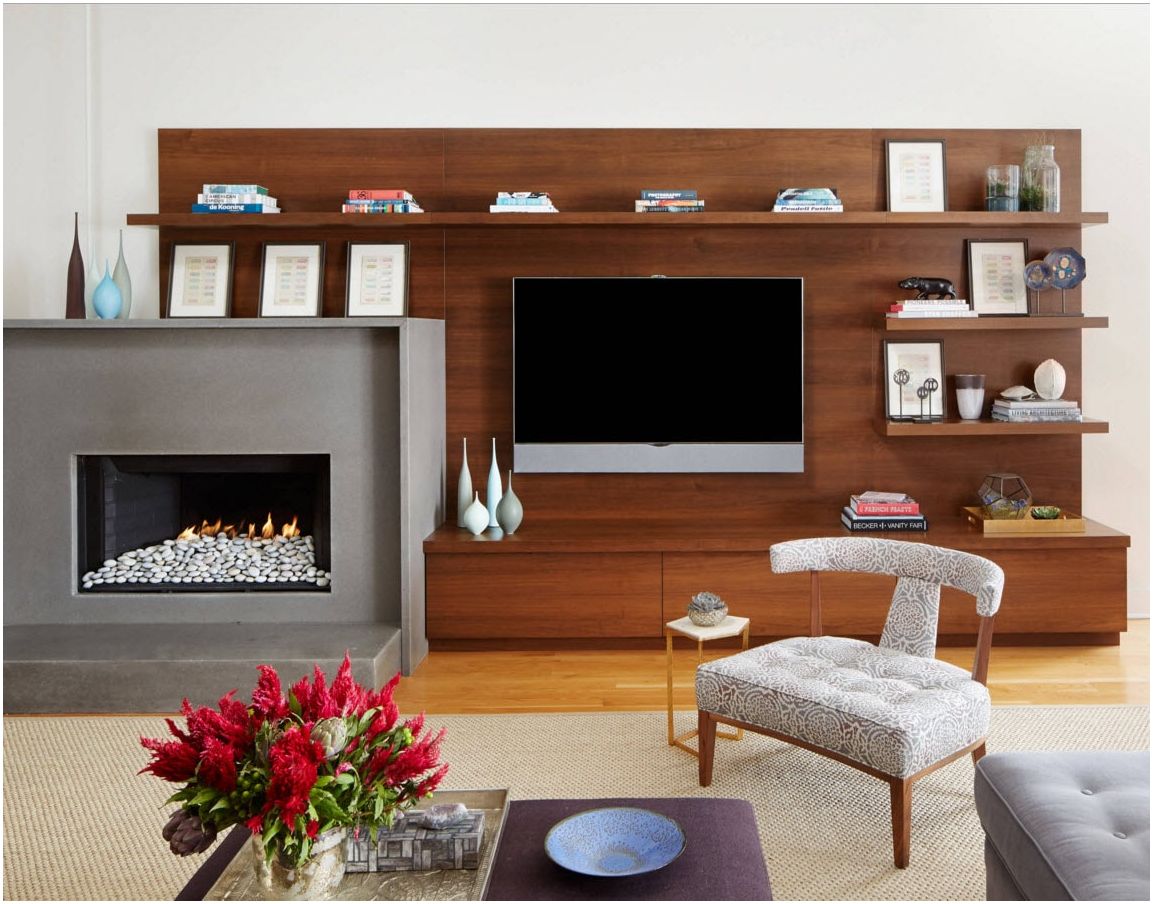 But beyond aesthetic, it's important that your storage system meets practical needs. For beautiful crockery and collectibles, display cabinets with glass doors or open shelves. For a home library, even of a modest size, it is better to give preference to a shelving unit or separately suspended shelves. Modern modular systems, which are most often presented in a combined version – both open shelves and cabinets with facades, are perfect for placing a video zone.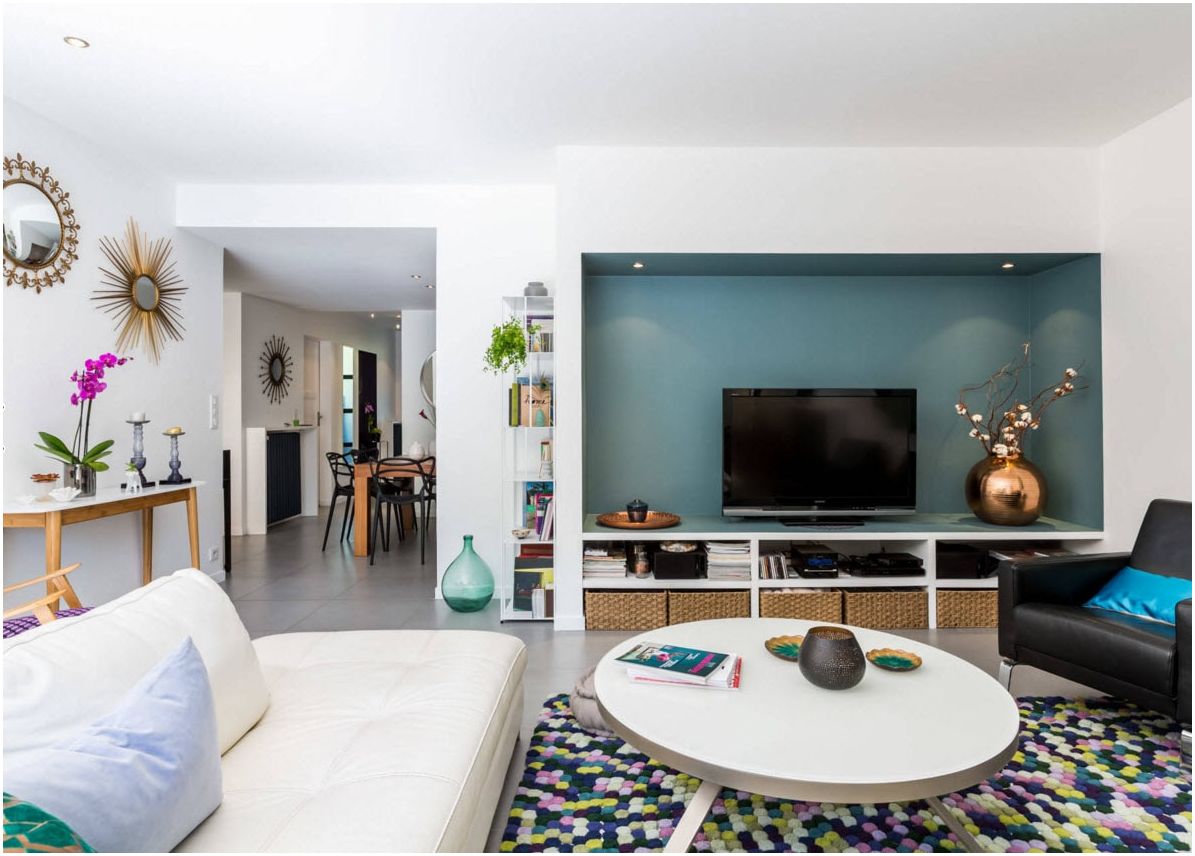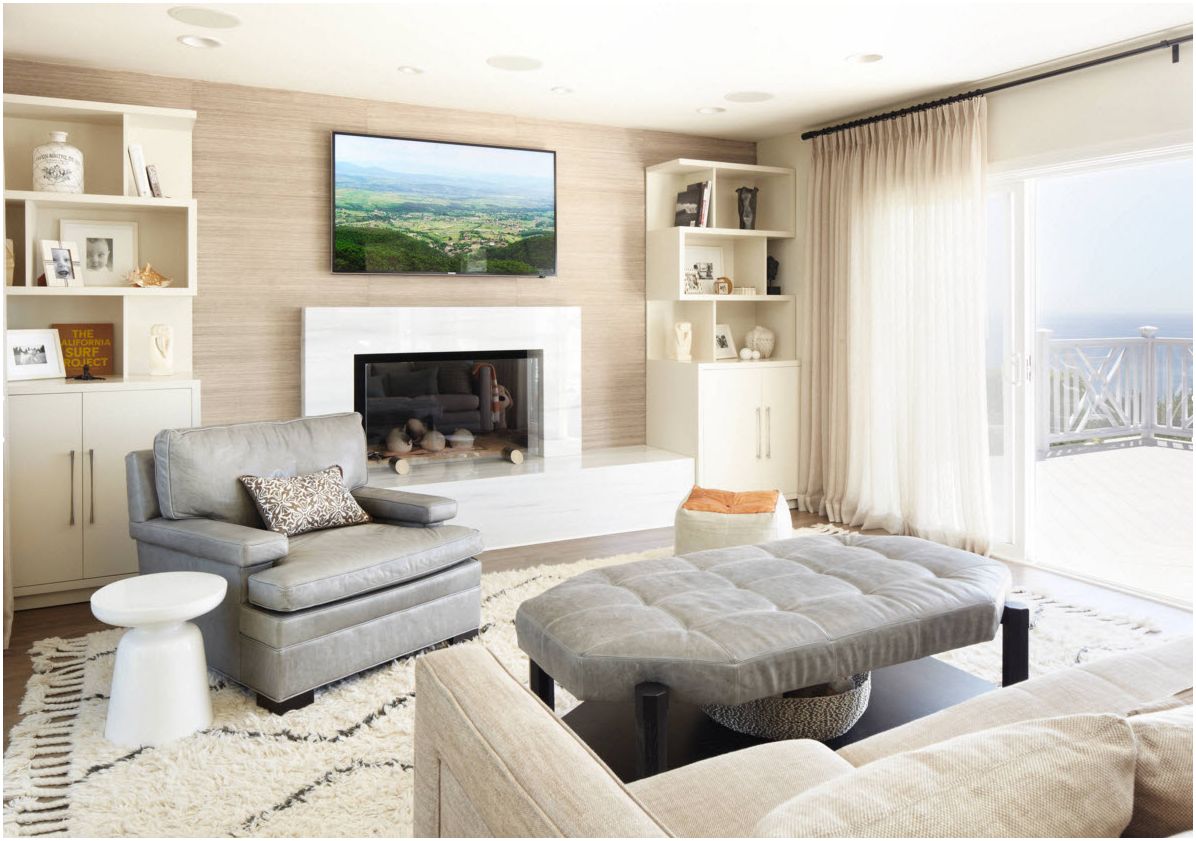 Storage systems for the living room with a fireplace
For many owners of private houses and even apartments, the living room is associated primarily with the warmth of the family hearth. Usually, the fireplace is installed in the center of one of the walls; it would be logical to use the remaining space for installing storage systems. This composition brings symmetry and balance to the interior of the room. Especially if the video zone is located above the fireplace – the TV is attached to the surface of the chimney, and speakers and other equipment can be placed in an adjacent modular storage system.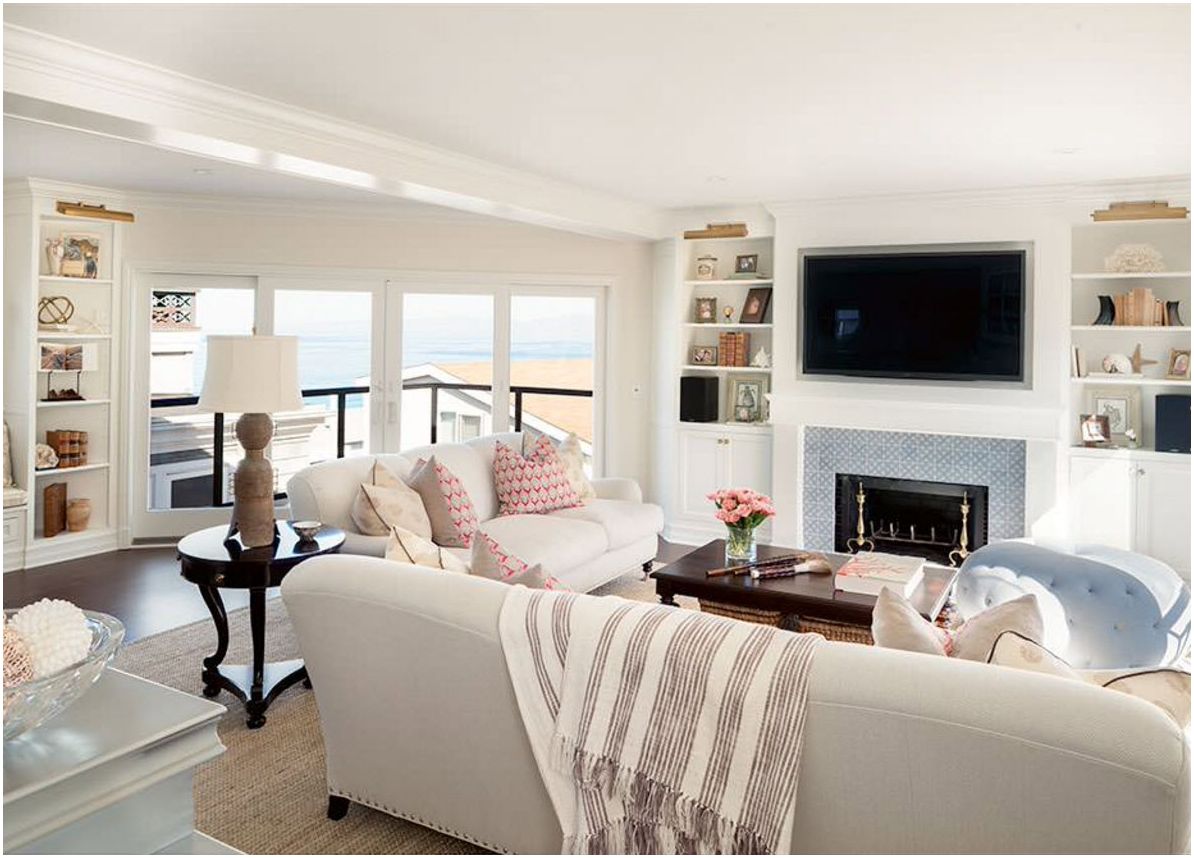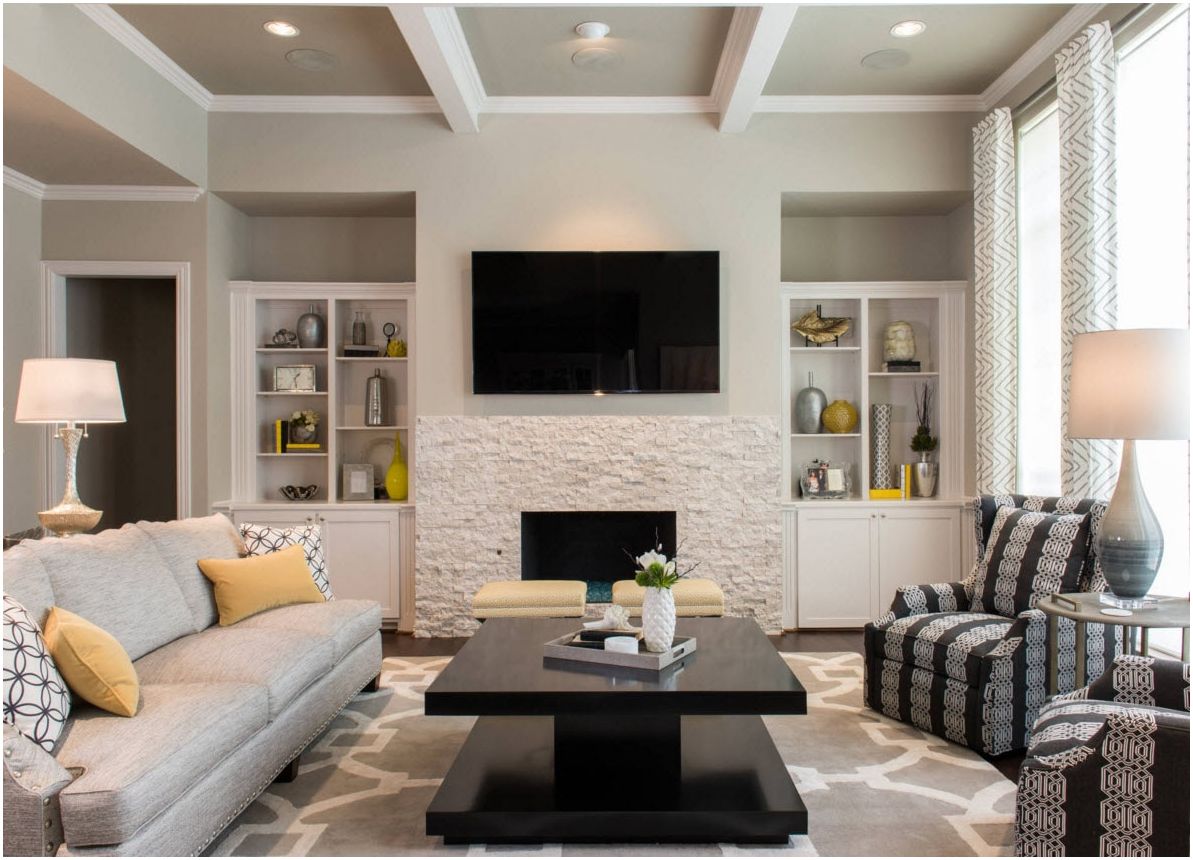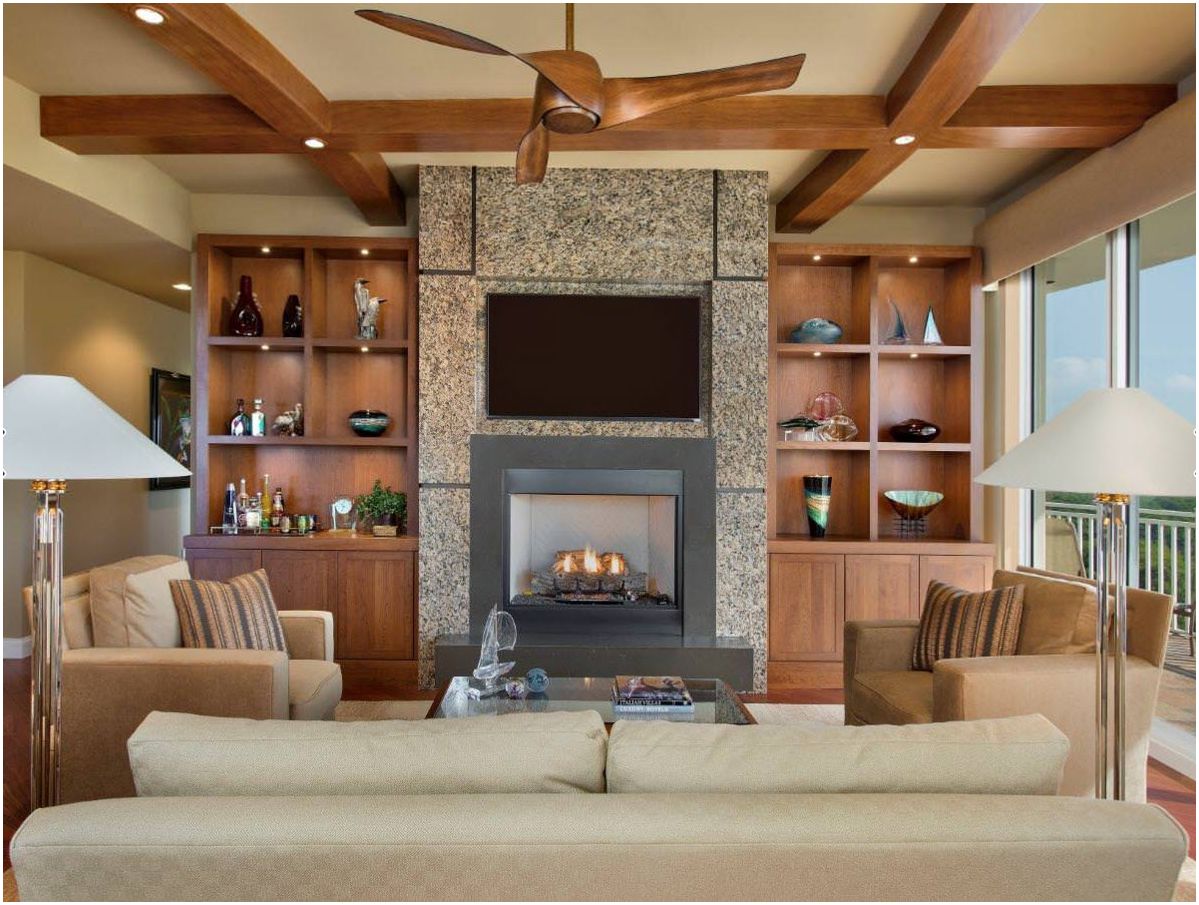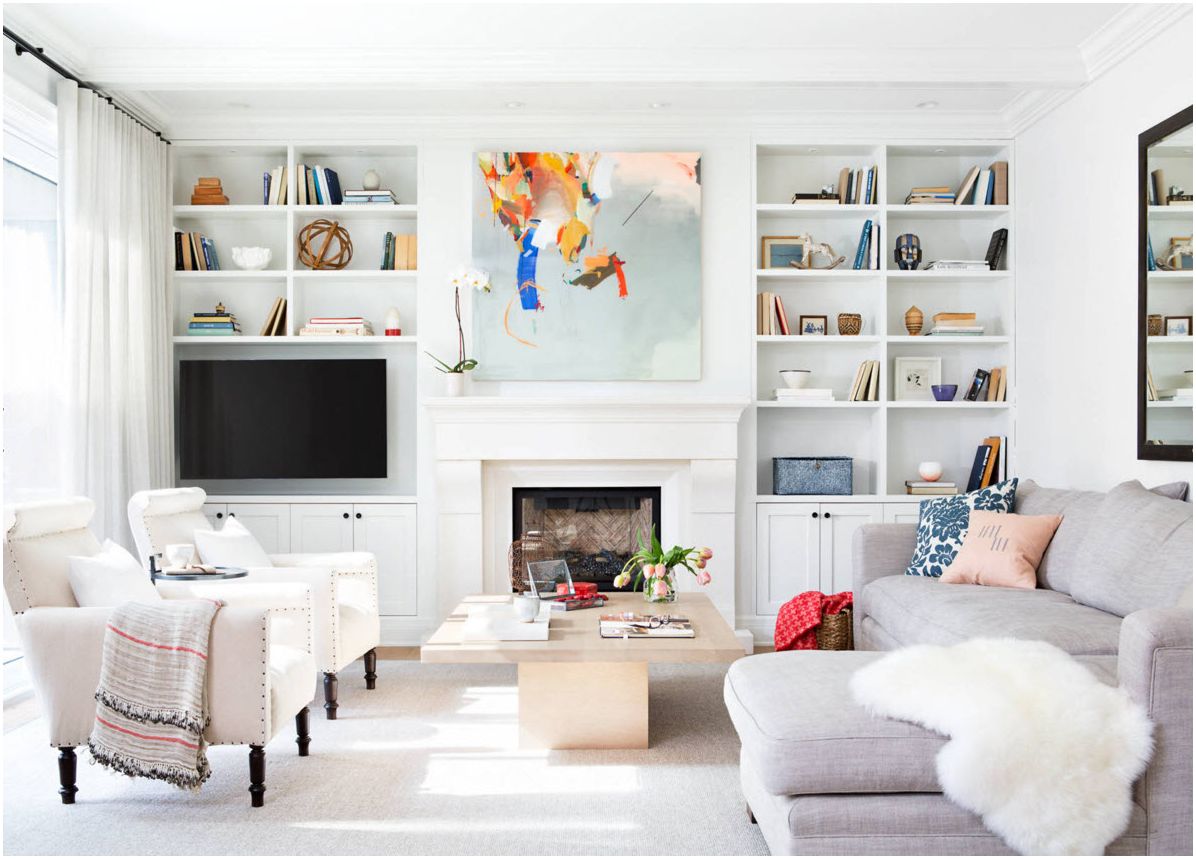 Depending on the size of the room and the location of the fireplace, you can use an asymmetrical arrangement of storage systems. The video zone helps to balance the functional segments..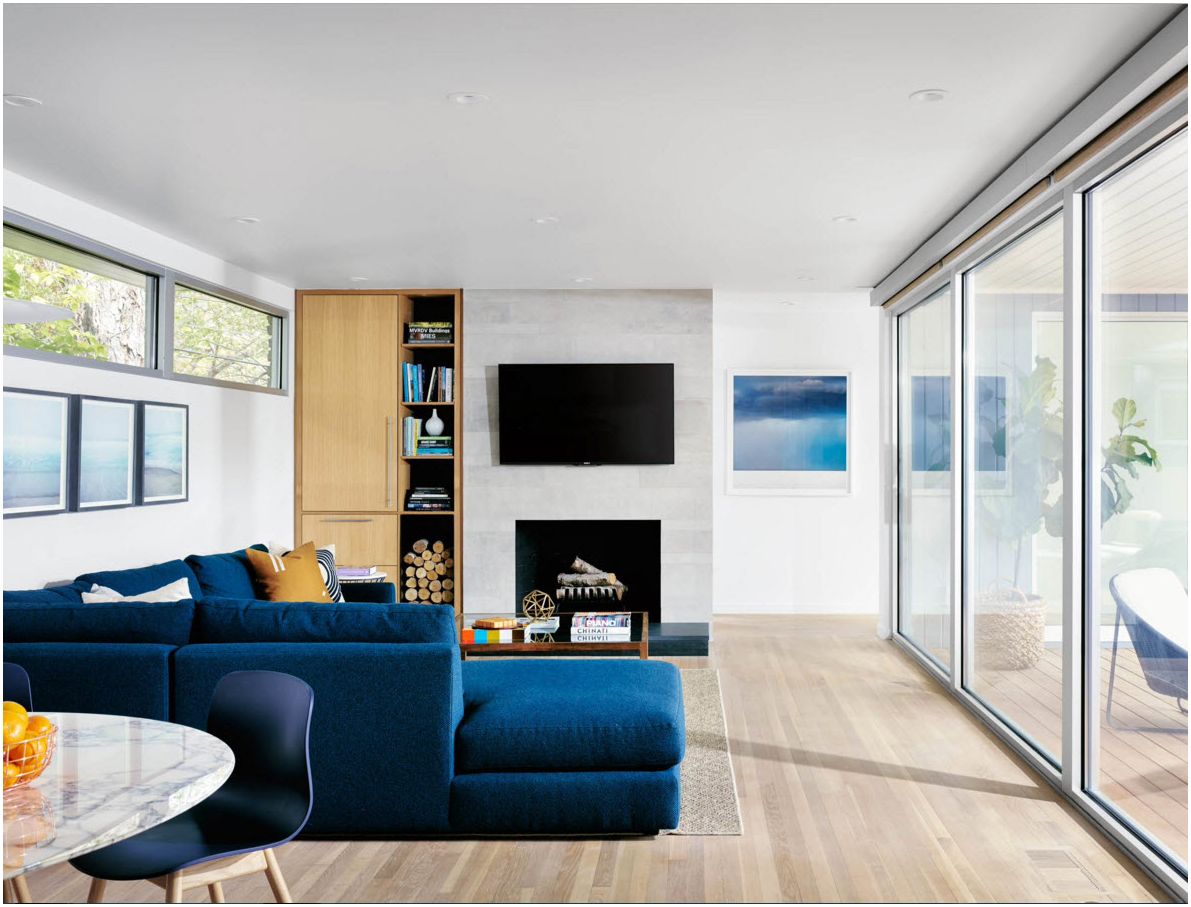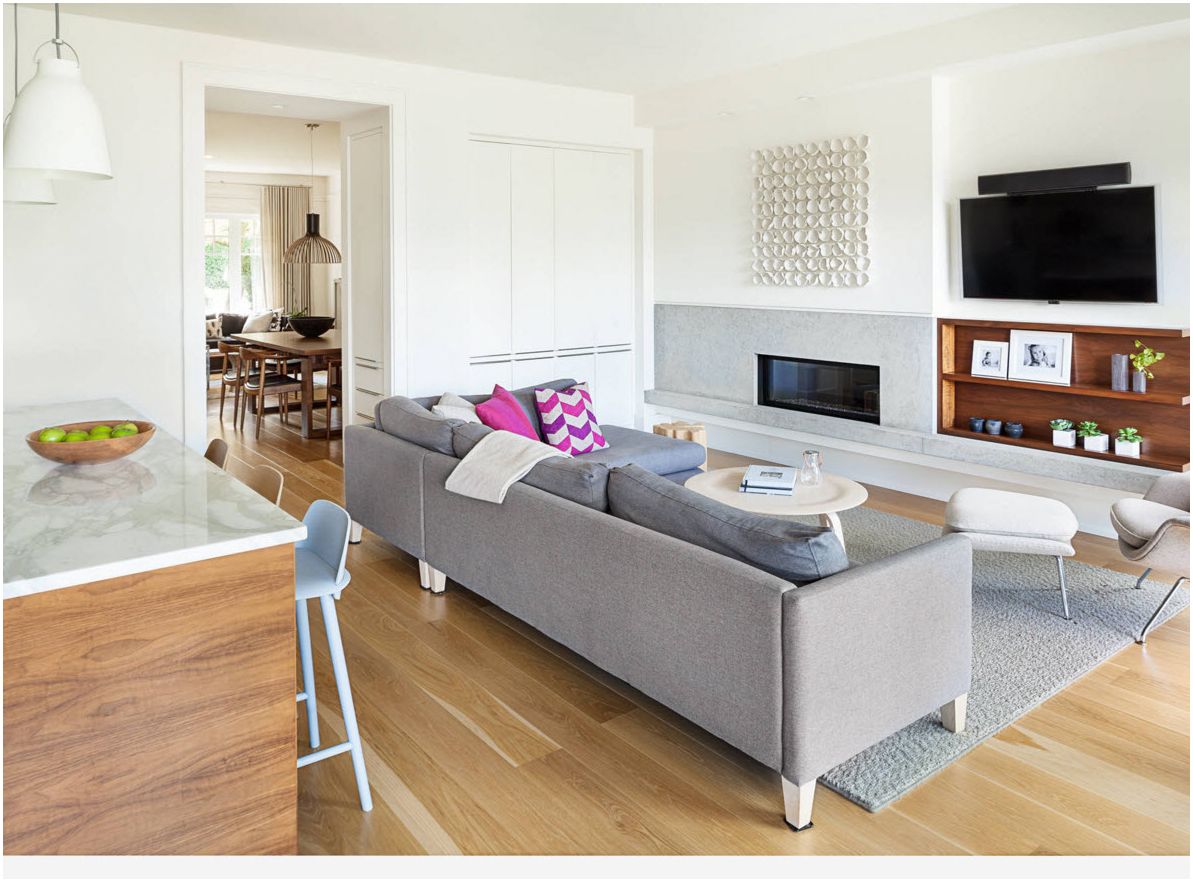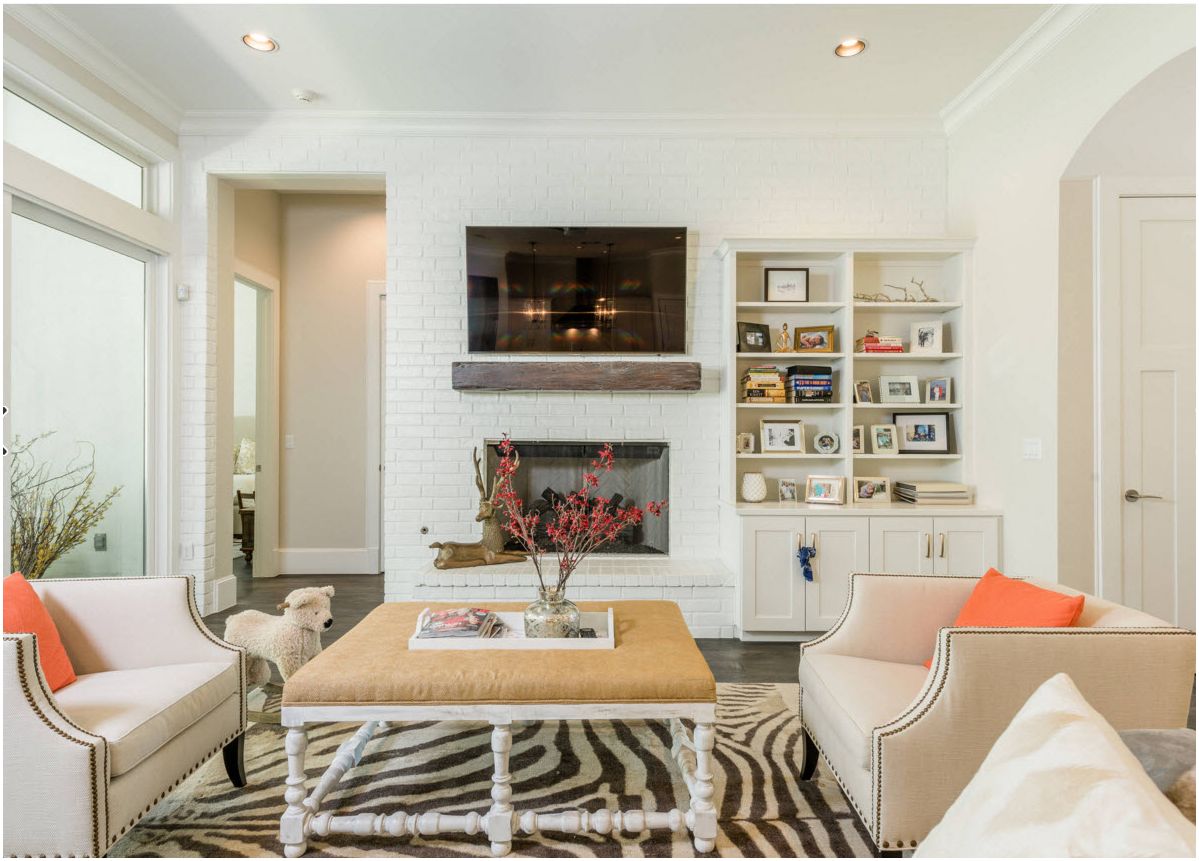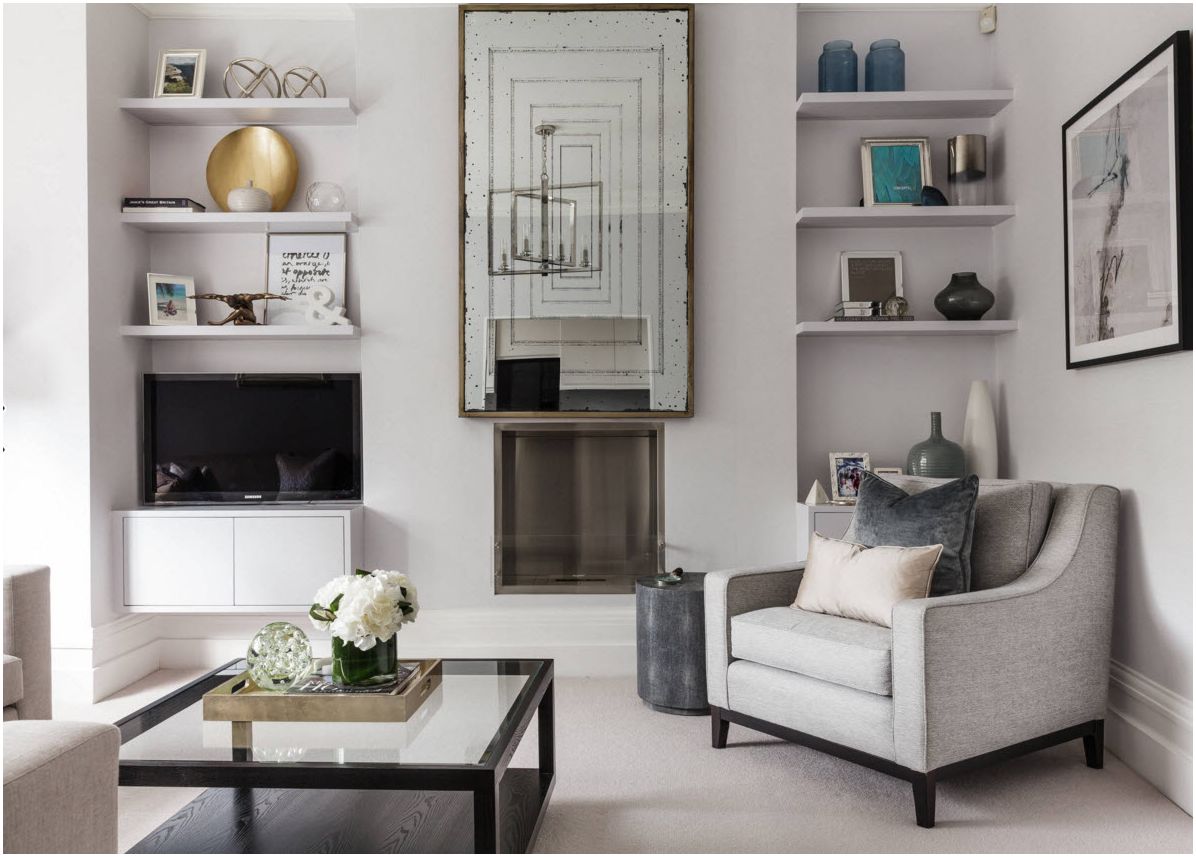 Lighting in open shelves of modular systems is possible when organizing a built-in ensemble. Of course, built-in lighting devices need to be thought out at the stage of planning repairs, and not construction of storage systems to hide all communication systems.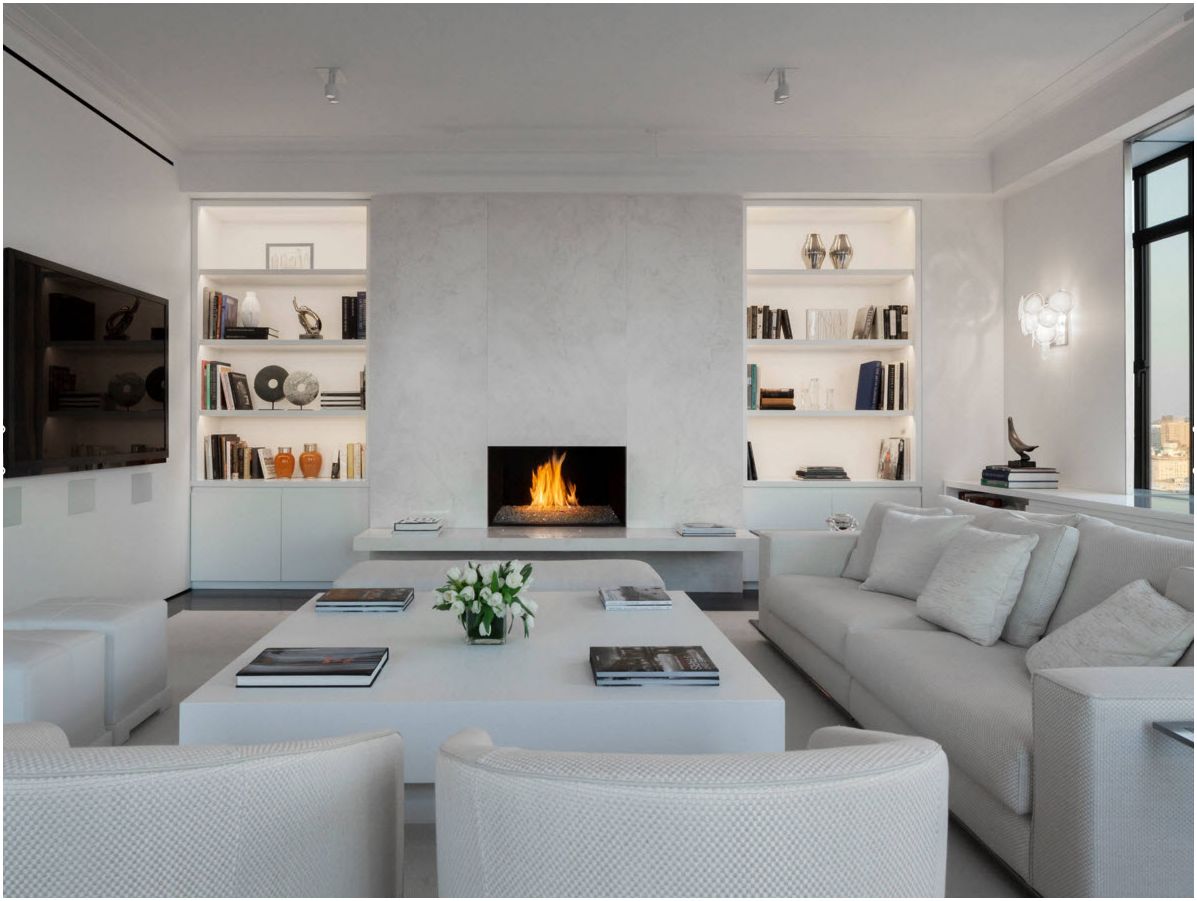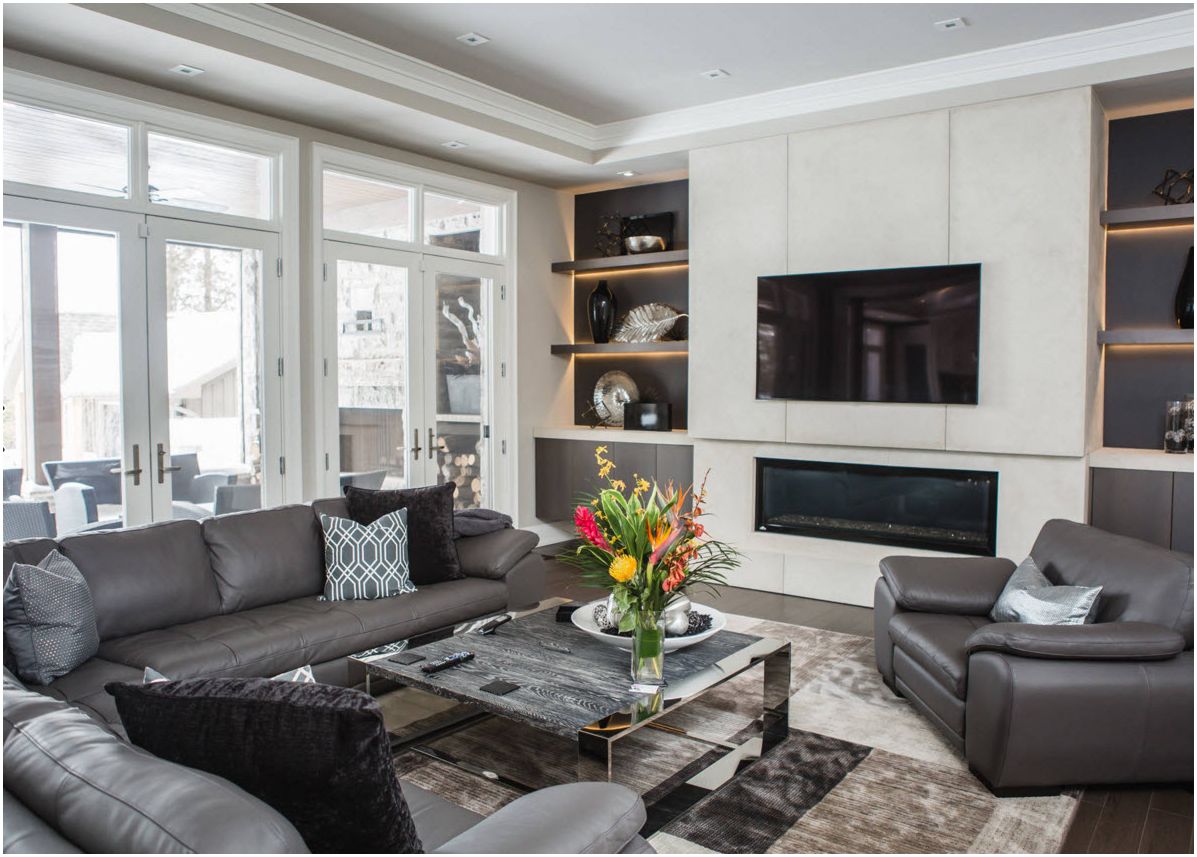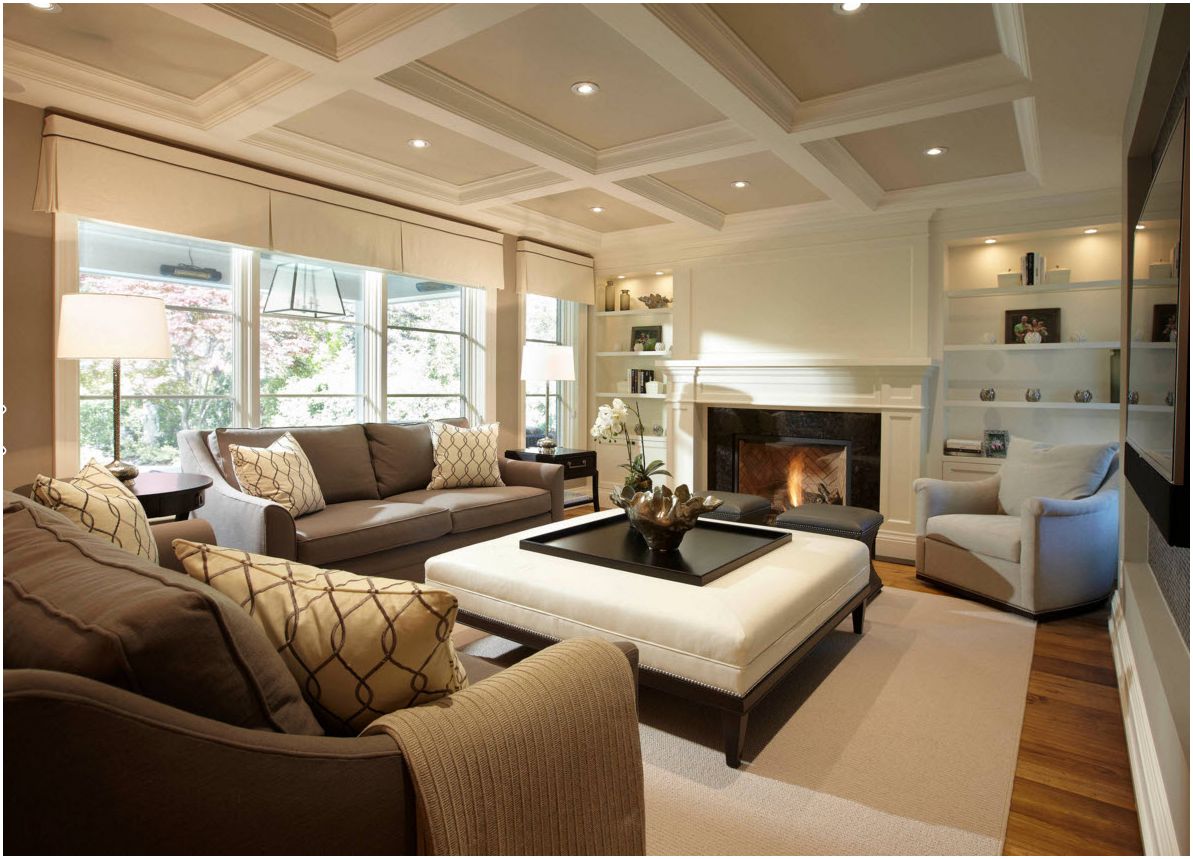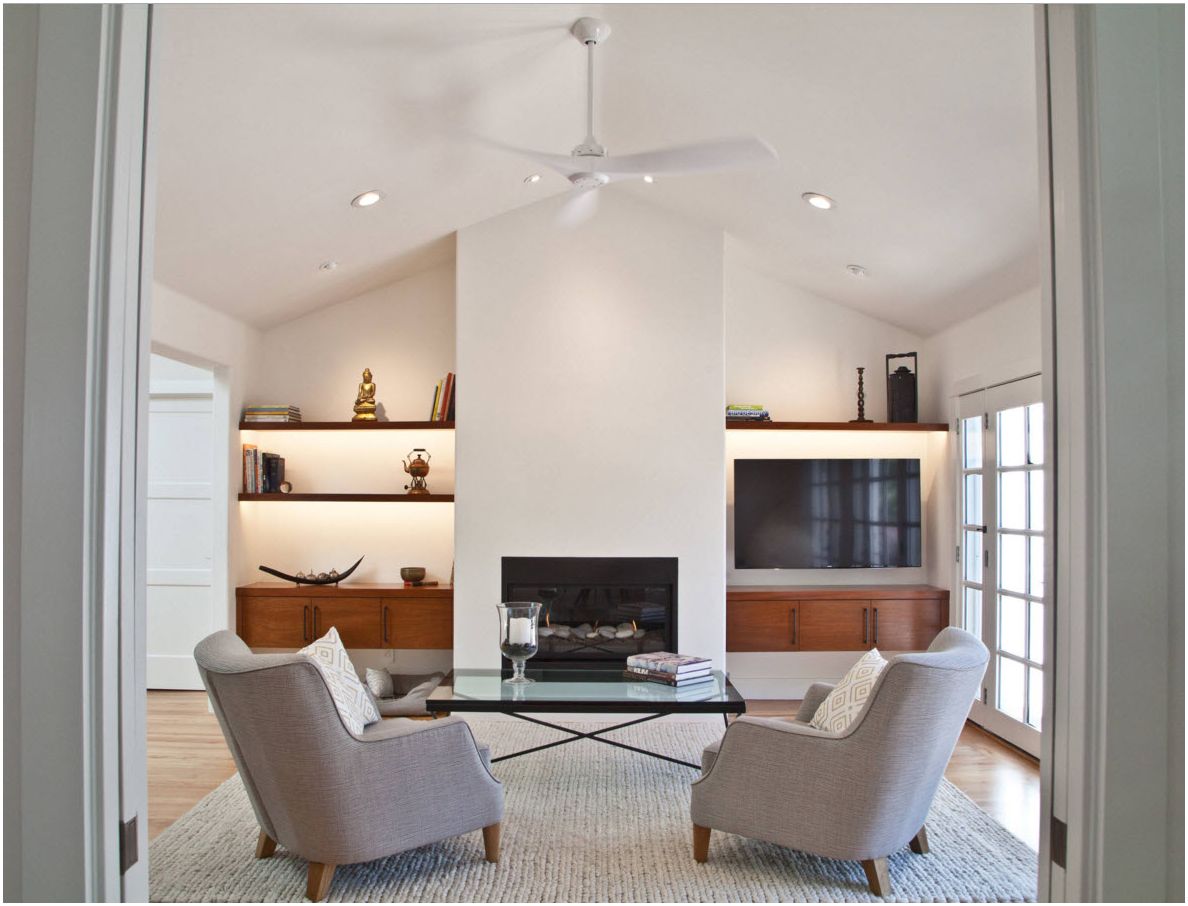 Library or living room – effective combination of functional areas
If the living room space allows, then why not place a home library within it, especially since the house or apartment has an impressive collection. The same situation can arise with discs, records and other collectibles, which are most conveniently stored on open shelving..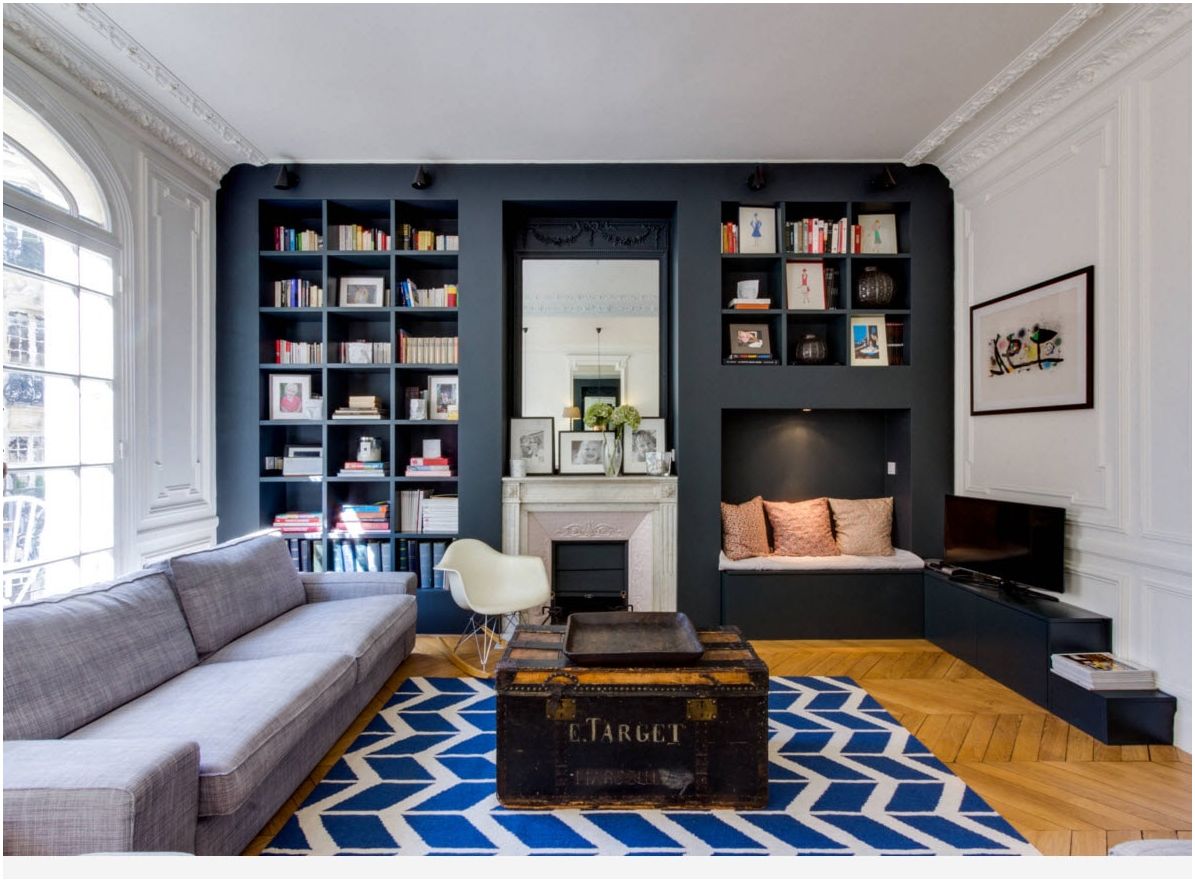 If you can afford to give an entire wall for the location of storage systems for a home library, then it would be more rational to use not only open shelves for books and all sorts of little things, but also closed cabinets in the lower tier. It can be both modules with hinged doors and drawers of various modifications..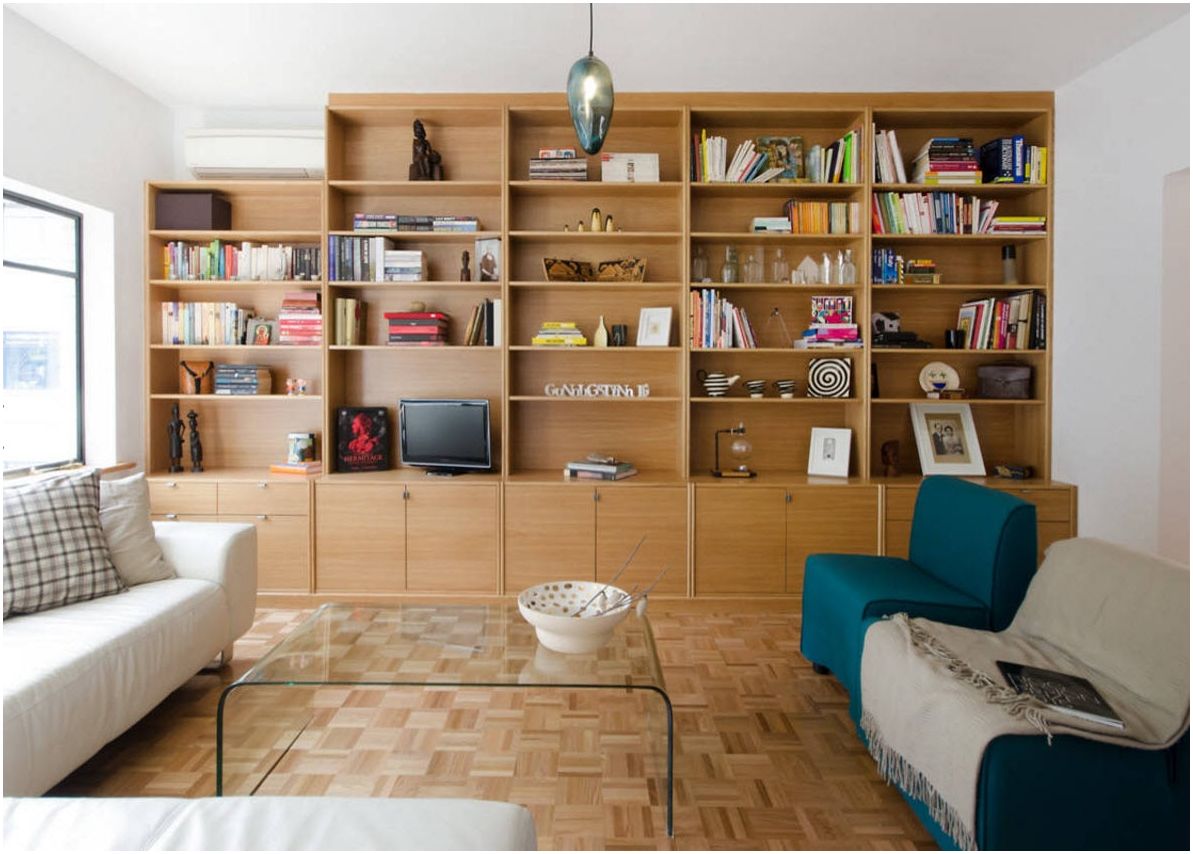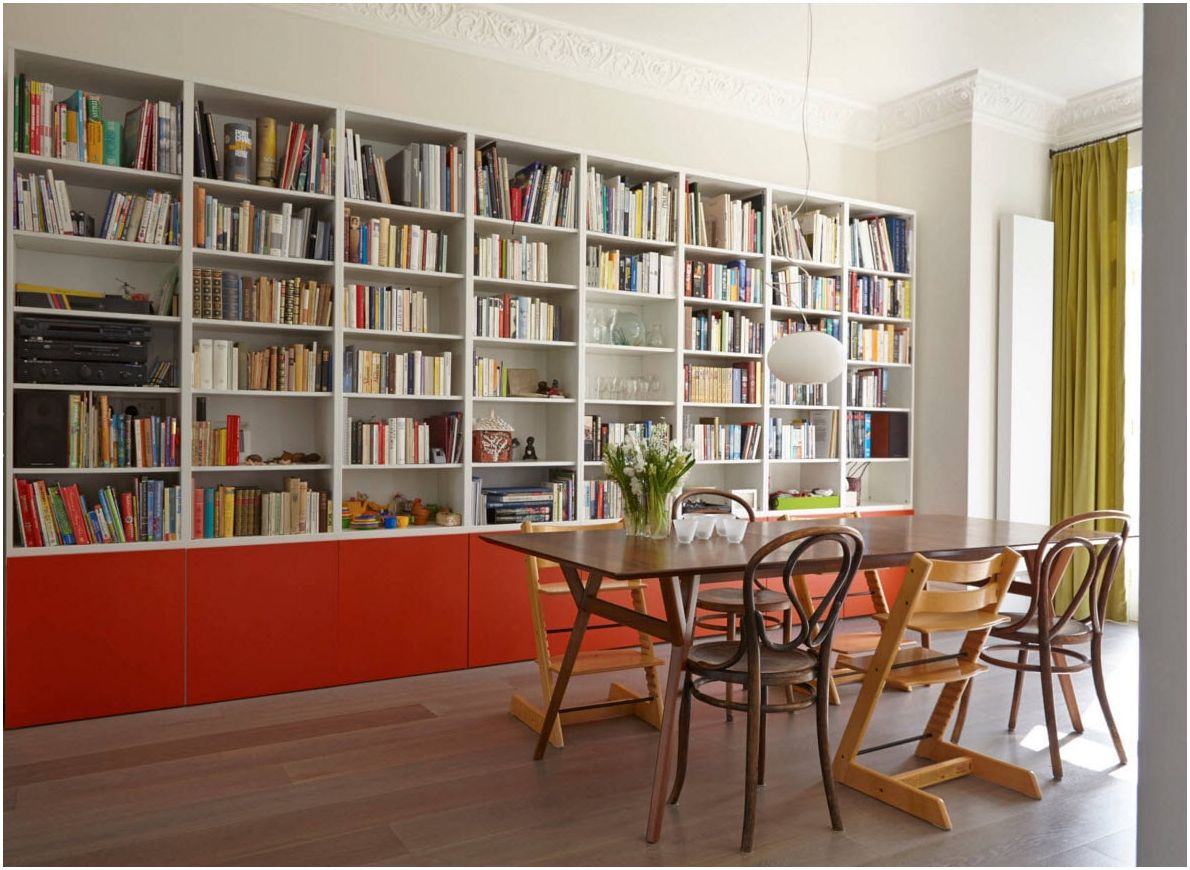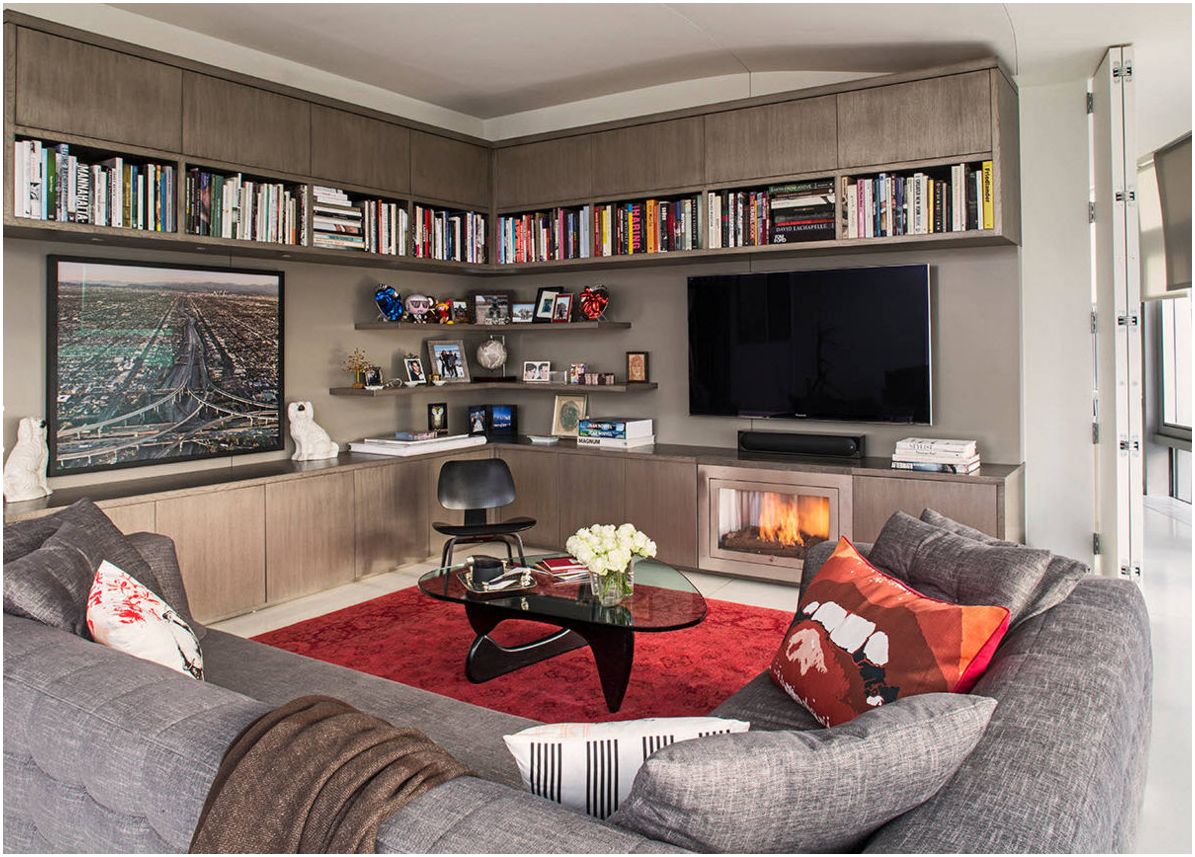 Low modules are popular storage systems
Low storage modules are perfect for modest rooms with low ceilings. Small pieces of furniture perfectly integrate into living rooms with a simple and laconic interior, not devoid of brightness and originality.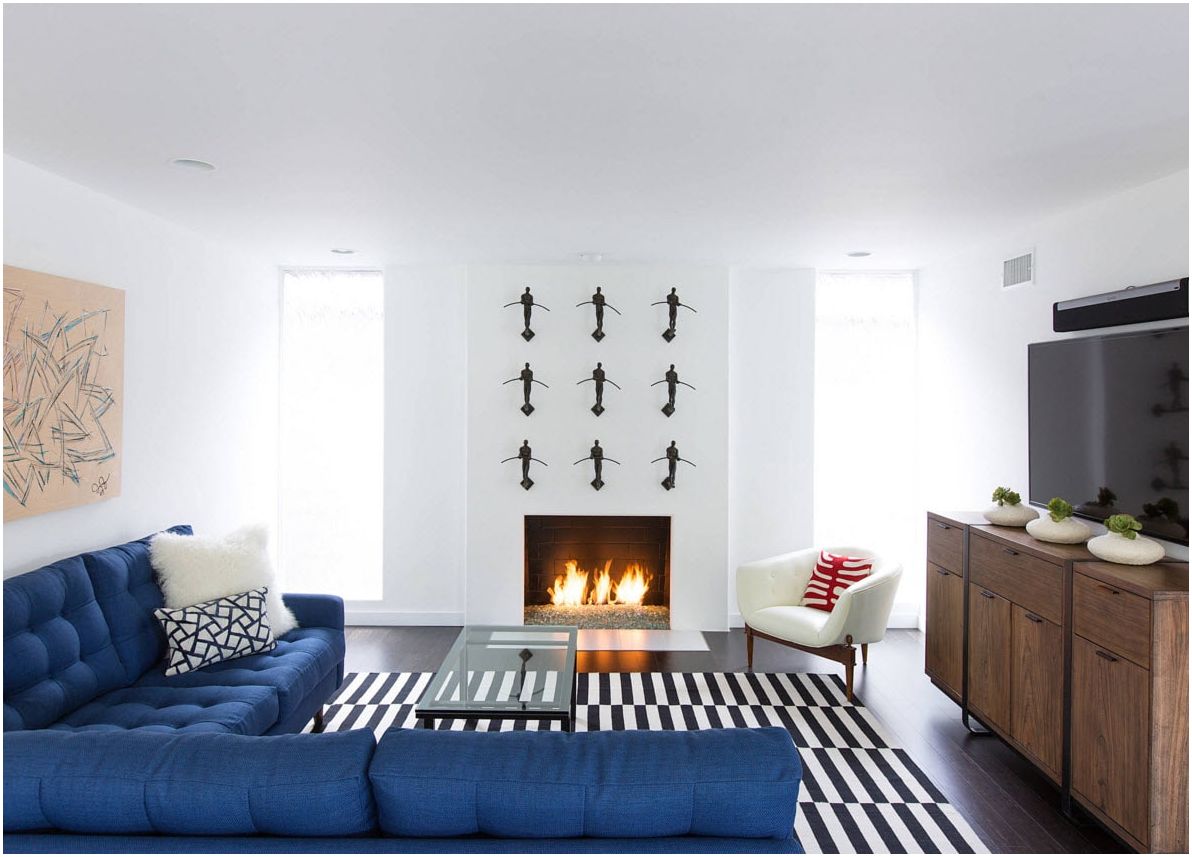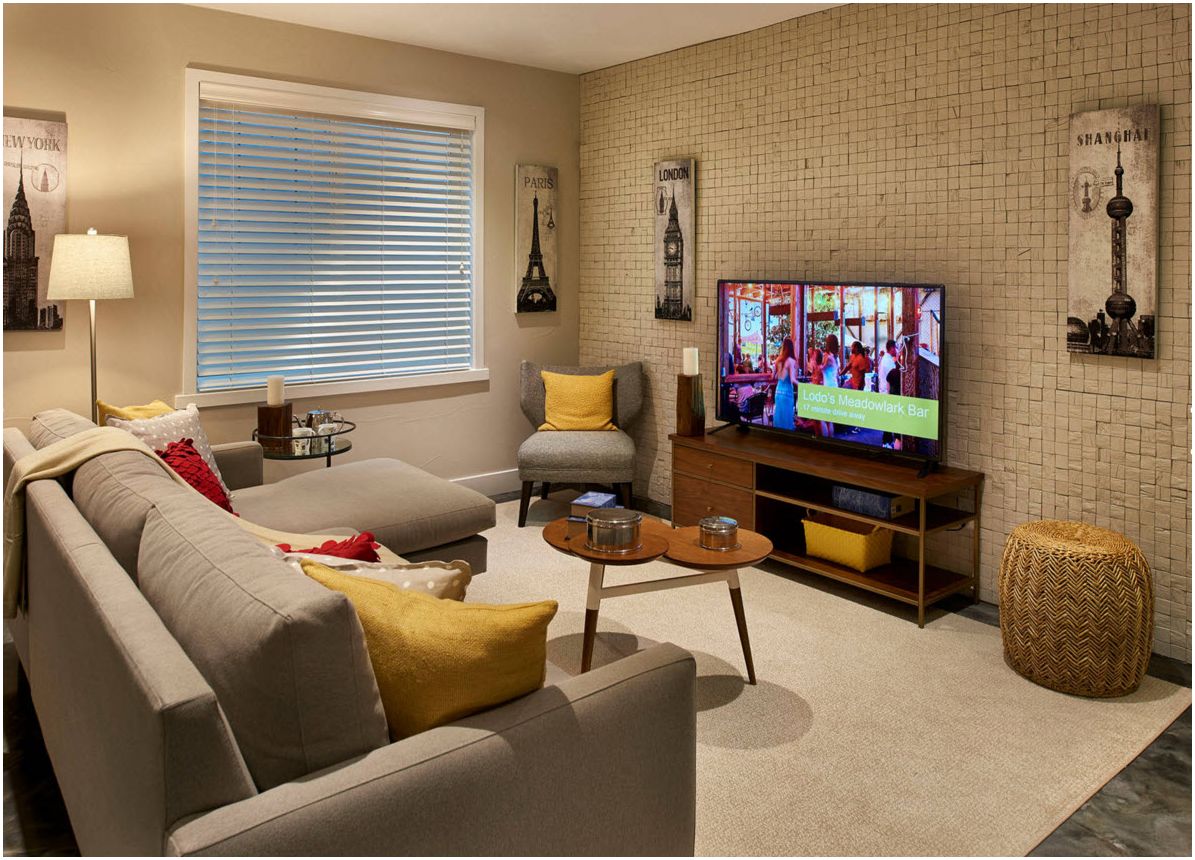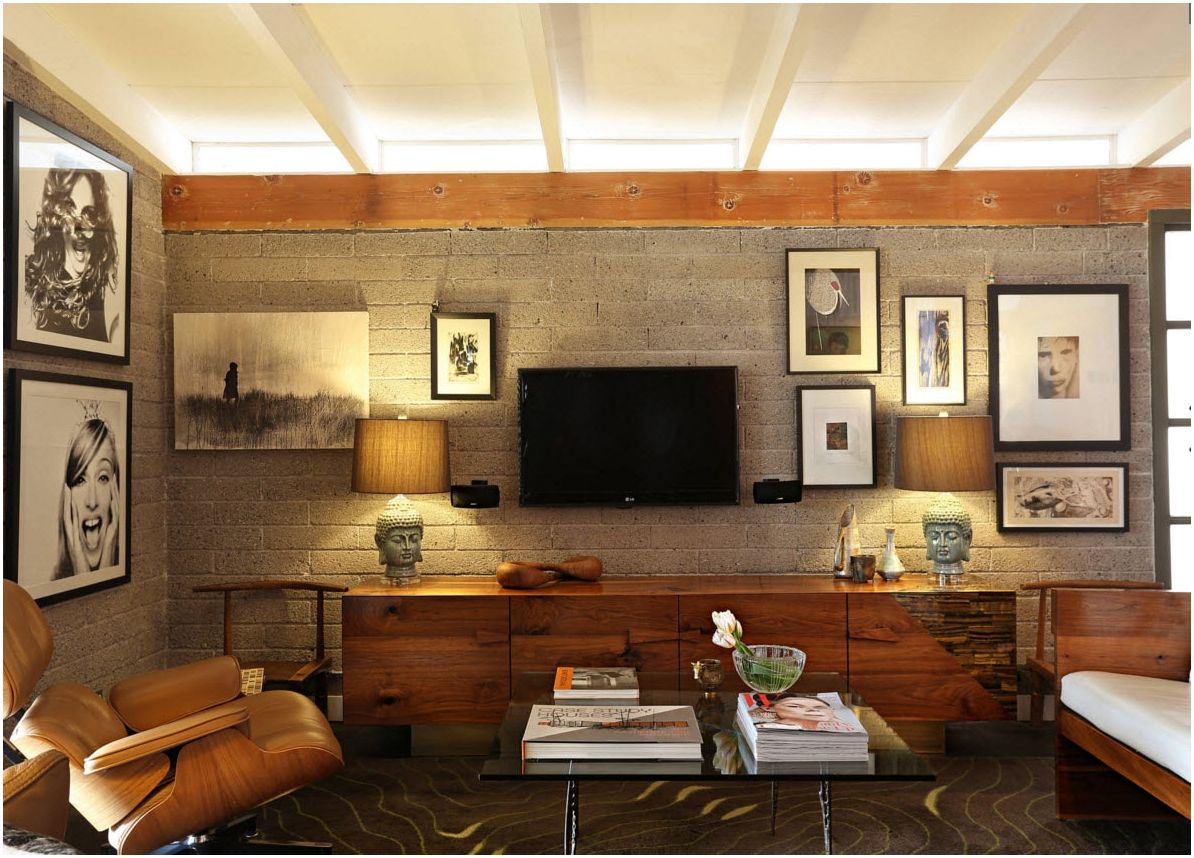 Low modular systems located under the TV along the entire wall look very modern. Smooth facades, strict forms and lines – everything works to create a modern and practical living room interior.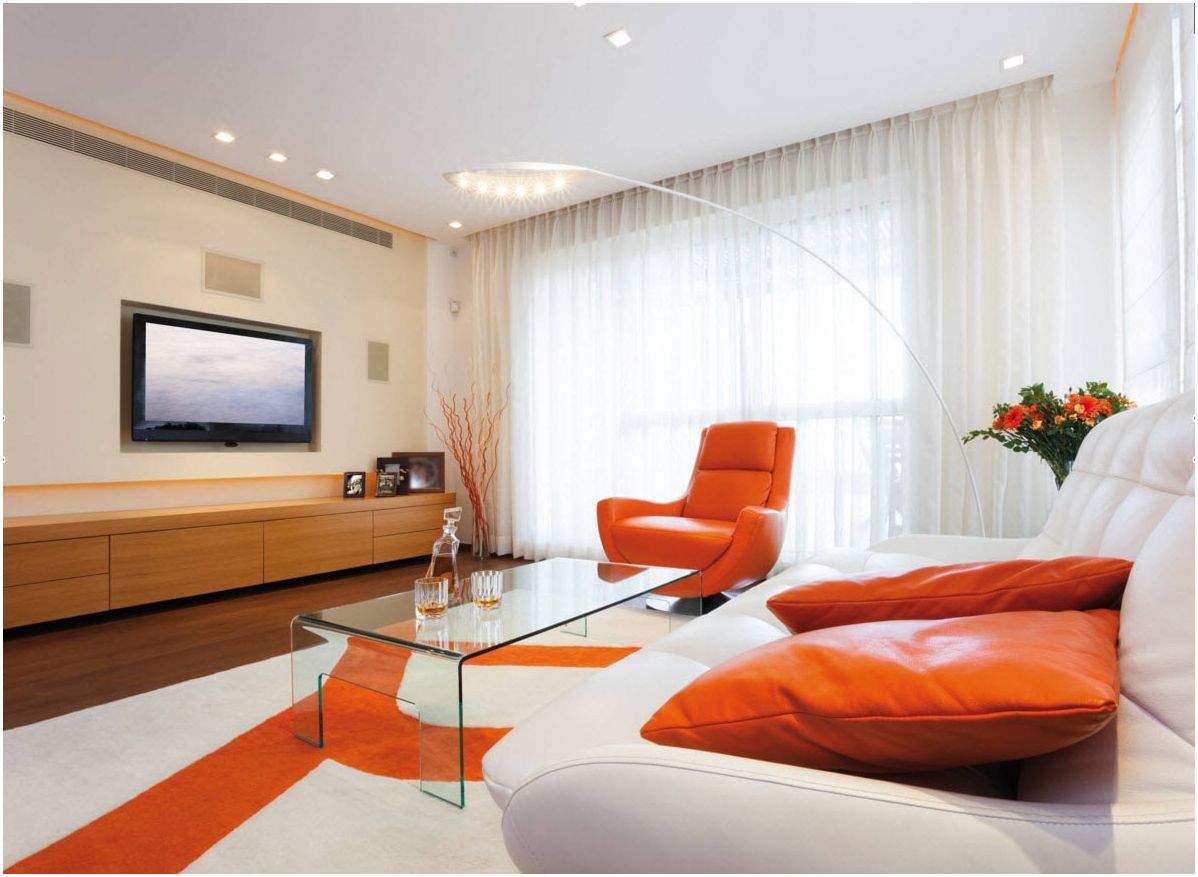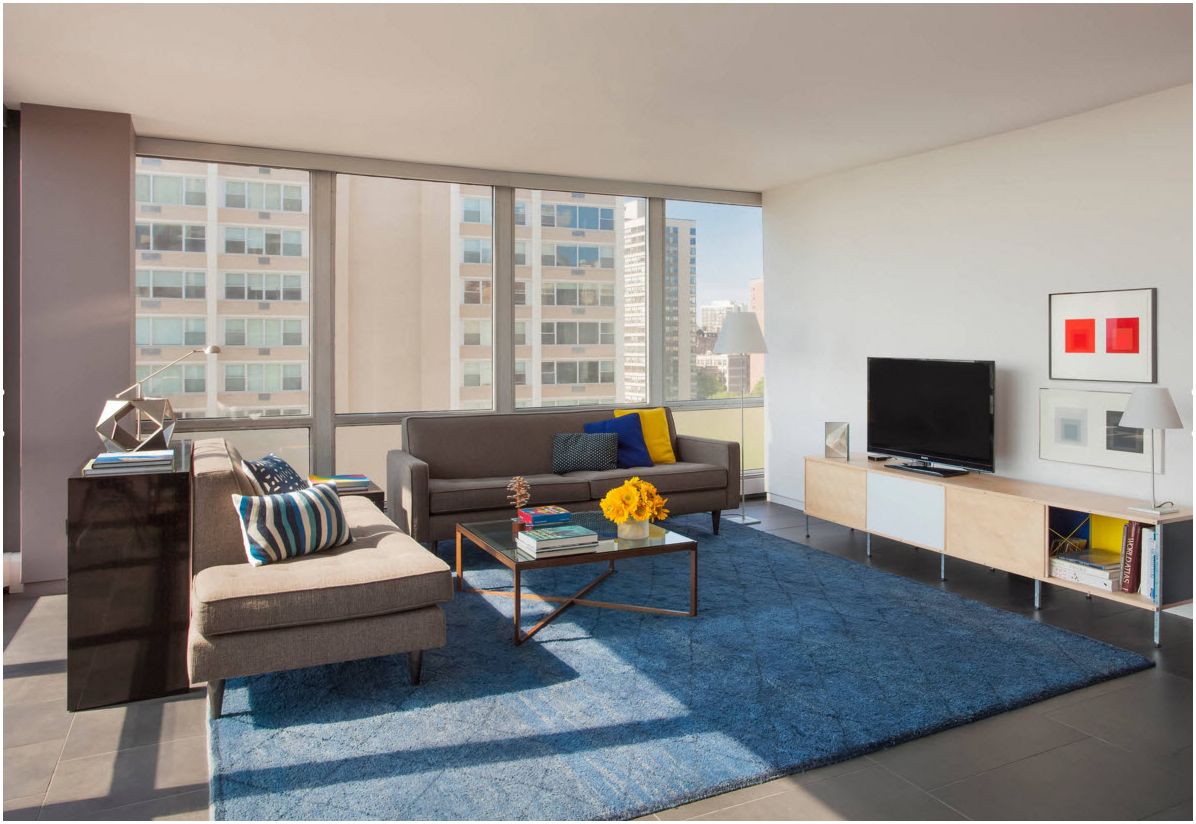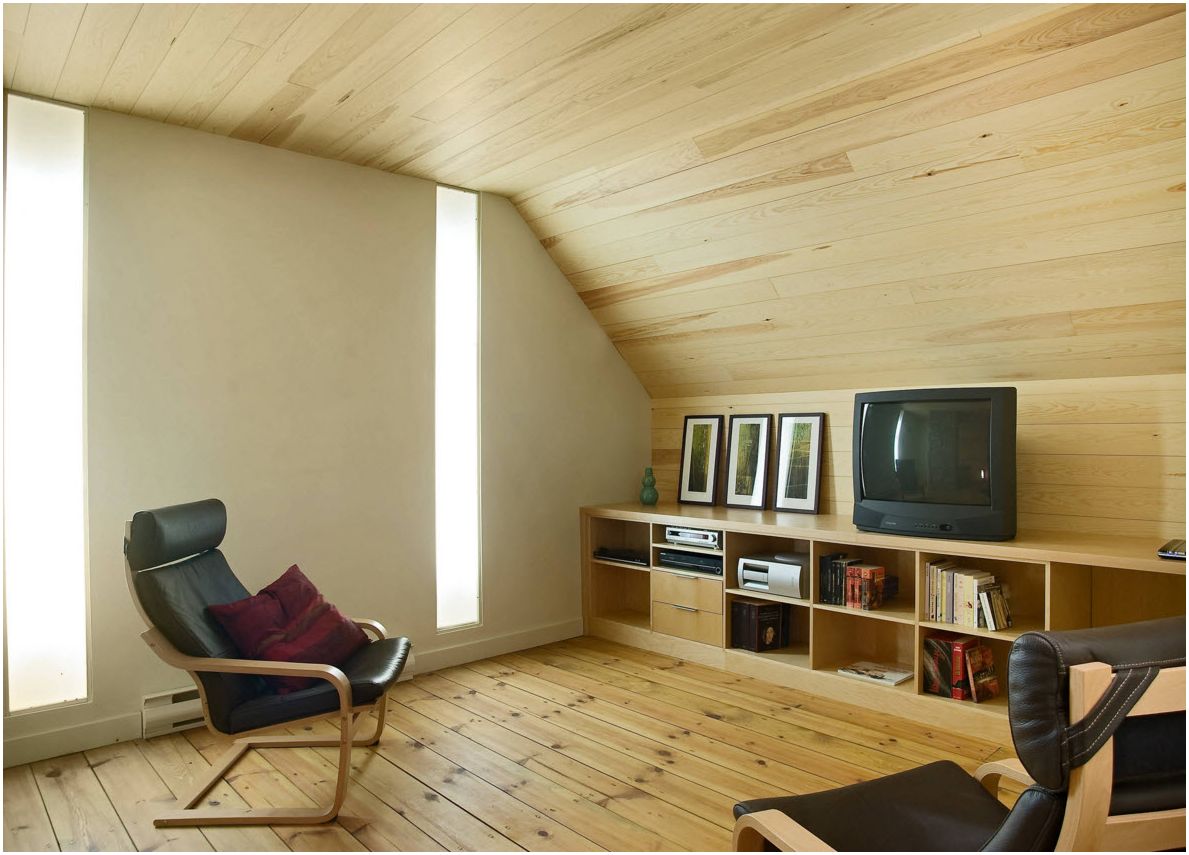 If the storage systems, consisting of the lower tier of cabinets, are made in white, then against the background of a similar finish they can practically dissolve into space. It is up to you to decide whether to make the facades smooth, without fittings, or to attract attention with original handles, holders, decor.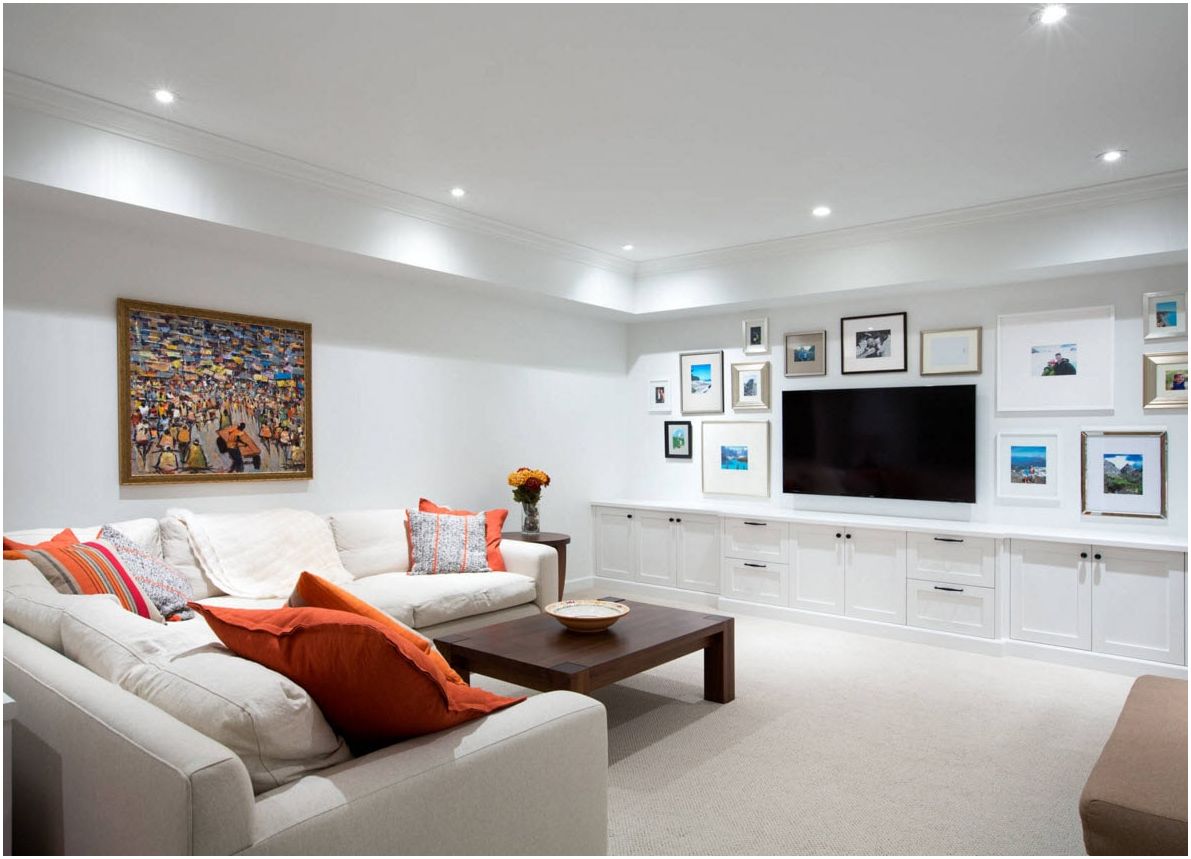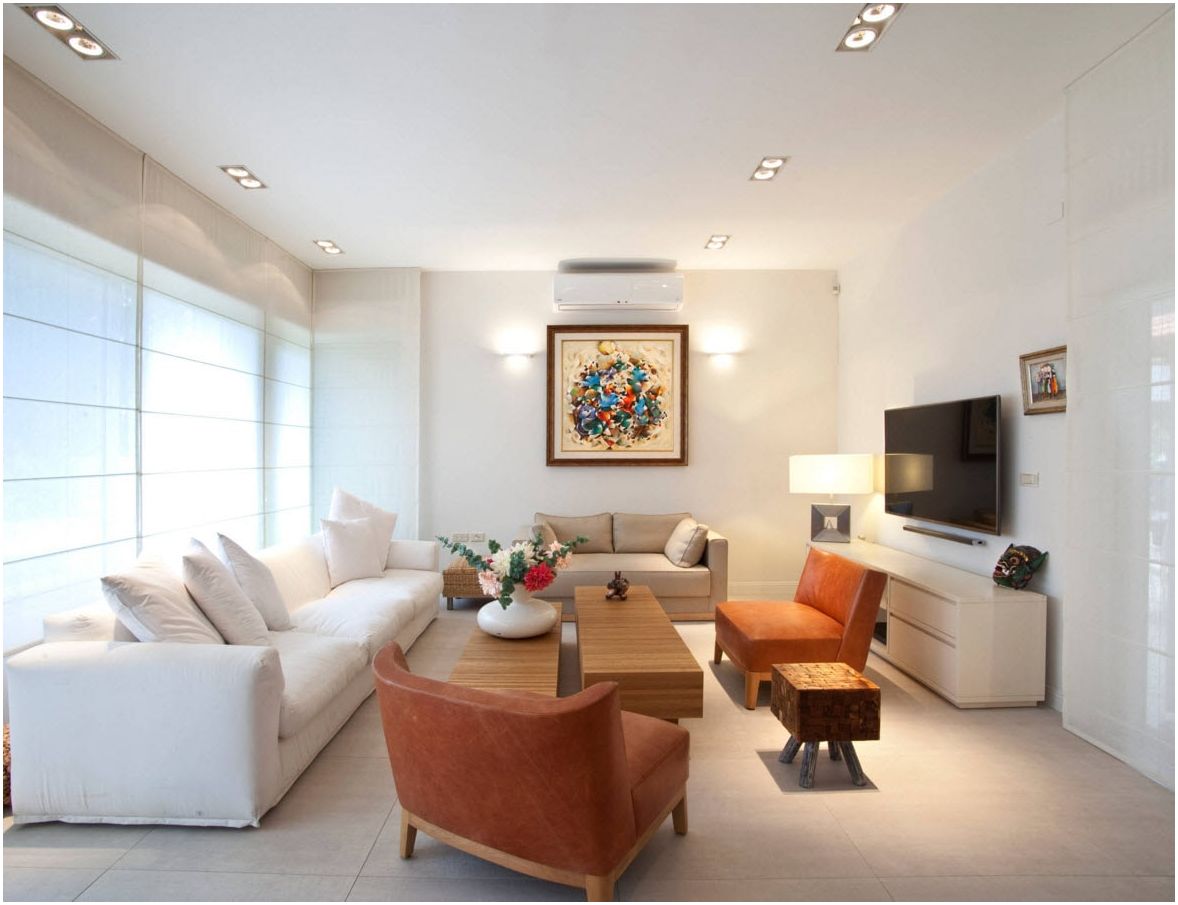 Small, squat storage systems fit perfectly into a minimalist living room style. Also, such furniture will organically fit into the design of the room, made in oriental style..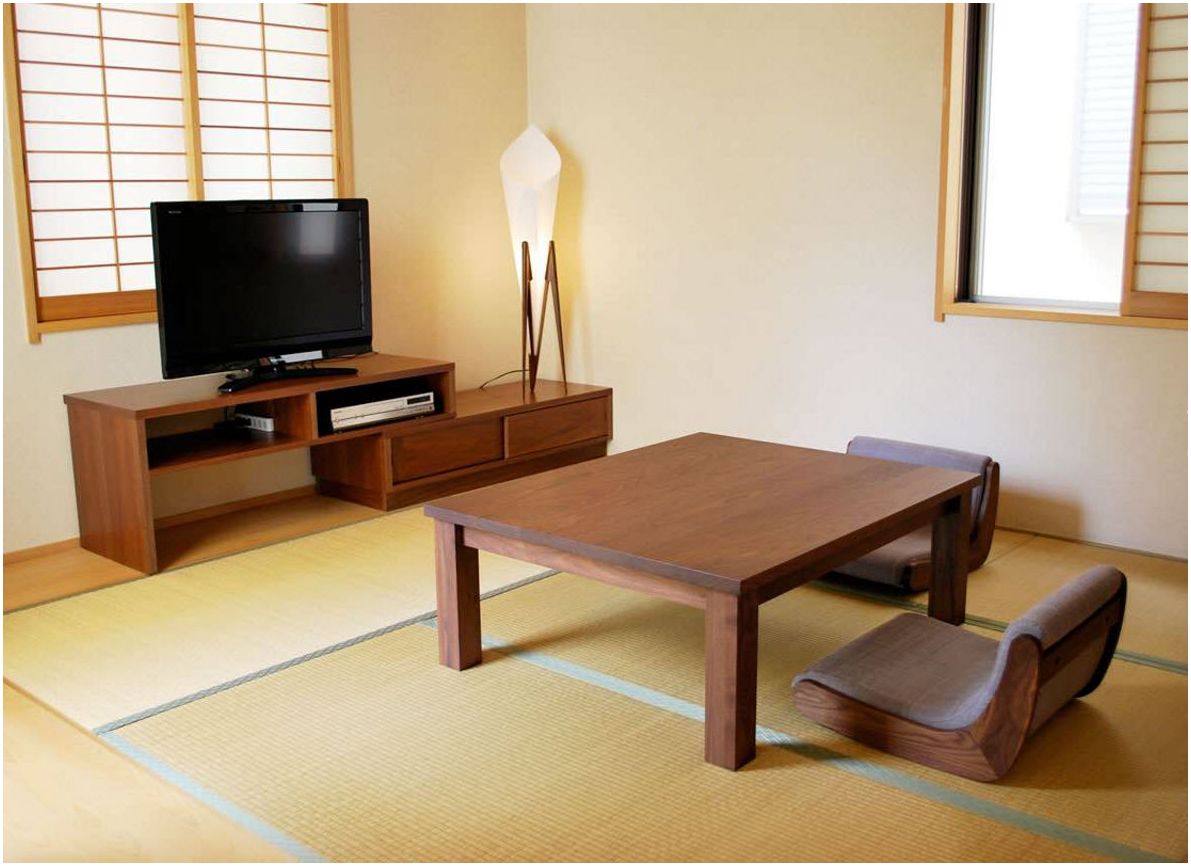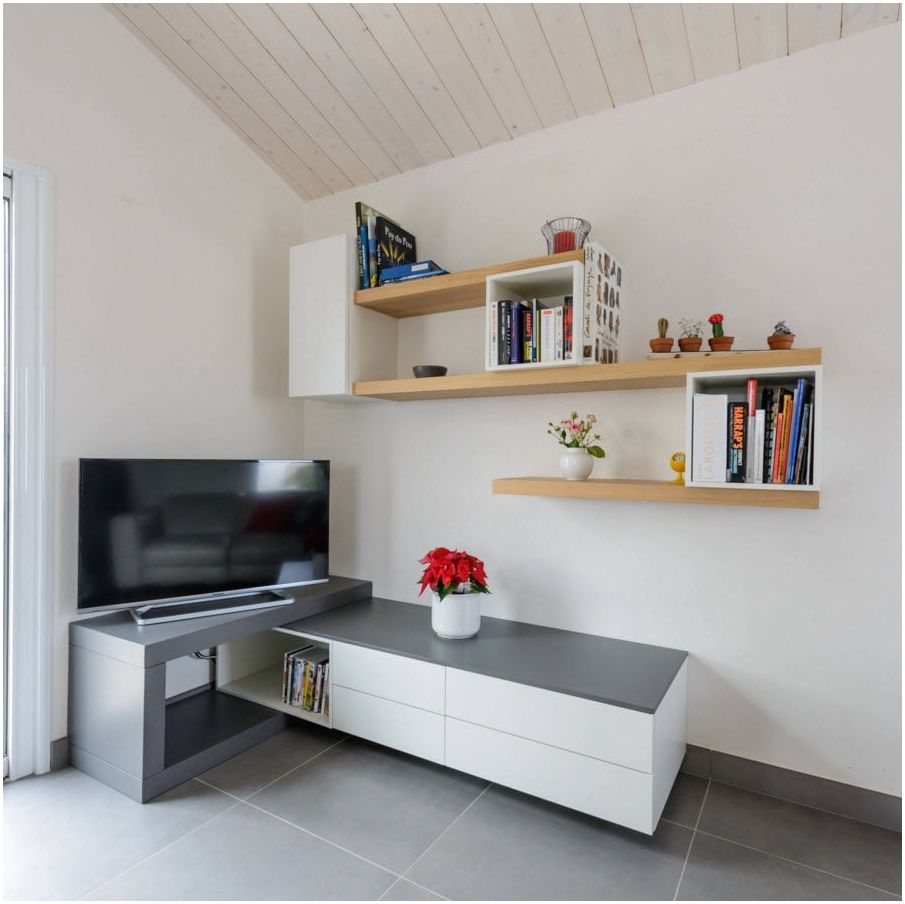 Using space efficiently
As a rule, one of the walls is allocated for storage systems in the living room, in which there is already a video zone, a fireplace, or both. But in fact, in many rooms there are still enough unused corners and blind spots in which small storage modules could be placed. For example, the space under the window can be used for storage systems, which, among other things, act as seating. Of course, this option is suitable for rooms in which heating radiators are not located under the windows..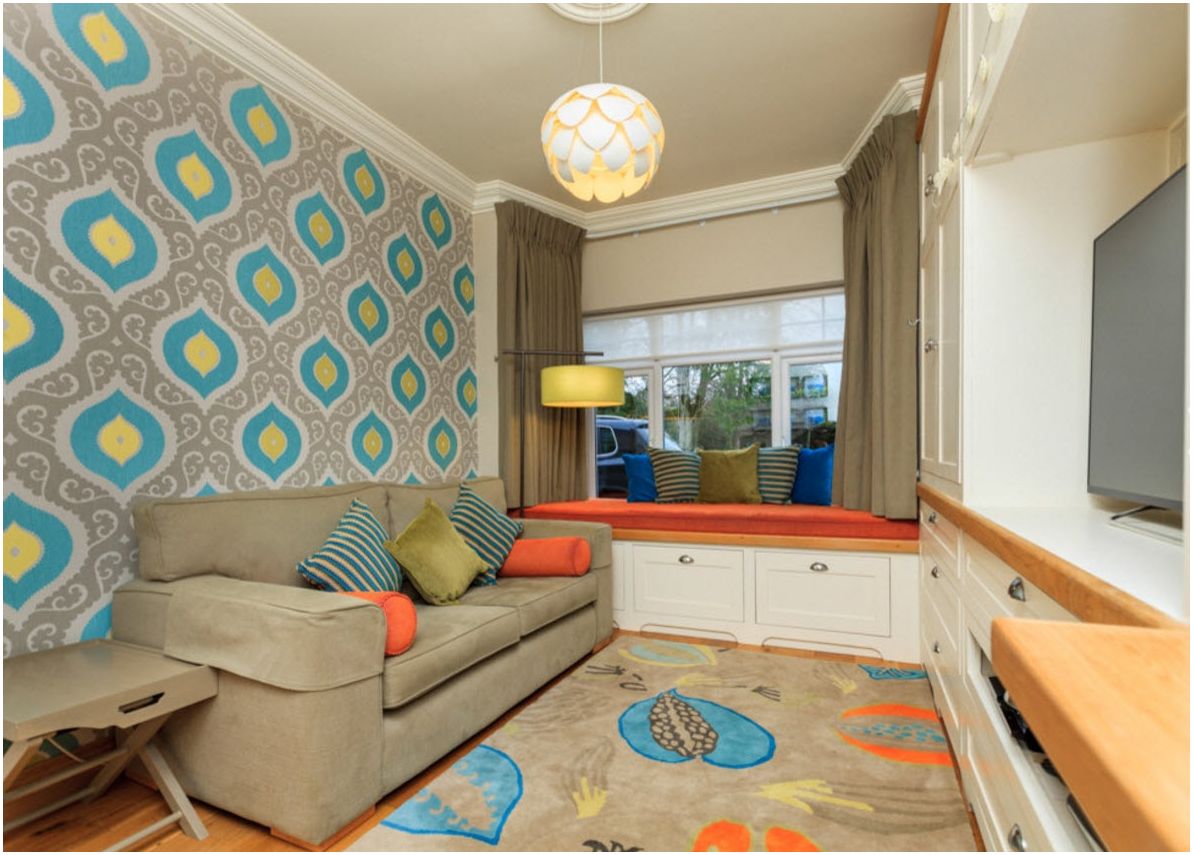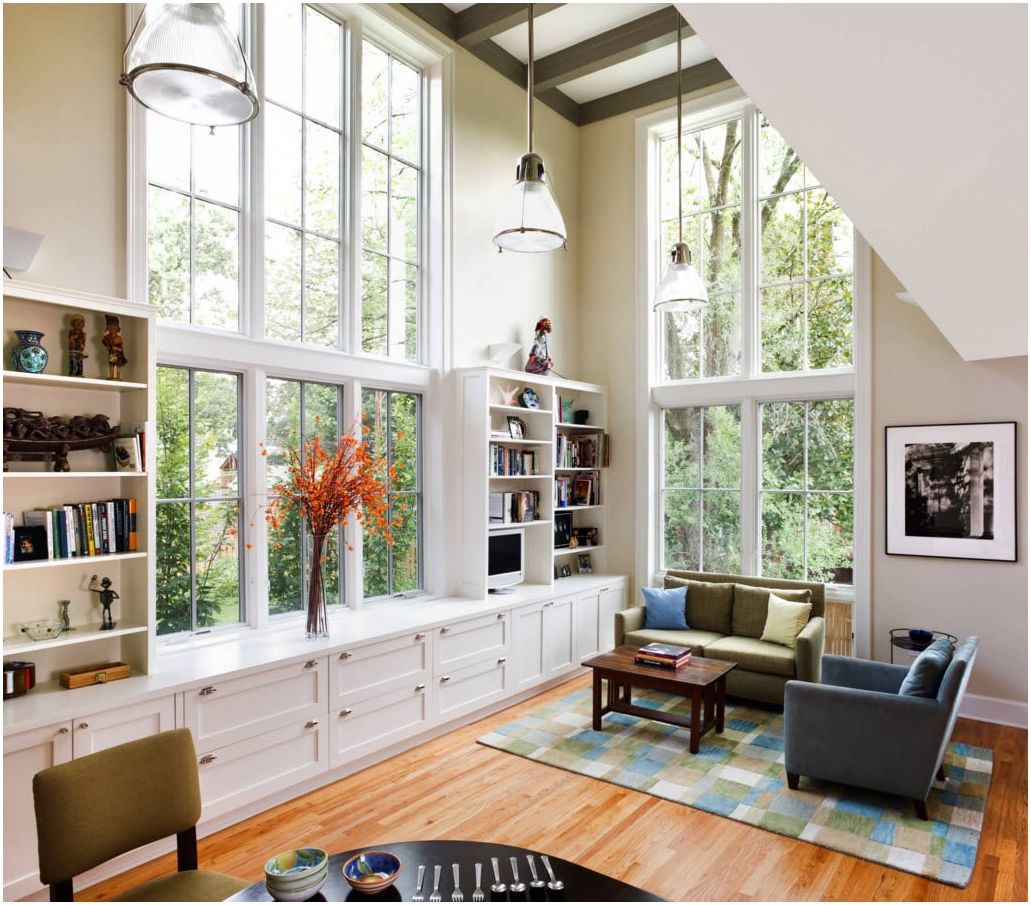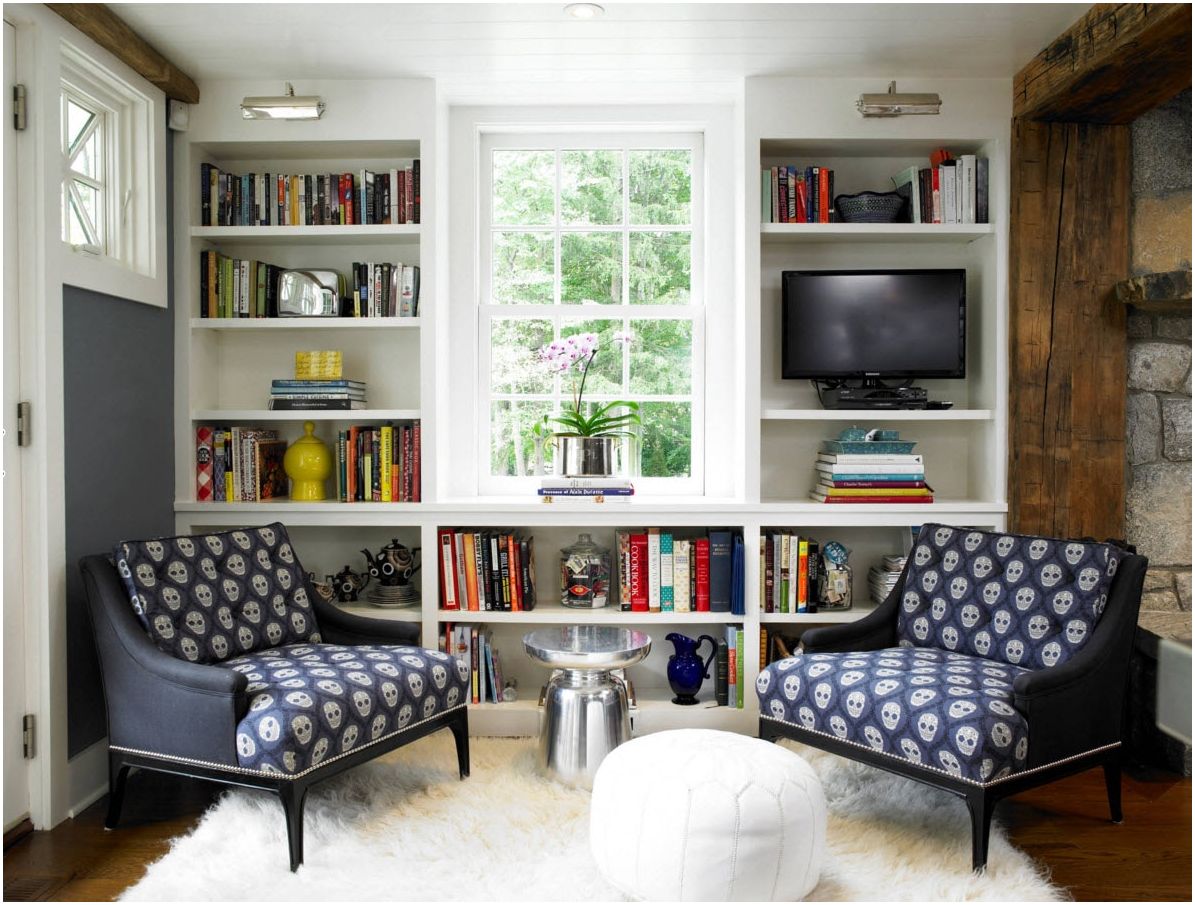 Another way to efficiently use space is to use shelving as interior partitions. If, in any case, you need to zone the space using a partition, then why not equip in this place a composition of open or combined storage systems.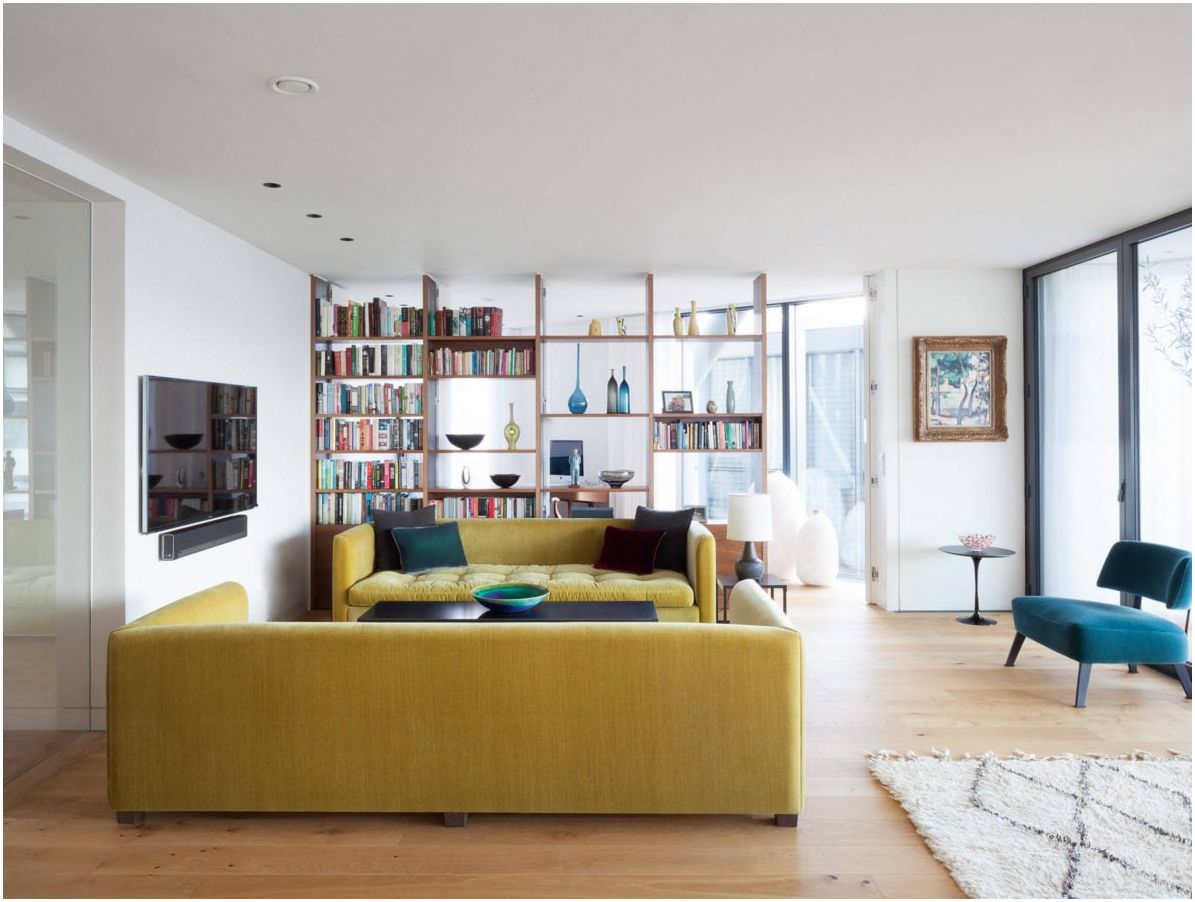 If your living room plays the role of a home theater, then it is obvious that all attention to the design of the room will be focused on the location of the video zone and the installation of comfortable upholstered furniture for a comfortable position in front of the TV. For storage systems, in this case, a secondary role is assigned and the appearance of the furniture ensemble should have an appropriate, not distracting from the focal center of the space..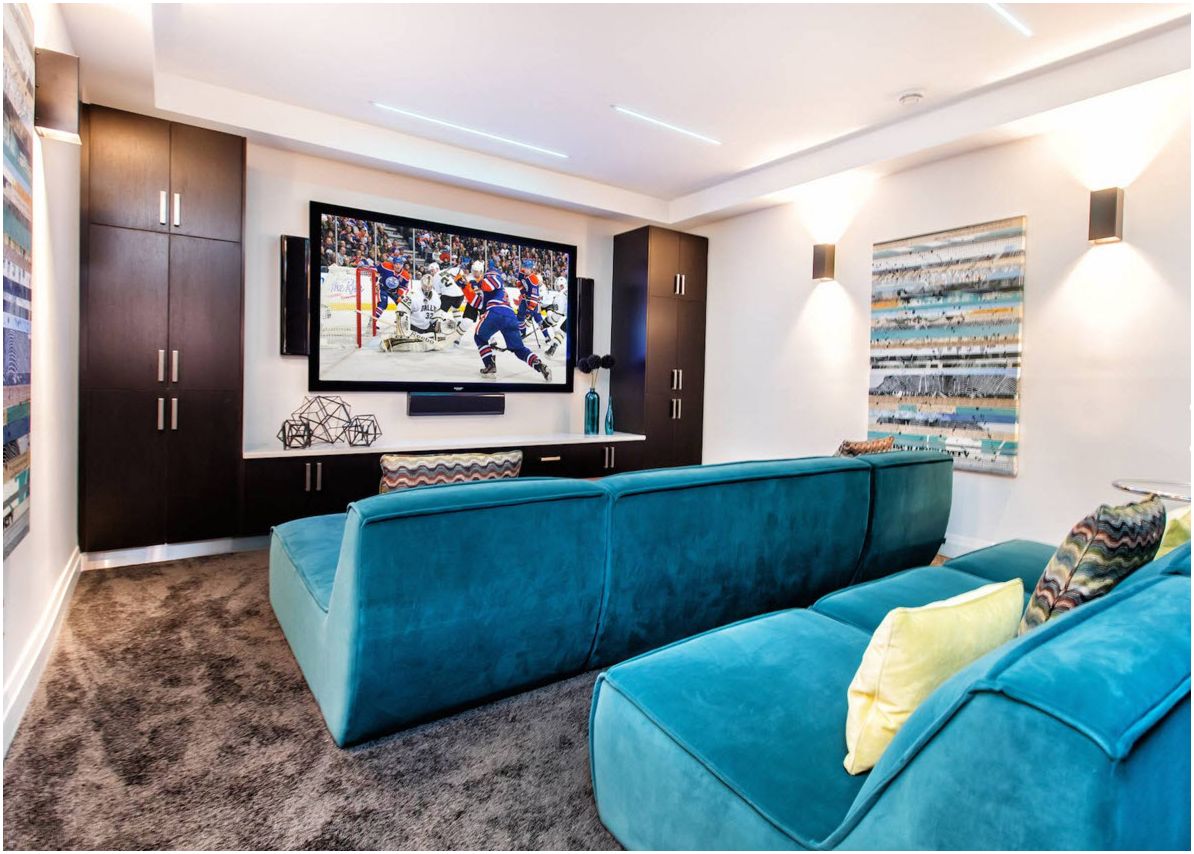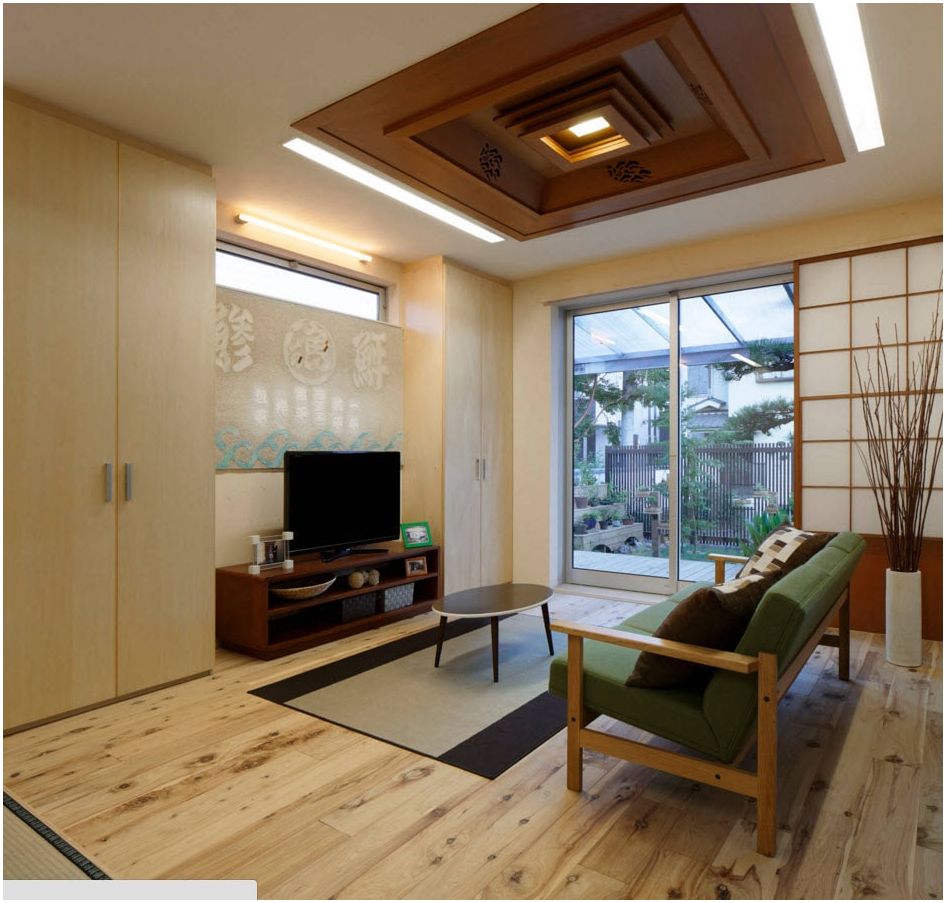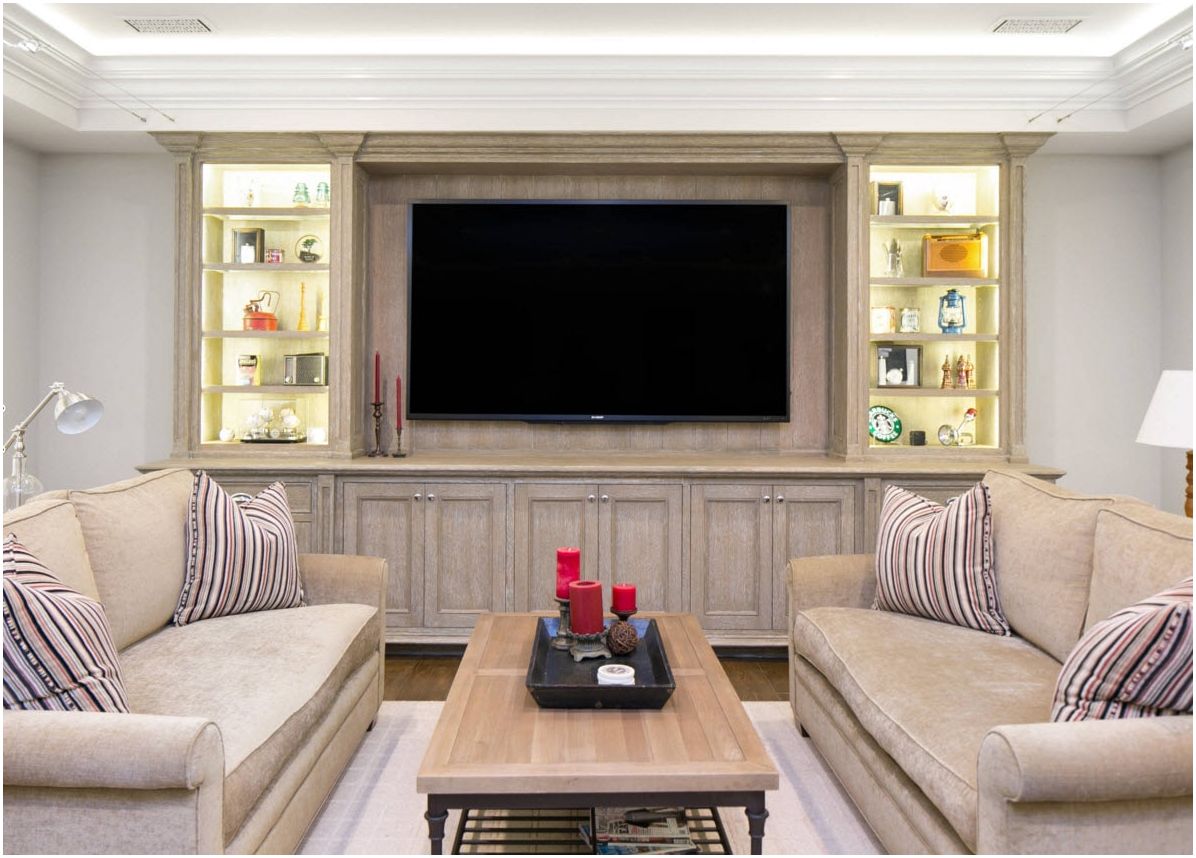 One of the methods of rational use of the living room space is to integrate a workplace into the storage system area. To organize a small home office, you need very little – a small console or any other surface that imitates a desk, on which you can place a computer and a comfortable chair or mini-chair next to it.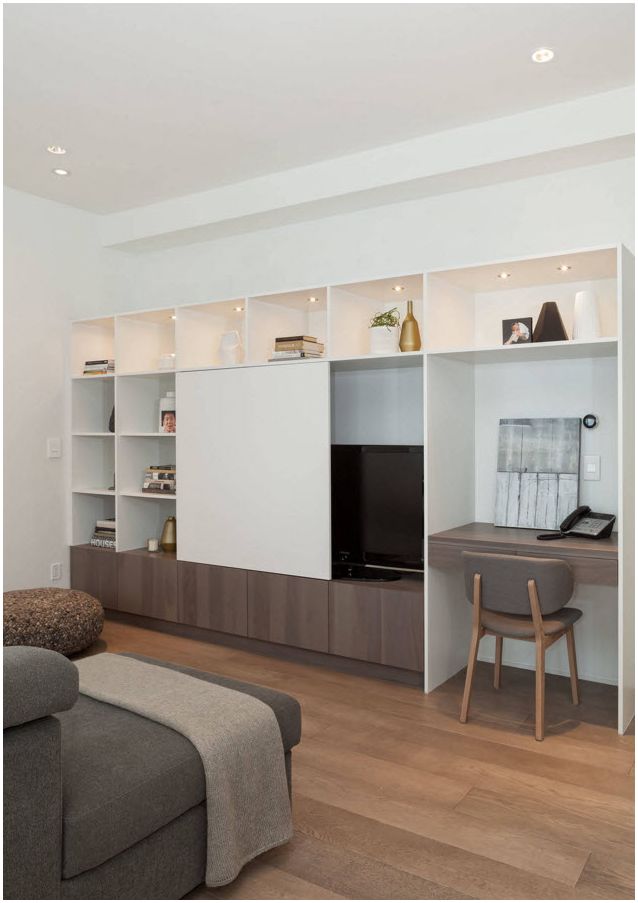 Color solutions – variety of options
Only at first glance it may seem that the choice of color palette for the performance of storage systems is small. Not only different natural shades of wood species can become a color solution for the design and its facades. Painted material, glossy films and even fabric facades – all this is found in modern furniture collections.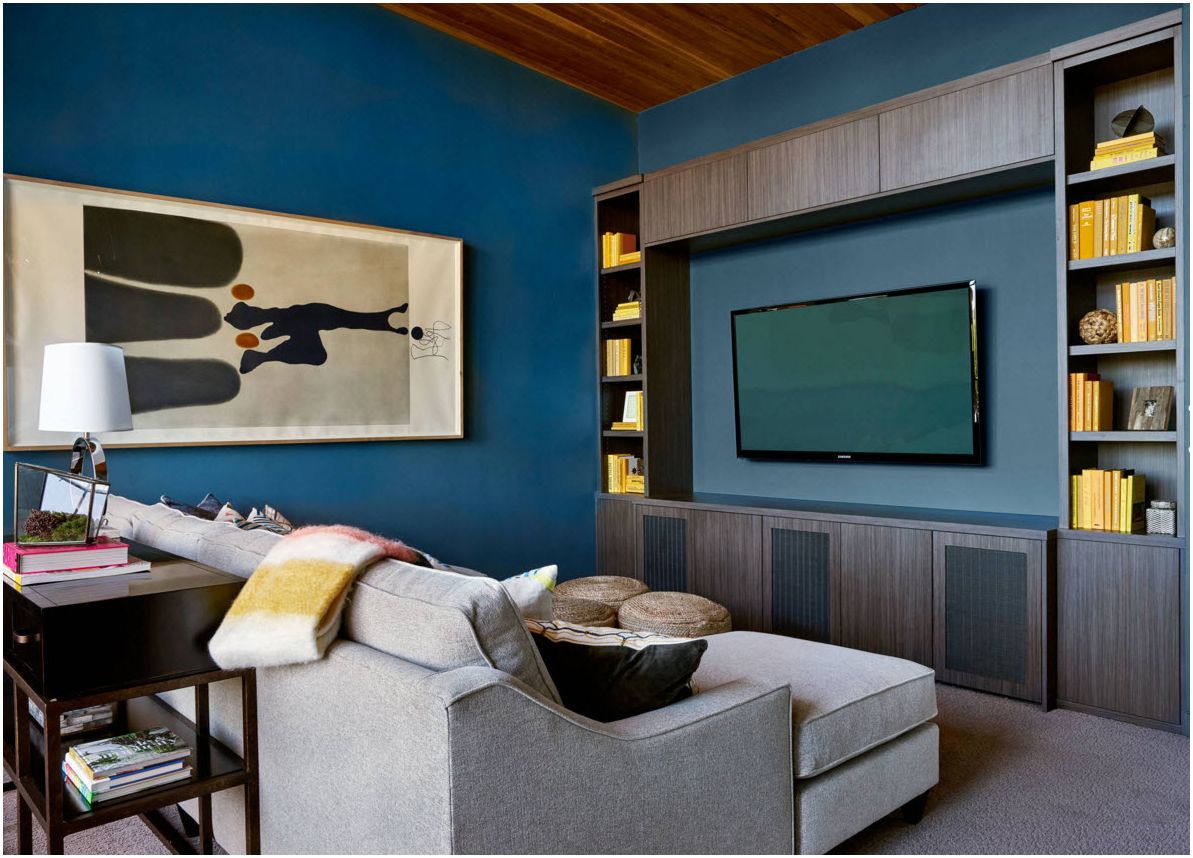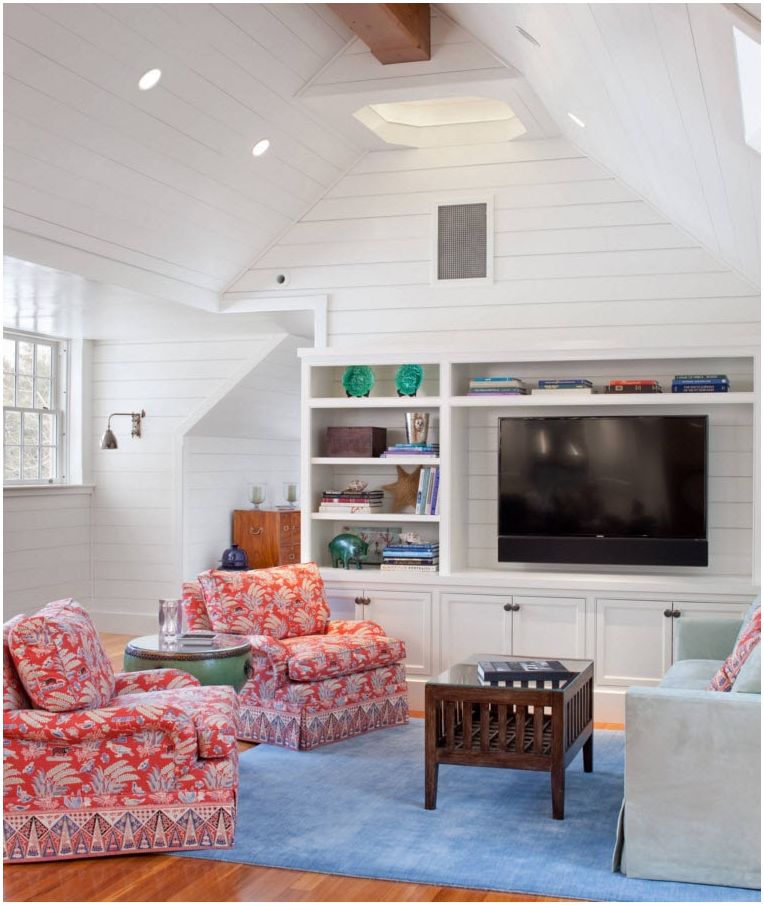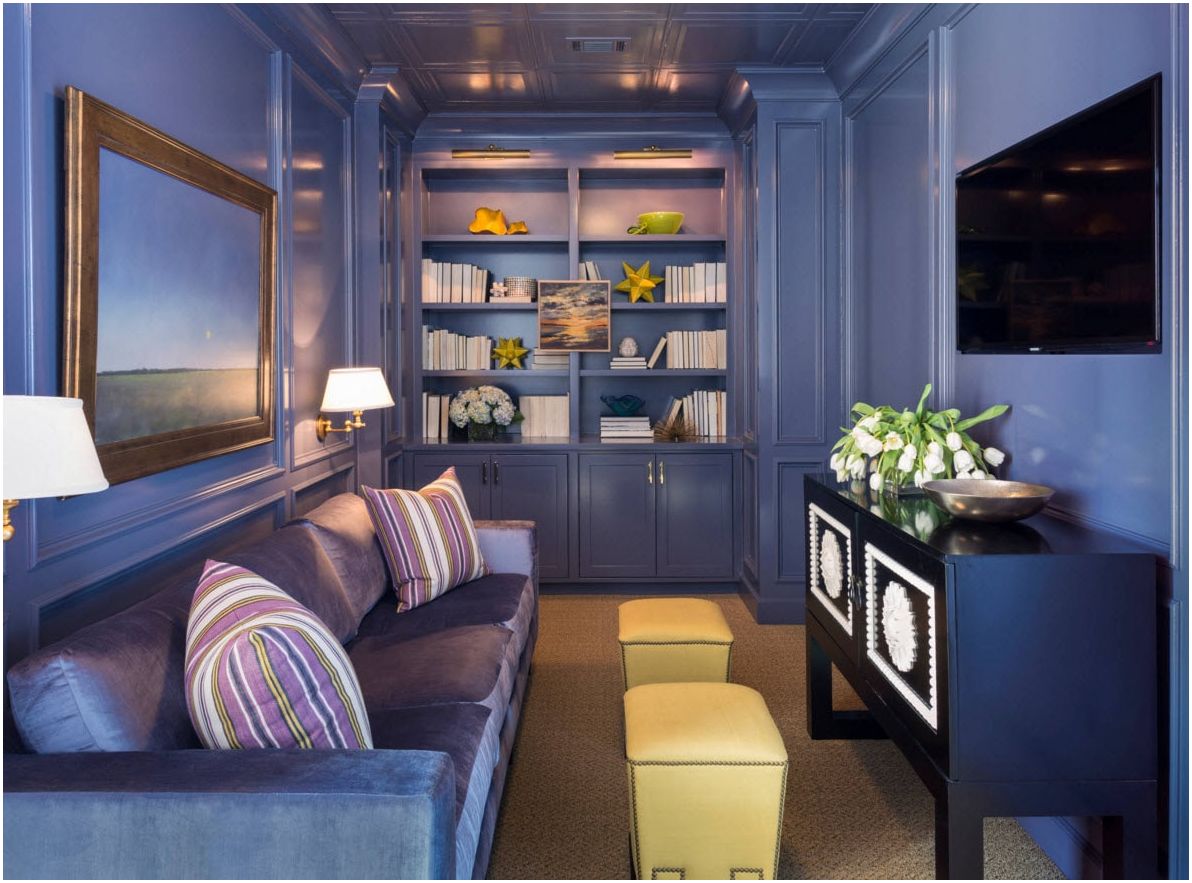 Snow white shelving has long been a common feature of homeowners around the world. Light facades and open shelves fell in love with designers and do not lose their popularity for several reasons:
even large-scale structures look lighter, weightless in a snow-white design;
it is easier to care for light surfaces – dust and fingerprints are practically invisible on white shelves;
white color goes well with any decoration and furniture of the living room;
white storage systems are able to create a light and light image of the entire living room.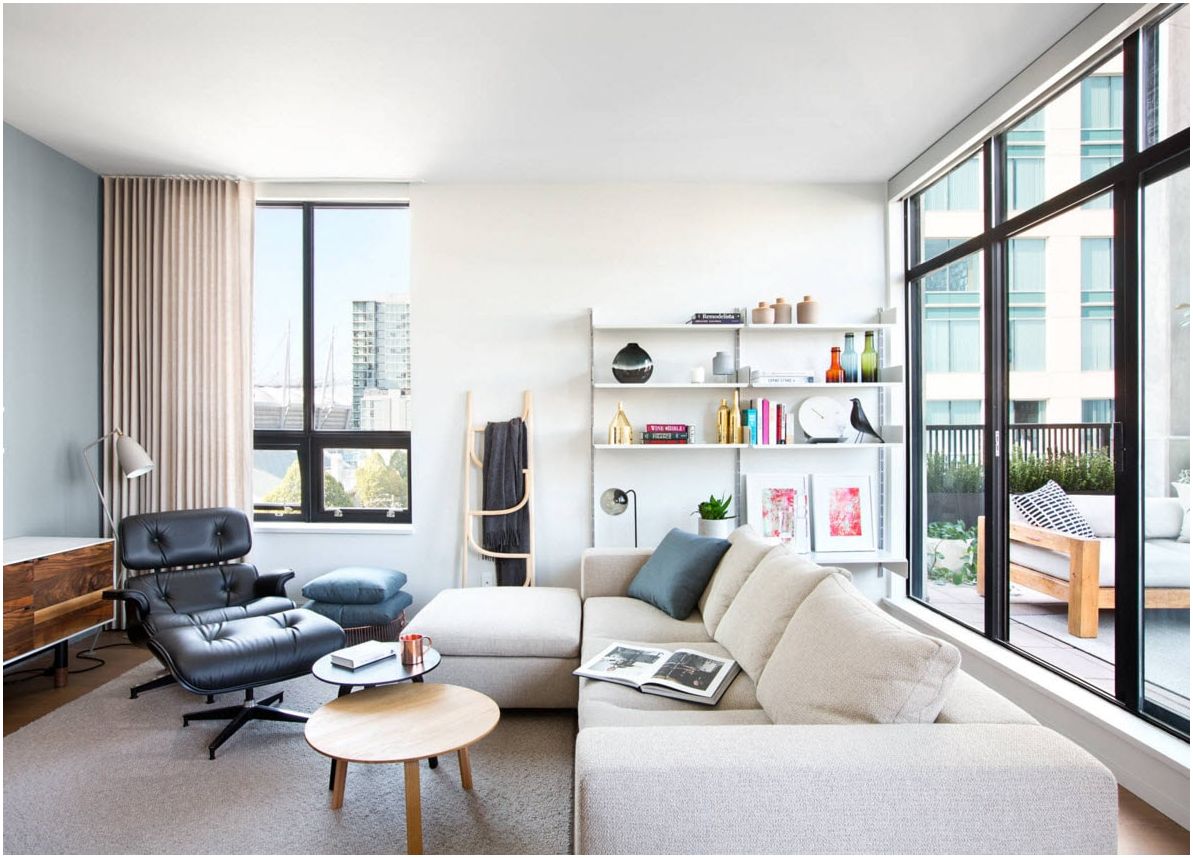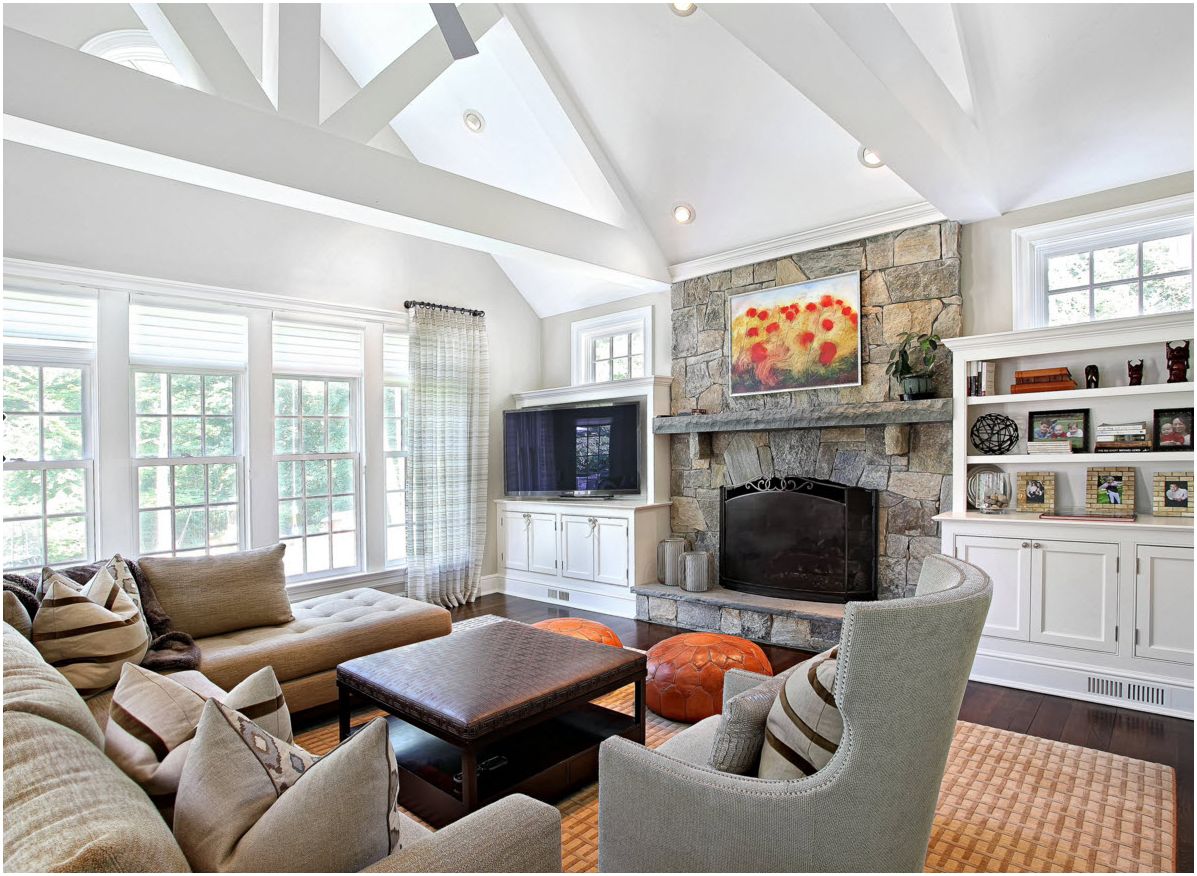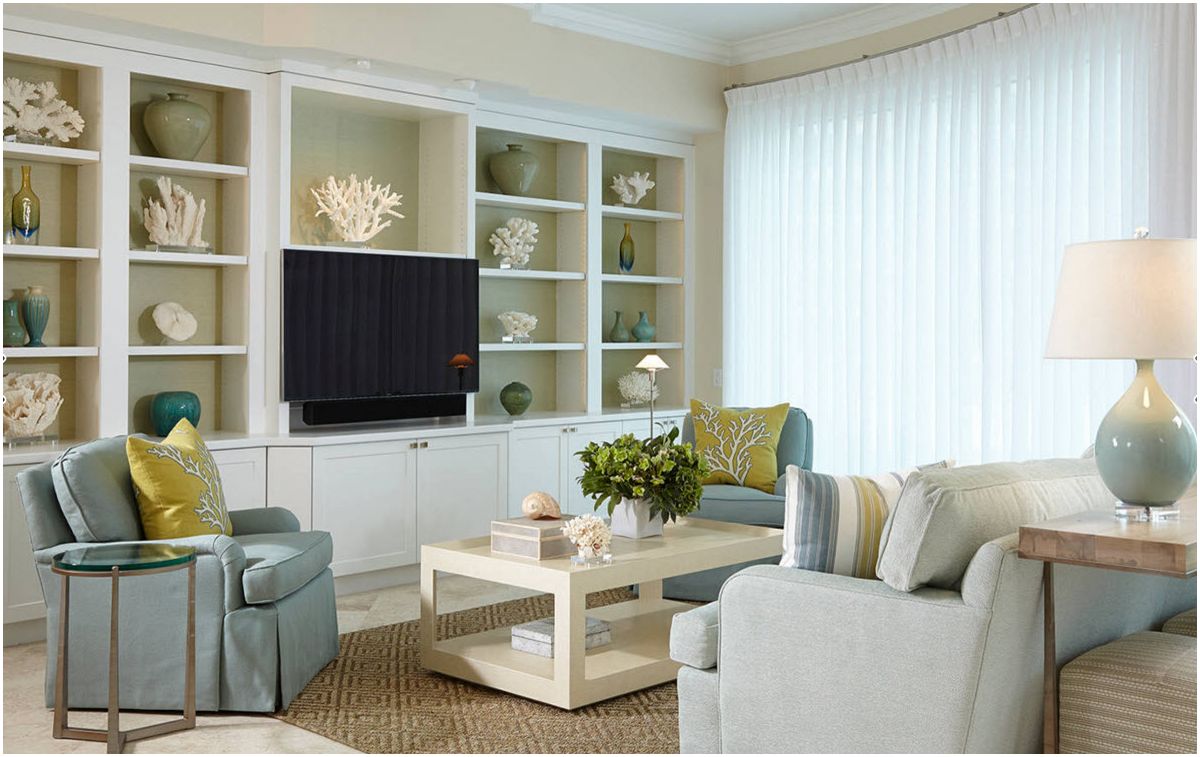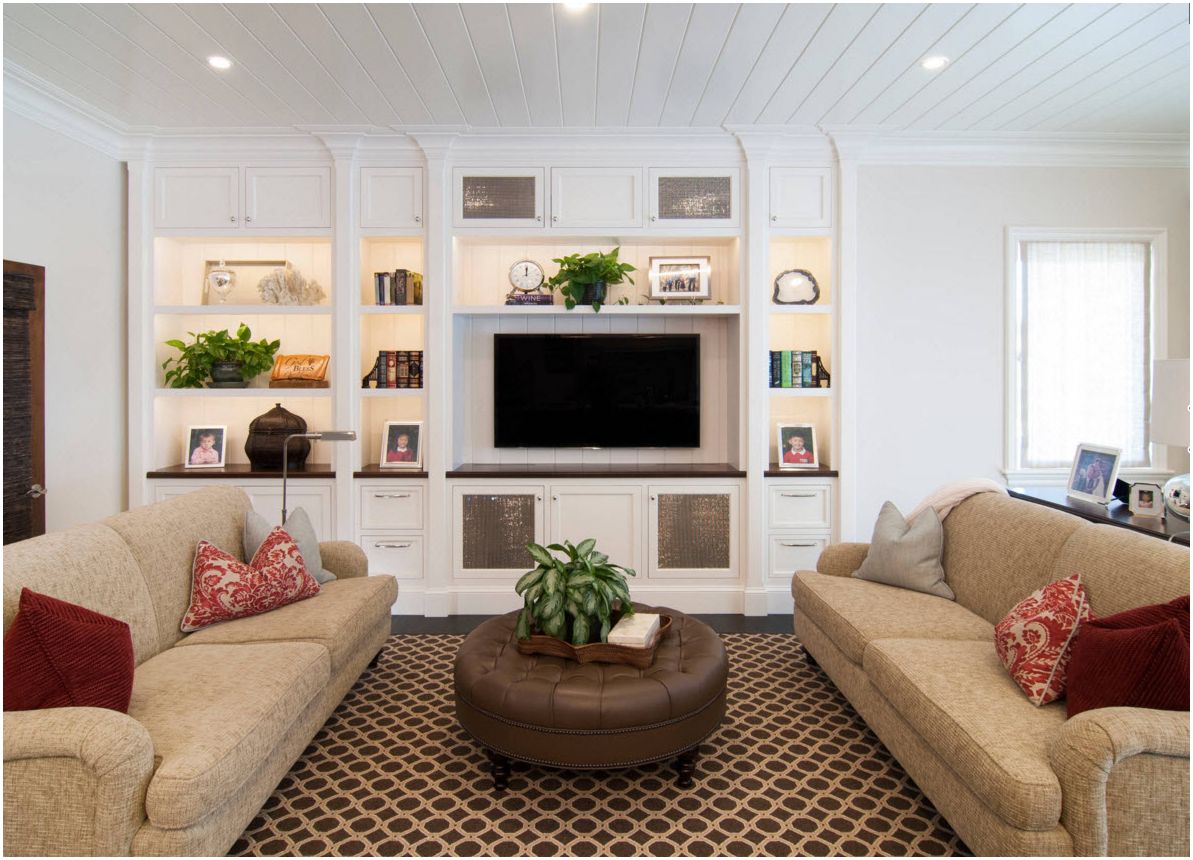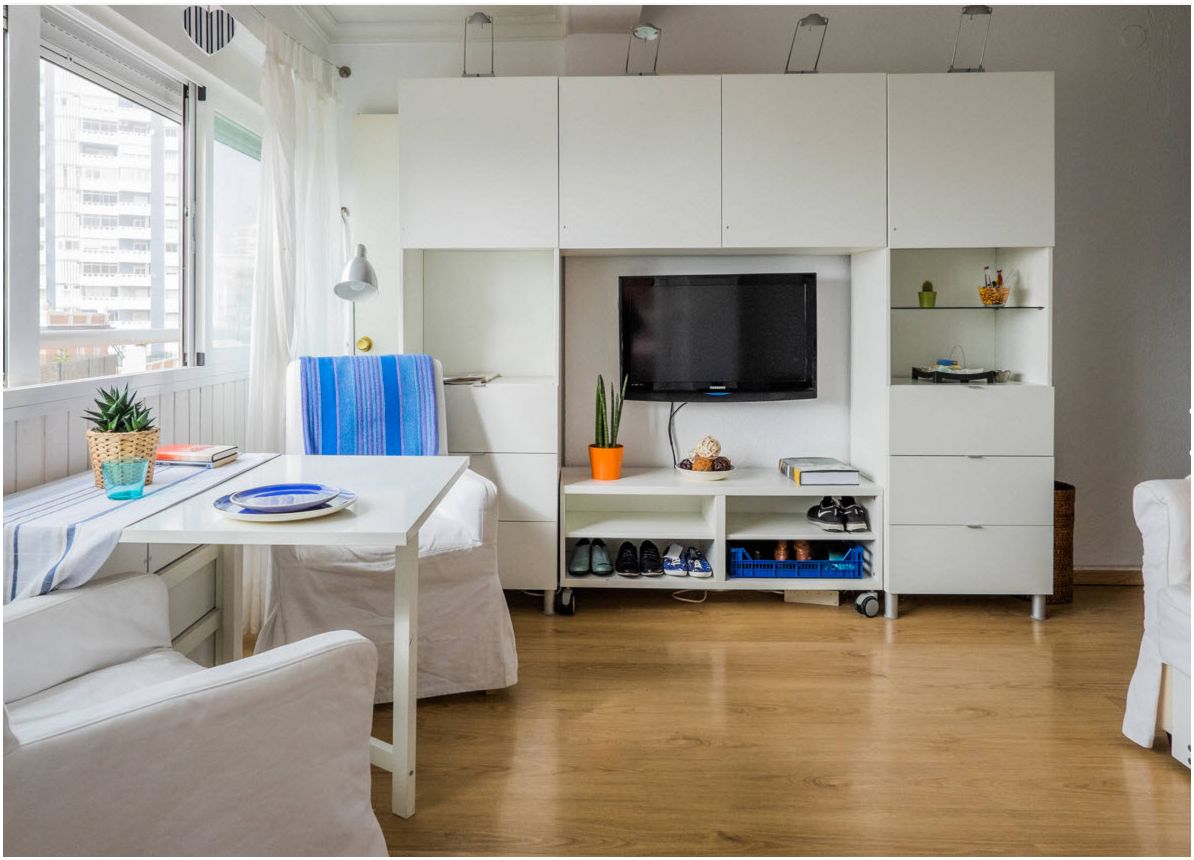 Light storage systems are suitable for living rooms, in the interior of which bright colors are actively used – for the execution of upholstered furniture, textile decoration or space decoration.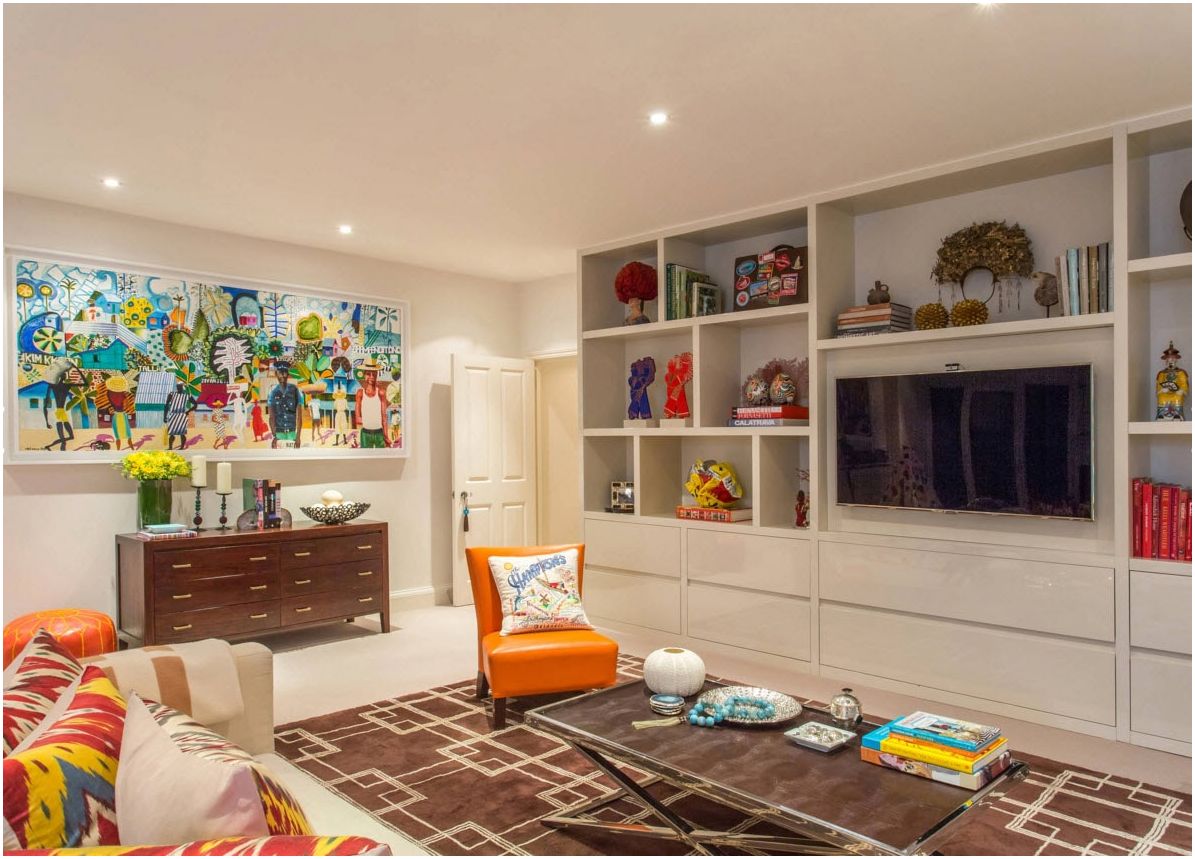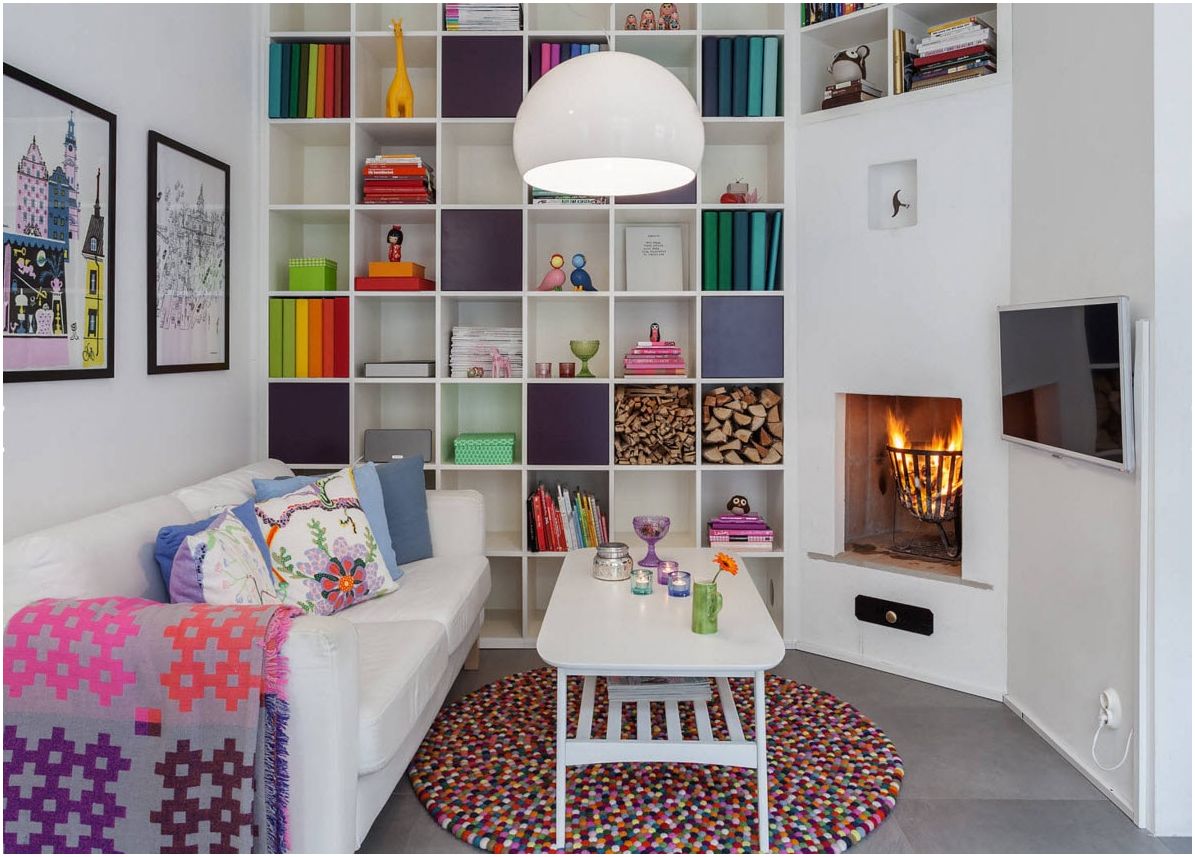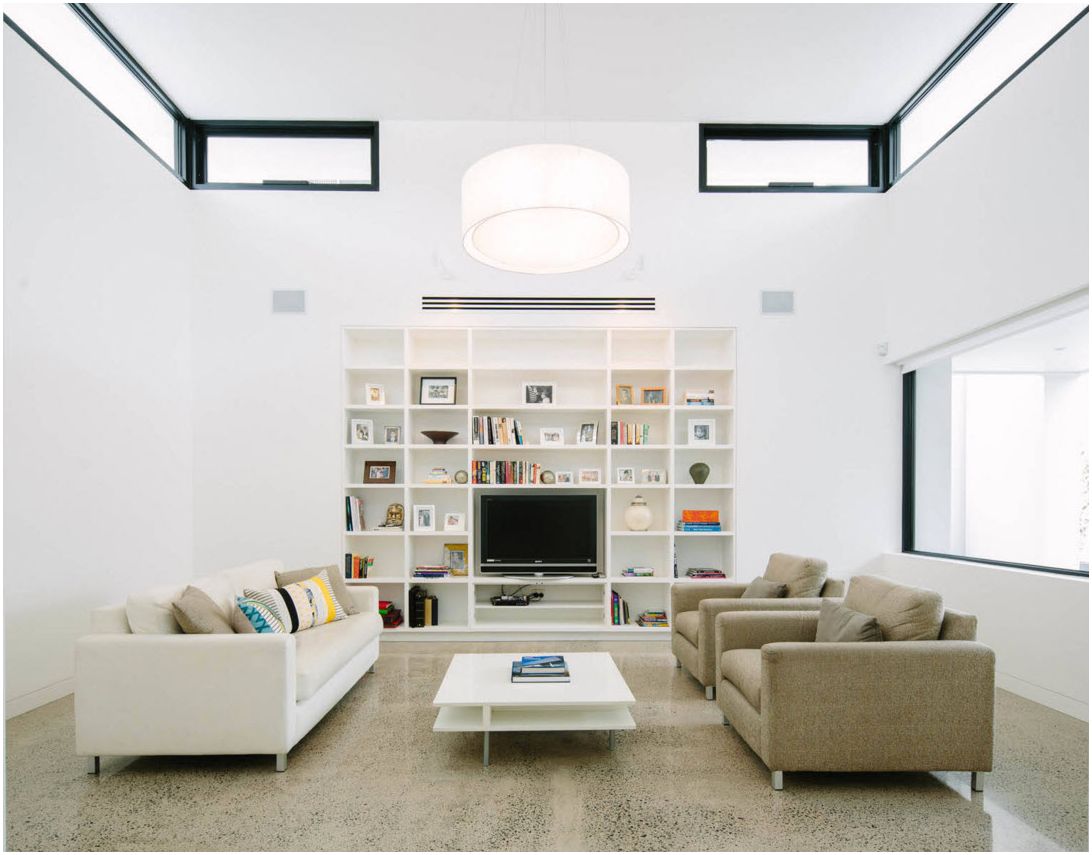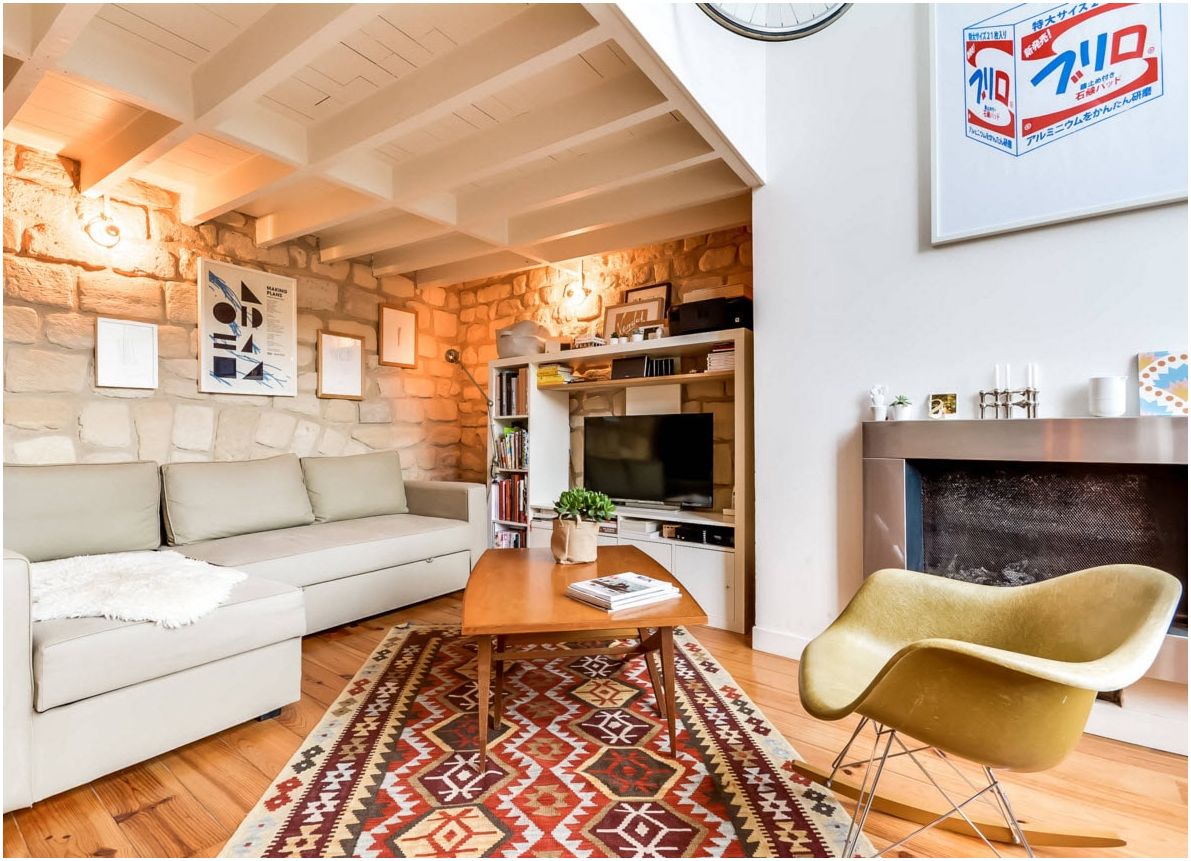 Not only a modern storage system can be presented in white. Originality and exclusivity in the living room interior will be brought by the so-called wall with carved elements, perhaps even with scuffs and preservation of the old decor.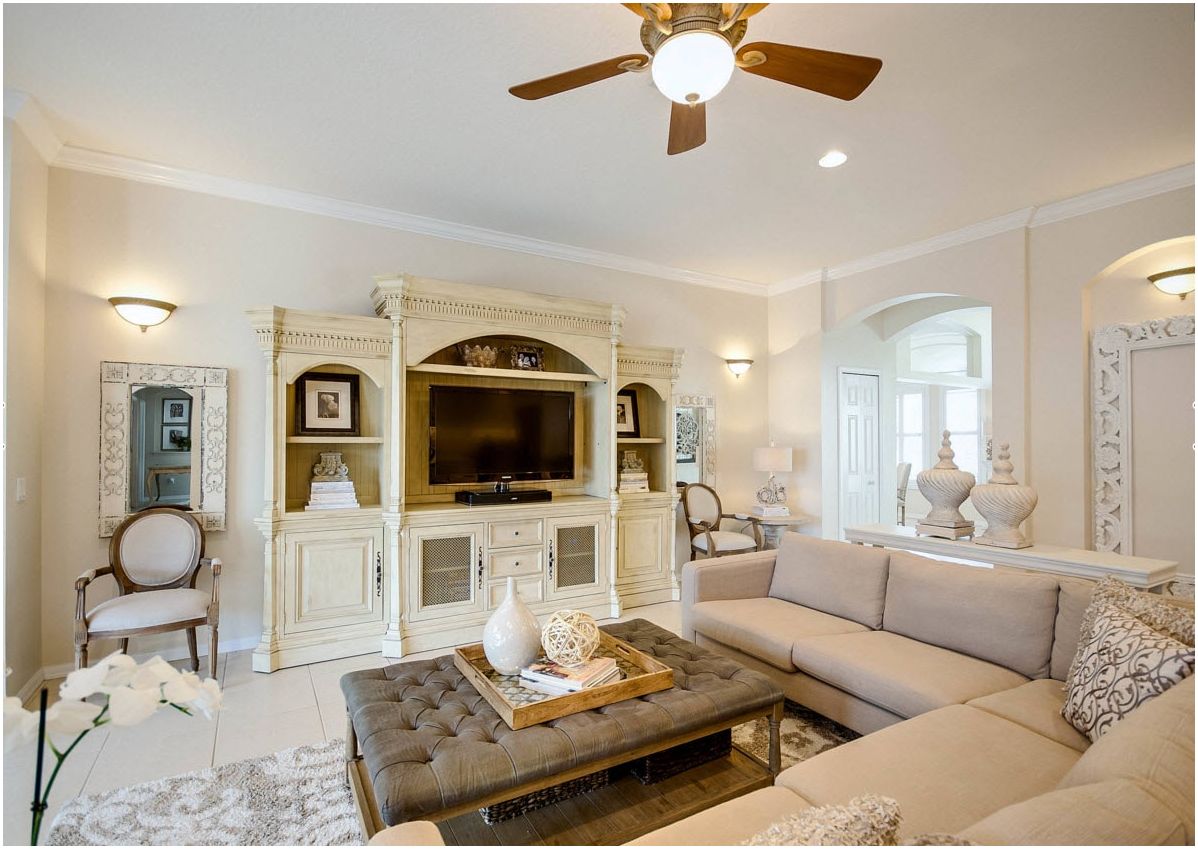 Nothing brings natural warmth to the interior of a room like wooden surfaces. Whether your storage system is made of wood or made of material that successfully imitates it, the effect of the presence of natural material is always amazing. In modern design projects of living rooms, you can often find storage systems, the material of which repeats the finish of the floors – laminate, parquet or wooden floor boards.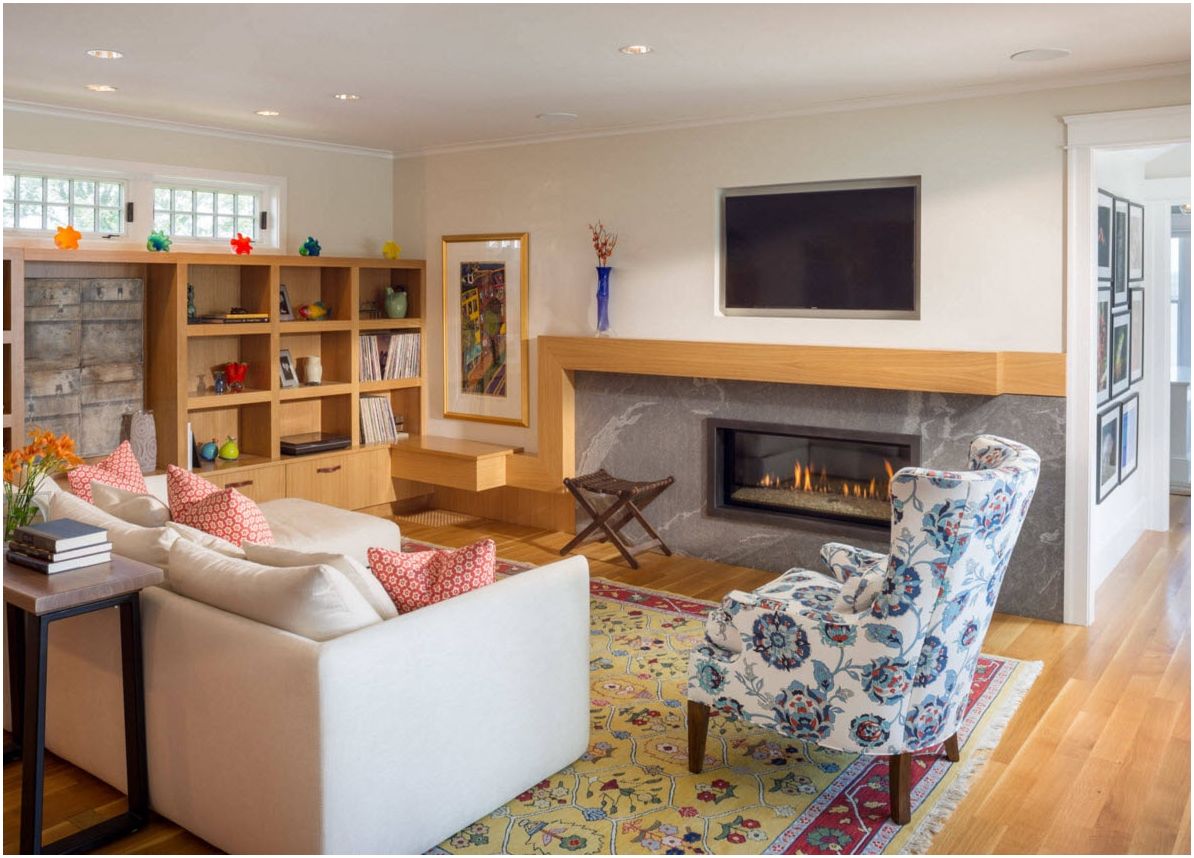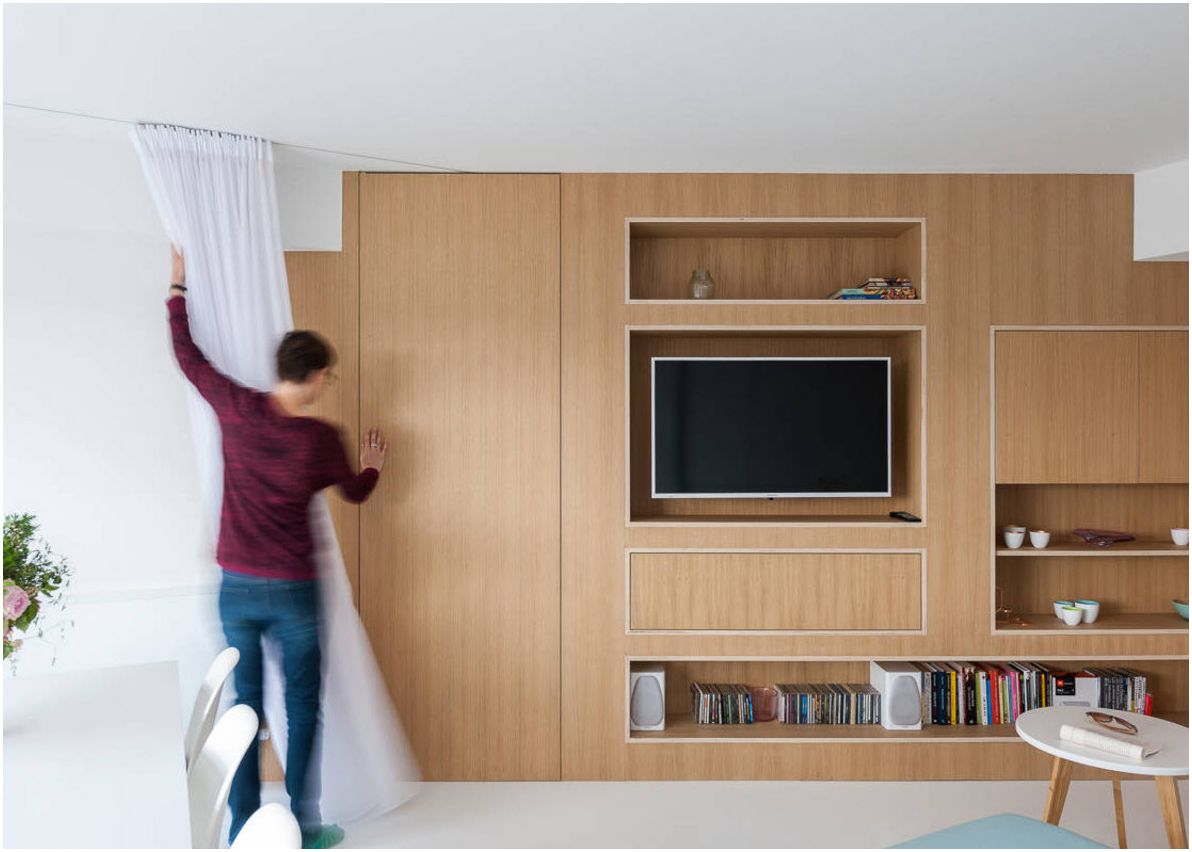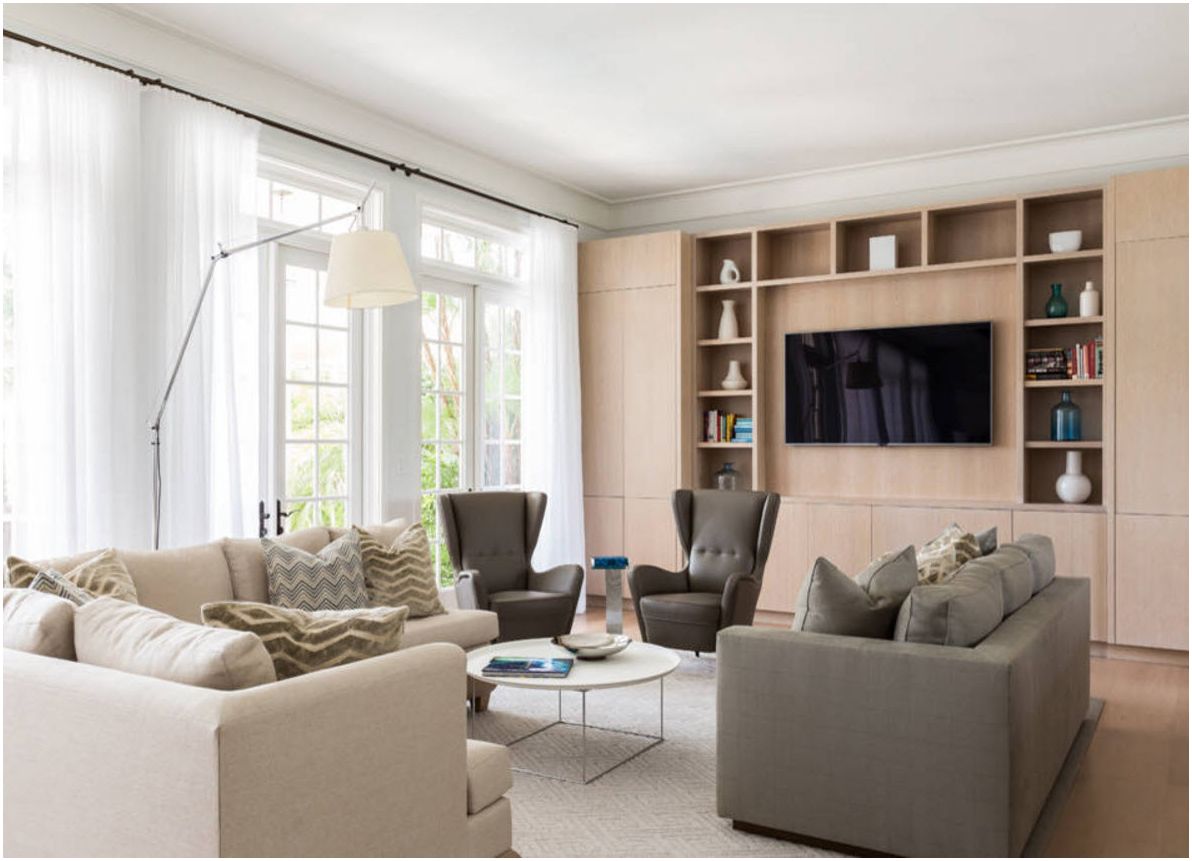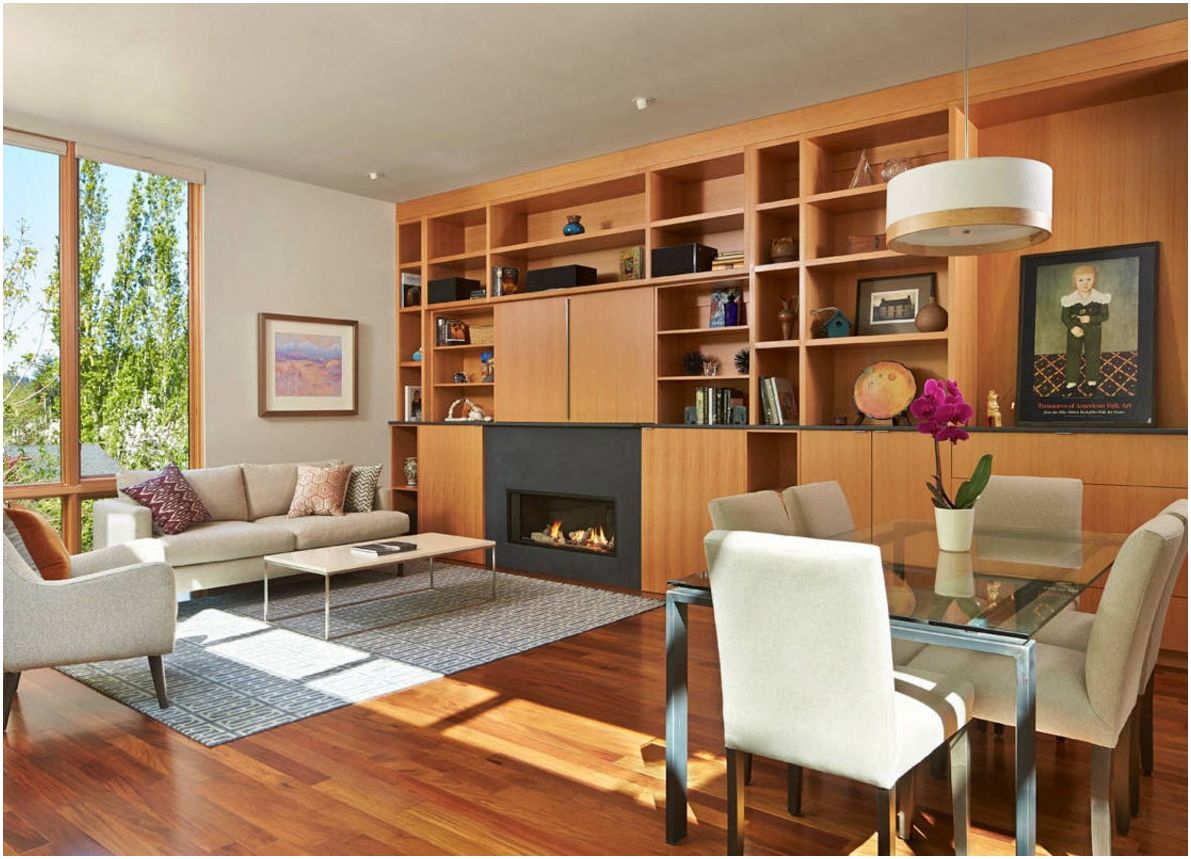 Gray color and all its shades are incredibly popular lately. Neutral and unassuming, gray color is able to ennoble the image of the living room, to give its image firmness and dimension. Dark gray storage systems in various modifications look great against the light background of the finish..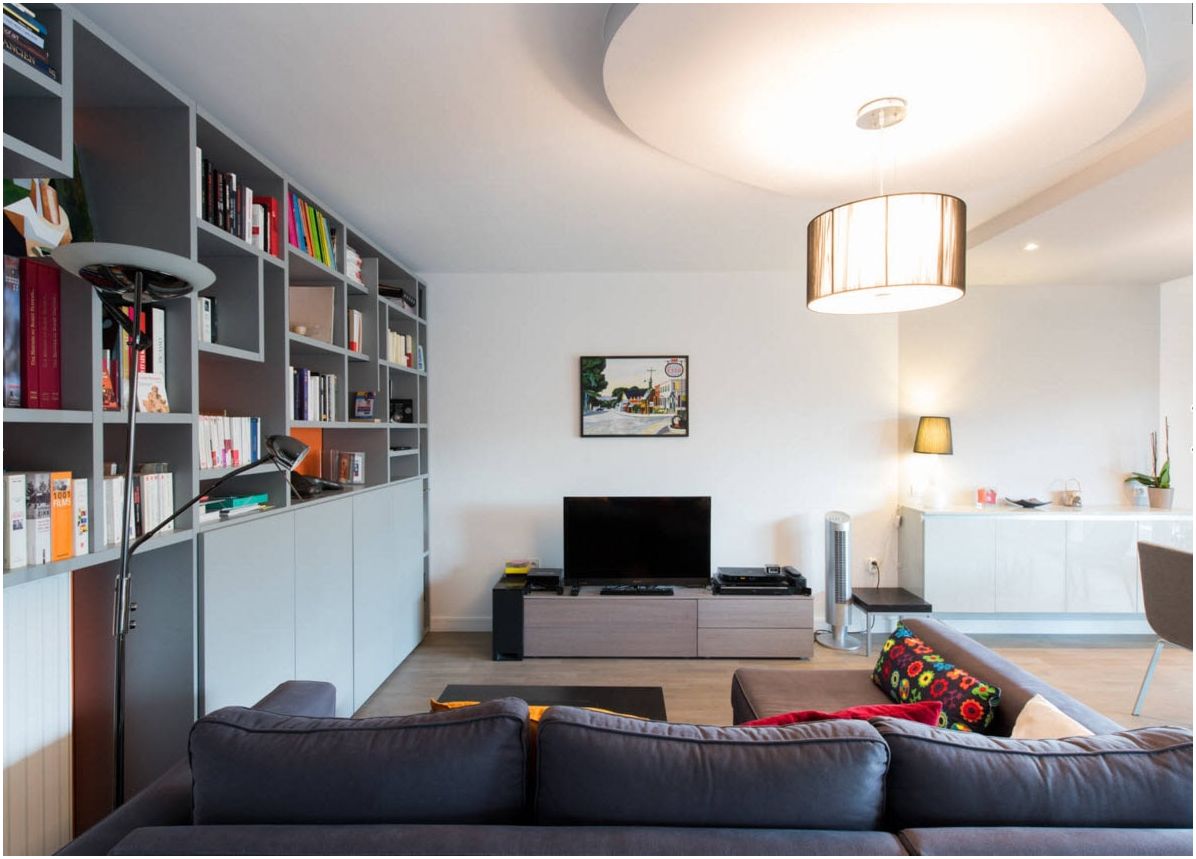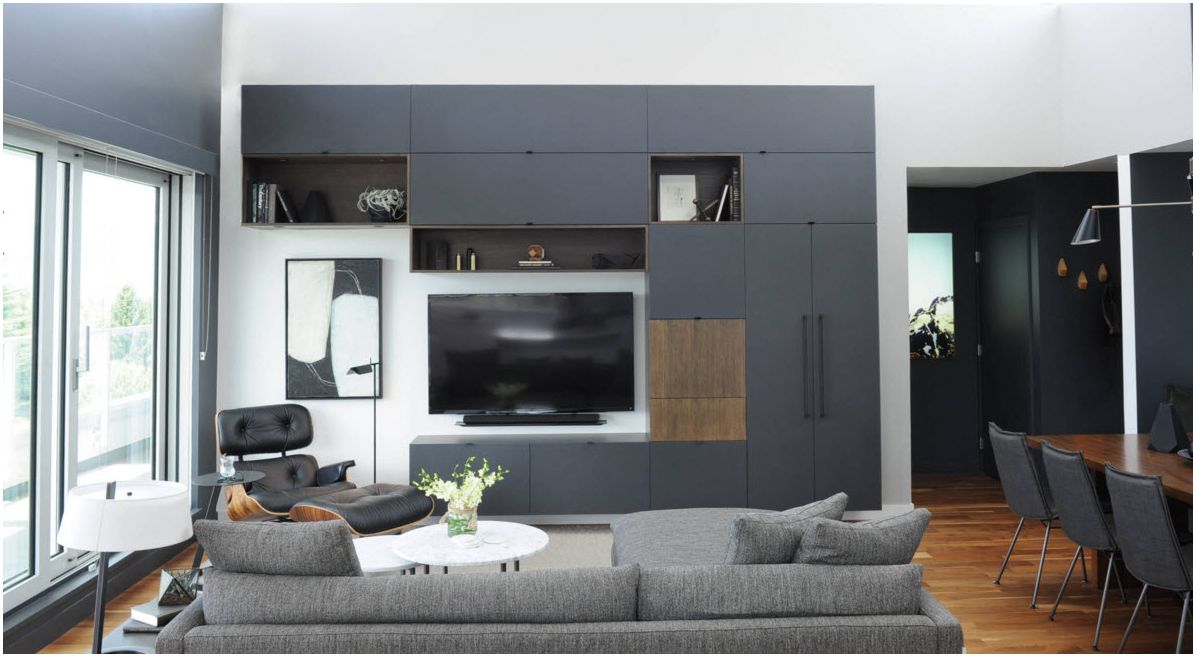 The light gray tone of the storage systems perfectly matches the modern interior elements – lighting fixtures with chrome surfaces, mirrored coffee tables and fittings.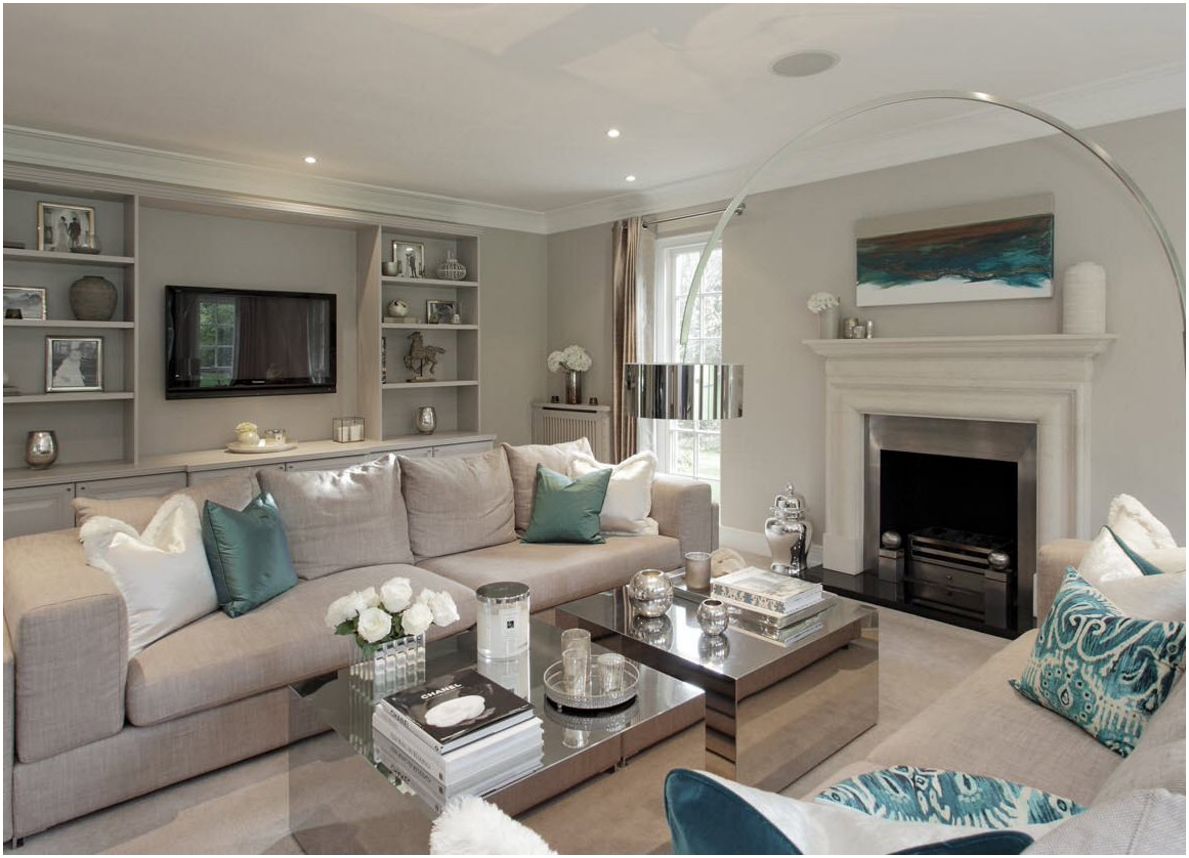 Original solutions for modular systems – combining colors
A non-trivial appearance of storage systems can be achieved by applying a very simple but effective design method – a combination of two or more colors in the performance of furniture. You can use two variants of the same color – dark and light shade. Or go further and use painted surfaces in conjunction with wood elements.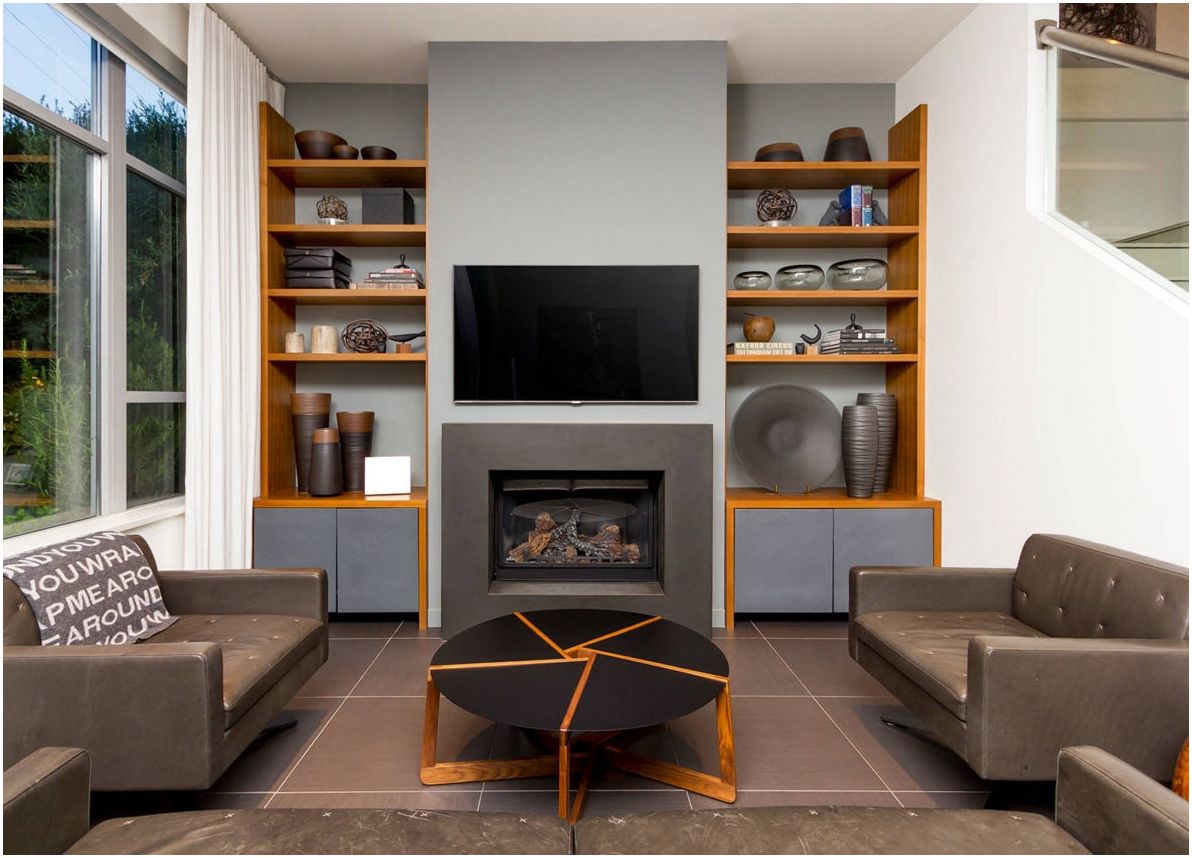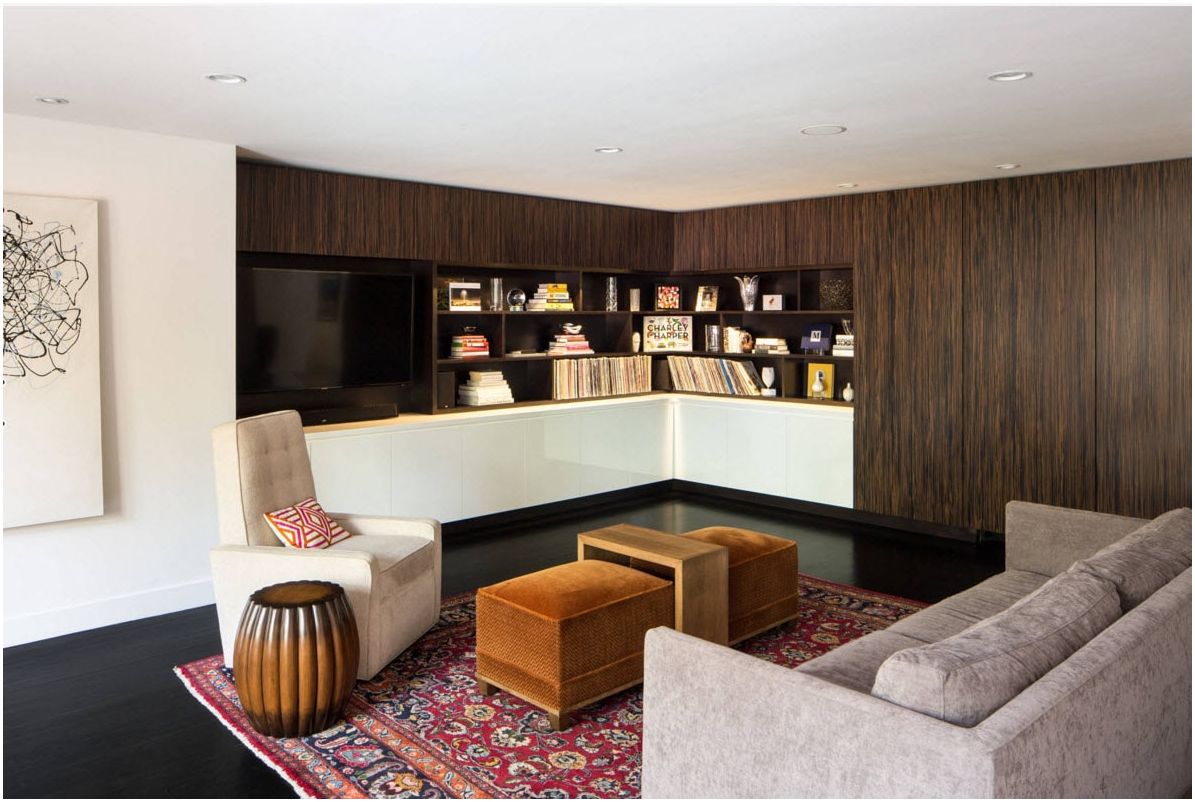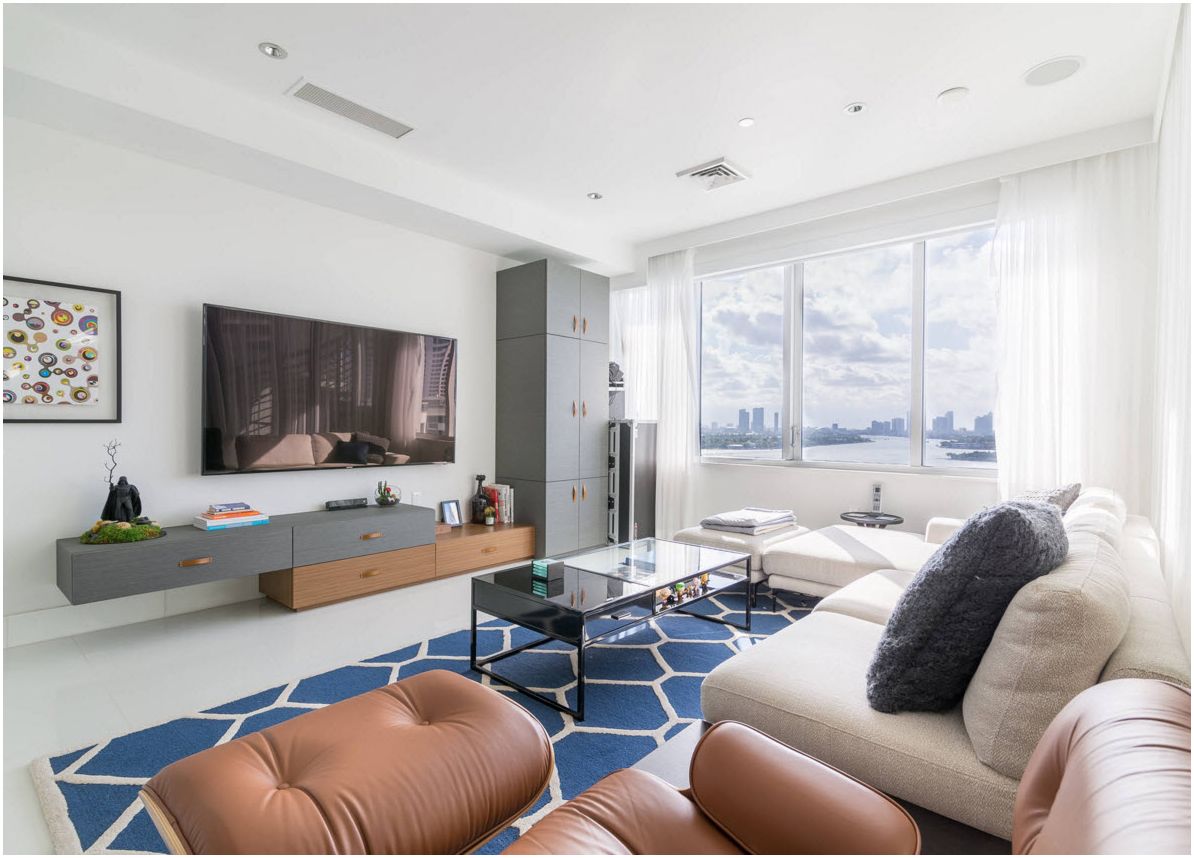 One of the most radical options for combinatorial colors for the execution of a wall in the living room is shades of white and black. To visually increase the height of the room, it is more logical to use black for the lower tier of cabinets, and white for the upper level of the shelving or separately located open shelves.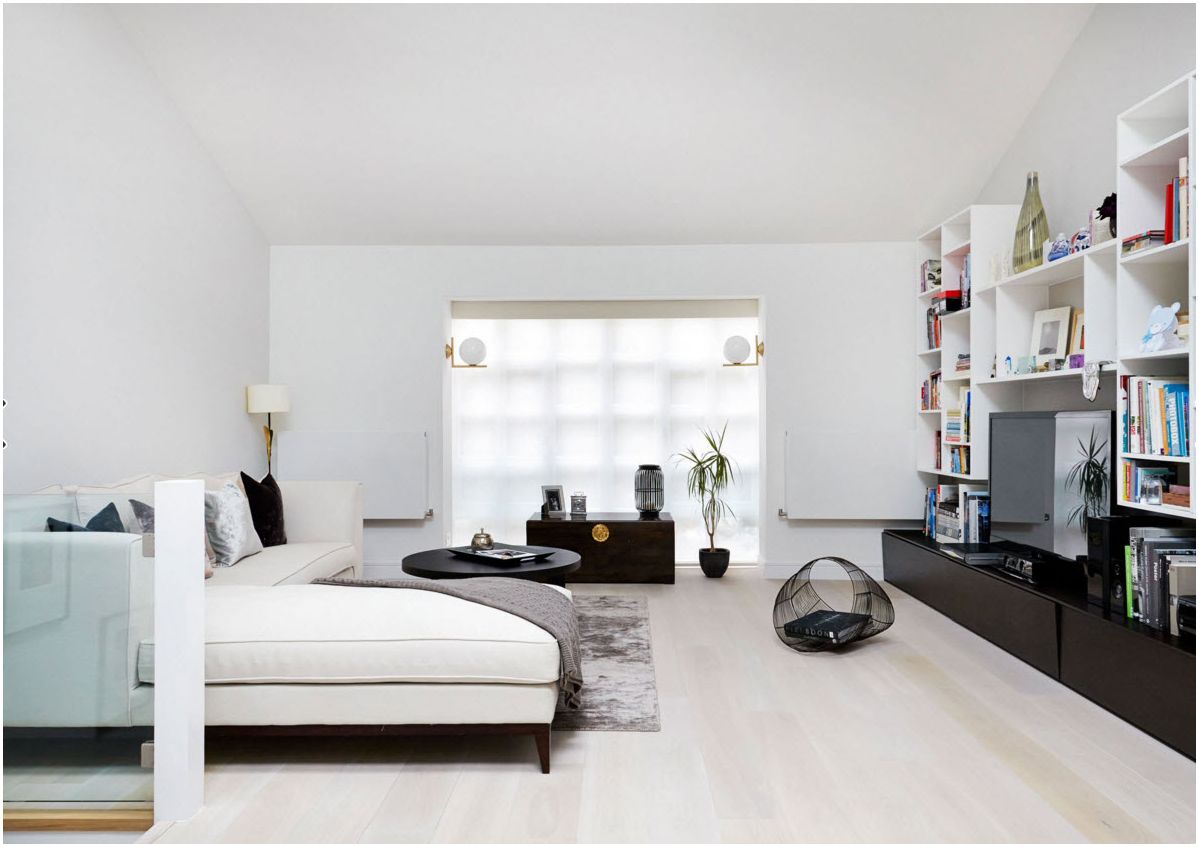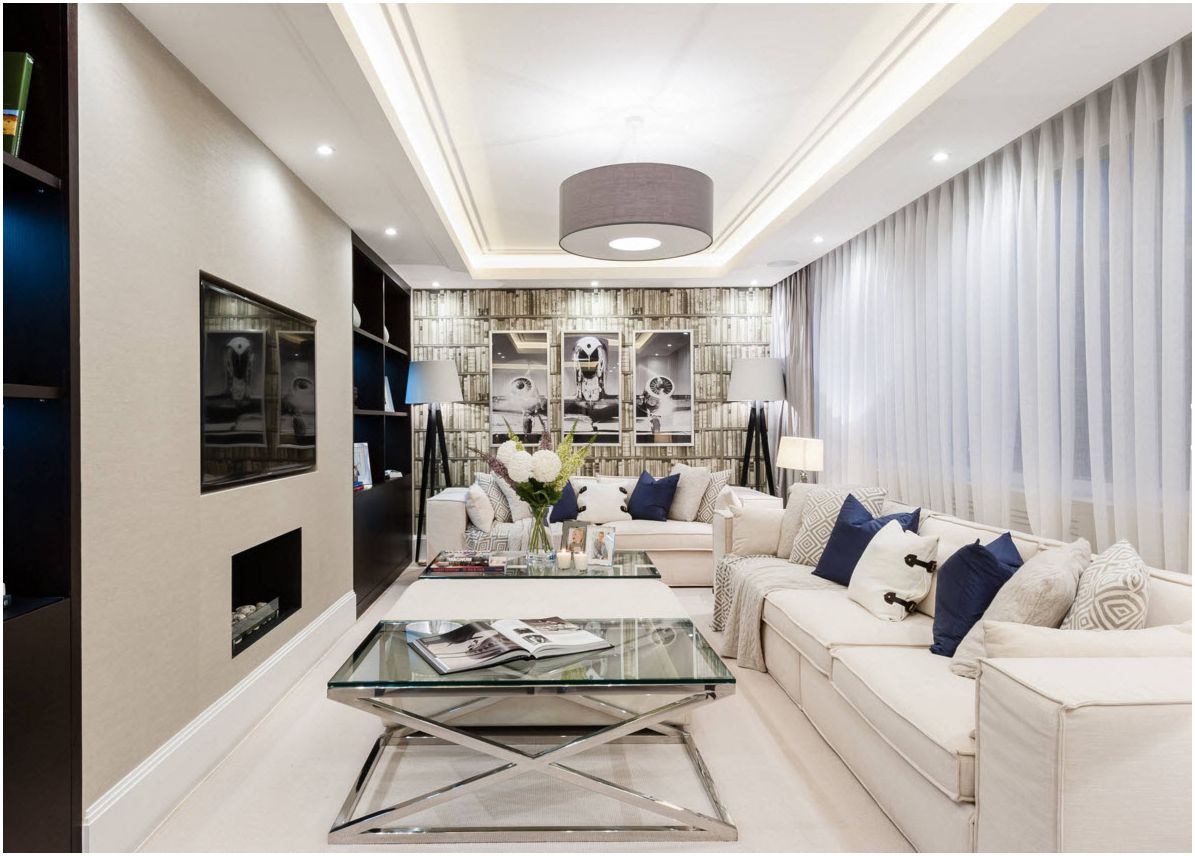 White can be combined with surfaces of any shade. Depending on the intensity and depth of color, you can get both a contrasting, dynamic version, and a delicate combination of pastel tones..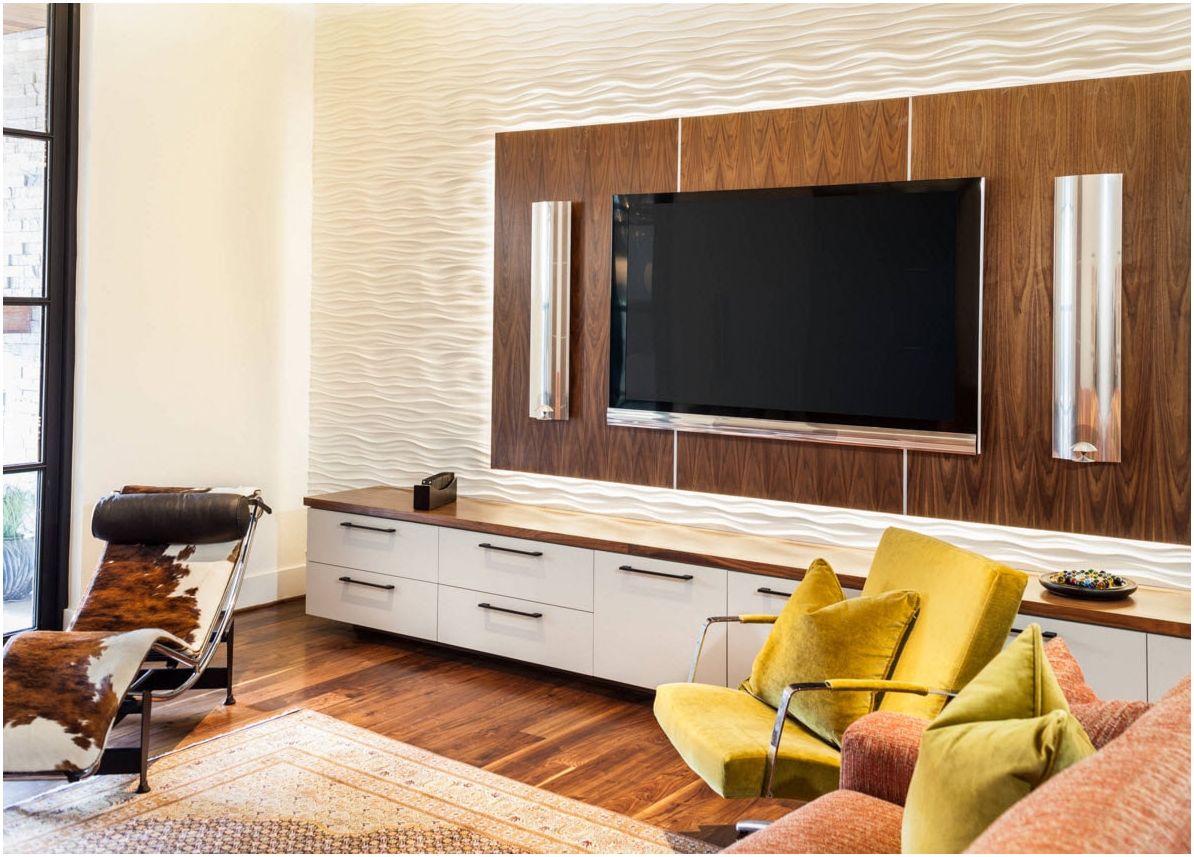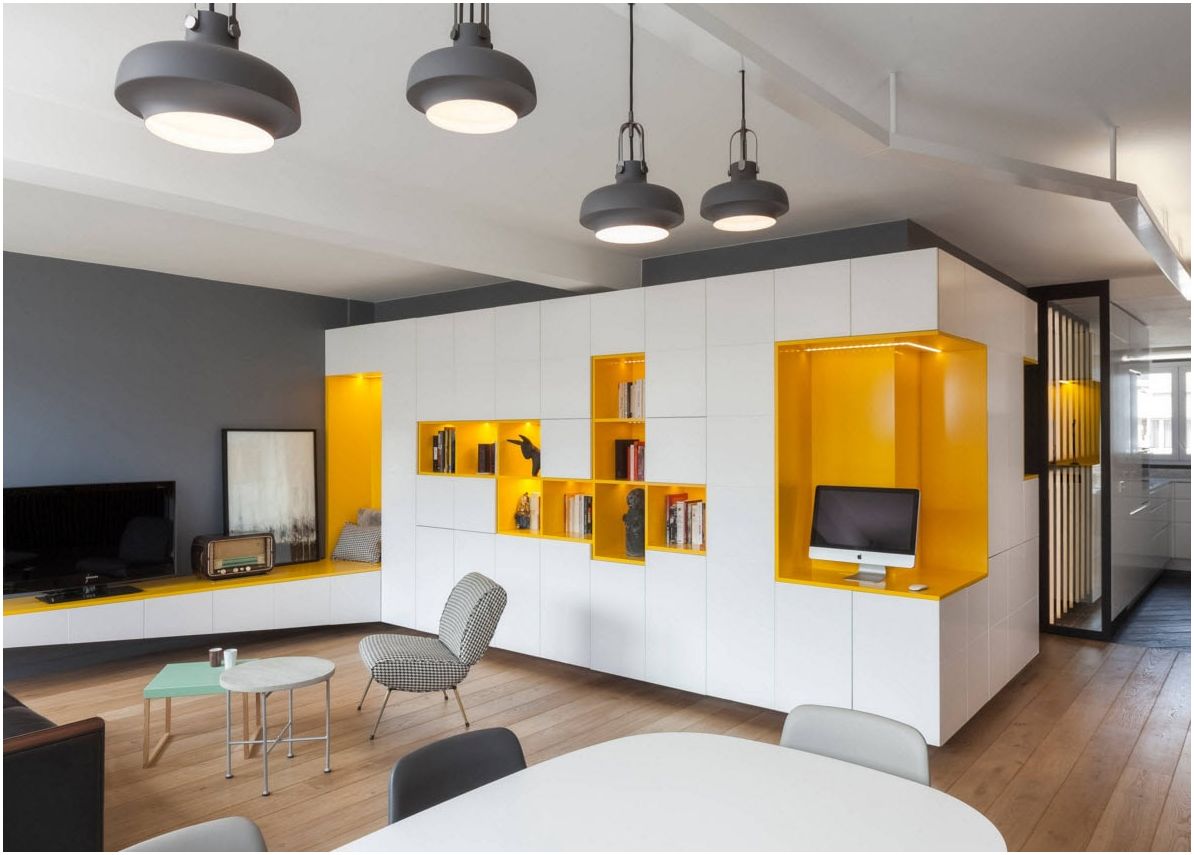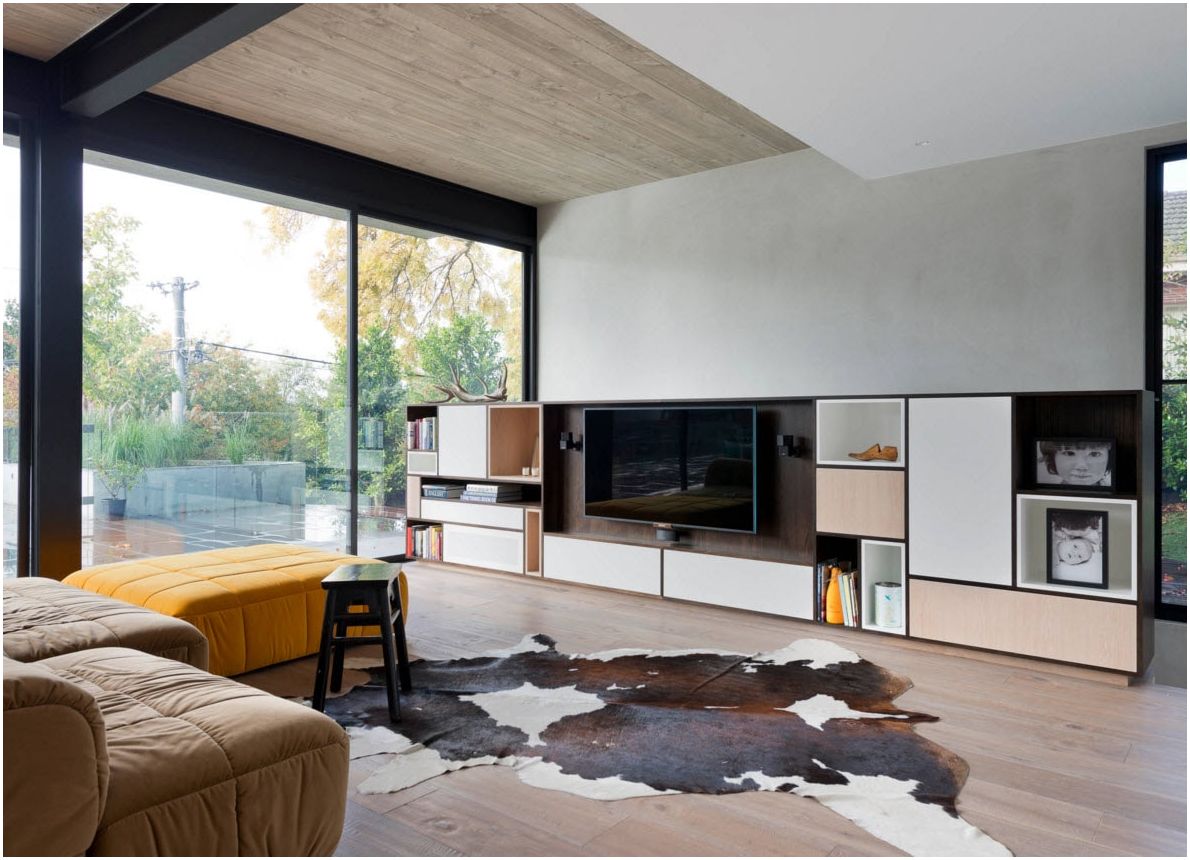 An original color choice – purple for the facade and natural wood grain for the interior of the shelving. If lilac and lilac shades are used in the design of the living room, the image will turn out to be original, expressive, non-trivial.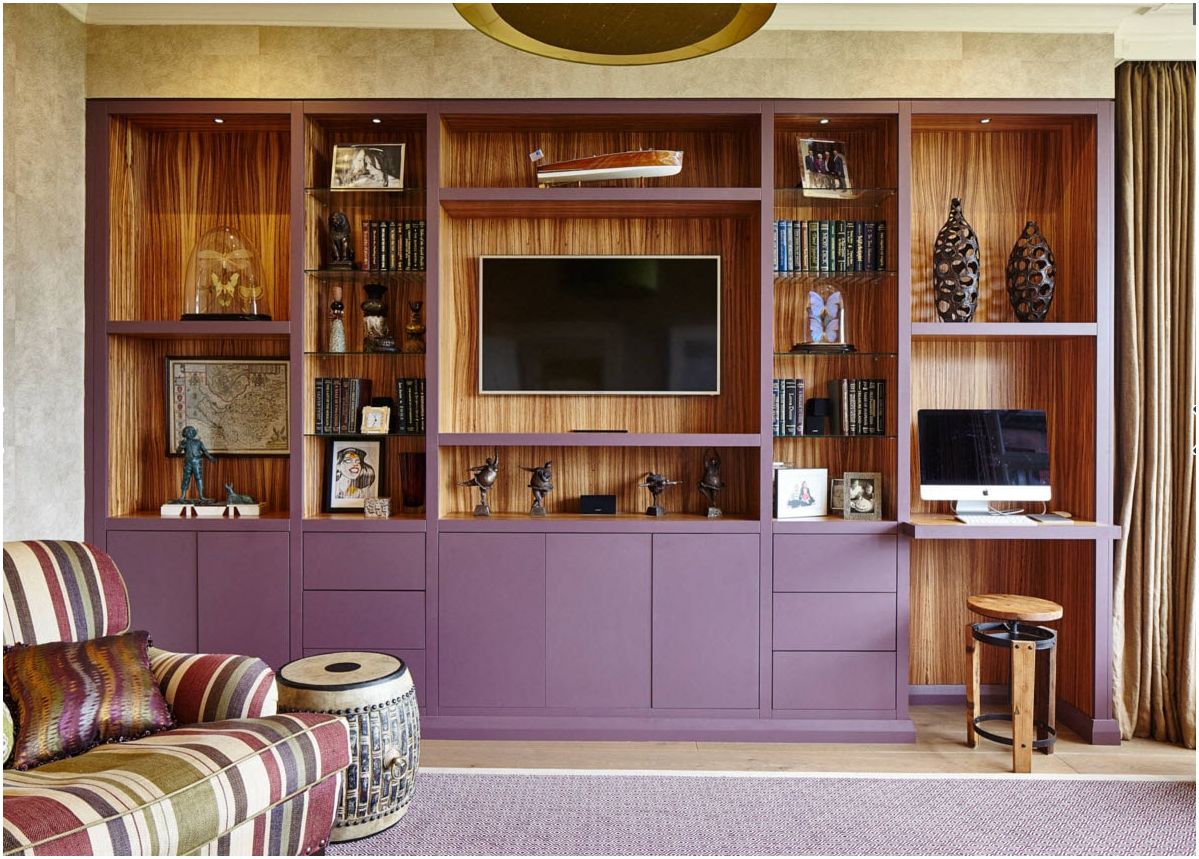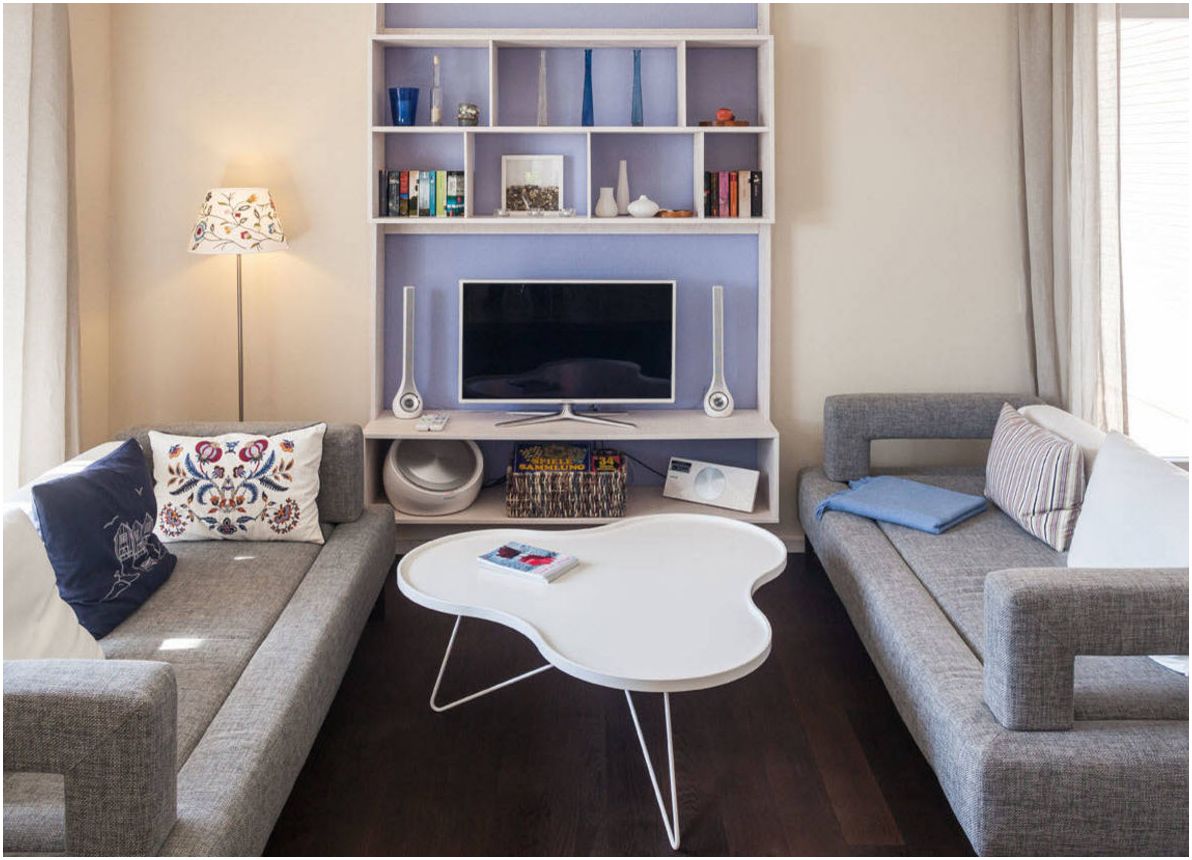 In the execution of modular storage systems, you can combine not only colors, but also materials. For example, glass in an ensemble of wood or MDF can be used to create transparent doors or open shelves..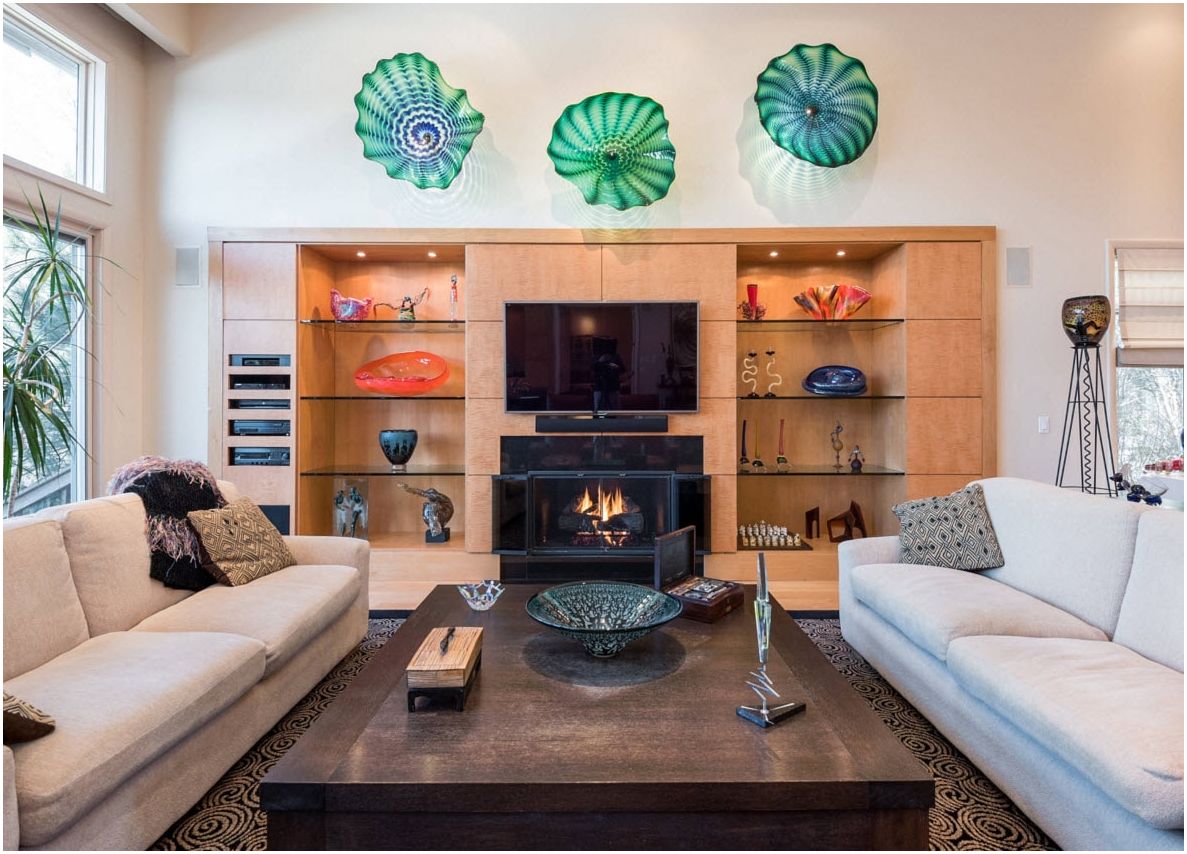 Good luck!