The hallway meets us at the entrance to the house and sees us off every day. The design of this particular room provides the first positive impression of the house, but furniture is responsible for the convenience of using the space. By the way, today dressers and dressing tables are no longer so relevant (of course, if we are not talking about designer furniture) – minimalism and practicality are held in high esteem, complex storage systems behind closed facades.
Content
What applies to hallway furniture
Choosing a style, design, color
The advantages of a wardrobe for the hallway
However, if we are talking about a small hallway, then cluttering it with cabinet furniture is not worth it – sometimes it is enough to choose several separate items from one set to decorate the space.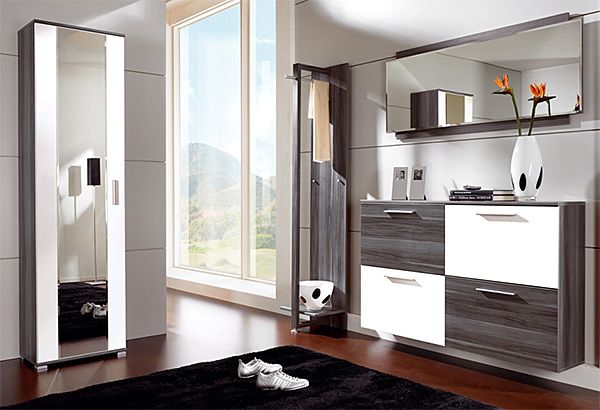 Stylish hallway interior
The corner segments will also look interesting. But in a room of a standard area, classic sets of shelves, pedestals, hangers and mirrors are appropriate – in a modern interpretation, all this can be easily replaced by a spacious wardrobe.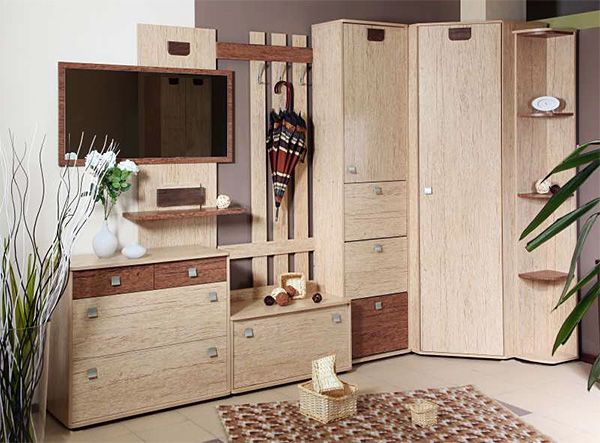 Hallway corner set
A sliding wardrobe replaces many shelves and cabinets – for shoes, hats, accessories, outerwear. It's good if you choose furniture with mirrored facades – this will help to visually expand the space..
What applies to hallway furniture
Among the modern hallway sets, it will not be difficult to find built-in furniture, as well as pull-out and corner sets. Such cabinets, stands or shelves can be narrow, compact or roomy deep.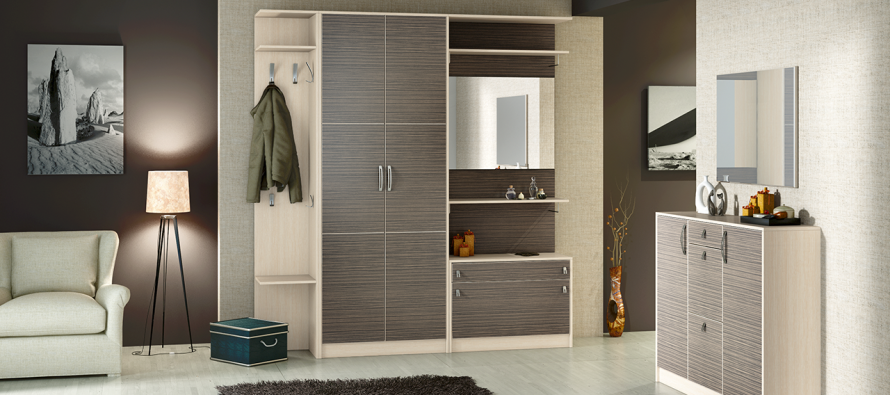 Corner hallway furniture set
Most often, modular kits are purchased, which consist of separate elements – they are easy to combine depending on the area of ​​the hallway. Among the required items:
wardrobe for outerwear;
outdoor hangers or racks to place those outerwear that you use on a daily basis;
narrow shaft;
mirror or mirrored facade on the cabinet;
chest of drawers;
hinged drawers for storing small items;
stylish holders of umbrellas, bags – they can be wall or floor;
shelves for hats or accessories;
sitting place – a cozy sofa or a modest ottoman.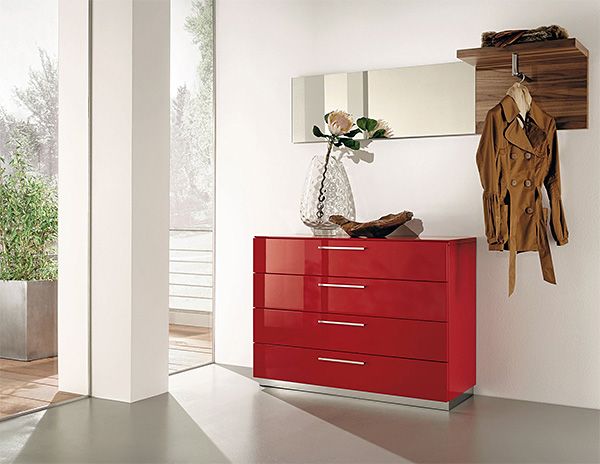 Photo: chest of drawers for the hallway
Naturally, all these items will fit together only in a large hallway. If the room does not differ in size, then choose only those items that you really need. The main thing that should be in an ergonomic and comfortable space is a wardrobe or shelves, as well as a seating area and a mirror.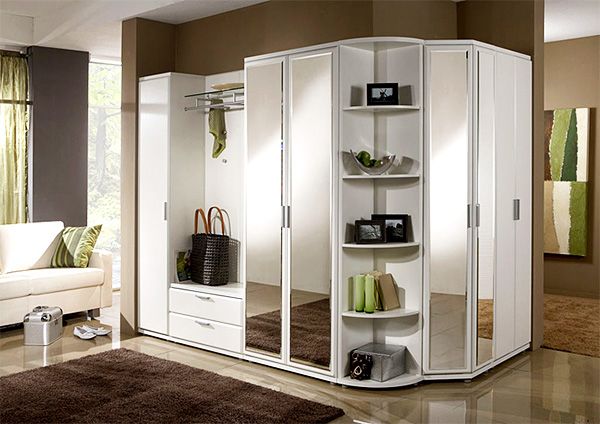 Outside corner hallway furniture set
Modern manufacturers of furniture sets produce compact cabinet solutions in which all these elements are combined. They can be extended along one wall, curved, angled, or even square or round, with access from three sides.
Cabinet selection rules
You cannot do without a wardrobe in the hallway – fortunately, modern furniture does not look bulky, and in the assortment you can easily select a design that suits your area.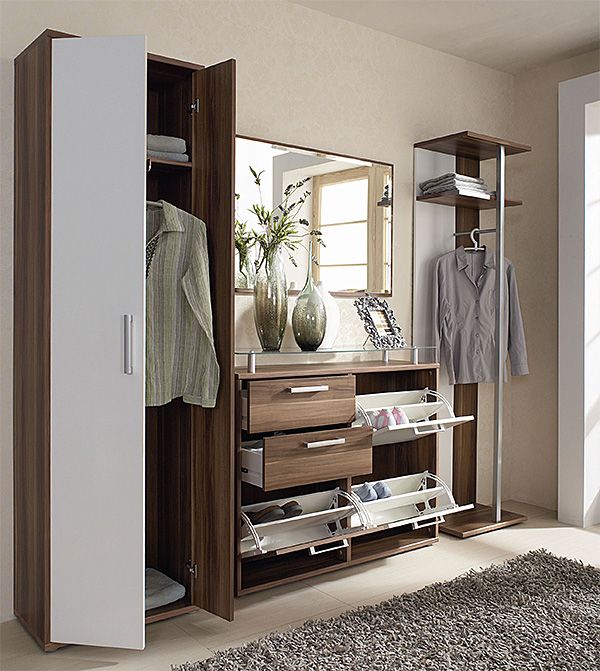 Small wardrobe with hinged doors
A properly installed cabinet is a great way to organize space efficiently. Use models with sliding fronts, so as not to obstruct the passage in the corridor, or modular complexes with a depth of more than 40 cm.Such dimensions of the cabinet make it practical and spacious.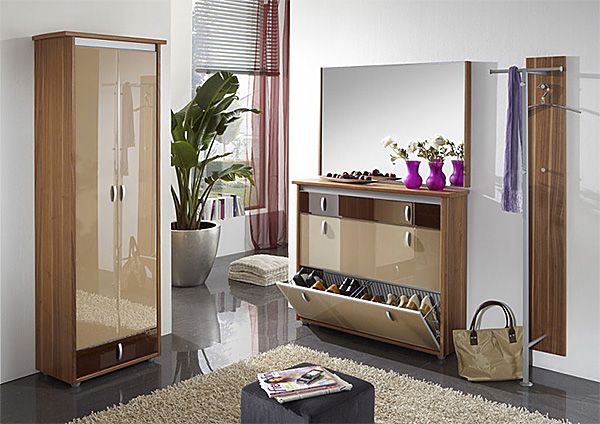 Wardrobe with glossy fronts
As for the colors, the best options are with light facades or with a contrasting combination of colors. You can use interesting mirrored facades or bright mosaics, imitation of leather or wood, drawings on glass – they will attract attention and visually expand the boundaries of the room. But do not overdo it with bright spots – because of them, the room risks getting overloaded..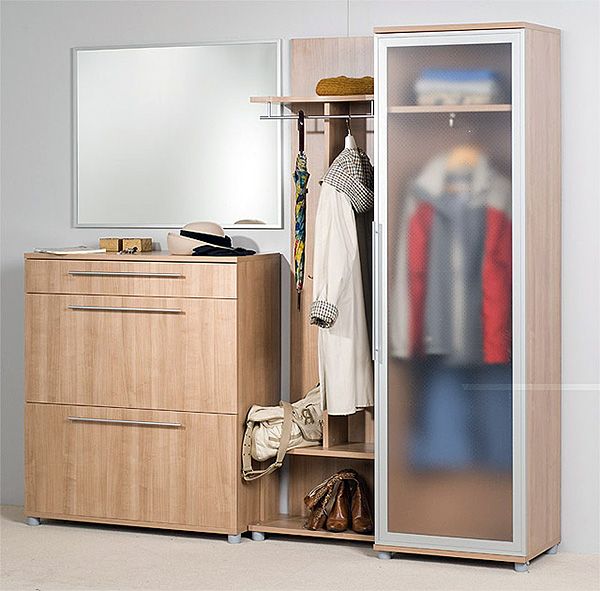 Cabinet door in frosted glass
What should be the hanger
Open wall hanger – ideal for compact hallways where a closet won't fit.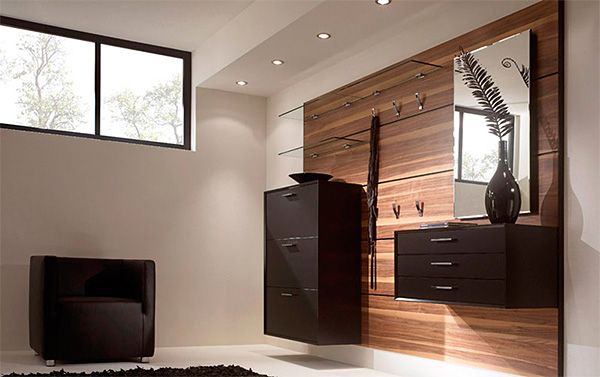 Lots of hooks
Several hooks on the slats and a shelf – here you can store bags, umbrellas, outerwear that are often used. But the most stylish and modern solution would be a floor hanger in the form of chrome bars on legs or in the form «cactus» – but such products require free floor space.
Open hanger
We select a mirror
If there is no extra space in the room, then it is advisable to place the mirror on the cabinet door. But if you want to use it to decorate the interior, then select a separate place on the wall and be sure to arrange it in a beautiful frame.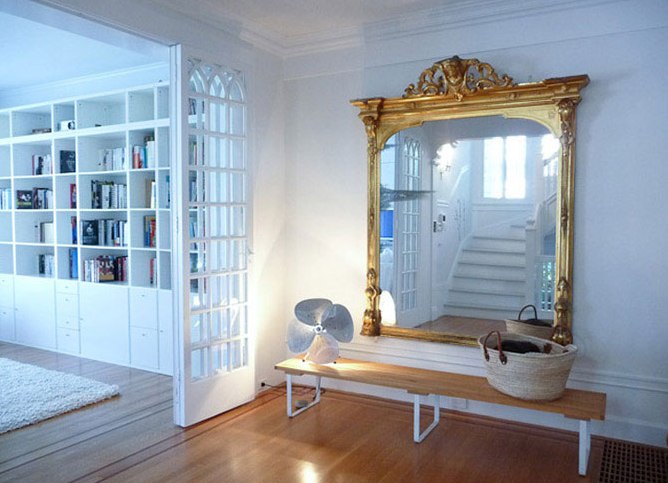 Full-length mirror on the cabinet door
Important. The mirror needs proper lighting – directional sources help visually expand the space.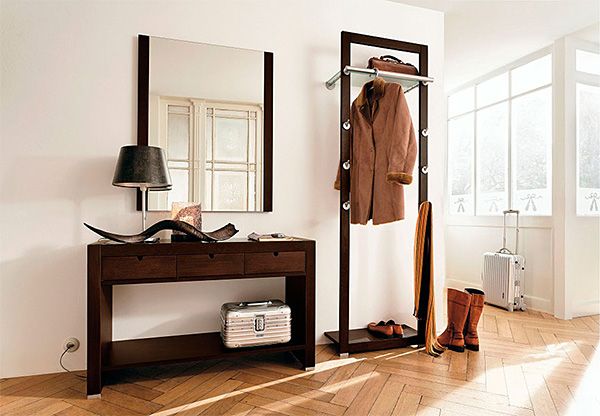 Mirror above the waist
However, do not forget that it is better to place the mirror not opposite the doorway, but to choose some place for it where the front door will not be reflected. Indeed, according to the teachings of Feng Shui, it is believed that such an arrangement of the mirror will hinder the incoming energy flows.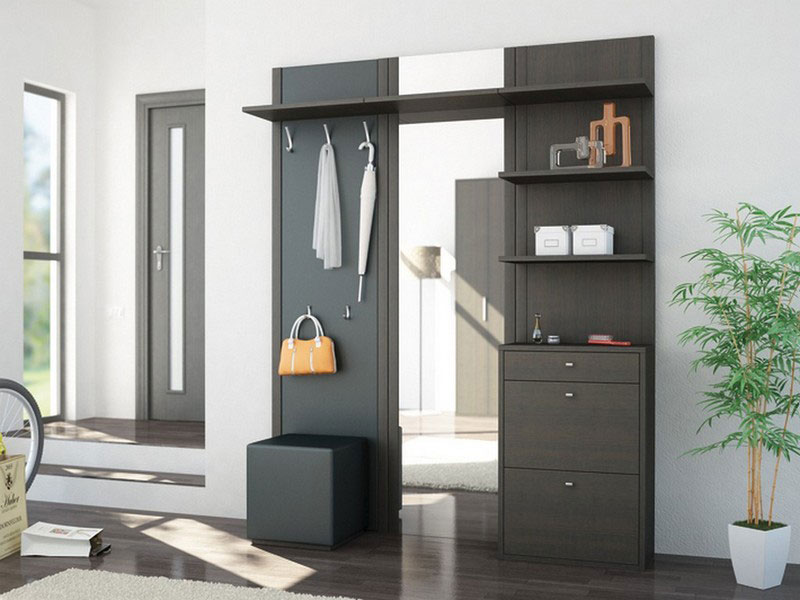 Do not place a mirror opposite the door
By the way, this Chinese way of organizing space also dictates that the corners in furniture should be rounded, not sharp..
Choosing a style, design, color
What should your hallway look like? Harmonious, stylish and welcoming. And for this you need light finishing materials, because there is little natural light in the hallway. But the furniture must also be appropriate, because there are practically no empty walls in this room – they are all occupied by furniture facades or shelves.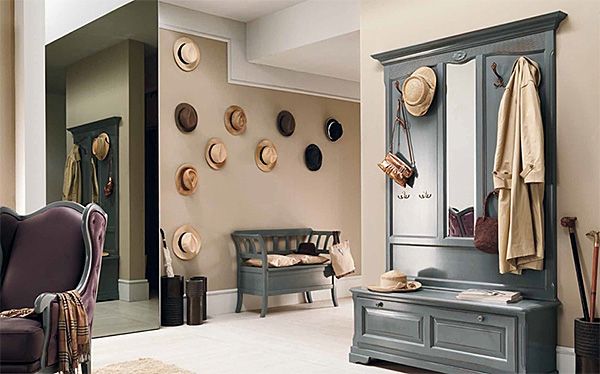 Fashionable hallway for the lover of stylish hats
So, when choosing modern hallway furniture, you will need to evaluate the following factors:
Style. It is better if the kit used here will be in harmony with all the other rooms. The area of ​​the room is also important – in modern apartments you will hardly find enough space to demonstrate all the chic of Baroque or Art Deco. Moreover, the trend is minimalism and environmental friendliness, which means simple lines and natural textures.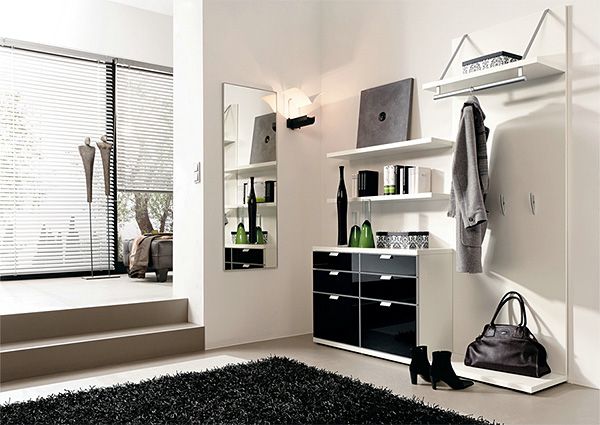 Hallway furniture in modern style
Colour. Here you need to build on the classic concept – light colors help expand the room, and dark ones will make it visually smaller. Today, brown, white, light walnut, charcoal black, as well as pastel shades of green and blue, or rich red are in trend. You can choose a romantic color or give preference to classic solutions.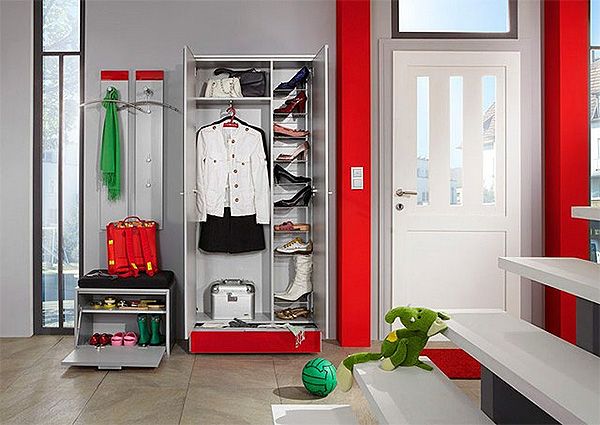 Furniture in the hallway of bright colors
Material. For modern hallways, plastic, metal, MDF and chipboard panels are used. Purchase furniture with a certificate of conformity – it will confirm that surfaces do not emit dangerous formaldehyde into the air. And the most expensive option is from natural solid wood. It can be painted if the area is designed in country or Provence styles, or left under a layer of varnish with a pronounced texture, if we are talking about classic or eco-style. Both glass inserts and translucent shelves will look interesting – they are practical and beautiful.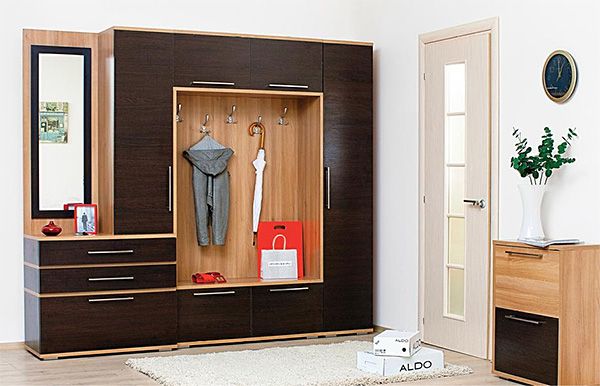 The better the materials, the higher the price of furniture
Important. When organizing the hallway space, do not forget about the lighting of the furniture. So, the mirror is necessarily illuminated so that you can see yourself completely and without shadows. And in order for you to find the right thing in a spacious wardrobe, it is worthwhile to provide side lighting. All these elements make the functional area functional and light.
The advantages of a wardrobe for the hallway
A sliding wardrobe for a hallway is a wonderful modern solution, practical, spacious and stylish at the same time. This furniture is most often ordered individually, taking into account the dimensions of your room. You can choose the width, depth and height yourself, so there will be no inconsistencies during the installation process.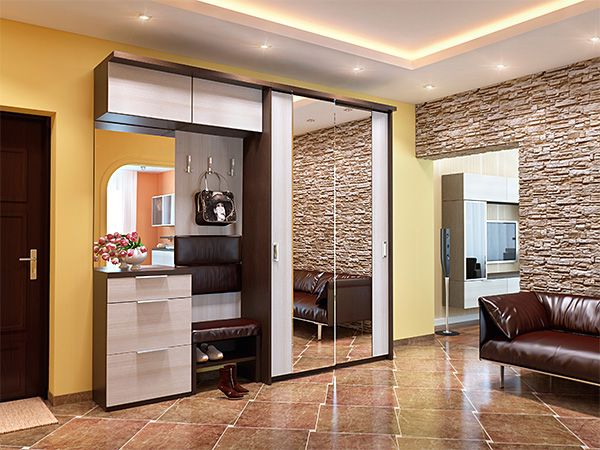 Sliding wardrobe in a beautiful hallway
To make the cabinet more spacious, it is extended to the ceiling, and thanks to the mirrored facades, one of the boundaries of the room can be completely removed. You can use this design for storing winter wardrobe and baby clothes for growth, all kinds of shoes and a vacuum cleaner in specially provided lower compartments. There is also a place here for many accessories – hats and other hats, scarves and gloves, umbrellas, raincoats and bags..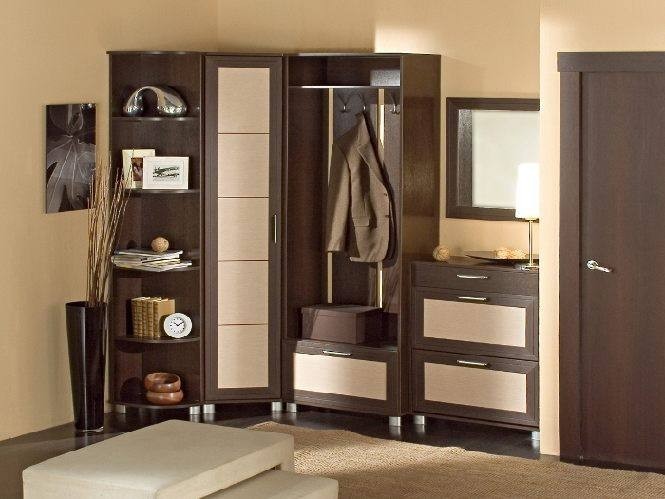 Compartment and wardrobe with open hangers
Keep in mind that the wardrobe is equipped with a sliding door opening system, not a swing door, which is also incredibly economical. And the inner drawers will replace the many shelves for which you previously had to look for space on the walls. It is advisable to put a banquet or ottoman on the vacated area so that you can put on your shoes with comfort.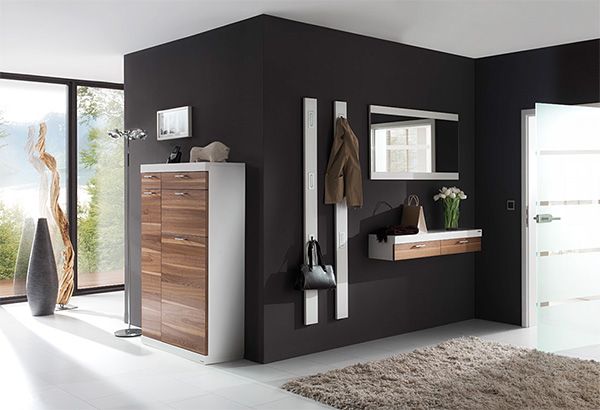 Hallway furniture in modern style
And do not forget that modern furniture is, first of all, high quality workmanship. This also applies to fittings designed for thousands of working cycles and to facade materials that perfectly imitate natural materials..
Hallway furniture sets are durable and durable, and also incredibly stylish. You may prefer laconic Scandinavian-style furniture, chic painted Provence massifs or classic natural wood – it's up to you how exactly the hallway will be decorated.