What furniture to choose for the bedroom, we highly recommend that you pay attention to the selection of the appropriate furnishings. At the same time, it is necessary to be guided by the size of the room, its style and the future purpose of the furniture..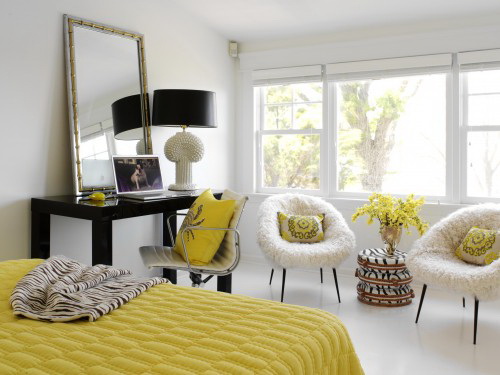 We dedicate this article to those for whom the bedroom is not only a relaxation room, but also a focus of positive energy, inspiration and love for interior design..
Furniture for small bedrooms
To begin with, we propose to consider several very successful ways to organize space with furniture, in bedrooms with medium and small area sizes..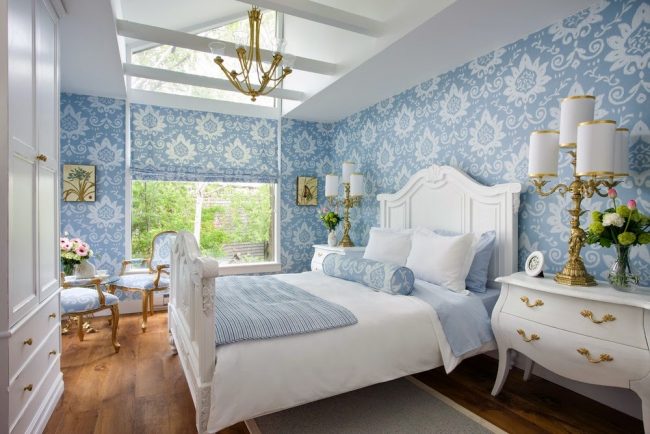 If your bedroom is small, you should not aggravate the situation by purchasing excessively large furniture and items that will be superfluous in such a room. This means that, ideally, a bed, for example, should not occupy more than 1/3 of the floor area, and a desk that you do not use will become an obstacle to free movement..
Bed, two sideboards, chest of drawers and armchair
A small bedroom expects a very rational approach to choosing the right furniture from you. So, you can put neat bedside tables or bedside tables by the bed, and a chest of drawers can be installed near the opposite wall. It is better to put the armchair by the window, so it will be comfortable for you to spend time reading or doing handicrafts.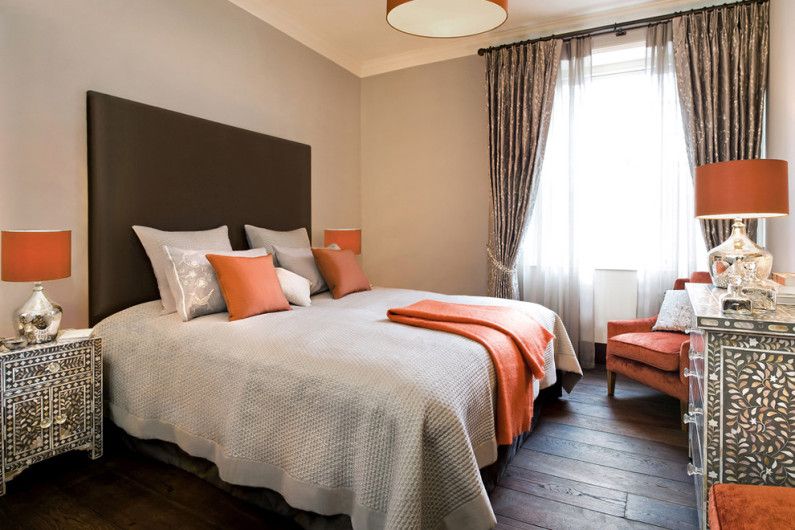 Bed, two armchairs and a chest of drawers
If the bed is located in the middle of one of the walls, then the TV, if available in the bedroom, is installed opposite the bed. Therefore, the best and completely logical would be to place a roomy chest of drawers under the monitor, which, in turn, will make it possible to do without a weighty cabinet. The tandem consisting of a bed and a chest of drawers is recommended to be supplemented with a pair of comfortable armchairs, forming a so-called area for reading, conversations or receiving guests.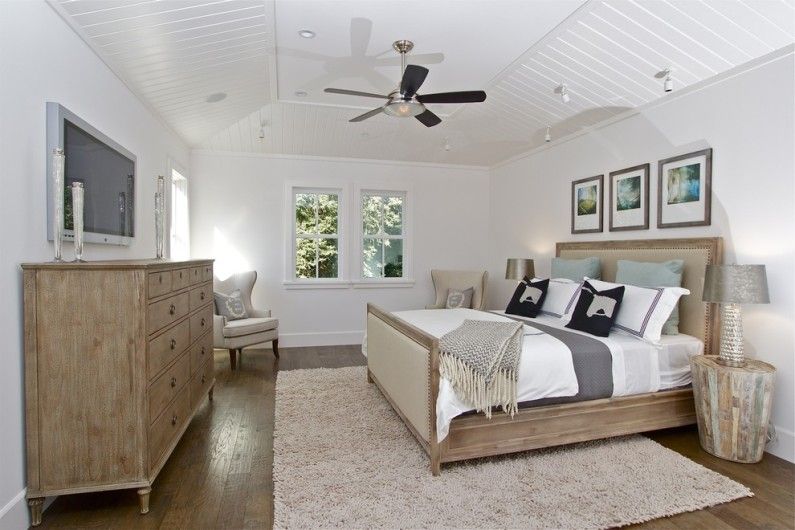 Wardrobe, bed, two dressers and a bench
The next option for furnishing in the bedroom is suitable for use in a medium-sized room, where additional square meters of space give some freedom. Namely: along with the bed, as the main piece of furniture, instead of bedside tables, you can use small dressers.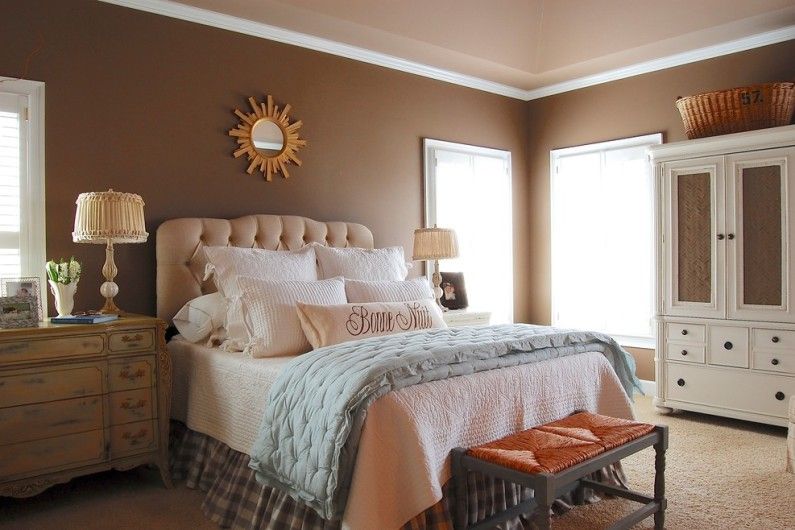 Bed, bench, dressing table and cabinet
There are small bedrooms even in spacious houses, for example, guest rooms, and with them – a full dressing room. Consequently, the need to use dressers and wardrobes disappears for a known reason.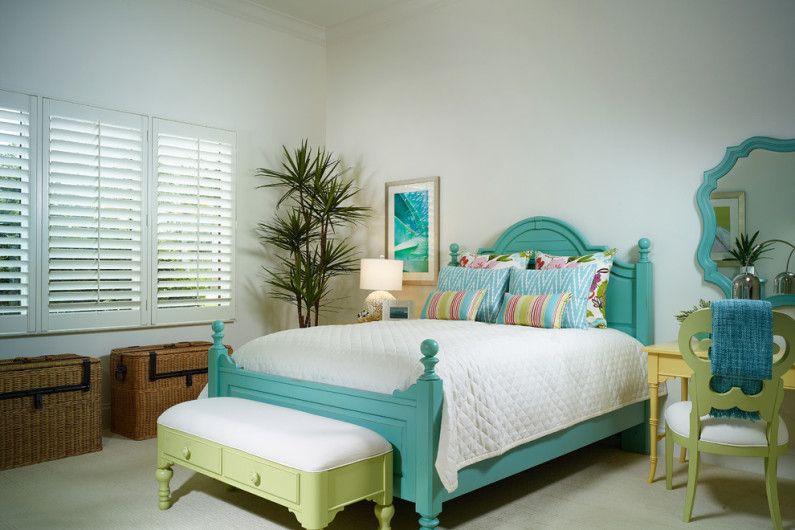 Bed, two shelves and a bench
A very practical solution for a small bedroom can be the use of an area near the window. This technique looks especially interesting in oblong (rectangular) rooms..
All that needs to be done is the construction of two parallel shelving units united by a banquet or bench with drawers.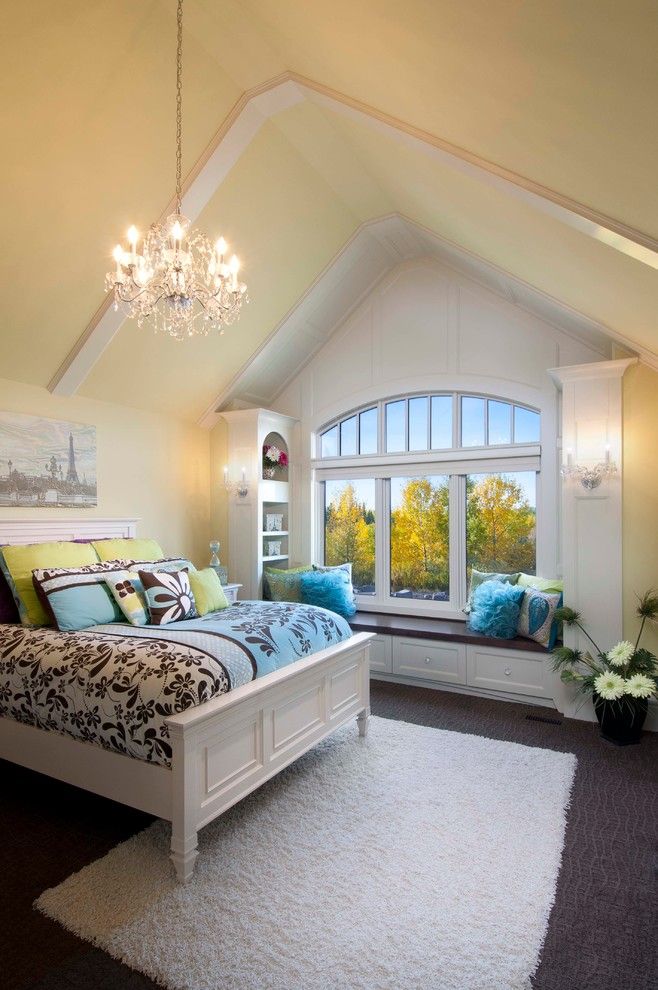 Furniture for spacious bedrooms
Large bedrooms have every opportunity to create incredibly beautiful rooms, with special charm and unique pieces of furniture.
Two dressers, console, bed, bench and table
The use of some pieces of furniture in large bedrooms is, rather, only a decorative design technique, and nothing more. But still, the size of the room requires their presence, so an exquisite console can be purchased in addition to the picturesque landscape on the wall..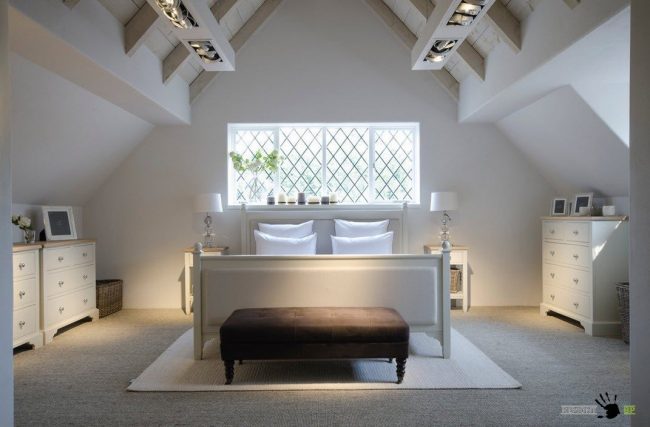 Separately, it should be noted that the bed, unlike the use in small bedrooms, in a large room should be of the appropriate size, and its shape can also be of any kind. Well, in addition to a chic bed, you can purchase a stylish bench with velvety upholstery and a pair of dressers that duplicate each other.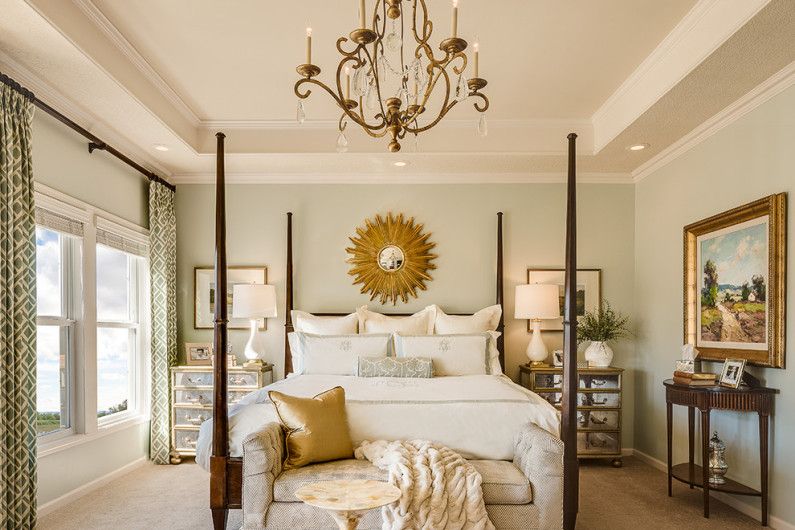 Bed, three dressers, two armchairs and a table
The second option for furnishing a large bedroom may look like this: two small chests of drawers located on the sides of the bed form a triangle, together with a larger chest of drawers standing against the opposite wall. Decorate the living area with two deep armchairs in a separate part of the room, for example, by the window.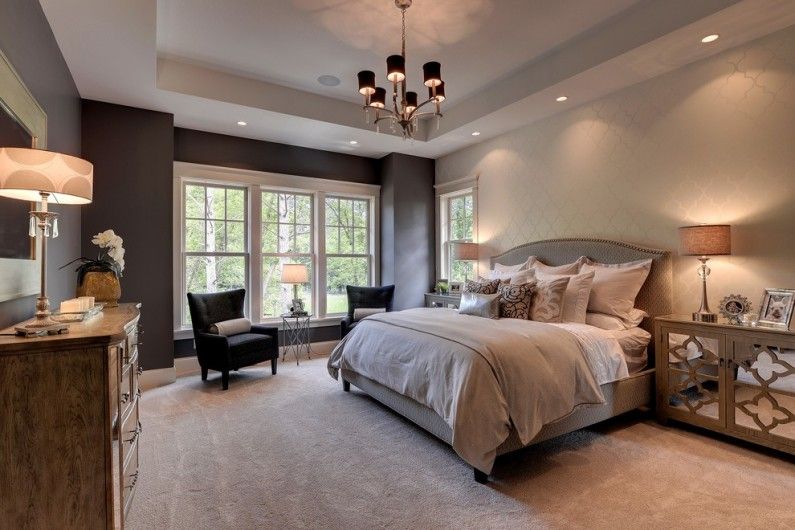 Bed, bench, mini sofa and dressing table
Pay attention to such a well thought out plan for placing furniture in the bedroom. Here a bed with a bench at the foot occupies the logical center of the room, around which the rest of the objects are located.
Wardrobe, three chests, bed and sofa
You can place everything you need to fill the bedroom in one large space without compromising the visual perception of the room. A spacious bedroom, among others, has an unconditional advantage that even if its area is filled with massive furniture from ceiling to floor, the load will not be felt so visually than in a room with smaller dimensions.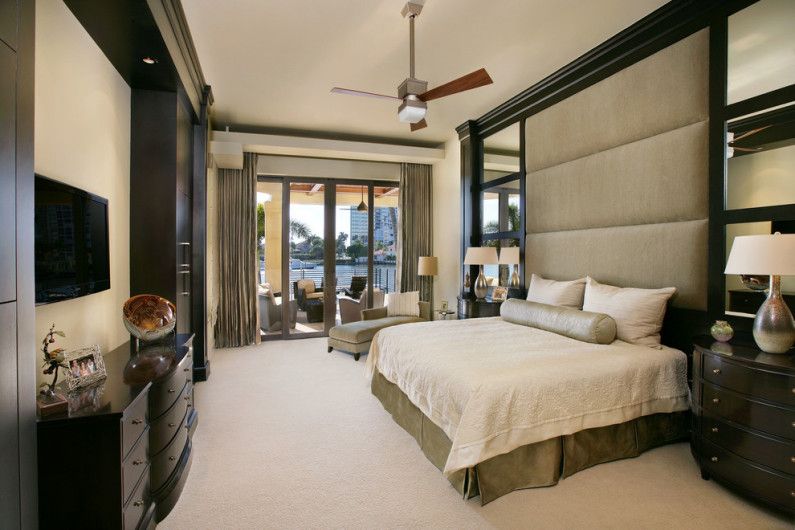 Bed, bookcase, two armchairs and a coffee table
A large bedroom is also a room for design experiments. So, for example, a TV-zone opposite the bed can be arranged not with a chest of drawers or a low cabinet, but with a bookcase built into a niche. Comfortable armchairs by the window and a table complete with them will contribute to relaxation without violating the boundaries of the sleeping place.
Advice: Make the guest area of ​​a spacious bedroom the accent of the entire room: place designer chairs in it, for example, on graceful legs and with bright vegetative upholstery.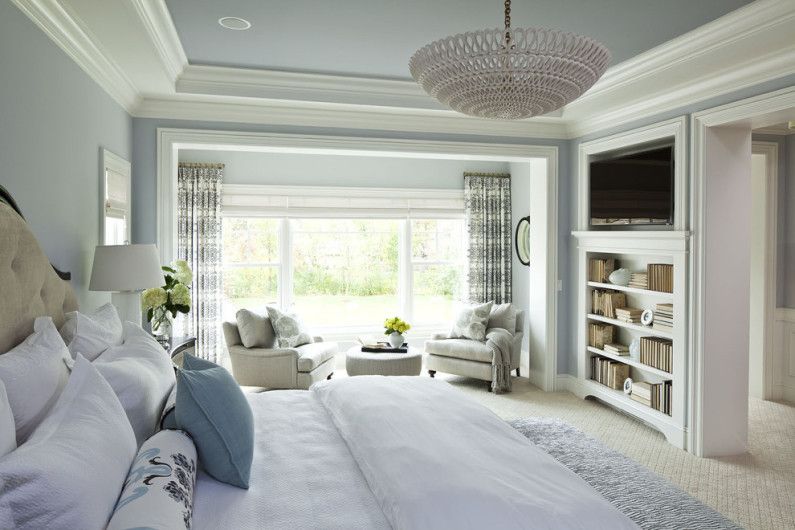 You may also like our article: bedroom in turquoise color: interior and design
Good luck!