Today, no one is surprised that a man or a woman creates an interior only for himself, not taking into account the possibility of a second tenant in the apartment. In this article, we would like to give tips for creating a bedroom for a man with a masculine character. What fundamentally distinguishes it from the bedroom of a girl or a married couple? – Lack of an abundance of details and decor, bright colors and complex shapes. Men just don't need it. Simplicity, solidity, and practicality are what a man is looking for in his house..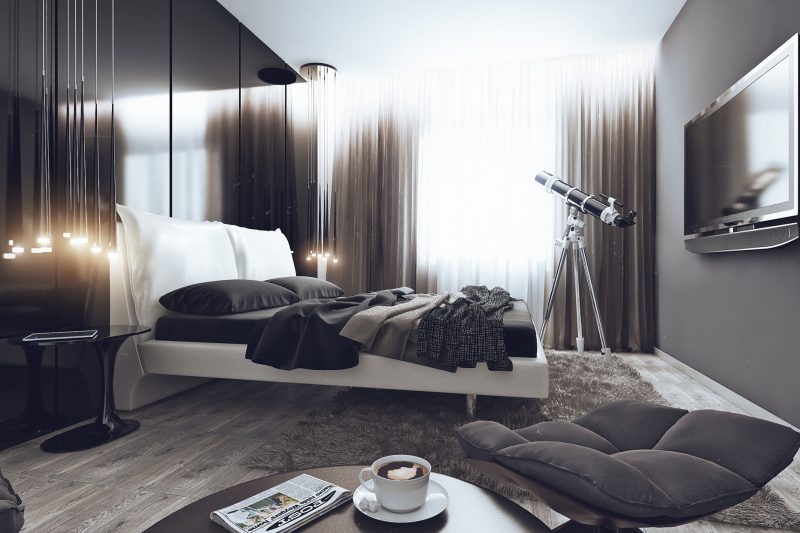 The color scheme will also be unusual for a female boudoir: black, gray, blue, brown. But, if women would find such an interior gloomy and dull, then for a man these colors give calmness and solidity of the interior..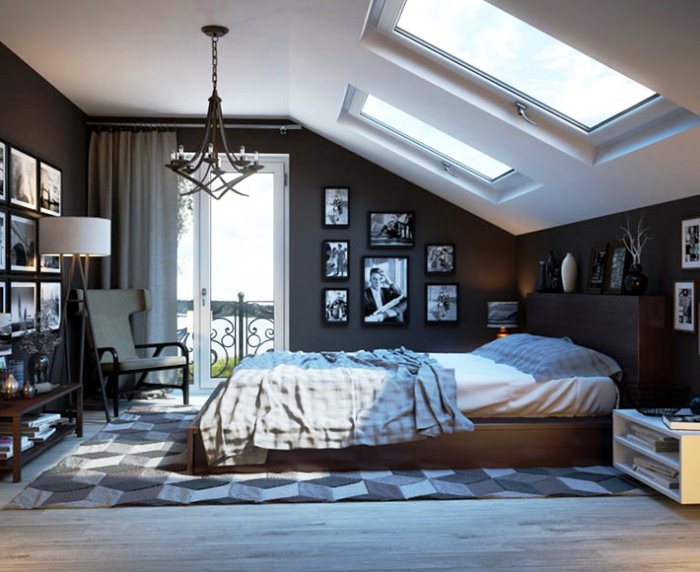 Initially, in order to create a bedroom for a man, you need to decide on a stylistic solution. The styles most appealing to a man: the most common now minimalism, restrained and cold hi-tech, glamorous Art Deco, airy marine style and good old classics. Now let's take a look at all the styles in order..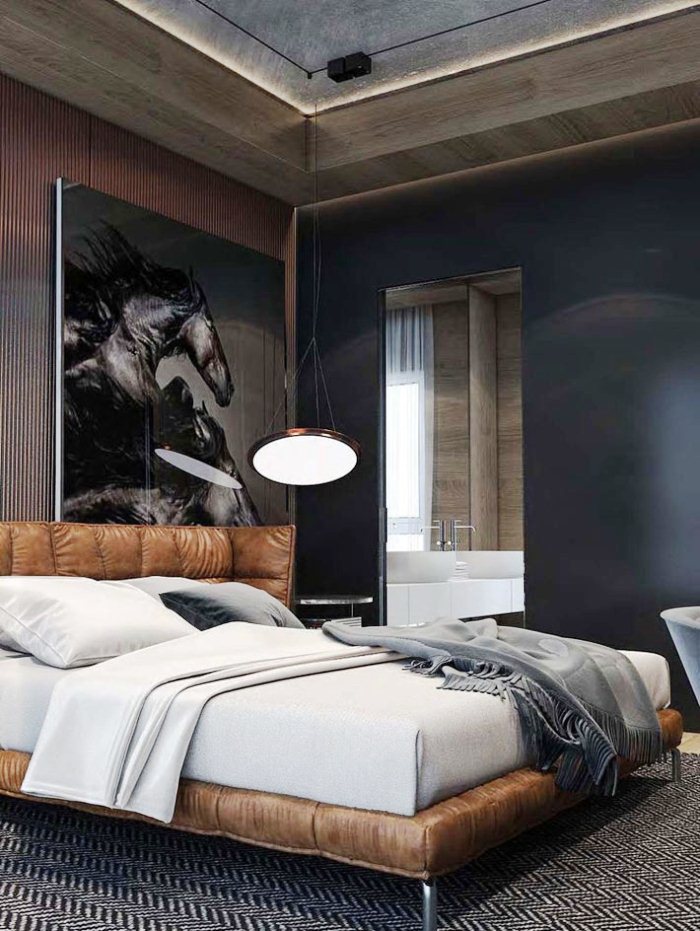 Men's bedroom in the style of minimalism
Minimalism, as you know, is a restrained, laconic style, not burdened with a lot of details. This is the place where a man sleeps, rests, reads, ponders. Therefore, the space should be clearly zoned. Sleep, rest area, also in the man's bedroom there will be a dressing room or a system of sliding wardrobes.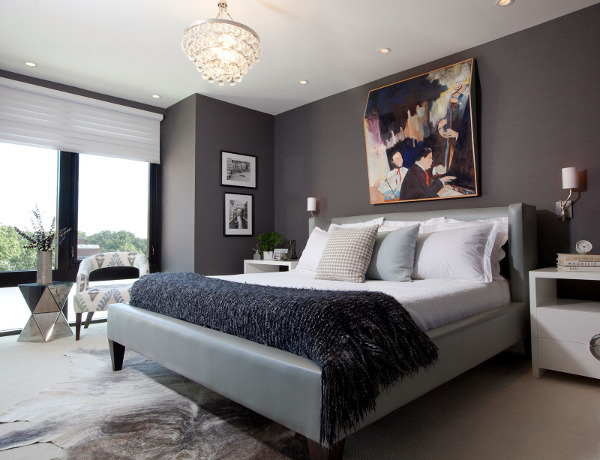 There should be space for numerous shirts, suits, make a hanging system for storing trousers. You need to place as many horizontal shelves as possible, which will always come in handy – for T-shirts, sweaters, bed linen, for storing things in the off-season. In short, everything should be convenient and close at hand – so as not to spend a lot of time looking for things..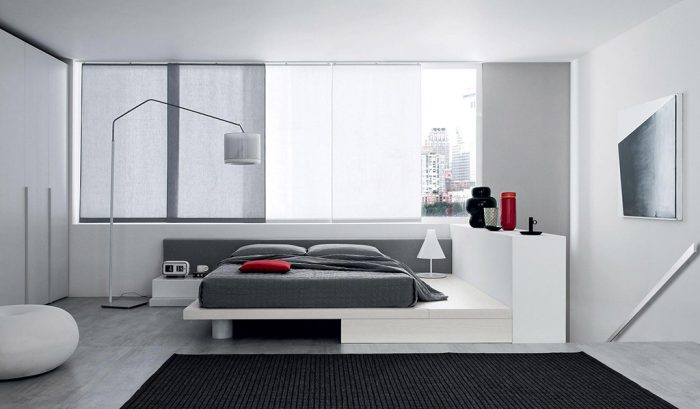 This style will be appreciated by a man-workaholic, since nothing will distract him from rest after a hard day, everything is simple and accessible here, without unnecessary tinsel.
In the bedroom in style «minimalism» there is a place for everything, but no frills:
– large bed with a soft headboard, emphasizing the charisma of the owner, and conducive to sound sleep.
– table lamps by the bed, so that it is convenient to read in bed before bed
– thick curtains made of heavy fabrics to create comfort and intimate privacy. Bedside tables or cabinets for books and other trifles, a chest of drawers with linen and things.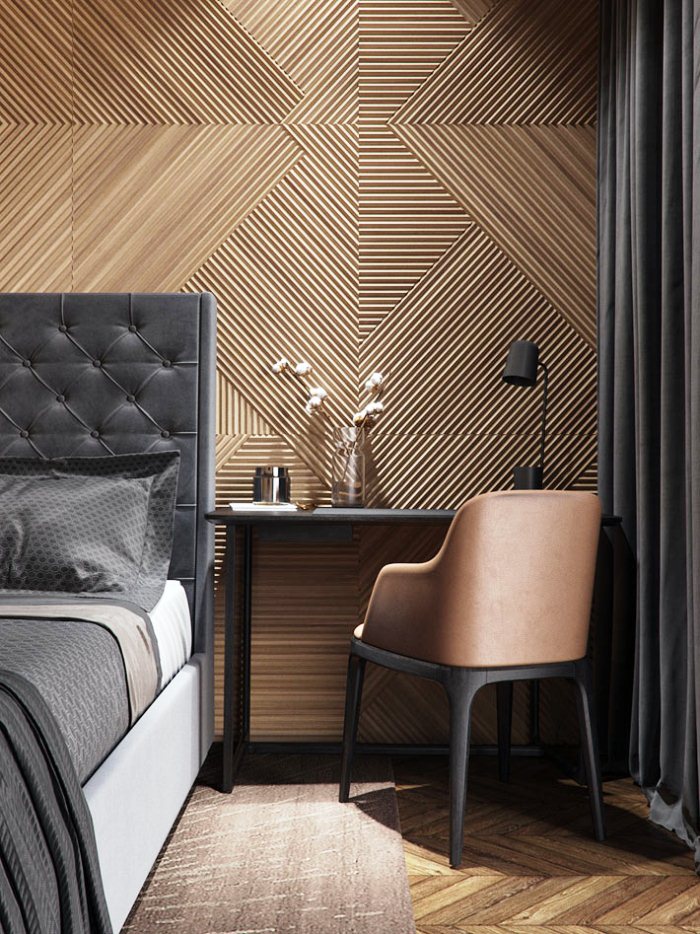 In the bedroom in style «minimalism» all things are an extension of each other.
Form and content correspond to each other – straight clear lines, simplicity of forms, lack of decor on furniture and interior details.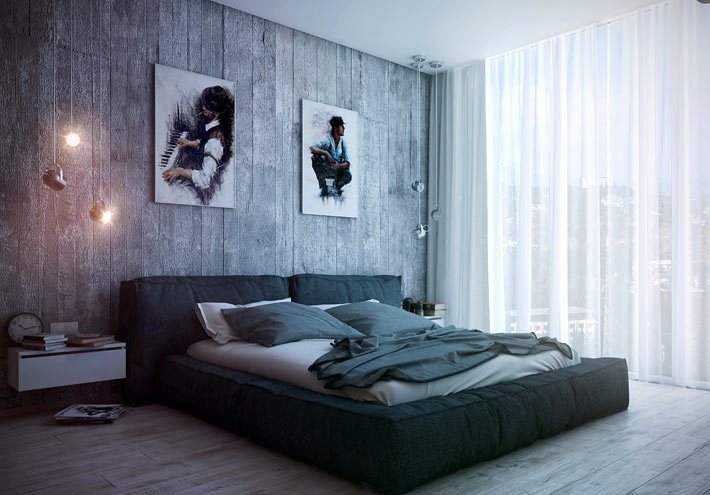 All colors are in soft harmony with each other. As a rule, this is the range in black, gray, brown, blue colors.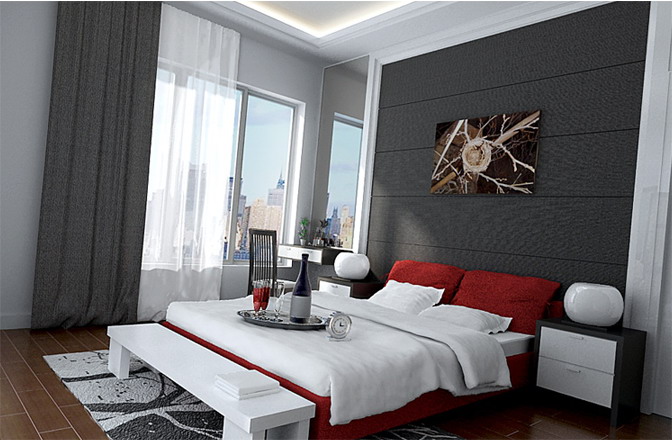 The decorative elements are photographs in black and white, paintings calm in color and plot, some original elements, be it a sconce, a mirror, framed photographs, abstract figurines, etc. In short, in minimalism – everything is only the most necessary.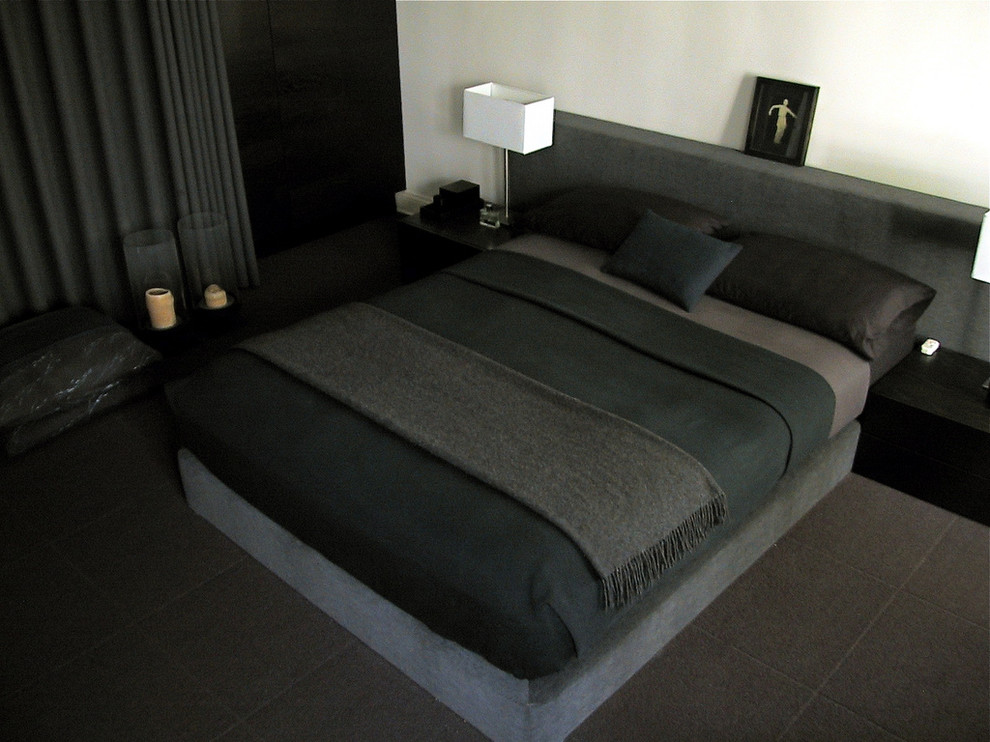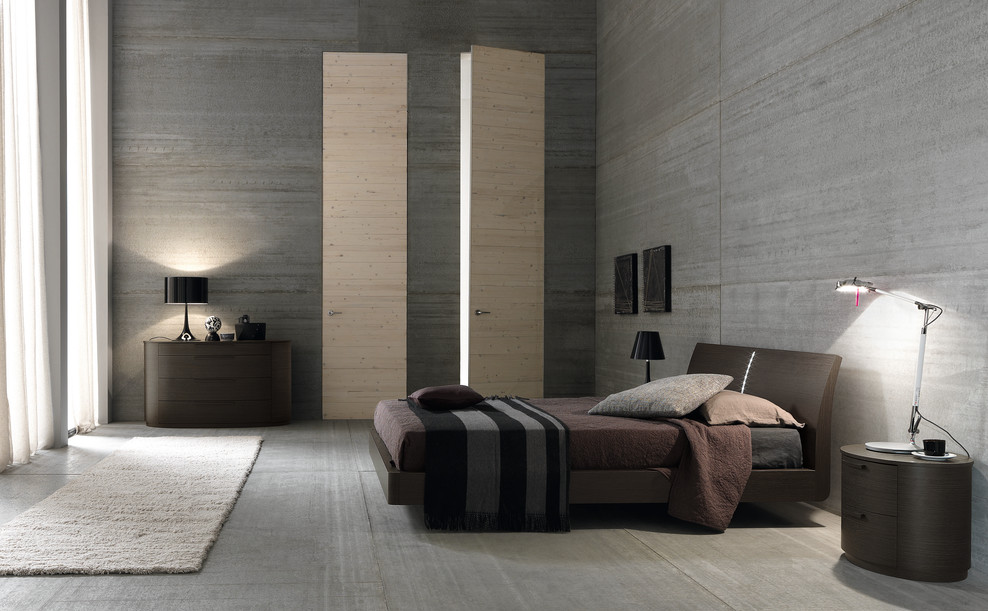 High-tech men's bedroom
The main distinguishing feature of the high-tech style is its pronounced manufacturability. And the bedroom is no exception. At first glance, a high-tech bedroom can give the impression of a cold, uncomfortable space..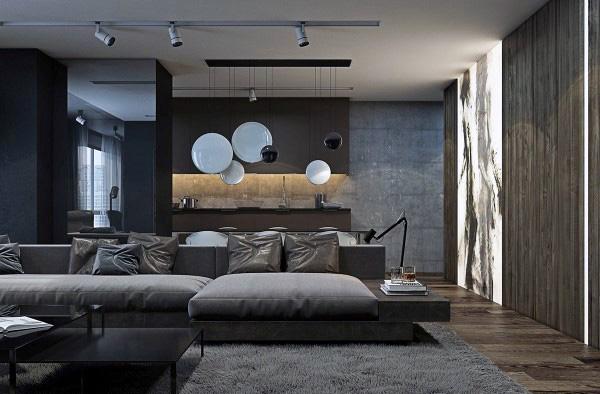 But this impression is not true, because thanks to the metered decor, fabrics, mixing textures and correctly placed color accents, the bedroom can easily turn into a relaxing place..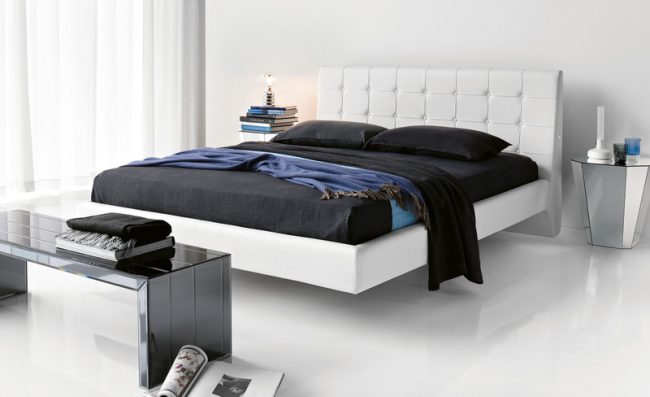 This style is very suitable for men, as it is in tune with the masculine principle – conciseness, clarity of forms, rationality. A confident man who values ​​his time and does not give empty promises will love him.
Choose the basis of the interior, the so-called «main color spot» . It can be a luxurious bed, a wardrobe, a picture on the wall or a photograph in a stylish frame, a large mirror or a stylish floor lamp..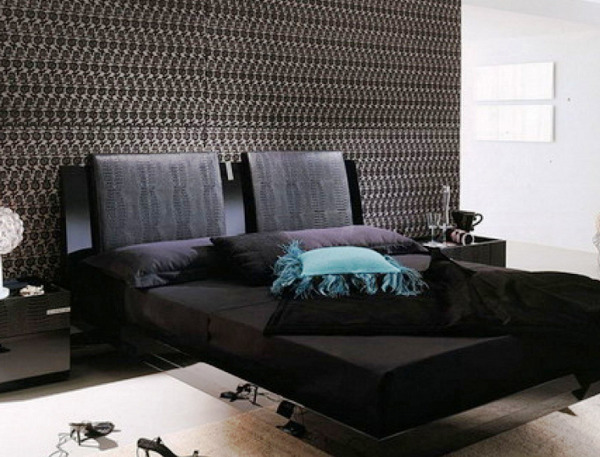 Further, starting from this spot, we begin to assemble the entire interior like a puzzle: walls of different textures, a futuristic volumetric ceiling, into which complex lighting is built. Windows can be bare or decorated with light transparent fabrics.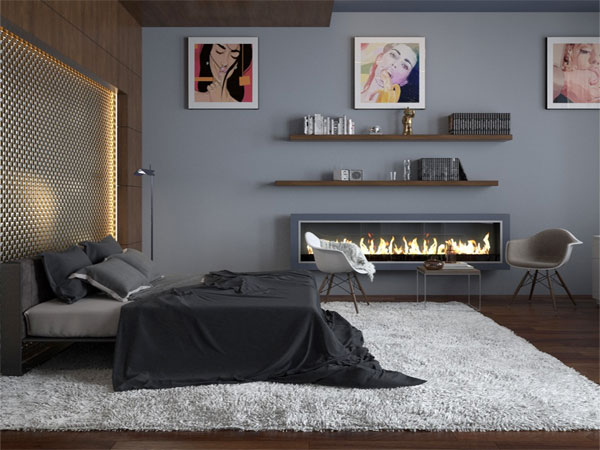 Colors – black, gray, white, dark beige, brown. Materials emphasize the strength of a masculine character – steel, concrete, stone, marble, granite, mirror, gloss for walls or ceilings.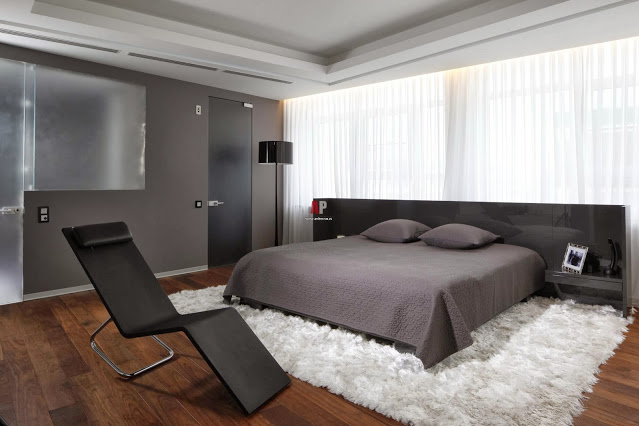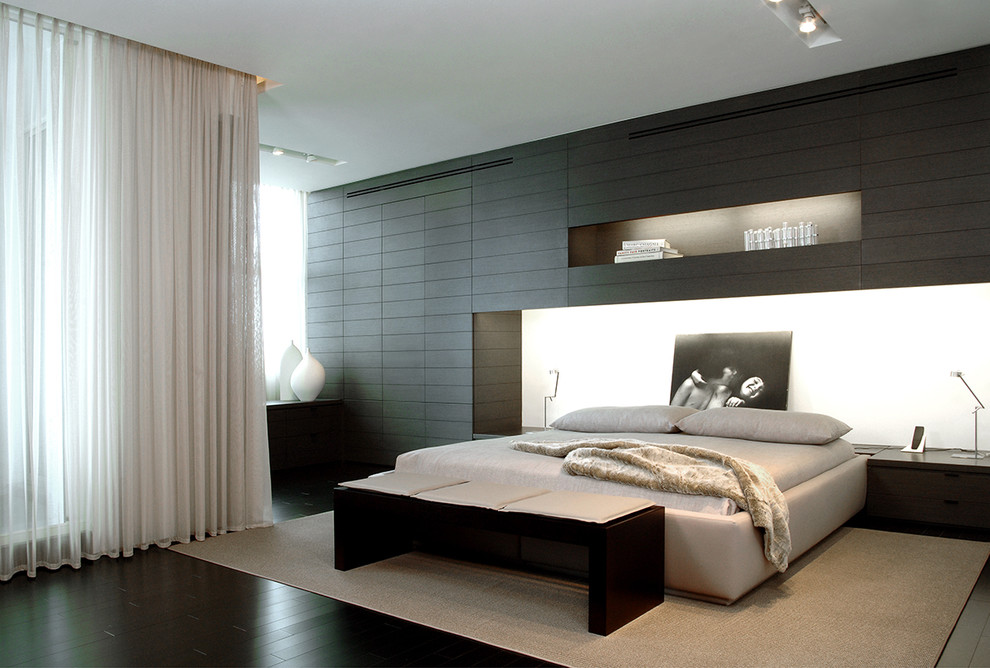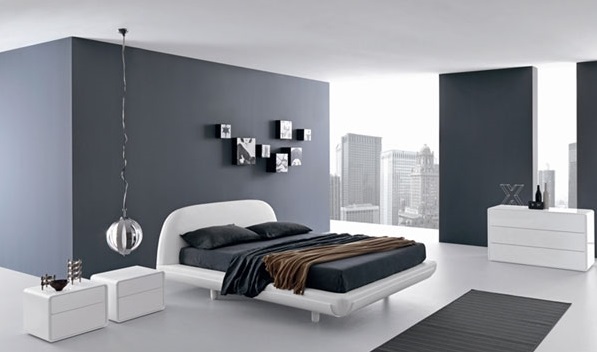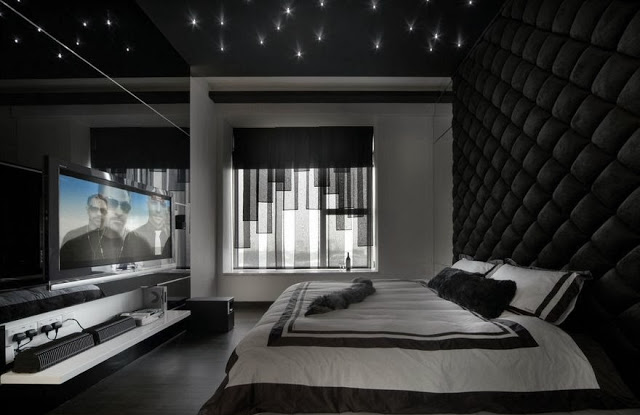 Bedroom for a man in Art Deco style
Art Deco is luxury and wealth combined with art. The name itself is the essence of the style – «decorative arts». In the Art Deco style, there is where to roam – a wealth of decor, textures, geometric shapes and forms. And do not be afraid to overload the interior and make it too pretentious and romantic. Art Deco can afford it. And although a woman does not live in this bedroom, elegance and grace are imprinted on everything here..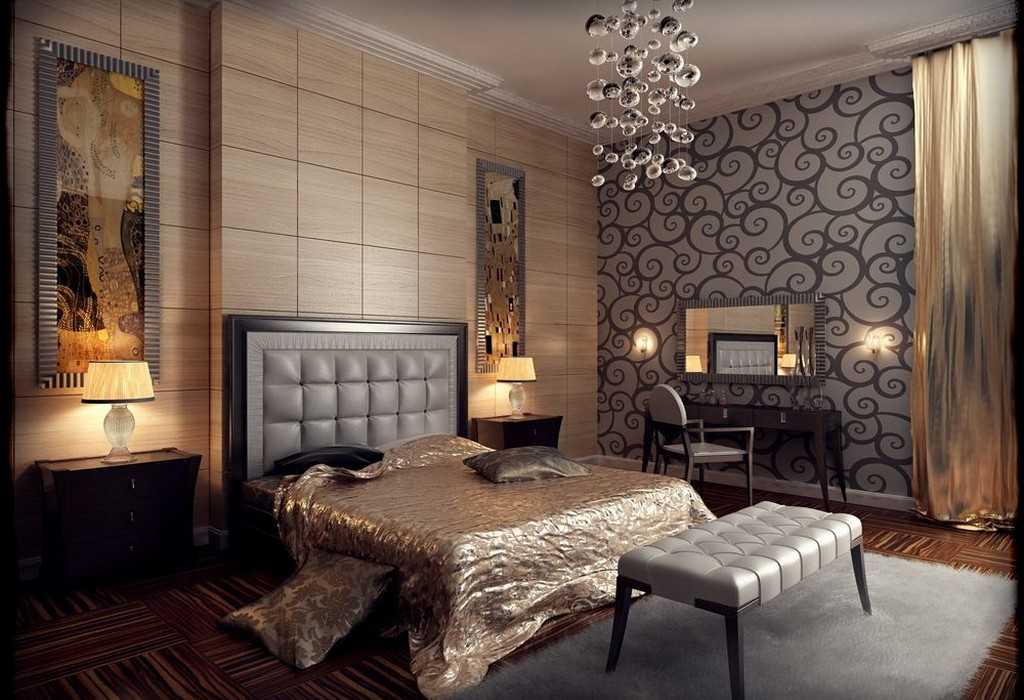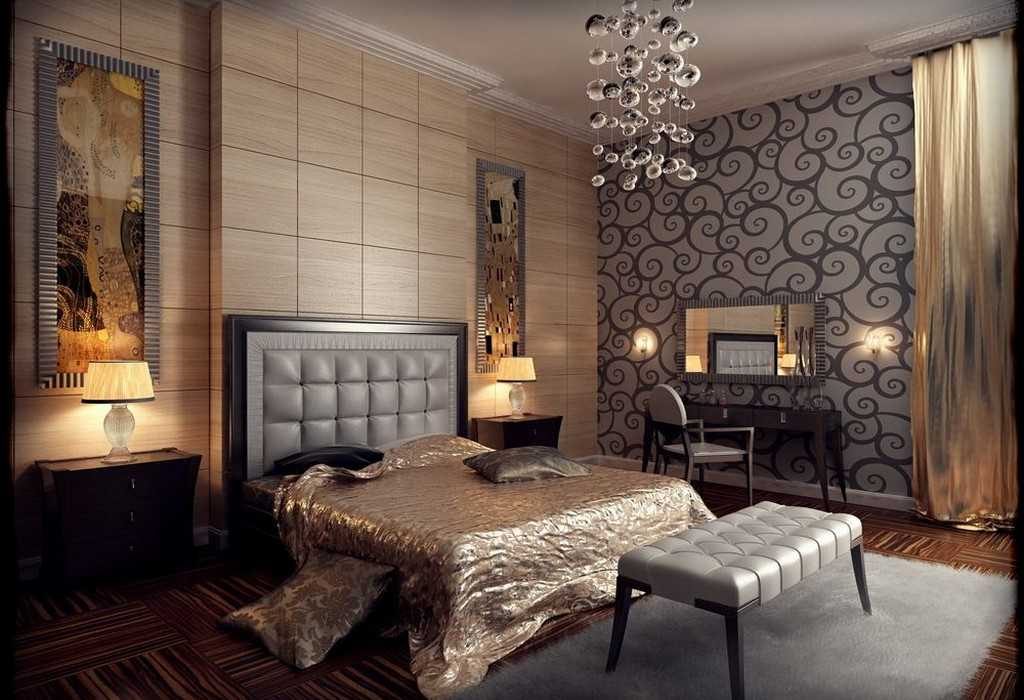 Art Deco is a style that suits the modern urban dandy with impeccable taste and style. This style appeals to creative individuals with a rich inner world, leading a secular lifestyle. Such men love to surprise, conquer and amaze admiring observers..
Furniture – chic design, accessories – expensive, beautiful, luxurious. The bed – the most important place in the bedroom – can be decorated with crystals or stones.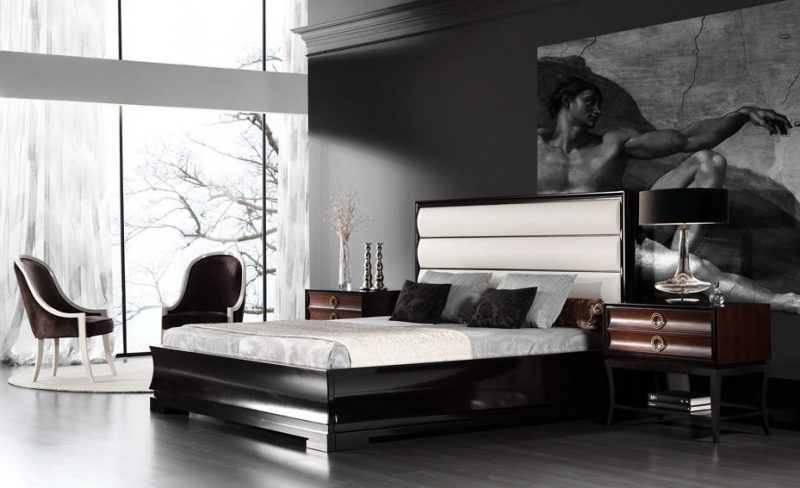 Finishing and materials – only the most exquisite, the most expensive: mahogany and ebony, ivory, velvet, silk, satin, gilding, natural stone, crystal. Colors in the Art Deco men's bedroom: gold, silver, beige, plum, milk, burgundy, sand.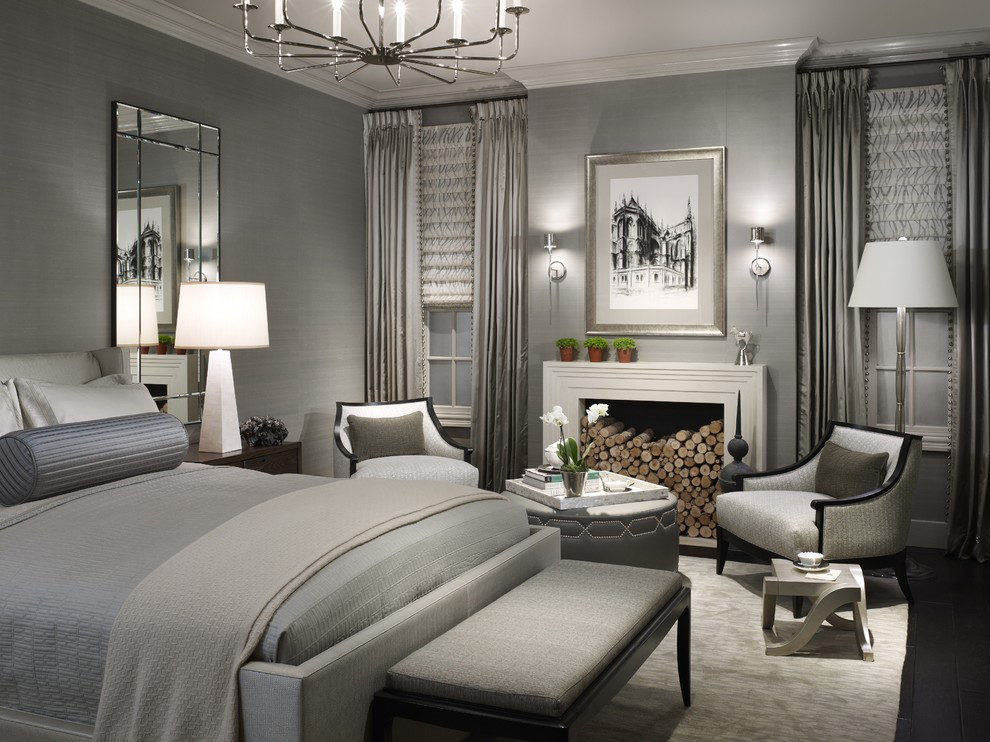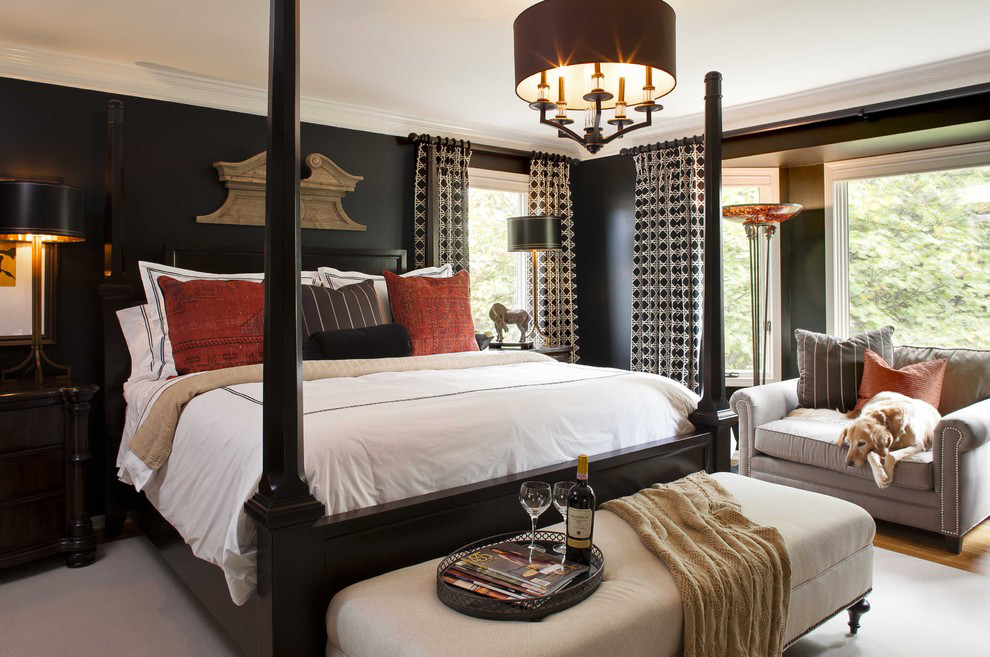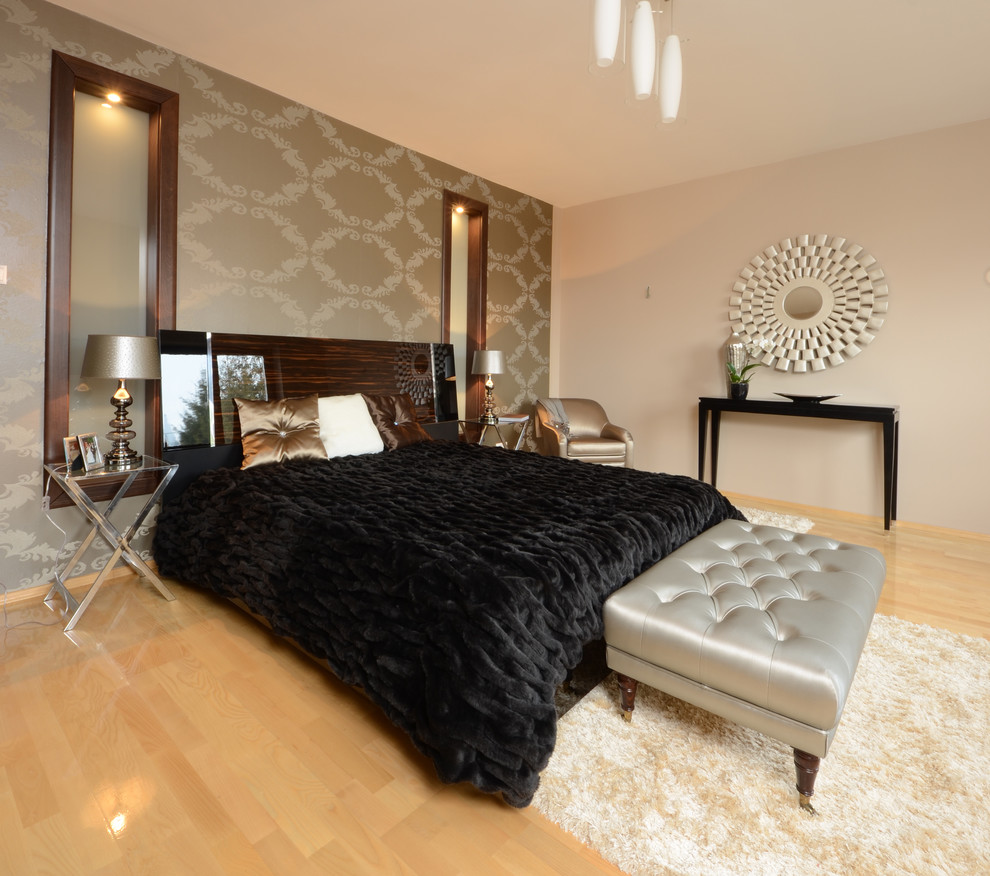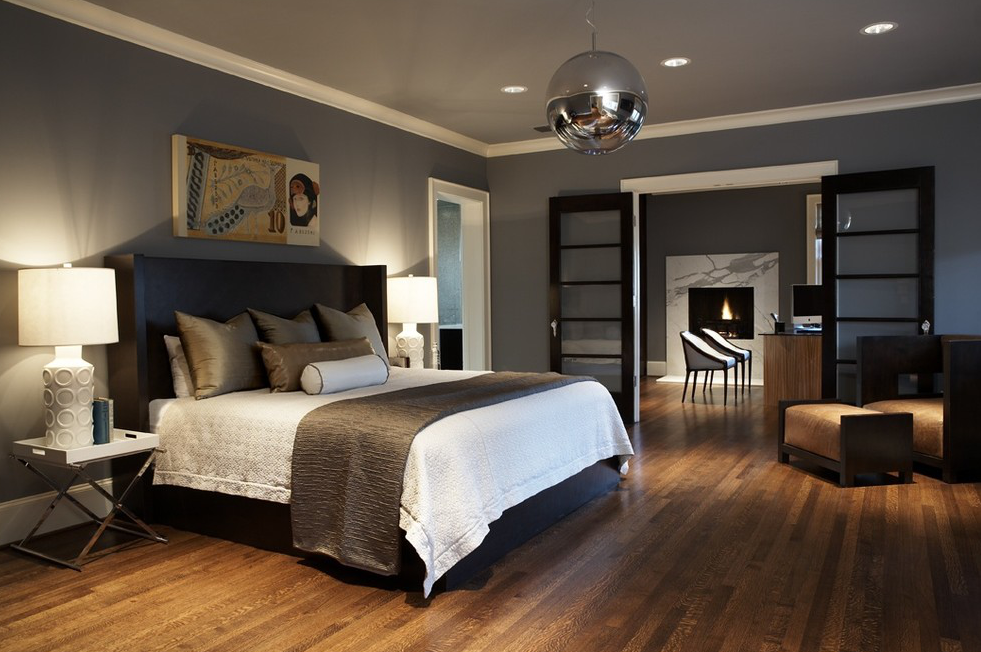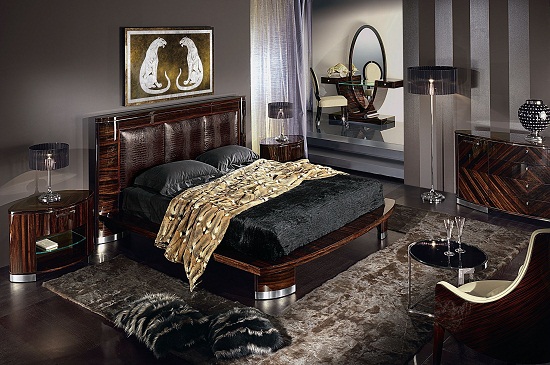 Men's bedroom in a nautical style
The entire space of such a bedroom is filled with the atmosphere of a warm summer day at the sea. This style is characterized by airiness, often all furniture and finishes are of the same color – for exaggerated lightness. On this basis, the entire decor seems to be floating in the air..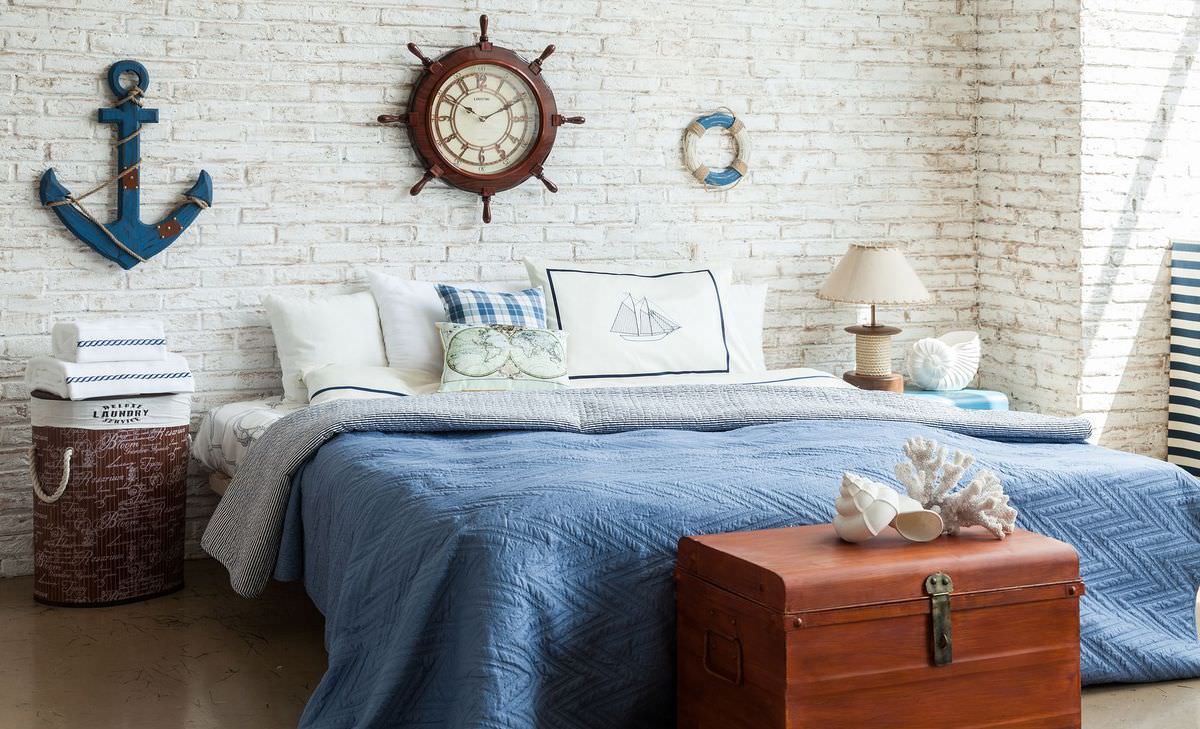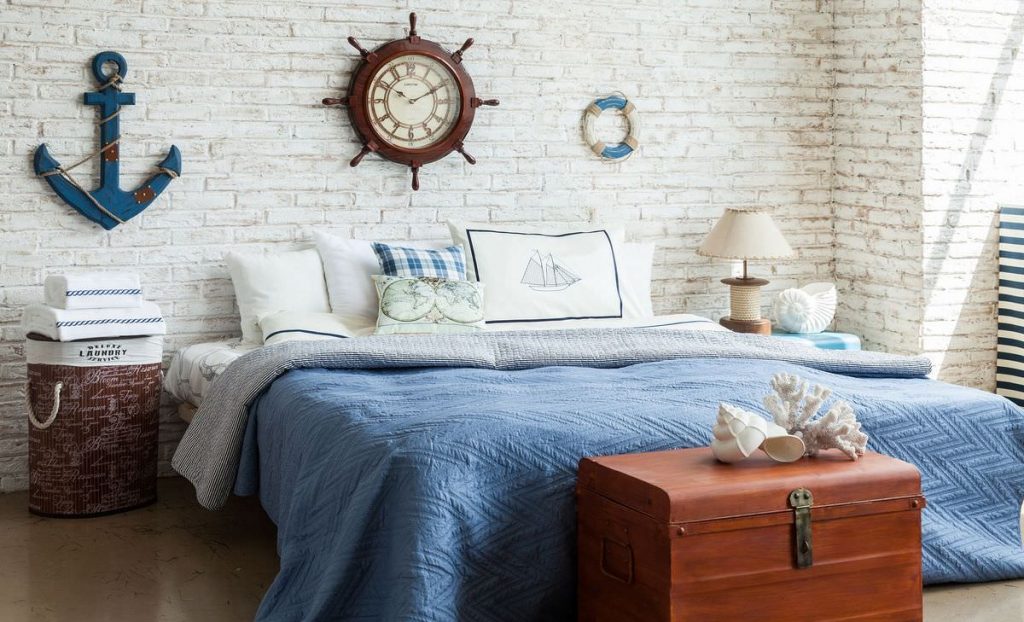 This is the style of a modern romantic dreaming of long journeys and seas.
Color range in the colors of the sea and the sun: blue, blue, white, yellow, sand, pearl, turquoise. This can be emphasized by the abundance of decor in this topic – paintings and photos with seascapes, figurines of ships, seagulls, lighthouses, old maps on the walls, marine decor.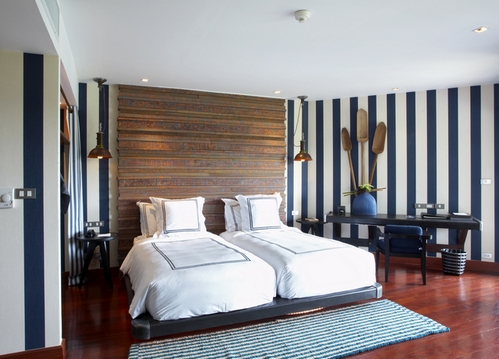 For lighting, lamps and bedside lamps, which are used on ships and yachts, are ideal. Furniture made of light wood, untreated or artificially aged. Deck laying of solid wood planks will look good on the floor.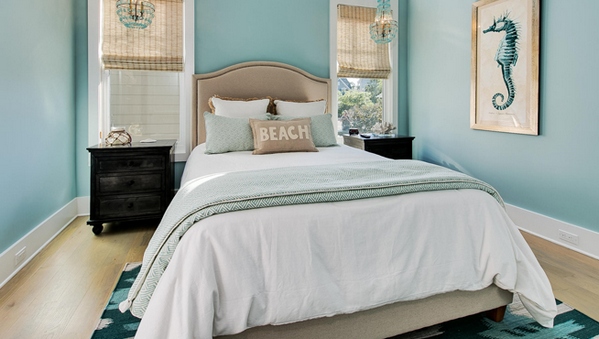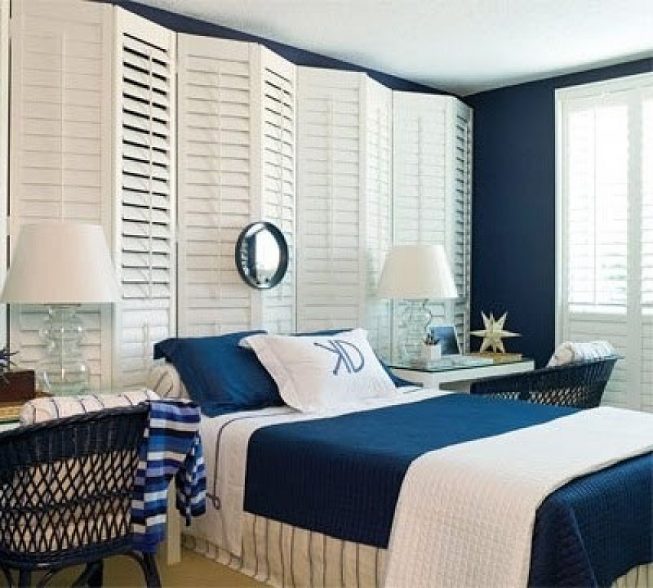 The ceiling can be draped with white chiffon or cotton to create the effect of clouds overhead. A man will feel here in his element.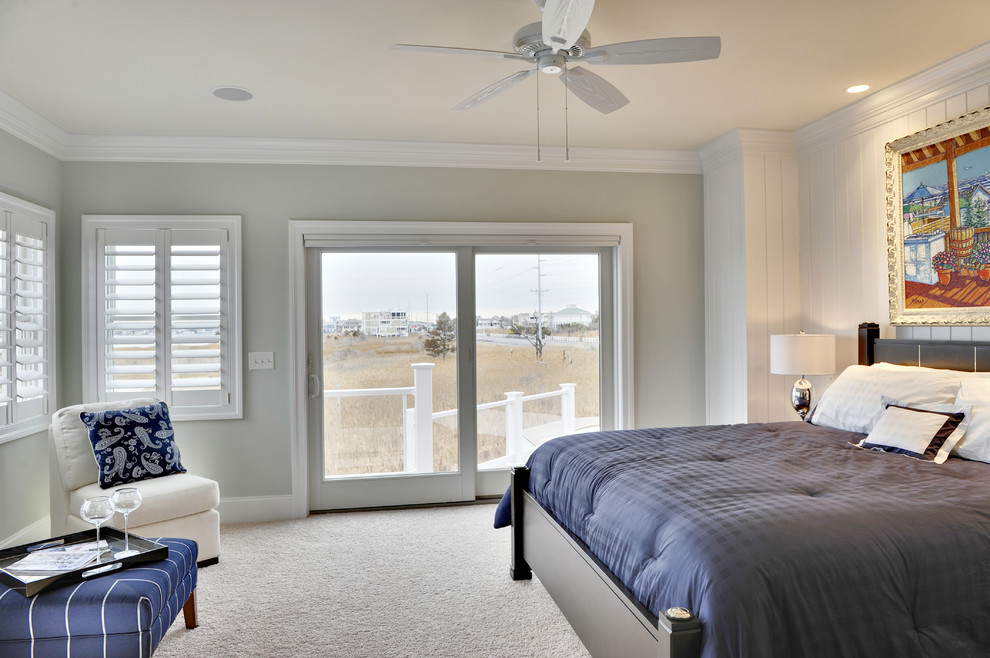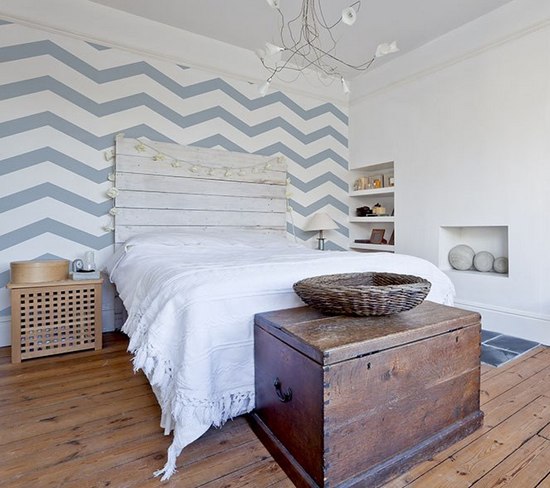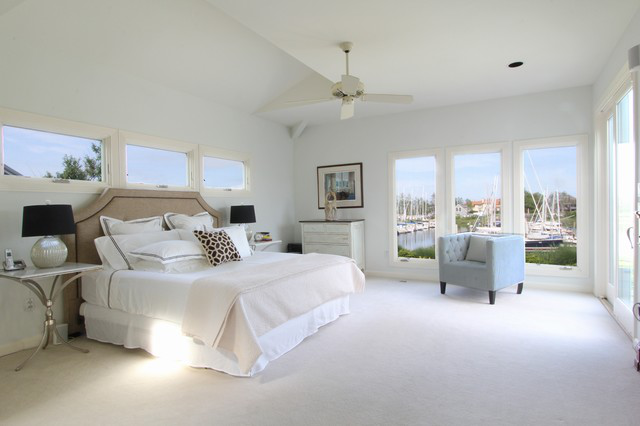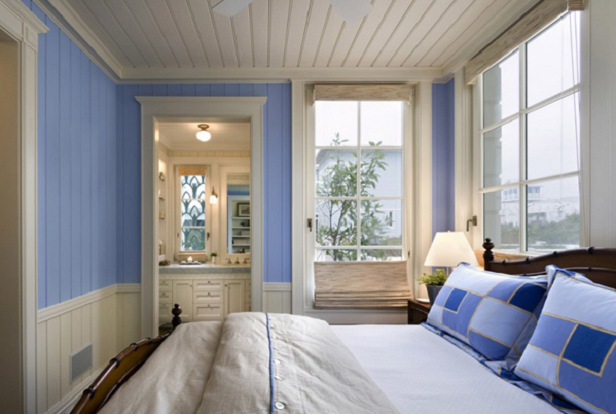 Classic men's bedroom
As you know, the classics never get out of date. A classic-style bedroom, if tastefully done, will delight the owner for many years and will not require alteration.
Such a space is suitable for a strong, strong-willed man who has achieved a lot in life and can afford expensive decoration in his bedroom..
The classic style is very versatile – you say – how can you add masculine character to the bedroom? It's very simple: we take furniture made of dark wood, put a board of solid oak or maple on the floor, cover the walls with Venetian plaster of neutral colors or paste over matte wallpaper with embossed.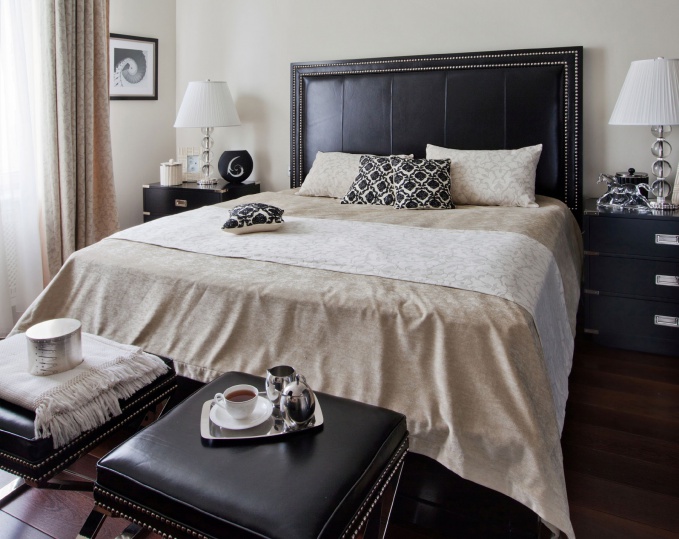 We will install false beams on the ceiling to give the interior solidity. We will add decorative elements, and the choice here is great: paintings, photographs, flowers in massive pots, vases, figurines, blackout curtains with classic ornaments, floor carpets or artificial animal skins instead of them, beautiful massive lamps and chandeliers. And everything should match the owner – beautiful, rich, with a predominance of dark and strong male colors. And to create contrast, add light colors – beige, sand, gray, white, coral.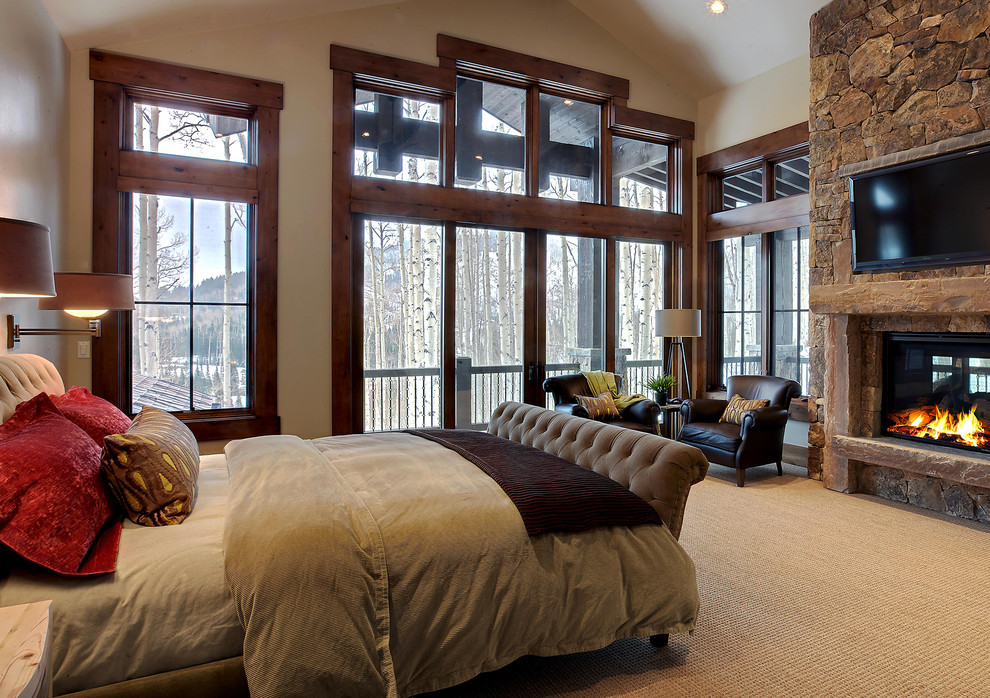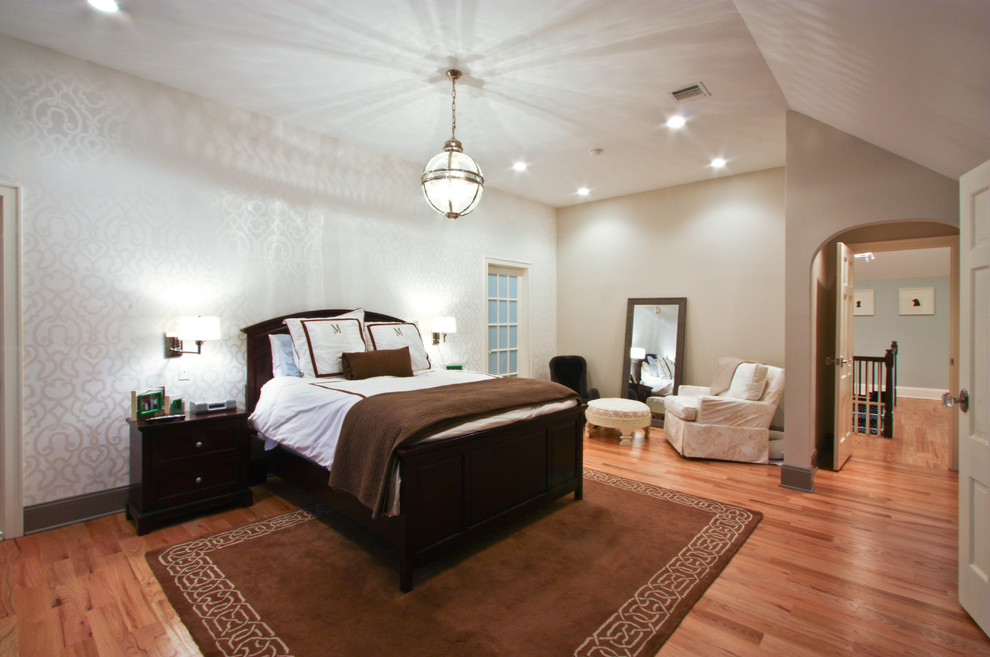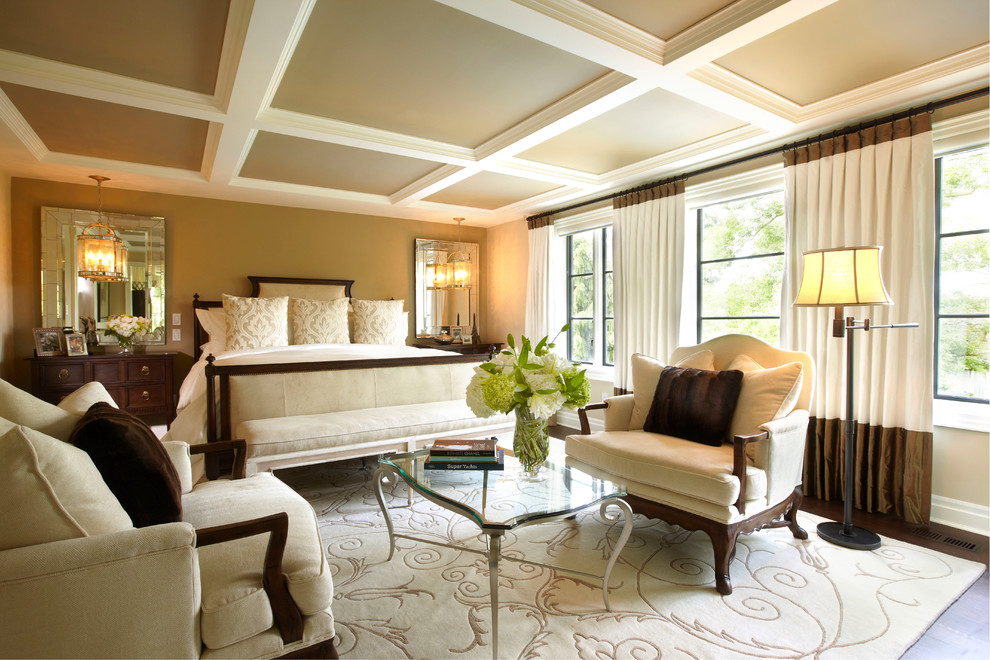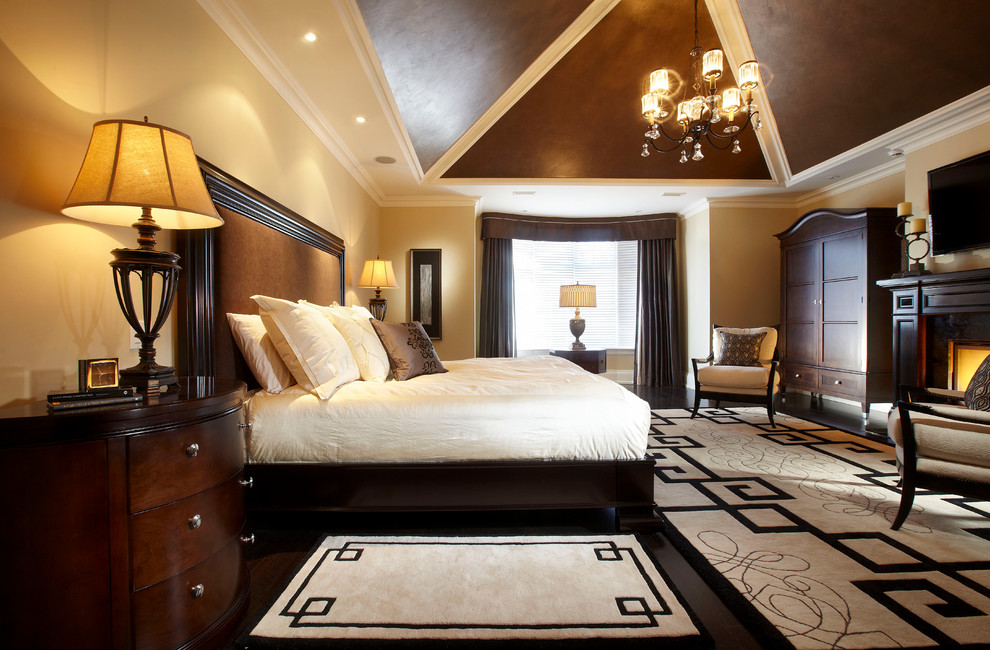 High-quality furniture, a bed with a powerful base, a laconic headboard, plain curtains on the windows, the lack of a lot of details and decor, restrained monochrome prints. The colors that the stronger sex likes – black, gray, steel, blue, light blue, white, brown, dark green.