The charm of Provence, the eponymous sunny region of France, embodied in the interior, does not lose its relevance and staunchly withstands the competition of other popular styles. For example, a Provence-style bedroom is perceived as incredibly sophisticated, thanks to the simplicity and naturalness of the materials used in the interior..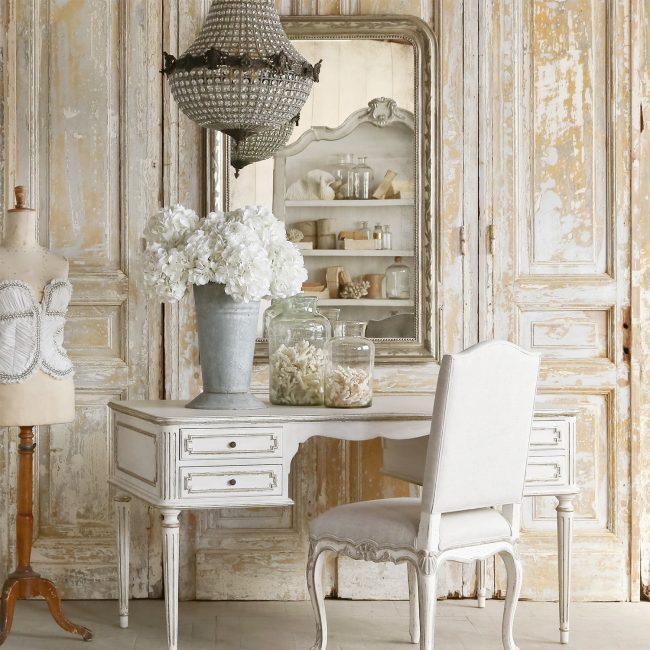 When the bustle of a big city with its pathos and incredible swiftness gets boring, you want to hide from everyday life in a cozy and slightly naive home, where everything is permeated with tranquility. Such a place can be a Provence-style house, or one of its rooms, for example, the one in which every day begins and ends – your bedroom!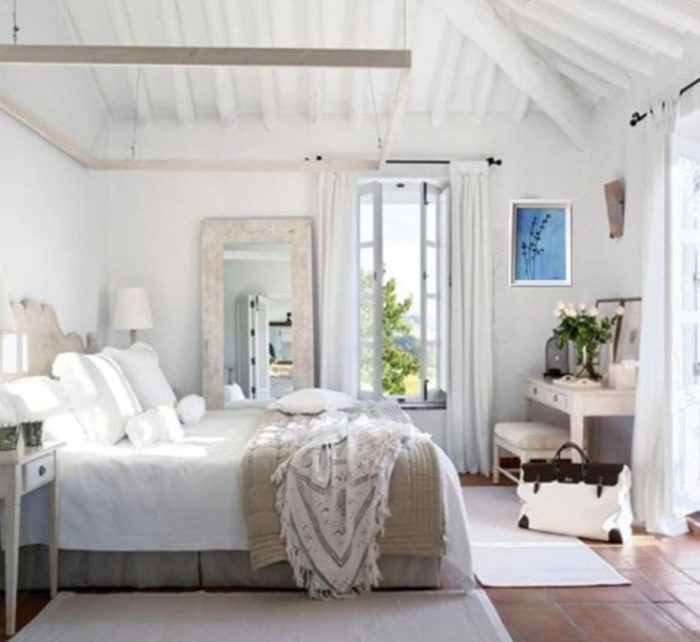 When choosing a Provence style for decorating a bedroom, you must follow some rules to create a truly characteristic interior.
The main features of the style in the design of the bedroom
Lack of contrasts
When decorating a bedroom in Provence style, it is not recommended to use too bright colors or aggressive materials. And if we are talking about the Provence style, this rule is almost fundamental for a successful design: there should be no sudden combinations in the bedroom interior, only neutral harmonious shades and textures.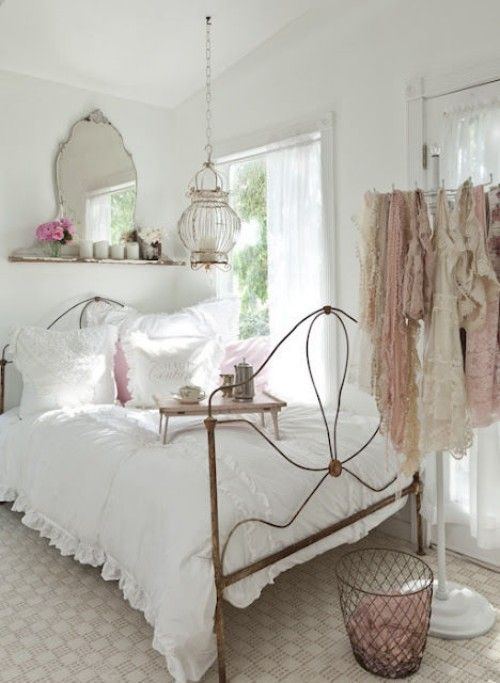 Tell «not» artificiality
Provence style does not tolerate anything artificially made, especially if it is materials for furniture. After all, if you turn to the origins, it would be strange to see plastic chairs or polyester upholstery in a French country house.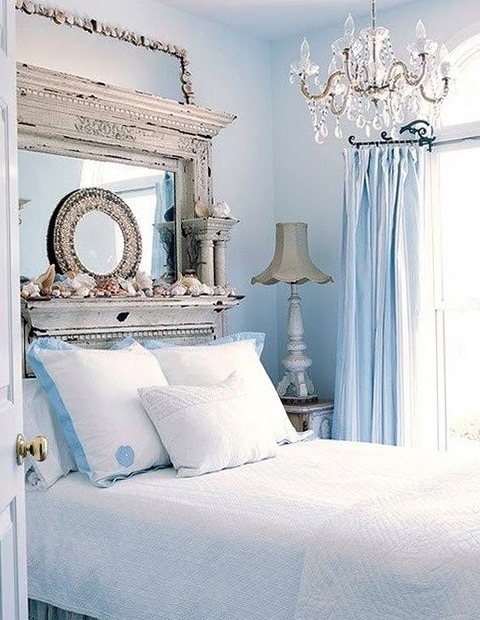 The bedroom should be light
We are talking not only about the mandatory presence of windows, but also the appropriate lighting at dusk. The room should provide for several light sources, including the main and decorative.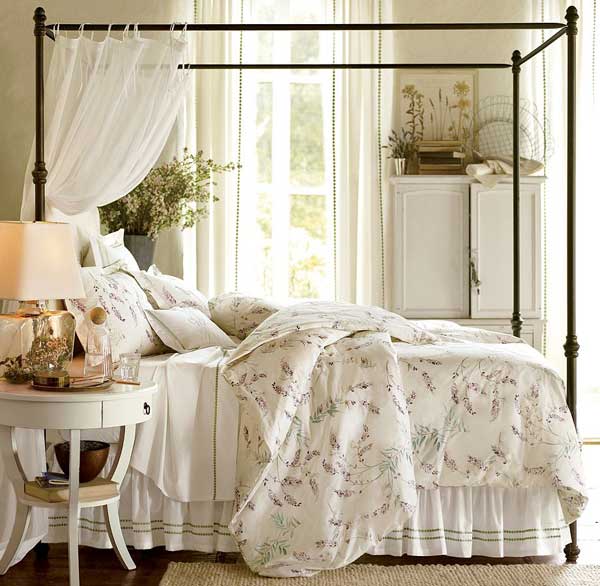 Decor is the soul of style
It is not enough just to properly furnish the bedroom and use the right materials in the cladding. As a result, Provence will be felt in it only half, but for a complete image something more is needed, something that will reveal all the uniqueness of an unusual style – this is decorative decoration.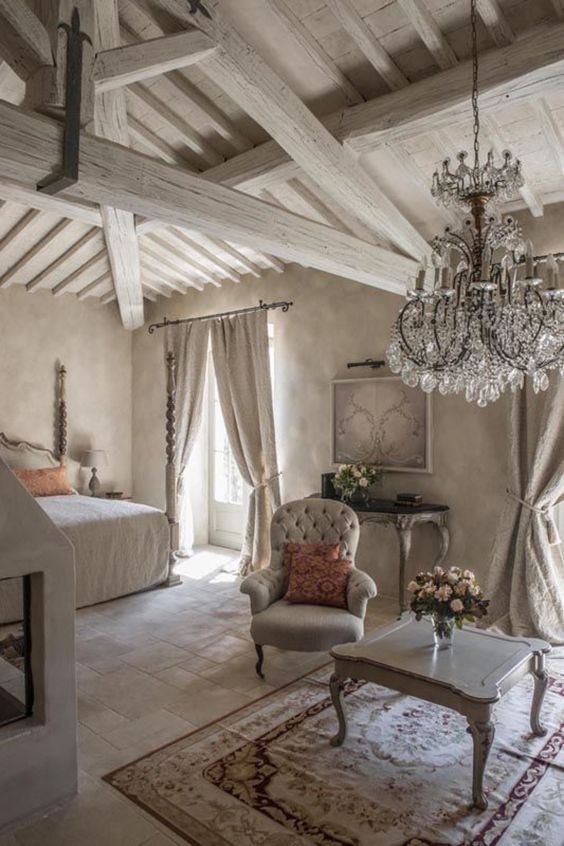 How to recreate the Provence style in the bedroom
Natural materials
In order to understand where Provence begins, you should in your imagination draw a fertile land filled with the pristine beauty of the rural landscapes of France. You need to imagine cute, cozy houses, the walls of which are barely plastered, the ceilings are decorated with wooden beams, and everywhere the same natural floors.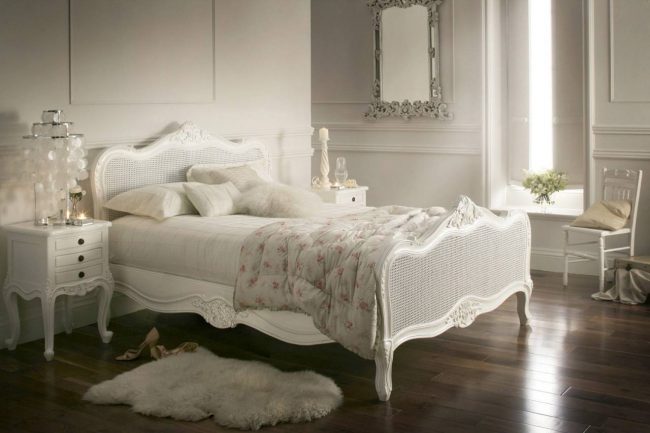 Therefore, when decorating a Provence style bedroom interior, you need to use natural, only slightly processed wood (possibly painted with one layer of paint):
• for flooring, a real boardwalk, laminate;
• for ceiling decoration – beams, cassette ceiling;
• wardrobes, dressers, poufs and armchairs, beds, dressing tables made of natural wood in furniture products;
• wood panels on the walls, headboard decoration.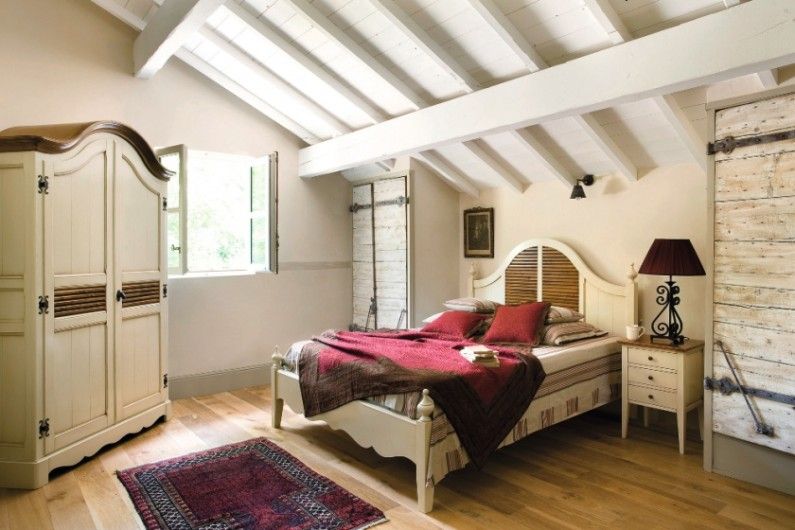 In the classic version, the walls are lined with only rough plaster, through which the masonry was visible. Today you can decorate the walls in a less radical way, pasting them with neutral embossed wallpaper or with a subtle floral pattern to match.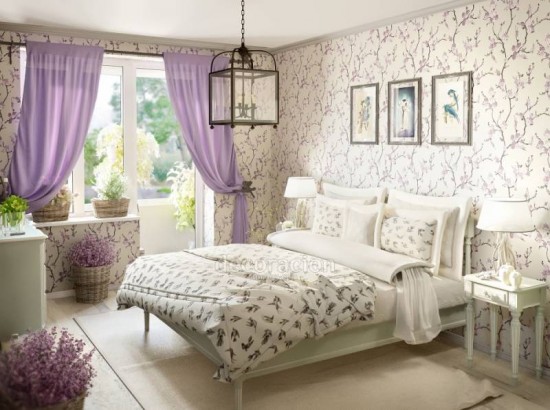 Stone or ceramic tiles are also evidence of the presence of the Provence style. In the bedroom, they can be used to revet the floor (or part of it), walls, window or doorways. But metal can be used as light forged pieces of furniture, fittings (door handles and hinges, locks) or decor.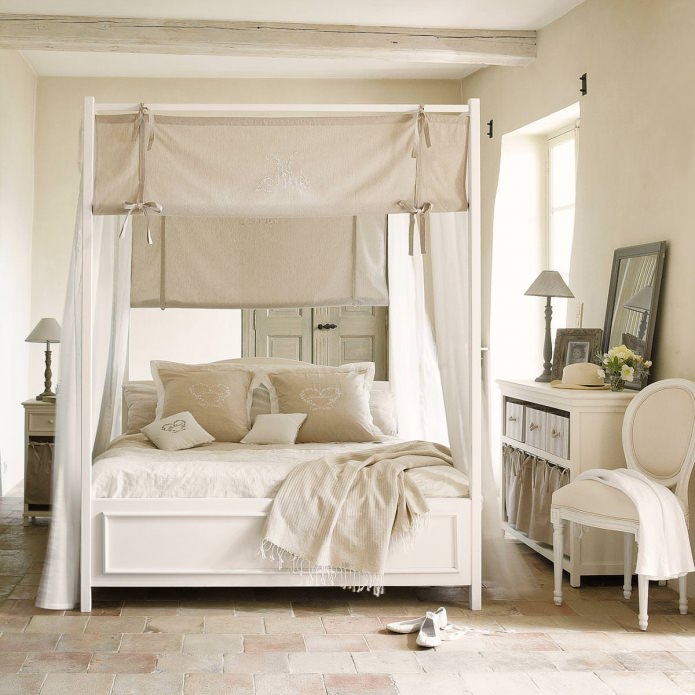 Pastel scale
As mentioned above, a Provence-style bedroom is measured, warm and cozy, and they are possible in a room where nothing irritates the eye: neither shape nor color.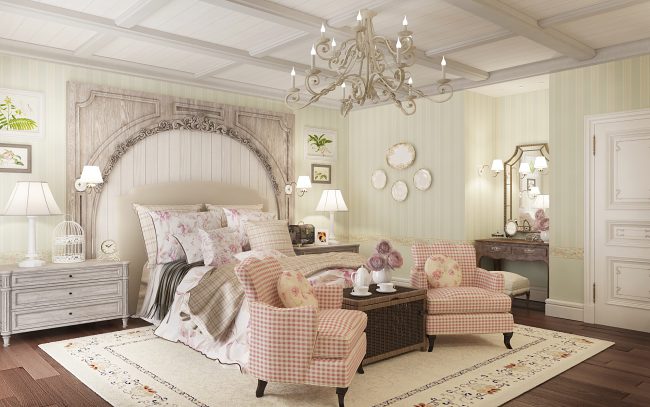 So, in order to embody the style features in the bedroom, you need to choose:
• milk, beige (sand), pale yellow, coffee with milk for walls;
• white or eggshell color for the ceiling;
• light gray, woody for the floor;
• pastel shades (blue, pistachio, lavender, light lemon, salad, wheat) for furniture upholstery and textiles.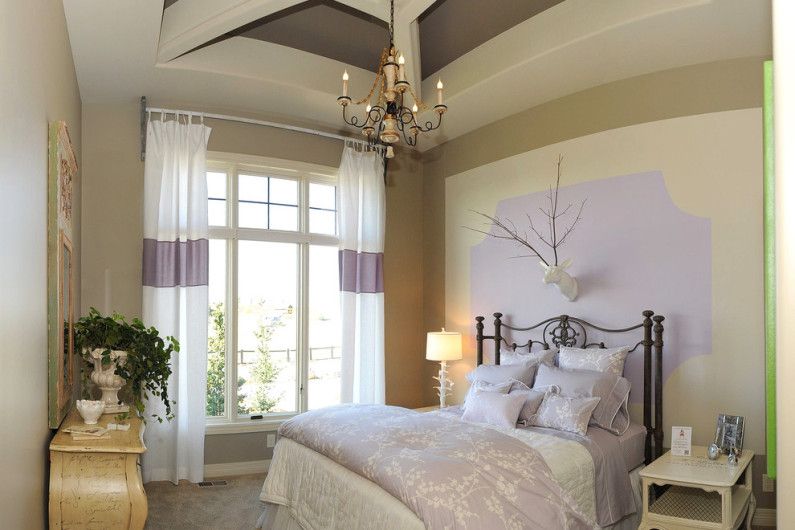 Elegant furniture
Significant attention is paid to bedroom furniture in the style of the same name, and here it should be wooden with carved elements, or with refined wrought-iron accents in the form of an ornate headboard and legs..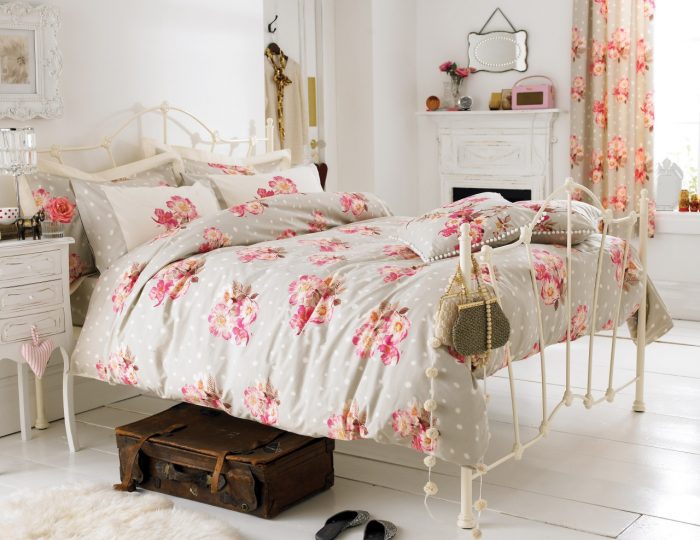 Furniture silhouettes should be chosen in simple rectangular shapes. If cabinets are installed in the bedroom, then they are, most often, wooden (or made of MDF) with paneled doors, neat handles. It is noteworthy that Provence-style storage furniture is raised on the support legs and painted with a light (white, cream) shade of paint, followed by applying decorative patina layers for a characteristic effect «aging».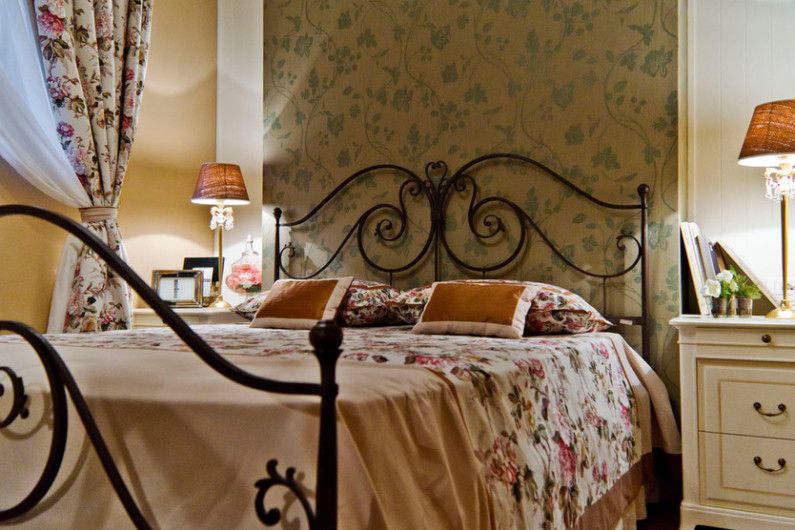 The bed is the central object in the interior of the bedroom, and the elegant carved headboard and the same footboard are its hallmarks. The rest of the furniture is placed around the sleeping bed: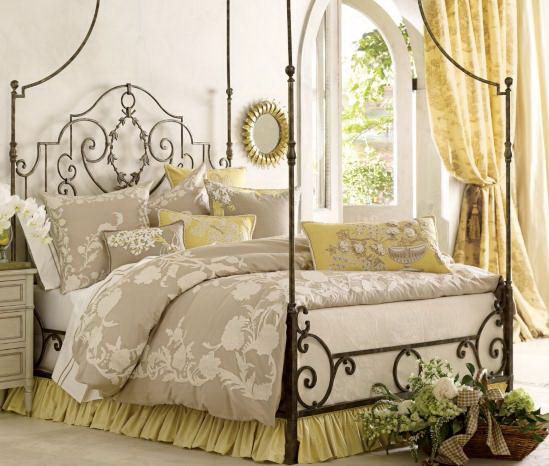 • curbstones, required complete with a bed;
• dressing table on the opposite wall or near the window – a cherished object for any woman's bedroom;
• chest of drawers, also with a characteristic texture, decorated using the decorative decoupage technique.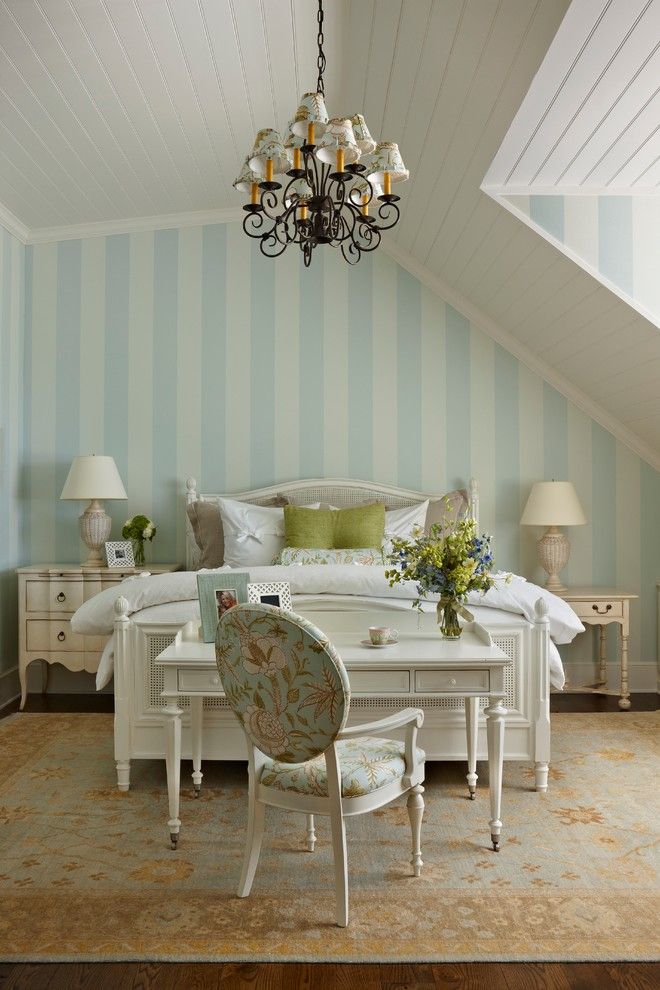 Open to daylight
A distinctive feature of the Provence style interior for any room is lightness and visual weightlessness. In part, this is due to the widely used neutral color scheme, which is somewhat «expands» space. At the same time, it is difficult to imagine the same room with dense, dully drawn curtains on the windows..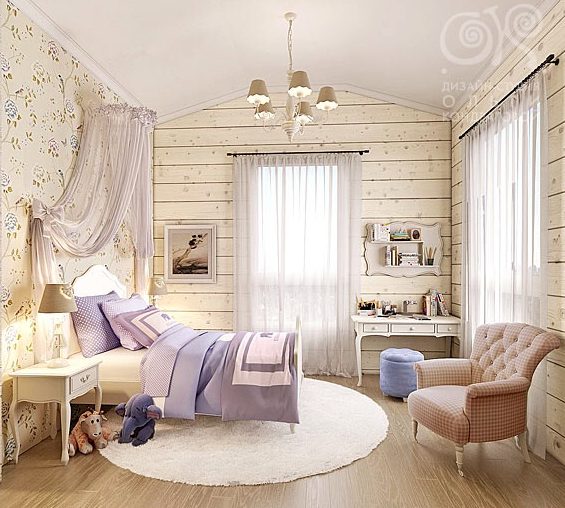 Therefore, the Provence-style bedroom must be as illuminated as possible, and the windows – with light, almost transparent curtains made of natural fabrics (cotton, linen, chintz, cambric).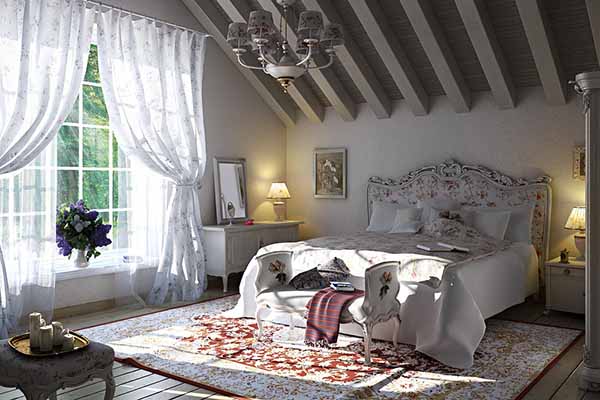 It so happens that the windows are not curtained at all, but you most likely live in a city, perhaps in a multi-storey building next to the same building. Accordingly, it is better to traditionally decorate the opening, if not dense, but still curtains with a delicate floral pattern or pattern. «peas».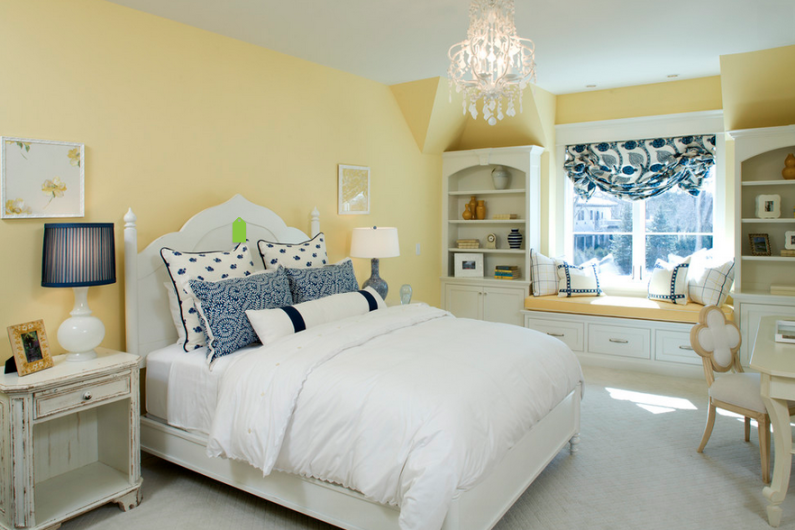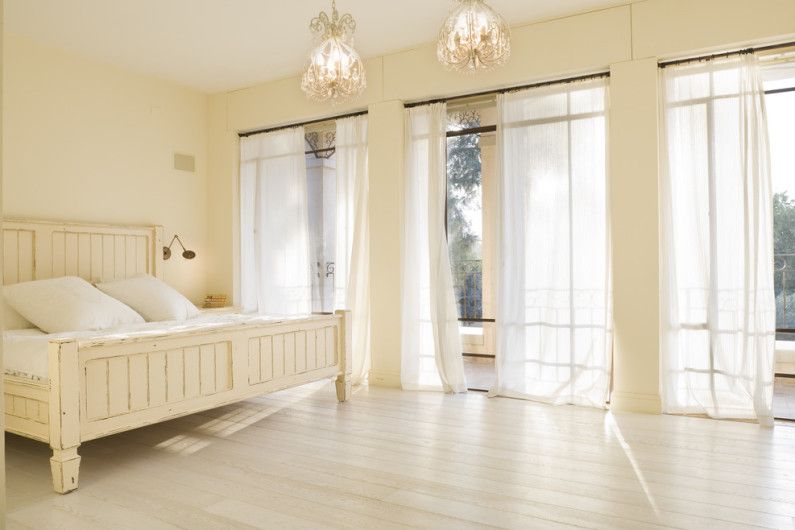 An abundance of decorative things
The area in which you can give free rein to your own imagination on the theme of Provence style in the bedroom is decor. In no case should it sound too assertive, rather moderate, but with the lack of necessary gizmos, the room risks becoming boring and even empty.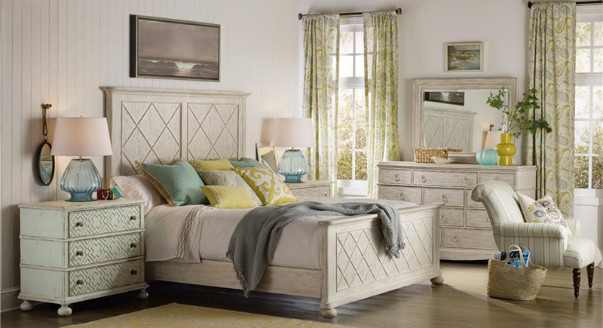 Textile
Use natural, pleasant-to-touch materials that could be found in a small country house in the village: muslin, cotton, chintz, linen, wool. But silk, velvet and fur are completely unsuitable for decorating a bedroom in a similar style..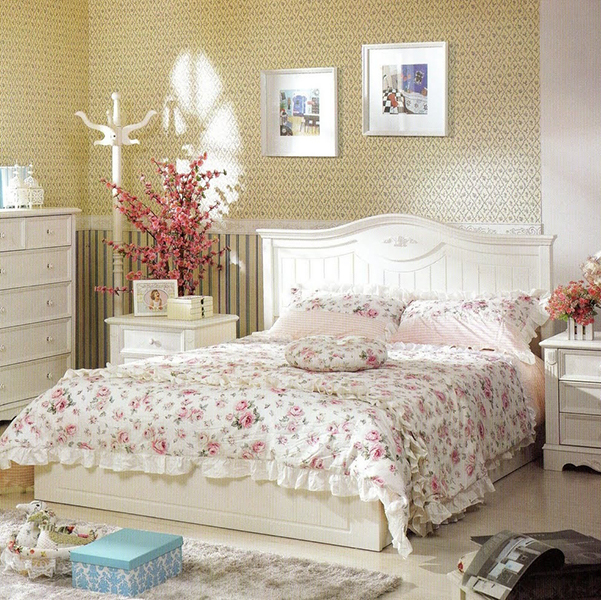 Use a variety of fine-stitch and floral bedspreads; pillowcases with ruffles and embroidery for pillows; simple linen covers for chairs and armchairs; macrame or cross-stitched napkins are also suitable for decorating the tops of dressers and cabinets.
Ceramics
Tables, bedside tables, pseudo fireplaces and other surfaces can be decorated with graceful faience figurines, candlesticks and vases with fresh flowers.
Lighting
The main light source in such an extraordinary bedroom should be just as extraordinary. It can be a wrought iron chandelier with lamps – candles or fabric lampshades. A decorative or work light should be installed in the bedside area, as table lamps.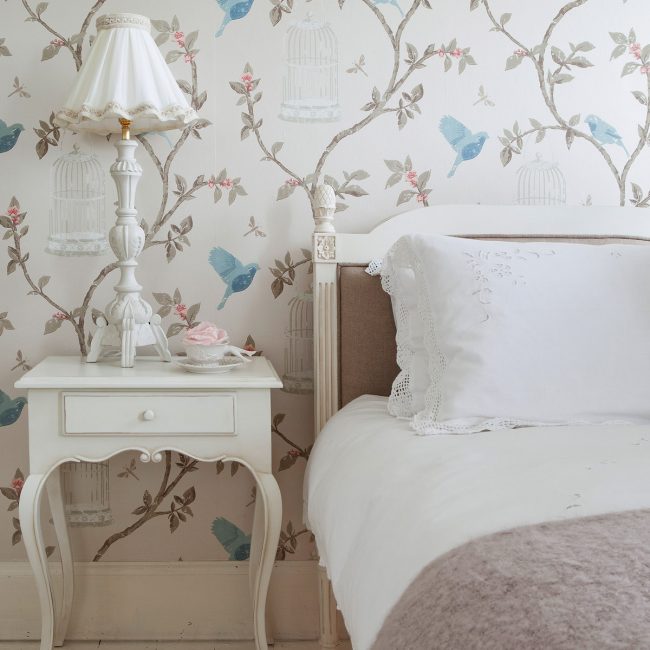 Choose models with a pronounced rustic sound (wood base, fabric lampshade with floral ornaments or ruffles), or stylized in Provence style (metal base, cone-shaped lampshade made of natural fabric).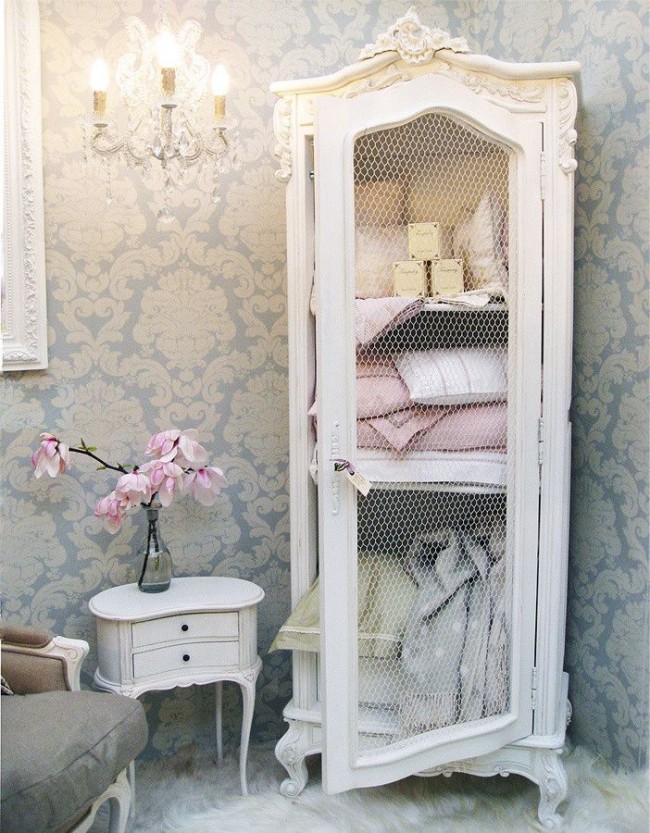 Pay attention to the thermal saturation of the light emanating from the lamps, since it must be warm, yellowish, not bright. Otherwise, pale cold lighting can instantly destroy the charm of the Provence style atmosphere..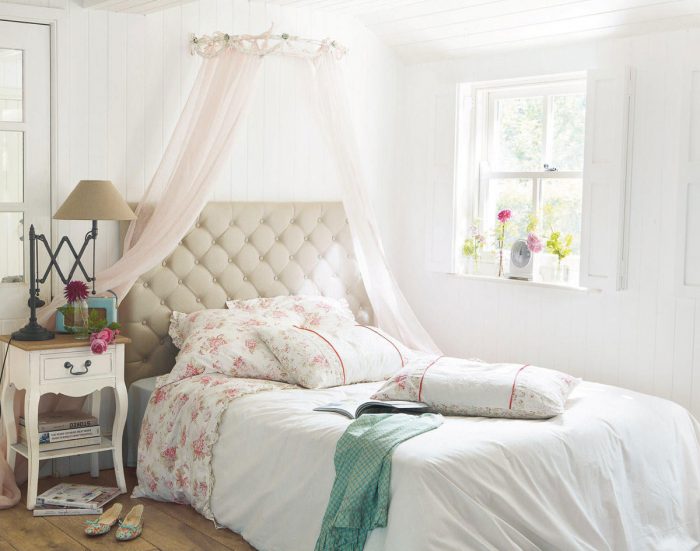 Good luck!