More recently, we talked about using shades of green in the kitchen, discussing all the benefits of such a solution. Today we will talk about whether it is worth applying this or that shade of green in the bedroom and about its effect on the space of this room as a whole..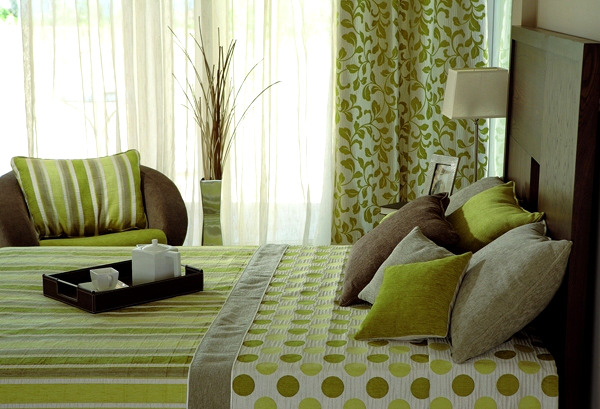 To begin with, it is worth reminding once again that green is a many-sided color, it manifests itself in shades of young foliage, dark needles, mint ice cream, dense jungle and impenetrable swamps, precious stones and fresh greenery. Accordingly, each of them has the power to influence the image of the room, creating a rich palette of impressions about the bedroom..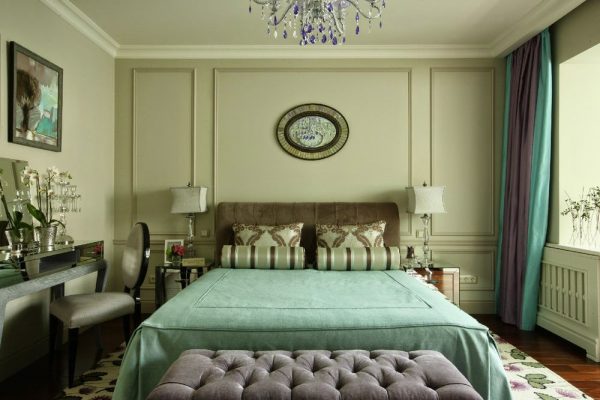 Features of green for the bedroom interior
Toning environment
First of all, this color evokes clear associations with nature, warmth and dense forests. Therefore, in the green bedroom you will find the long-awaited peace, relax and rejuvenate. The atmosphere of a room dominated by green will definitely contribute not only to relaxation, but also to fruitful mental activity, for example, if there is your desk in the room..
It is noteworthy that green can be used in the design of bedrooms for adults and children, it is loved by both men and women, but everyone, in turn, can choose the shade they like, in accordance with personal preferences.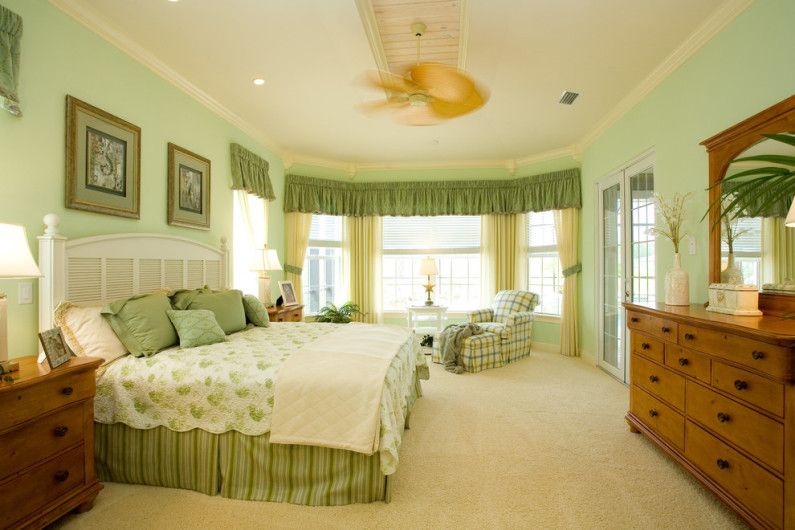 Bedrooms breathe special harmony with shades of natural warm green in the interior, combined with pieces of furniture made of natural wood. If you have already purchased a similar one, do not hesitate in choosing a suitable color for walls or textiles: grassy, ​​the color of young needles and blossoming leaves is best suited.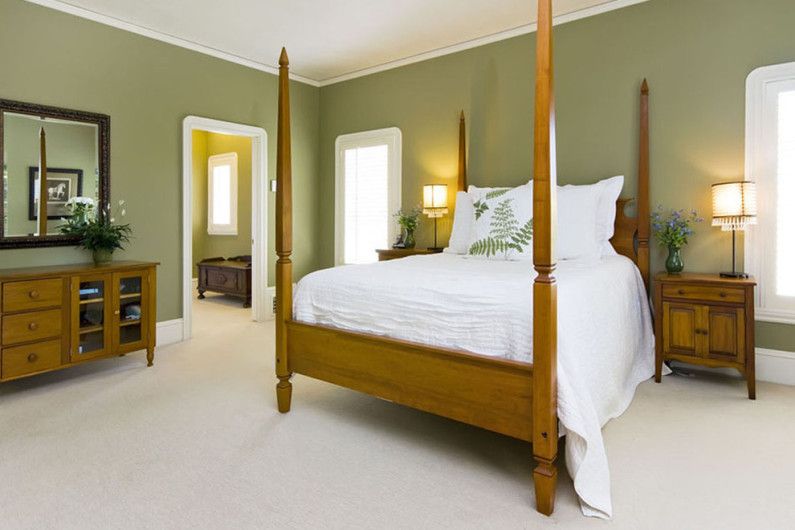 Green bedroom in different styles
The advantage of green in the bedroom, among other things, is its versatility and even, «livability» in completely different, not similar interior styles. So, if you skillfully operate with different shades of green, you can easily emphasize this or that image of the bedroom.
Classic style
In such rooms you will not find a riot of colors or creative objects, there is also no contrast of textures in them. Bedrooms in a classic style are chosen, without a doubt, by individuals who are mature, with certain, formed tastes and views..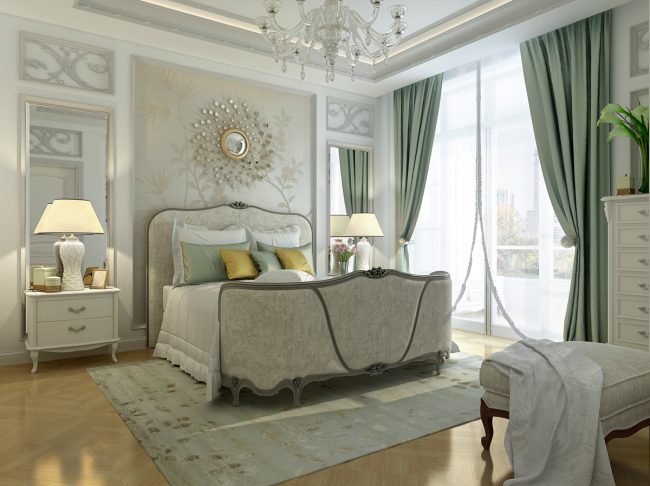 For traditional bedrooms, comfort and quality are paramount, permeating the entire setting, and primary colors play an important role in creating an elegant, but not pretentious, atmosphere of the room. Of all shades of green, light and light should be used here, always warm (pale pistachio, pastel herbal).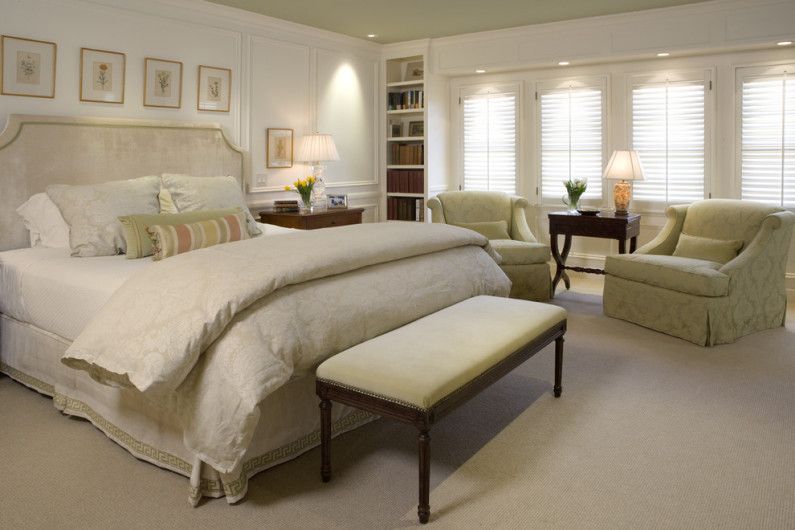 Modern style
The laconicism and symmetry of modern bedrooms can be quite successfully complemented by an unusual dense green color: coniferous, gray-green. It is better to apply it here locally to highlight any functional area, or in order to diversify the room with a color spot.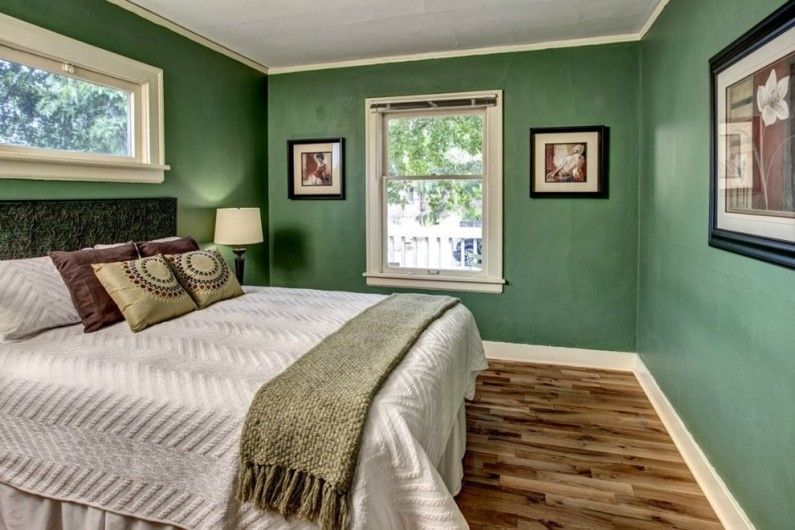 Colonial style
Such a colorful style, if used in the interior of a bedroom, always welcomes the presence of rich natural flowers of living, sometimes wild nature. Characteristic ethnic pieces of furniture and decor can be complemented by textured textile upholstery, curtains, decorative pillows in green with leafy print.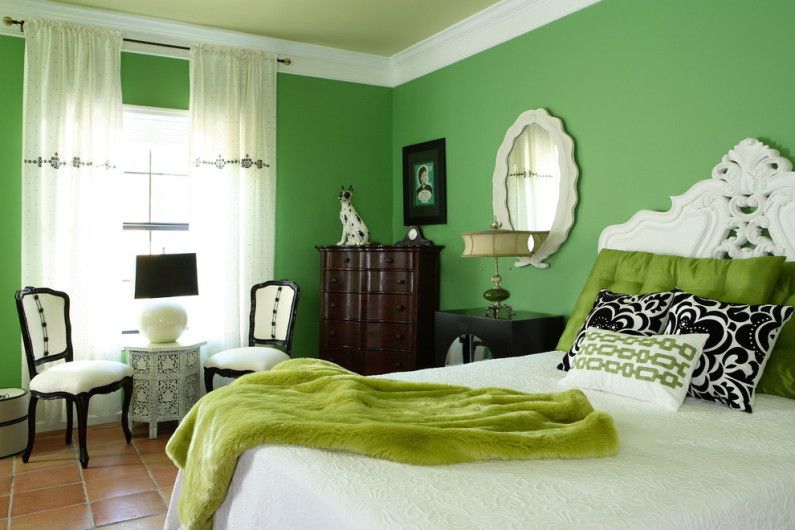 Derived shades of green
From the above it becomes clear: the green color in the bedroom has a different character, from calm and mysterious, bold and funny, to gentle and quivering. This is confirmed by its gradation from dark to light, and from cold to warm shades, which greatly helps when decorating rooms on the north or south side of the house..
———————————————————————————————————————————–
The same shade of green can look and be perceived differently by different people..
———————————————————————————————————————————–
In the bedroom, located on the north side of the house, it is better to use a light and warm tone (salad, pistachio). It will refresh the room and visually make it warmer and more comfortable. In a room whose windows constantly let in sunlight, you can use a cooler or darker shade of green (emerald, mint). On hot days, the interior of the bedroom will become lighter and fresher..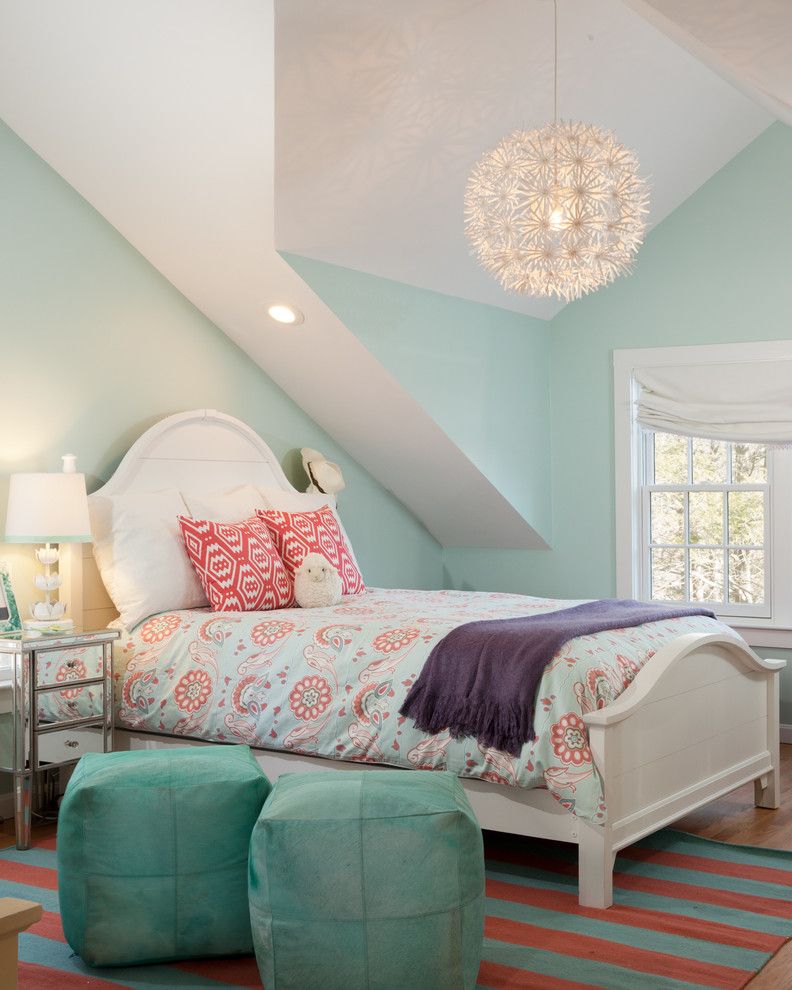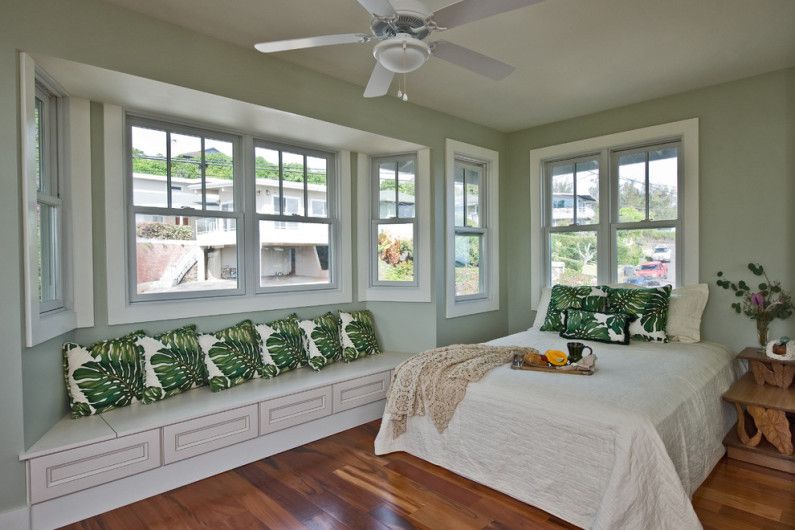 Cheerful accent
When spring comes, its influence penetrates even through the concrete walls of houses, and we strive to somehow embellish our homes. But even in cold weather, the thirst for warmth and sunlight reminds of itself – in both cases, a variegated palette of green will help to refresh and bring bright reflections into the bedroom.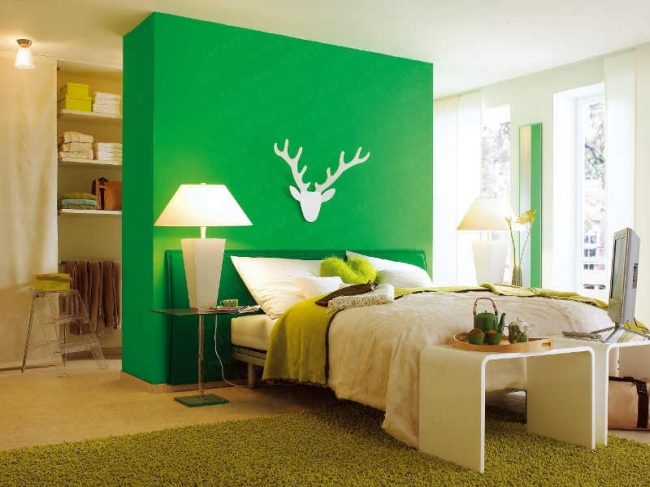 It is enough to use two or three accent objects in the color of luscious greenery, young shoots and sparkling emeralds to transform the room, sound in a new way, catchy and lively.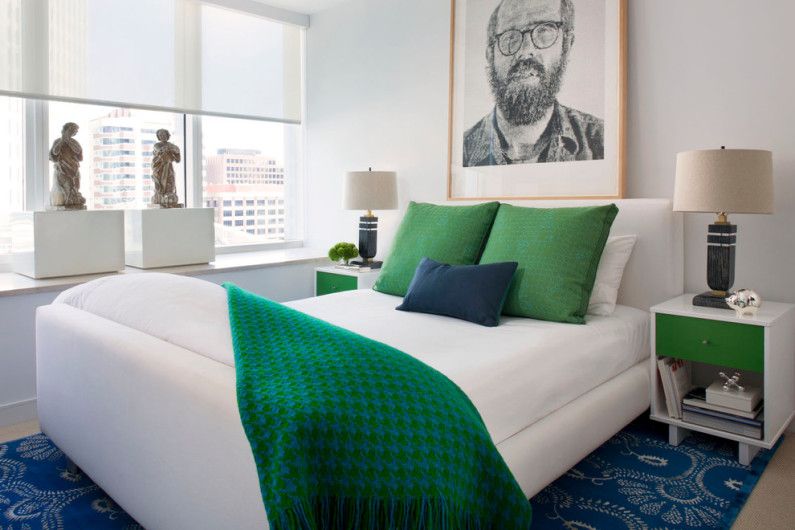 Try using a warm natural shade of green, say, young grass, in textiles with different textures – velvety and satin. This technique somewhat diversifies the decorative design, making it more interesting. Also combine green with ornaments and graphic prints for a more picturesque bedroom.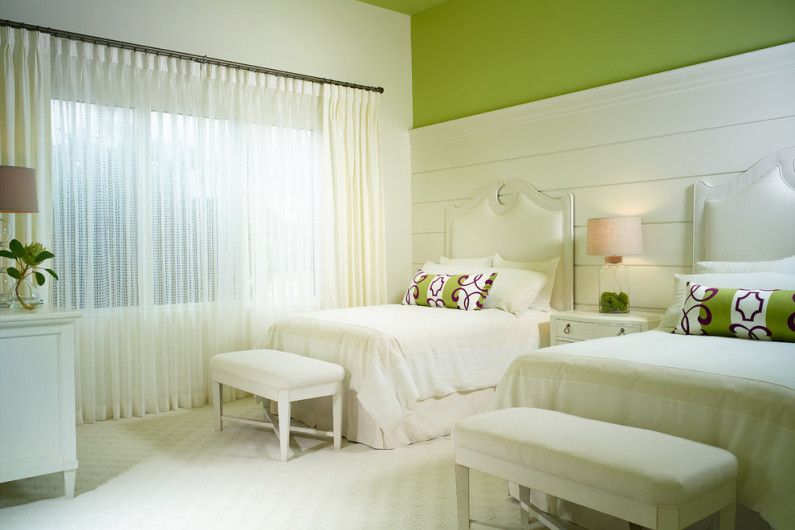 Eternal friendship
Green is known to be extremely friendly towards other colors and shades. In a bedroom interior, it can work wonders by balancing or shading catchy combinations and neutral tones. For example, a room in blue and white tones will become visually warmer if you bring a natural shade of juicy greens, pistachios, young spruce needles into its setting. Red-burgundy combinations in the bedroom against the background of green elements will be perceived softer, calmer, and the light interior will become livelier and brighter.
Successful combinations with green for the bedroom:
————————————————————————————————————————————–
Creamy, herbal, turquoise.
Green, ocher, lilac.
Cinnamon, coniferous, coffee, gray.
Salad, graphite, salmon.
Bright herbal, pale blue, white, ash pink.
————————————————————————————————————————————
There are a large number of similar interesting combinations, in which green looks completely organic. Using such variable combinations, you can create a beautiful, harmonious, and very correct interior..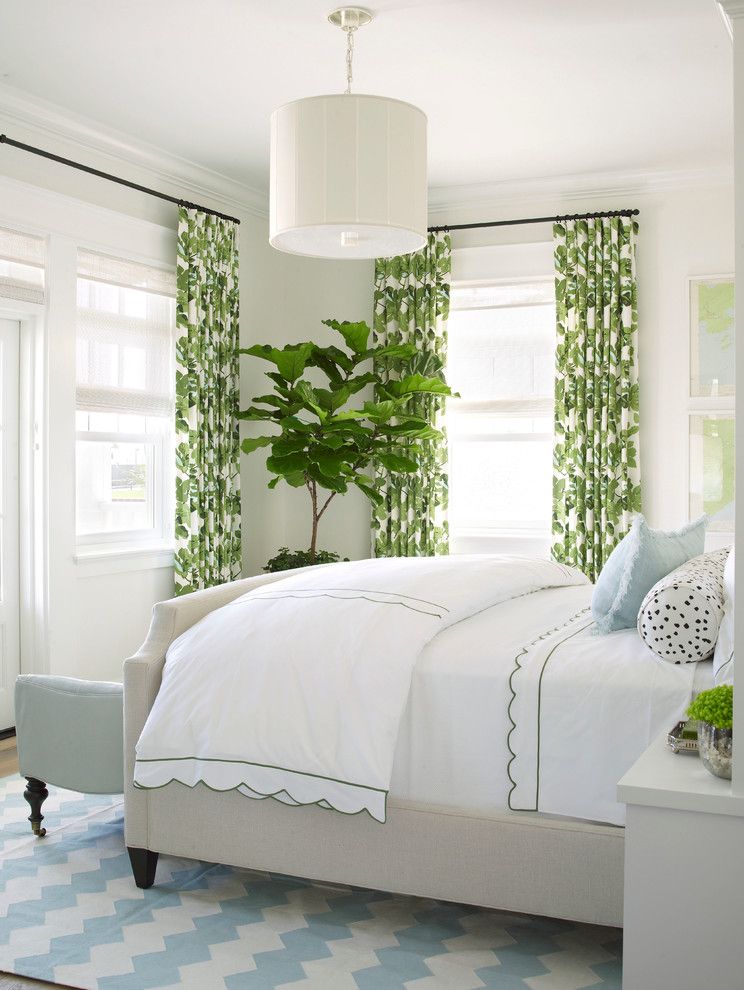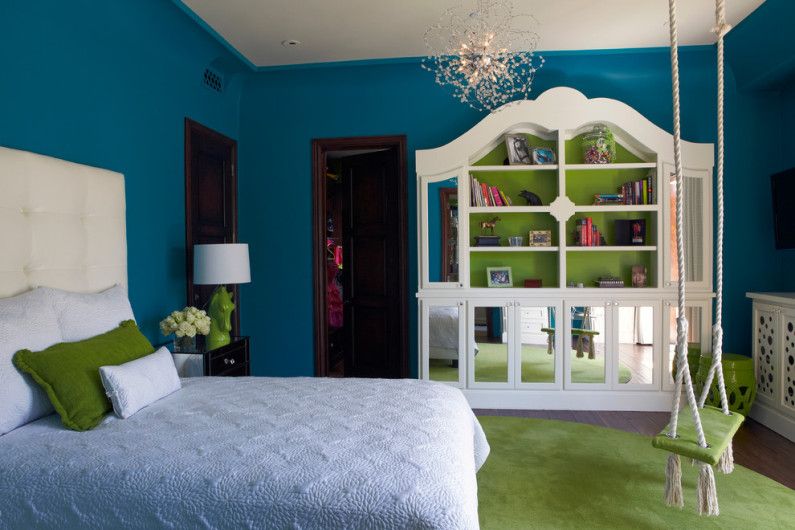 Good luck!