Today we would like to highlight an interesting topic for lovers of everything white – bedrooms in white. At first glance, it may seem that a white bedroom must necessarily be made in a Scandinavian style, where white is the main color. But this is a misconception, since a white bedroom is appropriate and beautiful in almost any interior style..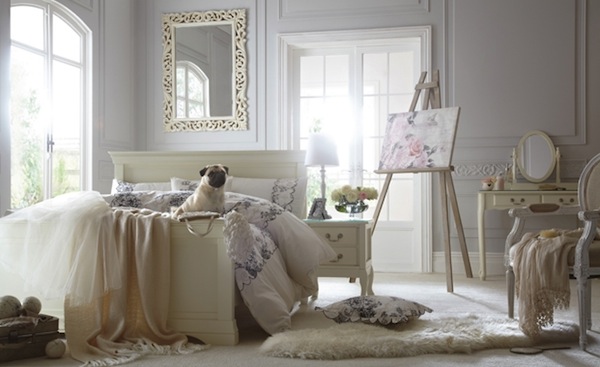 We will look at this with examples of Scandinavian, Mediterranean, modern classics, minimalism, romanticism and art deco.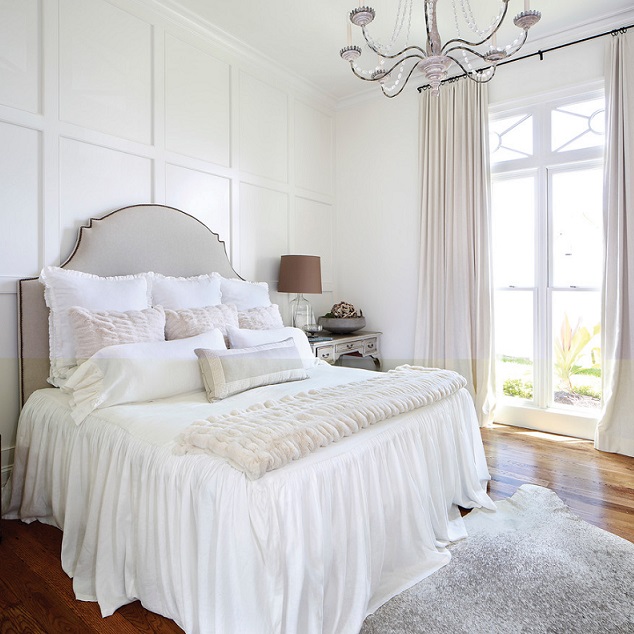 Some basic tips for working with white in the bedroom:
♥  White color visually enlarges the space, so it is perfect for small rooms
♥ A completely white bedroom creates a feeling of lightness and cleanliness, in such an interior it is cozy and pleasant to stay for a long time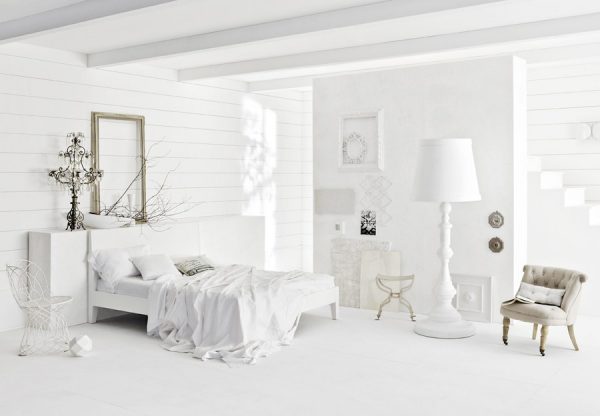 ♥  White can be easily combined with any other colors and textured materials
♥  Be sure to introduce bright spots or add other light colors so that the bedroom does not cause the well-known «sick leave» associations
♥  If you are making a completely white interior, introduce different textures so that the room does not become one faceless white spot
White and Scandinavian style bedroom
This style is perfect for a bedroom in white, as its entire base is white. There won't be a lot of it here, just add different textures and materials: painted brick, aged wood, parquet board in a natural shade, walls painted with matte paint, from fabrics – linen, cotton, knitted large viscous blankets and rugs.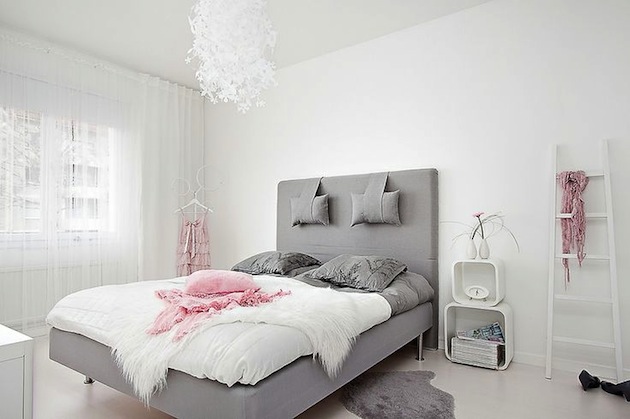 As a rule, the Scandinavian style is characterized by «cold» white when not in the room «warm» milky and beige shades of white. Of course, no one canceled the accent spots, but they will be more concise than in other styles..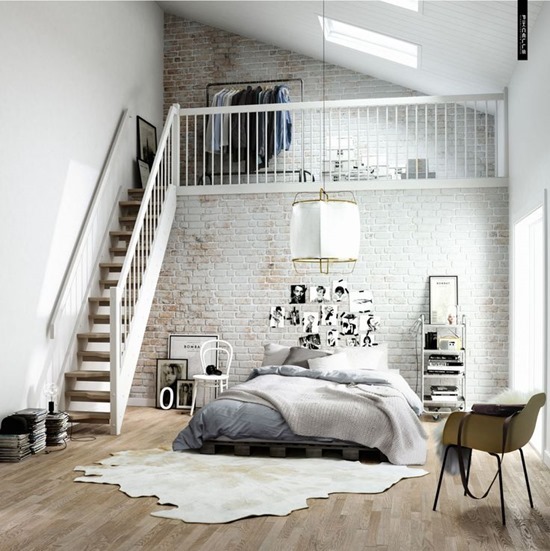 The room should have large bright windows so that it»bathed» in the light and sun.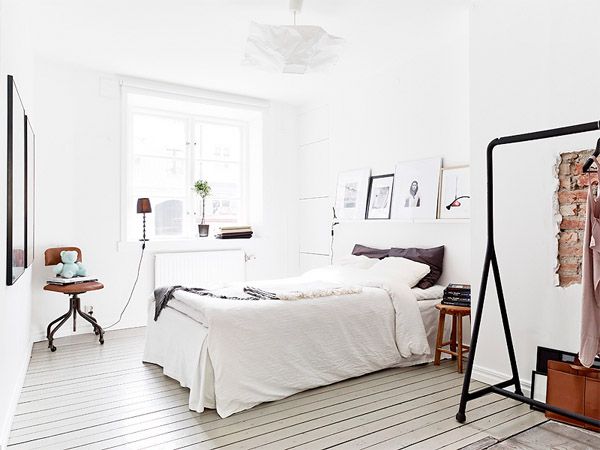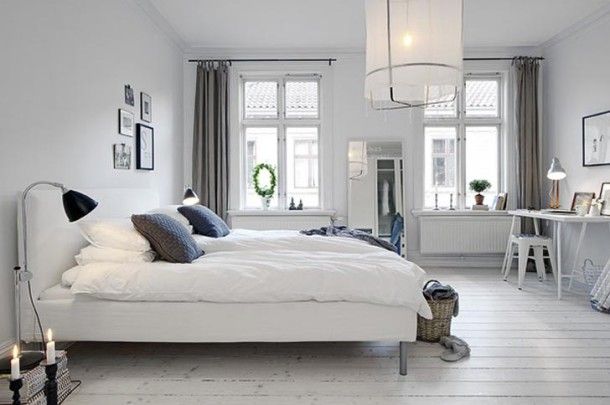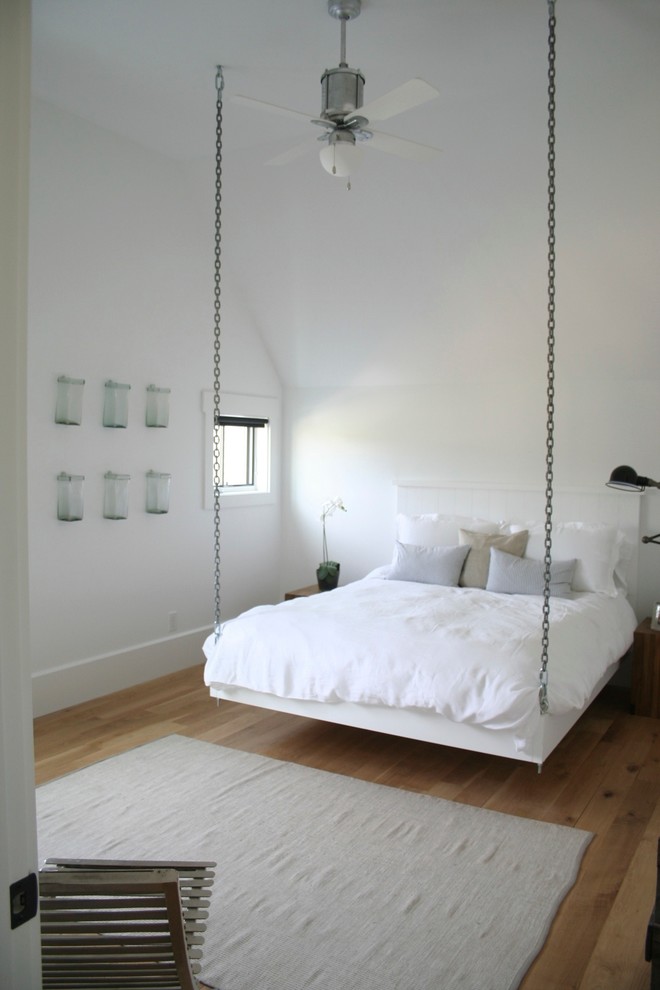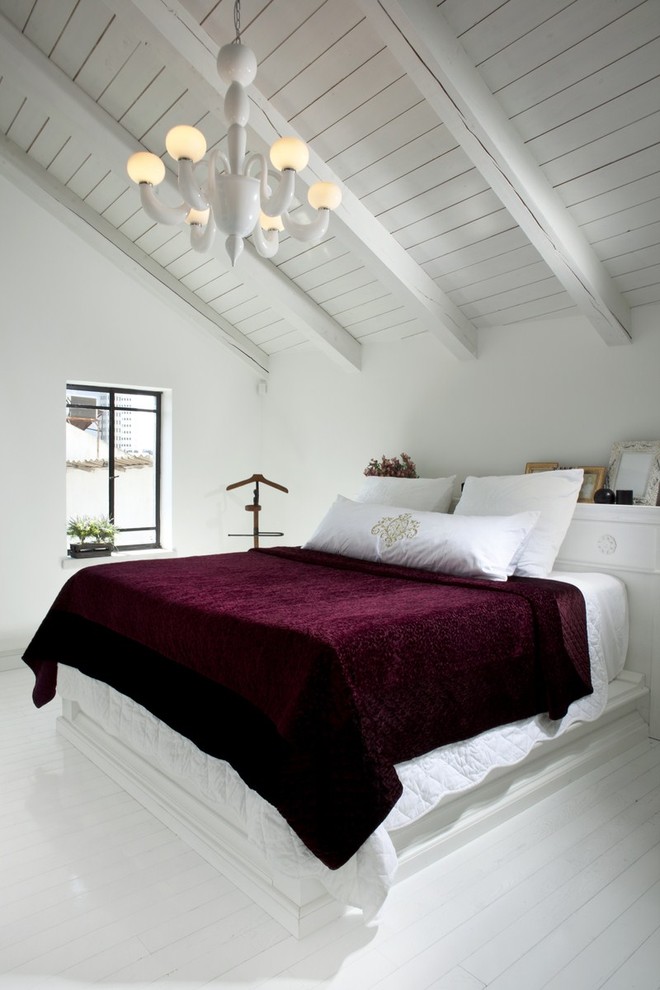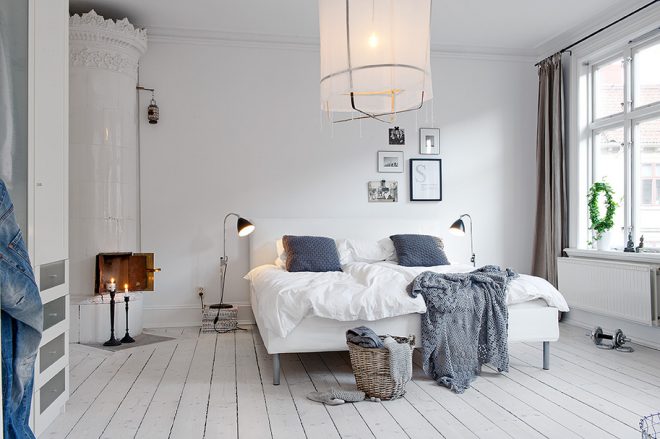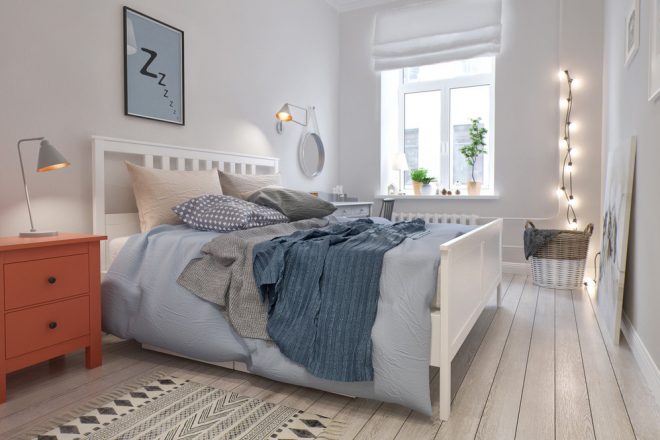 White and Mediterranean style bedroom
Mediterranean – light airy nautical style. Closing our eyes, we imagine a house with large open windows, from which gusts of wind beat out white flowing tulle, everything is white, but bathed in the sun, and from that it seems golden – this is what a Mediterranean style.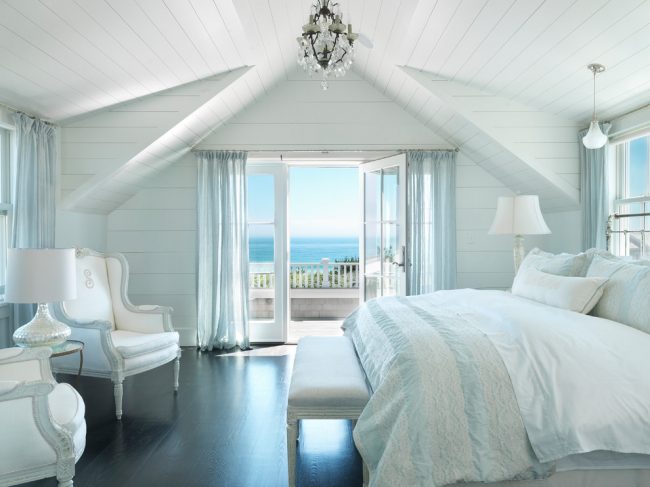 ———————————————————————————————————————————–
A white bedroom in a house on the sea will look simply luxurious, the air itself will create the right mood. But what about being in an ordinary city apartment, where you also want to have a piece of summer? Everything is not so complicated, maximum simplicity in the interior is white walls and furniture, the floor can also be white or light wood. In such a bedroom, the main thing is the details..
————————————————————————————————————————————
Choose one wall or floor and sheathe it with a rough board, painted white, or better yet, with a craquelure effect (cracked surface). You can add light blue to accessories, such as bedding.
Next, add accessories in a nautical theme: a large chest, antique wooden boxes, shells and starfish, in addition, an old chest of drawers or a dressing table made of old boards will be a wonderful decoration.
Advice: Canopies made of transparent fabrics over the bed, or draping the ceiling with chiffon will be very appropriate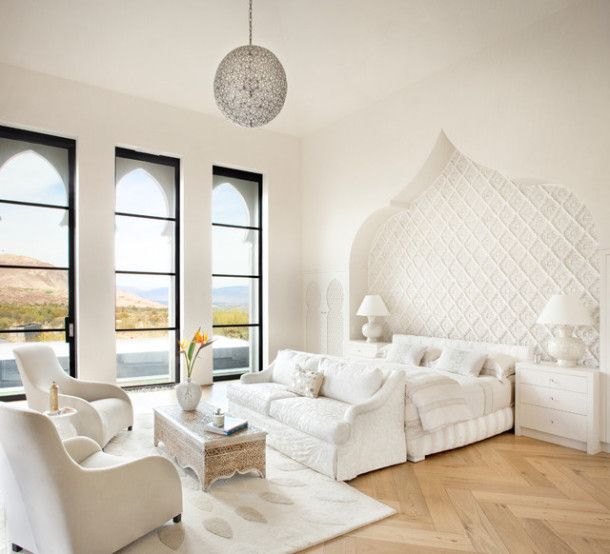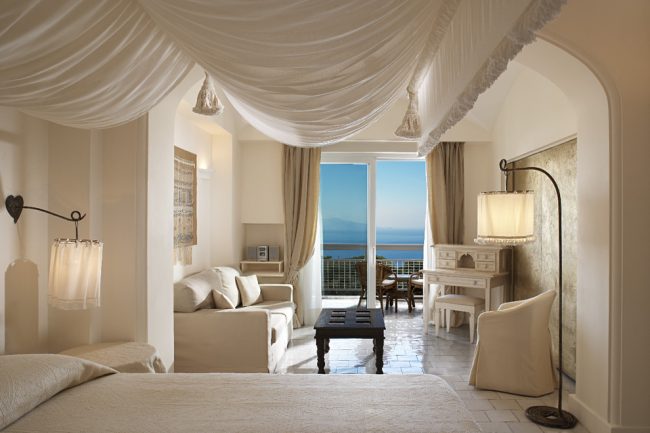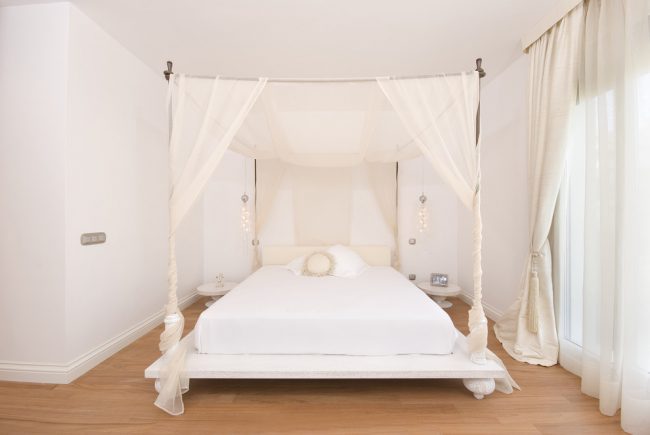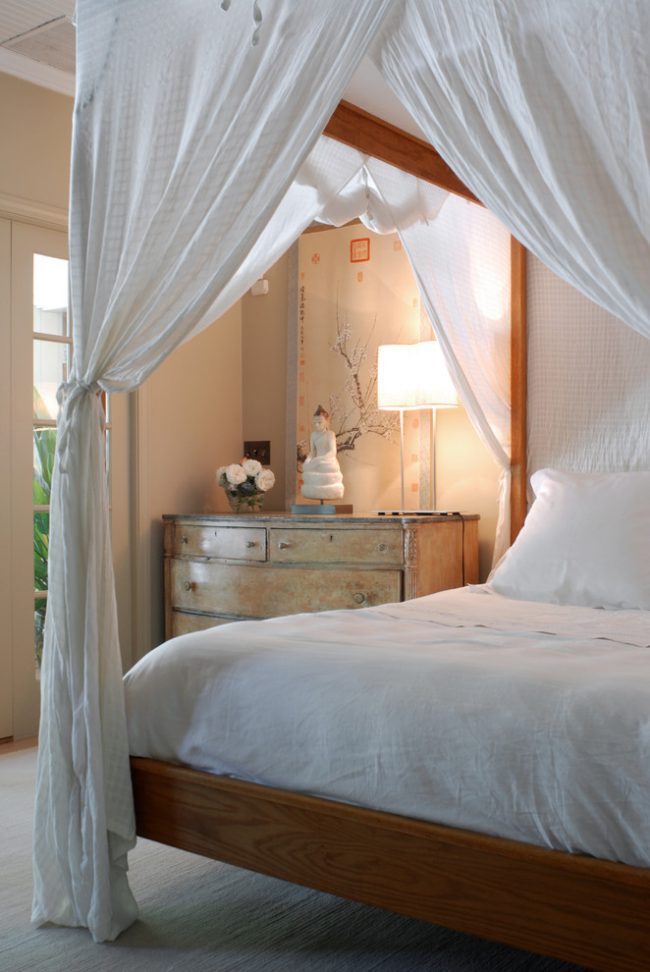 White and classic bedroom
An unconditional attribute of the classic style in the interior is the luxury and richness of the interior, the presence of a large number of accessories and decor.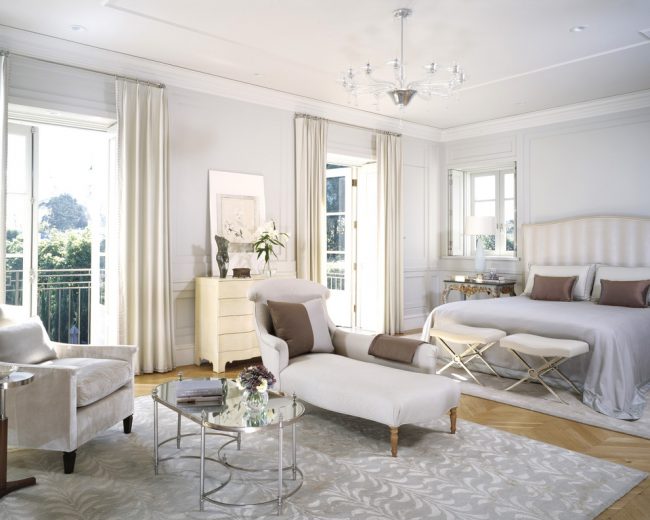 ————————————————————————————————————————————-
Therefore, the interior is still beautiful and luxurious, but everything is in a light scale, and not necessarily in a pure white color, here you can afford color variations in a light pastel scale: mint, beige, cream, peach, pink, pale green.
————————————————————————————————————————————–
the main thing – adhere to the classic line in everything: a large luxurious bed, paintings in rich frames, natural expensive fabrics – silk, satin, velvet.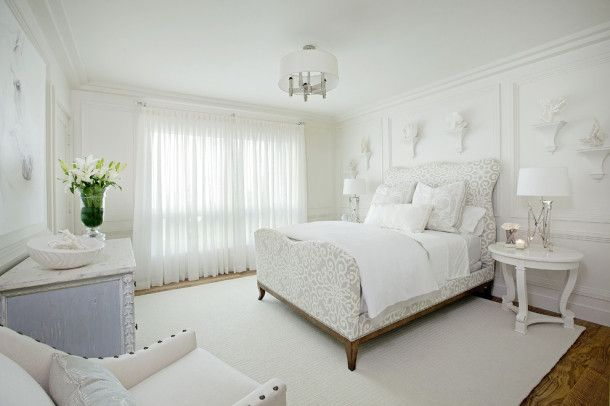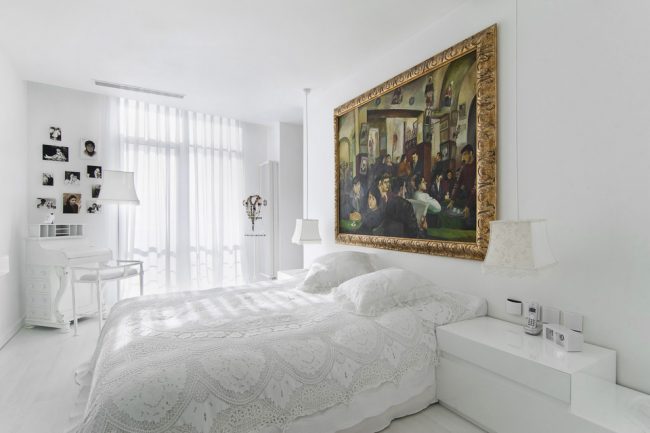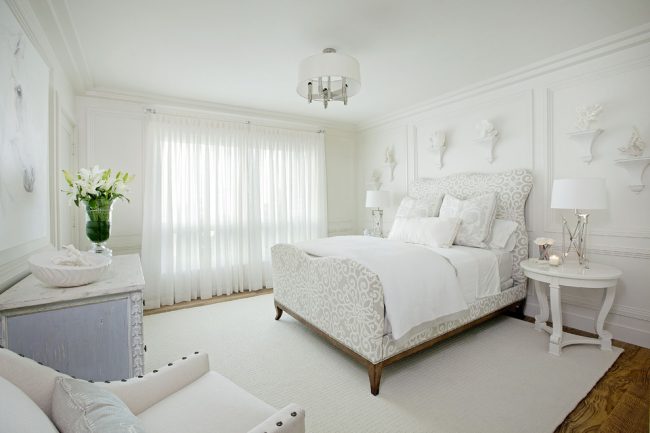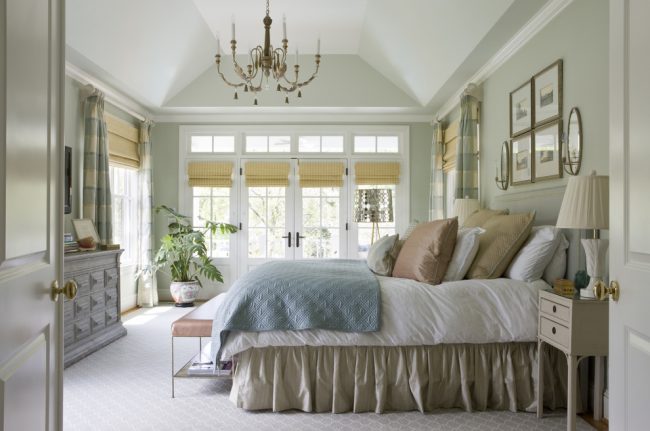 White and minimalist bedroom
Minimalism, just like the Scandinavian style, fits perfectly into the concept of the bedroom – simple straight lines and pure colors.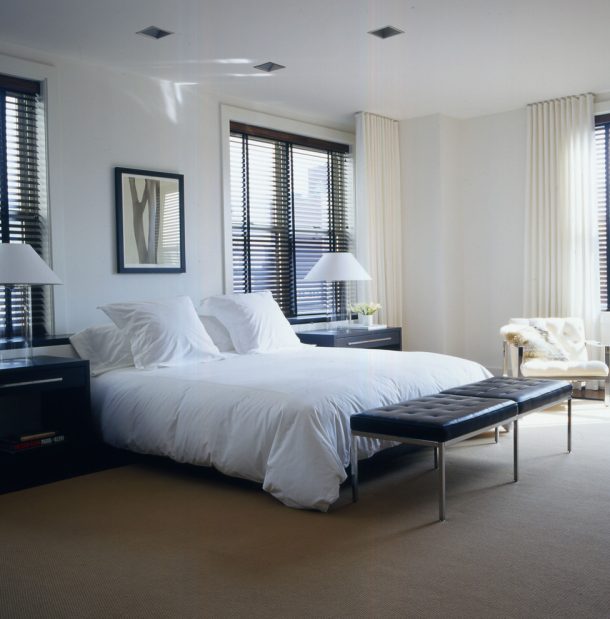 Advice: Add accessories and decor in contrasting colors to enhance the beauty and laconic forms.
The white bedroom in minimalism looks even more voluminous and airy, since simplicity and laconicism reign here. A large number of light sources will also be useful in such a bedroom – due to the simplicity of the forms, the whole bedroom will become the background for the play of light reflections. Warm color accents will appear here and there visually «cold» interior.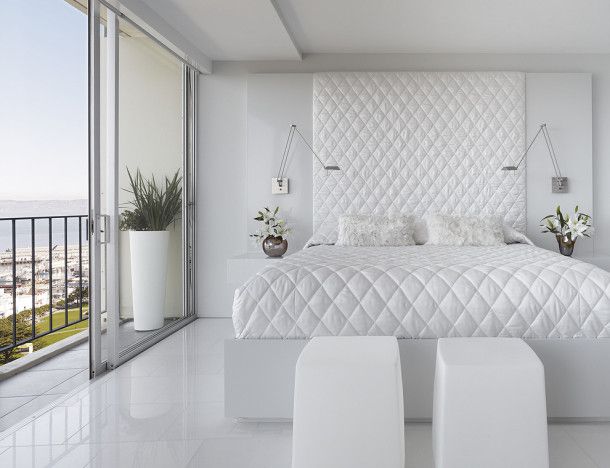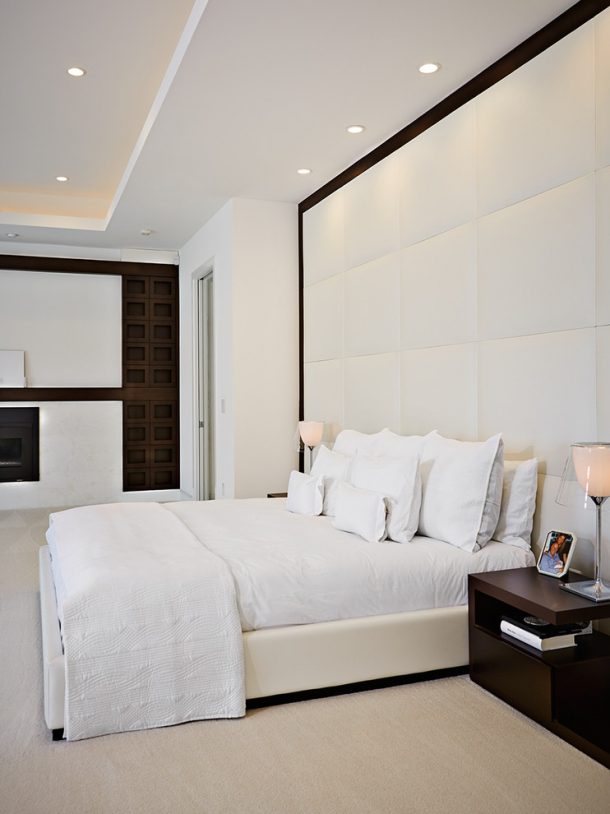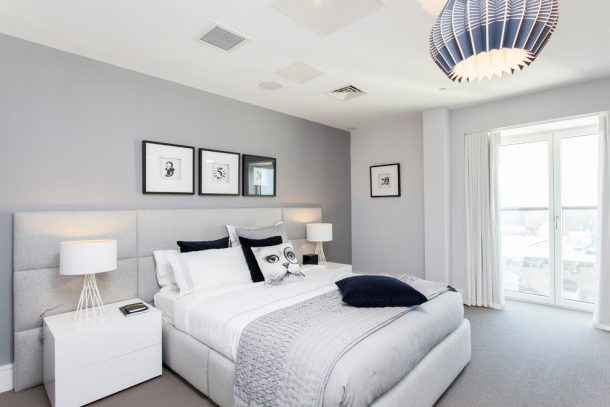 White and Provence style bedroom
This style is very cute and delicate, and almost all of its attributes – lace, ruffles, bows, embroidery, wicker furniture, just look best in white, so it is perfect for a white bedroom.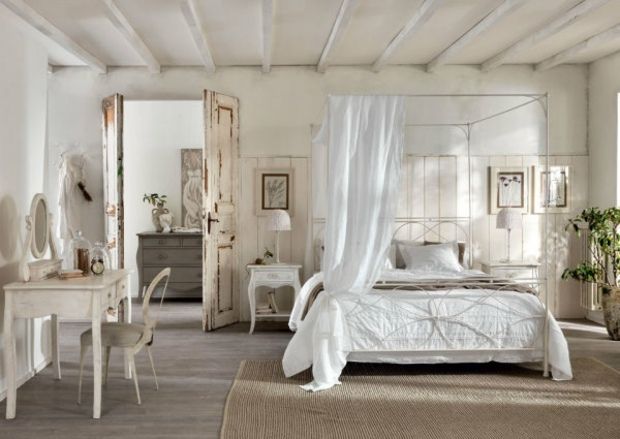 Advice:  Don't be afraid of a lot of white – keep it white. Since due to the different texture: lace, silk, knitting, all white decorative elements will look different.
Put on a huge bed with a feather bed, cover it with a knitted bedspread, put more white pillows on it, put table lamps with cute lampshades on the bedside tables – and the base is ready. Then add decor – the most delicate tulle, light frames for photos, candles and fresh flowers.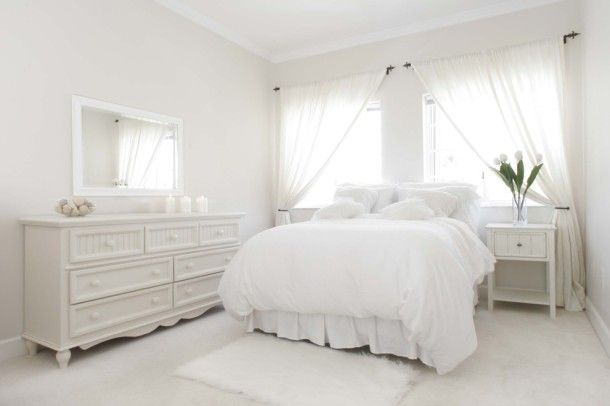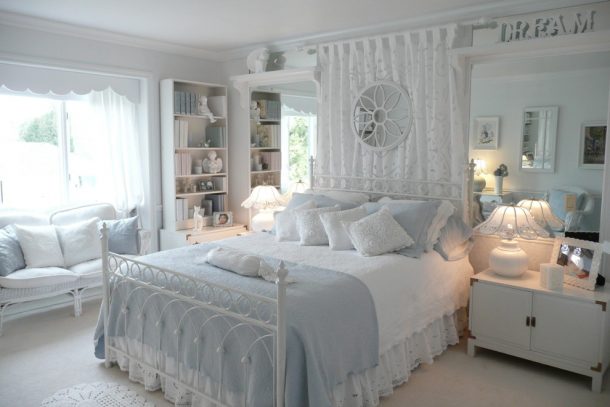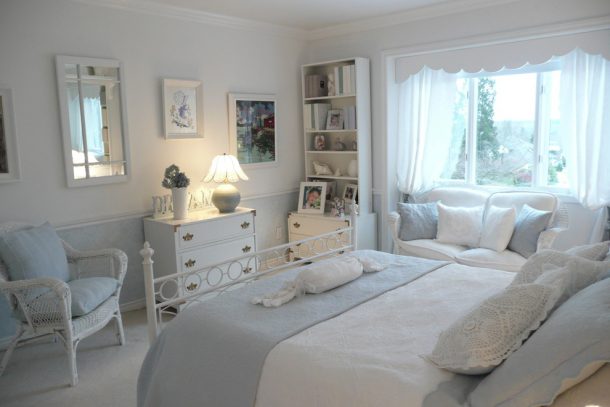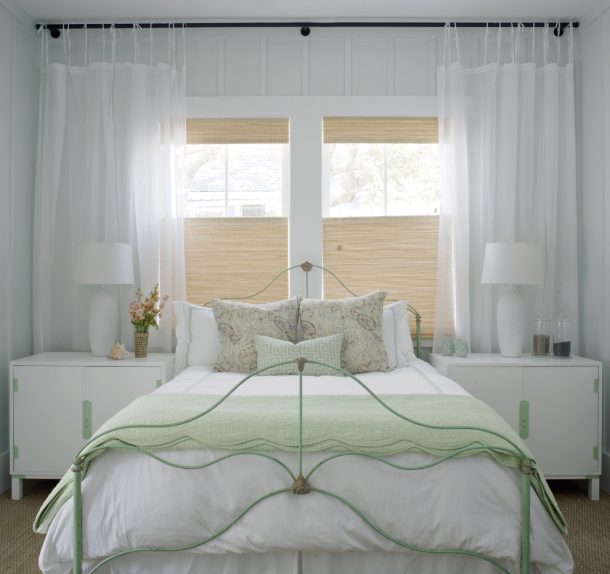 White and Art Deco bedroom
Art Deco does not betray itself – crystal chandeliers, textured wallpaper with glitter, rich decor, a lot of light, but with one nuance – all this is in light colors. And it looks no worse than usual – gold, silver, black, burgundy, purple, scarlet.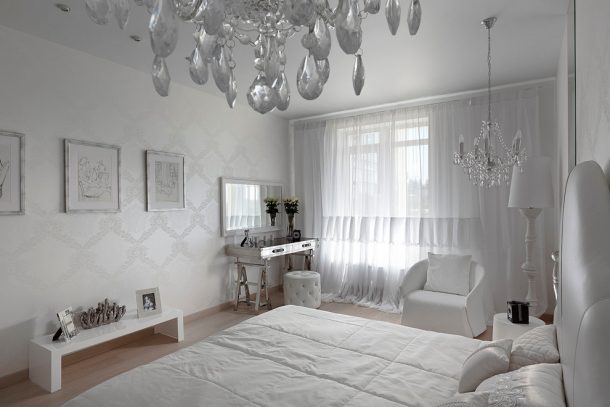 In this style, you can be bolder with color accents – since it is very difficult to create a pure white room in Art Deco, it requires impeccable taste and a sense of proportion in order to match all the items to match each other.
————————————————————————————————————————————
If you are confident in your choice of white things, you can combine textures with each other – matte and glossy, in white it looks very stylish.
————————————————————————————————————————————-
We advise you to choose accessories in white metal, it is best suited to white.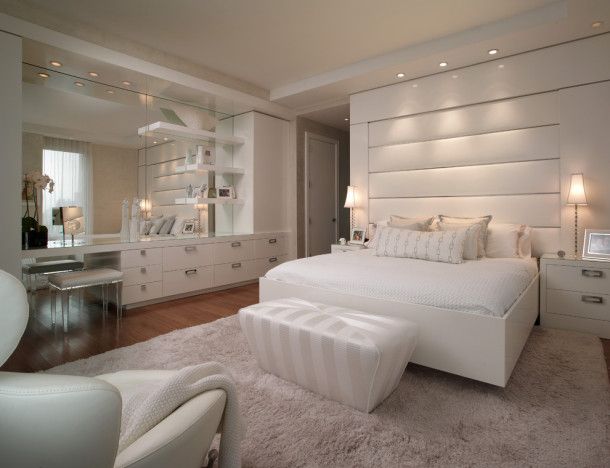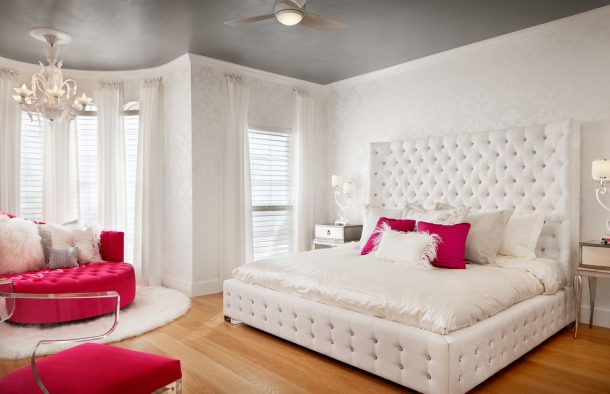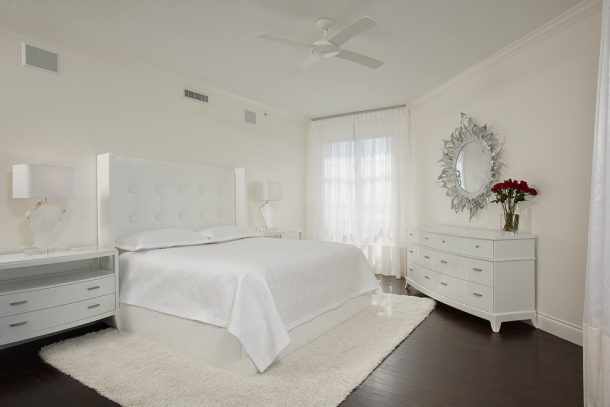 Good luck!