If this article attracted you, then the idea of ​​implementing a clean and light bedroom interior will undoubtedly be very relevant in your home. Today we will talk about the Scandinavian style and its features in the design of the bedroom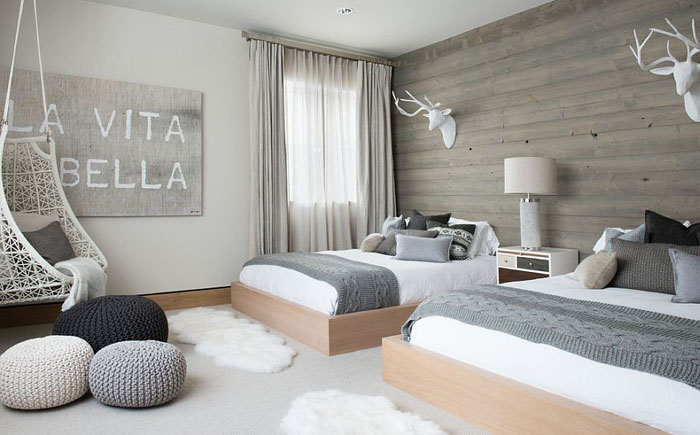 ————————————————————————————————————————————-
It should be noted that the Scandinavian interior has recently gained an increasing number of supporters, since it implies the absence of unnecessary items and the fullness of the room with light, and this is especially important in small apartments with rooms of standard sizes.
————————————————————————————————————————————-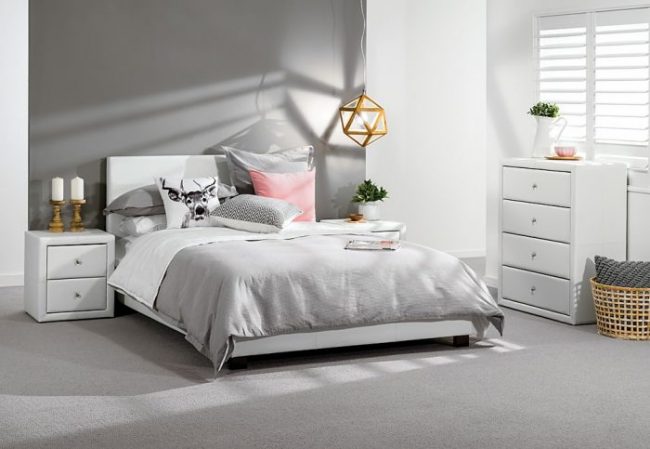 We will be happy to reveal for you the main secrets of the style of the same name in the interior of the bedroom..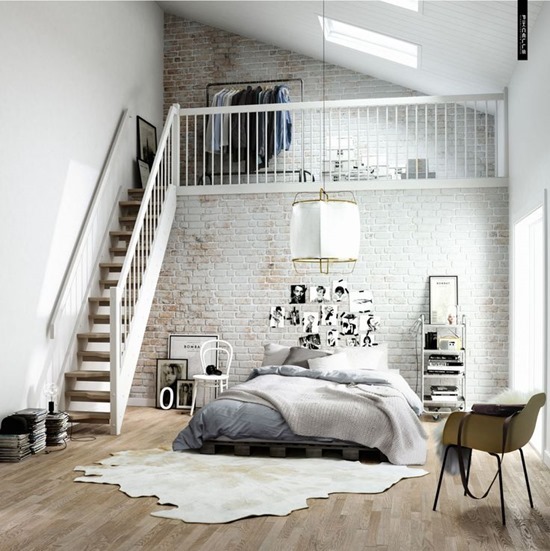 Character traits
It so happened that each style of interior has distinctive features in the design of living quarters, and knowing about them means – to embody the desired image as successfully as possible. The style of interiors in northern countries is no exception, where people have learned to create a special atmosphere of their homes in low temperatures and little daylight..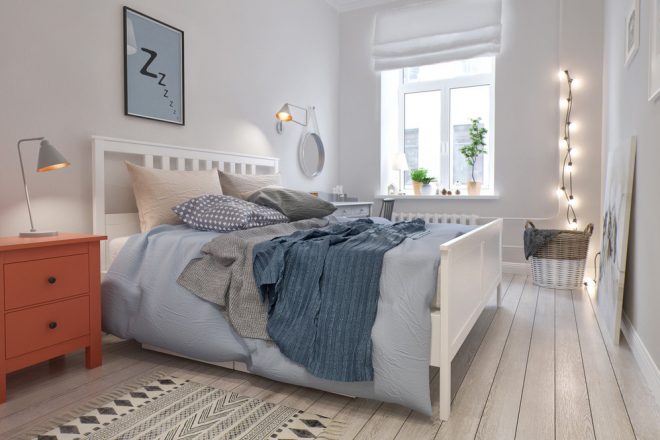 Lightness and light
Scandinavia is a country where cold winters and rainy, short summers are completely natural for the local population. That is why Scandinavians strive to make their homes as light and airy as possible, using white as much as possible..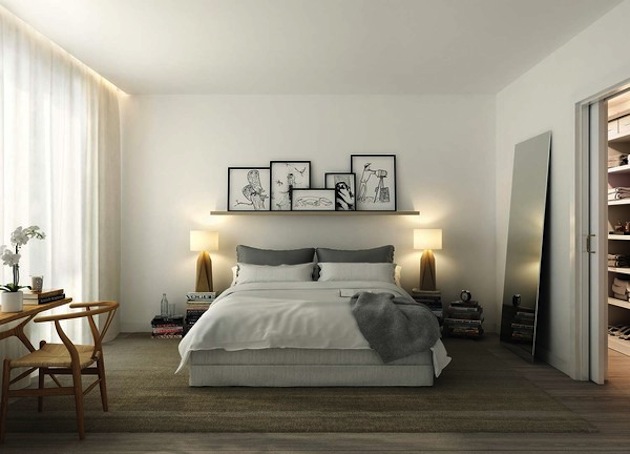 So, the first distinguishing feature of a Scandinavian bedroom should be white. The color should be used very abundantly: for ceilings, walls, window frames and doorways, in textiles, fittings, and, if desired, in flooring.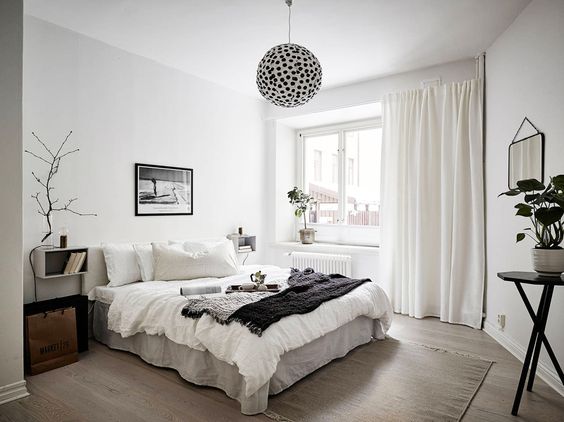 Since the Scandinavian peoples are accustomed to the fact that daylight in their country is always not enough, it is also not customary to hang windows with blackout curtains. All that you can afford when decorating a bedroom is light tulle or translucent curtains, as well as functional Roman blinds that fold down to completely expose the window.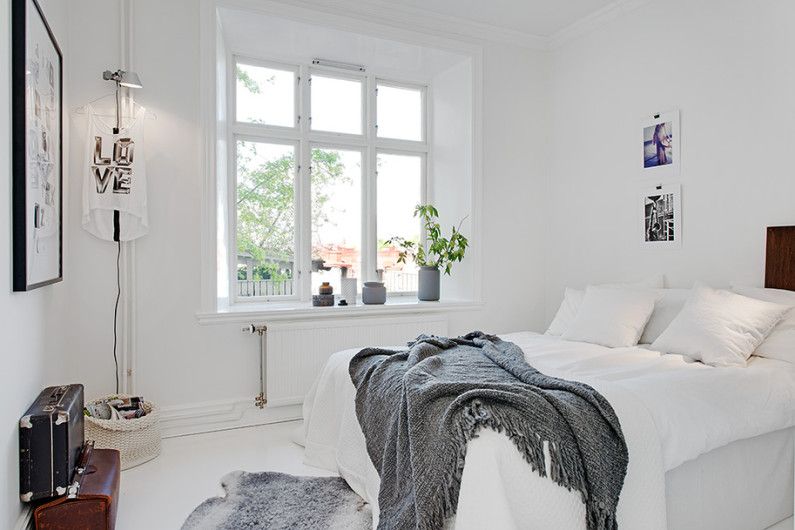 Simplicity and functionality
A bedroom made in the style of the northern countries requires free space, not burdened with heavy furniture and abundant decor, but, on the contrary, decorated using only the most necessary items in the room. But even they, at times, can carry several functions at once. So, for example, a bed can contain compartments for storing clothes or bed linen in its body, and the role of bedside tables is often assigned to ordinary chairs or stools..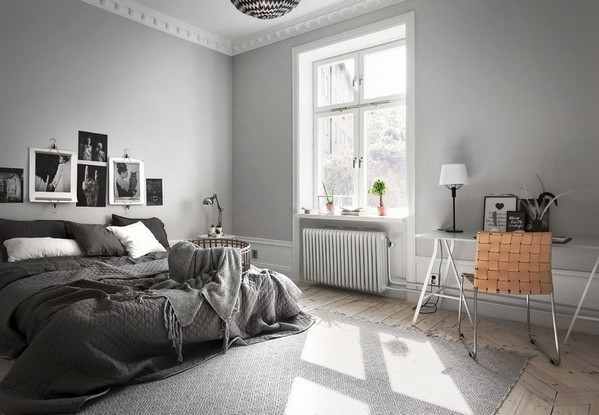 In the Scandinavian bedroom, in general, there is no place for objects that are not used: here everything is in strictly designated places, but is part of a single, carefully thought out image.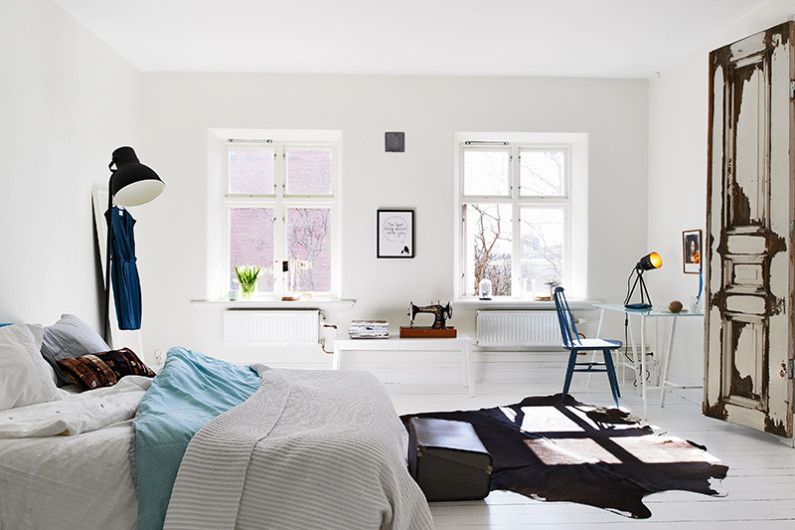 Materials used
The ceiling and walls of a Scandinavian-style bedroom should be simply painted, as mentioned, white, and sometimes you can use an ivory or light cream shade. For the floor, boards of light wood species are more often used, and wood of natural shades also predominates in furniture, or painted white.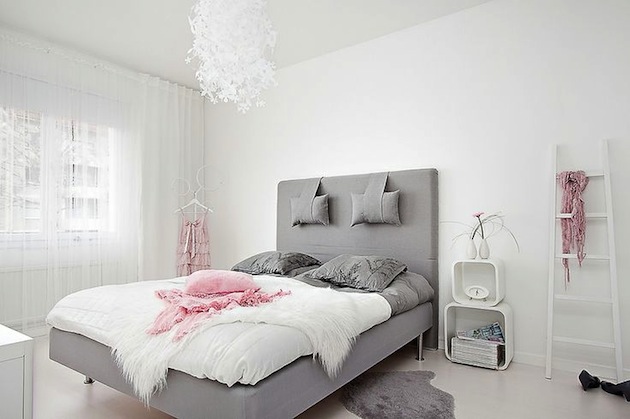 Wallpaper in a Scandinavian interior is best used according to the style rules, that is, to highlight one of the walls (often behind the head of the bed in the bedroom). Floral motifs are chosen as the main pattern, as associations with the summer time, so desirable for all Scandinavians.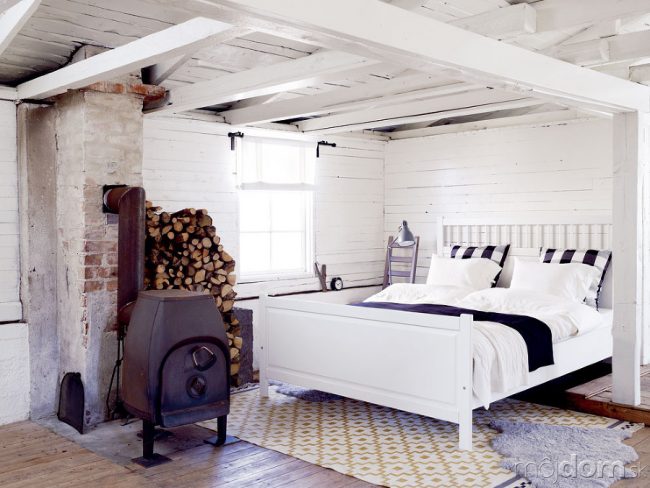 It is recommended to use metal, plastic or glass in unusual design items. Thus, Swedish object design, which is characteristic of furniture and lighting fixtures, has long been gaining worldwide fame. Remember this if you want to embody the Scandinavian style in the bedroom most believably.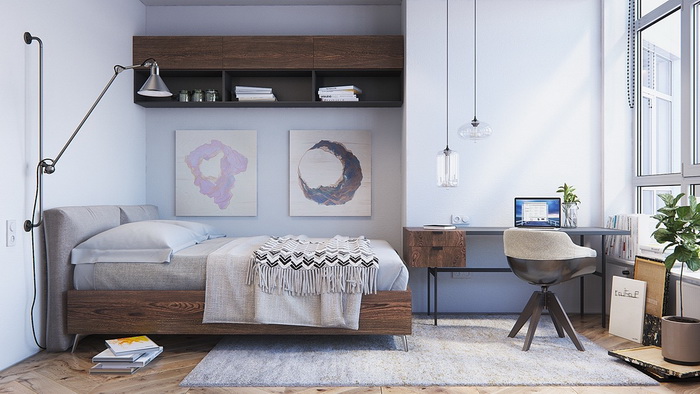 When choosing a Scandinavian style, one should not forget about soft, pleasant to the touch textures that make the restrained interior warm and cozy. Use woolen bedspreads and throws, pillows in fur covers, shaggy small rugs.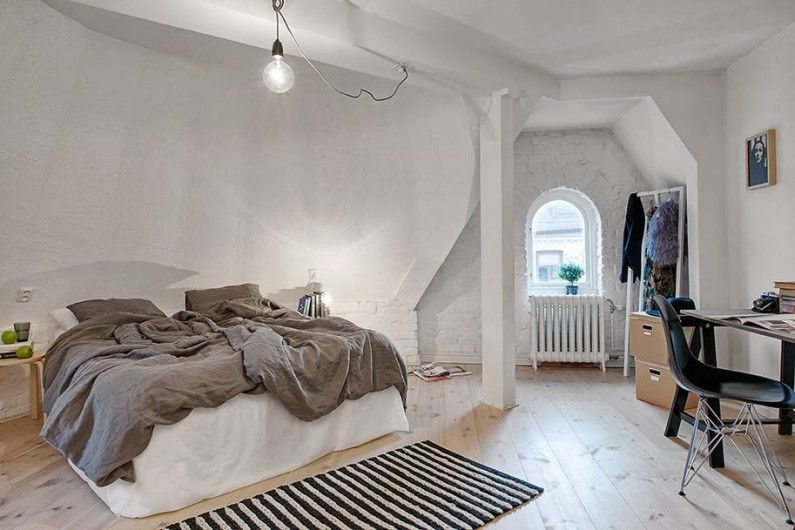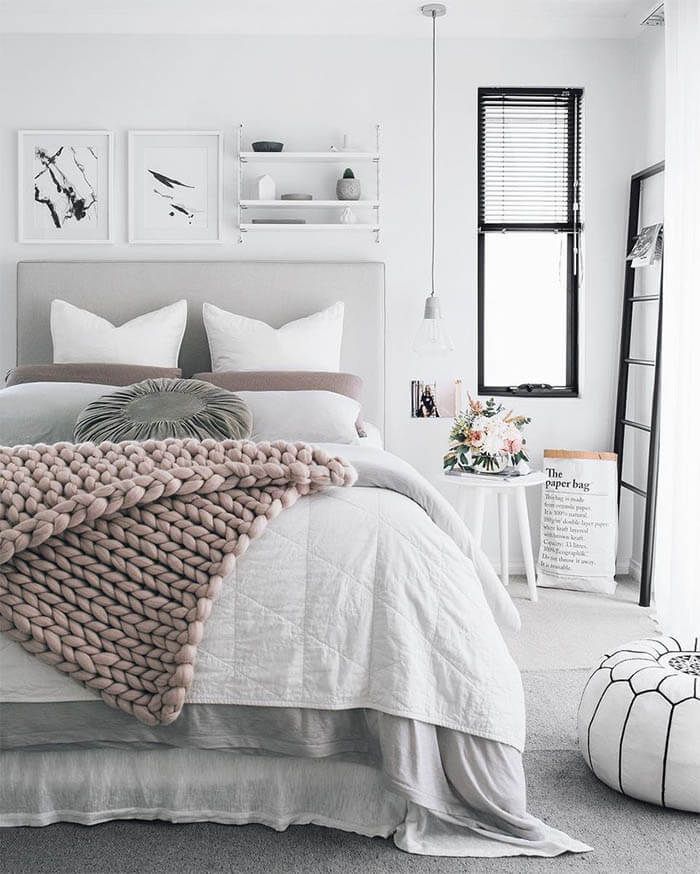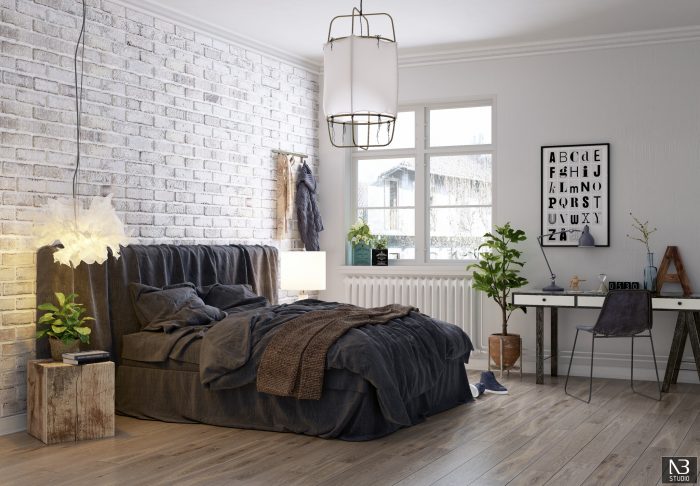 Variety of light sources
Returning to the topic of the lack of daylight in the northern countries, we will focus on the need to use several lighting devices at once in one room..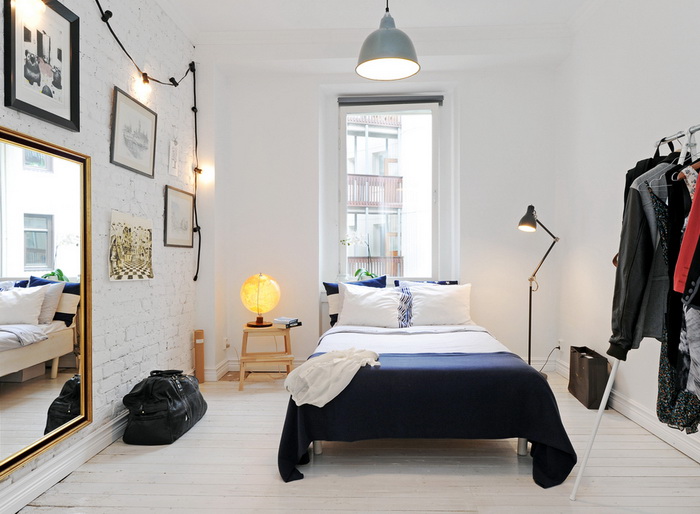 For the bedroom, you can purchase a chandelier as the main lamp in the center of the ceiling. Preference should be given to a simple, unpretentious shape of the plafond, in the Scandinavian style it is, more often, in the form of a ball (identification with the sun), a cylinder or a cone, evenly scattering light.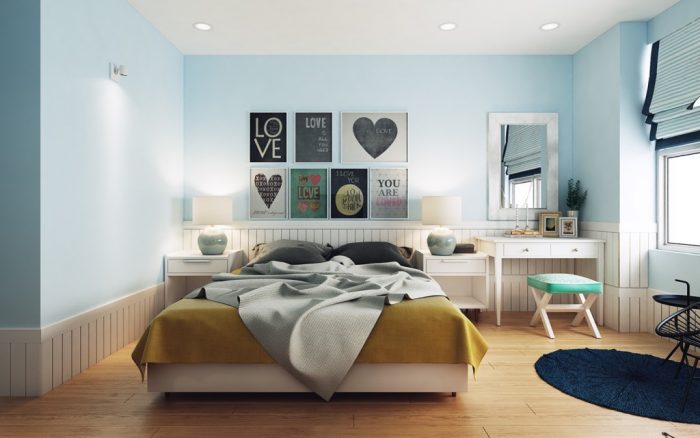 In addition to the central device, it is necessary to use bedside lamps or sconces mounted above the head of the bed, floor lamps are also appropriate, but always with an adjustable height and angle of inclination of the ceiling (a tribute to functionality). Also in the Scandinavian interior, it is customary to use very decorative light: white candles, mobile glazed lanterns.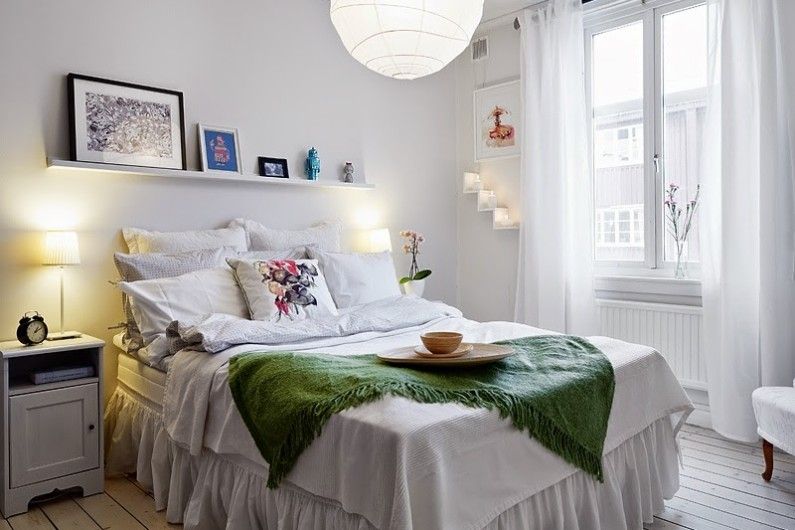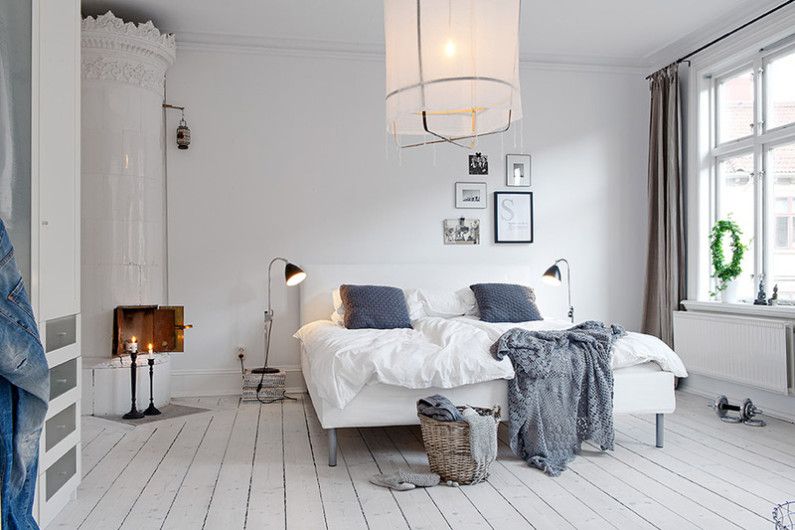 Furniture
Traditionally, the central place in the Scandinavian bedroom is, of course, the bed. Often, it does not differ in too large size or height, and is always leaning its head against one of the walls. Sideboards should be installed on the sides of the bed, but at the same time, it is better to act not entirely familiar, namely, to use stools, coffee tables, baskets with lids, wooden chairs with backs or poufs-barrels instead.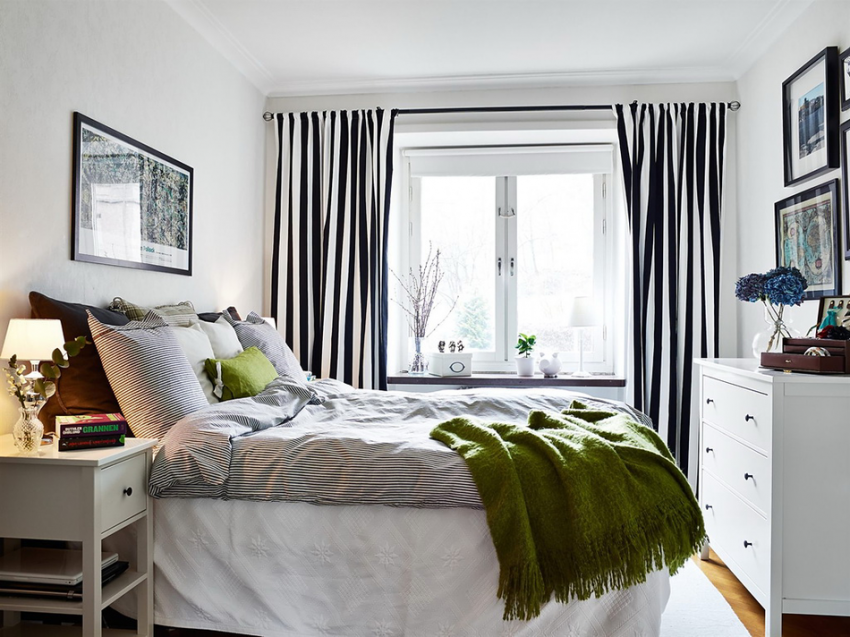 Various hanging furniture is welcome: bedside shelves with drawers, wall cabinets, shelves for placing decor, books. It is extremely rare in a Scandinavian bedroom, especially in a small one, to use dressers or wardrobes. Preference is given here to light, laconic structures, which, if possible, hide in niches, or occupy empty sections of the walls.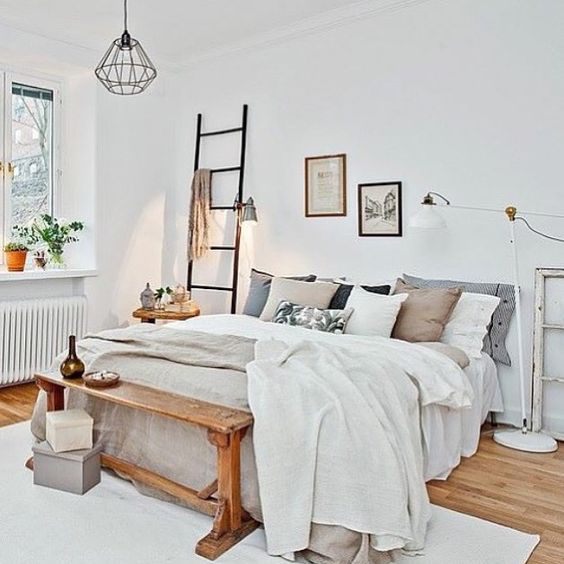 The Scandinavian-style bedroom interior is, above all, comfortable in everyday life. Rest assured, it will bring complete comfort, originality of design, and no problems during cleaning.
Sometimes, instead of a full-fledged closet, Scandinavians use the method «open storage» in the form of mobile hangers – rungs, or ladders.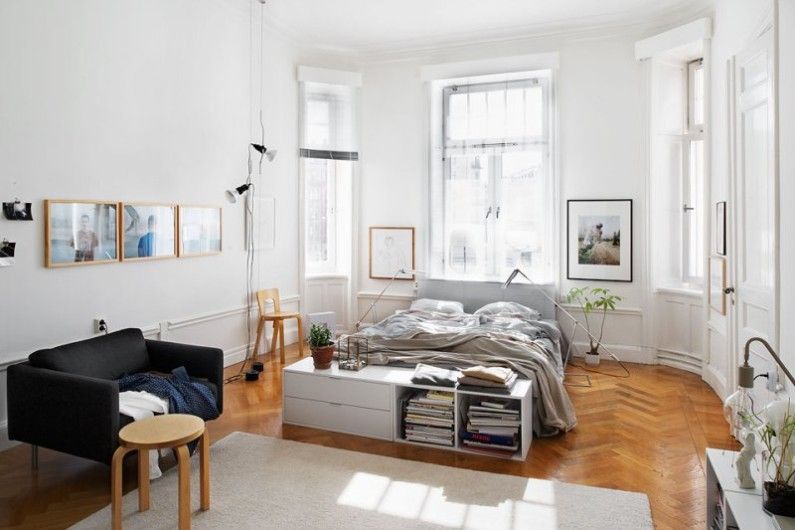 Contrasting elements
And yet, despite the abundance of white, supplemented here and there with neutral shades, the Scandinavian interior is often decorated with contrasting details. True, they use for this purpose, mainly black and white elements, red and green. Less commonly, yellow and warm ocher tones can be used..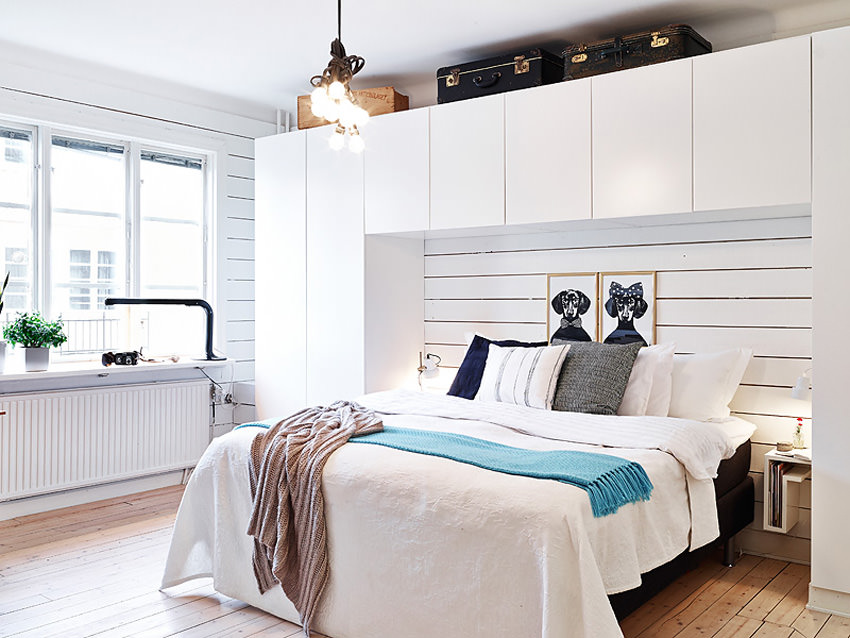 One has only to wonder how skillfully colored accents are used in the Scandinavian style of interiors, and the room, in the end, looks just amazing.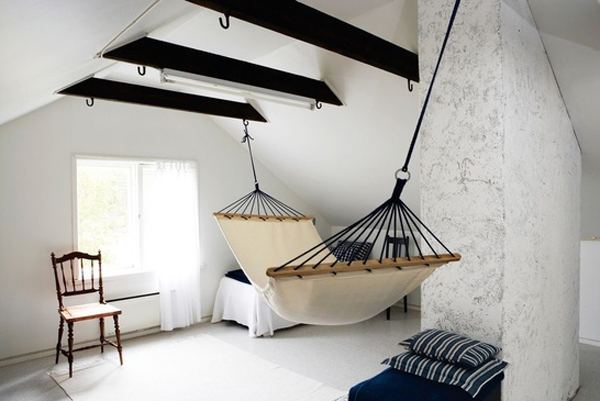 To recreate the style to the fullest in your bedroom, you should use:
1  Black and white frames for reproductions and photographs, black elements in white furniture;
2  Live plants of a neat shape and small size for decorating window sills;
3  Bright striped rugs, wicker or long pile;
4  Eye-catching bedspreads and pillows, decorative figurines.