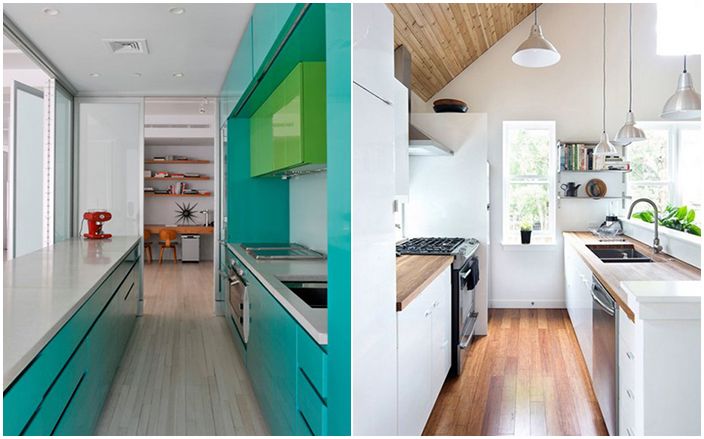 10 professional tips for planning narrow kitchens

A feature of narrow kitchens is the presence of two rows of cabinets, which are opposite each other, between which the main passage remains. This layout will suit small and large kitchens and any style. It is a priority for professional chefs, as it provides high efficiency and safety during cooking. Such kitchens outwardly resemble a galley on a ship, where everything is very compact..
1. Assess the possibilities of the premises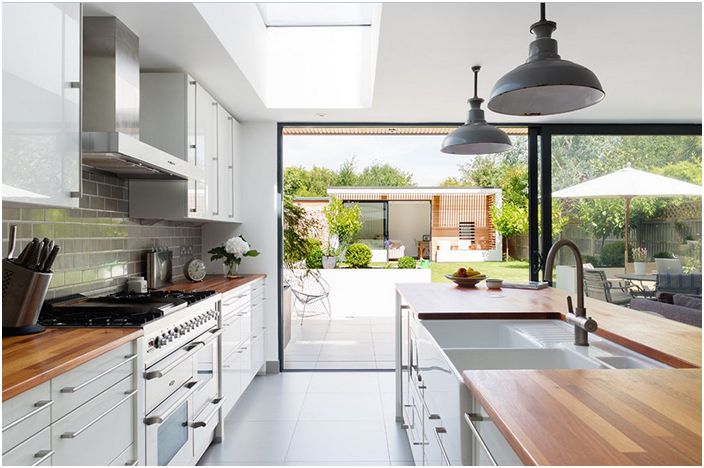 Kitchen interior by Granit Chartered Architects
While this layout is more suitable for kitchens with limited space, it looks good in a medium sized kitchen. But it is worth remembering that if the opposite rows of lockers are far from each other, then this is irrational. This layout is suitable for a room in which the dining room is located along with the kitchen..
2. Symmetry and asymmetry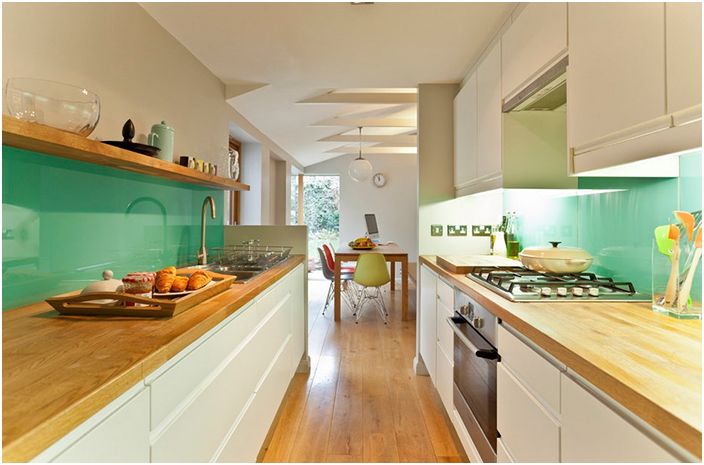 Kitchen interior by DHV Architects
When it comes to such a layout, there are two approaches. The first is symmetrical. This means that the kitchen cabinets are mirrored on both sides. The second way is asymmetrical. On one side, you can install tall cabinets or a row of kitchen appliances, and on the other side, wall cabinets. You can also combine tall and wall-mounted cabinets against the same wall.
3. Install tall kitchen cabinets against one wall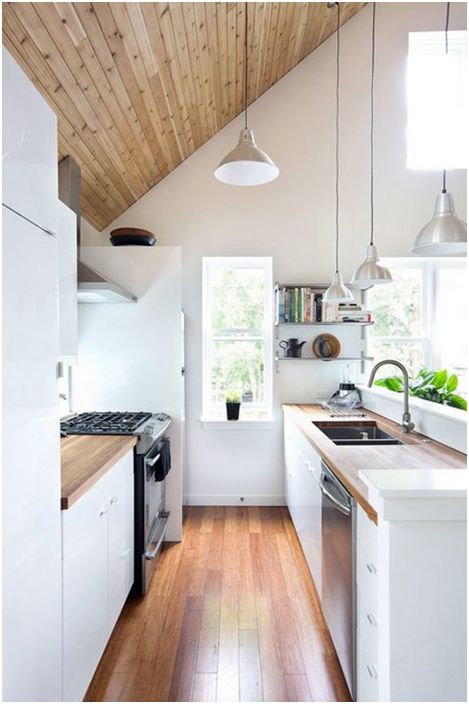 Kitchen interior from APT Renovation Limited
If you plan to equip such a kitchen, then it is advisable to install high cabinets near one wall, in which case the length of the walls should be at least 3 meters, with such a wall length, the sink and stove will be located at a sufficient distance. In addition, wall cabinets can be installed on the wall where you installed the stove and sink. On the opposite side, you will place tall cabinets, shelves and a refrigerator. Thus, you get a lot of storage space, which means that the kitchen will always be tidy..
4. It is possible to disrupt the order of placement of pieces of furniture and equipment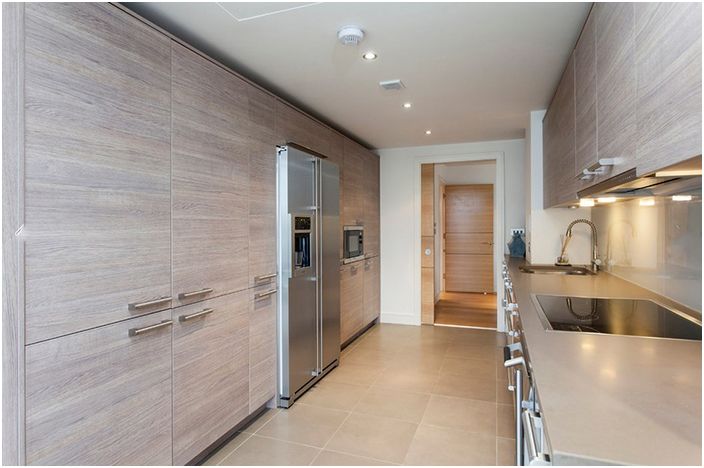 Kitchen interior by Chris Snook
If you are a supporter of asymmetry in the layout, then you can install high, low, and wall cabinets near the same wall. If, for example, the wall is about 4 m long, then you can install three sections of tall cabinets on one side and on the other. These can be hanging cabinets and hanging shelves, you can also install tall cabinets, but with a niche on top. Alternatively, you can also install the required furniture or leave the wall free. This arrangement works in the event that the kitchen is narrow enough, this will make it more spacious..
5. Walkway between two rows of furniture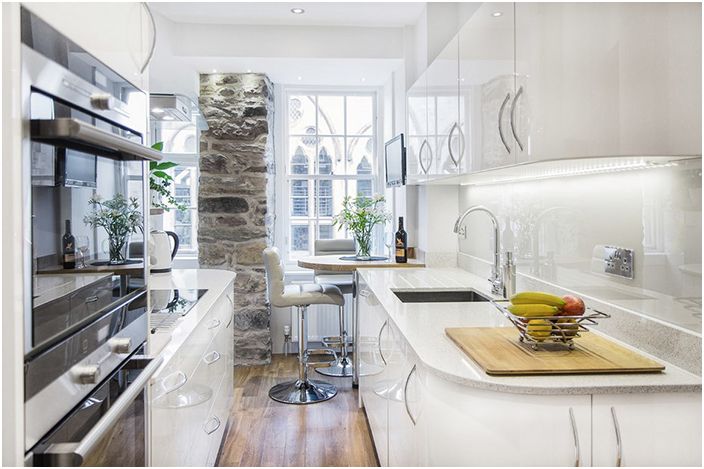 Kitchen interior from Kitchens International
Depending on the location of the kitchen in the house and its area, the kitchen may be located in a remote corner or be a walk-through. If the kitchen is a walk-through and through it you can get to another room or garden, then the passage should be spacious enough, especially if there are small children or animals in the family that are difficult to keep track of when they run back and forth through the kitchen. Safety should come first, especially if the passage is narrow enough. In this case, the sink and the stove must be on the same wall. It is very convenient when all the appliances are close by, and you do not need to move to another wall while cooking.
6. If the kitchen is in a remote corner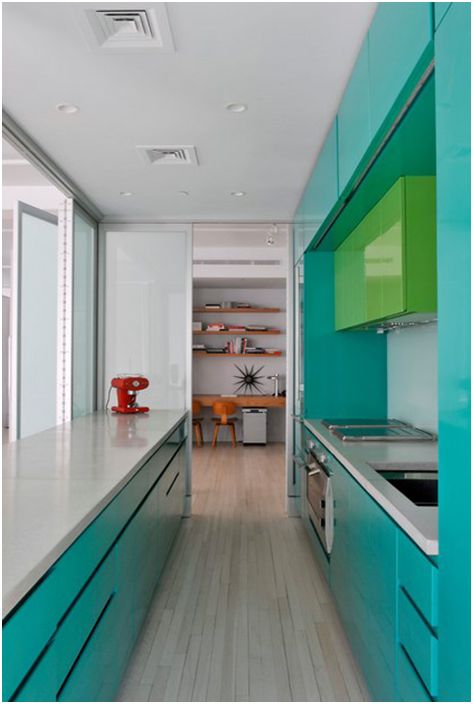 Kitchen interior by BarlisWedlick Architects, Tribeca Studio
This arrangement of the kitchen is considered safer, since there is only one entrance and exit from the room, and the situation can be easily controlled. If the kitchen has a window, then the maximum that you can is to put a chair by the window so that, among other things, you can comfortably write or read something about the housework. In the kitchen, for these purposes, there may be a special board for writing with a marker or chalk, where children can also draw from time to time under supervision. If you install a mirror, then it will become an additional light source, as it will reflect the main light, and visually expand the space.
7. Install a freestanding kitchen island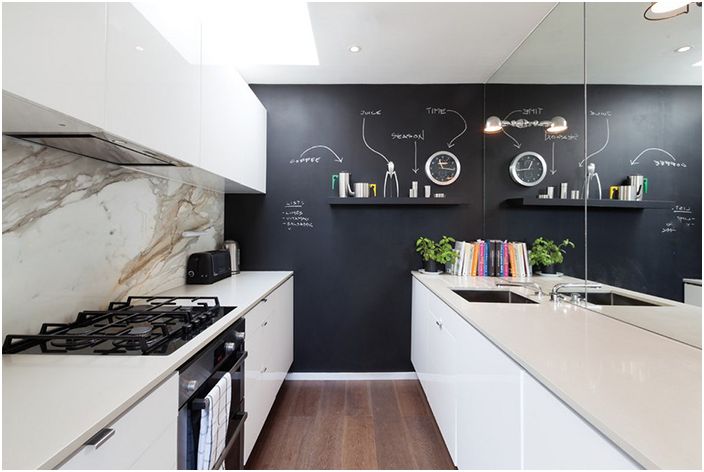 Mirror in the interior of the kitchen
If space permits, or the kitchen is part of the dining or living room, then you can set up a stand-alone kitchen island. In this kitchen, an autonomous zone replaces one of the walls, which is also functional in its own way. In this area, you can install either a sink or a stove, as well as a number of cabinets and shelves. In this kitchen, the sink is installed opposite the stove, which allows you to make fewer turns from stove to sink and, conversely, during cooking..
8. A narrow kitchen can also be a place for communication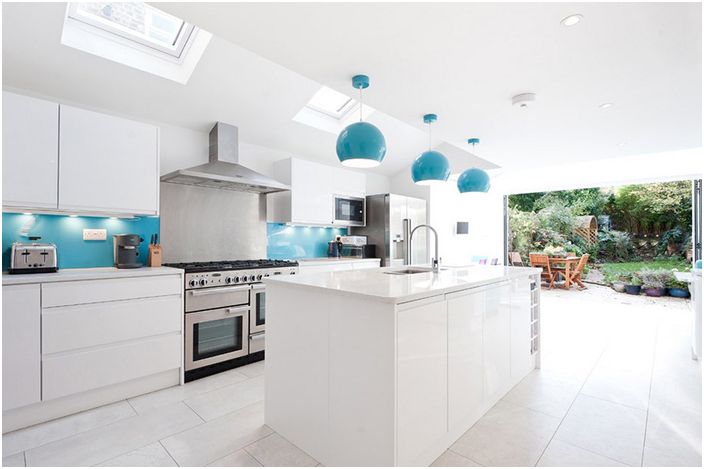 Kitchen interior by Barnes Design
A self-contained kitchen island is a great way to organize a space for family or friends to sit next to you while you cook. In this case, the surface must always be clean. This kitchen was made for a chef who creates recipes mostly from home. Children at this time are at a safe distance from the stove and go about their business, sitting at the working island. At the same time, you can perfectly communicate.
9. Additional seats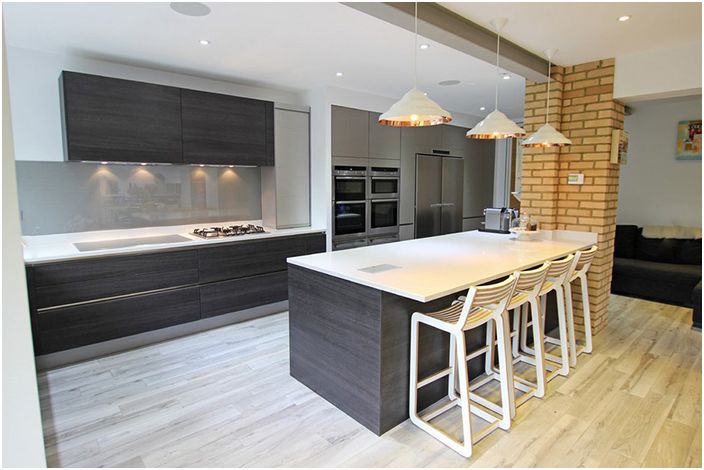 Kitchen interior from LWK Kitchens London
Sometimes in a narrow kitchen you can find a place to set up a bar counter, a mini-dining room where you can have breakfast, for example. The photo clearly shows that such a bar counter is installed far from the main working area. If the space in the kitchen allows for a table, that's even better. The main thing is that during cooking, nothing interferes and does not stand in the way. You can install a mobile table on wheels and use it as an additional work surface if necessary.
10. Expansion of space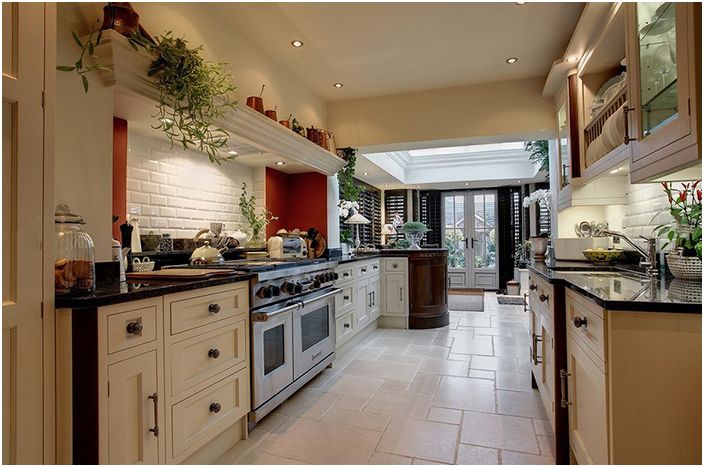 Kitchen interior from Stonehouse Furniture
When planning, you need to avoid the effect «corridor», thanks to which the kitchen visually seems even narrower. You can, for example, give up tall cabinets in favor of hanging or shelves, thereby freeing up space at the bottom. Choose furniture with a glossy finish to visually expand the kitchen with reflection. The absence of handles on the doors of cabinets and drawers is advisable, since physically these parts also take up space. Lighting also plays an important role, correctly selected lamps installed will soften the image of the kitchen as a whole and create a pleasant atmosphere..