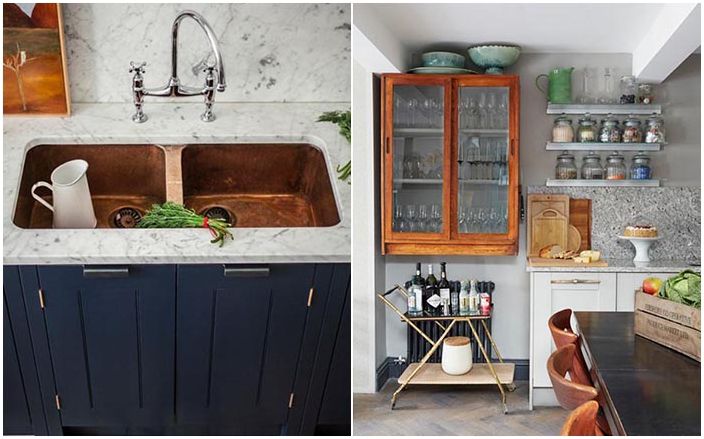 10 ways to give your kitchen character and personality

The kitchen, as one of the most beloved places in the home, can be quite predictable. After all, each has a work area, a storage area for things and food, and a variety of kitchen appliances. A little imagination and style, and your kitchen will not be like thousands of others, but have its own character.
1. Copper sink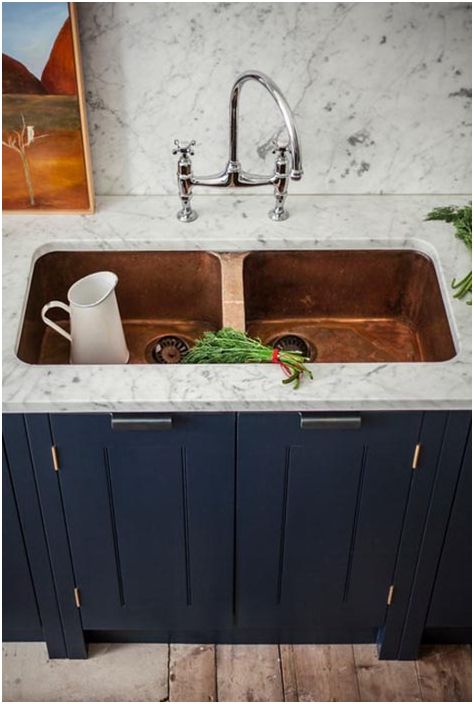 Copper sink
Copper has been used as a material in the kitchen for many centuries in the form of bowls, pots, pots. This kitchen features a trendy brass sink. Copper is more modest than marble, but unusual and stylish.
2. Original fittings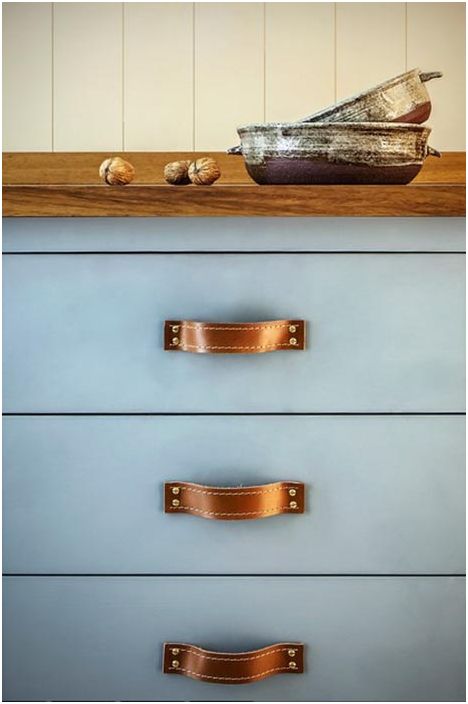 Original fittings
Furniture handles are mainly metal, wood or ceramic, and if you use materials that are unusual for this purpose, the kitchen will acquire individuality and its own style. For example, in this kitchen furniture handles are made of strips of leather. They are unusual and eye-catching.
3. Decorative lamp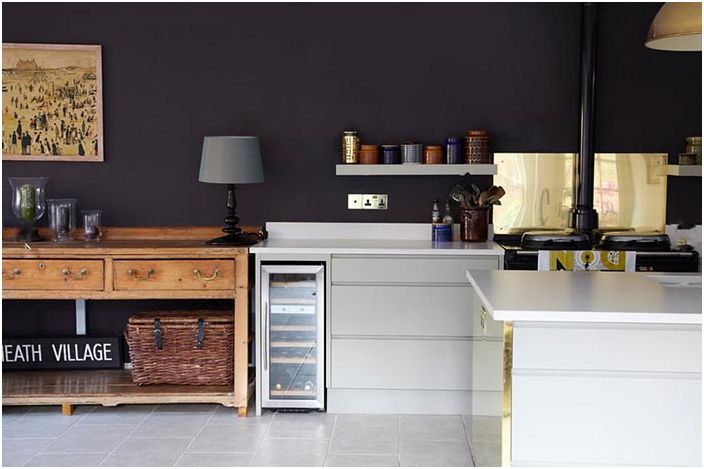 Decorative lamp
In kitchens, traditionally, a good lighting system for different zones is meant, and if you add an original decorative lamp in the form of a table lamp, the kitchen will be incredibly transformed.
4. Less stainless steel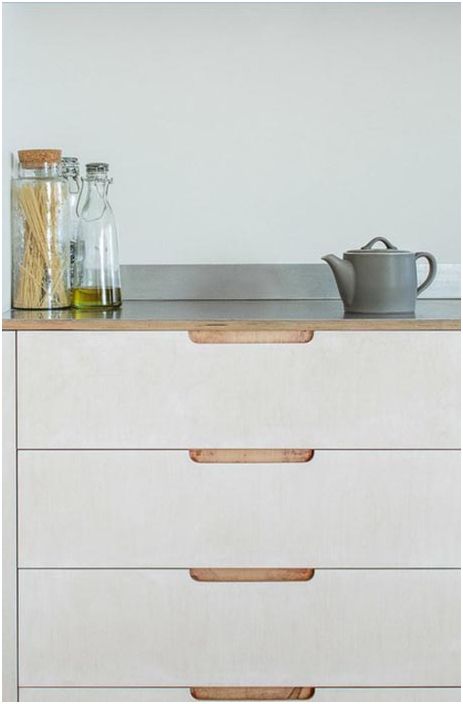 Less stainless steel
Stainless steel is considered one of the main materials used in kitchen décor, from worktops to appliances. This kitchen demonstrates how stainless steel looks more elegant with plywood cabinetry.
5. Art in the kitchen


Art in the kitchen
Since the kitchen is perceived as a utility room, it is often forgotten that this room should be stylish and interesting. Elements of art, side by side with pieces of furniture and appliances, add style to the kitchen. In this kitchen interior, the original picture framed in a frame looks organically.
6. Mirror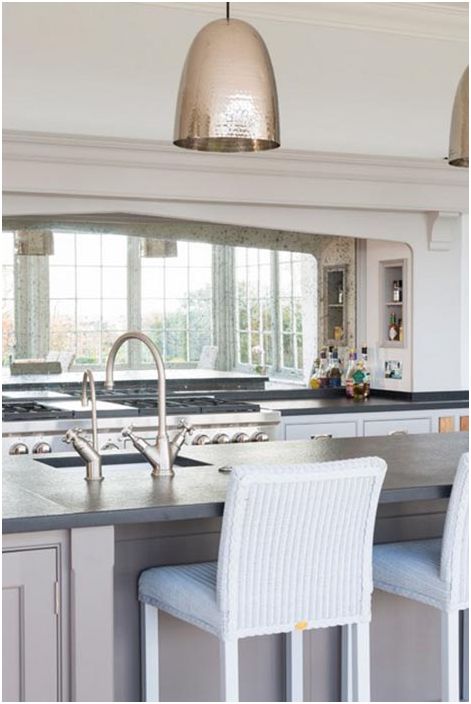 Mirror
The mirror is not only an excellent element that can reflect light, and, therefore, make the room brighter and visually wider, but also be an excellent material for a protective apron in the work area. It is a practical and easy-care material.
7. Work with paint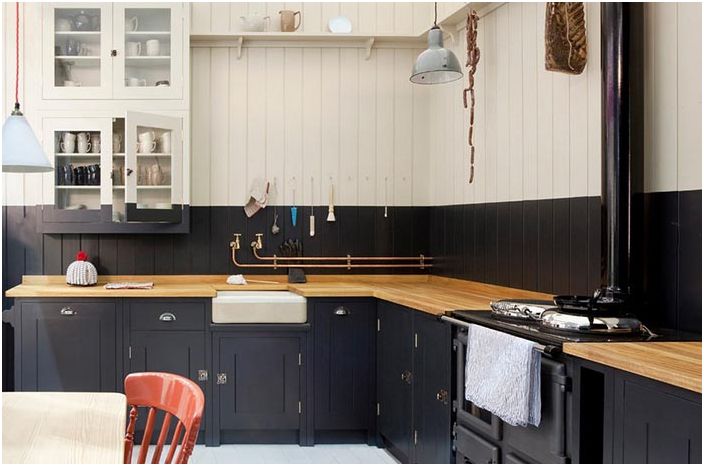 Work with paint
In the kitchen, panels look good, which can be painted with imagination. Use paint to create the illusion of a protective backsplash throughout the kitchen. Kitchen cabinets can also be painted in one color, as shown in the pictures.
8. Recess for legs at the bottom of kitchen cabinets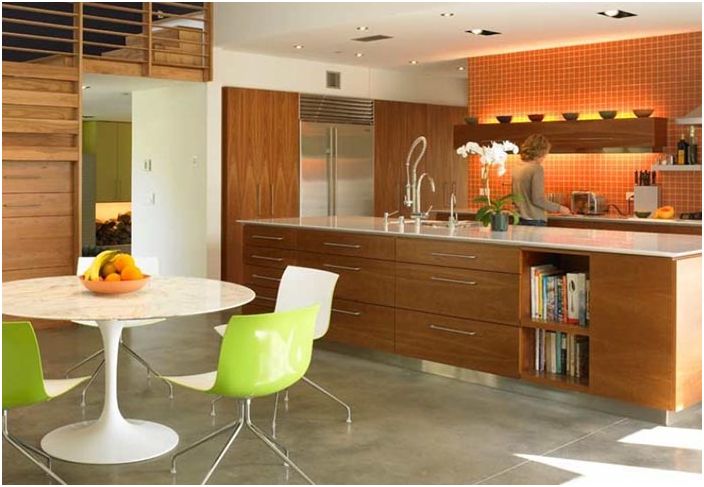 Leg recess at the bottom of kitchen cabinets
Basically, hardly anyone thinks about the footwell at the bottom of kitchen cabinets. It can generally be made of the same material as the main cabinets. In the same kitchen, they approached the footwell creatively. It plays not only a practical, but also a decorative role, as it is made of stainless steel and reflects light. Everything looks just great and contrasts beautifully with the wooden surfaces of the cabinets.
9. Antiques in the interior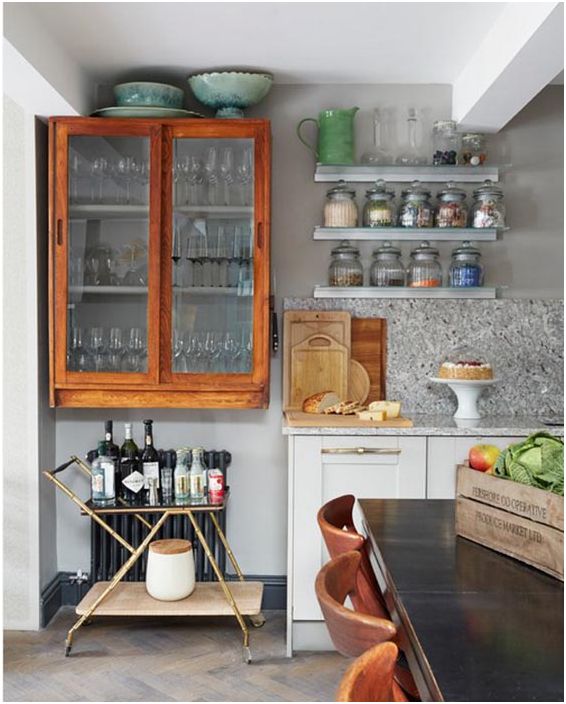 Antiquities in the interior
Don't be afraid to combine vintage elements with modern ones. This combination works great when it comes to style and personality. This kitchen features an antique wall cabinet combined with contemporary furniture and surfaces. Beauty in diversity.
10. Integrated greens drawer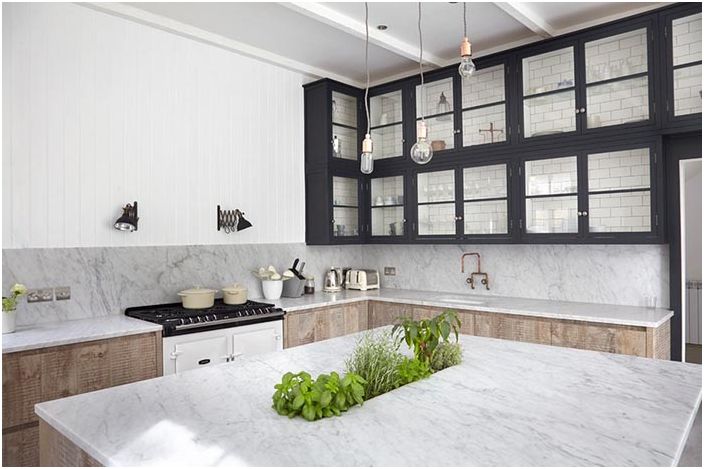 Integrated greens drawer
Vases with greenery on the windowsill are a traditional element, but who said that they must be there. An excellent alternative and unconventional approach is placing a special box for greenery in the center of the table or on the wall..
And, of course, one of the main elements is the working island, thanks to which you can get an amazing kitchen of the future..