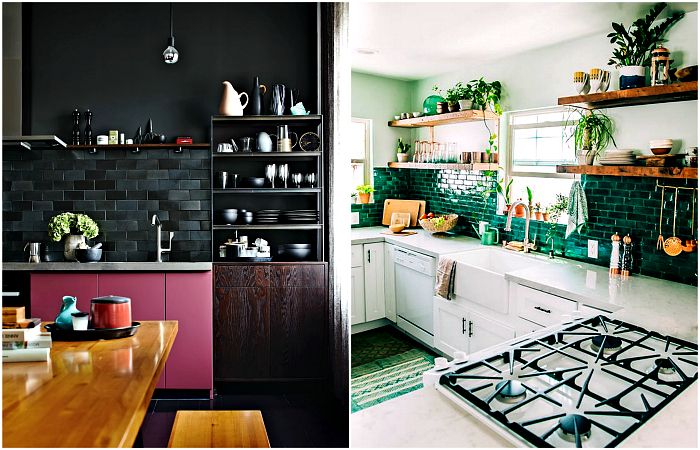 Inspirational kitchen interiors, designed according to the main design trends.
To the attention of our readers is a new review, which presents the latest options for the design of kitchens according to the latest fashion. You can use the proposed options for both the smallest and fairly spacious rooms..
1. Wooden elements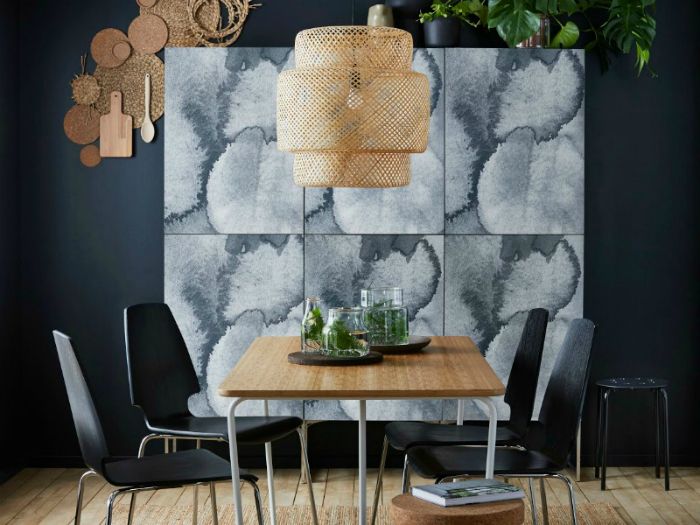 Elements of light wood in the interior of a dark kitchen.
Stunning dining area decorated in dark colors with a touch of light wood.
2. Modern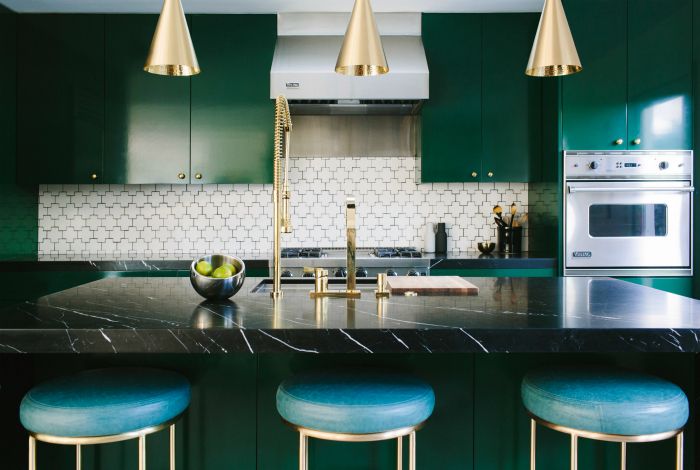 Spacious modern kitchen.
Gorgeous Art Nouveau kitchen with white tiled backsplash, trendy green kitchen unit and sumptuous black marble countertops.
3. Fashionable «honeycomb»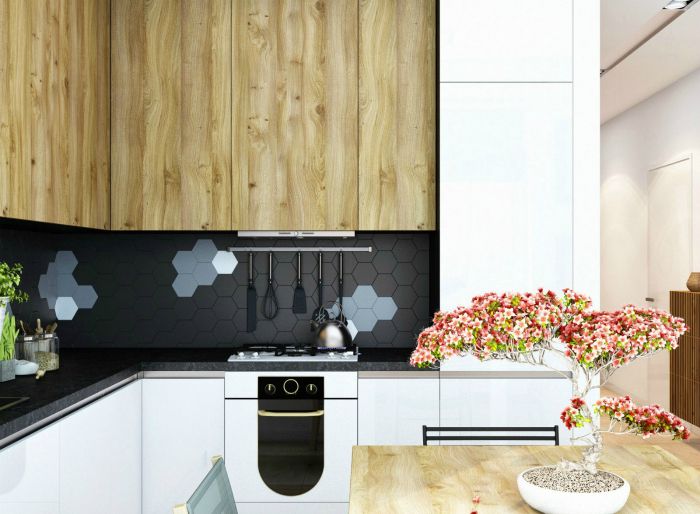 Small kitchen decorated according to the latest design trends.
Stylish interior of a small kitchen, the highlight of which was the original apron decoration with hexagonal honeycomb-like tiles that are fashionable this year.
4. Mysterious space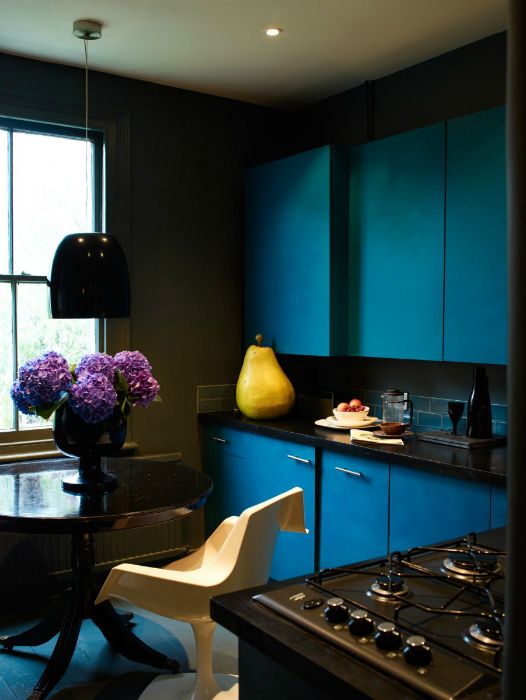 Stylish dark kitchen with turquoise cabinets.
Bold interior of a small kitchen with gray walls, a black table, a modern lamp and original turquoise cabinets.
5. Masculine interior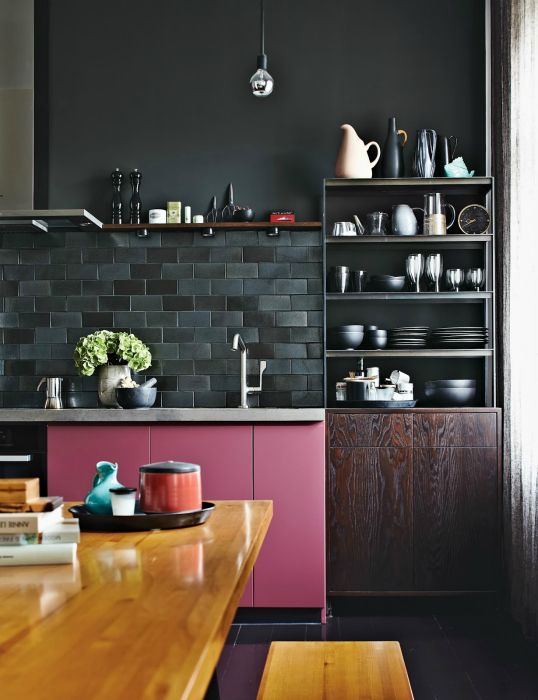 Black color in the interior of the kitchen.
Spectacular kitchen with black walls and an apron, the highlight of which are several cabinets of an unexpected pink color.
6. Industrial style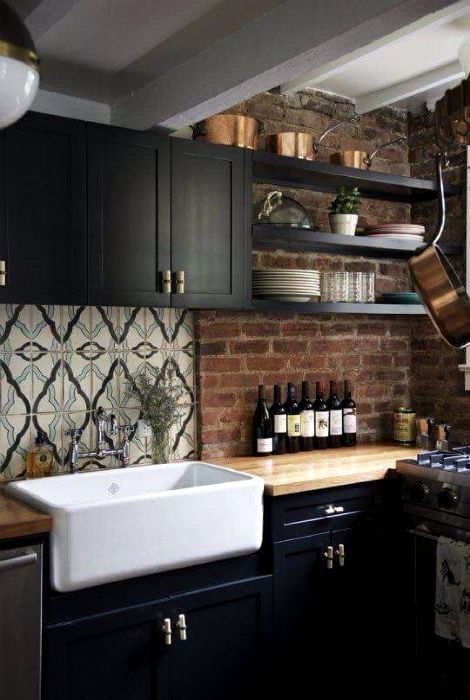 Industrial style kitchen.
A small kitchen, in the interior of which elements of an industrial style are mixed in the form of brick wall decoration and original copper dishes suspended from the ceiling, with the classic attributes of the traditional style.
7. Deep blue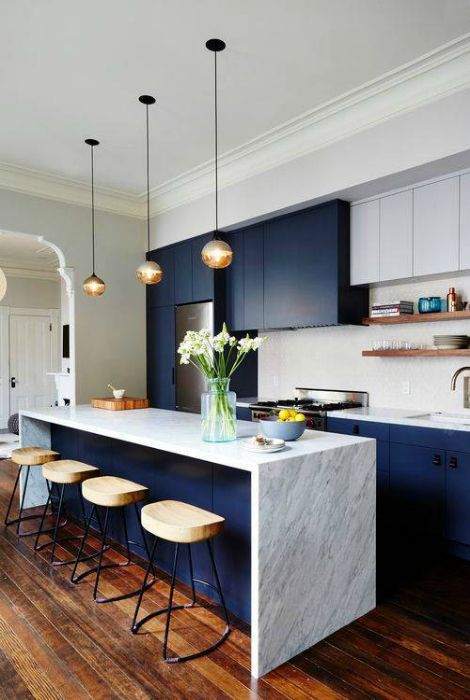 Modern kitchen in white and blue colors.
Stylish and laconic interior of the kitchen, decorated in white and blue tones with a luxurious kitchen island and absolutely smooth cabinets.
8. The luxury of gold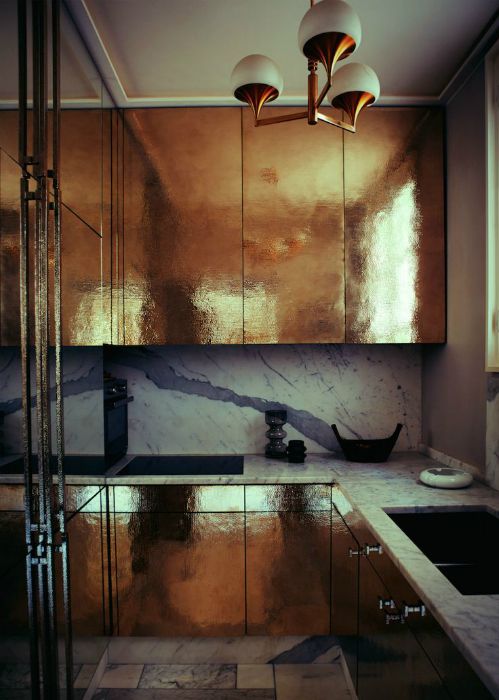 Tiny kitchen with golden furniture.
A tiny kitchen with a sophisticated set in an ultra-trendy gold color that proves that even a small space has room for style and creativity.
9. Feminine space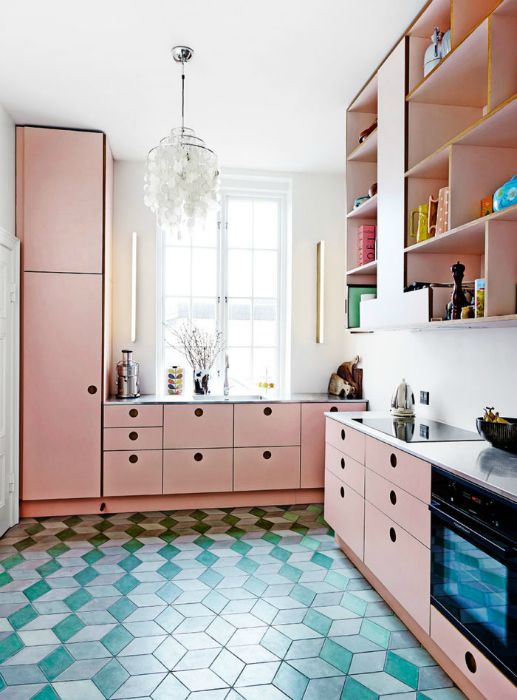 Kitchen in pink and blue colors.
Spacious kitchen with neutral white walls, lots of pale pink cupboards and bright blue tiled floors.
10. Light and shadow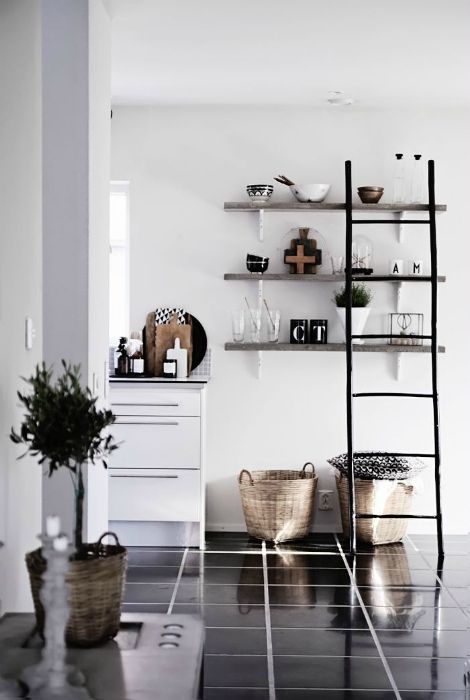 Stylish black and white kitchen.
A crisp white kitchen with a shiny black floor, a dark side staircase and open shelves of rough wood.
11. Bohemian style
Boho style bright kitchen.
A marvelous boho space with exposed wood shelves and a deep green kitchen backsplash that blends beautifully with white furniture and walls for a fresh, light atmosphere.
12. Scandinavian style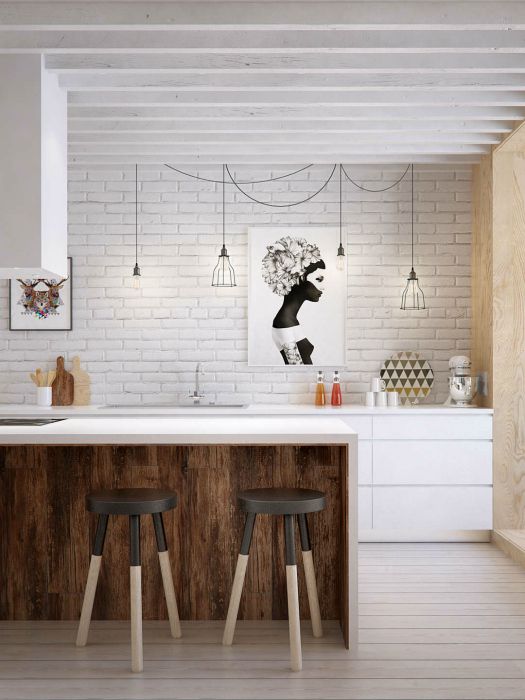 Modern Scandinavian kitchen.
Elegant and laconic interior of a kitchen decorated in a Scandinavian style with a white brick wall, original paintings and a wooden island.
13. Sunny interior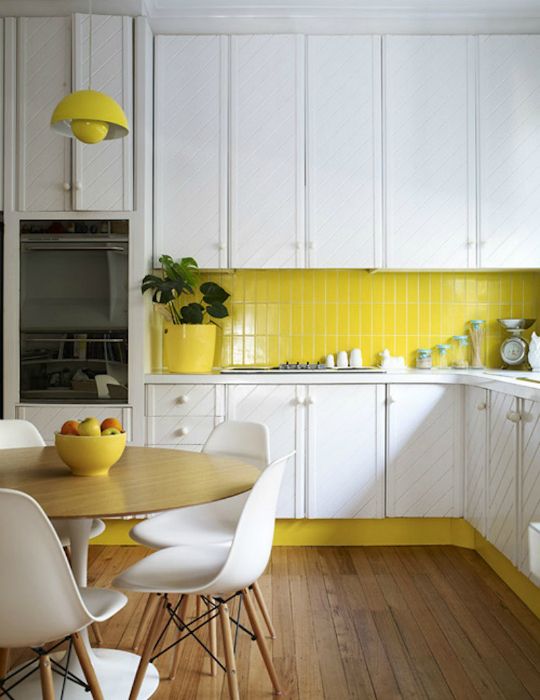 Yellow accents in the interior of the kitchen.
Snow-white kitchen with a striking lemon-yellow apron, as well as a lamp, pots and vases of the same color, which make the interior sunny, fresh and cozy.
14. Kaleidoscope of colors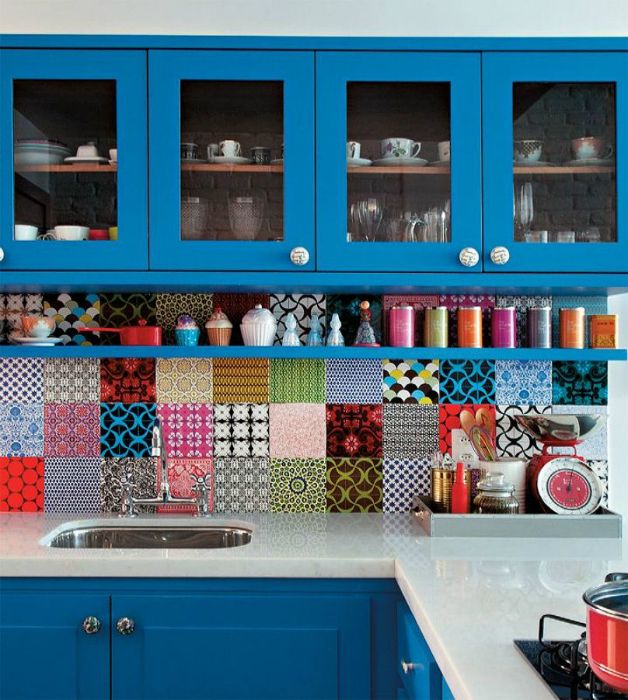 Bright interior of modern kitchen.
A bright and cozy kitchen with blue cabinets and an original apron in the increasingly popular patchwork style, trimmed with variegated colored ceramic tiles.
15. Colorful space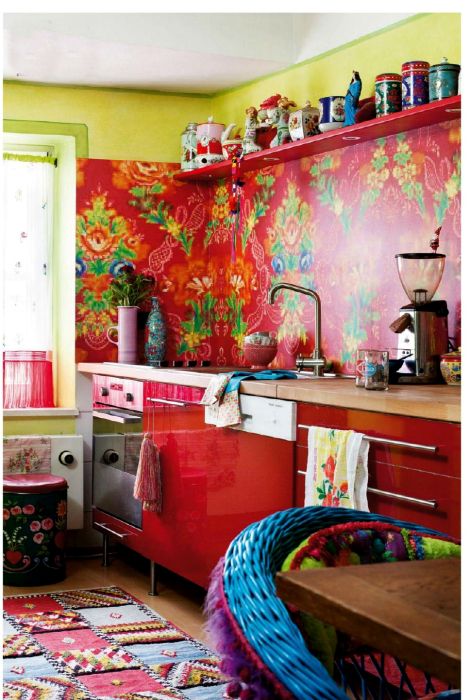 Colorful Mexican-style cuisine.
A bold, eccentric Mexican-inspired space with defiant red furnishings, yellow walls, and a wide, bold, painted apron.
16. Cozy nest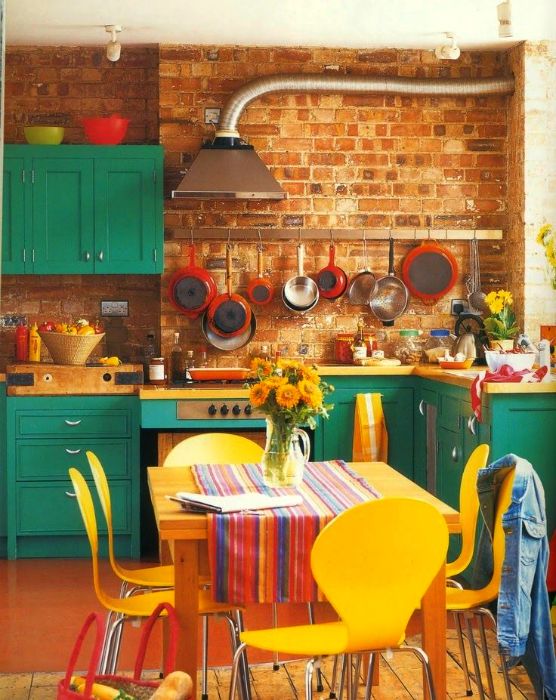 Cozy kitchen with brick wall.
A charming kitchen decorated in warm colors with brick walls, furniture in green and yellow colors, and an abundance of bright dishes, which, in addition to their main functions, also serve as decorative.
17. Poetic black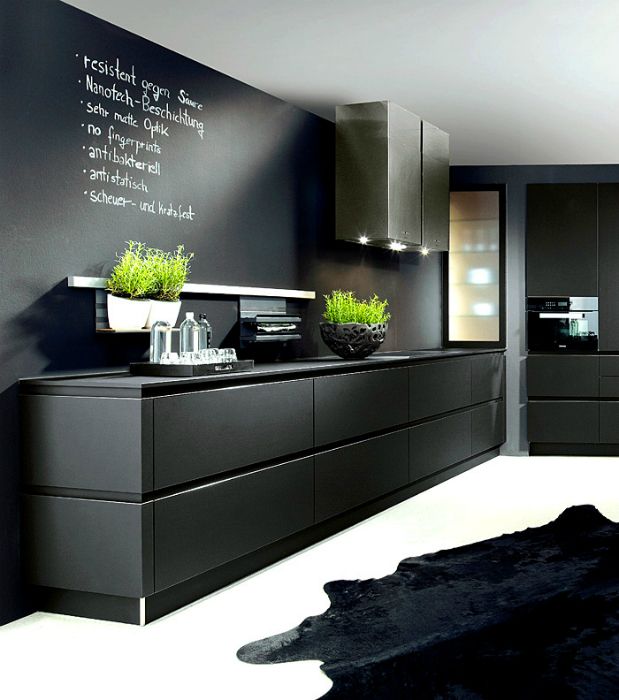 Modern kitchen decorated in black.
Spacious and modern kitchen with slate walls, sleek black furniture and crisp white floors.
18. Sophistication and luxury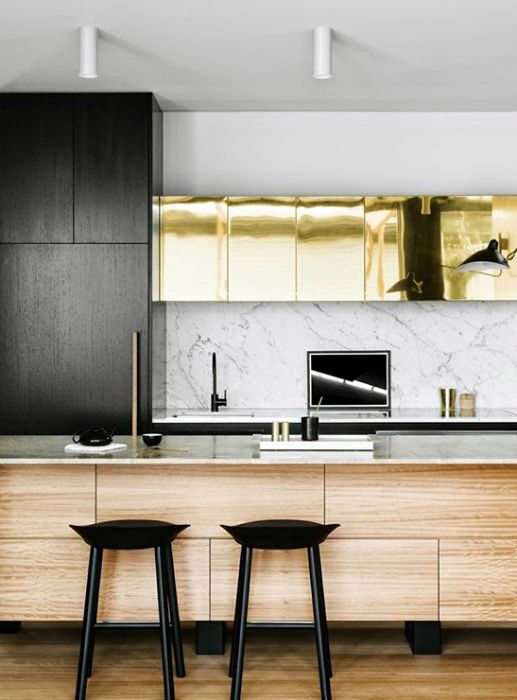 Elegant kitchen with the latest fashion.
A modern kitchen interior that combines all the trends of 2017: an apron styled in white marble, several cupboards with smooth golden fronts, laconic black furniture and a kitchen island paneled in light wood.
Video bonus: