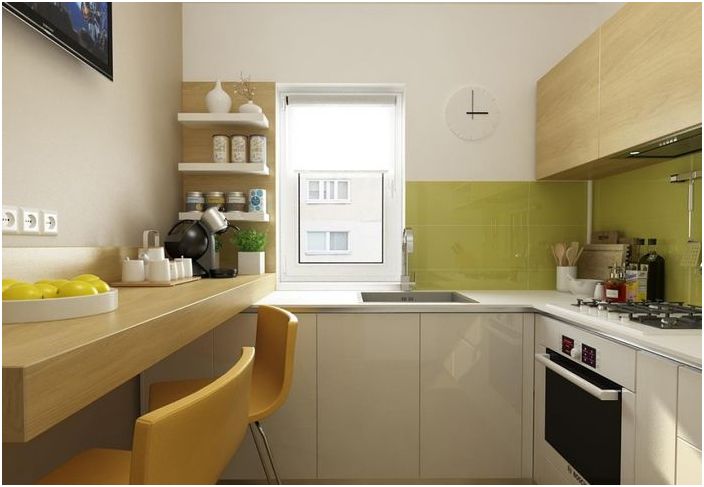 Small kitchen: 6 square meters
Kitchens in Khrushchevs are not very large. This circumstance forces many to puzzle over how to fit in a tiny room a fairly large refrigerator, a full-fledged stove with an oven, storage systems, a sink and everything else that is necessary for cooking and washing dishes. We found a vivid example of how to do this at the lowest cost, while visually expanding the space and making it functional.

Modern style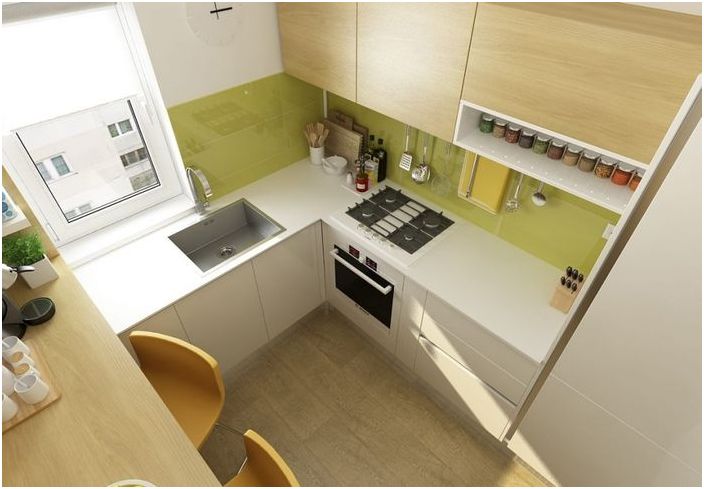 Small kitchen in a modern style

This small kitchen is located in one of Bucharest's small-sized kitchens. In terms of layout, they are very similar to Khrushchev, even the kitchens here have an average of 4-6 square meters. The apartment is owned by a young couple who lead an active lifestyle. They wanted their kitchen to be light and airy. To realize their desires, the couple invited the designer Manuel Saliche (Manuel Saliche). He immediately indicated that he would decorate the kitchen in a modern style. This choice made the space dynamic and functional..
Convenient layout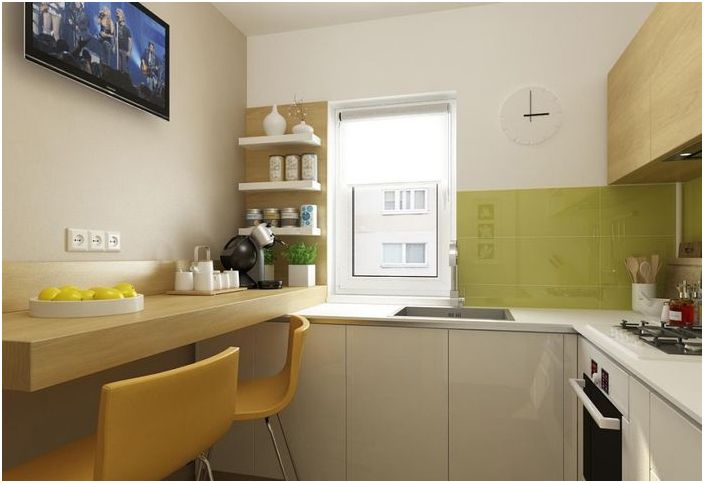 Convenient layout of a small kitchen

A comfortable kitchen environment directly depends on a harmonious layout. In this room, they decided to distribute all the furniture and appliances along the walls. Technically, it was possible to move the sink to the window, where the window sill was abandoned in favor of additional cabinets for storing kitchen utensils.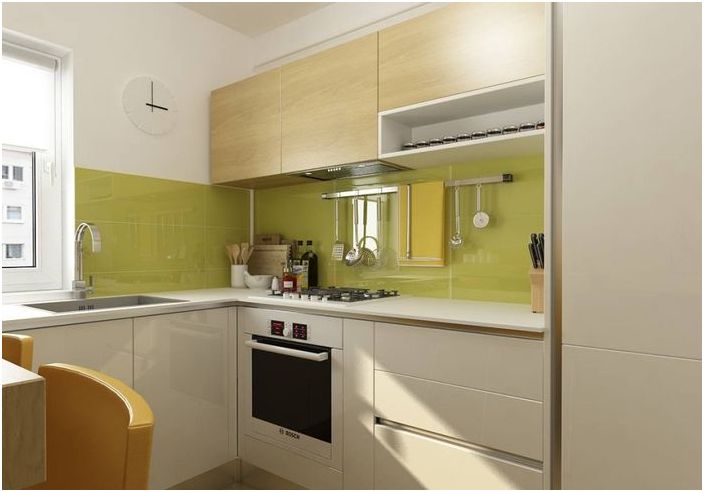 Concise placement of furniture in a tiny kitchen

On one side of the window, a gas stove with an oven was traditionally placed, a convenient work panel was made near it, and a refrigerator was already placed behind it (which took one of the corners). Some of the dishes and the hood were hidden in wall cabinets, which very laconically fit into the space of a small kitchen.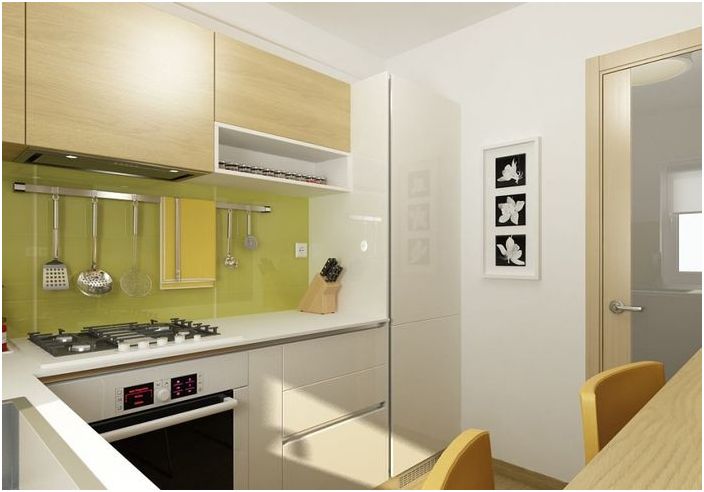 The refrigerator took place in one of the corners

The other wall is occupied by a long table top, which serves as a dining area. Due to the fact that the structure is hinged and not deep, the interior looks very light and spacious.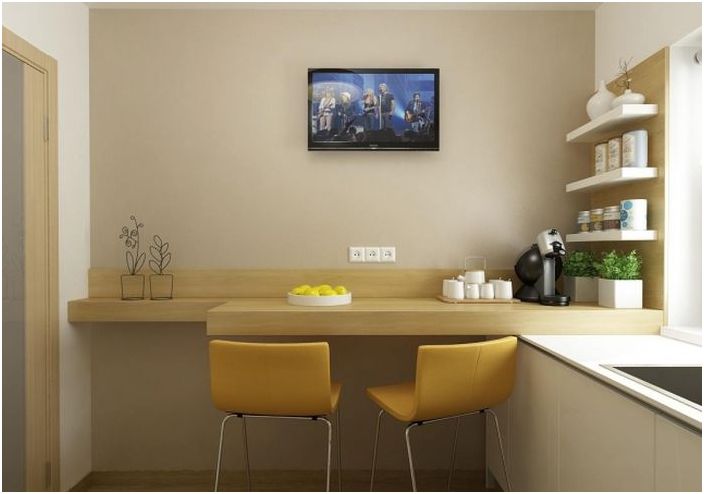 Dining area

Color spectrum
The owners of the apartment and the designer quickly decided on the color. They wanted to create a warm atmosphere in the kitchen, but at the same time visually expand it. The space was refreshed thanks to the spring green shade, and the warm colors of ivory and natural wood brought notes of comfort to the interior..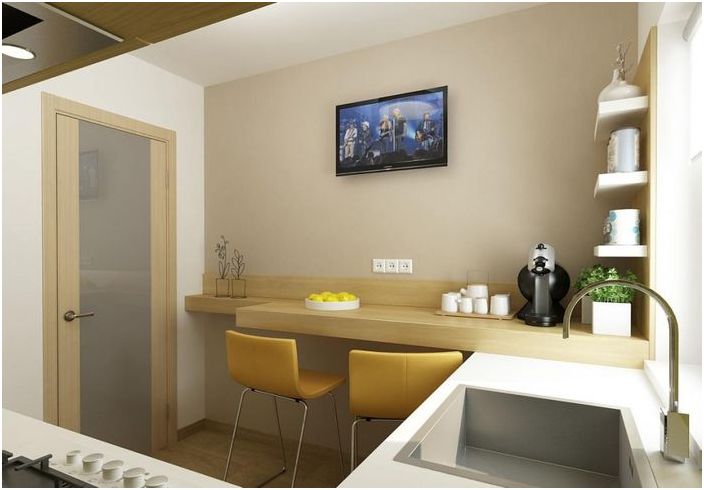 Nice colors in a small kitchen

Visual tricks
Small kitchens simply cannot do without visual tricks. And Manuel Saliche, of course, used some interesting tricks. First of all, I chose a light color scheme and furniture in neutral shades. Secondly, I used glossy wall tiles and glossy fronts for kitchen cabinets. The third trick is hanging furniture, which plays on the light perception of the interior..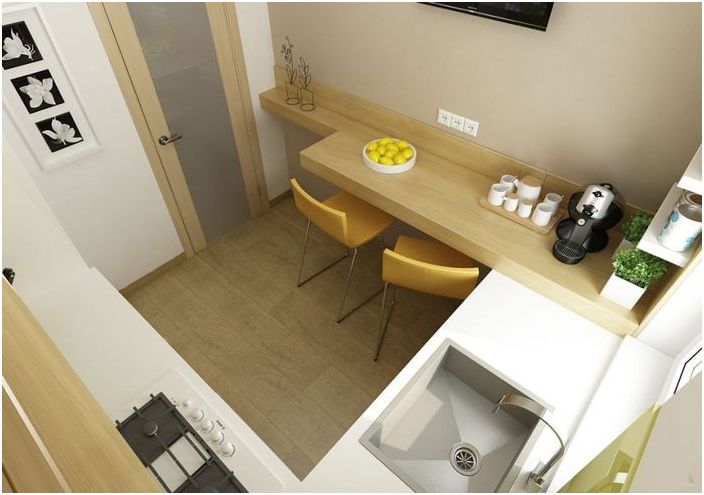 Organization of space in a small kitchen

As you can see, even from 6 square meters you can squeeze out the maximum and turn a small room into a spacious room where it will always be pleasant to spend time. And this can be done for little money. How exactly? We have collected 5 practical ideas and 15 illustrative examples that will help in this matter..