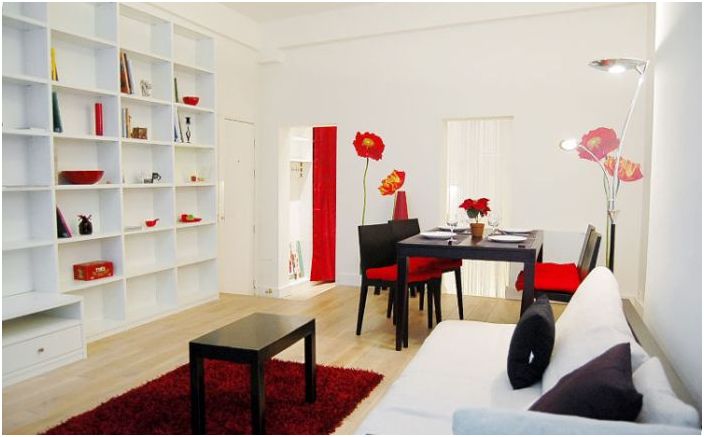 Paris apartment: 55 square meters
How to make a small apartment elegant and cozy? What if the kitchen and bathroom are tiny? How to find budget ideas for small size repairs? We found the answers to all these questions in a small and very attractive Parisian apartment..

Blood with milk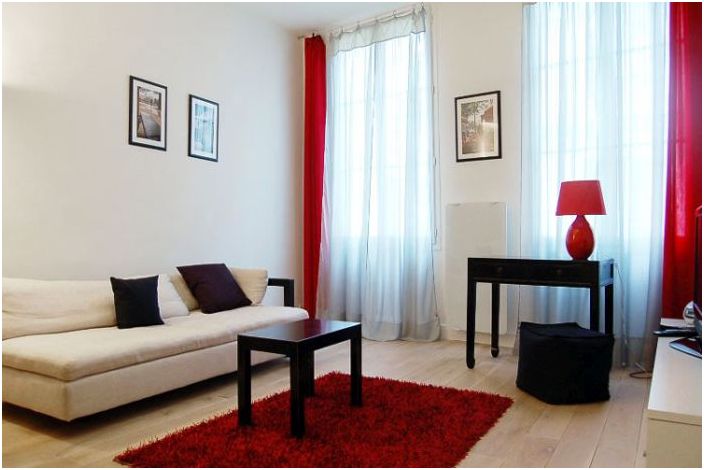 Three main colors were used in the interior design: red, white and black

The choice of white for the decoration of the apartment is quite justified. It hides the flaws in the layout and gives a feeling of spaciousness. In addition, it always looks elegant, and in this case also feminine..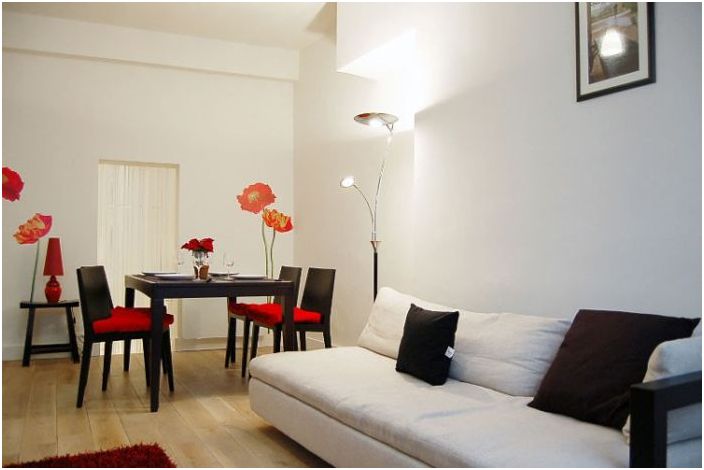 Elegant, small-sized interior

Balanced white with bold use of red. It is believed that this technique should be used in an interior, the owners of which have calm characters. He can excite impulsive individuals, and even annoy.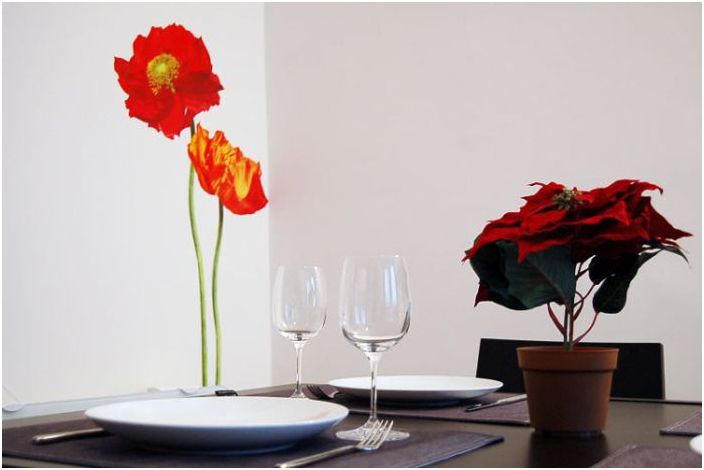 Unobtrusive decor

Of course, there was also a binder color here. It was an elegant black one. Thanks to him, the atmosphere turned out to be solid and complete..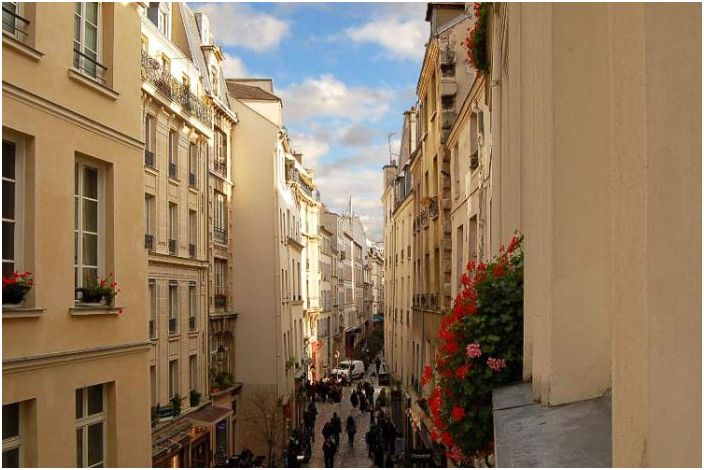 The apartment is located in one of the historic buildings in Paris

Minimalism in French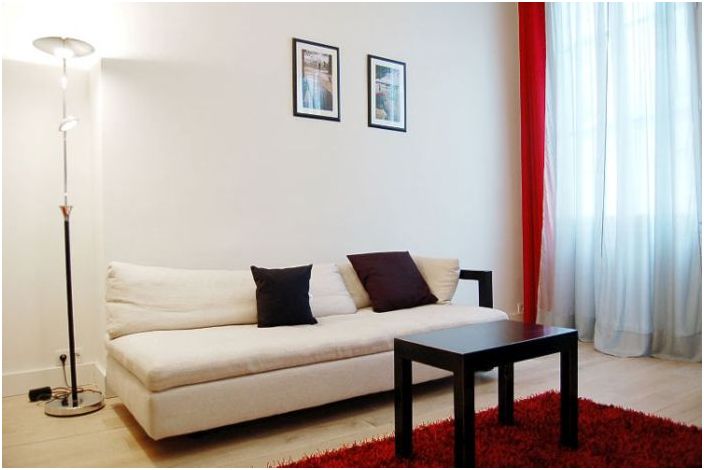 Minimalistic kopeck piece design

The interior of the small apartment is quite minimalistic. There is practically no decor on the walls, the furniture has a laconic design, and there are very few interior items. The landlady loves space, and she wanted to feel it in her small size.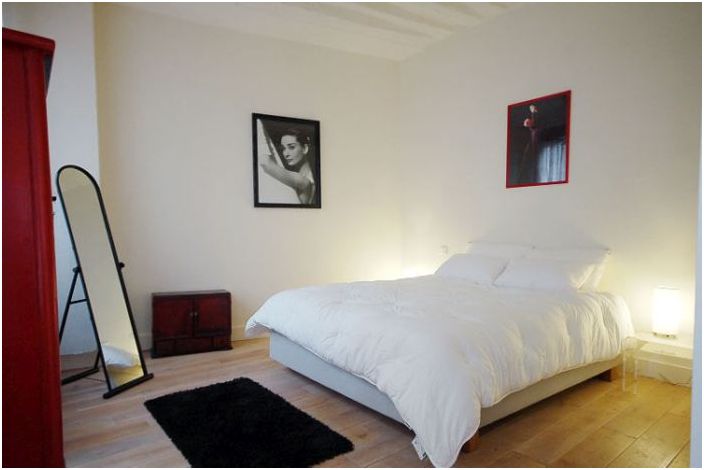 Laconic bedroom design

Small kitchen
They do not cook in this apartment often, so they did not redevelop for the sake of the kitchen. She remained in the old place, in a small corner located between the bedroom and the living room. It would seem that you can place on such an area. But the designers managed the almost impossible.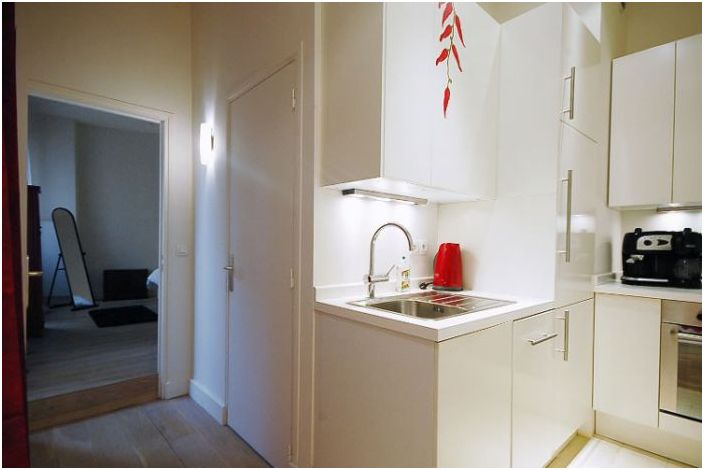 Small kitchen

In one corner they were able to fit a kitchen sink, oven, stove, refrigerator and many functional drawers. We made them to order, as it turned out to be difficult and expensive to find furniture of a suitable size.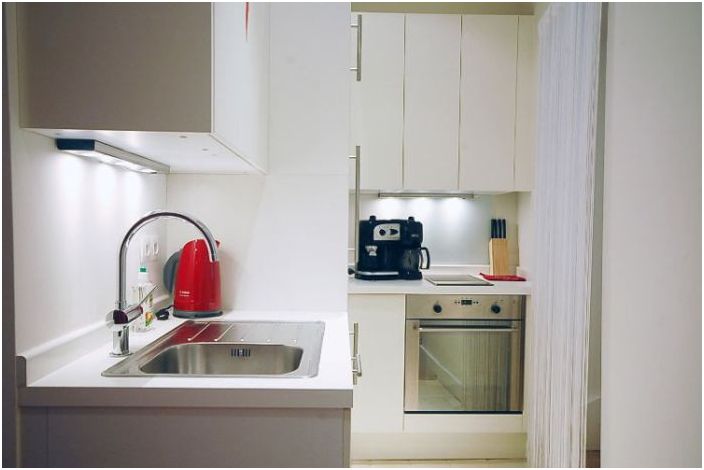 Corner kitchen

Tiny bathroom
Paris is rich in small apartments with inconvenient layouts. One of the biggest drawbacks of such small sizes is the tiny bathrooms. You can hardly turn around in them, but this did not become a hindrance for French designers. They literally squeezed the shower room into the limited space, using one of the corners for this purpose. Another placed a compact washing machine.
Here literally every millimeter of usable area was involved. But the storage systems were hidden under the sink and in the wall cabinet, which also serves as a mirror..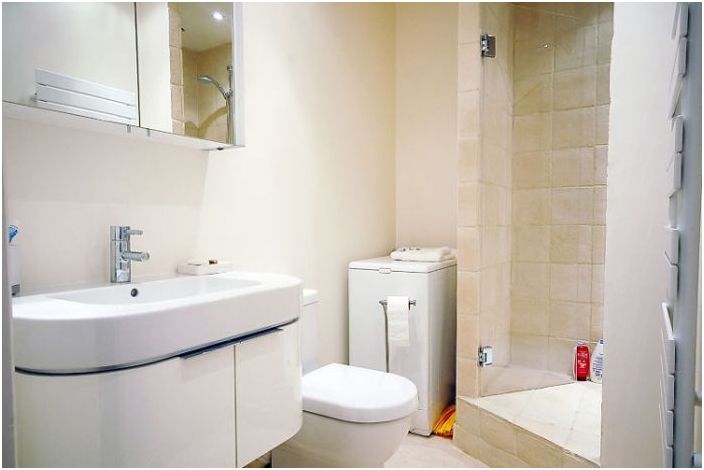 The interior of a small combined bathroom

How inventive designers can be when it comes to decorating small spaces. Some of the tricks they use can be noted. We've covered 20 cool ideas for every room.