Today we would like to take a closer look at the design of one very cozy bedroom. She is completely small, very calm and laconic..
The style in which this room is made is a mixture of styles such as country and American classics. In terms of color, we see a large number of light colors, pastel and bleached. Here and white, and cream, and pale blue, and natural light brown.
Bed
The main place in the room is the bed. High mattress, headboard, covered with dense striped fabric and decorated with metal studs. There is a bench at the foot of the bed. In our country, for some reason, it is not customary to put this kind of slippers in front of the bed, although it is not clear why – it looks elegant and very convenient – you can fold a decorative blanket, small pillows, and even clothes on the bench at night.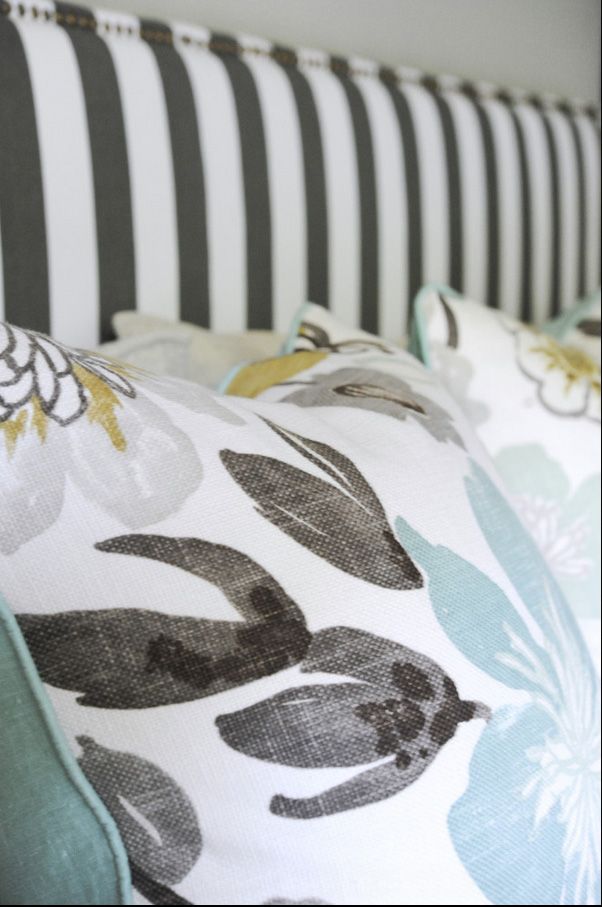 Window
The window in the bedroom is wide and large. The thickness of the walls (which was provided for during the construction of the house or even artificially extended) allows you to place a wide low window sill in the slope, which serves as an additional seat. Here you can even custom-sew a small soft mattress and put a blanket and several pillows.
Pay attention to how simply the window is decorated with textiles. A high-quality flat light curtain on a metal cornice – and nothing else. Thus, we do not block access to a functional window sill, but still make the room more comfortable..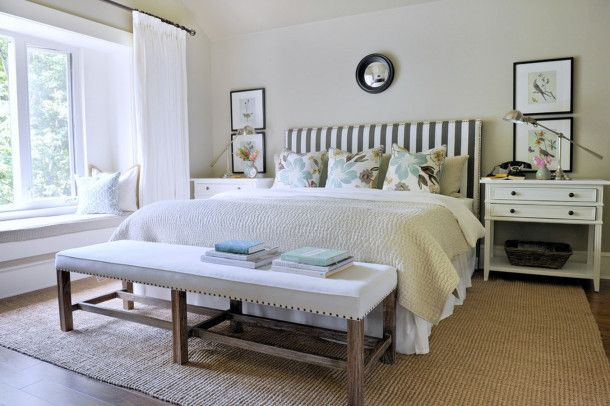 Textile
Pay attention to the quality of the textiles – all materials here are exclusively natural. And the colors of the pillows and prints within the frames are very harmoniously combined with each other. There are practically no such coincidences, and the owners, most likely, bought empty frames, and later found suitable images and, having made a mat, inserted them inside.
Idea!
When sewing pillows, you can save several pieces of fabric and insert them into similar frames. Then the correspondence of textiles in the room and the image in the frame will be 100%.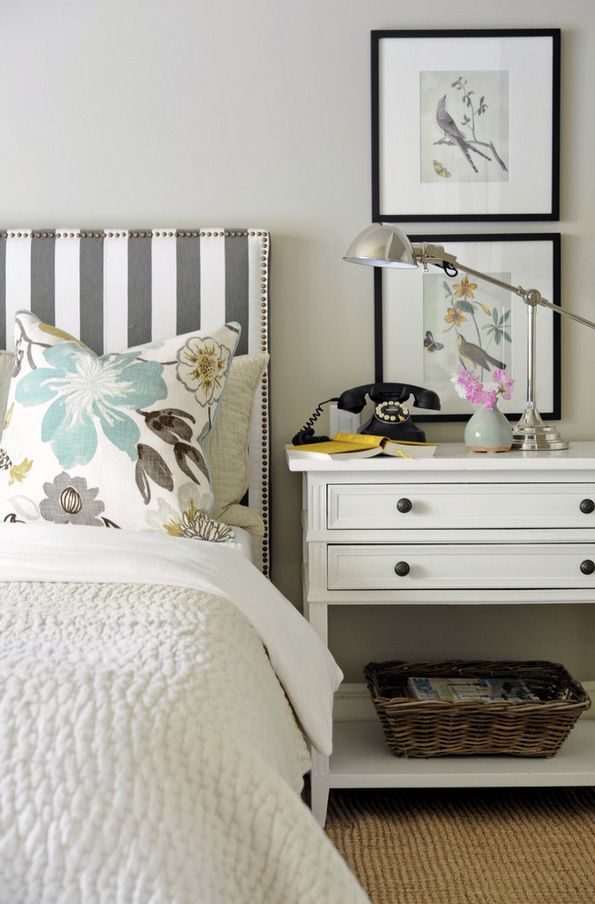 Bedside tables
The bedside tables are also quite interesting. They are not deep, but wide – this option is suitable for bedroom owners in the shape of an elongated rectangle. They are also good because their legs are not closed. There are 2 drawers at the top of the cabinet, which is functional, and the open space and shelf at the bottom make the cabinet visually light. On this kind of shelf, you can put baskets, beautiful boxes, boxes, books and other cute little things useful in everyday life..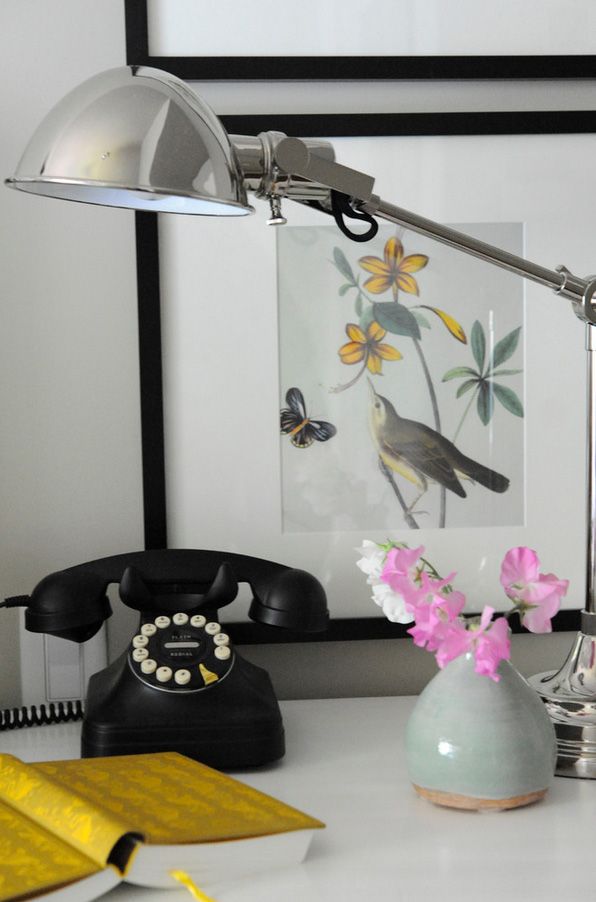 Notice how beautifully chrome minimalist table lamps fit into such a rather conservative bedroom. They even somewhat resemble office ones. But it is precisely this contrast of delicate colors in a vase, an old telephone set and such a high-tech lamp that is very attractive and interesting.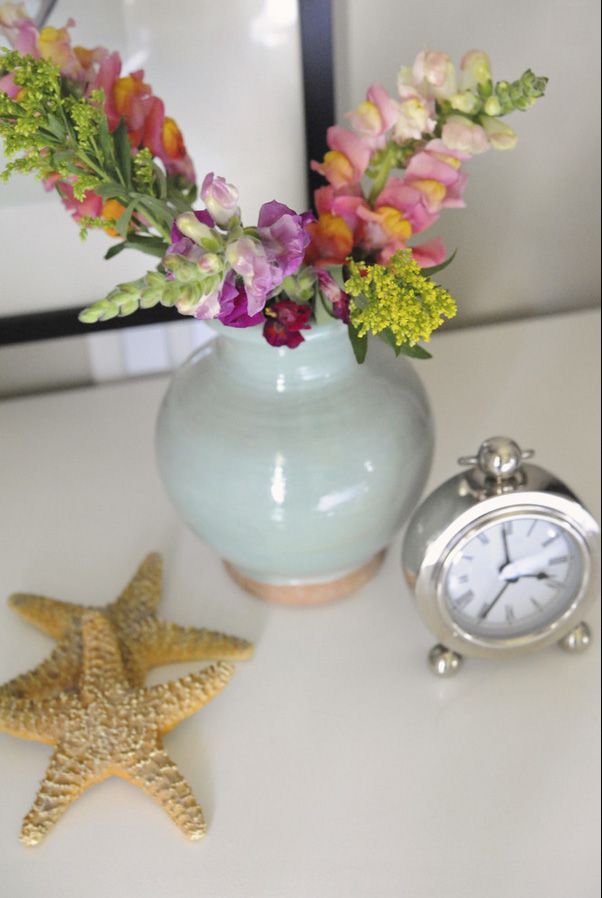 The best thing about this room is that it is harmonious. Calm, atmospheric, setting for a peaceful mood bedroom. A minimum of pretentious and flashy elements, but a lot of cute and homely cozy details. Isn't that the same effect many are trying to achieve when designing their personal bedroom.? And, I must confess, the owners of this room did everything for «Hooray!».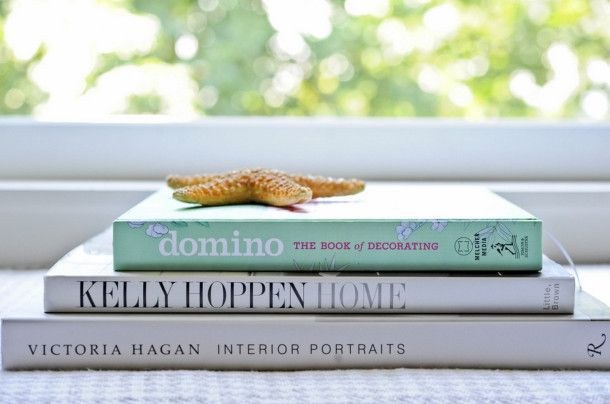 More bedroom ideas: «Accent wall behind the headboard»
Good luck!