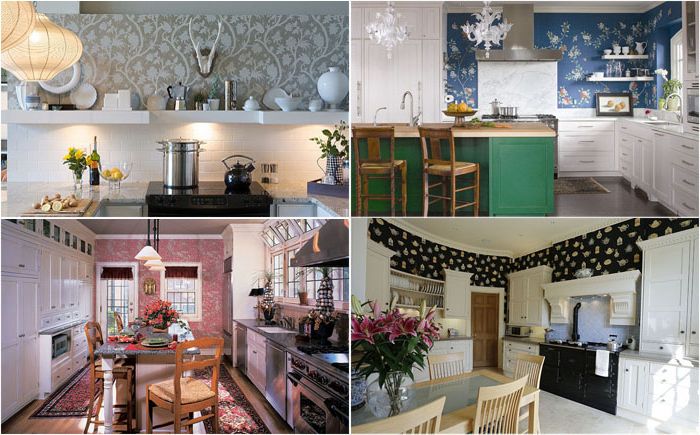 20 original wallpaper ideas for the kitchen

Wallpaper will never go out of style. They can change, improve, periodically fade into the background, but still return triumphantly. And now they cannot be called the cheapest and easiest way to decorate the walls of a house. Thanks to them, the house becomes much brighter, more expressive and more interesting. We offer an overview of creative ideas for using wallpaper in a kitchen that is not quite traditional for them..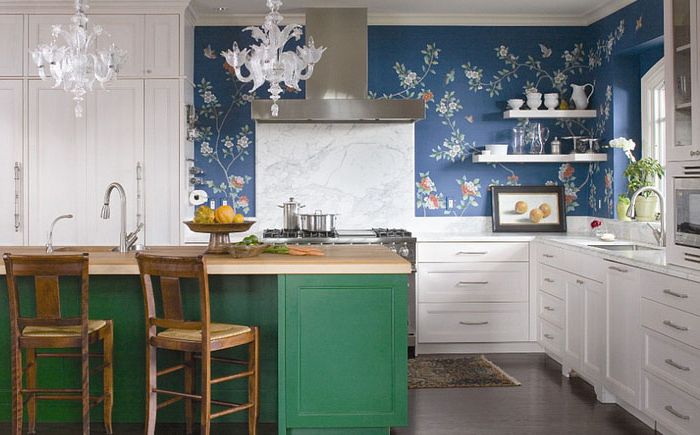 Eclectic kitchen by Andrea Schumacher Interiors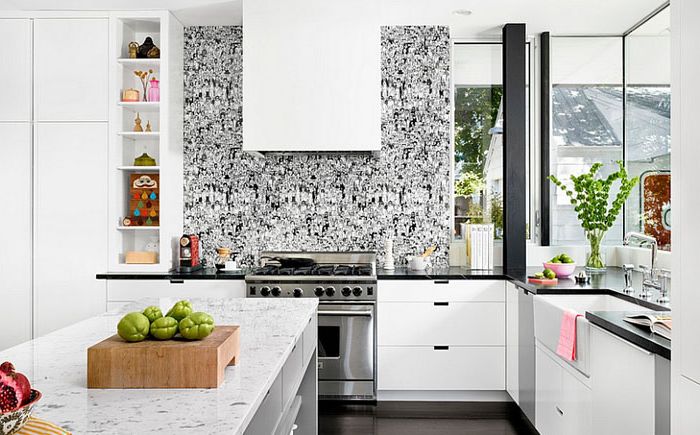 Kitchen interior by Hugh Jefferson Randolph Architects
A huge number of designers are happy to use wallpaper when decorating the interiors of bedrooms, living rooms, dining rooms and even bathrooms. The situation with kitchens is somewhat different. But even here wallpaper can produce an incredible effect. They are versatile and easy to work with, so they can be a great alternative for those looking to get away from the mundane..
Explosion of colors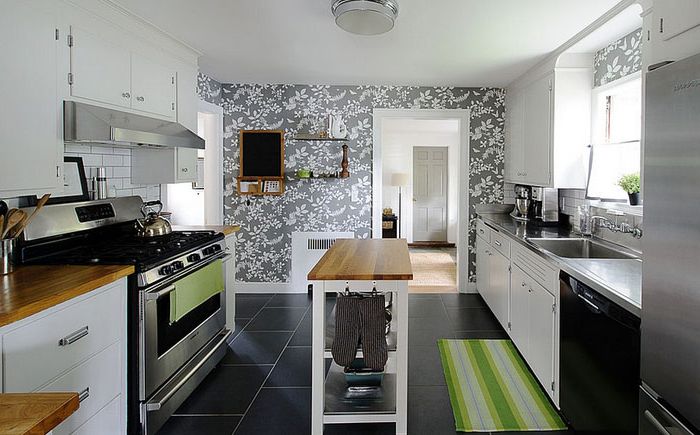 A neutral color scheme for a modern kitchen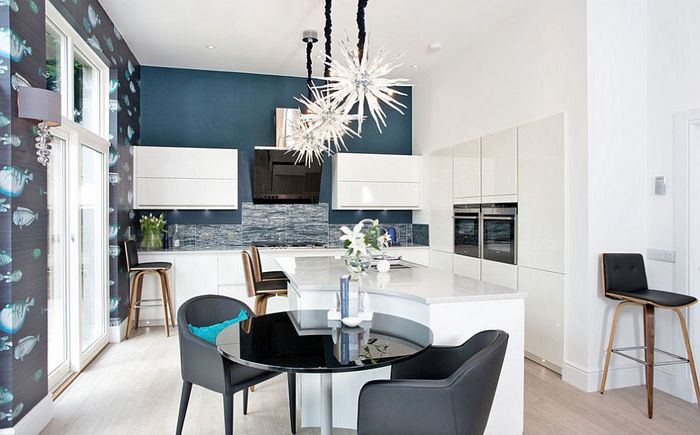 Orchid Newton Kitchen Interior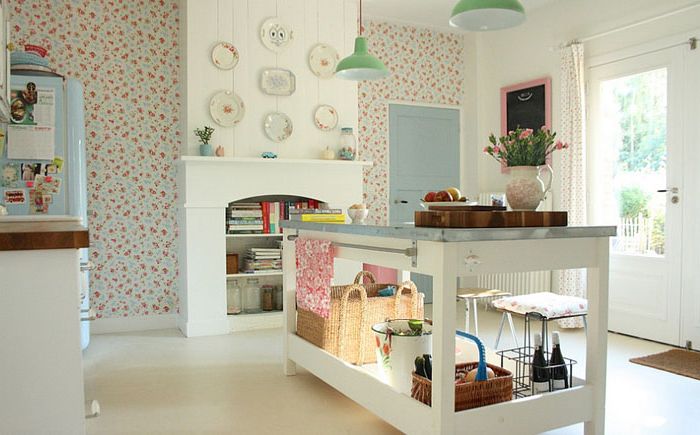 Floral motifs on the wallpaper
Wallpaper is one of the simplest and easiest ways to add color to your interior. In principle, there is nothing surprising in this, but most often tiles are used for this purpose in the kitchen. And this makes some sense when it comes to an apron behind the sink and stove. Wallpaper is best used for the rest of the kitchen.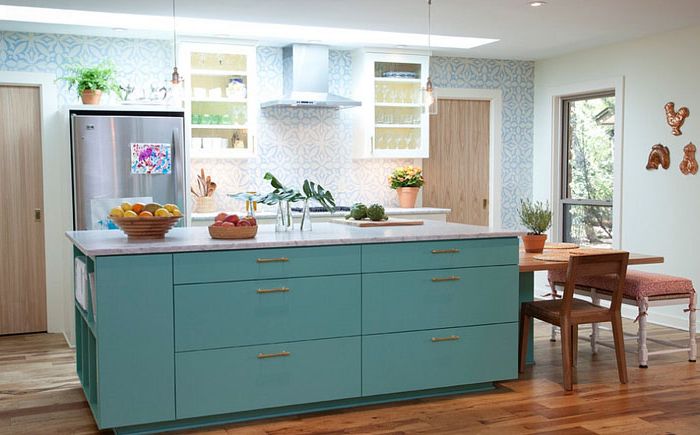 Mediterranean style kitchen by Tenney Construction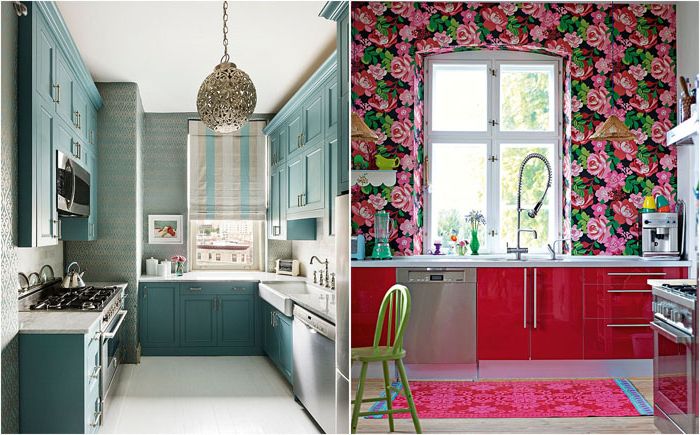 Wallpaper may be different
From luxurious pinks or vibrant purples to floral patterns, everything will look great. Moreover, if necessary, changing the wallpaper will not be difficult..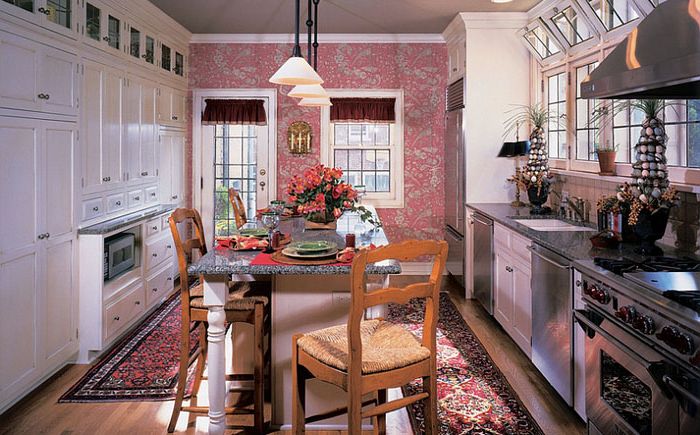 Pink accent wall by Kleppinger Design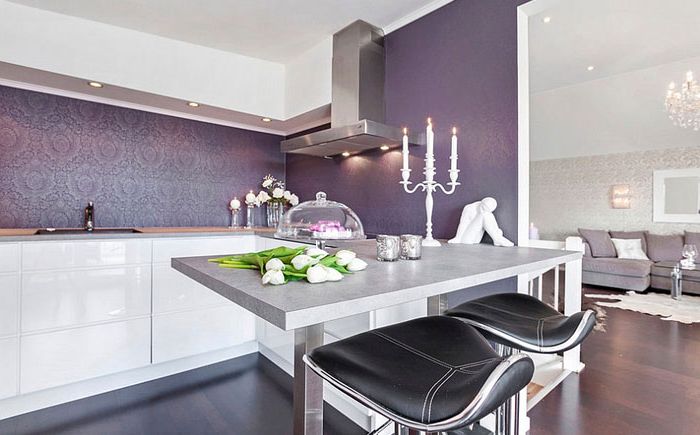 Luxurious lilac in the kitchen interior by Sylvia Fridman




Wallpaper in an unusual place will revive the atmosphere of the entire kitchen
The more neutral the kitchen is, the more luxurious the wallpaper effect will be. That is why they are becoming more and more popular, especially in kitchens decorated in a minimalist style in white or gray tones. Simple small-sized sections of the walls covered with wallpaper can radically change the interior.
Playing with patterns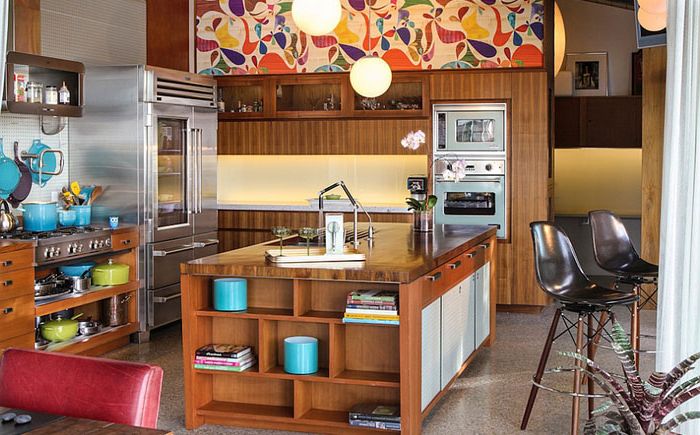 Bright colors in the kitchen by Native Son Design Studio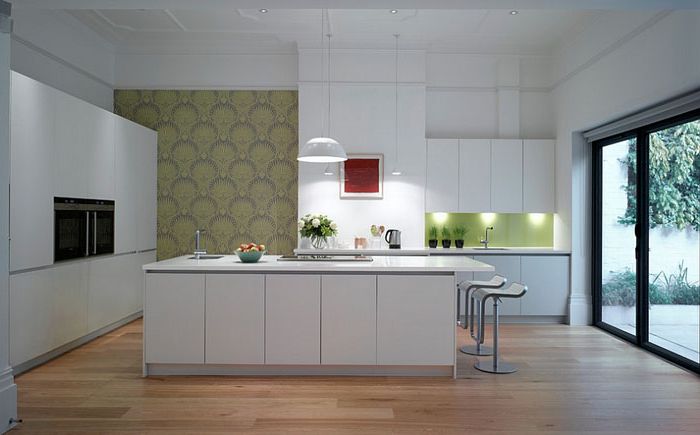 Accent wall in the interior of the kitchen
One of the reasons for the wallpaper resurgence is the desire of designers to use neutral colors as a backdrop for vibrant patterns, rather than just being limited to solid, saturated tones. Now you can glue the wallpaper with the original pattern without changing the existing color scheme of the room.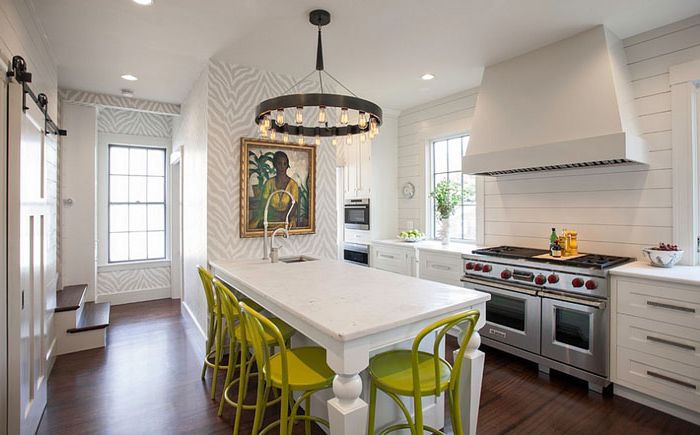 Kitchen interior by New England Design Works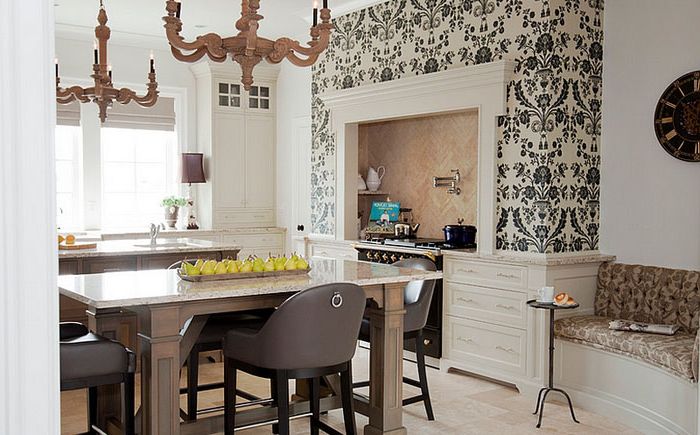 Luxury kitchen from McBurney Junction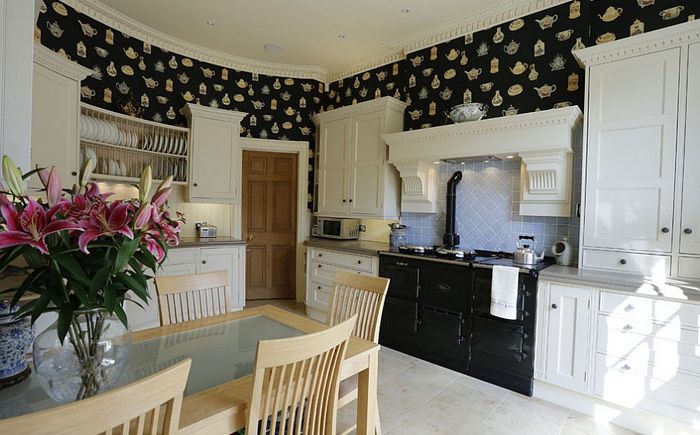 Classic wallpaper for the kitchen
Wallpaper in neutral tones will easily blend into the existing style. And if you want to experiment, then abstract patterns, bright floral motifs, stylish prints will easily emphasize the dignity of design solutions and add additional texture.
Kitchen and more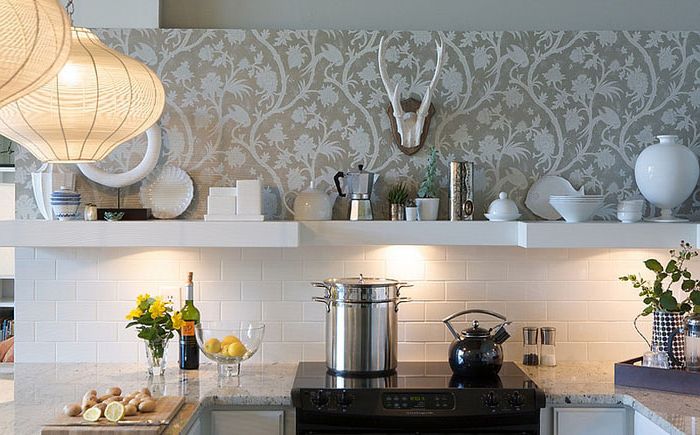 Combination of tiles and wallpaper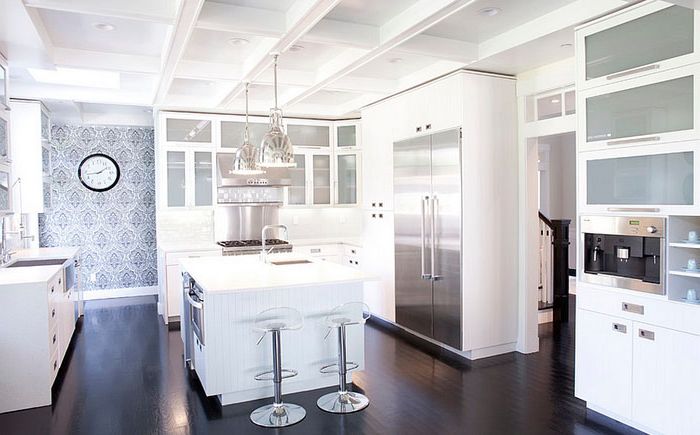 Stylish kitchen from 360 design studio
Before deciding to use colorful bright wallpaper in the kitchen, you need to make sure that you really like the drawing. Otherwise, it will quickly become boring and irritating. That is why more often in the long term, they prefer calm and restrained options..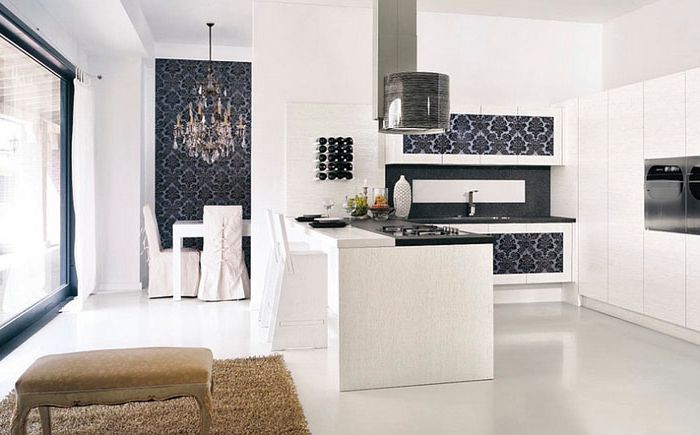 Wallpaper in the kitchen and dining room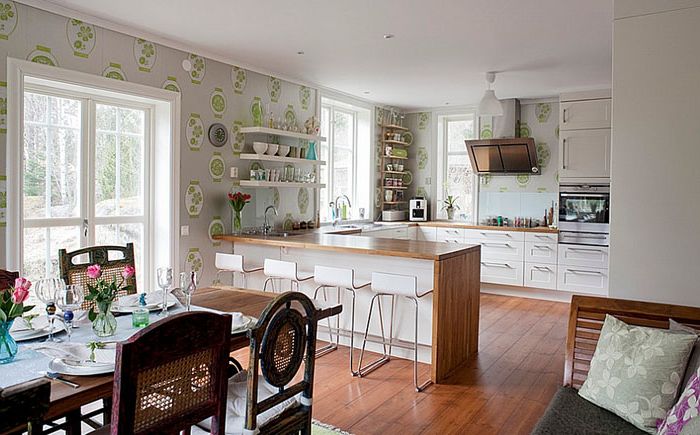 Elegant open-plan wallpaper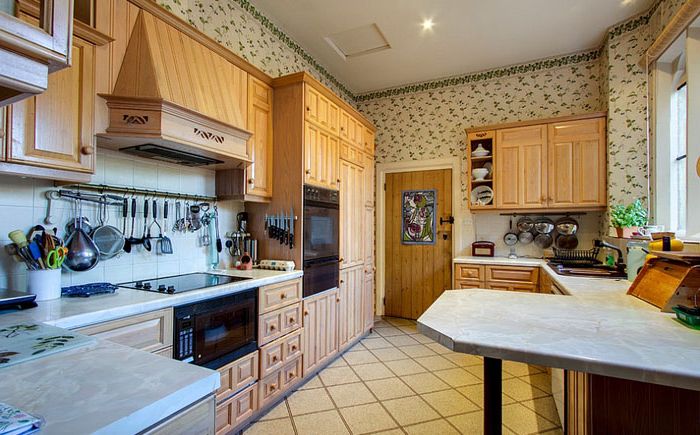 Classic Kitchen by Durrant Associates
But there is an amazing way to expand space with wallpaper. To do this, with an open plan, repeating sections of wallpaper pasted in the kitchen are included in the living room interior. Thus, you can visually combine different zones, even if they are all decorated in different color schemes..