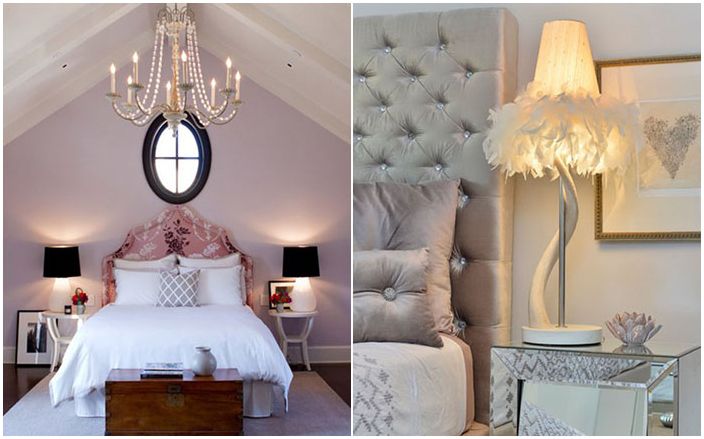 11 fabulously beautiful bedrooms easy to fall in love with

To make a luxurious bedroom worthy of the modern beauty queen, you need to take expensive materials and combine them with decorative elements, including patterns and murals. We offer 11 professional tips on how to create a stunning atmosphere in a room that will become a cozy and beautiful place for a relaxing stay and sweet sleep..
1. Beautiful backlight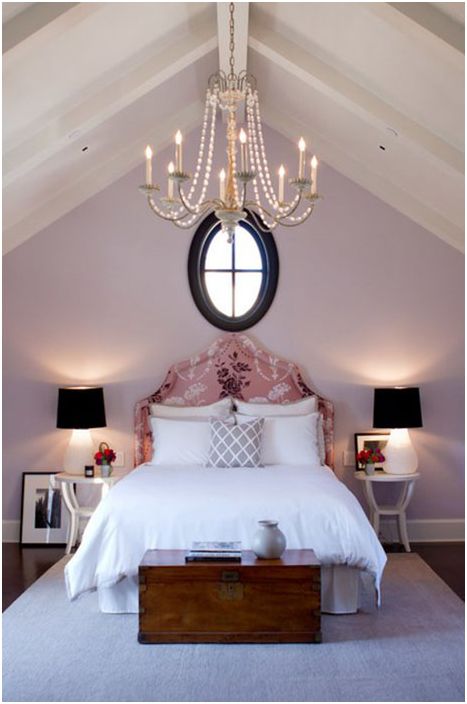 Bedroom interior by Jackson Paige Interiors, Inc.
Light up your bedroom with a pendant chandelier and complement the soft light of the elegant table lamps mounted on the bedside tables. A pair of wall lights will complete the overall look and create an appropriate atmosphere, especially if the walls or ceiling are decorated in neoclassical style. It is worth staying away from cupids, so as not to overdo it with glamor.
2. Beautiful headboard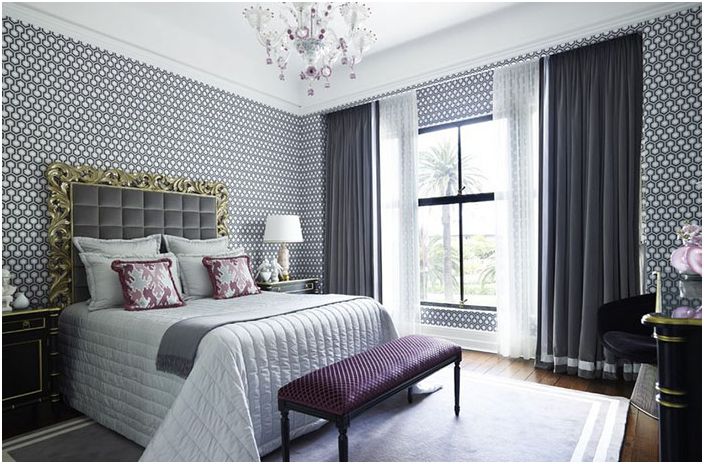 Bedroom interior by Greg Natale
Whether upholstered in velvet, silk or linen, a headboard is an essential part of the luxurious decor of any bedroom. Headboard in the room «luxury», pictured here is framed with a gold-plated swirl frame, perfectly in line with 1920s Hollywood style. Another sign that this bedroom is home to a real princess is a large quilt that covers the entire bed, dark curtains for privacy, and a perfectly thought-out lighting system..
3. Pastel colors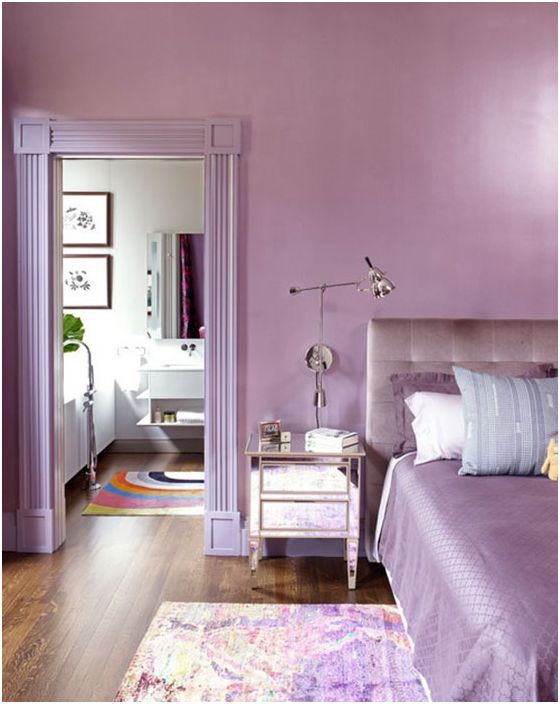 Bedroom interior by SPG Architects
If magenta is the color of kings, then lilac is the color of queens. A luxurious bedroom could easily belong to a princess: a velvet headboard, shimmering sheets and satin walls – all in a beautiful lavender hue. You can also install an air freshener with lavender aromatic oil – this will complement the palette of sensations.
4. Sensual drapery


Bedroom interior by Andrew Howard Interior Design
Cover the bed with an antique bedspread, silk or satin pillows to enhance the effect. Then add a couple more pillows and make yourself comfortable to rest. At the foot of the bed is a comfortable, plush ottoman, which is not just a decorative element, but a place where you can sit down and take off your shoes while lying down in bed.
5. Soothing tones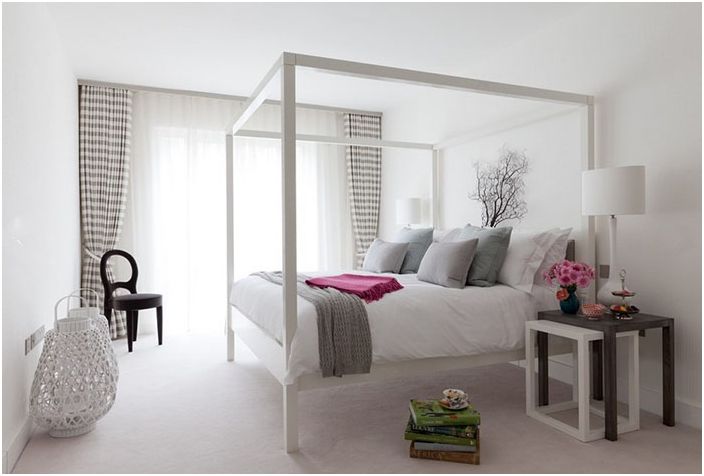 Bedroom interior by Taylor Howes Designs
Create a relaxing atmosphere in your bedroom with contemporary tones. White will always be in place, but adding a couple of other accents will enrich the decor. A variety of pink tones are perfect for a princess bedroom, but don't forget the prince's preference. If you combine pink and pale gray, you get the necessary balance.
6. Exquisitely decorated wardrobe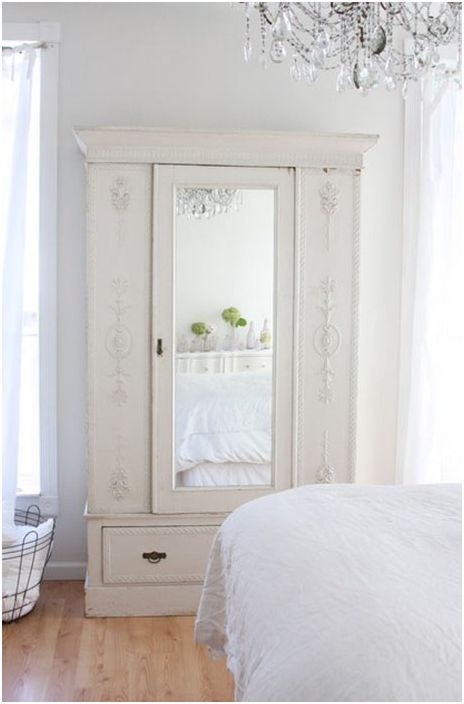 Bedroom interior by Dreamy Whites
The romantic atmosphere in the bedroom can always be emphasized with the right furniture, especially if it has its own story. Whether it's a walk-in closet or a built-in wardrobe, everything is very practical and fits well, but a wardrobe with French-style stucco molding is what you need. If there is a lot of free space in the room and there are already a couple of antique pieces of furniture, then such a cabinet will come in handy in any case.
7. Comfortable chairs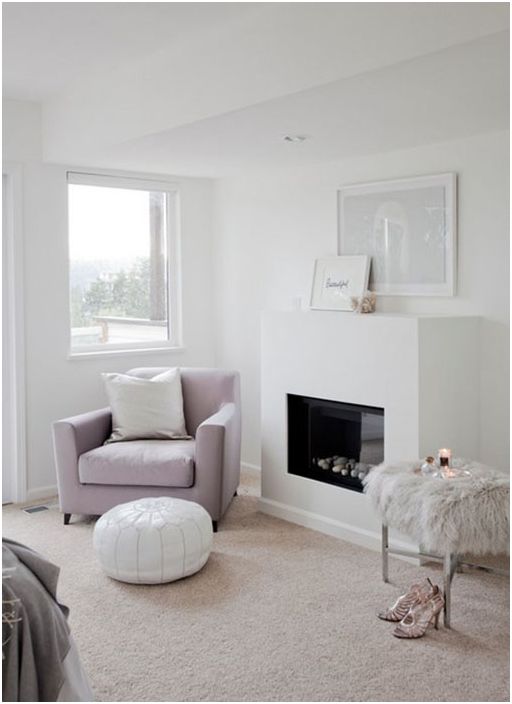 Bedroom interior by The Cross Interior Design
If you are not ready to go to bed yet, then sit in a comfortable chair, read a book or watch a movie in peace and quiet. A small but comfortable boudoir chair will come in handy. It is a perfect place to relax and unwind after a busy day..
8. Eccentric wallpaper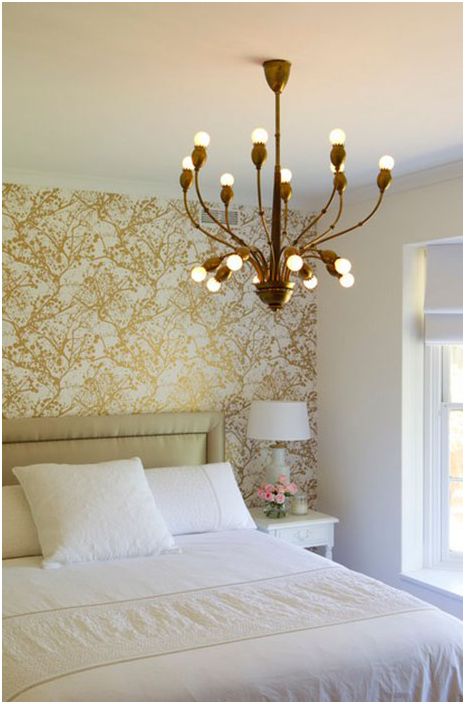 Bedroom interior by Camilla Molders Design
Choose wallpaper that magically creates the atmosphere you need in your bedroom. The mauve tones are very relaxing, the lilac-pink tones are uplifting, but nothing beats silver or gilding. Wallpaper with a metallic print is considered a delicate accessory and should be combined with the matte white color of the bedding and add sophistication to the image of the bedroom as a whole..
9. Comfortable curtains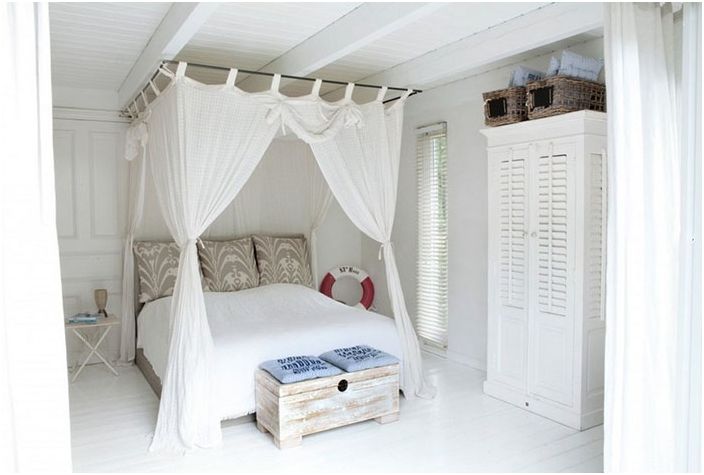 Canopy bed
Let lightness and delicacy reign in your white bedroom, thanks to the muslin or organza curtains that adorn the canopy. This atmosphere is conducive to relaxation, but do not overdo it with glamor, keep balance in everything – add natural elements to the decor.
10. Luxurious night light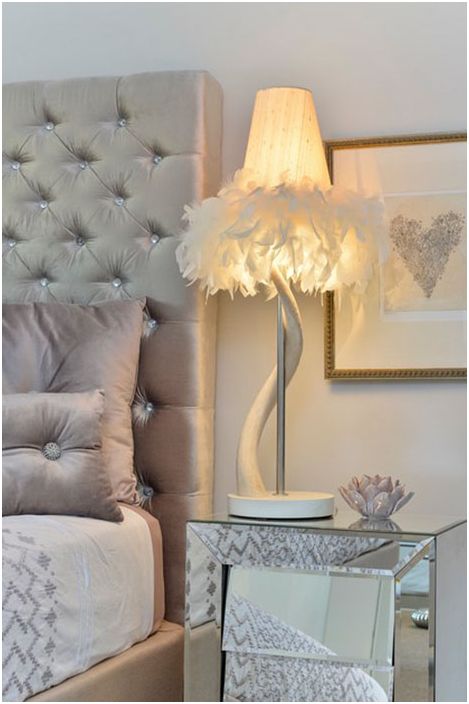 Bedroom interior by Ania J Interior Styling
This retro 1920s Hollywood style feather lamp looks great in interiors when paired with an elegant mirrored bedside table, satin-upholstered headboard and gem-head nails and silk bedding.
11. Shelf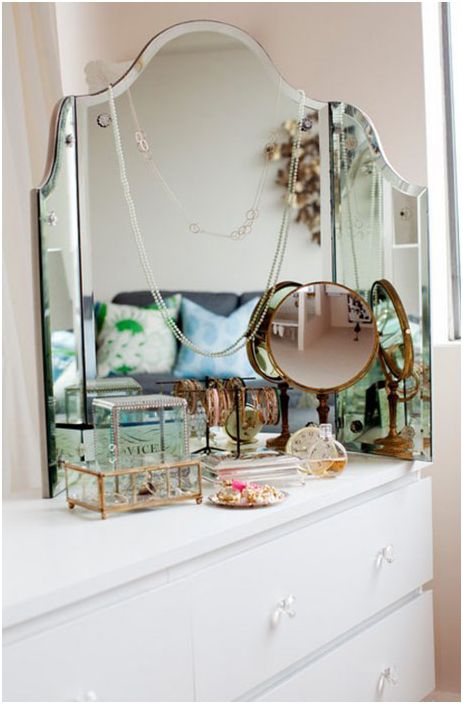 Bedroom interior by The Cross Interior Design
Do you like to display your jewelry and perfumes on open shelves or on top of a dresser? Then this antique dressing table with shelves is perfect..
Shelves are an important element in the interior not only of the bedroom, but also of other rooms. They are ideal for arranging additional space, you just need to correctly use the shelves in the interior.