To understand how best to decorate a child's room, you need to feel like a little child and look at the task through his eyes. From the point of view of the kid, the space should be interesting, useful and always with many hiding places, otherwise the room risks losing its attractiveness and quickly get bored.
Design of a small children's room: tips and photos
Of course, in order to ensure the development of children with everything necessary, you need a lot of things, but how to place them if the room is far from ideal in size. We propose to take a closer look at several very useful ways to decorate small children's rooms..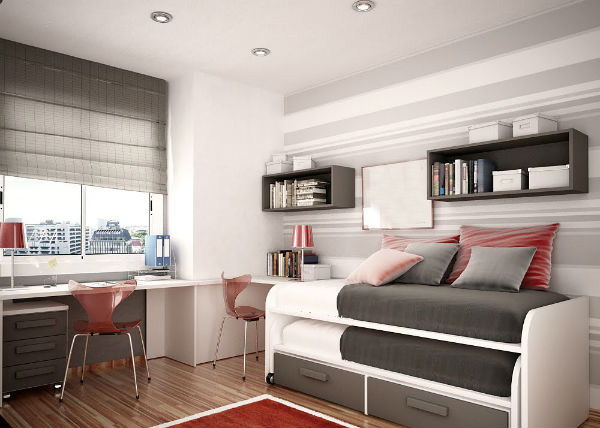 Advice: When arranging furniture in a small room, it is better to place it around the perimeter, along the walls. In the nursery, this method will allow you to expand the center as much as possible without cluttering it with unnecessary and voluminous objects. In this case, there will be more space for outdoor games..
The current classic: bunk beds
What if the size of the room is not enough to simply set the required number of beds, if your family has more than one child. The solution to this problem looks easy and transparent, because it is enough to purchase a two-tier bed, the unpretentious design of which children will definitely like.
You can diversify the design of a double bed by mounting it in such a way that it becomes one with a functional roomy wardrobe or shelving.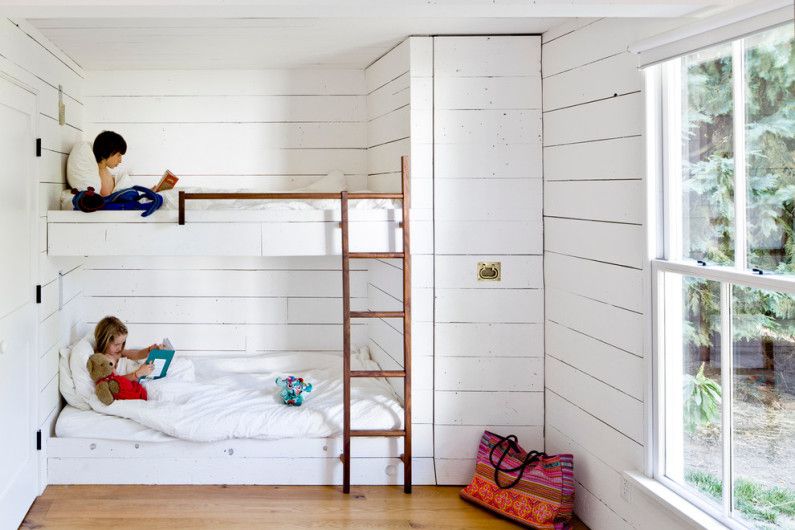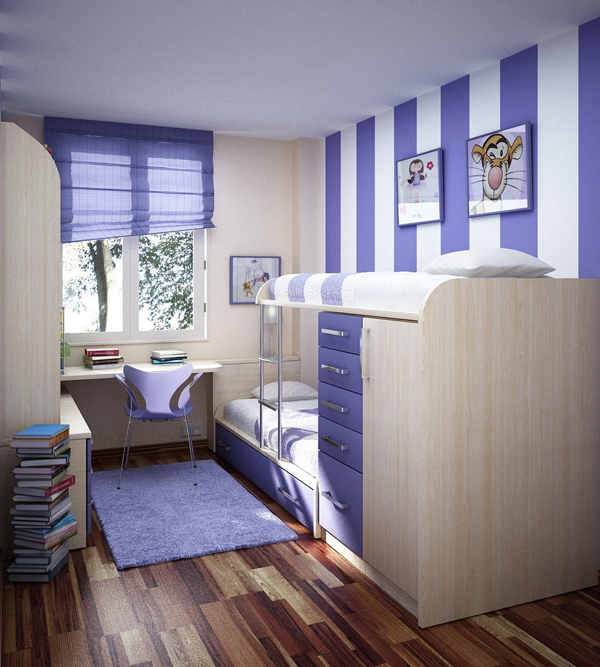 Drawers under the bed
If we are talking about the most practical ways to save space in a children's room, then one of them, undoubtedly, are hidden or built-in storage sections. These can be drawers hidden in the box of the bed itself. Several compact or two or three spacious, these compartments are more convenient to use for a small room than a massive, independent cabinet that obscures half of the wall.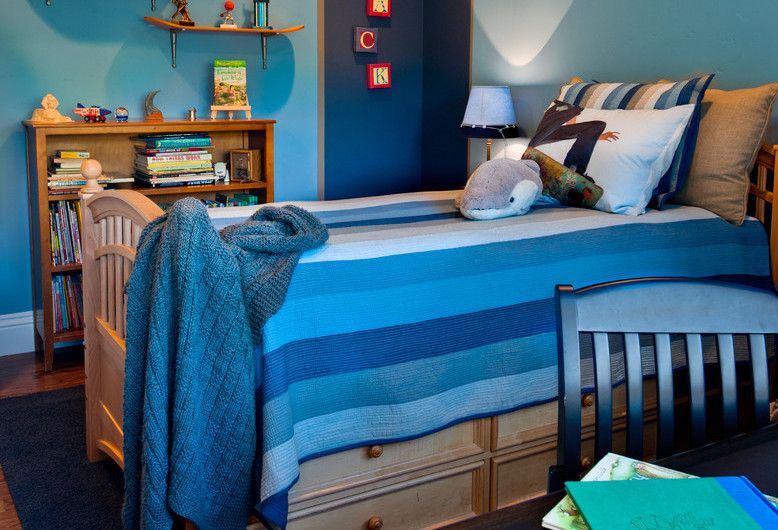 Niches and stairs
Taking care of the correct organization and distribution of things in your child's room, you should not ignore any possibility of using different objects for their intended purpose and without.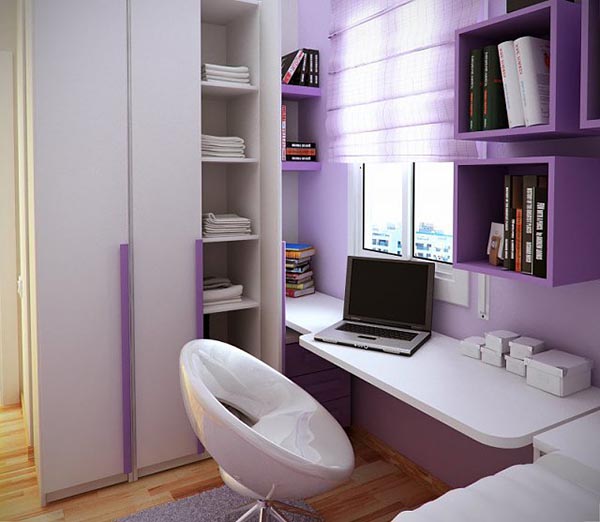 Advice: when installing a bunk bed with a voluminous staircase, leave one of its walls uncovered. Thus, you can get additional shelves for books, toys and other things..
Part of the wall behind the headboard of the crib can be brought forward a little using a plasterboard structure that will form two side niches on either side of the bed. By installing hanging shelves in them, you help your baby to keep order, because now each book and toy will have its own place..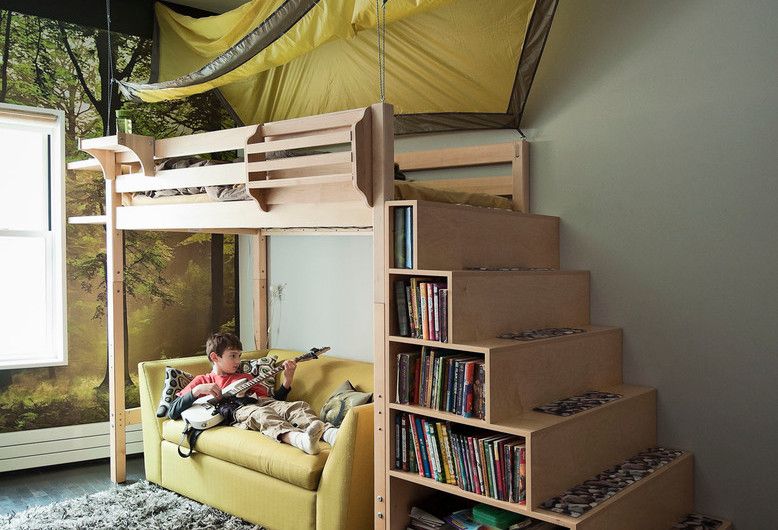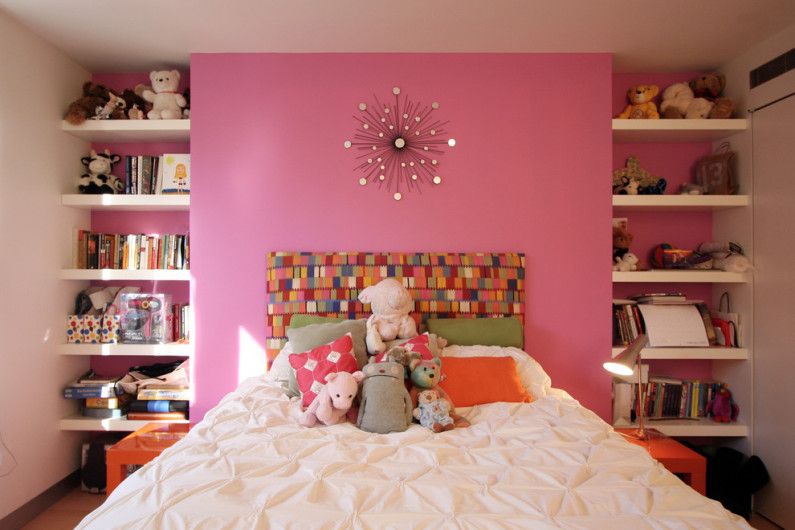 Light folding furniture
If we are talking about a small nursery, but expect a lot from it, we should think carefully when purchasing this or that furniture. But the dimensions of the room still oblige, so if you intend to install several items, it is better to give preference to such as a transforming cabinet with a folding table and many additional drawers, or a rack in which a wide lower shelf serves as a workplace.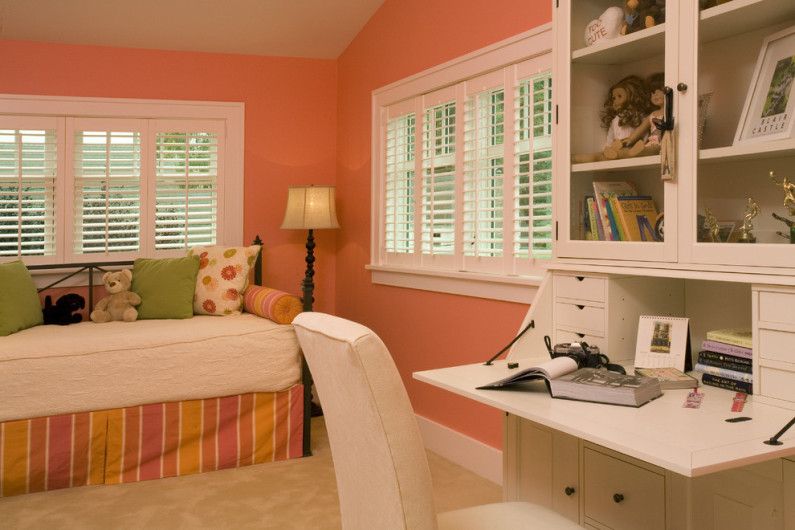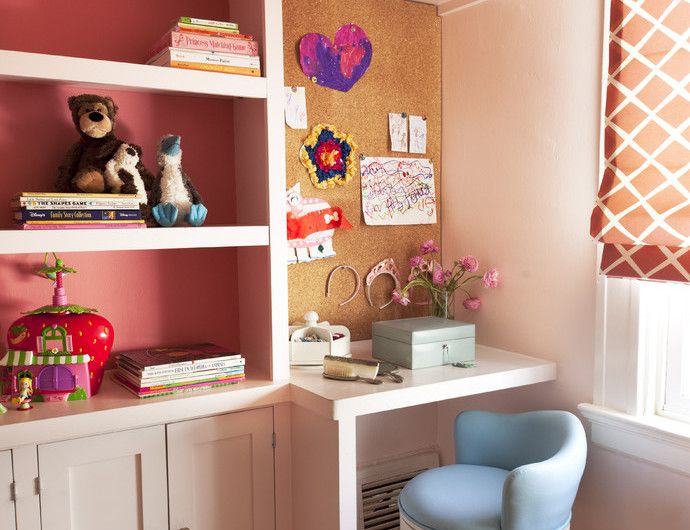 Ceiling spot
At first glance, the high arrangement of the shelves will be inconvenient in the children's room, since the child will not be able to get or put the necessary thing, due to the fact that he simply cannot reach the upper cabinets.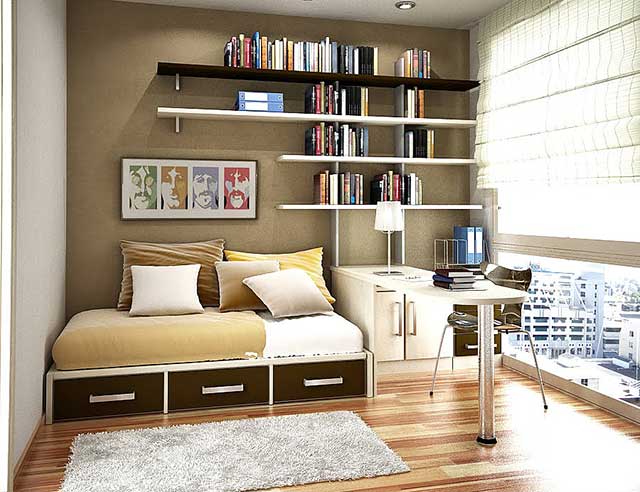 On the other hand, this method of using space is good for long-term storage, for example, things. «for growth» or seasonal items, as well as spare blankets and pillows and gifts for the upcoming holidays.
If you still intend to provide your child with a comfortable climb to the upper tiers, you need to purchase a light but durable ladder, preferably with flat rungs.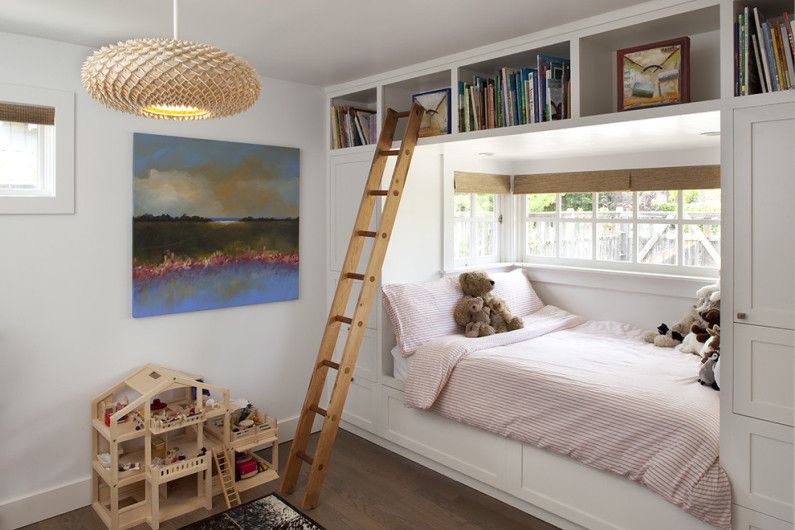 Mini-cabinet
The child is getting older, and it's time to think about how to arrange all the objects, stationery, books, paints and other things so that you don't have to take up space with a new chest of drawers. We recommend that you pay attention to this issue when the baby is barely three years old, since in this case there will be enough time to calculate the area of ​​the room most successfully.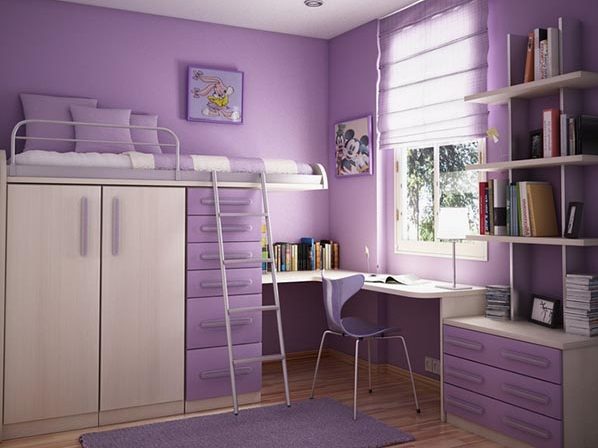 It's good when the bed, wardrobe and work area form a single composition, and each item has its own place. You can, for example, order a complete set of furniture in the store, made according to a pre-agreed sketch. It will cost more, but more reliably and with better quality, and the result will delight you and your children, being an ideal option for saving space in a small children's room..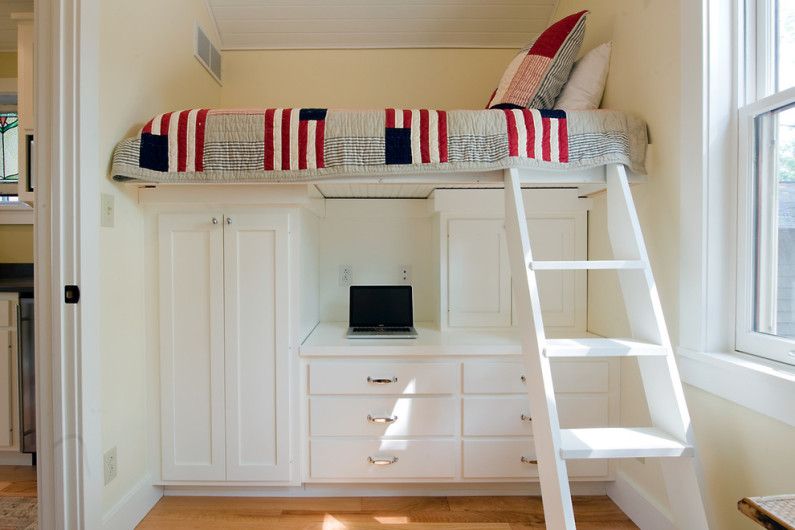 Built-in wardrobe rack
In order to organize the numerous toys and things of the child, we resort to well-known, but far from convenient ways of organizing them: we use large floor baskets, put heavy dressers and wardrobes. It would be much more practical to design a full-fledged rack equipped with shelves, drawers, mini-baskets and crossbars, and hide all this beauty behind the doors of light swing or sliding doors.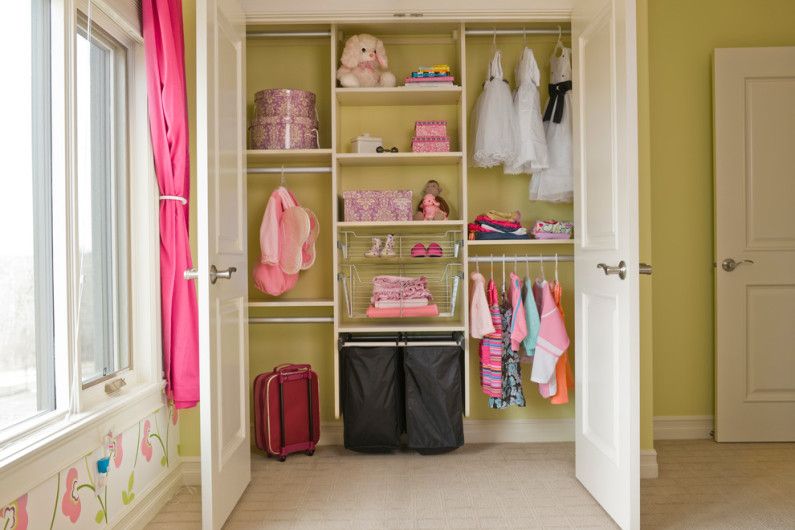 Good luck!