Every child must have a personal space, since it is necessary for the development and formation of a personality that is not constrained by frameworks and conventions. If your apartment has two, three or more rooms, you will, of course, give one of them to your child.
Today we will talk about how to equip a nursery for a boy under the age of 10.
Tips for organizing nursery space
There must be enough daylight in the room.
Choose the brightest room for the nursery: the one on the southeast, southwest side, or the one with the largest windows.
Do not forget that in the evening you will also need to intensively illuminate the nursery space so that your eyes feel comfortable while reading, studying or playing. In addition to the main light source under the ceiling, install a local one in the form of a sconce, floor lamp or table lamp and a decorative night light.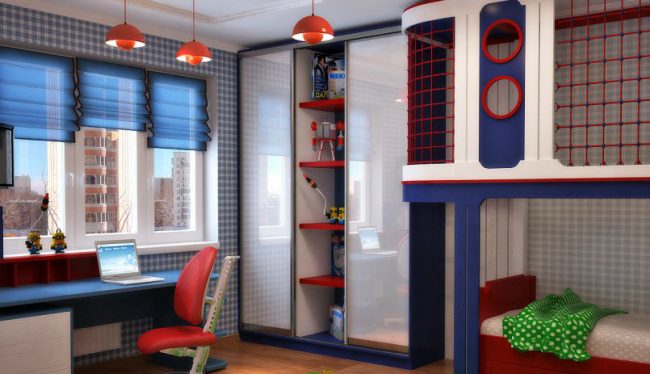 Natural high-quality materials should be used in surface cladding.
So, choose wooden boards and parquet as flooring. The walls can be sheathed with panels one third of the floor, the rest of the distance to the ceiling can be pasted over with washable wallpaper. The ceiling, if its surface is even, can simply be painted with water-based paint, or use a tension or suspended structure..
When choosing furniture for a child's room, a boy should be guided by the criteria of convenience, safety and quality.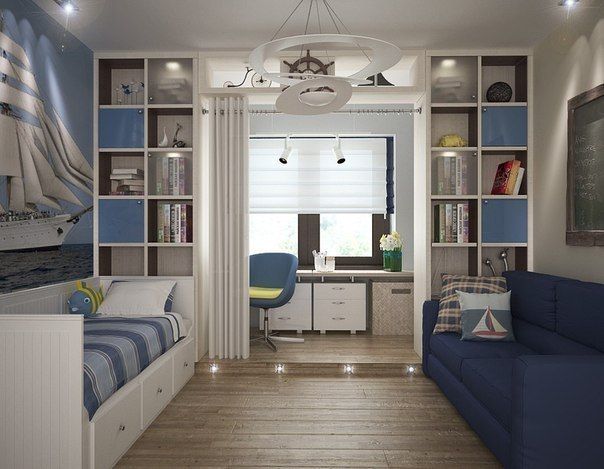 So, for a mischievous person by nature, a very mobile child, you should not buy a bed with metal corners. It is better if, together with your son, you pick up a stable bed with a frame made of beech, oak, walnut.
The writing desk and seating furniture should be appropriate for the child's age in terms of their dimensions, meeting the rules of ergonomics. A chest of drawers, a wardrobe and a rack should be chosen spacious, but commensurate with the dimensions of the room, in which the area for outdoor games, gymnastic exercises should not be constrained by anything.
Natural dense fabrics are necessary in the boy's room for sewing functional curtains, armchair upholstery, pillow covers.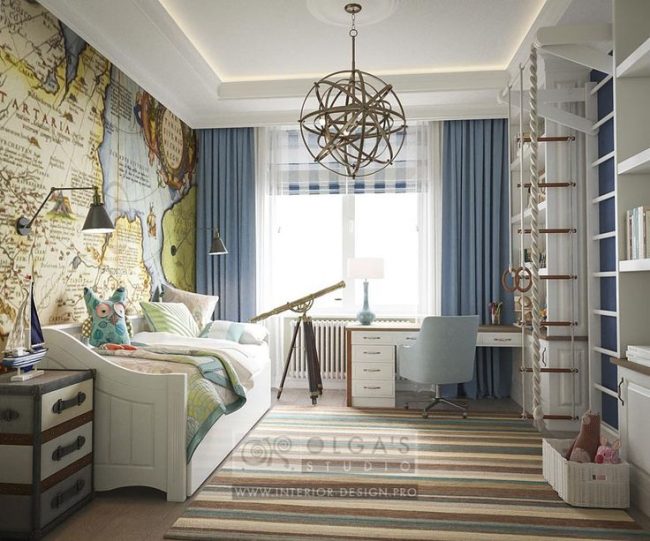 All this will be tested for strength, therefore, it must withstand constant cleaning and stress (children love to pull curtains).
Safe installation of all suspended and suspended structures.
Cornices, shelves, hangers, chandeliers, sconces, sockets and switches must be installed reliably and thoughtfully, there can be no negligence here, because the health of the child sometimes depends on the quality installation of such items.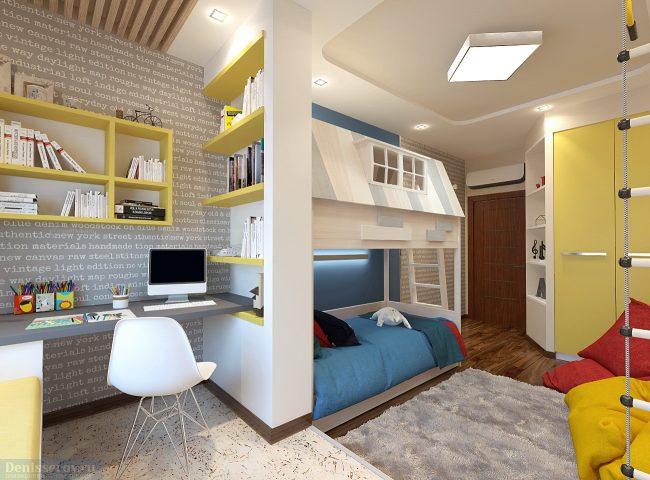 In the nursery – only children's things.
Only baby's things should be placed in the nursery, leave porcelain vases and glass figurines for the living room. Also, remove a massive dark wardrobe or uncomfortable old sofa..
Set up comfortable areas in the room.
The room in which your little son will now live should contain several functional areas: sleeping, play (sports), for exercise. But when the size of the room is small, you can try to combine one of the zones with the other, leaving more space for the third..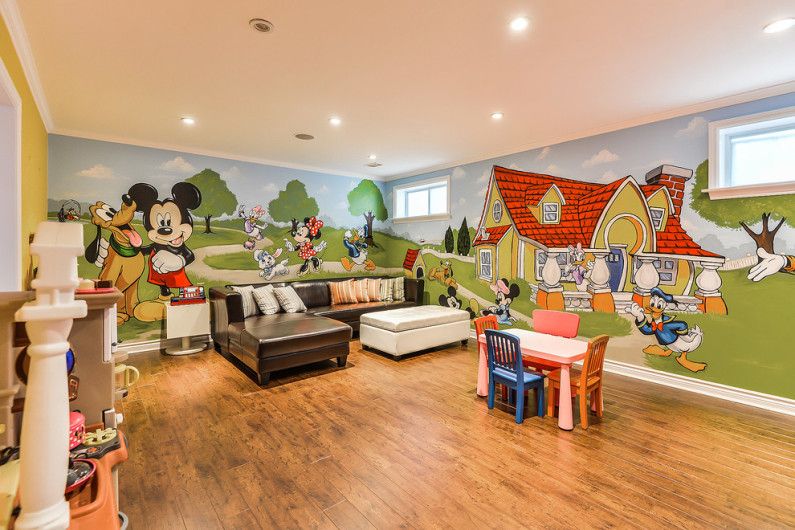 Baby for a boy, decorated by age
Over time, you will have to make some changes to the interior of the nursery, as your son will have new hobbies, needs and preferences regarding the environment that surrounds him. Next, we divided the article into four points, each devoted to the peculiarities of a particular age of a boy from 0 to 10 years..
Children's room for a boy from birth to 3 years old
The age from birth to three years of age is considered by many to be the most interesting, since during this period the baby is constantly changing, delighting the parents with his achievements, unique facial expressions, and kind hooliganism.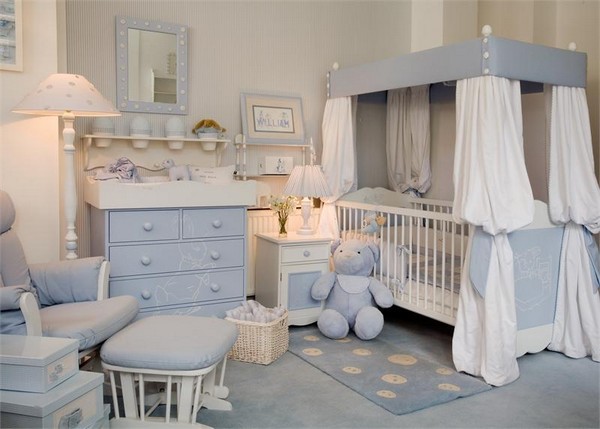 In the first year of life, the boy needs nothing but a cozy bed, gentle hands and amusing toys. In the nursery of a newborn boy, you should install a crib with an adjustable bed height, a low rack for toys (rather, for the convenience of parents), a chest of drawers for things and some kind of furniture for sitting, so that an adult is comfortable..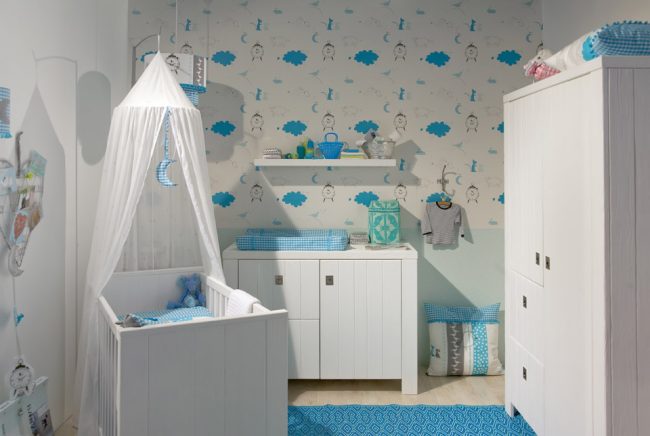 By the year of his life, your little son will only learn to walk, falling and stumbling every now and then – take care of the soft carpet and remove unnecessary objects blocking his path.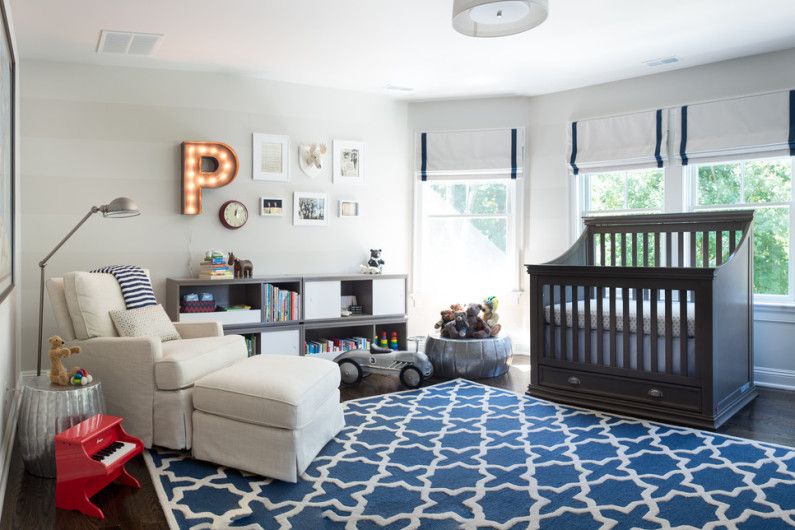 From a year to two, the boy learns with great interest the world around him, and tries to taste it and taste it. Make sure that there are still no fragile and small objects in the room, it is better to hang Roman blinds or blinds on the windows, and if curtains, then with a reliable, tightly screwed cornice.
In order not to have to change the wallpaper every two or three years, paste over the walls with neutral, without a pattern. Then you can decorate them with funny pictures, panels or a garland.
Choose all surfaces and materials with a dense texture so that in case of contamination, you can easily clean it or wash it with plain water. If a rug is laid, it is better to give preference to one with a short pile; during this period it is better to cover the chair with a replaceable blanket or sew a special cover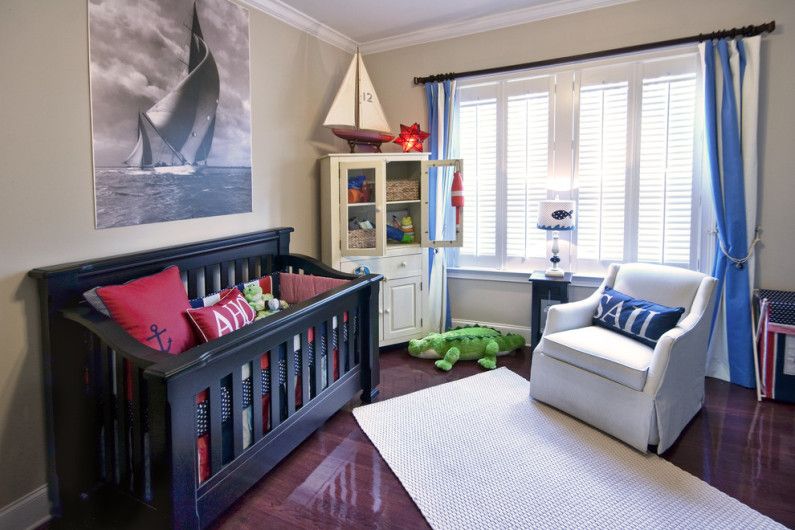 About three years old, the boy has a large number of educational toys: cars, blocks, coloring books, board games and more. All this will now need to be placed somewhere, teaching the child to order and take care of his room..
A rack, a children's table and a high chair, an additional rug should appear in the room. Present your son with a special travel bag for pencils and paints, plasticine and crayons – the boy will be delighted.
Cultivate an aesthetic taste in your son from an early age. This means that you need to be creative in the design of the nursery, avoiding templates in its design if possible..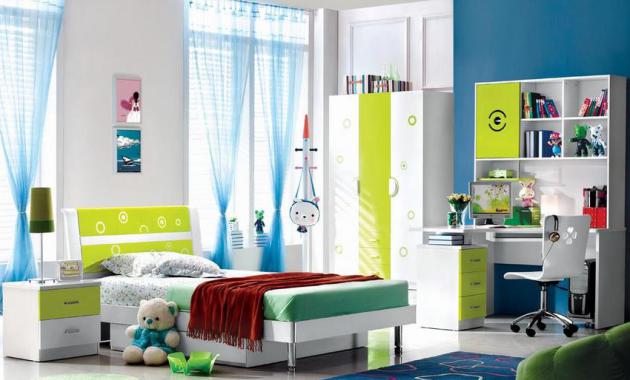 So, the usual use of blue, blue and gray with red shades can be supplemented with white, cream, soft green. Let the baby get used to seeing the harmony of shapes and color combinations around him from childhood. Do not chase after cartoon characters, filling the nursery with them: the hobby will pass, and the son will get bored with such a neighborhood. Remember the neutral pastel shades that can form the basis of a stylish nursery interior.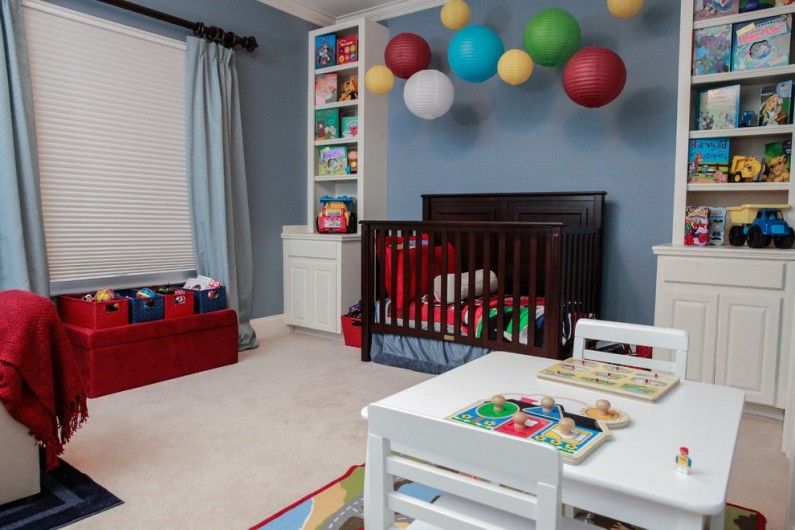 Children's room for a boy 3 – 5 years old
This age is the time when it is time to change the crib for more «adults» her version. For example, purchase an unusual wooden bed with a painted headboard or install a bunk bed, in the lower part of which you can arrange an area for creativity or play.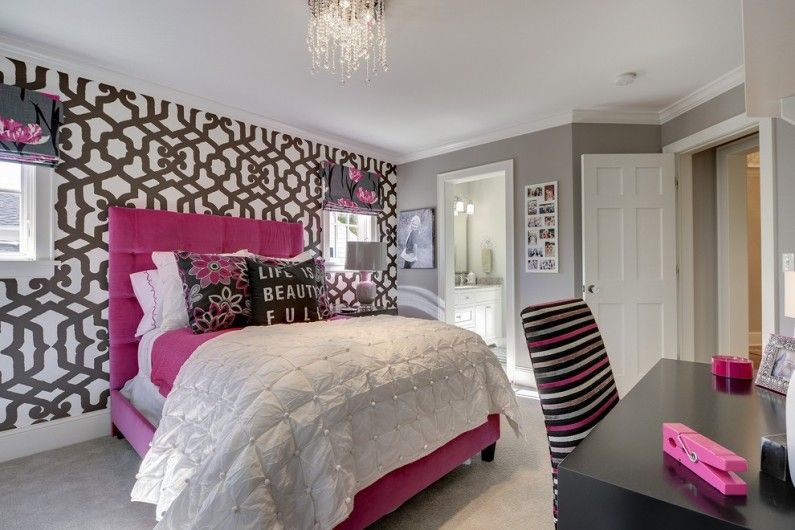 A boy may clearly show the ability to draw, sculpt, play sports or music. Now it is already possible to install a compact Swedish wall in the nursery, place a good table and a high chair by the window, put a DVD-player or tape recorder on the dresser. Take a close look at your son's hobbies in order to create all the conditions for him in time for harmonious development.
If you are re-choosing curtains for a child's boy, feel free to ask his opinion about the preferred color of the fabric. The same goes for bed linen or rugs..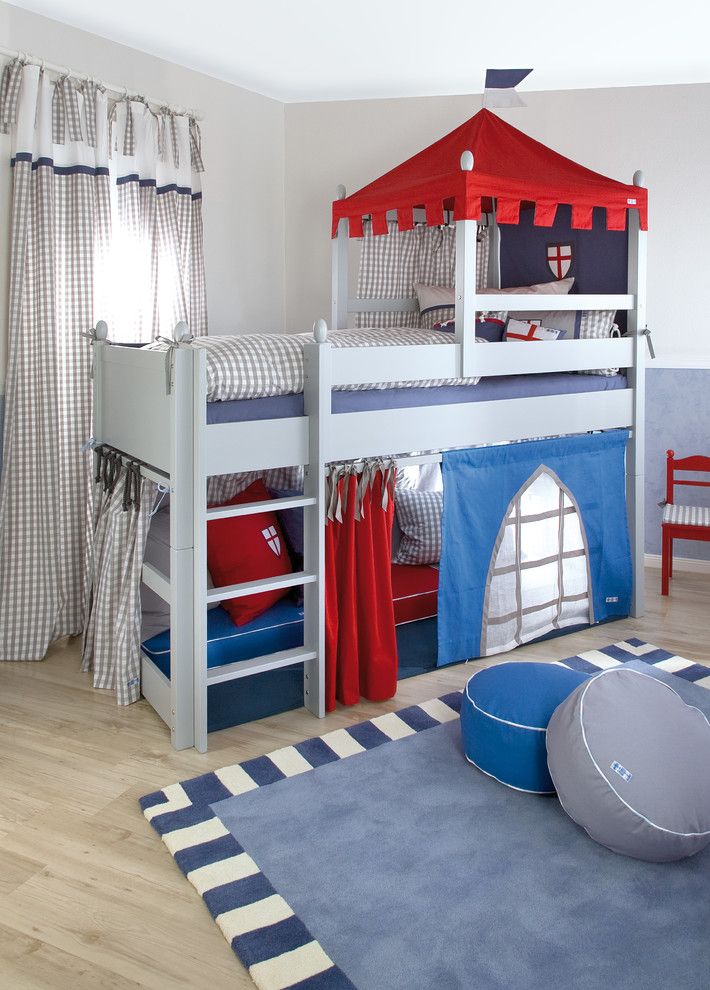 Children aged four to five years already quite consciously relate to their things, and therefore, the boy will no longer spoil the wallpaper, outlining from felt-tip pens, although the need for reliable, easy-to-clean surfaces is only increasing.
Allow your son to decorate the walls of the room or the desktop with his favorite bright informative pictures with animals, equipment, and marine themes, even if he saw them in a thematic publication. So, you can carefully cut out a figurine or a whole plot from an airplane magazine, and glue it to a white base – a mat, and then enclose it in a frame. It's fast, interesting, and most importantly, you can change the image to any other at any time.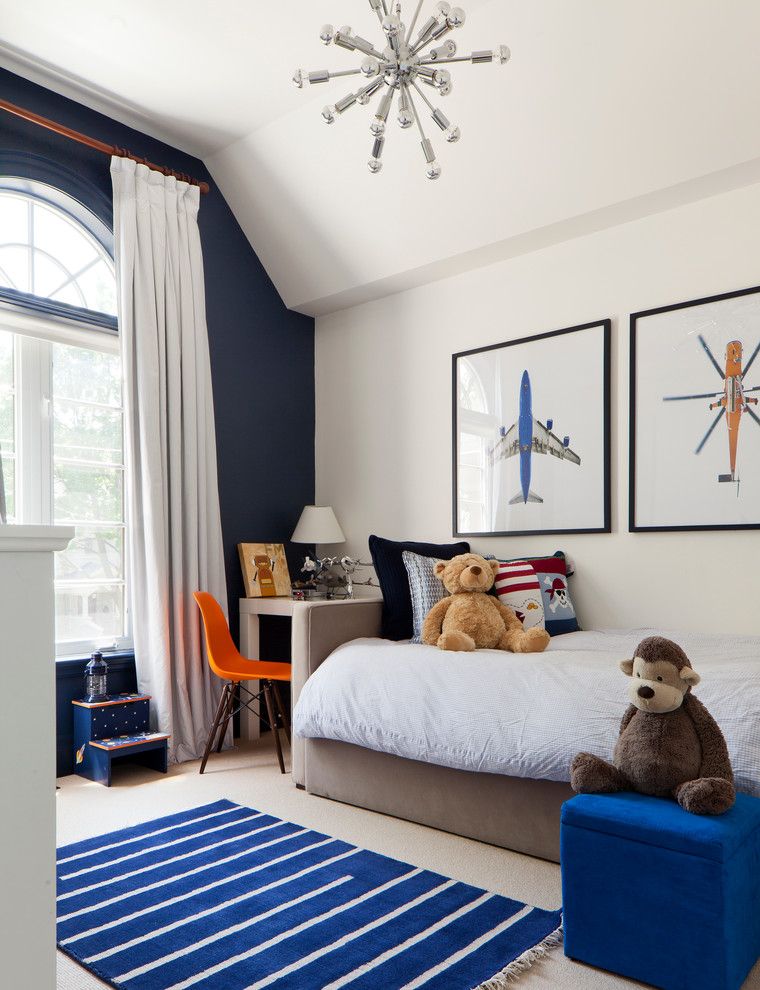 Children's room for a boy 5 – 7 years old
This age is a period of preparation for school, the child learns perseverance and attention. In the nursery, it is necessary to provide an area for studying, especially if there was no good writing desk in the room before. We recommend placing it in the lightest place, ideally by the window. Complement with drawers or cabinet for books, paper and utensils.
High-quality artificial light and the correct seating of the chair will ensure the preservation of the child's vision and health of the spine
Teach your son not to mix toys and books, allocate a special container for some, and a rack for others. So a small person will get used to the idea that every thing has its own place..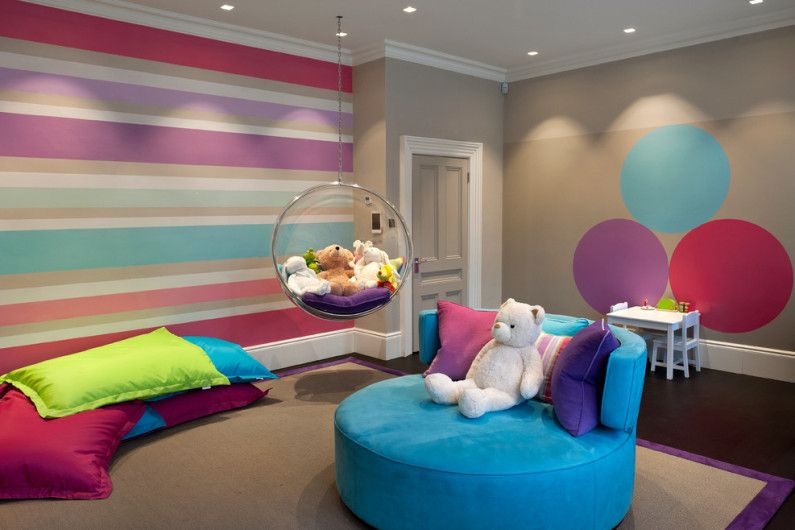 At the age of seven, the boy develops his own special concept of what his room should be. And you can help him create the desired image, while the son is already able to join the repair process, albeit for a short time, but only partially, for example, paint a small section of the wall or give you nails during the installation of panels.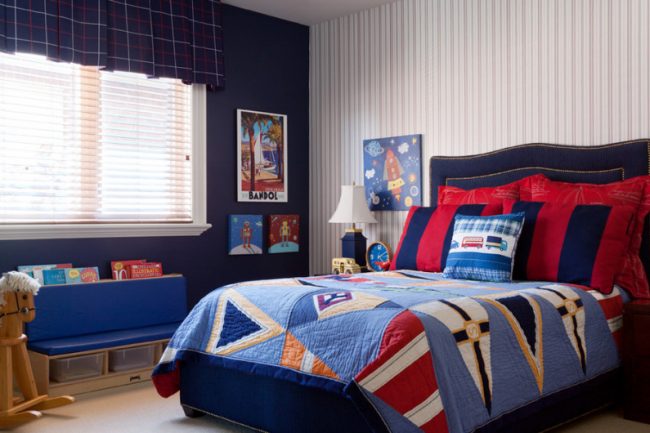 Ask which theme is closest to the boy: sports, music, technology, space or ships. This can serve as a guide to action when it is time to repair. For example, you can mount a sail above the bed, attach a basketball hoop to the wall, and choose a starry sky pattern with built-in LEDs for the stretch ceiling..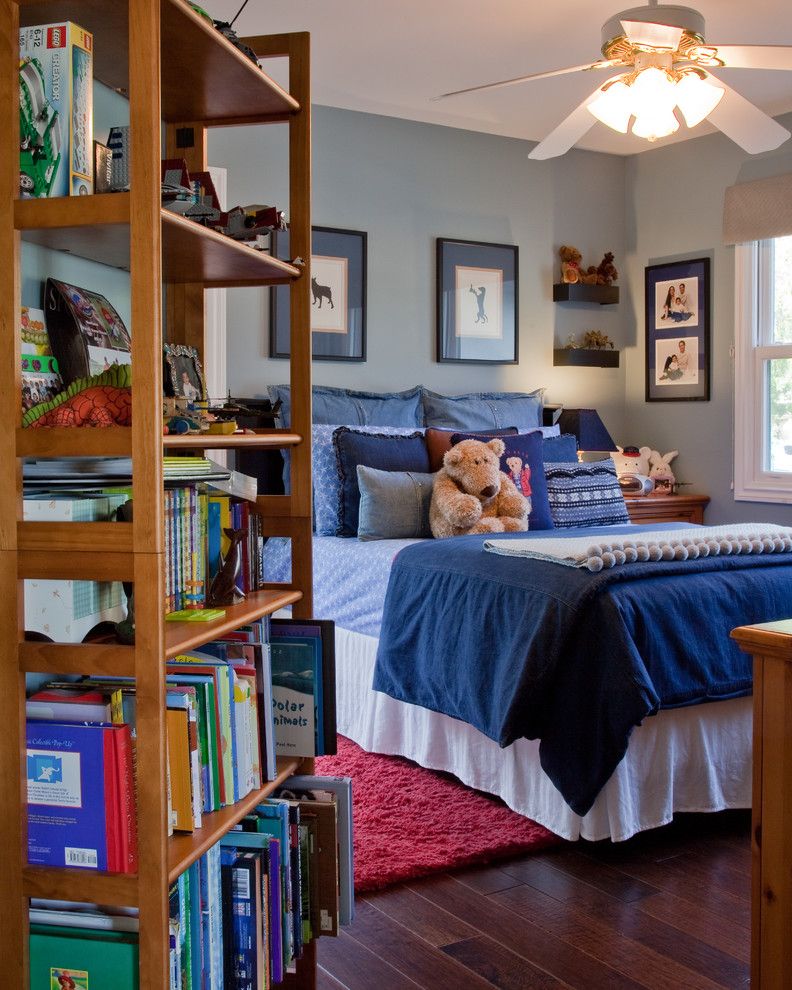 Children's room for a boy 7 – 10 years old
School-age boys often invite friends over and want to be proud of their room. A child of eight or ten years is no longer the kid as you knew him, he wants to imagine himself to be an adult, demonstrating this in every way.
So, in the design of the nursery, you should help the son, and understand his position, since the boy may be afraid that his friends will laugh at him if they see something too much in her. «baby»: bedspread in daisies or a fluffy hare.
Explain to your child that it is not worth being ashamed and, moreover, to get rid of such things. You can play up the decor of the room in a different way, for example, repaint one or two walls in a more intense, deep beautiful color, put a stylish floor lamp in the corner, place a leather chair. In general, use purely masculine techniques in design, and then cute naive objects will not embarrass anyone.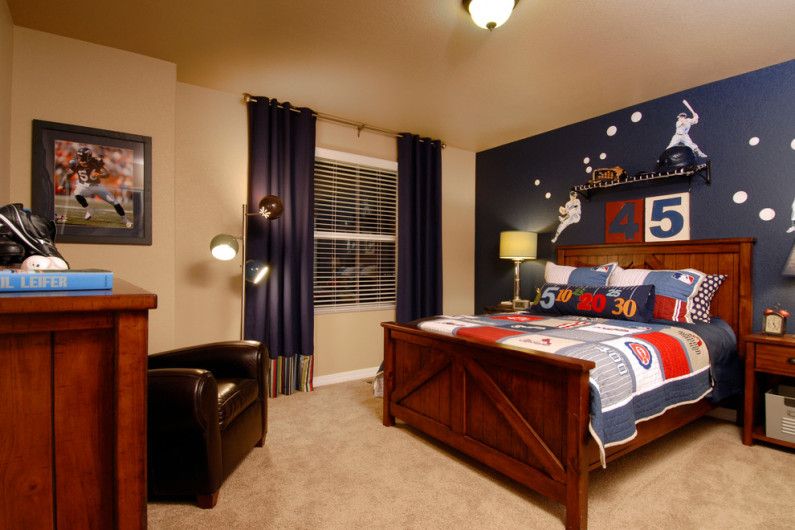 In the room of an adult 10-year-old boy, you need to create conditions for completing the lessons, concentrating his attention on them. The area of ​​the writing desk should be designed in accordance with the task: place a map of the world above the table, or put a globe, attach shelves for textbooks and notebooks to maximize the surface of the countertop. Install a desk lamp with dimmable light, and if possible, avoid using a TV in the room.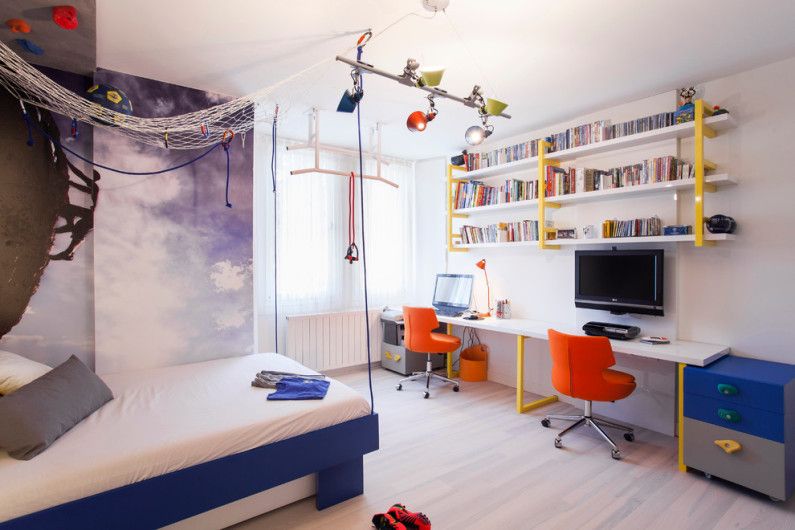 Remember that the type of children's room and the order in it do not depend on the gender of the child, but on how quickly you can teach him to maintain cleanliness..
Good luck!