A one-room apartment is a premise with a total area often not exceeding 55 m2, even in new buildings. In such a territory, a bathroom, kitchen, dining, sleeping and living areas must be present. Sometimes they are also joined by the zones of the study and the children's room. Of course, the task is not an easy one – in a small area, it is harmonious, convenient, and at the same time beautifully arranging all the necessary furniture, equipment and personal belongings.
In this article we will talk about the most important thing – constructiveness. We will discuss which points should be analyzed and implemented step by step, so that in the end result you «squeezed out» the most of the possibilities of your apartment.
First of all, let's determine that it is initially important to focus specifically on functionality. After all, design is, first of all, design, and only after that – the selection of beautiful pieces of furniture, decor, color combinations.
Once the renovation is complete, it will be very time consuming, difficult and expensive to change things like wall placement, electrical and plumbing wiring. Therefore, put all your strength now to create the best «foundation», and in no case spare funds for these stages. Because you can always buy a new sofa, but change the wiring or pipes – here you will already face a serious problem.
So, let's look at the stages that you have to go through.
Planning
Determining the needs of a relatively new home (how many people will live in an apartment, what zones you need to create – start here from your lifestyle, type of activity, age of family members, their hobbies and special needs).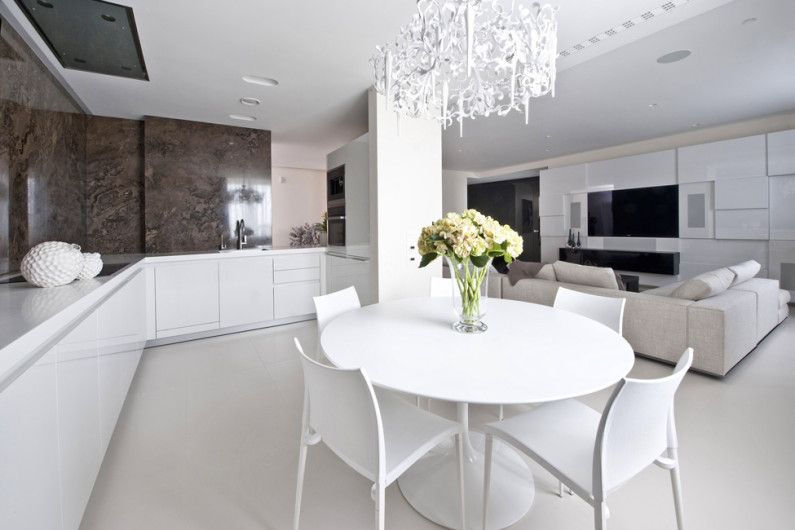 1
Detailed analysis
Analysis of the existing space and possible redevelopment options (take measurements of the apartment, having previously specified the location of communications, bearing and curtain walls, the architect's requirements regarding external changes to the facade – all this will help you understand where it is better to place the bathroom, whether it is possible to put windows of a different color in the apartment and their configuration, is it allowed to dismantle certain walls and where new ones can be erected).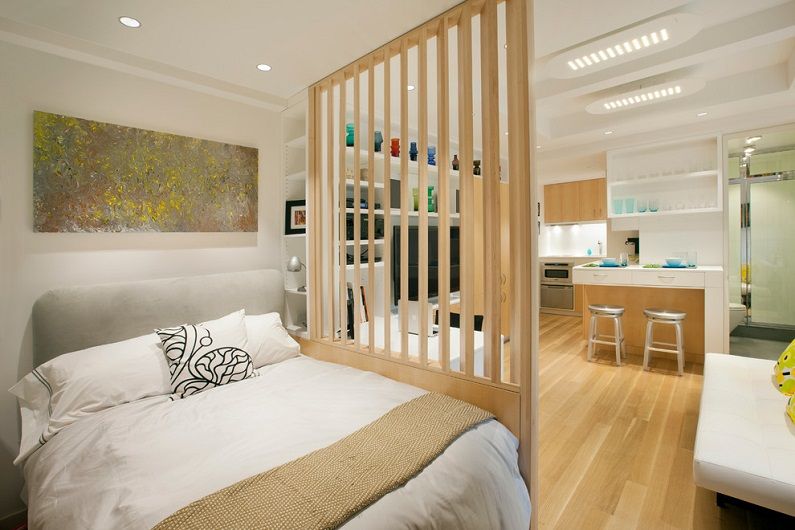 2
Reconciliation of needs and opportunities
If it turns out that there is not enough space for everything, do not be discouraged, there is always not enough space for everyone – even those living in a mansion with an area of ​​1000 m2. Calmly take the available resources for granted and reduce your requests in direct proportion. That is, if there is not enough space in the studio, this means that it is quite possible to buy a table not in size 1400 x 800, but 1000 x 600, in the kitchen donate one section of the working wall and reduce the length of the sofa by 40 cm, and not completely get rid of the dining room table, dooming the family to celebrate the New Year at the bar.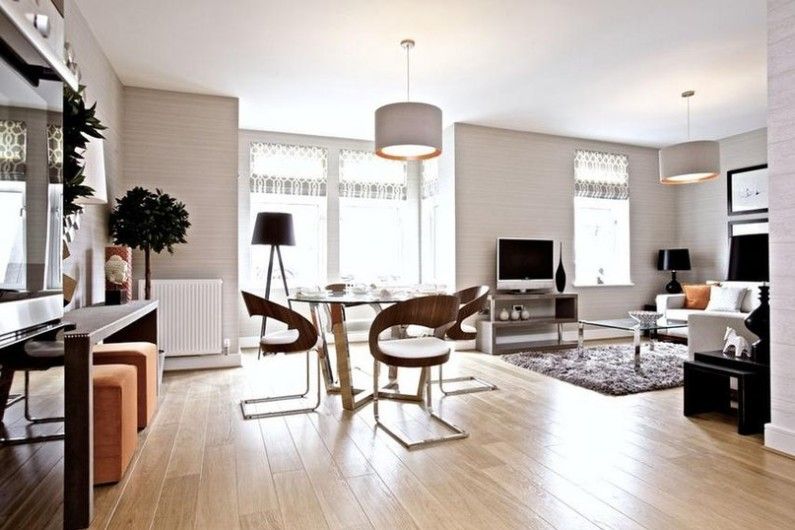 1
Underwater rocks
Very often we forget about the huge accumulation of things that is present within the boundaries of any average apartment. Think about where you will store:
vacuum cleaner and mop; basins, buckets and large bowls; ironing board, iron and how you will dry your laundry; skier or snowboarder equipment, bike, motorcycle helmet; children's seasonal and off-season stroller; off-season clothing – outerwear and underwear, as well as footwear; conservation and food supplies; all existing and intended for purchase household appliances;
safe and much, much more.
If you already feel uncomfortable, that's good. Let it be better now than when the wallpaper is pasted. So give yourself time to think and plan well. Take a balcony for example. Ideal dreams of free space, lots of flowers and a cozy table where you will drink your morning coffee can either stay in the same place, forcing you to throw out the skier's equipment and stop doing conservation, or transform and give way to 14 balconies for a spacious wardrobe or rack for the same items … In any case, it will be right for your family, but it is important that the choice is deliberate, with an understanding of all the pros and cons of the final decision.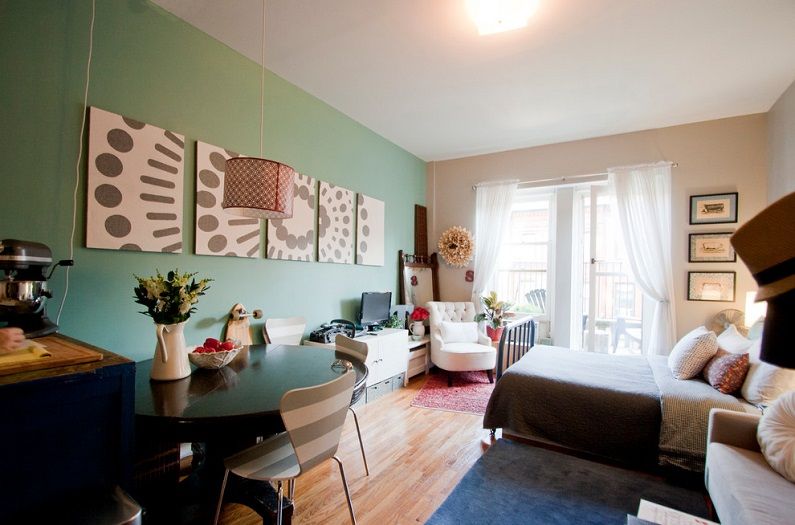 2
Plan approval
Approval of the final layout and sequencing of the schemes. After making the final decision, everything will immediately fall into place. And you can start developing narrower and narrower technical details. For builders, at one stage or another, you should have answers to the following questions:
what walls to demolish? where to build new walls? whether to change windows and front door? Whether to insulate the balcony and walls? Will there be a warm floor, and if so, where? what kind of covering will be on the floor? what will be the height of the doorways? what is the exact location and dimensions of the plumbing and where to draw what conclusions? location and number of sockets, switches? the location of the hoods and how they are controlled? the condition of the ceilings, how to cover them and if there are any structures on the ceiling, give exact diagrams and dimensions for installation, and will there be a baguette at the junction of the wall and ceiling? the layout of the tiles in the bathroom? what kind of facing material on the walls?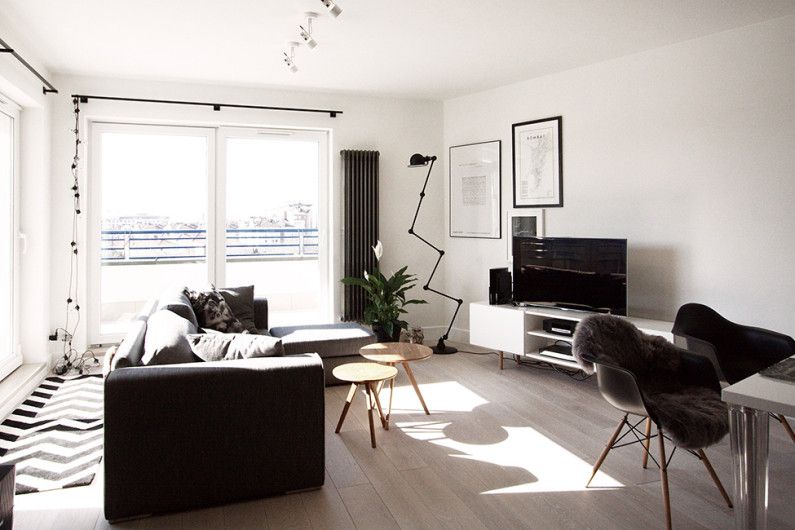 1
Cladding materials
Here we will simply list those visual effects that expand the space, make it more spacious and easier to perceive – after all, this is especially important for the design of a one-room apartment. Try to choose finishing materials – tiles, wall paint, wallpaper, parquet boards, etc. with an eye to these positions.
the main colors are as light as possible, bleached and pastel (white, eggshell, baked milk, butter, light beige, cappuccino, sand, sky blue and others like that); materials – in moderation, you can use reflective surfaces – glossy and semi-mat (this can be kitchen facades, a coffee table made of white glossy material, semi-mat window sills and countertops, chrome handles, lamp bases, etc.); mirrors (large mirrors in the bathroom, a full-length mirror in the hallway, decorative in beautiful frames, mirrors in the back wall of furniture or at the ends in a niche, slopes of window sills, on the ceiling, etc.).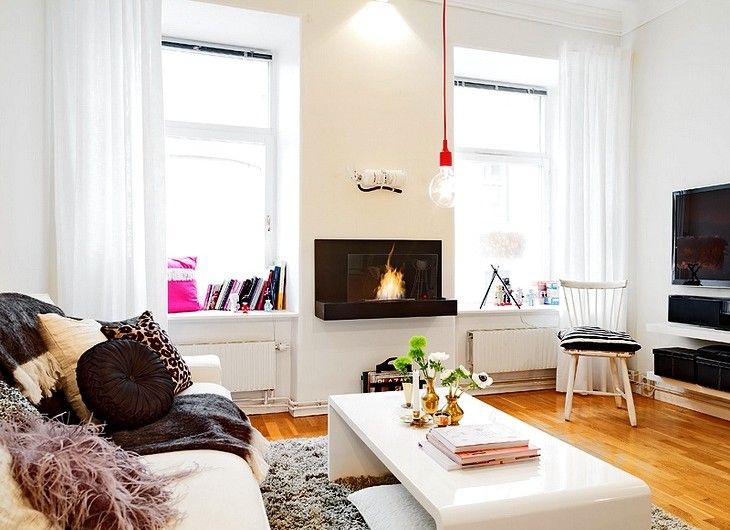 2
Selection of furniture and lighting sources
The choice of furniture and lighting should be based primarily on functionality:
Transformers
Buy everything that is possible in the form of transformers. A coffee table that turns into a dining table, just a folding dining table, chairs that can be inserted into one another or folding, a sofa with the ability to fold out, a bed with a lifting mechanism and a box for storing linen, etc..
Shelving and cabinets
Pay special attention to shelves and cabinets – if possible, arrange storage spaces in niches, choose especially high-quality fittings for those drawers and cabinets that you use very often, actively use the opportunities to arrange racks, open hinged shelves, cabinets with doors for hidden things in all sorts of areas. from prying eyes. It is very important here not to overdo it and not turn the apartment into a furniture museum. It is better to buy secondary necessities gradually, only after making sure of their indispensable need.
Lighting
Try to place lighting exclusively on the ceiling and walls. Anything that can be hung on the ceiling or wall – hang. This will free up precious floor space and prevent yourself from constantly stumbling over an uncomfortable lamp or floor lamp. Of course, this is not a dogma, but in a one-room apartment you should be acutely aware of the high probability of such cases and «hide» a floor lamp in a secluded place through which the main routes of movement of people living in the apartment do not pass. Starting from the height of the ceiling, make sure that the chandeliers and lamps are not too low, and that the hanging sconces stick out from the wall at a minimum distance.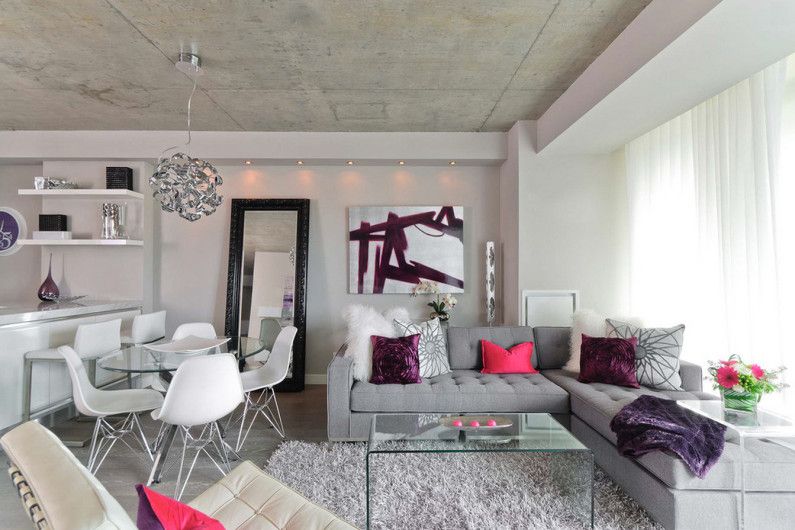 2
Aesthetic «vent»
And now that you are firmly convinced that living in this space is convenient and comfortable, it's time to take on the decor. There are absolutely no restrictions, except one – not to the detriment of the already formed construct. Choose any fabrics for curtains, a blanket for a sofa, bright pillows, place paintings and prints on the wall, put beautiful compositions on the shelves and buy interesting carpets, dishes and more..
In a small apartment, the impression is created «islets» – so you can safely come up with interesting ideas for decorating or be inspired by the mass of useful information in books, magazines and the world wide web.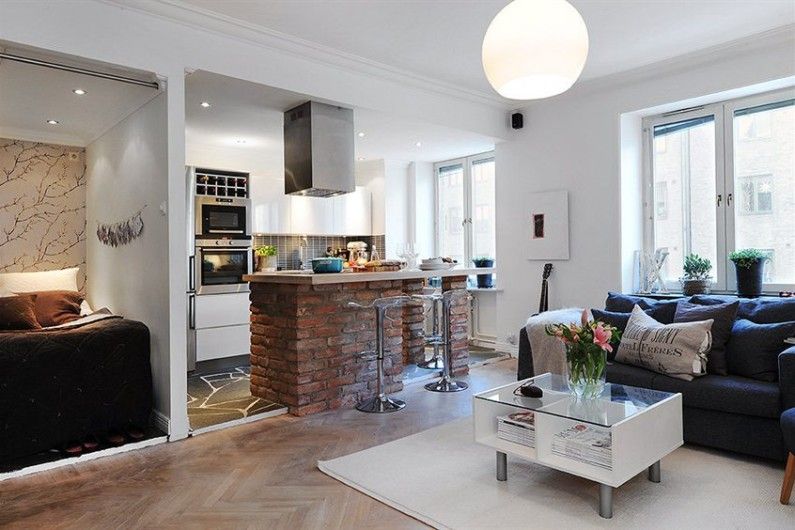 2
The work of organizing space in a one-room apartment is undoubtedly one of the most difficult tasks in interior design. Here it is important to grasp the essence, all the needs of the tenants and correctly equip the rooms so that it is a pleasure to live in them. We hope these tips have helped you structure and sort out a bit of everything that snowballs upon you when you are told about the upcoming move. Successful repairs and correct decisions!