Provence style is the personification of home comfort, love and family values. That is why it is especially good for decorating children's rooms. In addition, a fine color palette, natural materials and a lot of handicraft in the setting will help to develop your child's good taste..
Provence style in the nursery: basic characteristics
Today we will tell you about the main features of the Provence style to create an extraordinary children's interior.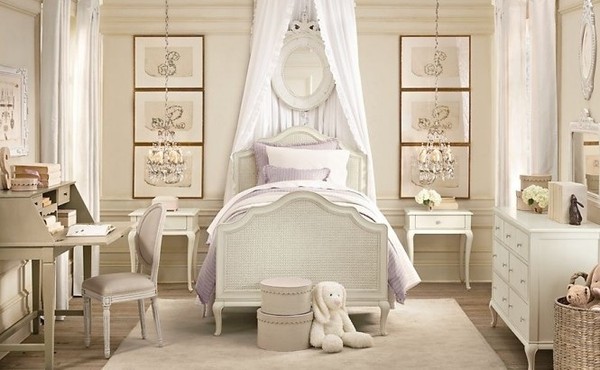 Natural materials
It is known that to embody the true style of Provence in the interior, it is necessary to use natural materials in everything: from ceiling to floor. But since masonry and aged plaster will look somewhat rough in the nursery, it is better to apply light wallpaper with a delicate floral pattern on the walls, or paint them with water-based paint.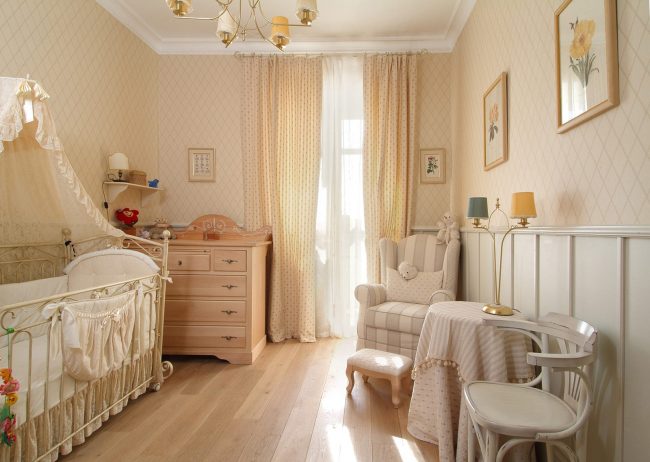 Based on the fact that the floors in Provencal houses have always been wooden or tiled, parquet made of light wood species, as well as a painted plank floor, are suitable for your child's nursery.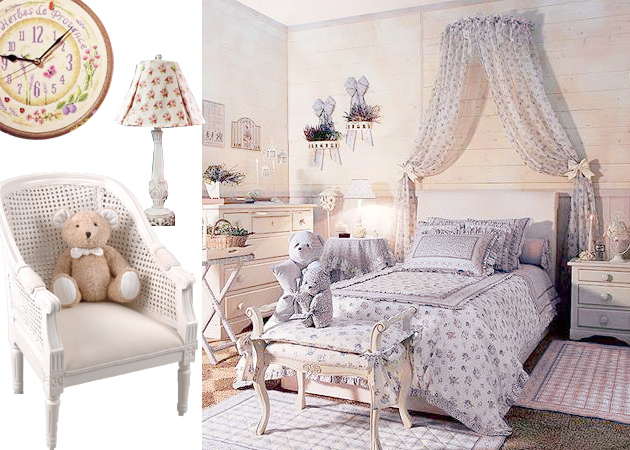 It is best to make the ceilings even, painted white, without resorting to the use of any suspended structures, since this contradicts the principles of the naturalness of the cozy Provence style..
Advice
When creating the interior of a nursery in the Provence style, use light in the design, as it were «air» tones, because the simultaneous combination of them on the floor, ceiling and walls will inevitably enlarge the room visually, bringing into it the light that is so necessary for the baby.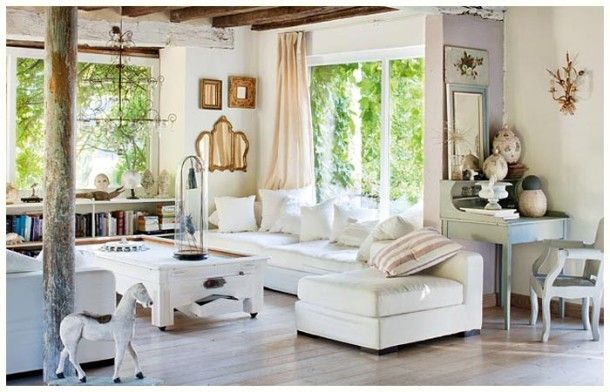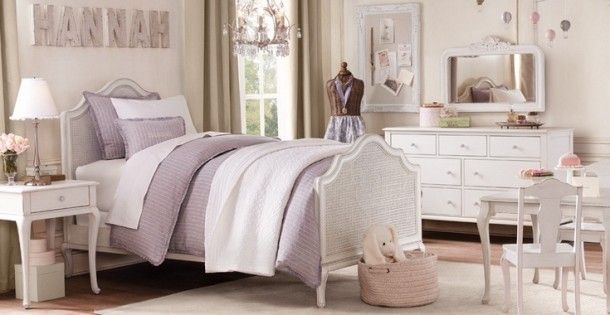 Artistic painting of walls and furniture
A much more decorative alternative to wallpaper is painting, which can be used to cover both furniture and walls. The child will certainly like it if plant motives and animals prevail in the drawing. Use acrylic art paints, they are safe as they are water based and easy to work with.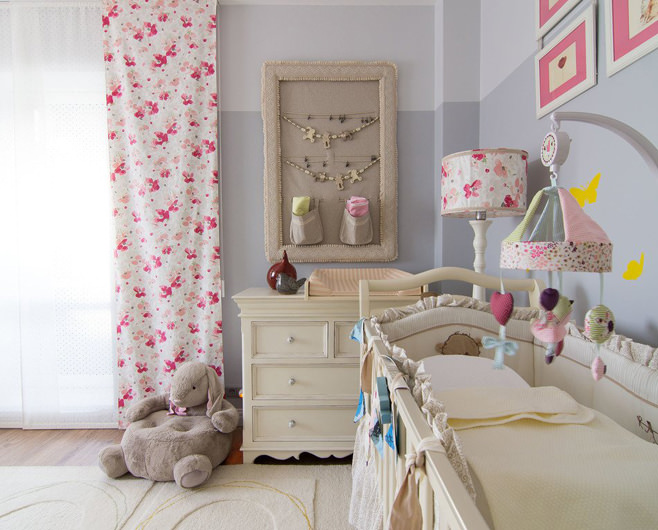 It is not necessary to resort to the services of a professional artist, since a certain naivety and unpretentiousness in the pattern is even welcomed, which means that you can apply the drawing with your own hands. And if you don't have enough imagination, you can always find the necessary illustration in children's books and use a stencil for the accuracy of the drawing. Thanks to this, the rustic Provence style will acquire clearer outlines in the interior of the child's room..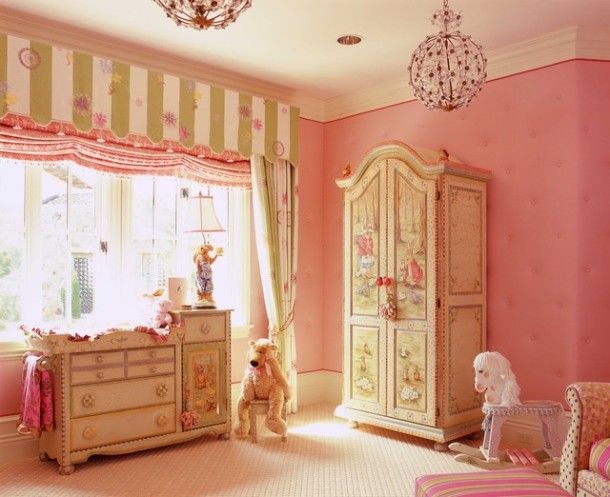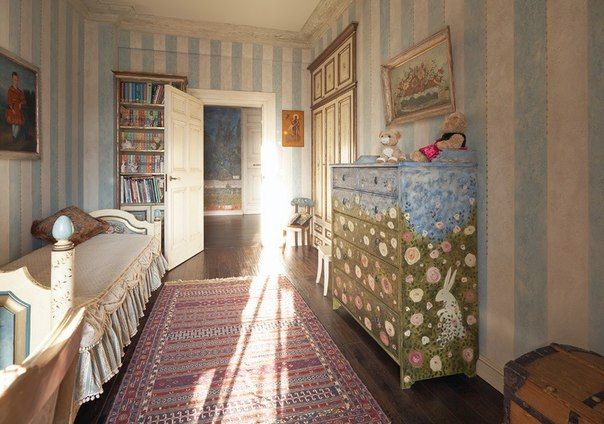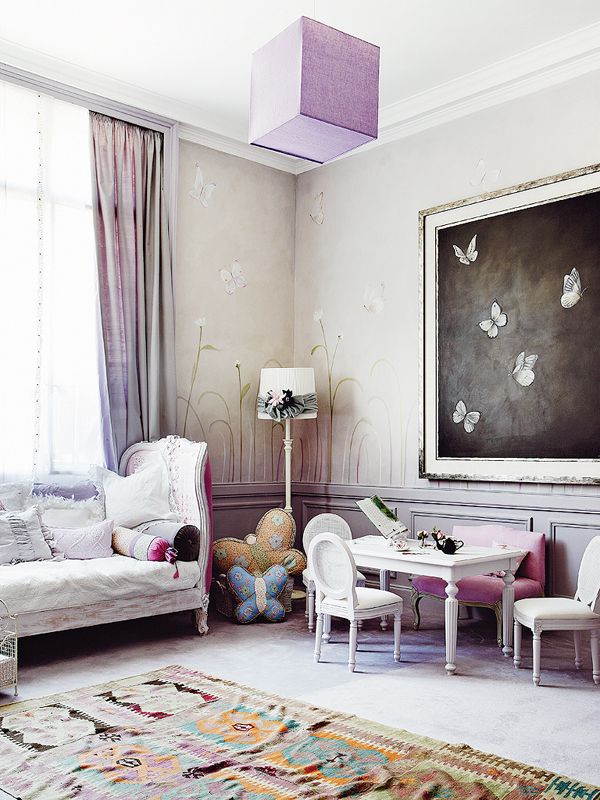 Pastel scale
The Provence style is especially organic in the nursery and not the least role in this is played by gentle pacifying shades that remind us of summer, the sky, the sea and the fields in the French countryside. The consonance of pastel tones of blue, yellow, salad, lavender and terracotta has a beneficial effect on the psyche of your child, providing a calming effect.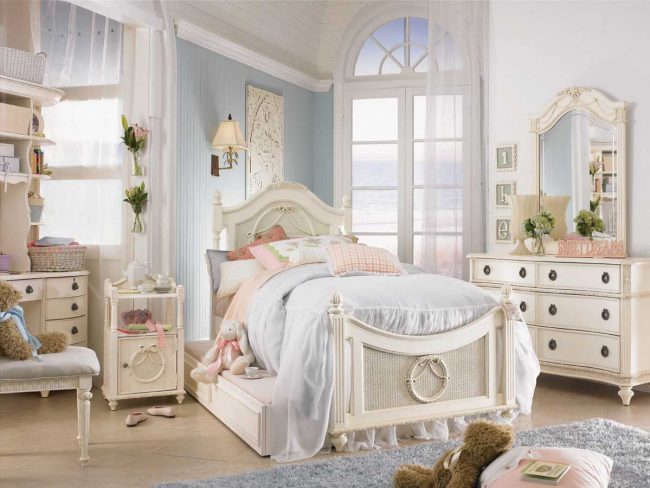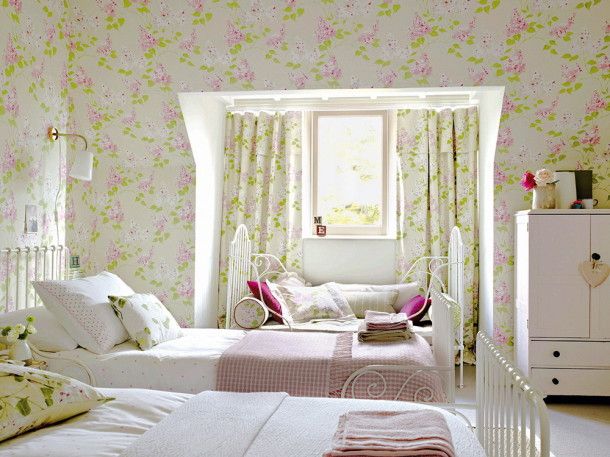 Furniture
In the classical sense of the Provence style, furniture is most often light or painted and made of wood. Beds can be metal, or contain some elements of forging, for example, in the form of an openwork headboard and legs.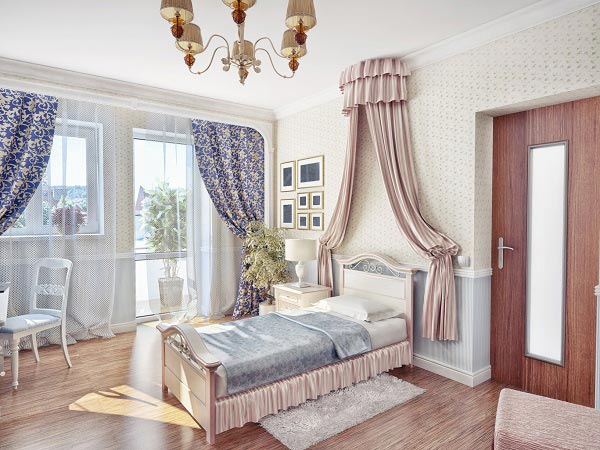 Among other items, wooden cabinets and dressers, aged chairs are often used. Wicker baskets, chests and boxes made of vine also look great and are convenient for storing all sorts of little things and toys.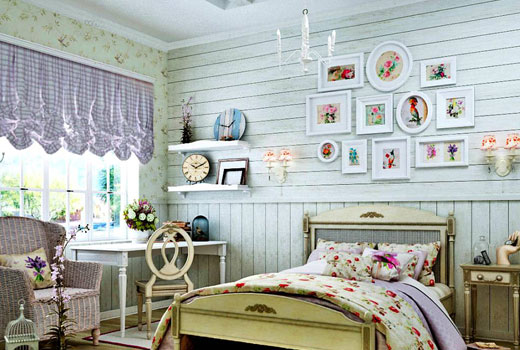 Idea
You can create a characteristic Provence style item for a nursery yourself. For example, you can buy a mini chest of drawers for trifles, light acrylic paint, an artificial brush, a decoupage blank (three-layer napkins are suitable), special glue and craquelure varnish in an art store. First, paint the chest of drawers with two coats of paint, at intervals of 15-20 minutes. Then, we cut out the necessary fragment of the top layer of the napkin, and carefully glue it to the surface. Let it dry and fix it with varnish. Some time later, small cracks should appear on the surface – craquelure.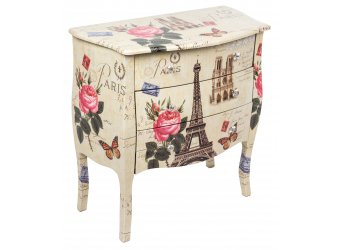 Your stylized children's dresser is ready!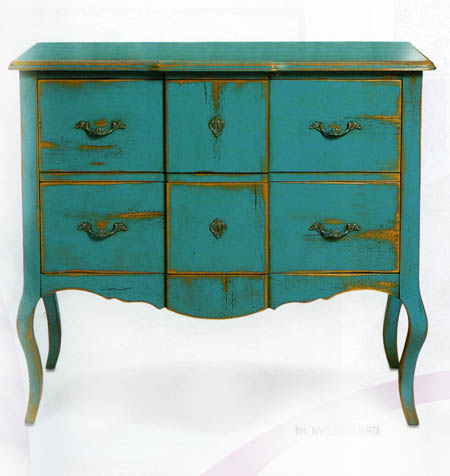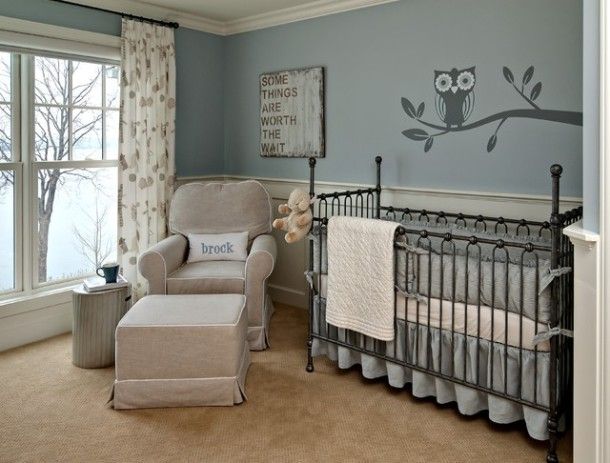 Textile
It is impossible to be mistaken with the selection of textiles for a nursery in the Provence style. You should choose only natural fabrics such as cotton, linen, chintz, remembering to maintain the same neutral color scheme. For curtains, light curtains, pillow cases, bedspreads and chair covers, you can use floral and floral ornaments, as well as a checkered pattern..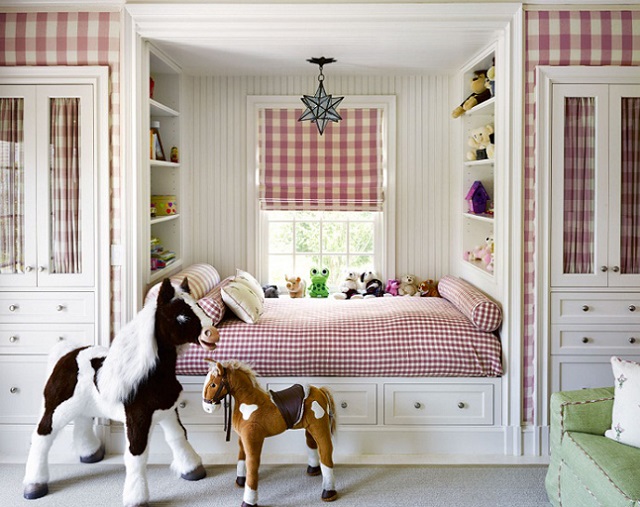 In addition, the patchwork technique of patchwork or grandma's wicker macrame napkins will look very harmonious..
Pillows, curtains and bedspreads with frills, ruffles and embroidery will give a special Provencal charm to the children's room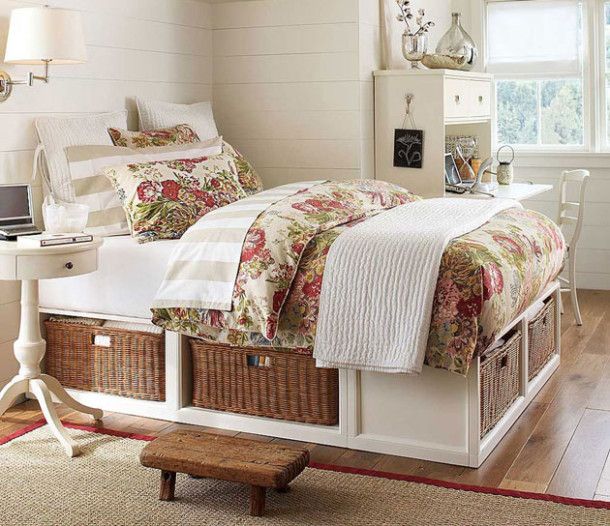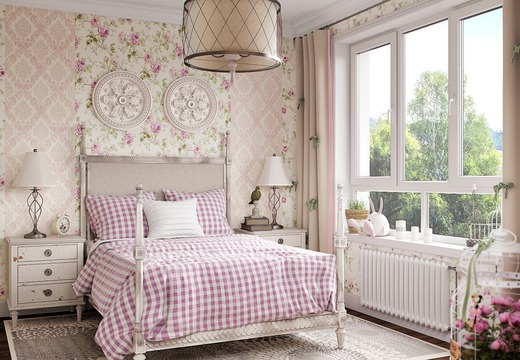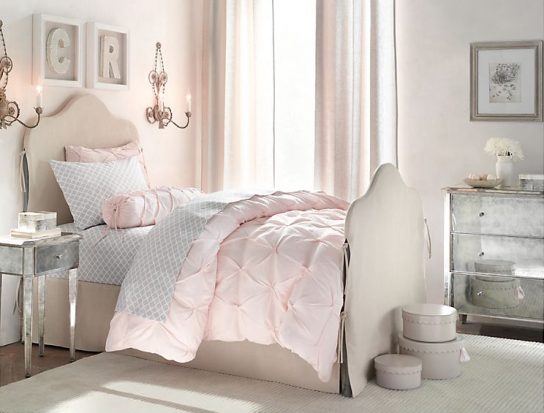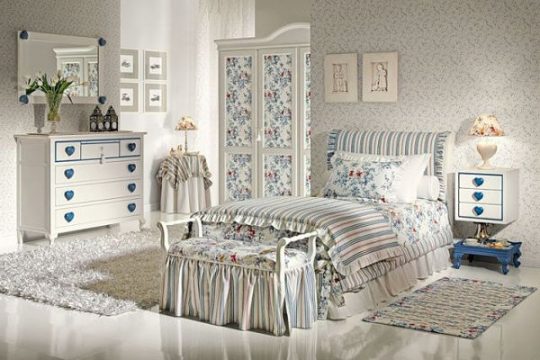 Elements of Provence in nurseries: a combination of different styles
The light, unforgettable color of Provence inspires designers to create more comfortable interiors for children's rooms, originally made in other styles. Therefore, it will not be difficult for you to bring the character of the French province into the existing interior..
Light wood furniture
In a functional contemporary interior, which is alien to everything superfluous, you can, for example, put a bed or a chest of drawers in the Provence style, which with its graceful forms will not spoil at all, but only decorate a laconic room.
Light shades
Scandinavian style is very similar to Provence, mainly due to the use of a lot of white, cream and other light shades. And by purchasing children's furniture in pastel colors, you will once again emphasize this similarity.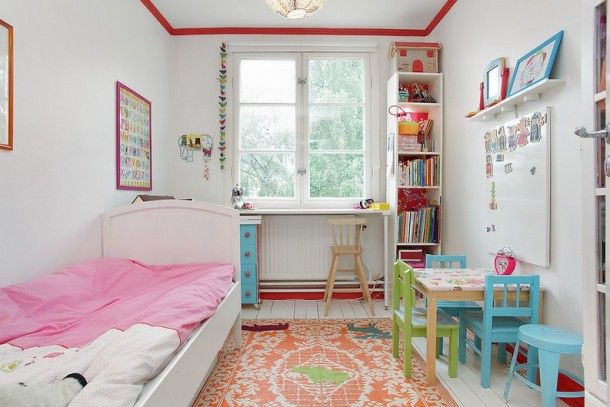 Special decor
Purchase wicker containers and baskets for shelving and shelving. They will undoubtedly give the nursery a rustic flavor..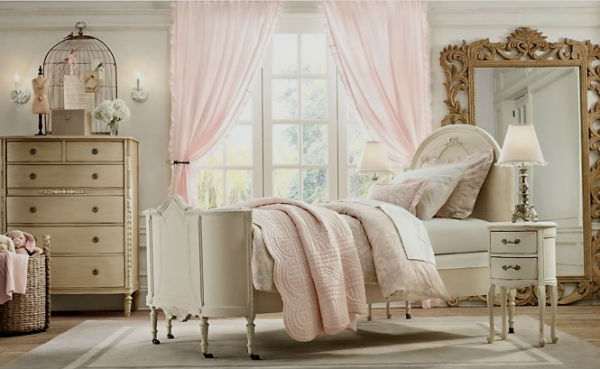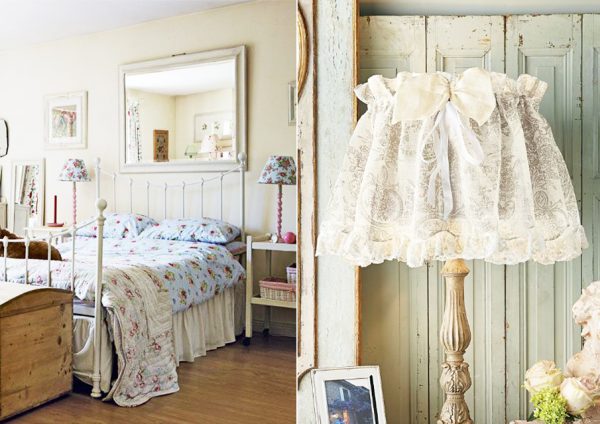 Rustic motives and forging
Combine forged cornices and other openwork details in some pieces of furniture with figurines of pets, which, by the way, can be attached to the wall in the image of stuffed animals in a hunting hut. They can be made of plaster, wood or papier mache