The question of what the interior of a modern children's room represents cannot be answered unequivocally, since current technologies and fashion trends affect all areas of design, which means that the image of a nursery can be multifaceted and elusive.
Many decorators and designers like the modern style, because it allows you to embody the most extraordinary and daring ideas, and we will talk about some of them in this article..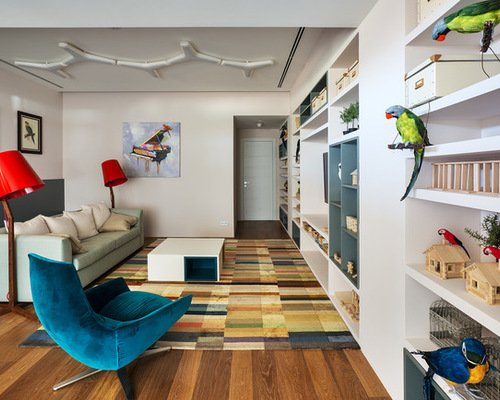 Children's room interior in a modern style: ideas and tips
The spirit of modernity – free from prejudice, bold and inspirational, should be felt in every object that makes up the decor of a children's room. There are few restrictions and, sometimes, objects from the present get along with past trends in object design..
Advice:
The modern style in the children's room is quite democratic, with its help you can create an inexpensive but effective interior. However, like any other style, it requires compliance with harmony and ergonomic rules that are important in any room..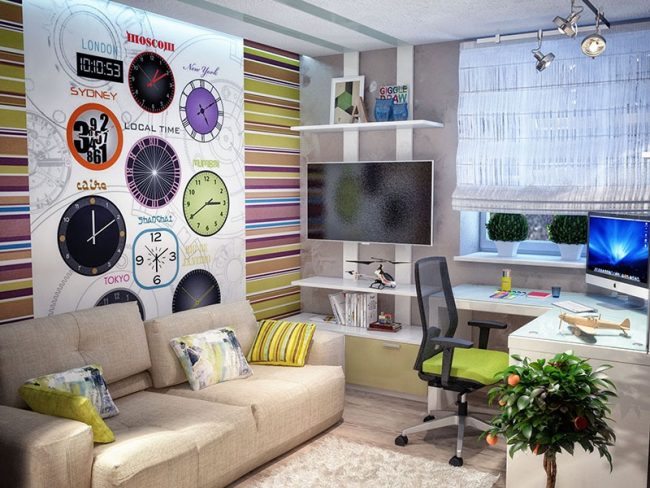 For example, if the use of bright colors or patterns is envisaged in the nursery, the emphasis should be on one thing: either surfaces or pieces of furniture and decor (the former should balance the latter and vice versa).
Choosing a modern image of a children's room
Modern differs from classical and traditional styles in that it implies a wide variety of materials, textures and details that fill the interior. In the nursery, wood and plastic, textiles and leather, laminate or tile, polyurethane or safety glass can be used. And if you give yourself up to fantasy, you can create a unique interior, the likes of which will no longer be.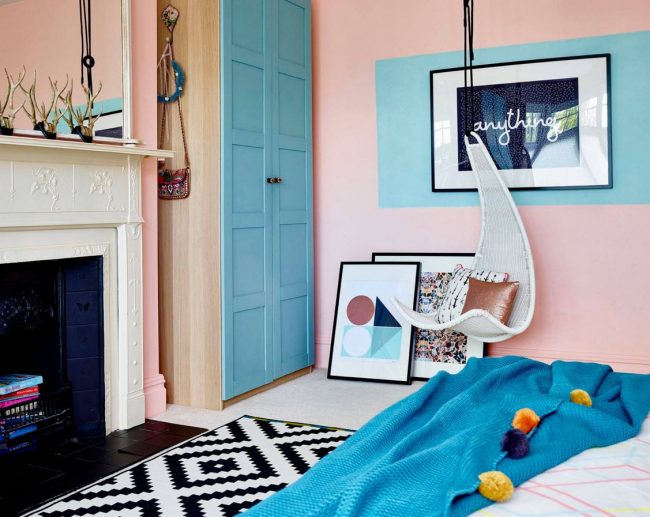 Concise and functional design of the nursery
The modern interior of the nursery, in which every object and material is used to create extremely comfortable conditions. So, the main thing here is simplicity of forms, purity of colors (preferably natural), ergonomic furniture.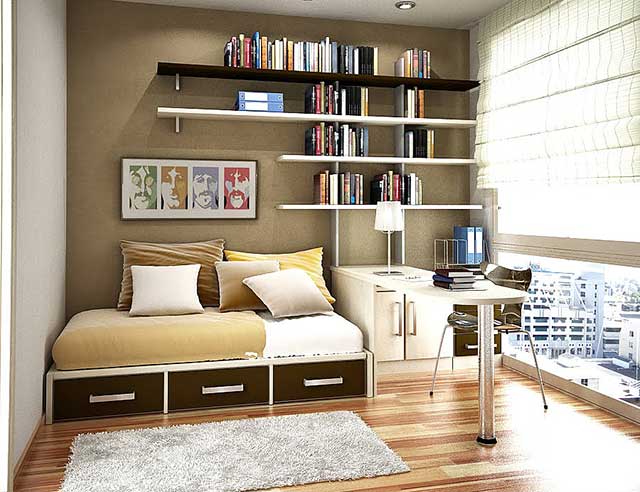 In addition to a sleeping bed and a desk in the working area, this version of the modern interior involves many sections for storing things, toys, books. These can be shelves with closed and open shelves, shelves, built-in cabinet designs, hidden drawers, etc..
Materials for decorating the surfaces of walls, floors and ceilings should also be as practical as possible: laminate, painting, sisal carpet or mat, polyurethane wall panels.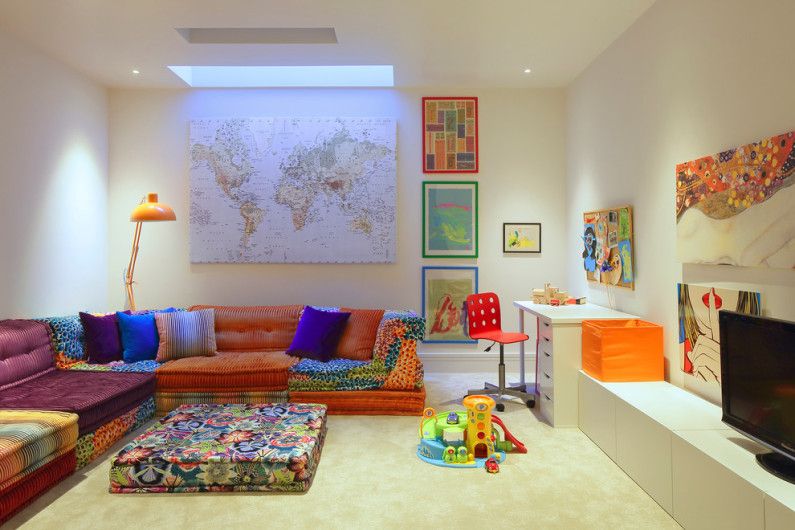 Thematic design of a modern nursery
The ability to embody children's dreams is what gives a modern style to the interior design of a room. The space of the nursery can look like a corner of a paradise lagoon, or an open-air flower meadow. To do this, first of all, it is necessary to paint the ceiling and walls (or their upper part) in a pale blue shade, and then, using a sponge, apply white, «drawing» light clouds. The lower part of the room can be decorated using a blue-green color scheme, and accents in the form of decorative details that complement the fantasy image (decor, textiles, light, painting, objects with a certain silhouette).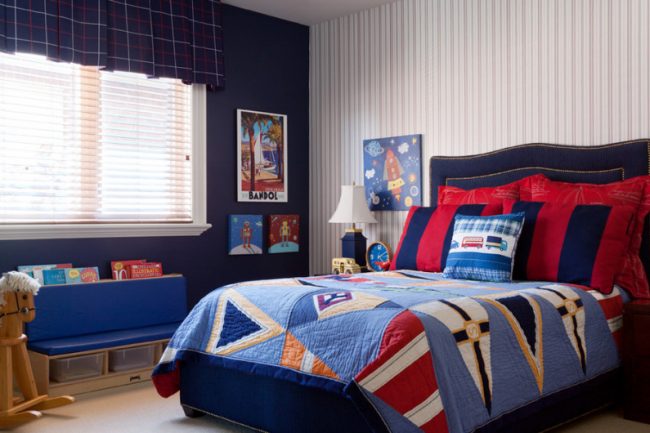 In the boy's room, you can install a bed that resembles the bow of a pirate ship, or decorate the walls with world maps and flags of different countries that your son dreams of visiting.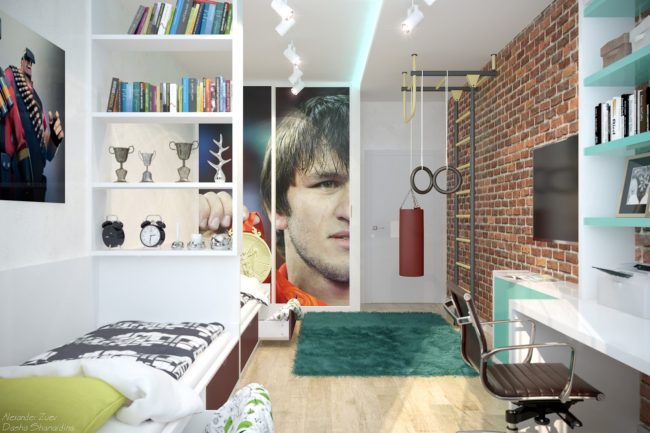 A girl can choose a romantic image of her room, which can be complemented by a weightless canopy over the bed (or its imitation in the recreation area), feminine prints and openwork ornaments, paintings and photographs on the theme of fashion, favorite films and other interesting subjects.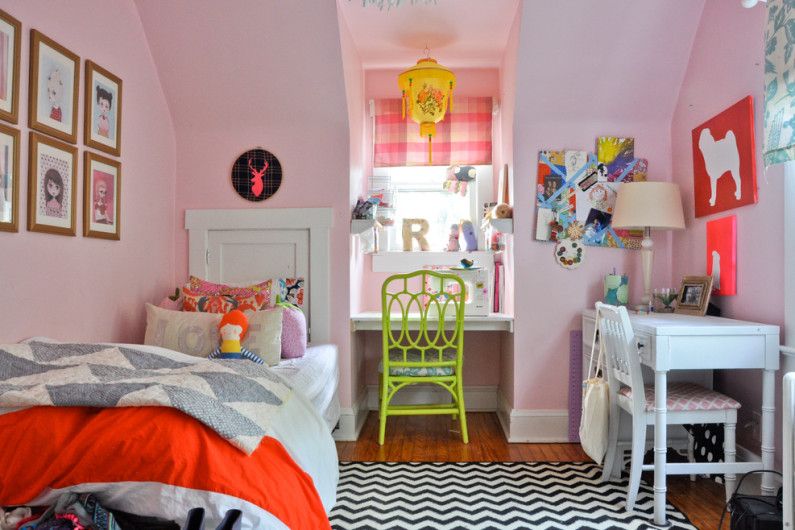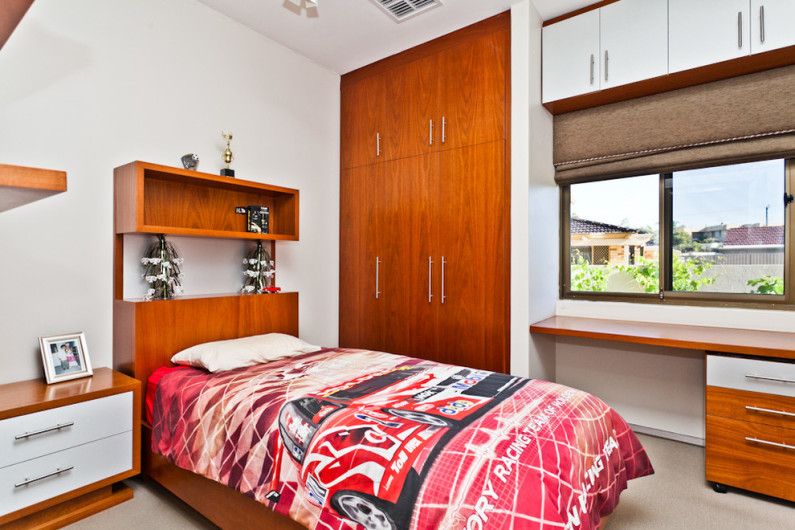 Stylish and bright design of a modern nursery
The modern interior of the nursery is like that of parents, because most children dream of being in the place of their parents as soon as possible: to become adults and independent.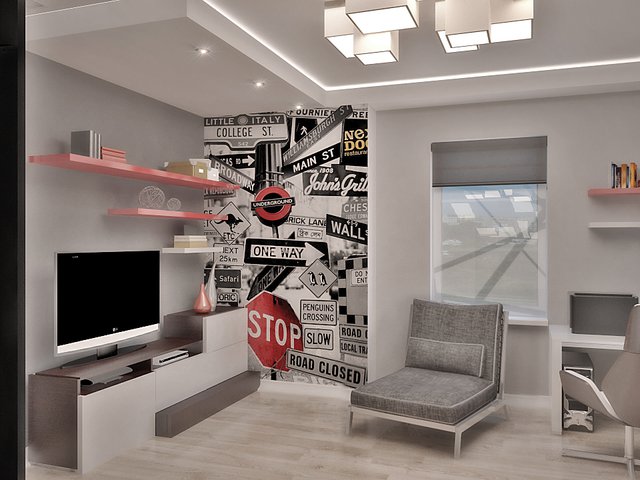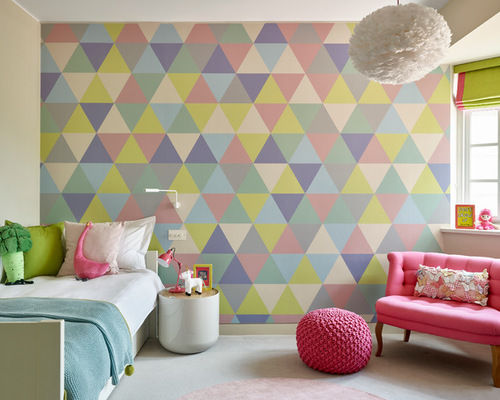 Install a bed and a wardrobe (or a chest of drawers) in a deliberately classic style (made of wood, with elegant carvings) as the main furniture. Against their background, designer decor items (figurines, paintings and reproductions), furniture and unusual color combinations in wall decoration, textiles will look perky and relevant..
The main idea here is a spectacular contrast of textures, shapes and colors..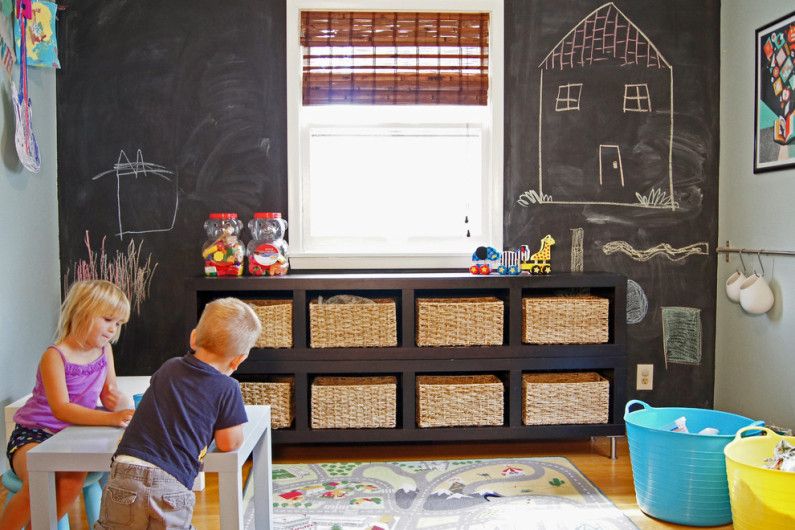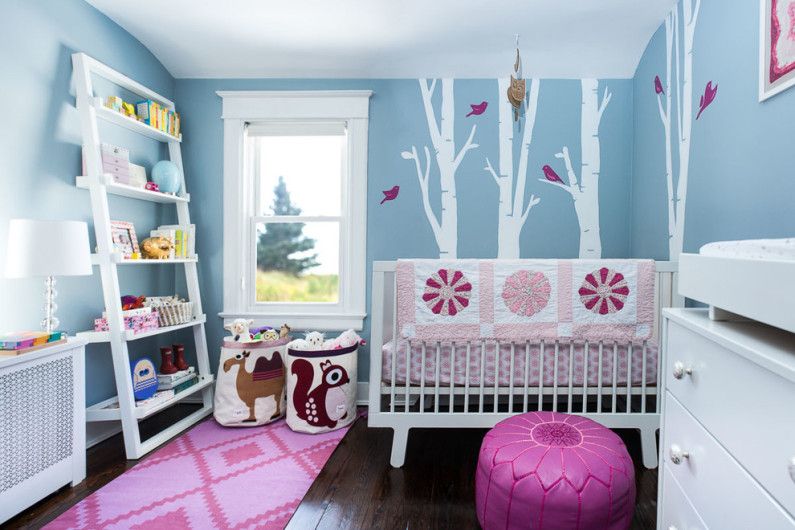 Creative modern nursery design
For children who are very creative, it is important to be surrounded by an inspiring atmosphere, so the interior should reflect your child's inclinations and talents. For example, a wall (or part of it) painted with dark paint will allow a child with artistic ability to draw with chalk at any time. And the contemplation of bright paintings will inspire to create your own, in the future.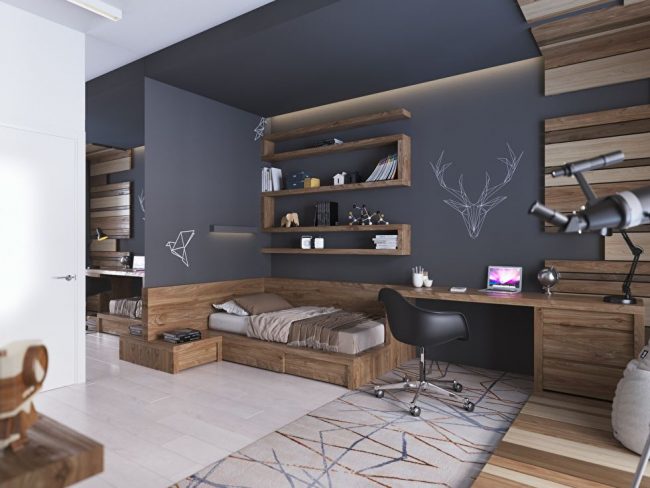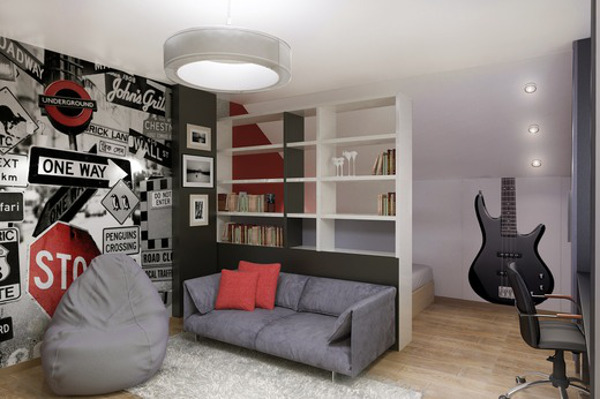 Musically gifted children need a separate area for practice, which can be decorated functionally and colorfully, for example, surround a synthesizer or a piano with a shelf structure, put a bright pouf next to it and paste over the walls with wallpaper depicting a music staff, treble and bass clefs.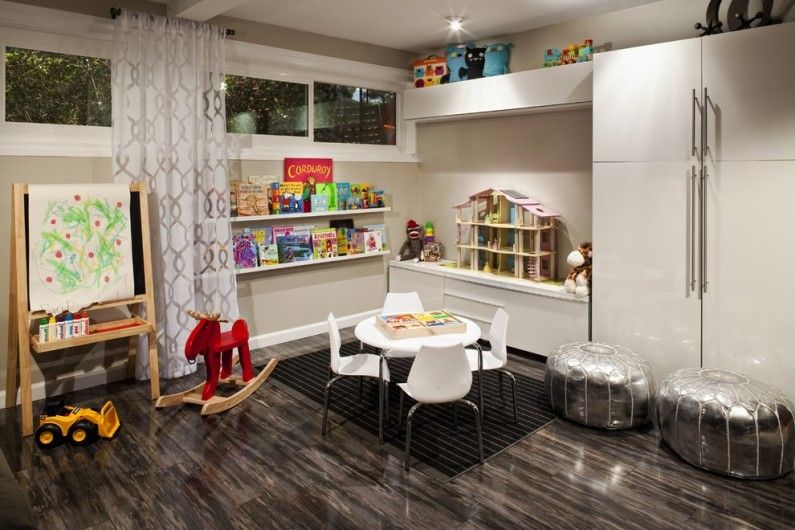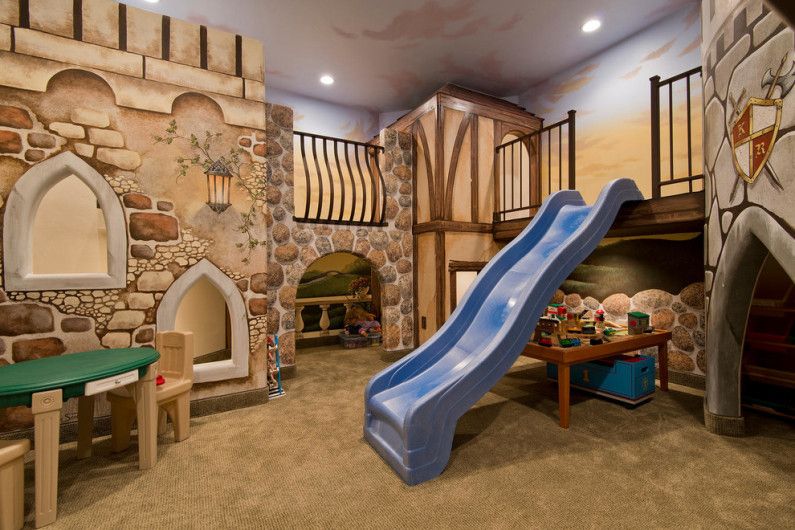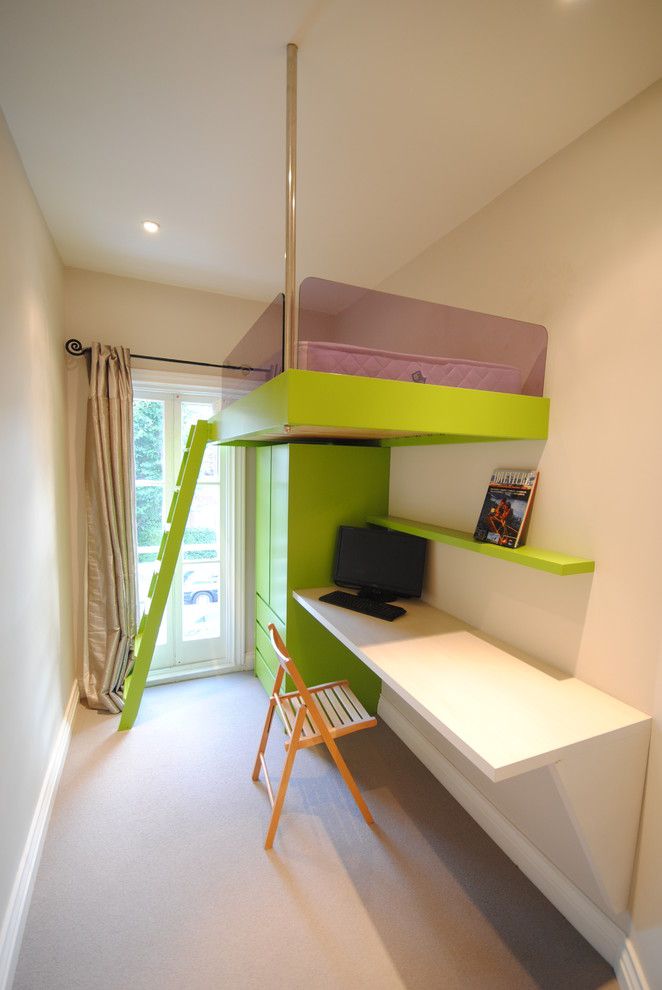 Features of the design of a modern nursery
Each of the interior styles is characterized by some features by which we distinguish one direction from another. If we talk about modern style, then, like the others, it is endowed with certain features, for example, ergonomics of forms, great practicality of materials, the use of stylish contrasts of textures or colors. Speaking about the children's room, additional signs can be distinguished, thanks to which the interior style can be called modern.
Intricate light
Chandeliers, lamps, floor lamps, sconces and spotlights of simple geometric shapes, but made of unusual modern materials: bent plastic, colored polyurethane, frosted or transparent glass. Also, a modern nursery will become thanks to the use of lighting devices that imitate plants, animals, marine life, bunches of berries, a balloon or Aladdin's lamp from the famous fairy tale.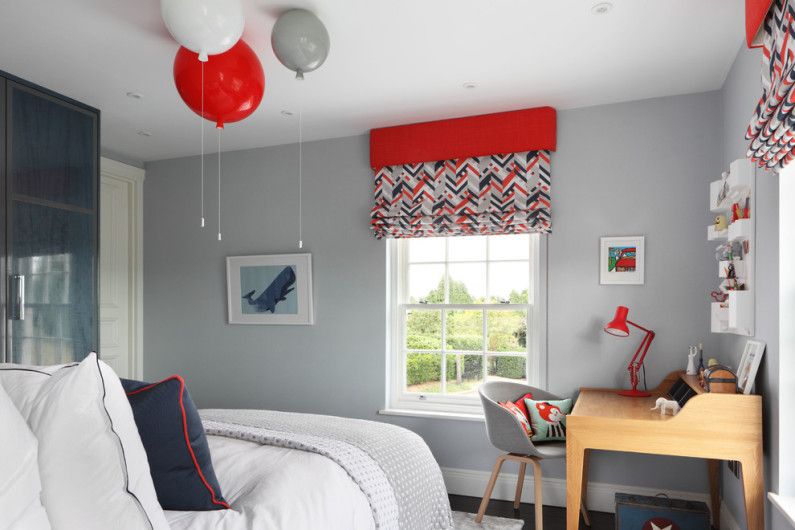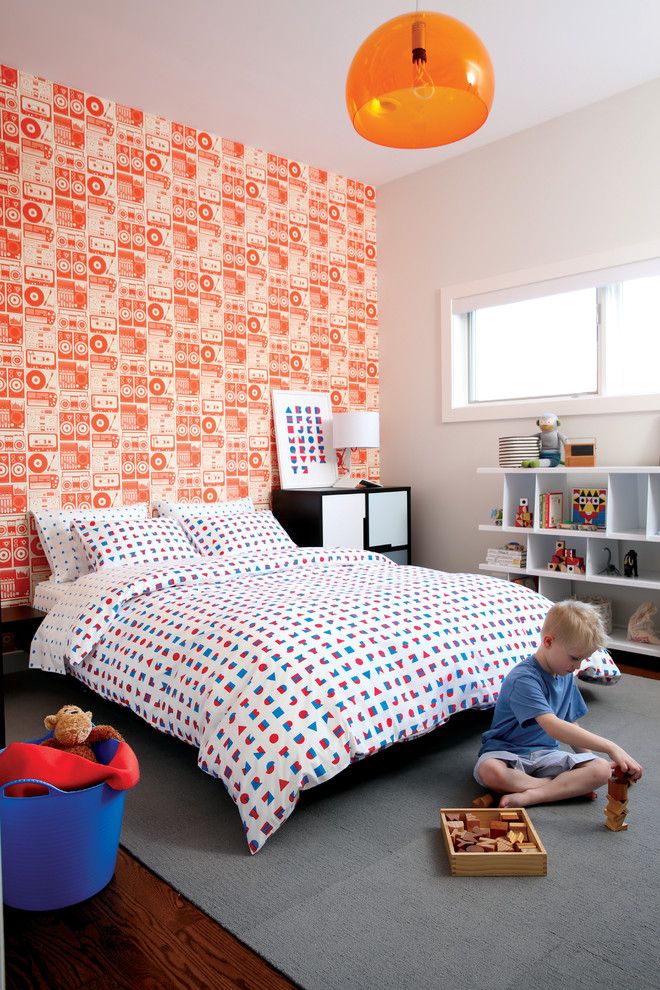 Bold prints and patterns
They will help develop the child's aesthetic taste and deepen his knowledge of shapes, colors and ornamental elements in general. Together with classic patterns such as polka dots, zigzag, stripes, you can apply more complex variations: stars, polyhedrons, spirals, ornaments of the peoples of the world and more, combining them in the interior of a children's room.
Drawings and prints in a local design look most impressive on a carpet, on one wall as an accent, in textiles or as a wall panel in a frame or on a stretcher.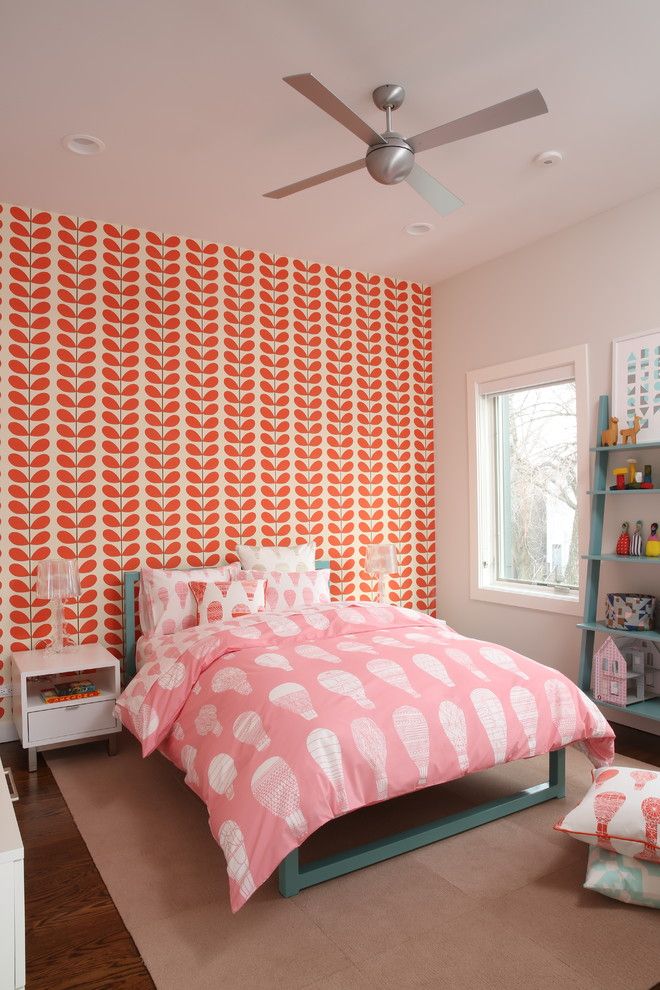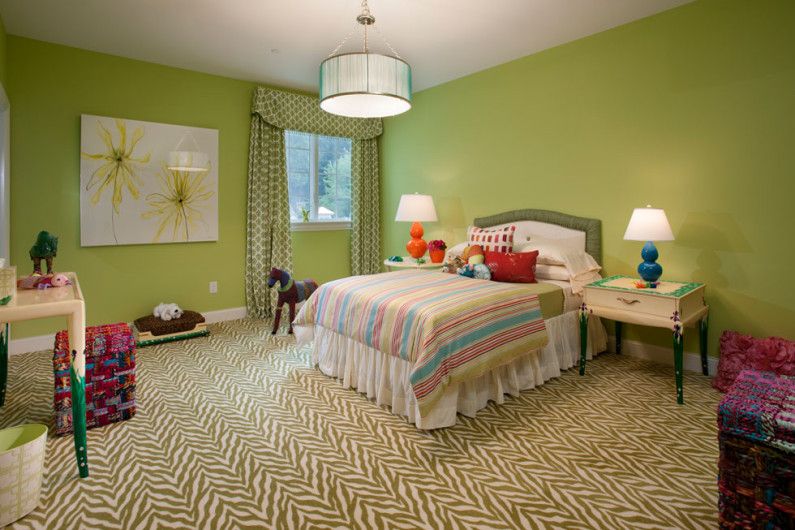 Shape geometry
A characteristic manifestation of modernity in the nursery and any other room can be called simple and understandable forms that should be used in the design of surfaces, furniture and decor. So, the same shape of a rectangle with rounded (9 safe) corners can be traced in the silhouette of a bed and a wardrobe, a pouf and an armchair.
The circle can be clearly read in the carpet pattern, the shape of the lampshades and the silhouette of the bedside table. In general, the interior of a nursery in a modern style should be built on the basis of one or two geometric shapes..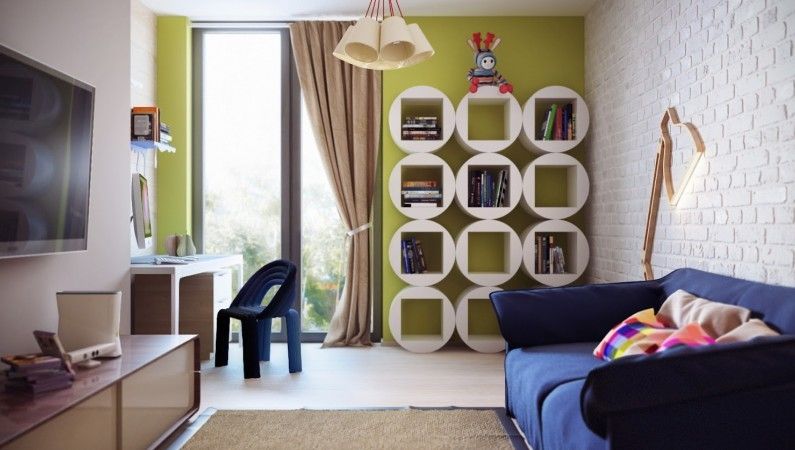 Color blocks
Color is of great importance for a nursery, and in a modern interior, special requirements are imposed on it. As well as in clothes, indoors it is not necessary to use more than three basic and rather bright colors at the same time. In addition, for each catchy color, you need to choose a neutral pacifying shade. Remember that a successfully planned color scheme for a modern children's room is 30-40% bright, 60-70% neutral.