It is a real pleasure to equip a girl's nursery, because, where else, if not here, you can let go of all prejudices and make dreams of a fairy tale come true. At the age of 3-10, the child actively develops his imagination, thinking, and if we talk about girls, they instinctively strive for beauty, and now is the time when it is necessary to educate them in a taste for high-quality, beautiful things.
How to design a room for girls
From the age of 3, as many have noticed, the most interesting and wonderful age begins, when in front of you is no longer a baby, but a sweet inquisitive girl. And this is great, because it's time to come to grips with the appropriate design of the nursery so that your daughter's room is cozy, fun and comfortable to live and develop abilities.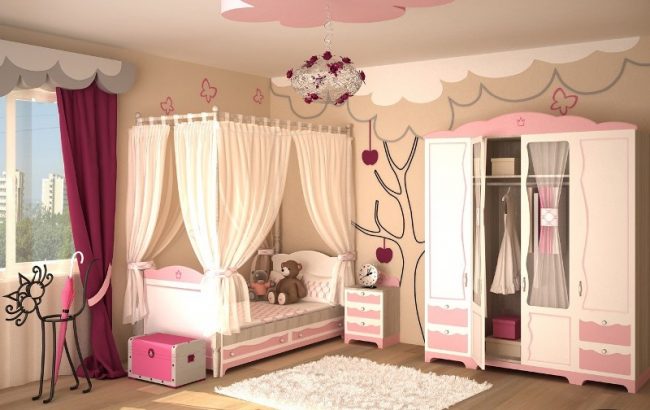 On a note:
• A girl's room from an early age should be equipped so that it is easy to maintain order in it.
• From furniture – only the most necessary, a few cute items (ottoman, mirror in an openwork frame, elegant armchair).
• Forget about dark or too bright colors: delicate taste is brought up surrounded by neutral shades, complemented by several natural juicy accents.
• Give your daughter a houseplant, let her learn how to care for it, water and loosen the soil.
• If you want to lay a carpet with a long fluffy pile on the floor, choose a small copy (1×1.5 m), and cover the rest of the area with a sisal covering. The material will prevent the decorative rug from slipping, and in general, will make the nursery warmer and more comfortable.
Secrets of nursery design for girls
Define functional areas
They are important in any children's room, as they help to competently furnish the area and use it to the maximum advantage. In the girl's room, three main zones should be distinguished: sleeping, working (creative) and dressing room, which must be taken into account in any room, especially small in size..
It is necessary to distribute these zones in the room, based on the following principles: place a writing table (easel, table for games) in the brightest place, and ideally by the window; wardrobe, chest of drawers or built-in wardrobe – on the opposite side or along an adjacent wall; place the bed in the center of the room, leaning its headboard or side against another wall.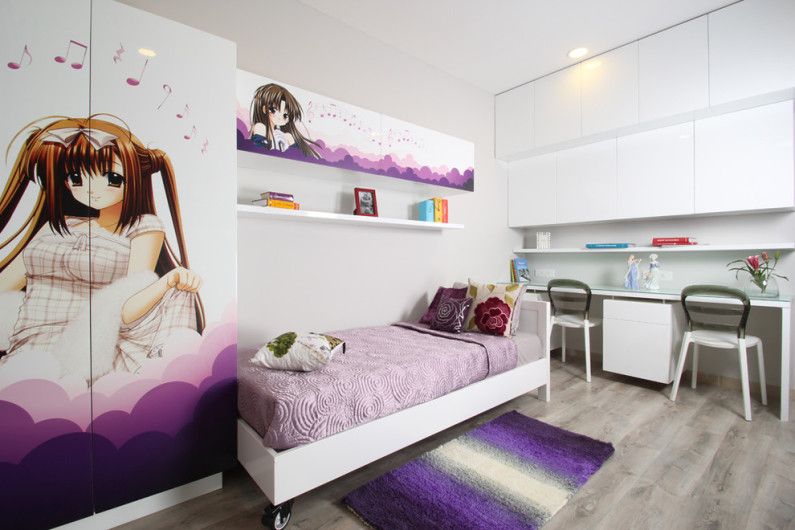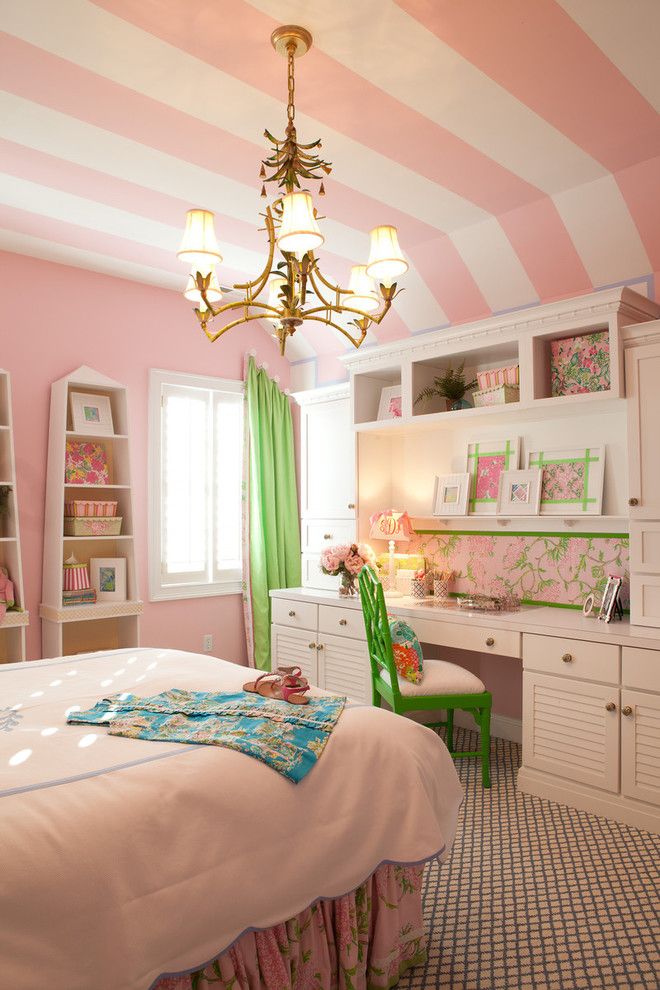 Choose color combinations
Let go of the stereotype that a girl's room should be decorated in pink and all its shades. Monotony quickly gets boring, and it looks rather strange.
In order for the nursery to look stylish for a long time and the need to arrange repeated repairs does not arise, it is recommended to use neutral, natural or pastel shades in the design of surfaces: light green, cream, beige, ivory (or ivory), pale yellow, silver. Such shades will be a good choice for a child's little girl, and will remain relevant after a few years, when the child grows up..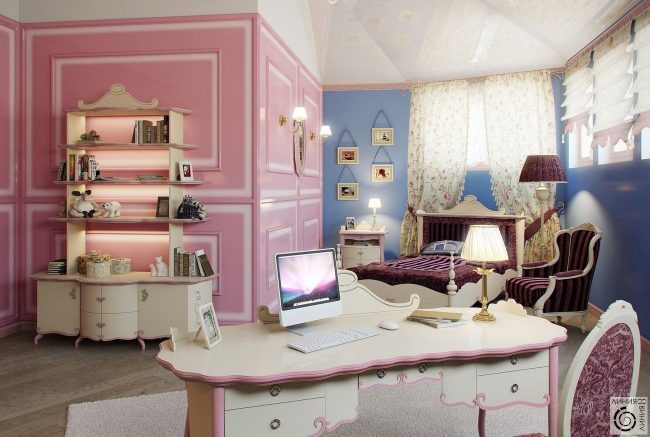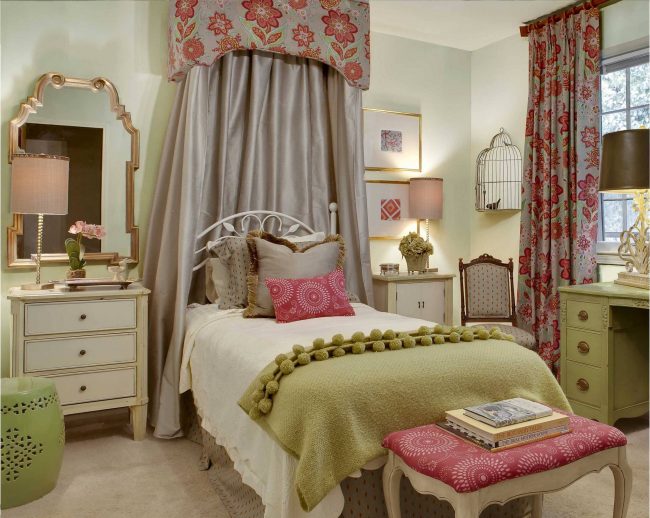 If you choose wallpaper, let it be plain without a pattern, or with a classic floral pattern, as well as polka dots or with silhouettes of birds. Against such a background, you can safely use other, more saturated colors, different textures and sudden extraordinary combinations, for example: aqua and golden, peach and cobalt, pink and silver gray.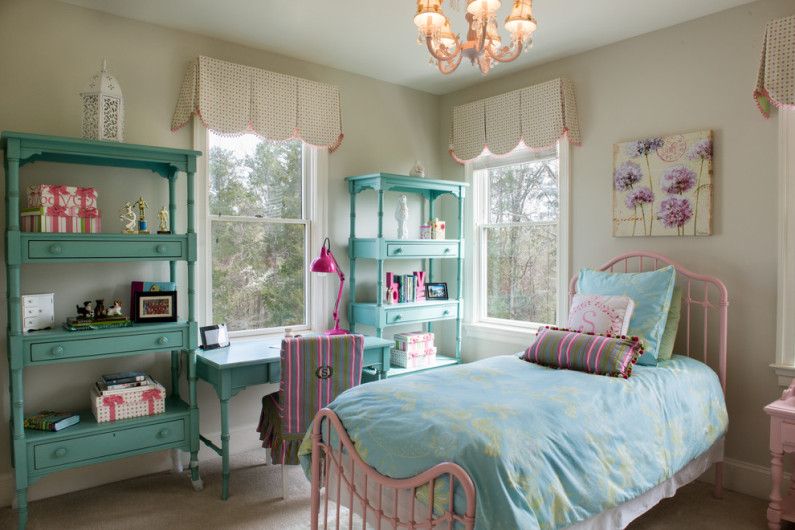 White at the heart of the interior of a nursery for a girl will allow her to choose her own favorite combinations of shades for bed linen and curtains, decor and textiles.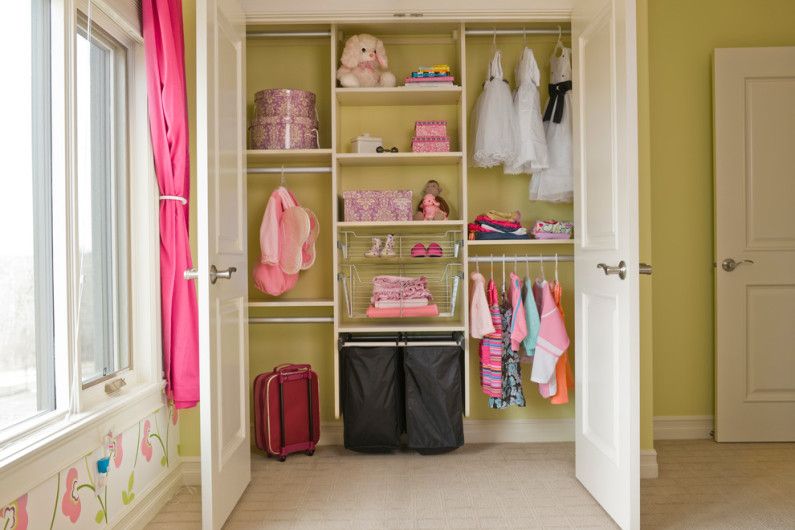 Bed
From birth to 3 – 3.5 years old, children, as a rule, sleep in a crib measuring 120 x 60 cm. But closer to four years, you should definitely replace the child's sleeping bed with a more spacious and comfortable one. And if restrained forms and natural colors of wood and metal are preferable for a boy, then in a girl's room the bed can be safely called the compositional center of the entire room, around which the rest of the room is built.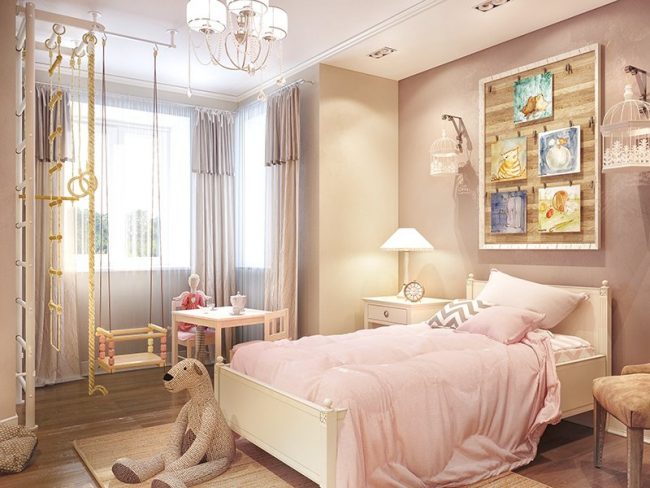 A bed for a girl should be chosen in such a way that it should last for quite a long time (on average, up to 10 years, and sometimes longer). The height of the bed may vary, but the main dimensions should correspond to the standard 180 x 90 cm. Make sure that the mattress is of high quality orthopedic, with a cover made of natural fibers.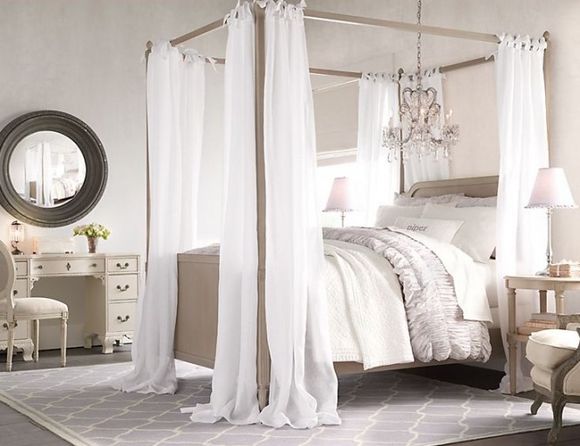 In terms of strength characteristics, the frame of a child's bed should not differ from its adult counterpart, it is known that children love to jump on their bed, which means that checking the quality of fasteners is your next task. It is better, of course, to choose wood as the material of the bed (oak, beech or pine are the most popular species), but combined models with wooden and forged elements are also possible.
The headboard of a girl's bed is the most beautiful part of it: carved, upholstered in beautiful fabric and quilted, painted or openwork, crowned with a canopy and light drapery, like a real princess.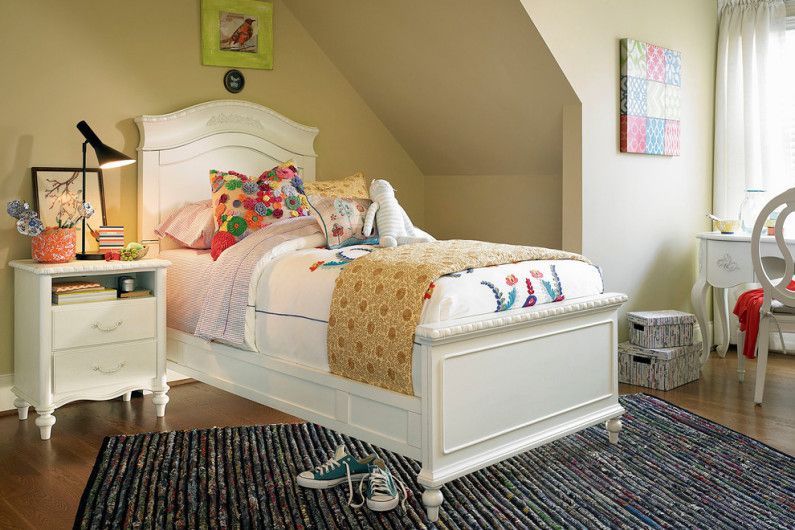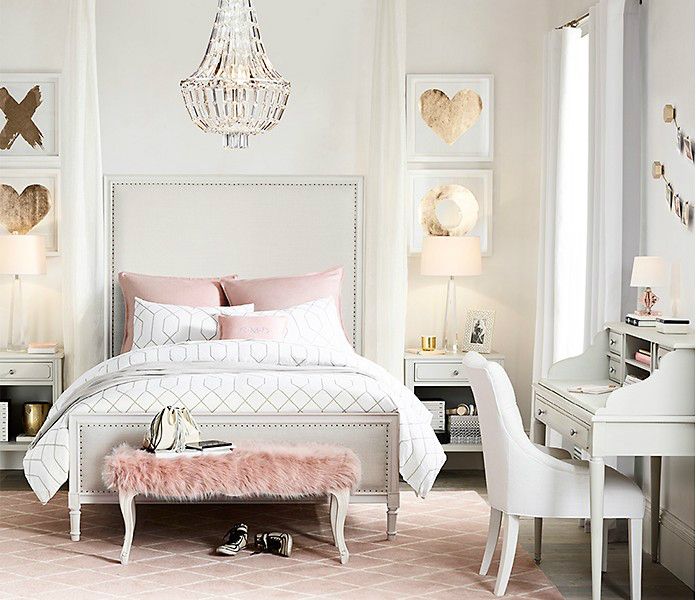 Orderliness is important
Plush toys, dolls and accessories, books, art supplies and other items will only accumulate over time, making the room cramped. You can avoid this if you correctly use the provided square meters, and install, for example, a high rack along one of the walls.
This can be ordered with the help of furniture specialists, to transform the nursery into a more comfortable and neat one. Think in advance about the possible combination of wardrobes and shelves for different items needed by your daughter in a single block.
Before ordering the assembly of furniture for storage, it is necessary to clarify the number and dimensions of the required sections: shelves, closed and open, the presence of crossbars or rods, drawers.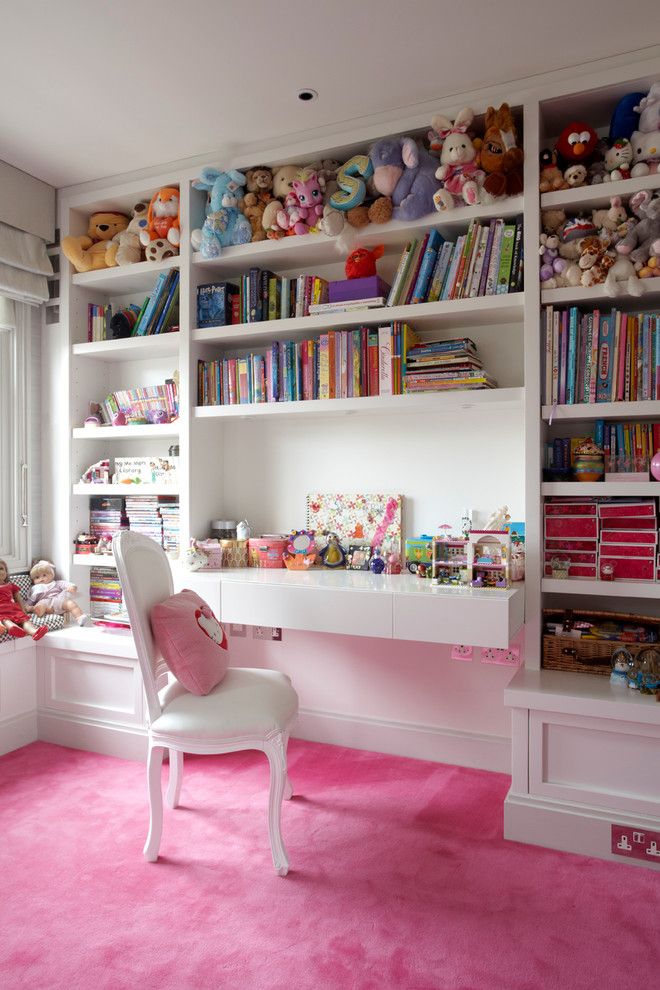 We create an aesthetic interior in a children's room
First of all, we want to make the girl's room beautiful, filling it with all sorts of decorative objects, textured materials and graceful patterns. Do not be afraid to make the nursery too girlish: use light draperies on the curtains, decorate the walls with flirty pictures, give the girl a dressing table and a soft velvety ottoman. Believe me, touching all this beauty, she will feel happy, and from an early age develop soft femininity and kindness.
Growing up, the girl strives to get her own use «like mom's», so the room can be decorated with something like an elegant shoe rack or a mini dresser for decorations.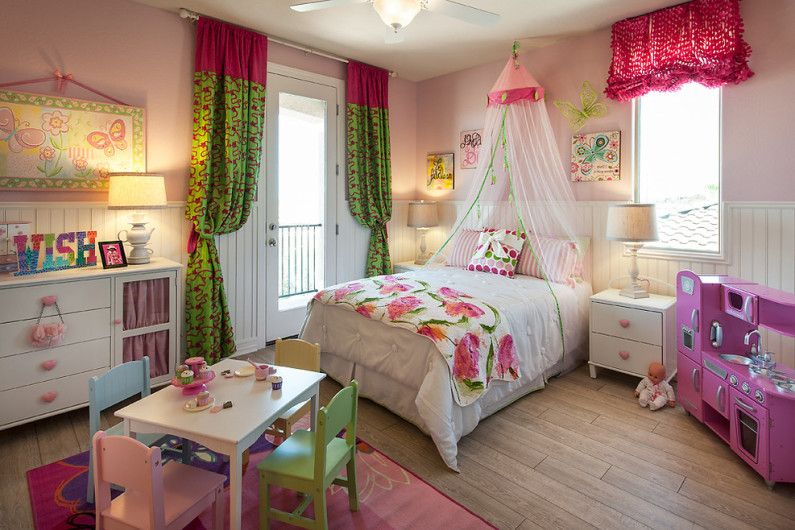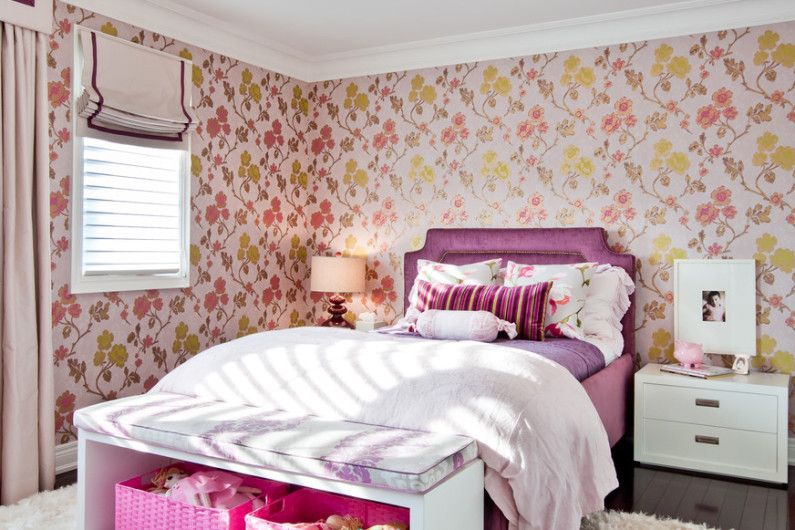 We get practical things
Think about the fact that over the next few years, the girl's preferences for the decor of her room will change significantly, and what she likes today will then embarrass your daughter. So, furniture in the form of cabinets, dressers, armchairs is better to choose classic rectangular shapes with a minimum of decorative details, kept in light colors..
The older the girl, the more important it becomes to use more elegant patterns in textiles and decor, which is why it is better to acquire small-sized bright objects with cartoon characters – it is easier to replace them.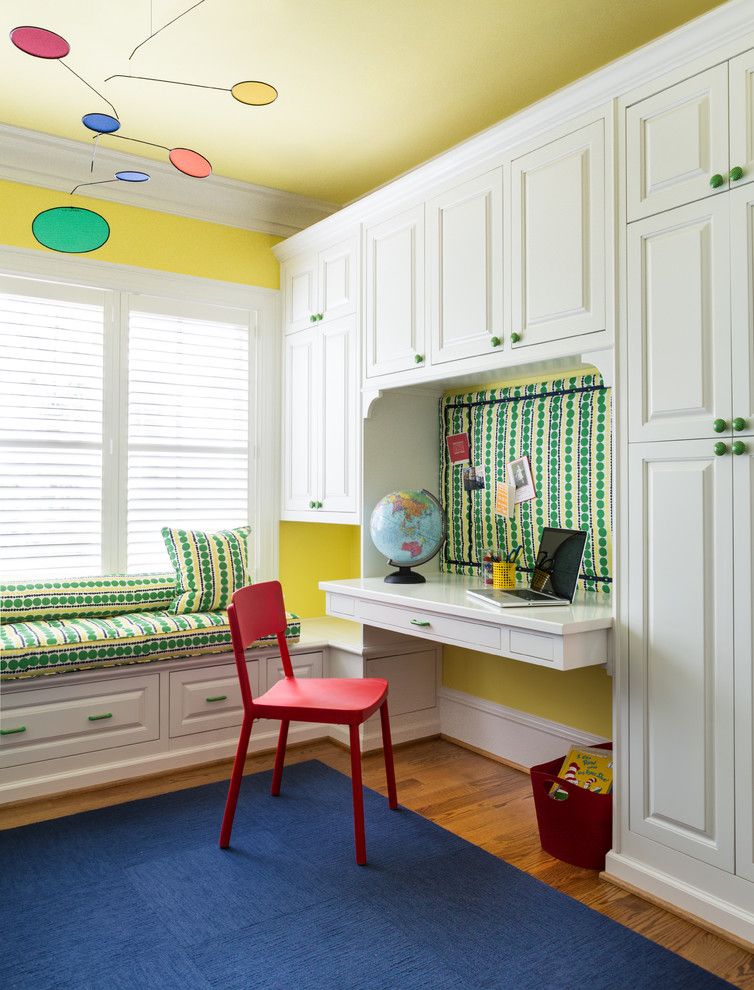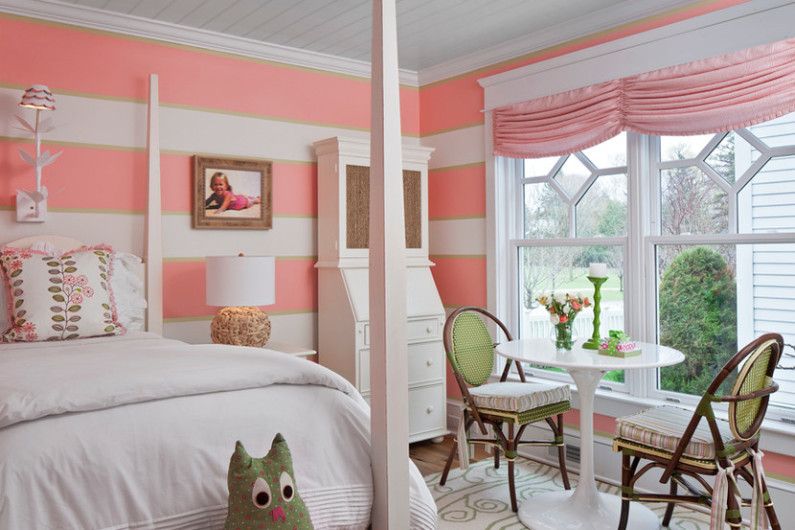 We select lighting devices
Away with boredom and uninteresting lamps, use a sconce with perforation in a child's girl, scattering light and casting bizarre shadows; remember the relevance of flower silhouettes for chandeliers, make a beautiful accent on table lamps.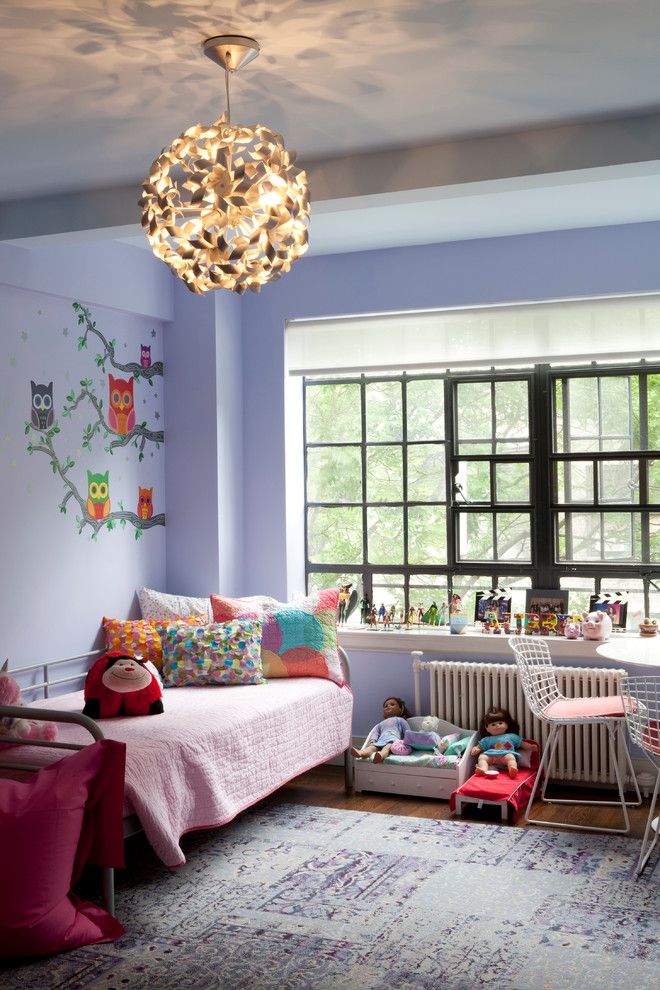 Good luck!