By age category «teenagers» include children aged 11 to 19 years old: no longer children, but not yet adults. That is why it is so interesting and not easy to decorate a room for a teenager, when a boy or a girl is already striving to become adults, but children's pranks are still close to them. When decorating an interior for a teenager, it should be borne in mind that the space should not be boring and monotonous, therefore, catchy accents should be used, thanks to which your growing up child will be proud of his room..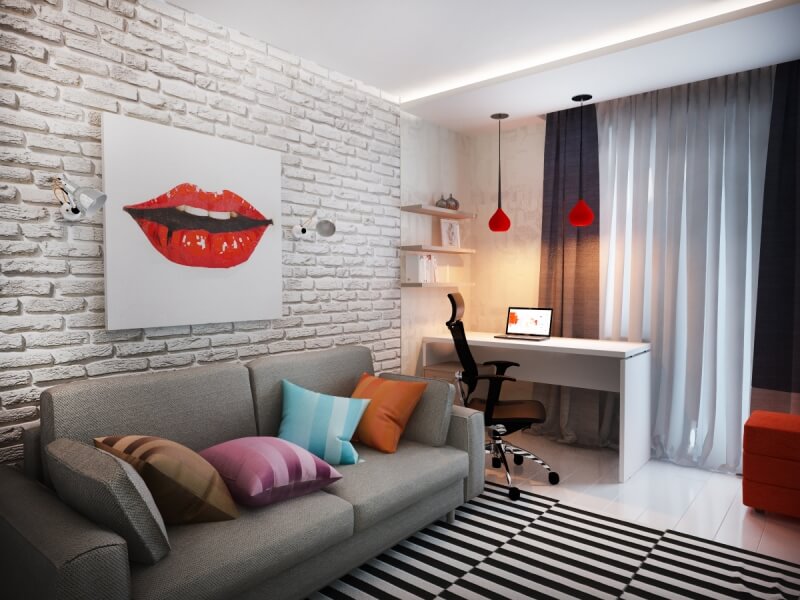 We will talk about such, relevant today, techniques in decorating a teenager's room in this article in the hope that the information will be useful to you.
Stylish interior for a teenager
Environmental design is increasingly penetrating the space of city apartments and teenage rooms are no exception..
Eco-style elements
You can revive the space of a girl's bedroom or a young man's room with the help of jute rugs, a wicker chair, carved wooden stools and shelves, decorative items made of ceramics, bamboo. Remember that natural color combinations and a neutral palette will be the best basis for eco items..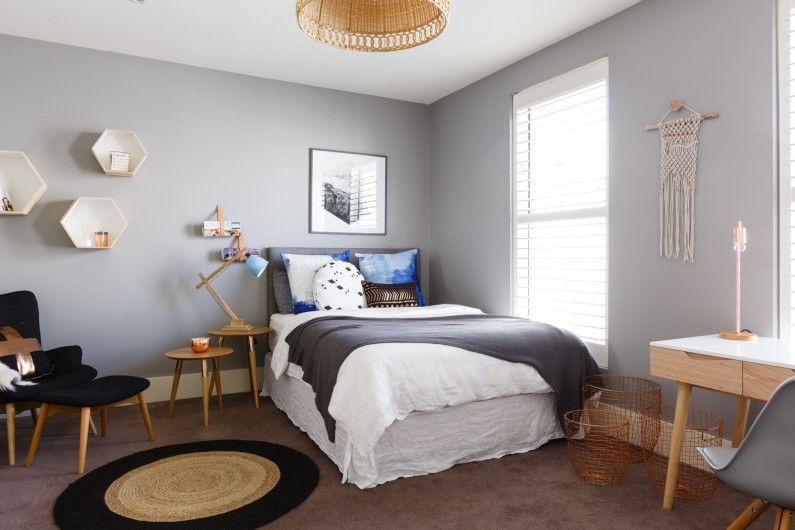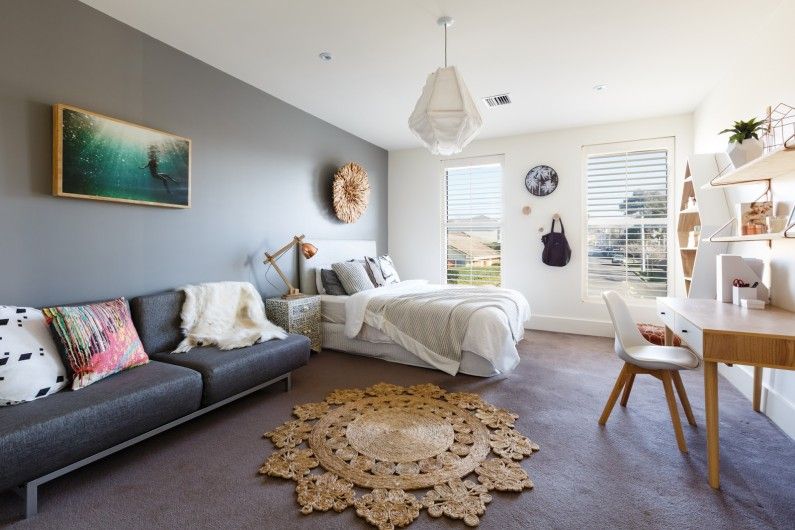 Illuminations
In a teenage interior, you can apply original objects that emphasize and highlight the youth interior. Illumination will cope with this task perfectly: it will make the image of a girl's room glamorous, and the interior for a young man – in style «rock» or loft.
We like art objects with built-in lamps, as well as individual large wall or table letters with backlight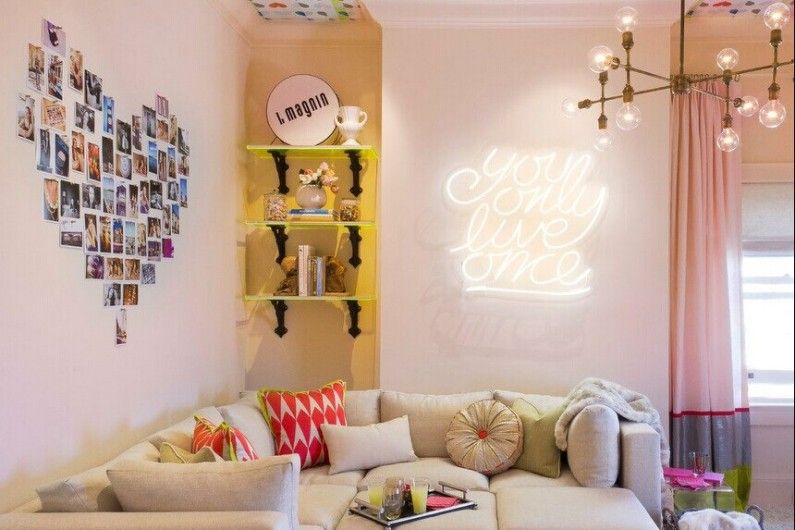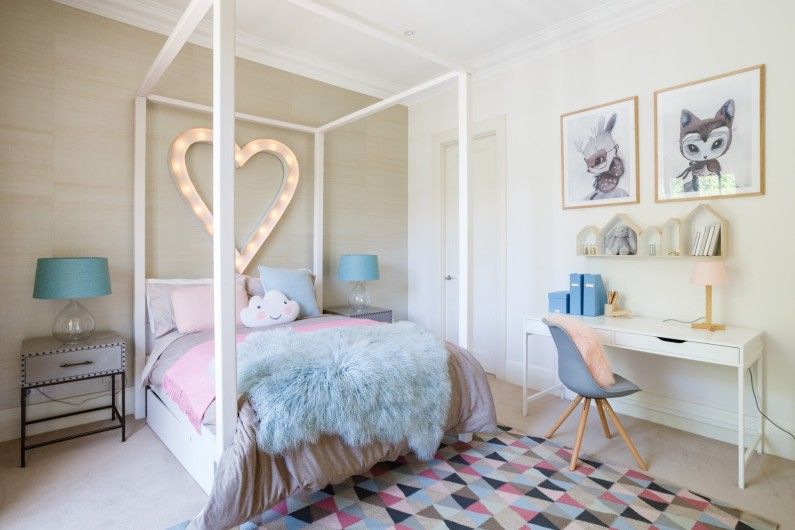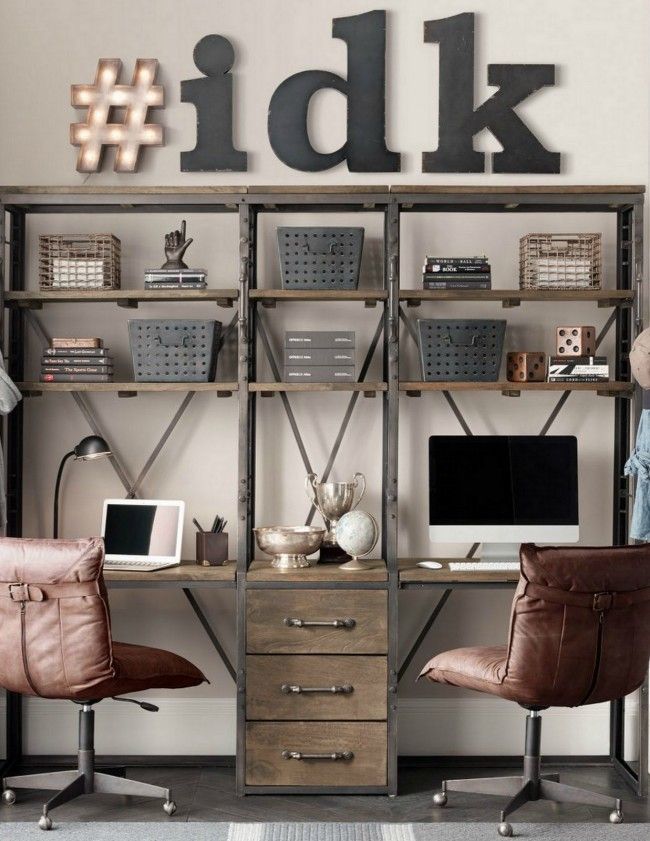 Tropics theme
This direction is suitable for a young man or girl with extraordinary taste, since the interior, inspired by the wild jungle, is strikingly different from the usual modern design of rooms..
We believe that the teenager will like the idea of ​​decorating a room in the style of a tropical forest: there are many natural bright colors, you can use colorful decor and animalistic ornament.
A ceiling lamp with a fan, a bamboo chest of drawers and wooden blinds for the windows are available for a teen boy's room. The girl will love the idea with a tulle canopy over the bed and a thick leafy pattern on the textiles..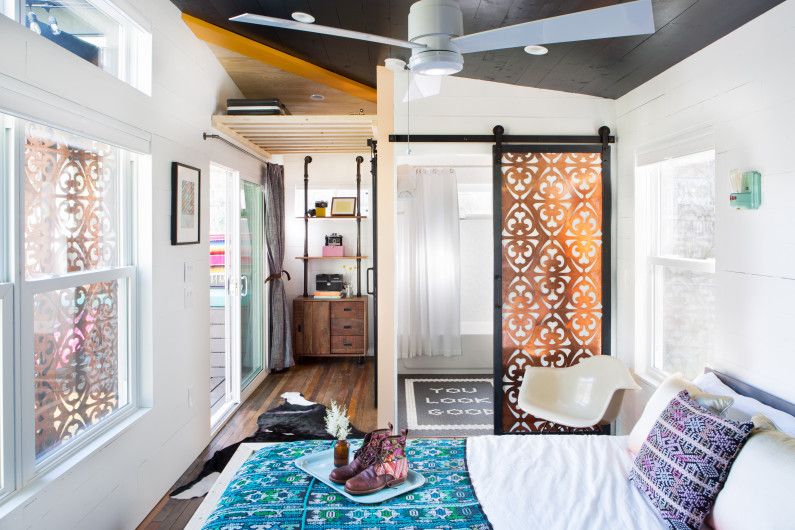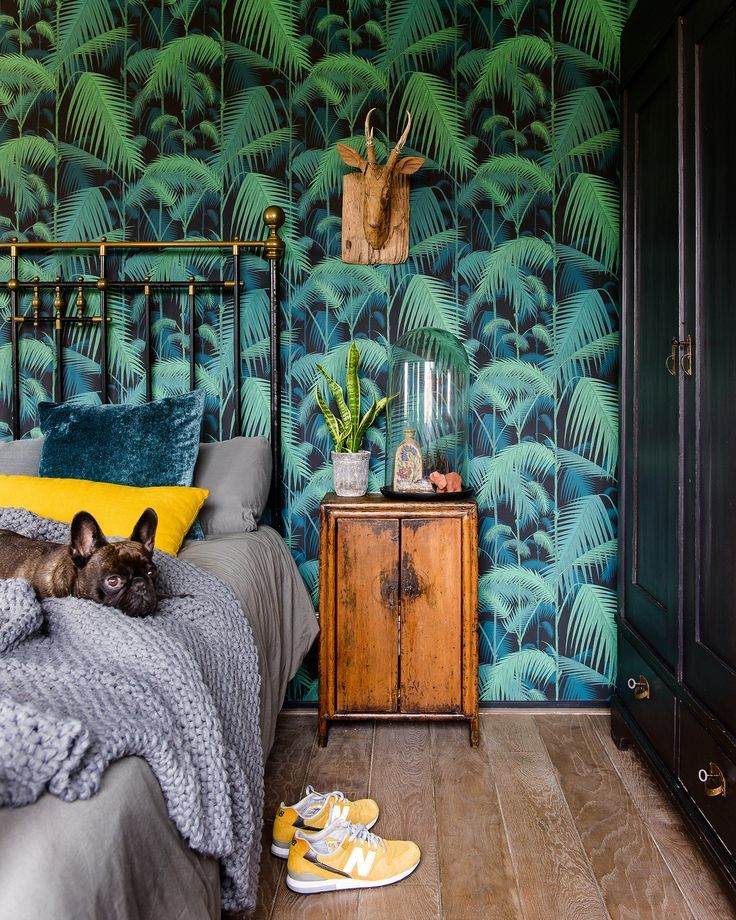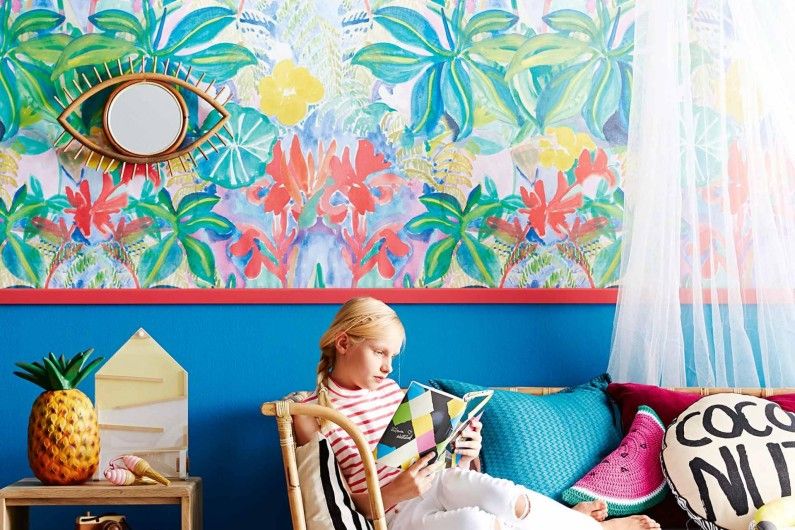 Textured materials
In a room decorated with restrained colors and simple shapes, it is necessary to create an interesting play of textures. For example, lay a large knit blanket on the bed, revet the wall with decorative bricks and install a metal floor lamp on a fleecy rug (in the boy's room).
In a girlish interior, you can combine pieces of furniture with an openwork metal frame, lamps with glass elements, figurines made of wood and ceramics, and also complement with textiles made of tweed, wool and smooth satin.
Remember: the more varied the textures of the materials, the more interesting and stylish the teen's room looks.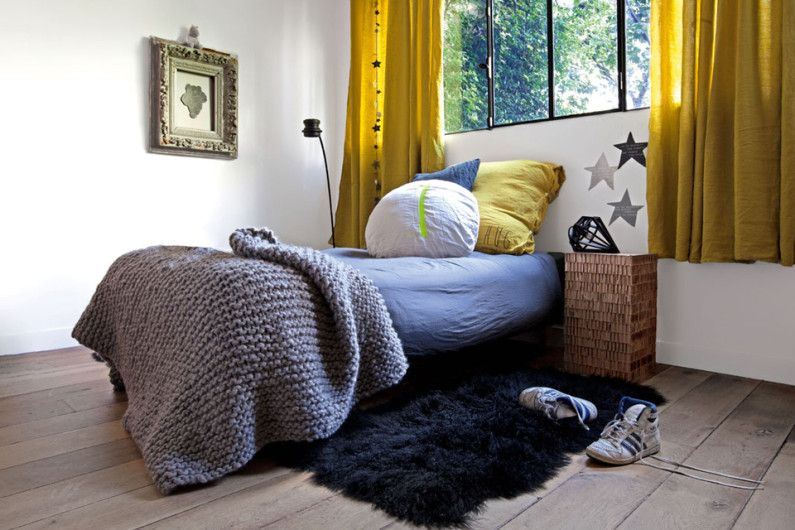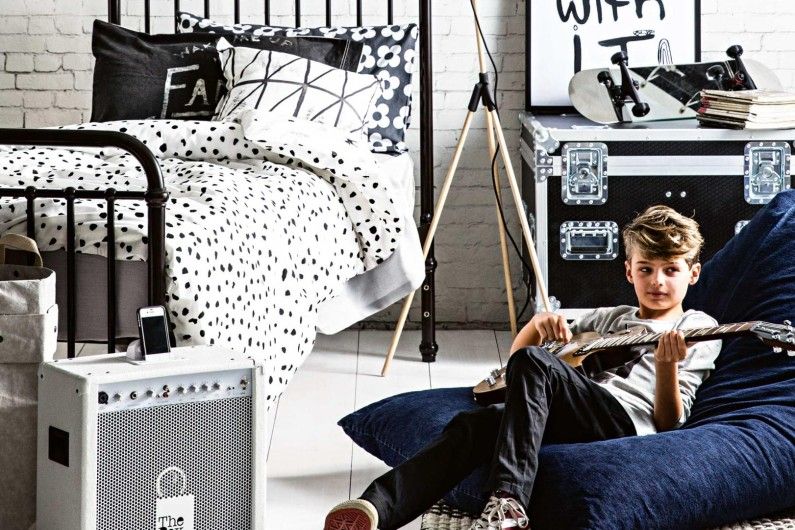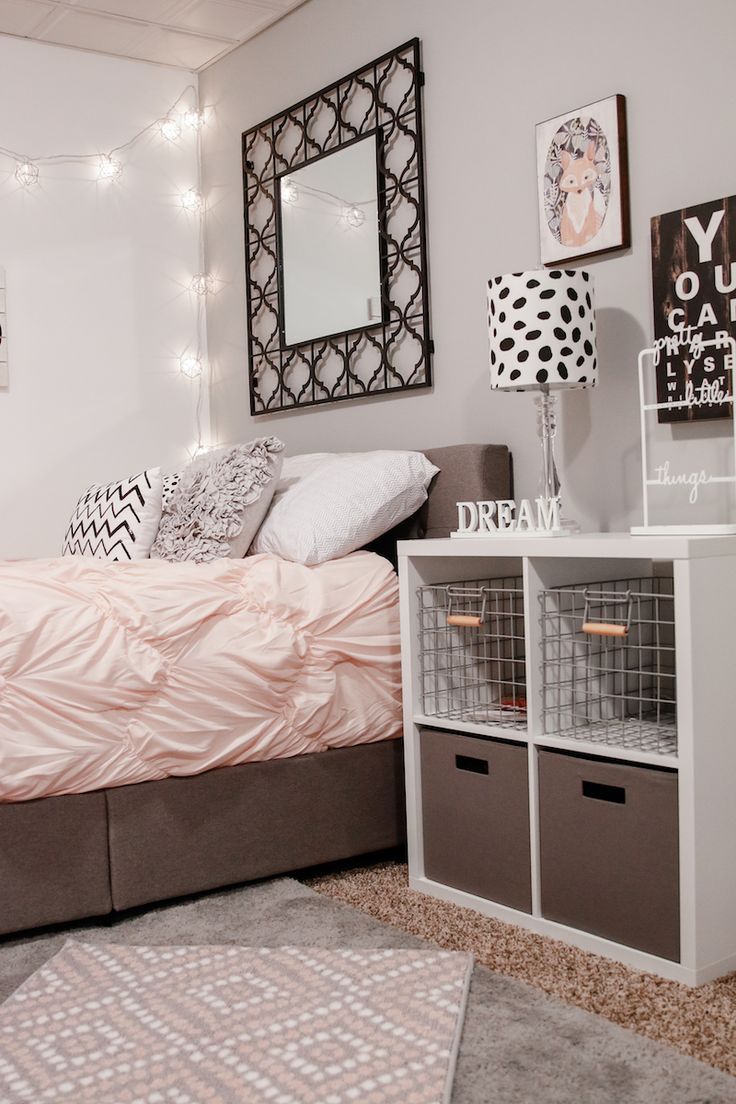 Monochrome accents
Teenagers often choose a bright palette to decorate their room, but too active colors are not perceived positively for long. We suggest covering one of the walls (zones) of the room with wallpaper of neutral shades or hanging neutral curtains. And even if a large pattern (drawing, photograph) is depicted on them, the influence will be minimal precisely due to the monochrome shades.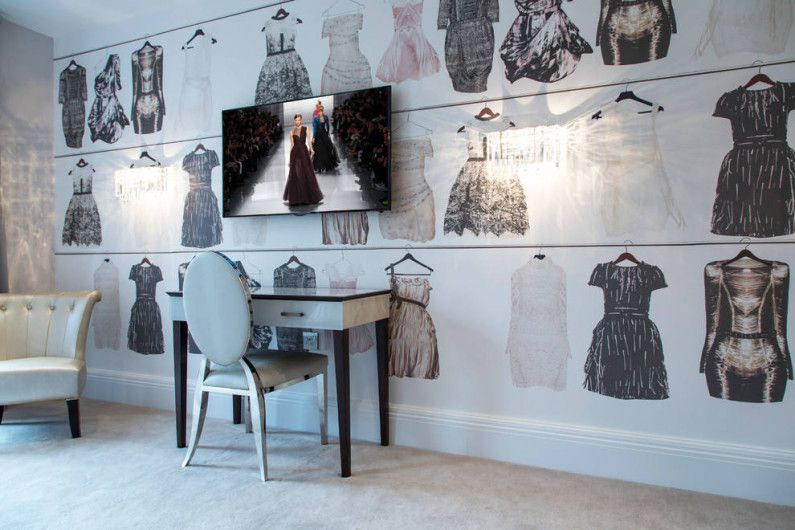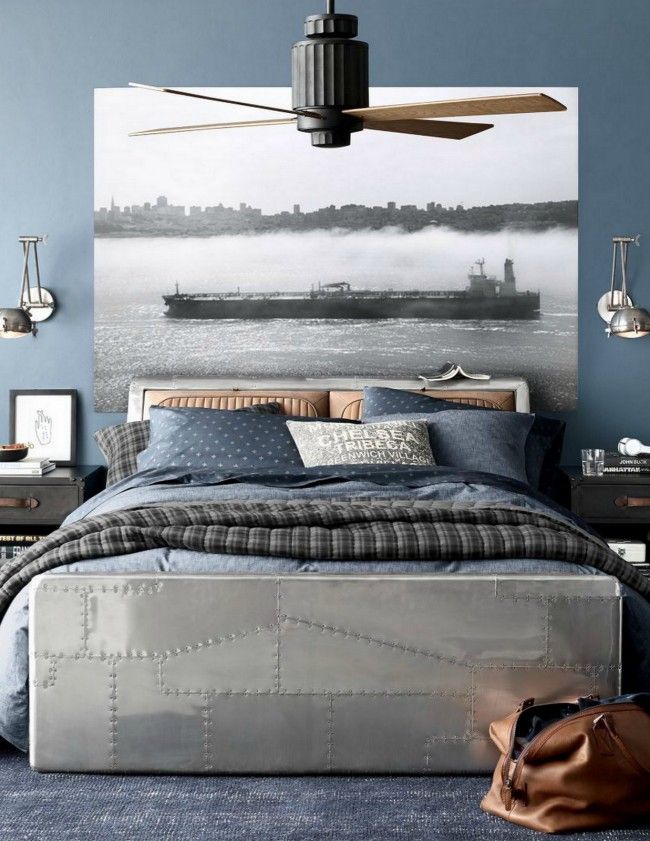 Gold and copper
The noble shimmer of precious metals has been a real trend in interior design for several seasons. A small splash of gold, silver or warm copper is enough to make the space truly stylish. For a young man's room, it is better to choose copper or silver accents, for example, in the form of an original metal puff, strapping a chest at the foot of the bed or a lighting fixture frame.
The girl will love the delicate shine of gold on textiles, decorative accessories or in the design of a mirror.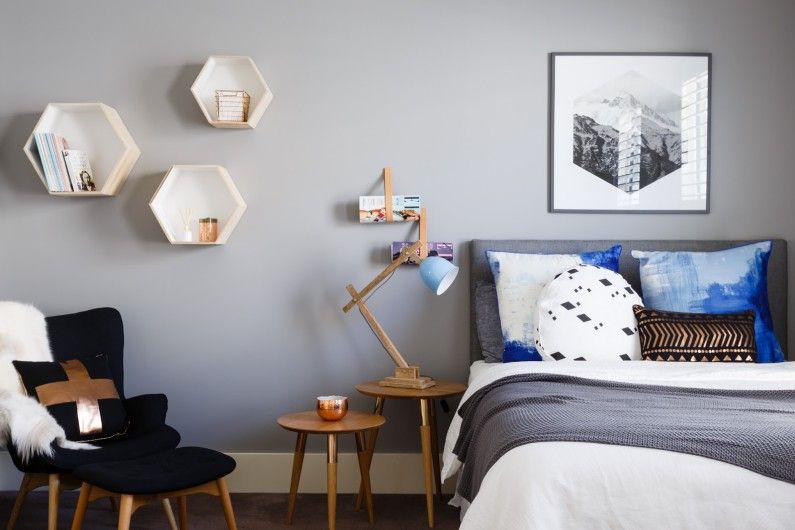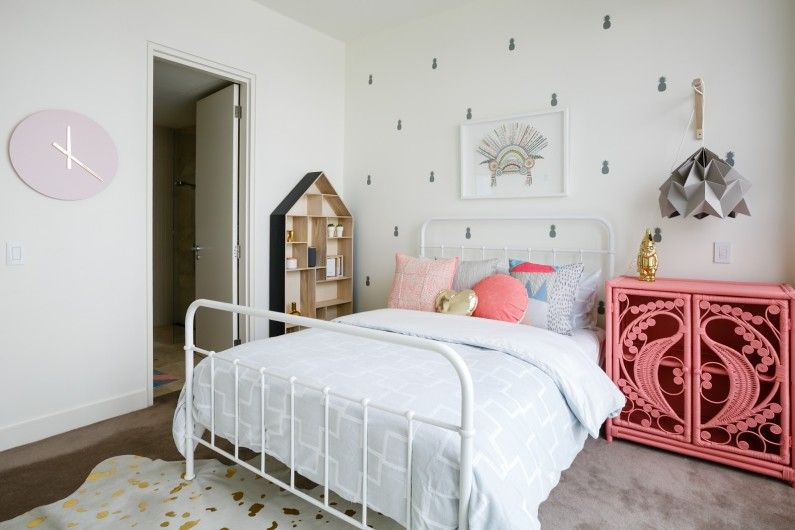 Fashion patterns
At a young age, guys tend to experiment with wardrobe, hair color, style of shoes and clothes, and trendy prints and patterns can be used as a current fashion trend in the interior of a teenager's room..
Today, these are polka dots, stripes, chevrons, graphic flowers, ombre effect, which, with the right approach, will be appropriate both in the interior of a girl and a boy..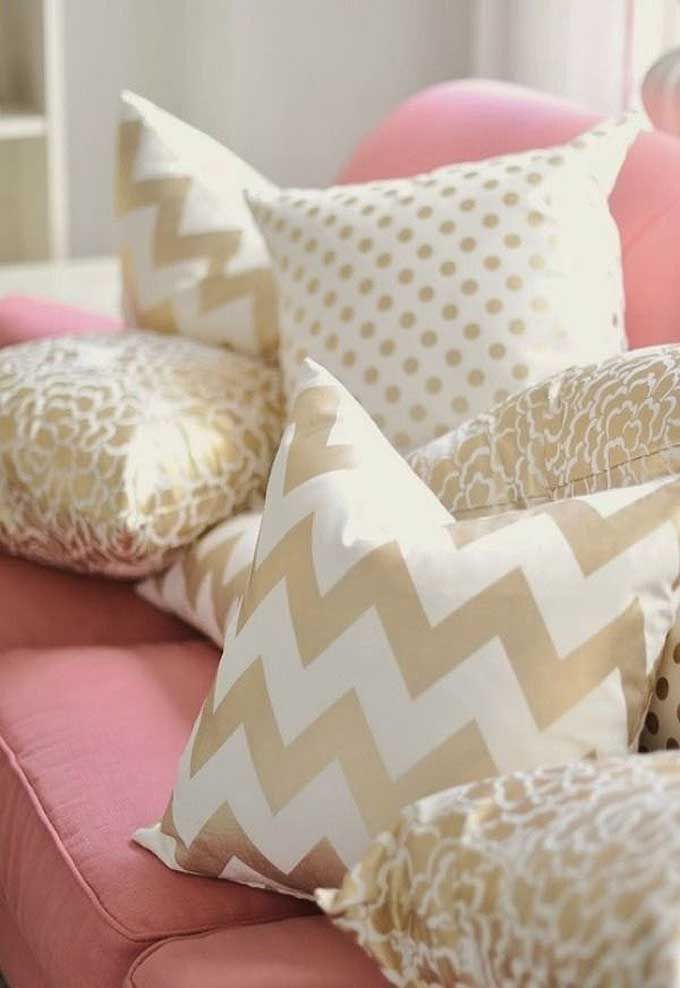 Good luck!