The practicality and sobriety of modern life sometimes leaves no room for a fairy tale. And sometimes it seems that today only children can dream. Have you dreamed as a child of your nook, such as a tree house? If so, then it will be doubly interesting for you to know that today such an architectural structure can be not only a child's toy, but also a completely full-fledged place to relax in your country house..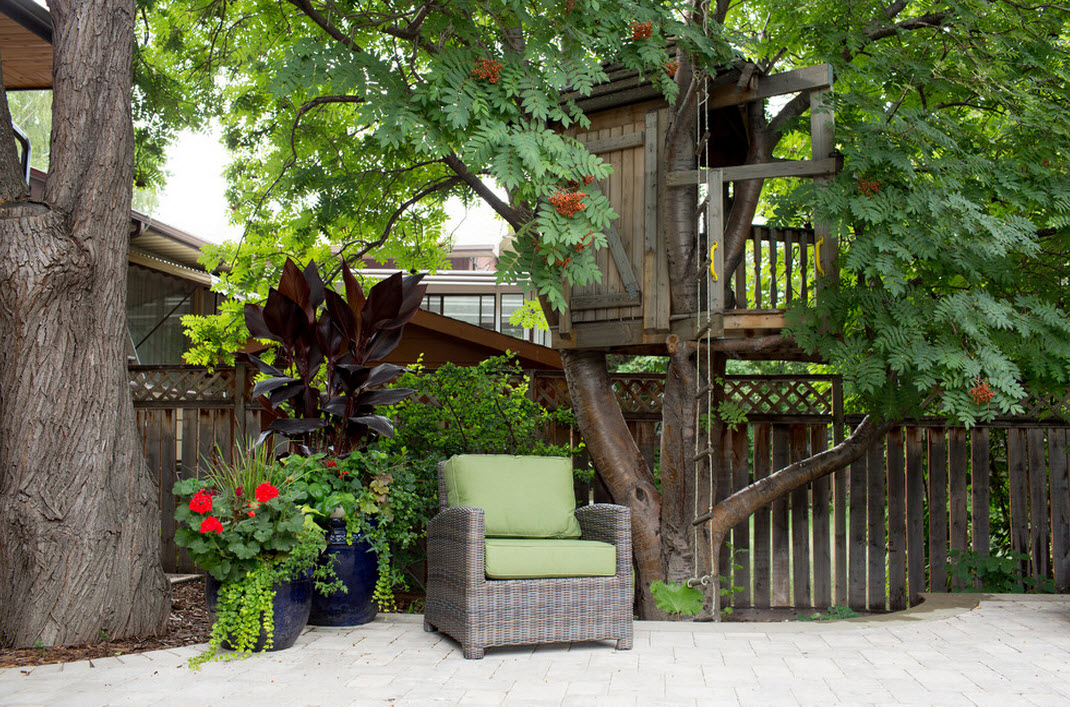 Of course, few people will give up on the usual structure on their residential site because of their convictions and all the same practicality. However, admirers of such structures will be interested to know that in rainy Guinea entire villages live in tree houses..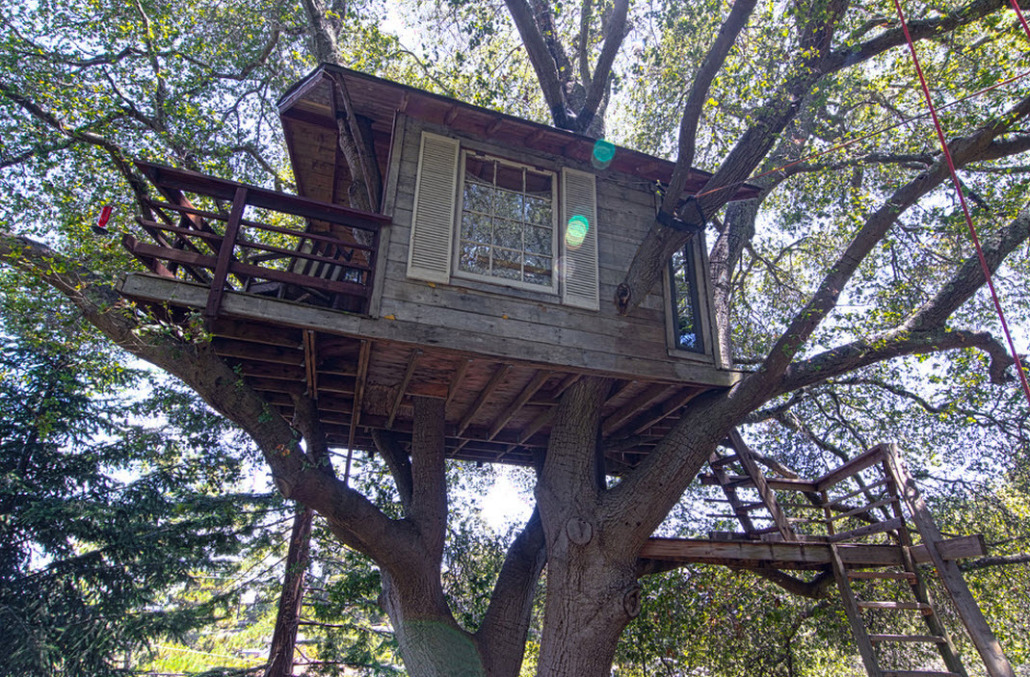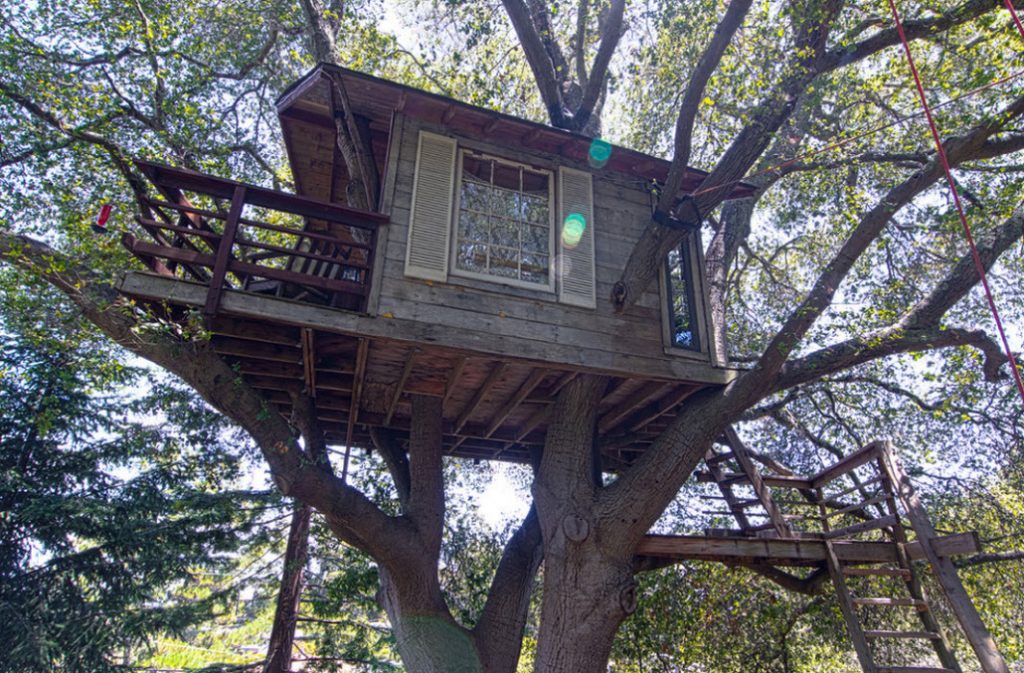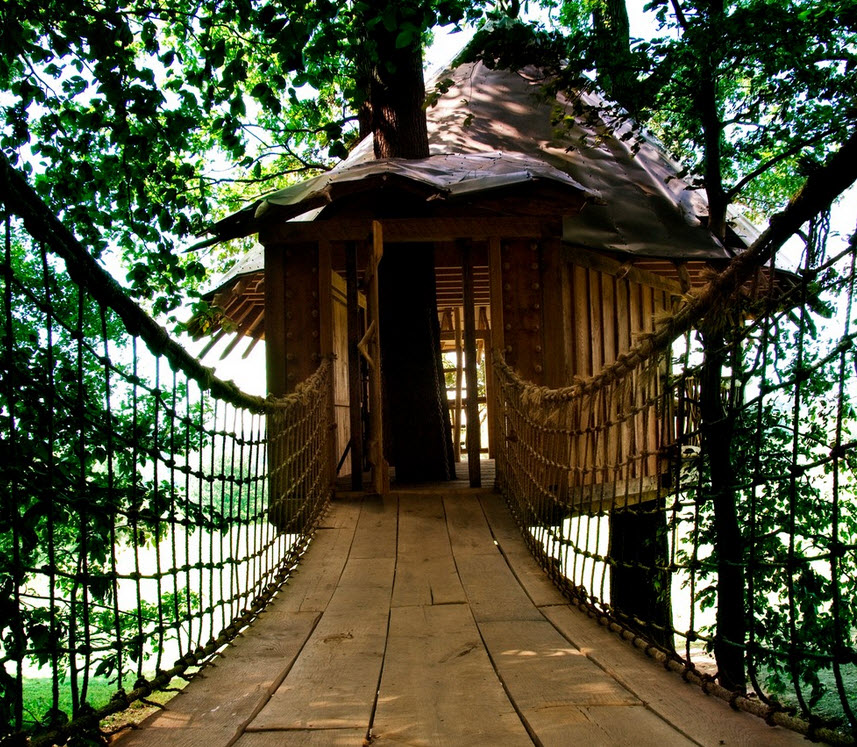 Treehouse as an exterior element
Just imagine the exterior of a huge country house with a large garden, in which a miniature copy of a large structure can be seen among old trees. Agree, the view should be at least interesting.
However, it should be noted that construction technology involves the use of lightweight materials for such houses. Otherwise, you can repeat the sad experience of the English grief of the builder Nelson, who erected his house on poplar and used bricks and tiles in the construction. Under such a weight, the already weak bark of the tree simply could not withstand the load and the house did not stand even for a day.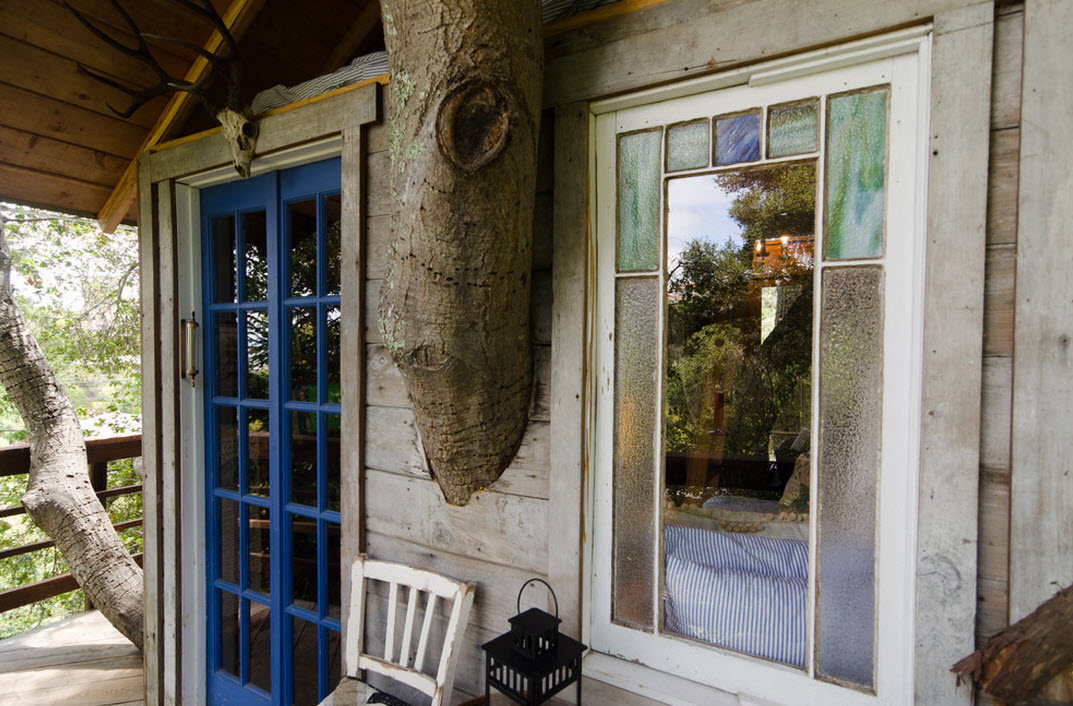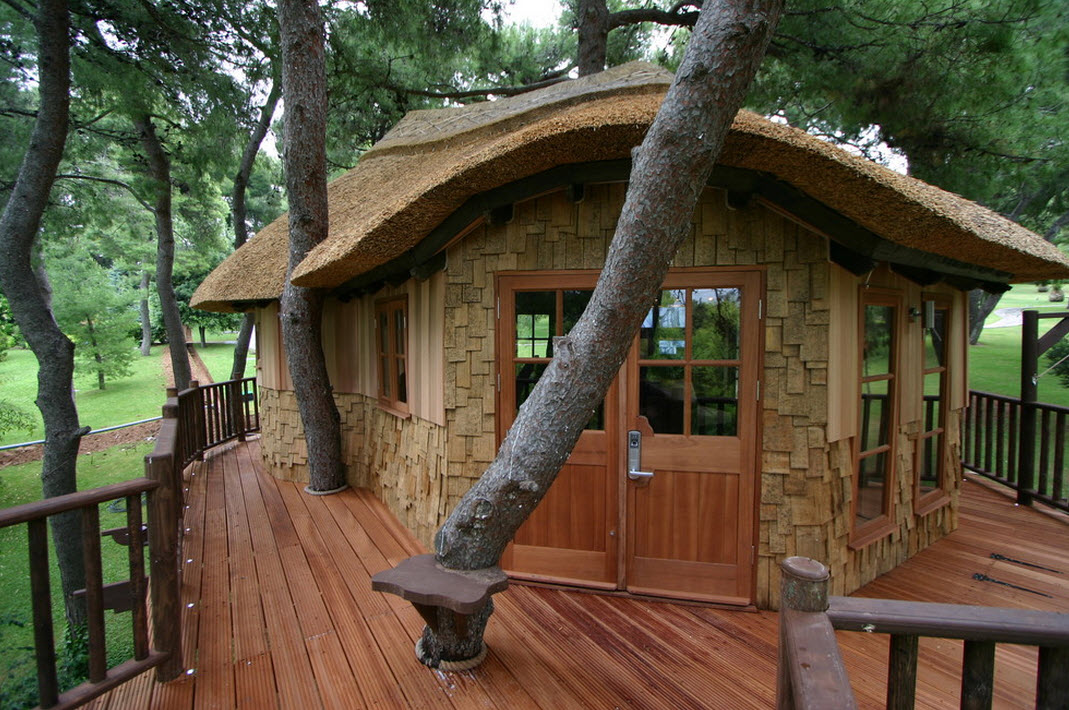 Exterior decoration, you immediately need to designate what role the treehouse will play in it. First of all, it can be an area for children's games or a so-called tea house, where it will be nice to sit on warm summer evenings with friends or family. Another pretty cool idea is a tree house as the main structure..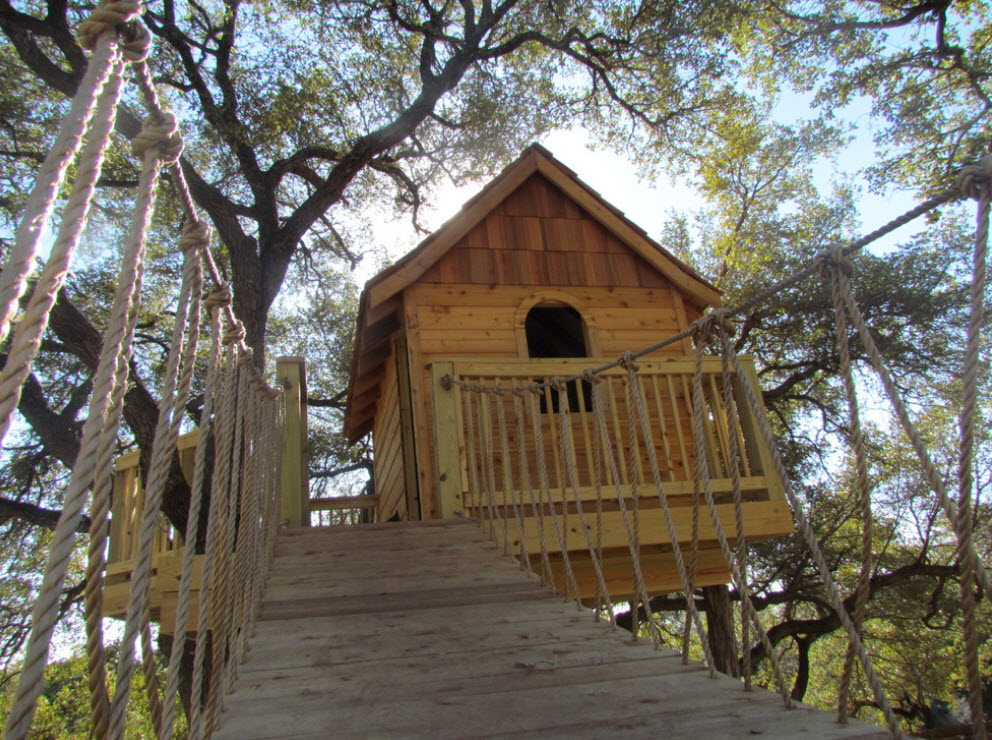 Children's tree house
Undoubtedly, small family members will appreciate this idea. How to arrange such a house? It can be just a small building with a cable car or wooden staircase, or a whole town with slides, cable cars, swings and horizontal bars.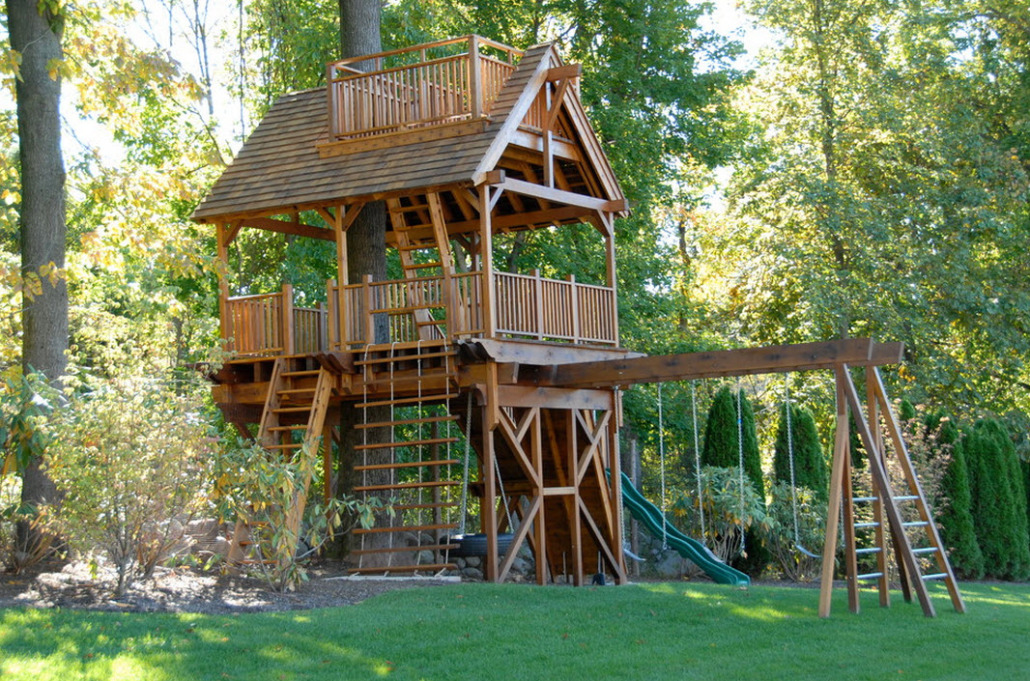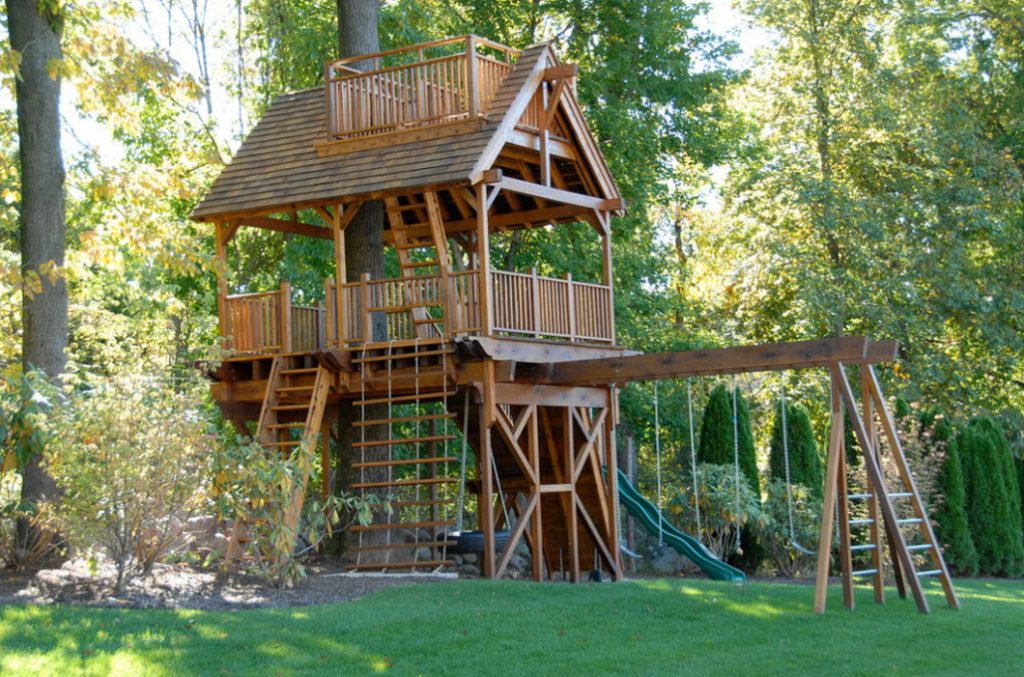 Such a house can be erected both on a spreading tree and on a slender tall pine tree. To create a whole town, you can use more than one plant, then cable cars can be hung between the elements. Moreover, you can not be limited only to game elements and make a full-fledged sleeping place in the tree house for a child's daytime rest, where you can lie down and read a book or play on a tablet.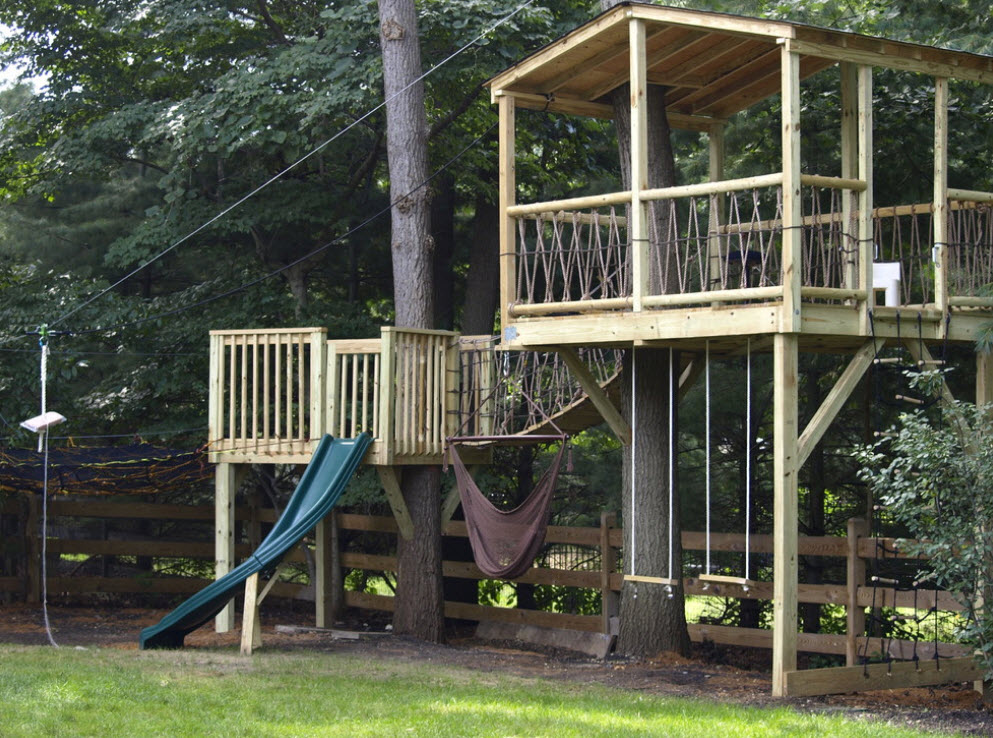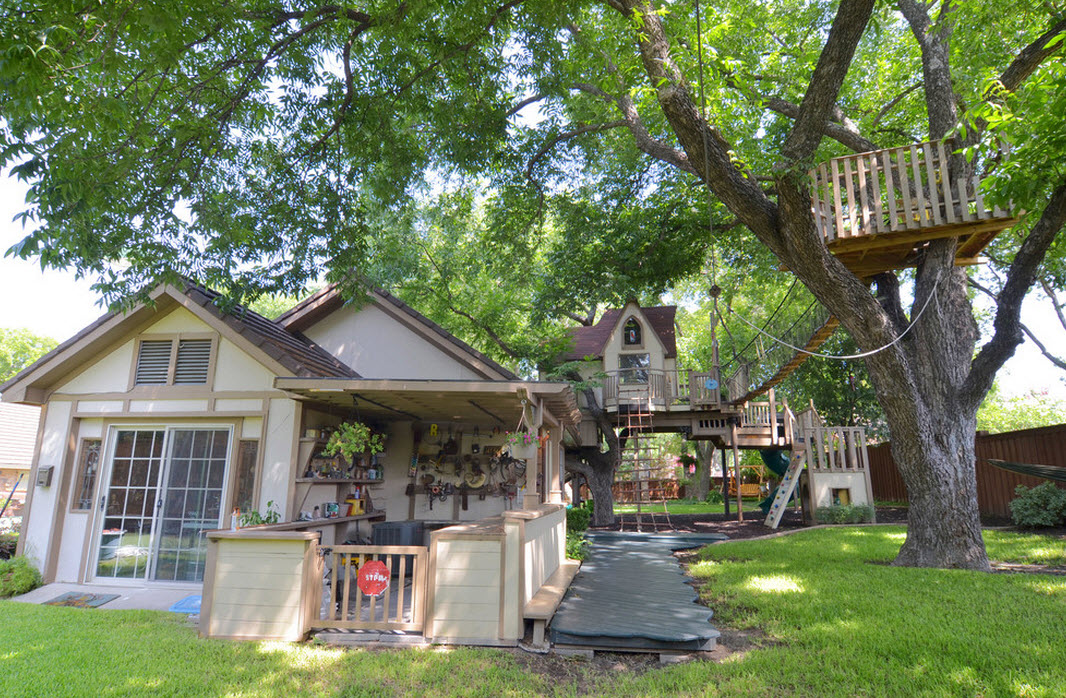 In order for such an element to fit perfectly into the exterior, it should be decorated in the same colors as the main house on the site, but do not forget about the bright elements, because this is still a children's area.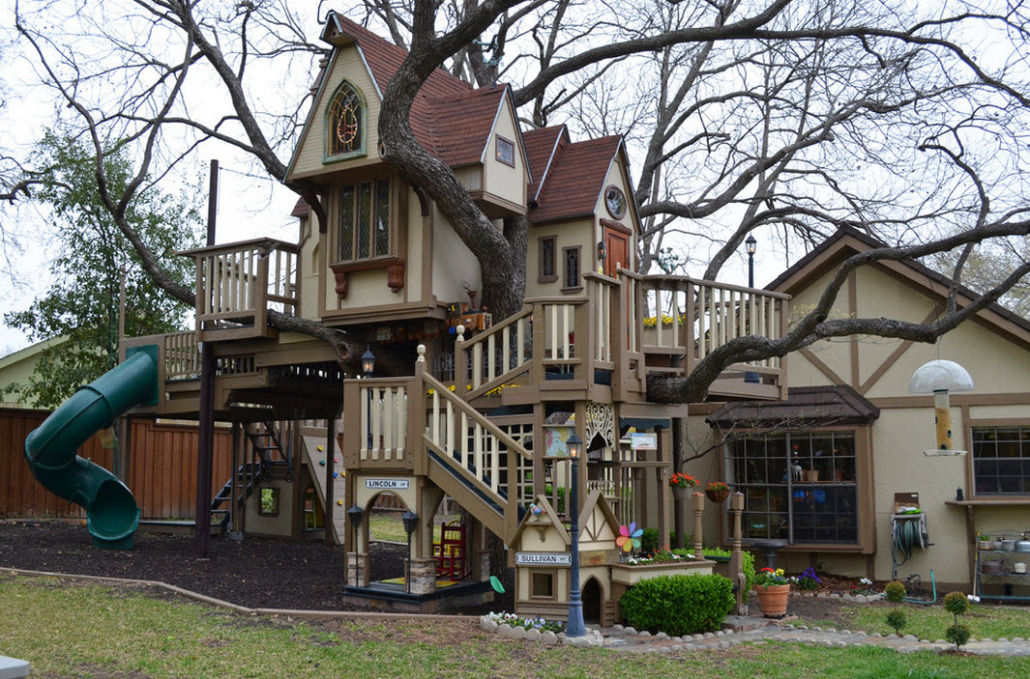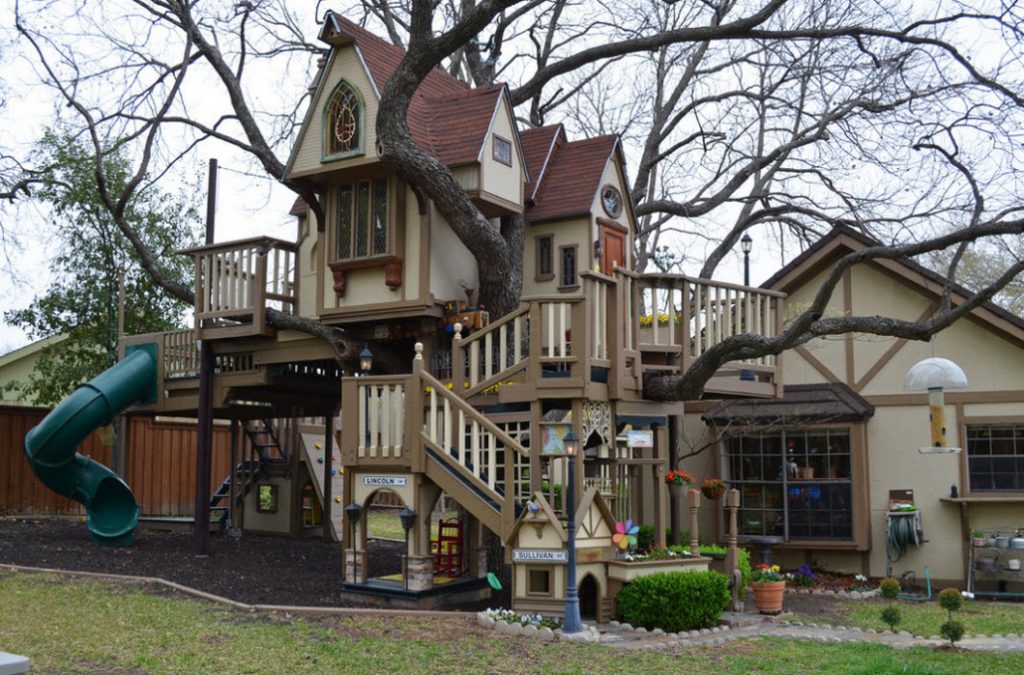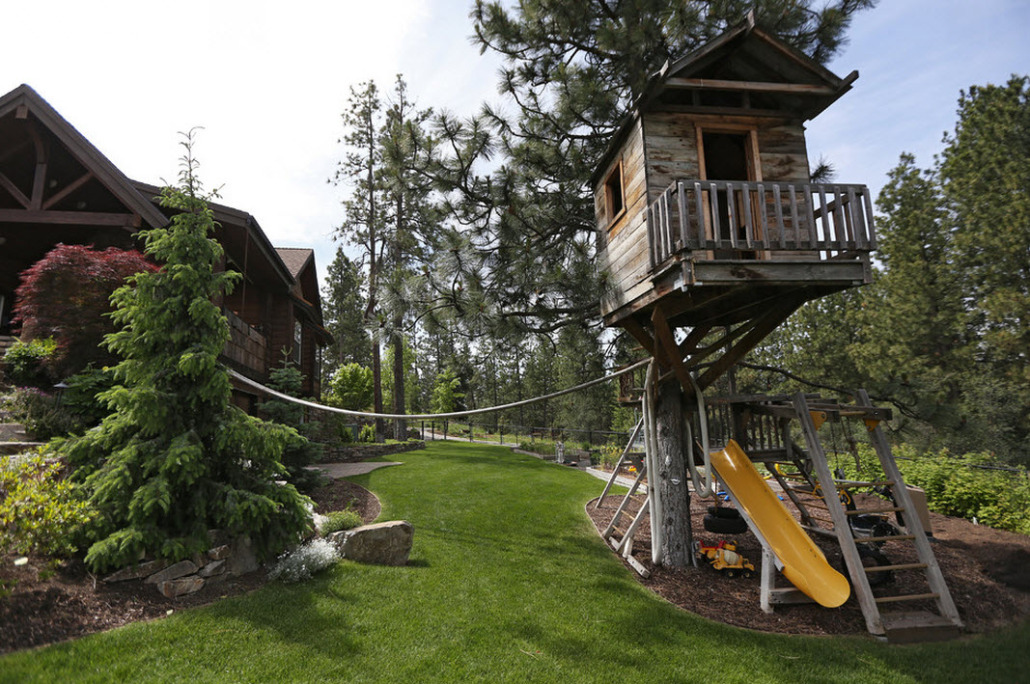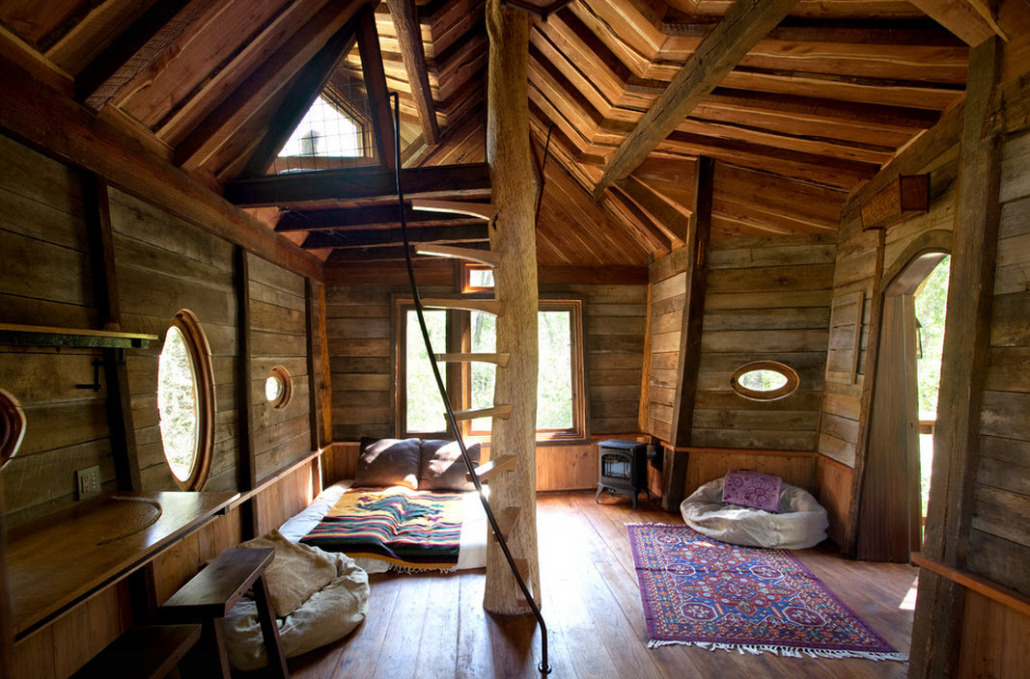 Rest area in the hanging house
Making a tree house a place for family and friendly gatherings is one of the most original ideas. Just imagine how pleasant it will be to sit on the balcony of the hanging house right in the green crown and watch everything that happens below from the height of a huge tree.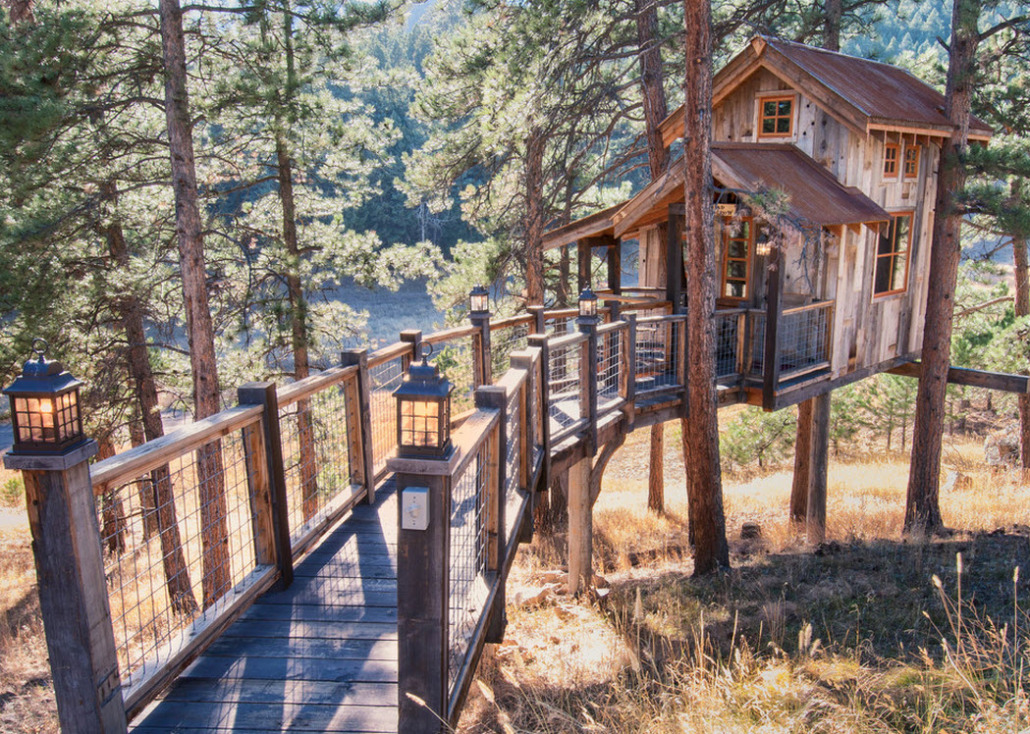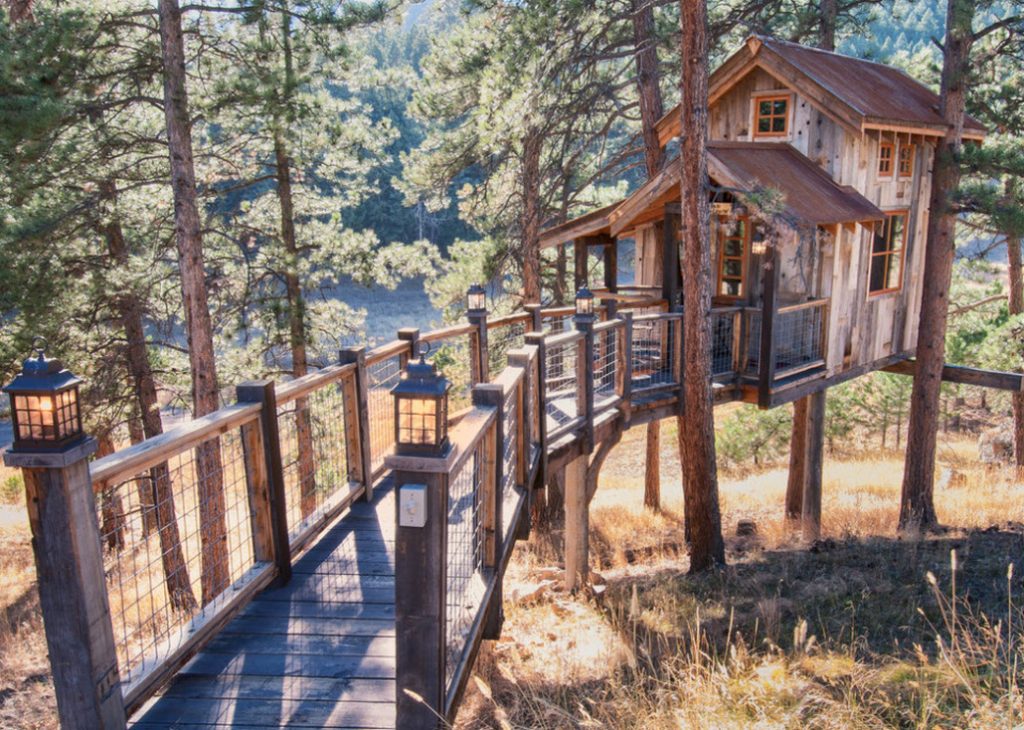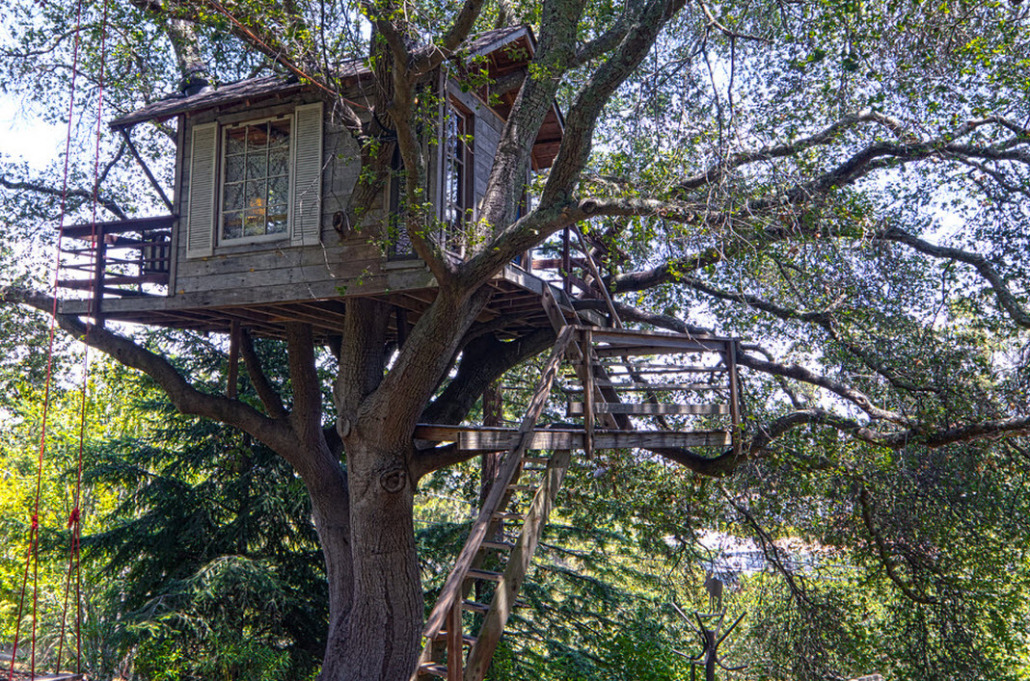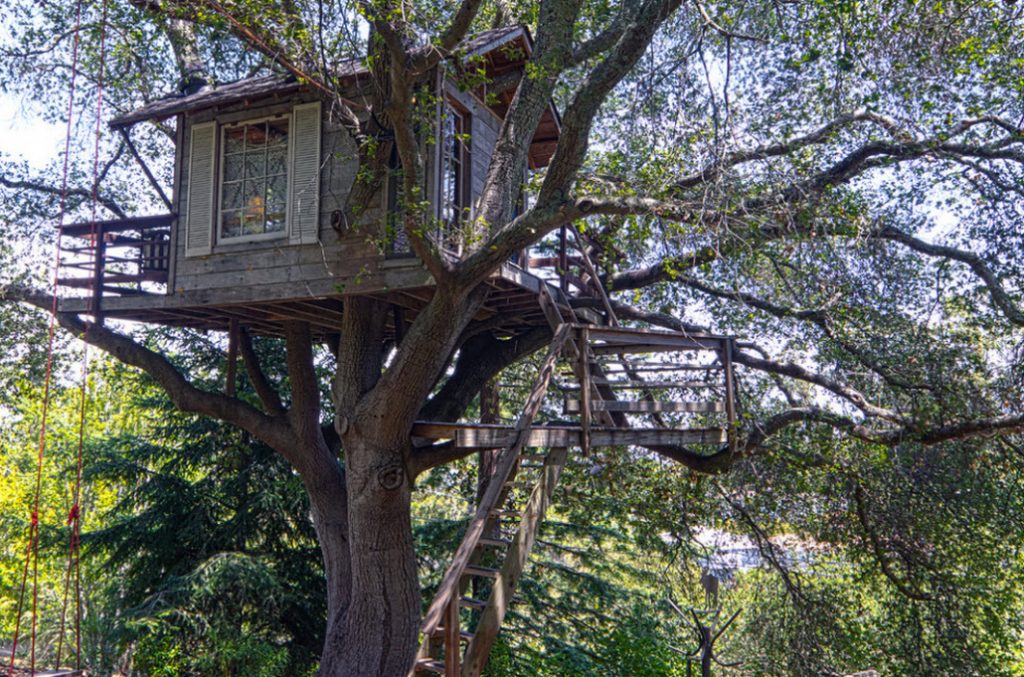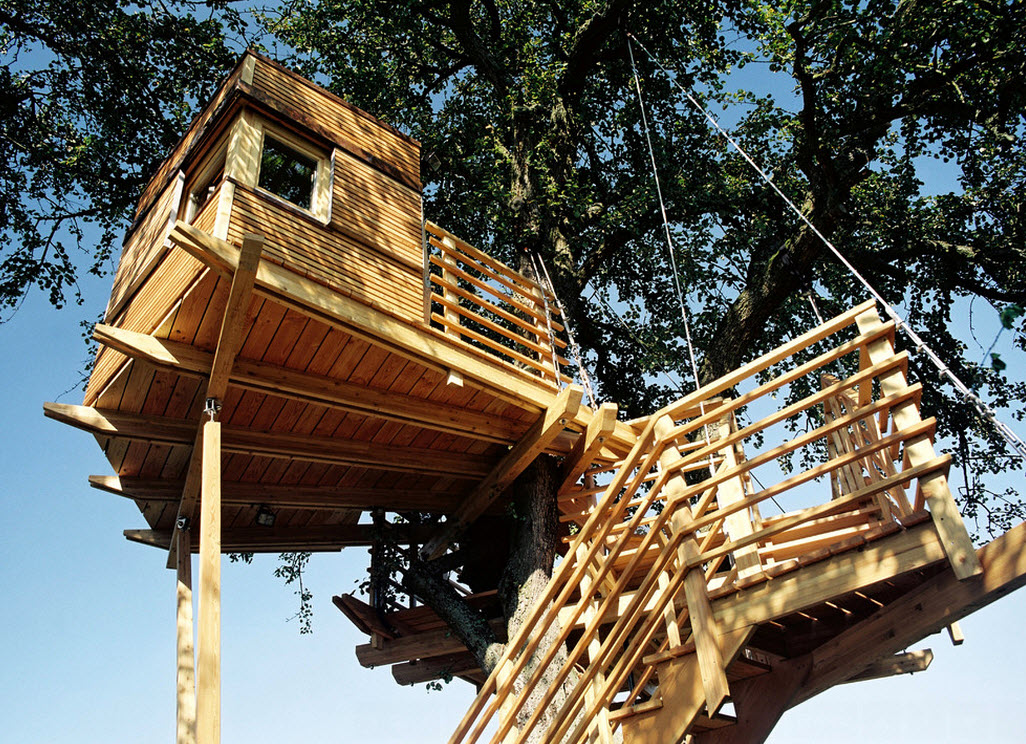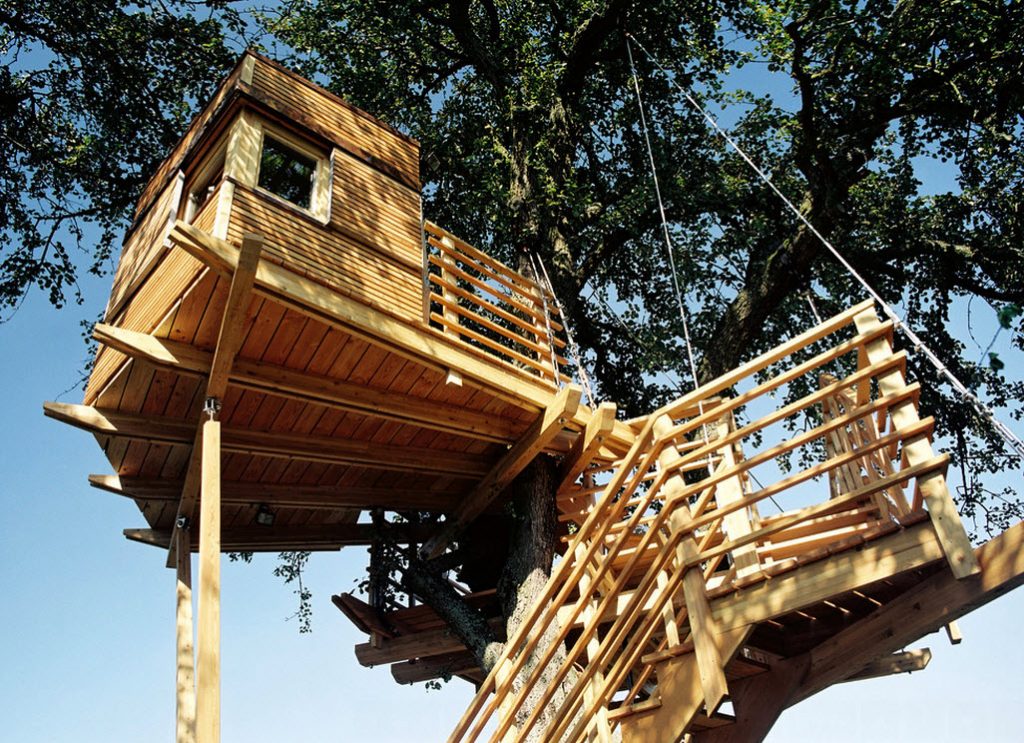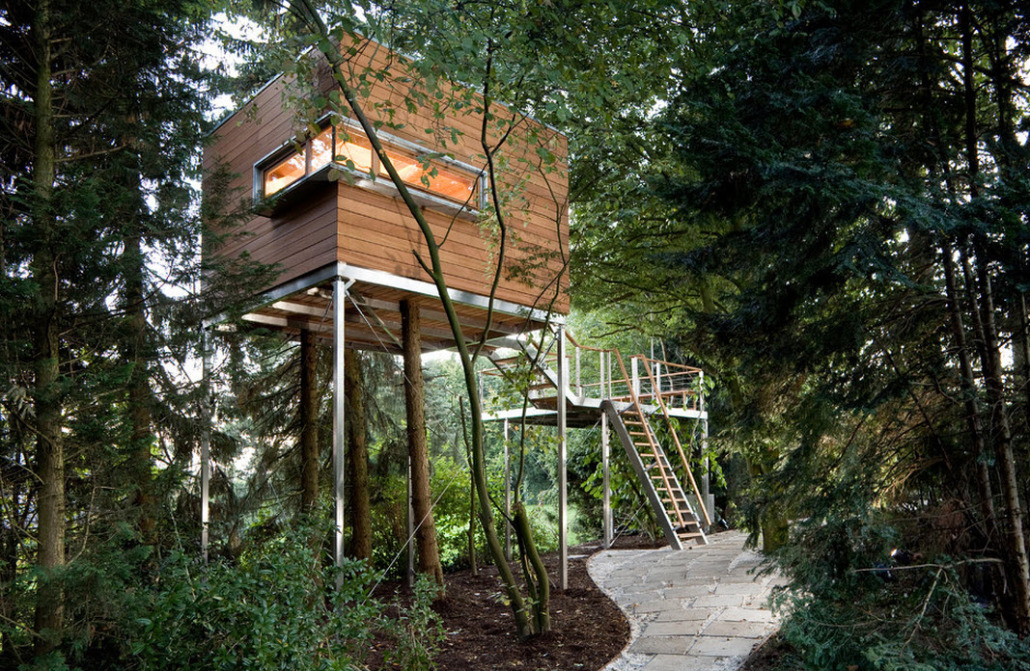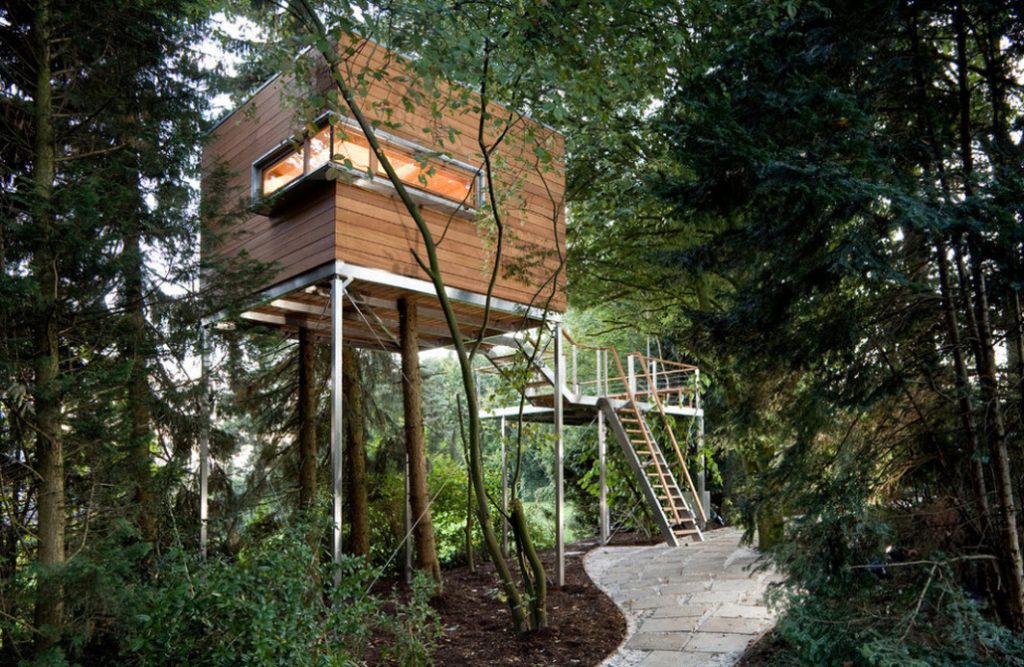 The main condition for such a structure is a comfortable staircase so that you can easily get to your destination. Like nowhere else on the balcony of such a house, wooden or wicker rocking chairs with comfortable soft pillows and warm blankets will be appropriate.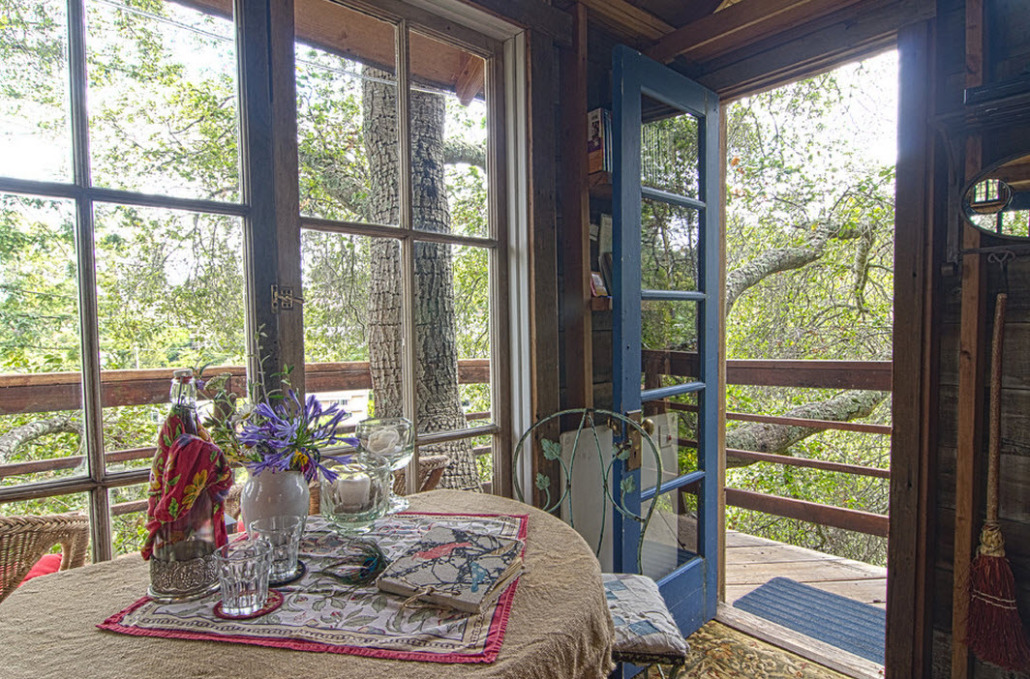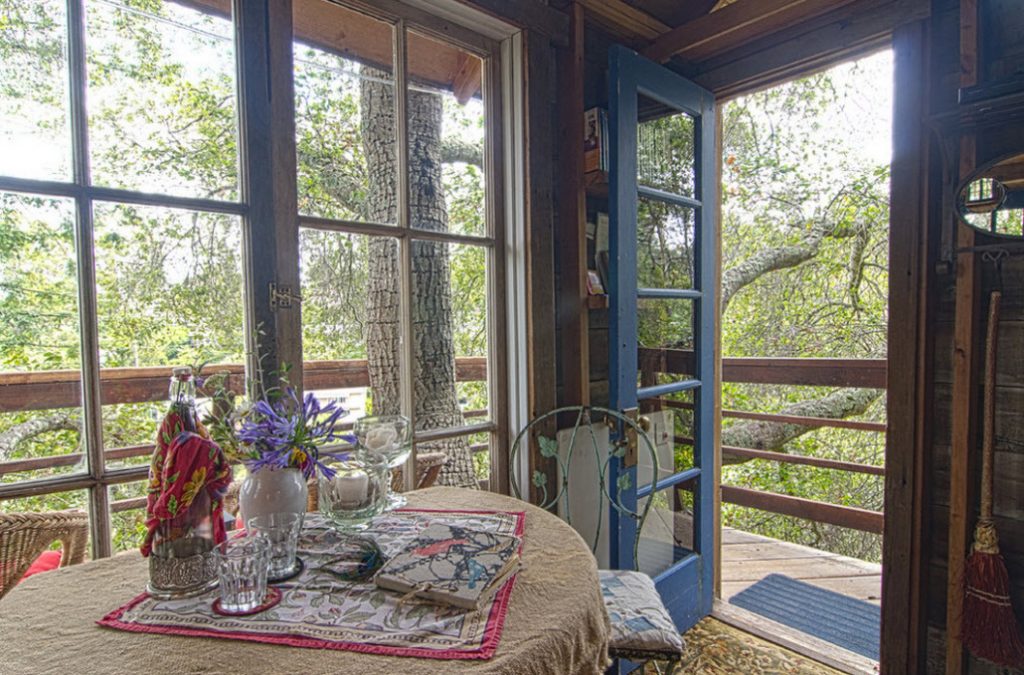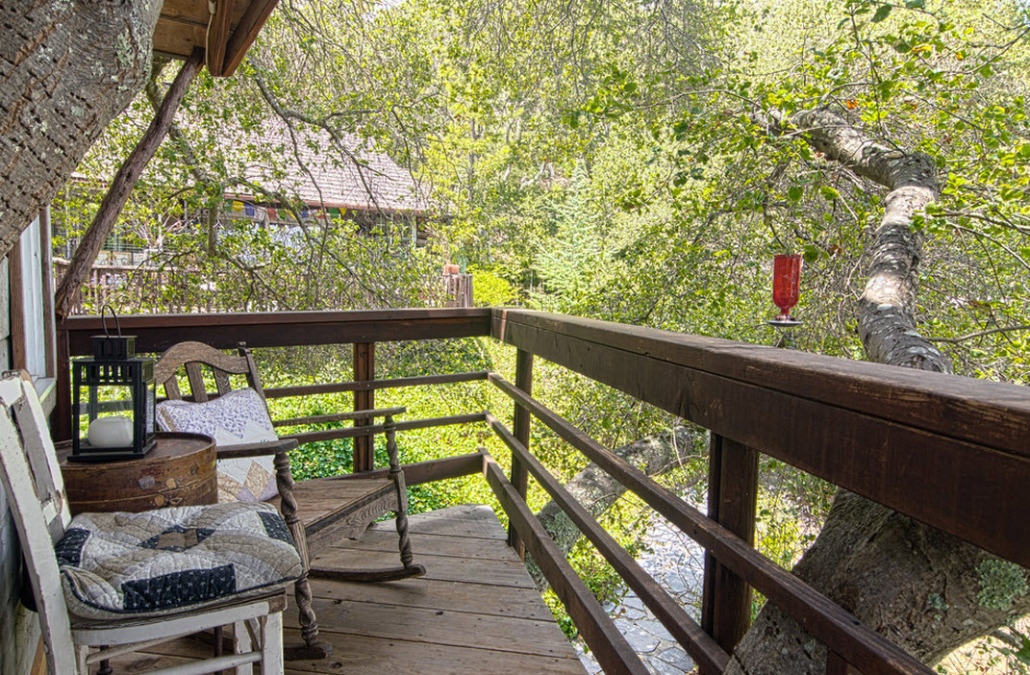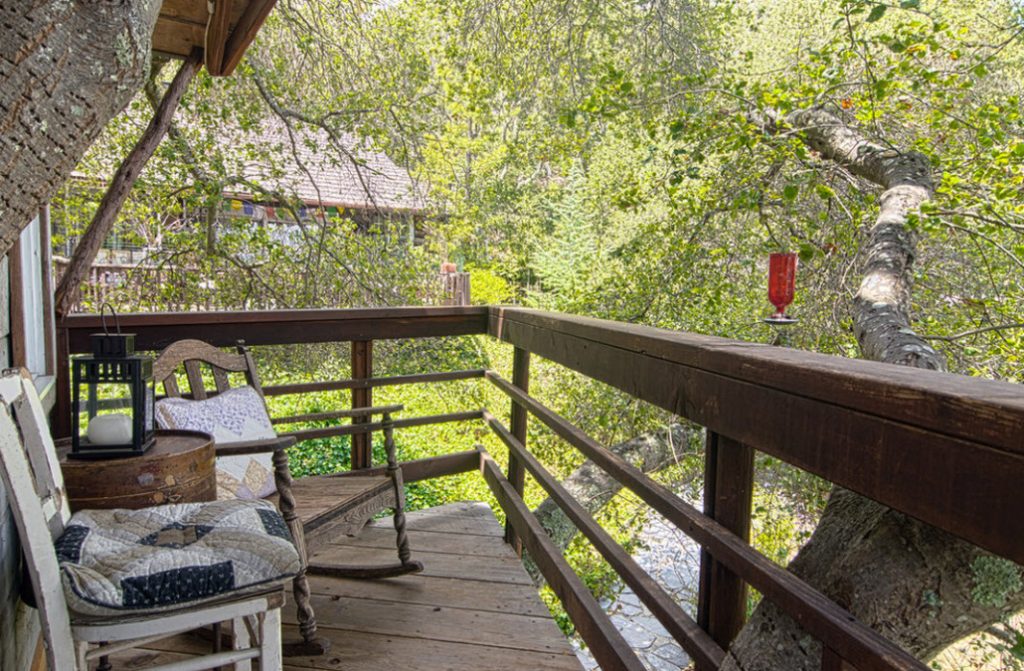 Unusual routine
A tree house as the main building on the site is a rather extraordinary idea that will appeal to eccentric and advanced people. This home is the perfect place to recuperate on a weekend after a busy work week. The main thing is only to choose the right place where you can retire and merge with nature.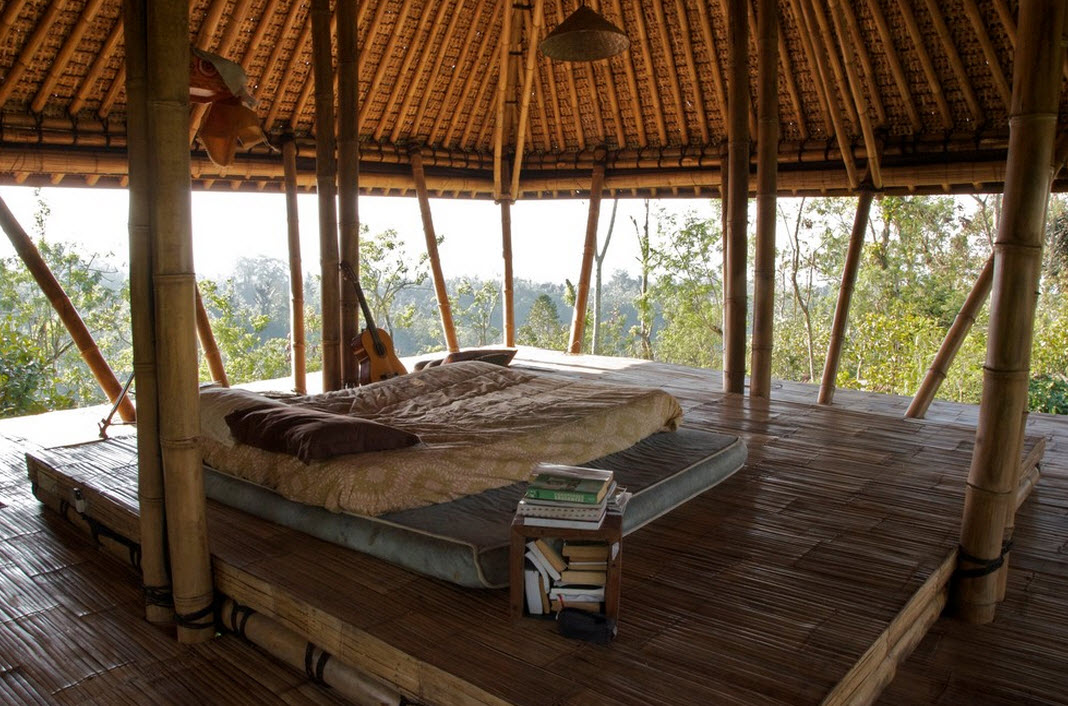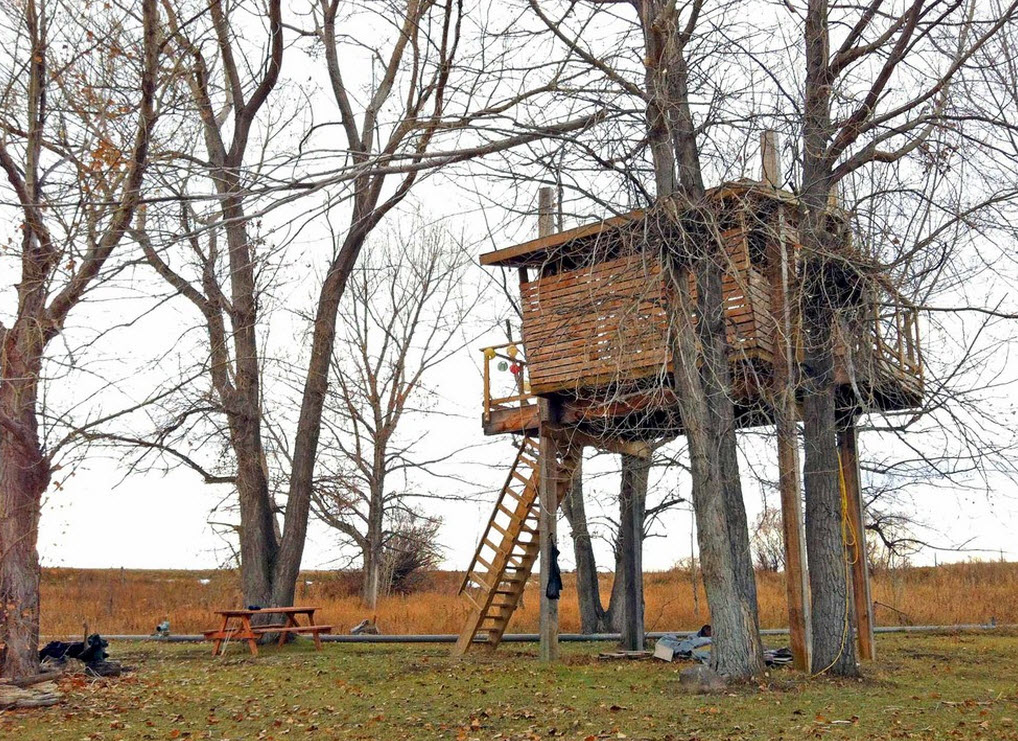 A tree house can be quite impressive in size and at the most comfortable height for the owner. To make it convenient to climb into such a dwelling, you can make either an ordinary or a spiral staircase, or you can install the structure on a wooden platform that slightly rises above ground level.
Important details in the treehouse
As in the design of an ordinary room, it is very important to organize the space correctly. But it should be borne in mind that all furniture should be as light as possible. Here you can equip a sleeping and working place. And if the tree house is large enough, then you can equip several rooms, thereby delimiting the space into several separate zones.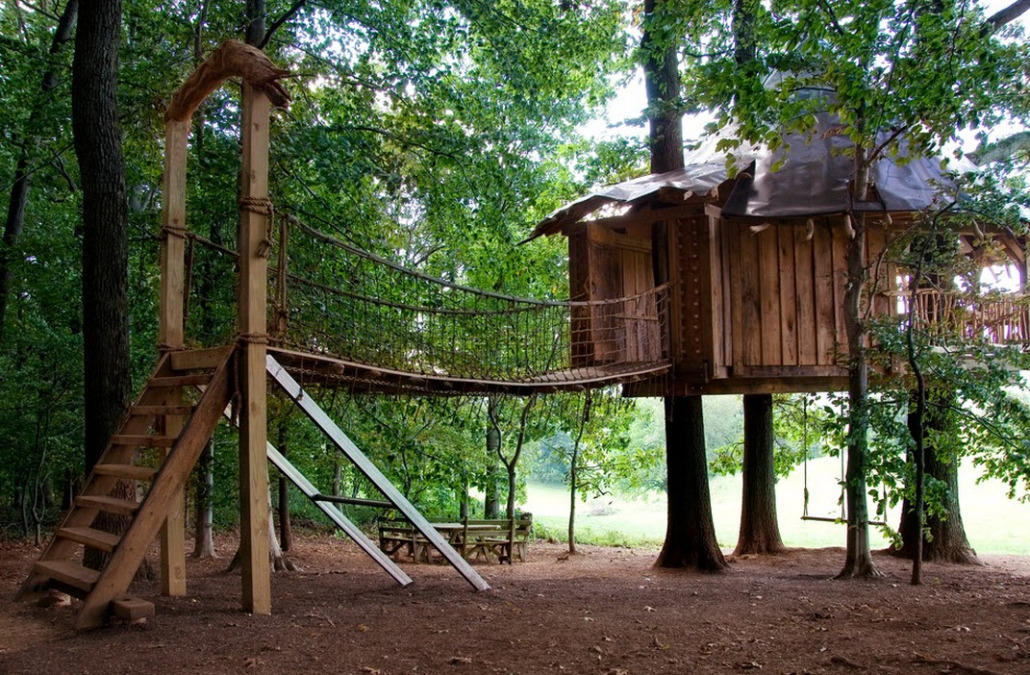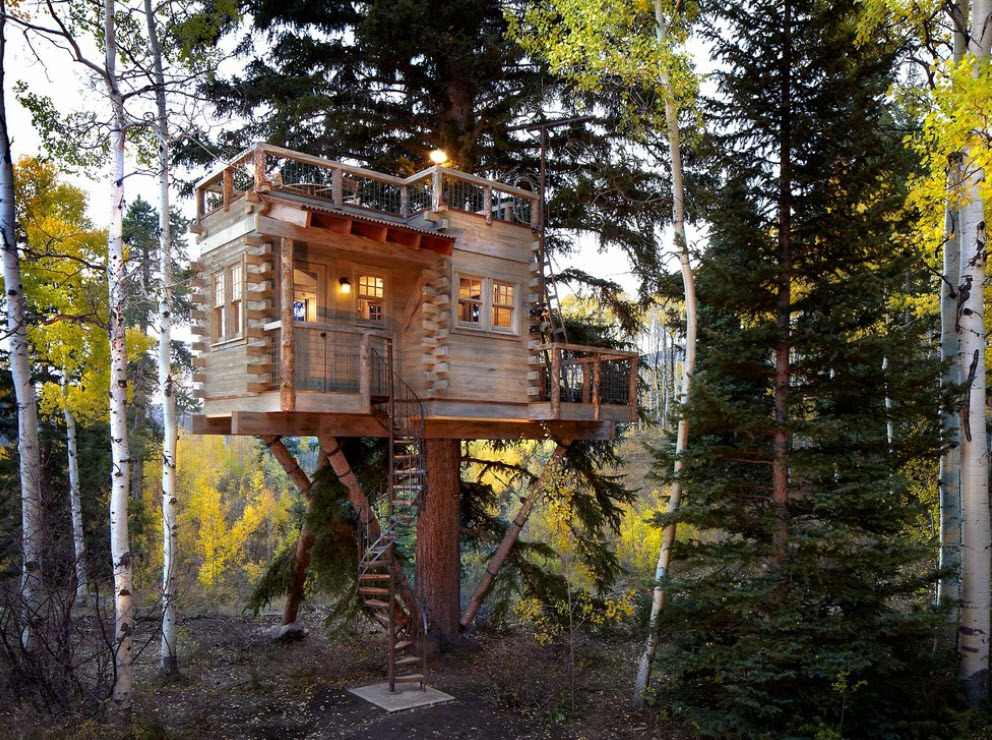 The treehouse as a work of art
Of course, after doing some calculations and looking at a lot of literature, you can build a tree house yourself. But in order to create a real masterpiece, designers are ready to use all their imagination. And sometimes they manage to create truly magical and fabulous buildings, the sight of which is simply breathtaking. And if you want to see something like this on your site, then without the help of specialists you will hardly be able to cope.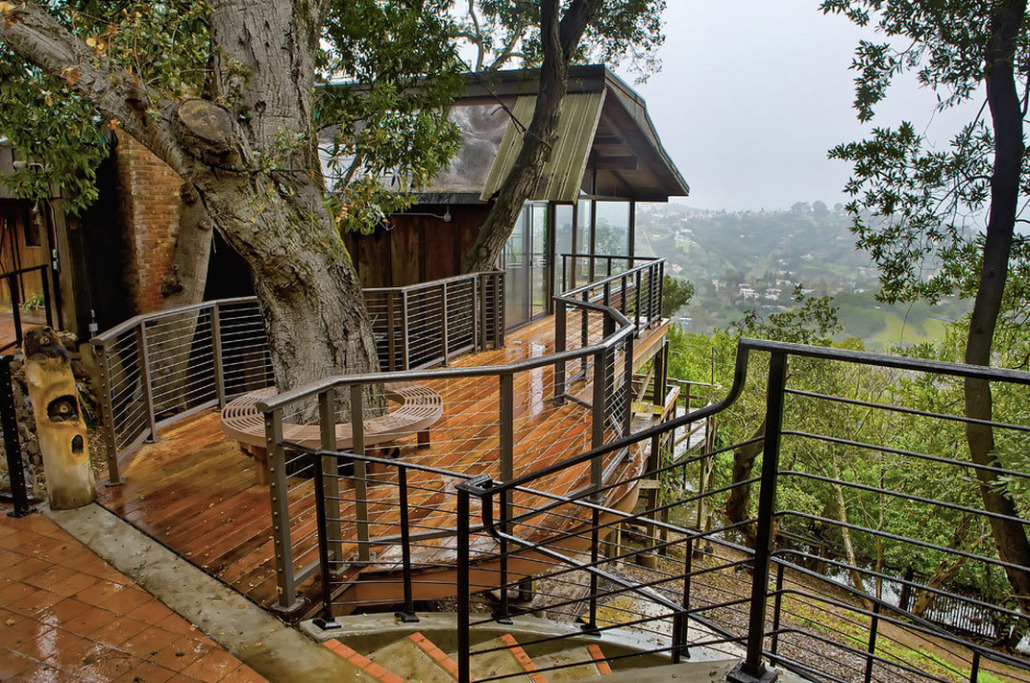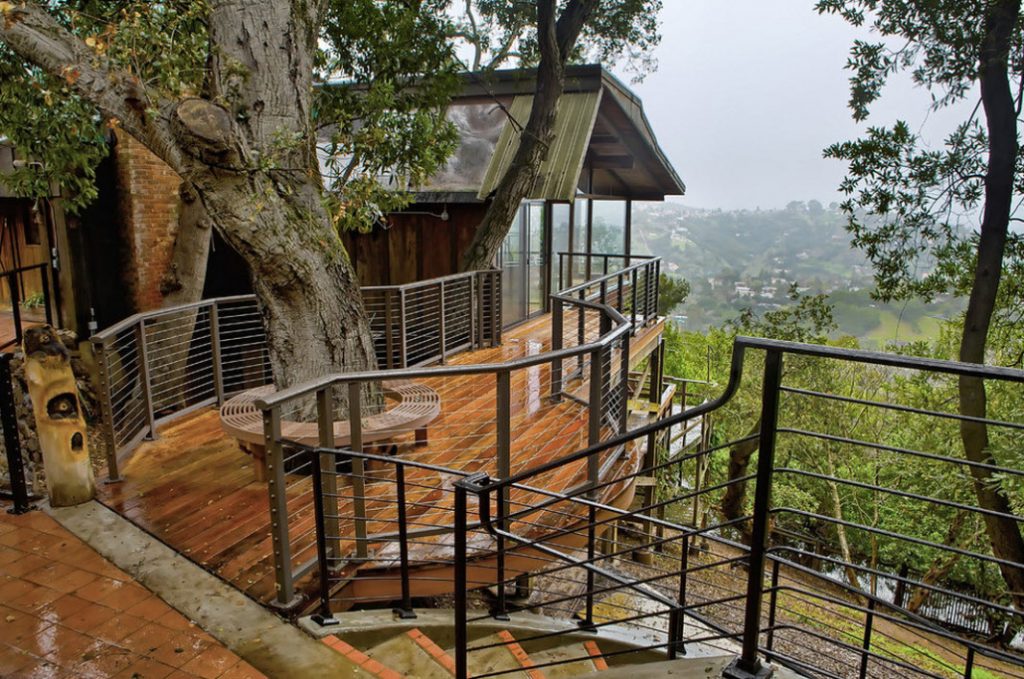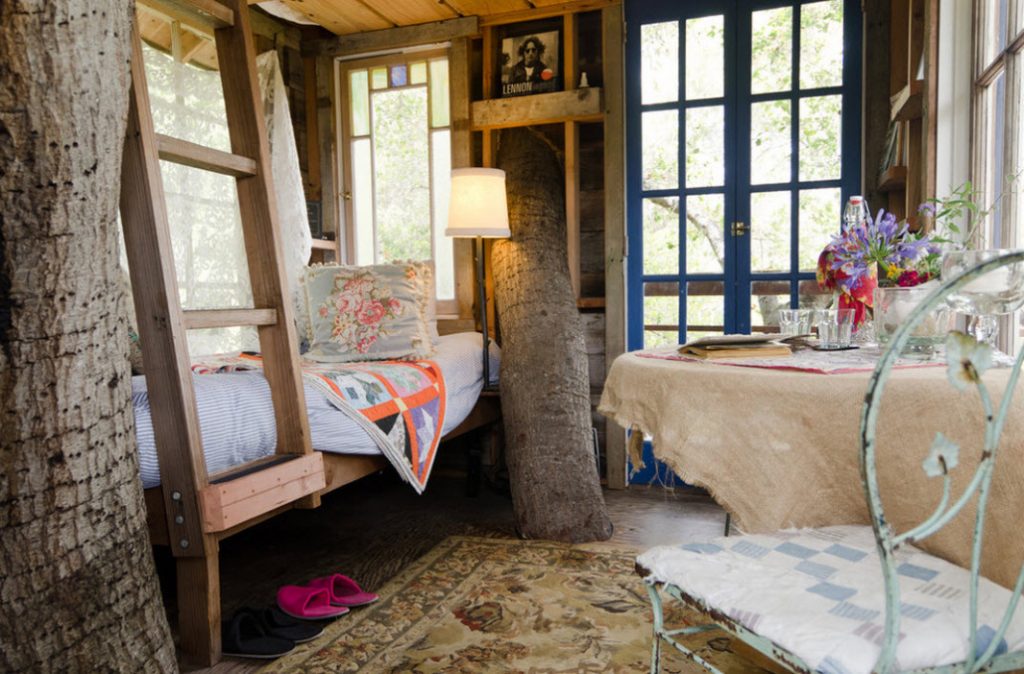 Just imagine a house with an unusual shape, which, as it were, descended from heaven and got entangled in the branches of a tree. Or a completely mirrored house, which in the crown of a tree seems to be some kind of illusion. One way or another, but the tree house will not leave anyone indifferent, and therefore investments in its construction are fully justified.
Good luck!