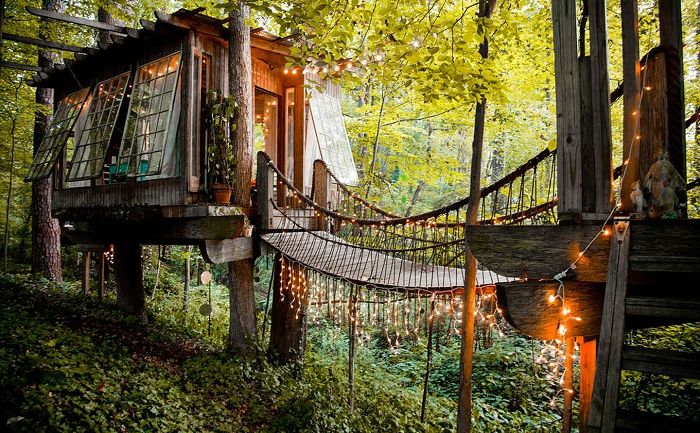 The tree house is a secluded place for lovers.

Today, tree houses are no longer considered secluded places only for children. More and more often couples in love spend time there. Travel agencies around the world are ready to offer them places to stay at an altitude for every taste. But you can do it yourself, without even leaving your home. In this review, you can get acquainted with the 7 most romantic tree houses that can be ordered through the online service..
1. A romantic nest in the branches of an old oak tree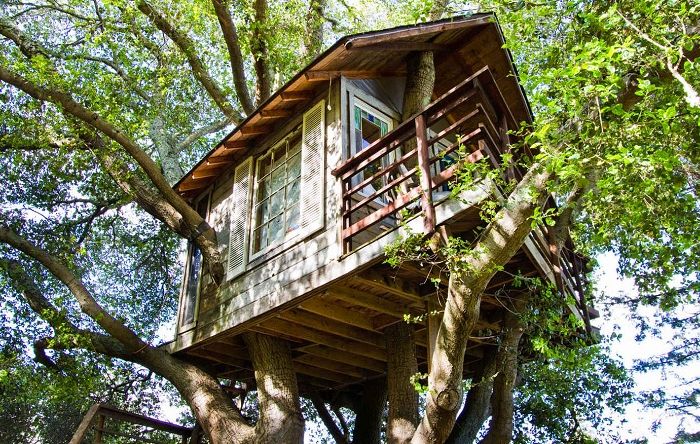 San Francisco Bay Treehouse – a house located at a height of 9 meters.

The San Francisco Bay Treehouse is built on oak at a height of 9 meters. This is a real romantic nest for two with a king-size bed and lots of candles. On the small terrace, lovers can sit comfortably with a glass of wine and enjoy the view of the San Francisco Bay. This pleasure will cost $ 230 per night.
2 tree hut in the rainforest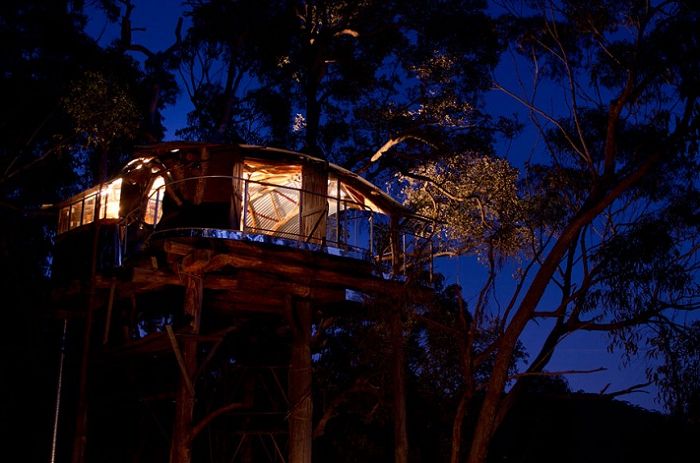 Wollemi wilderness's Tree House – tree hut in the rainforest.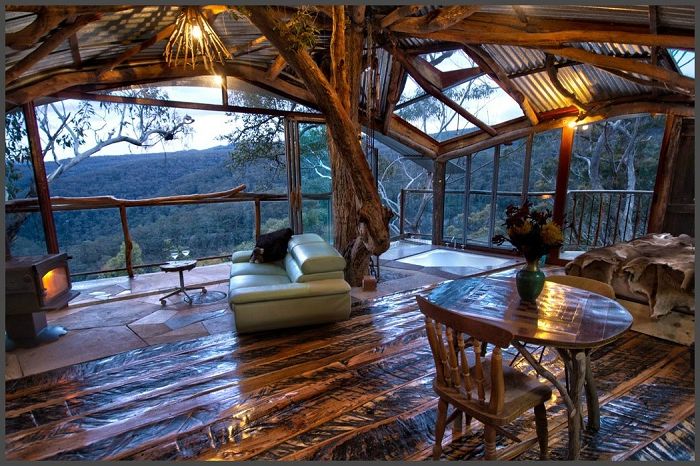 Wollemi wilderness's Tree House – a romantic place for newlyweds.

In the thickest of the Blue Mountain rainforest (Australia) is a secluded hut called Wollemi Wilderness's Tree House. It is specially designed for newlyweds or those who want to escape from the hustle and bustle of metropolitan areas. The open floor plan allows you to admire the grandeur of the forest and Bowen Gorge day and night's Creek Gorge. The price per night in this place will be up to $ 700.
3. House in a fragrant valley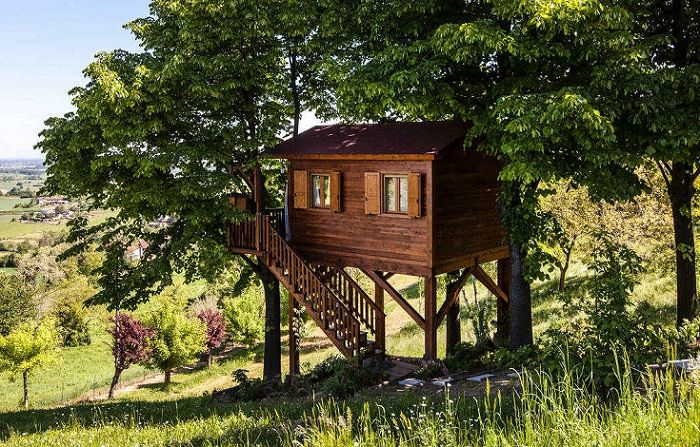 Aromatica treehouse – treehouse in the italian flowering valley.

Aromatica Treehouse is located in the middle of a picturesque valley in San Salvatore Monferrato (Italy). All kinds of aromas of flowering herbs and a picturesque view of the distant hills leave an unforgettable experience for vacationers. The tree house is designed for two and will cost about $ 140.
4. A tree house near the city center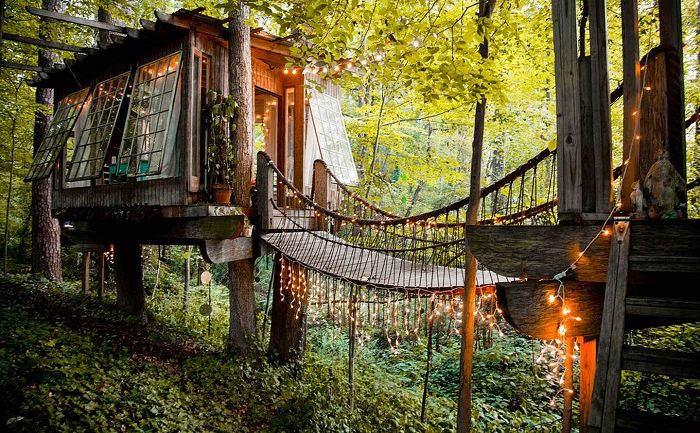 City House Tree House (Atlanta, USA).

Believe it or not, this tree house surrounded by lush greenery is just a short drive from downtown Atlanta (USA). Inside there are 3 rooms with antique furniture. Moreover, in all travel agencies it is described as the most suitable place for relaxation and romance. After all, there is nothing better than falling asleep and waking up to the singing of birds, without leaving the metropolis. The cost of living is $ 350 per night.
5. Wooden lock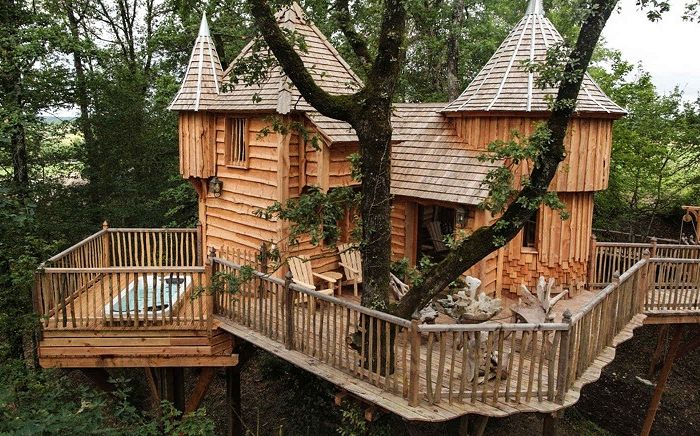 Milandes – a wooden house in France.

To create such a fabulous treehouse design «Milandes» the architects were inspired by the nearby castles. The building is designed to accommodate up to 6 people. Inside there is everything you need for a comfortable stay of guests. And in the middle of the terrace there is a large jacuzzi. A night in a wooden castle will cost visitors at least $ 275.
7. A house for lovers, built among slender cypresses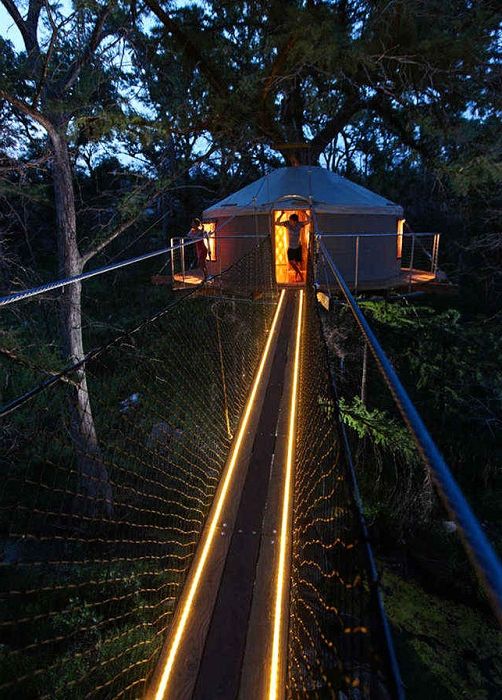 Lofthaven II – a house built at a height of 12 meters.

Among the slender cypress trees at a height of 12 meters, a house for two was built – Lofthaven II. It has a huge four-poster bed, hammock, wicker chairs. You can get to the house only via a suspension bridge. Price per night reaches $ 415.
7. Exotic tree house in Fiji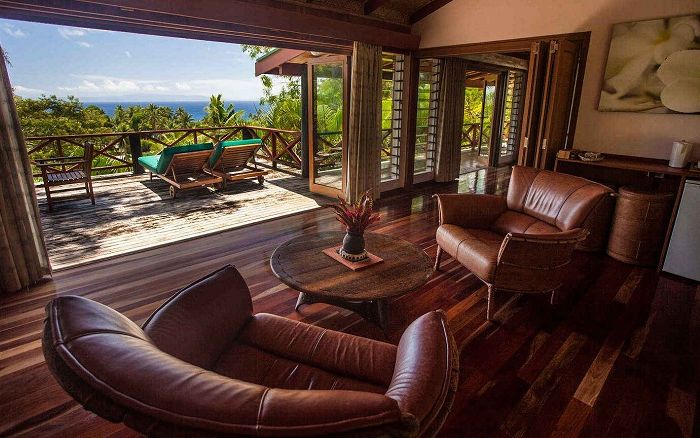 Taveuni Treehouse – home located on a coconut plantation in Fiji.

On one of the islands of Fiji, in the middle of an abandoned coconut plantation, there is a picturesque tree house – Taveuni Treehouse. There will be enough room not only for lovers, thirsty for romance, but even for families with children. Despite the fact that this building is located slightly away from the resort location, vacationers can, if they wish, join the general mass of tourists and visit all the procedures offered by the local service. One night in this tree house will cost $ 120.
When two are in love, everything around them is romantic: nature, housing, and spending time in an informal setting. And nothing will add to the mood like a dinner together. An overview of 11 of the most spectacular dining places for two will come in handy.