Grace, simplicity of forms, free space, harmonious minimalism – all this creates a unique entourage of the Japanese style. It is characterized by refined and open structures made of wood, light sliding doors, partitions made of paper or bamboo. The main thing for the Japanese is closeness to the nature of nature, the opportunity to concentrate on their inner world, contemplating beautiful landscapes.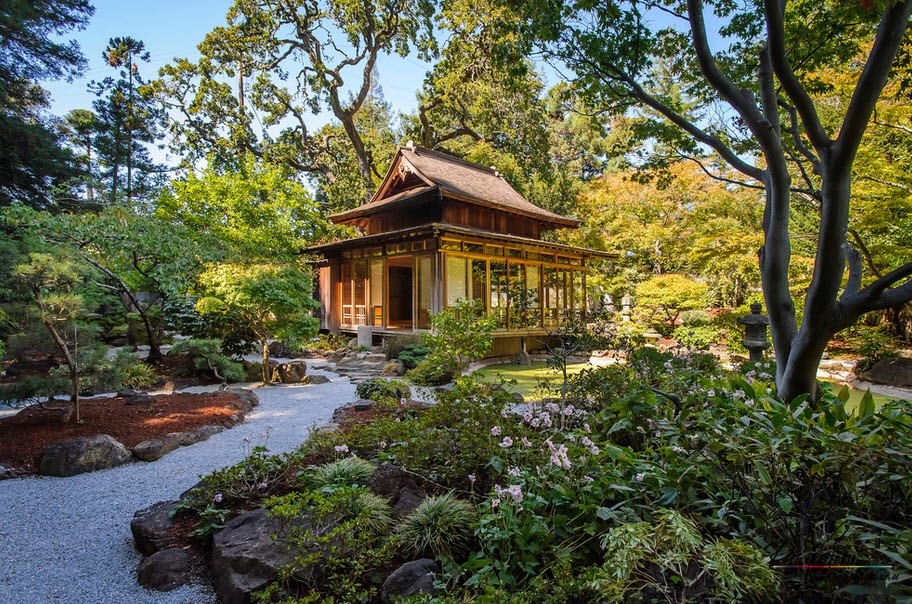 Japanese garden
A special attention in the creation of dwellings in Japan is paid to the landscape. Stones and water acquire a peculiar philosophical significance in it. Garden of stones – this is the name of the garden and park areas in the Japanese style. The basis of such a garden is made up of compositions of raw stones of various sizes, structures, shades. Water, a symbol of purification and protection from evil spirits, is an essential attribute of a Japanese garden. The reservoir can be built in the form of a pond or mini-waterfall.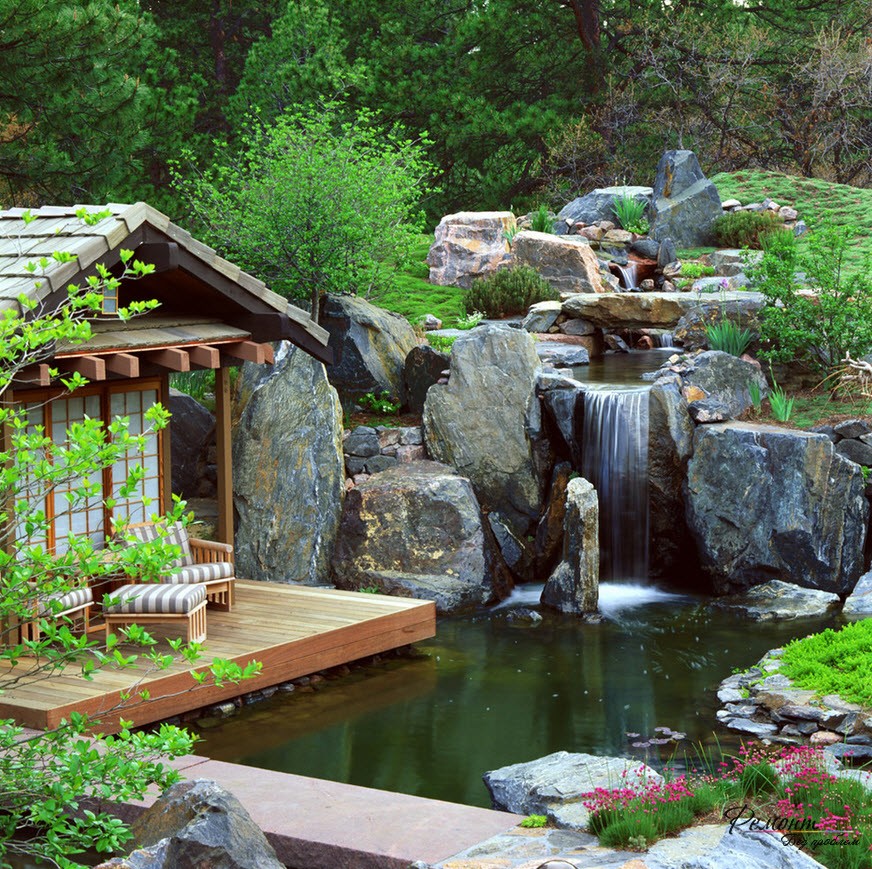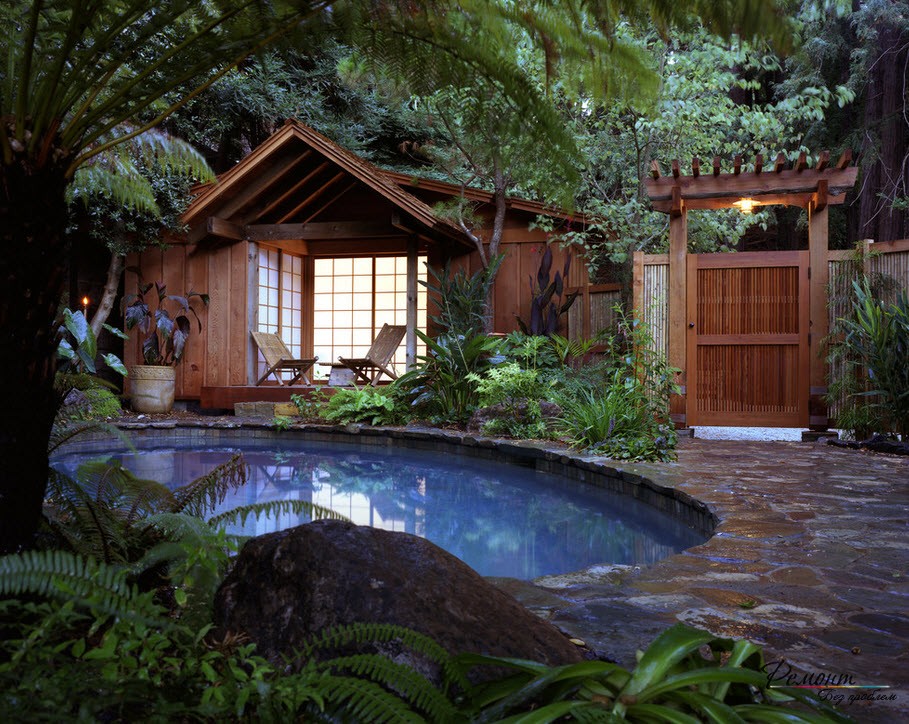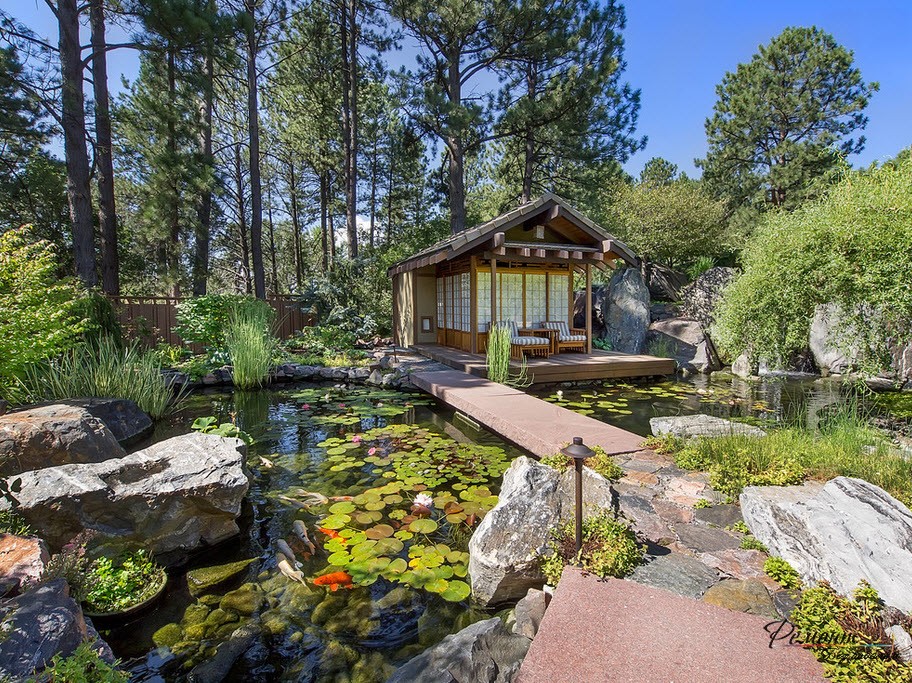 The garden gate is a kind of accent of such a mini-park. They must be light, carved, letting in light, and with it the philosophical power of nature. The most acceptable option for a Japanese gate is a lattice wooden model: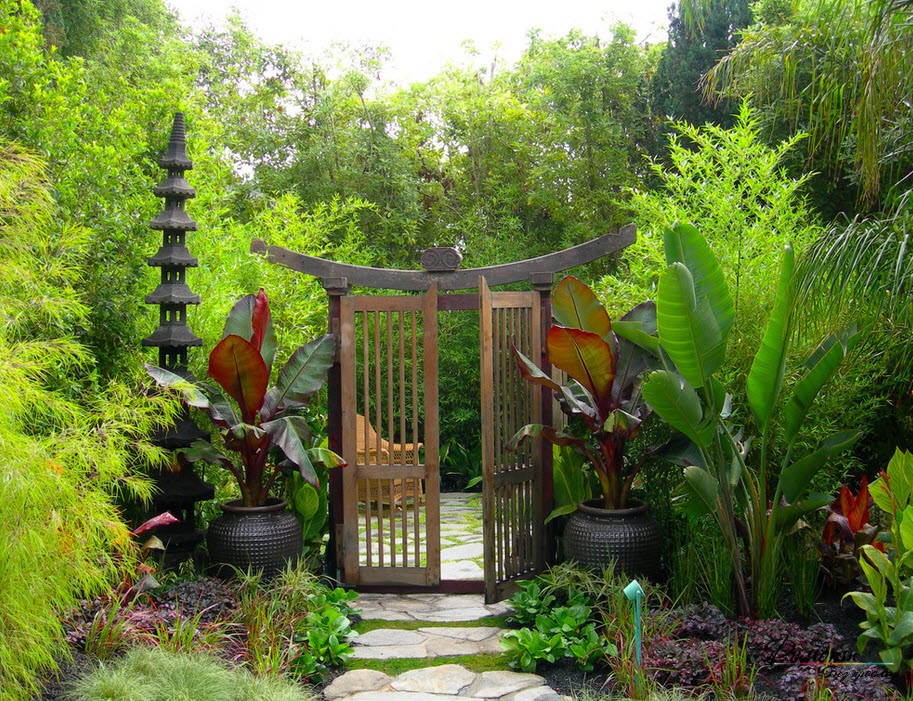 You can use bamboo fences to give your garden a Japanese-style feel. It is a very popular finishing building material in Japan and is distinguished by its durability. Such a fence will organically fit into a stylish landscape design.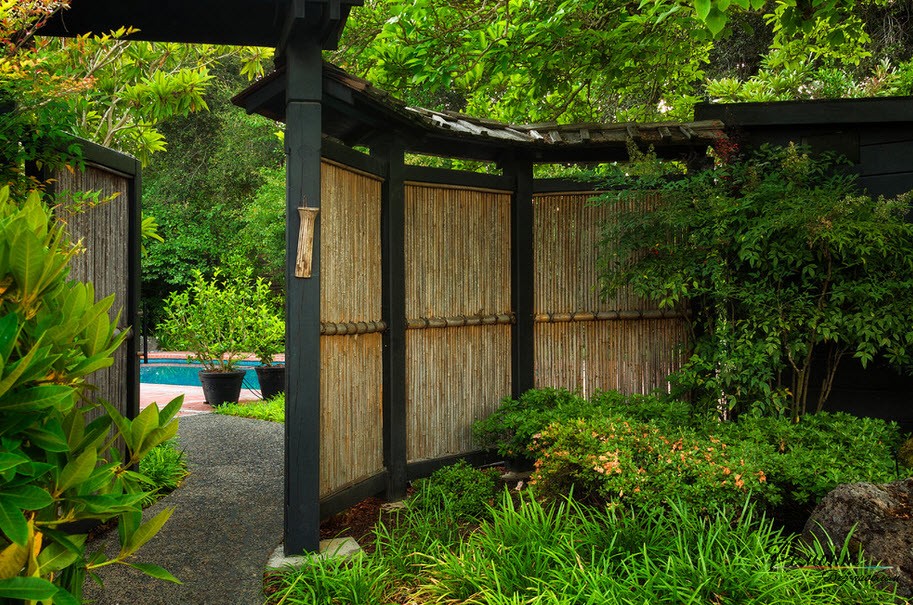 The famous Japanese gazebos are the original design of the recreation area. Such structures are a completely independent element of a suburban area. Around such a gazebo, you can arrange a miniature Japanese garden with paths and bonsai trees: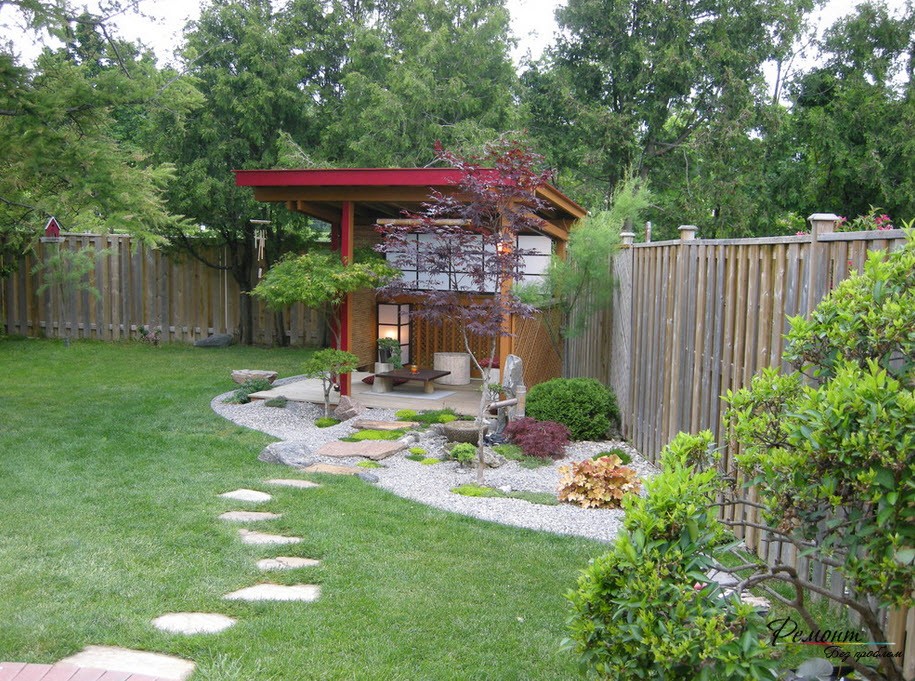 Garden paths are an important part of Japanese-style landscape design. To create them, you must use gravel or natural stones. Concrete, which has a natural earthy look, can be an excellent option for paving paths. In addition, it is a fairly durable and practical material. The concrete slabs need to be separated by a space with soil or gravel: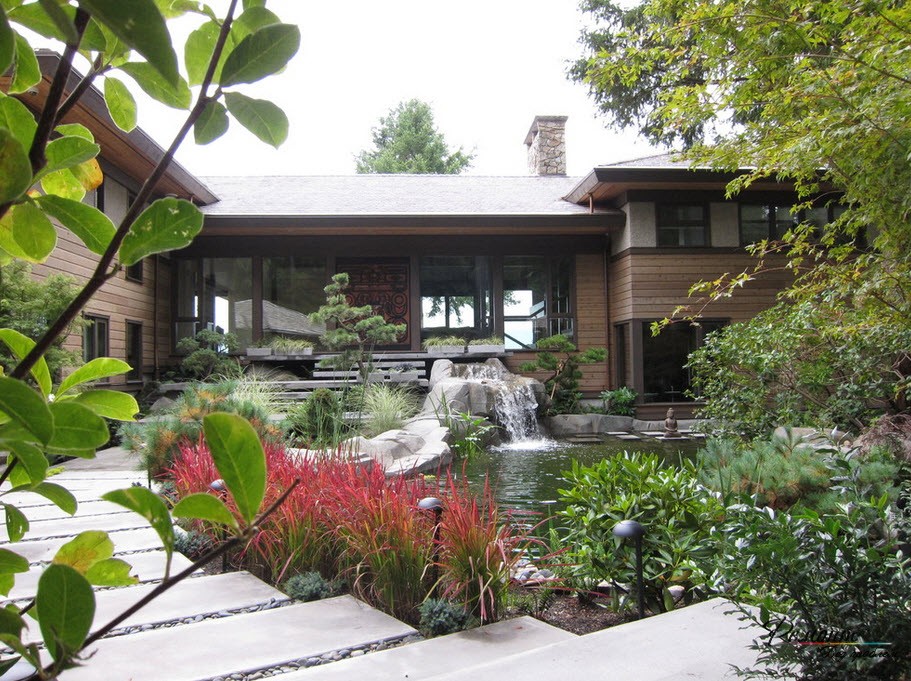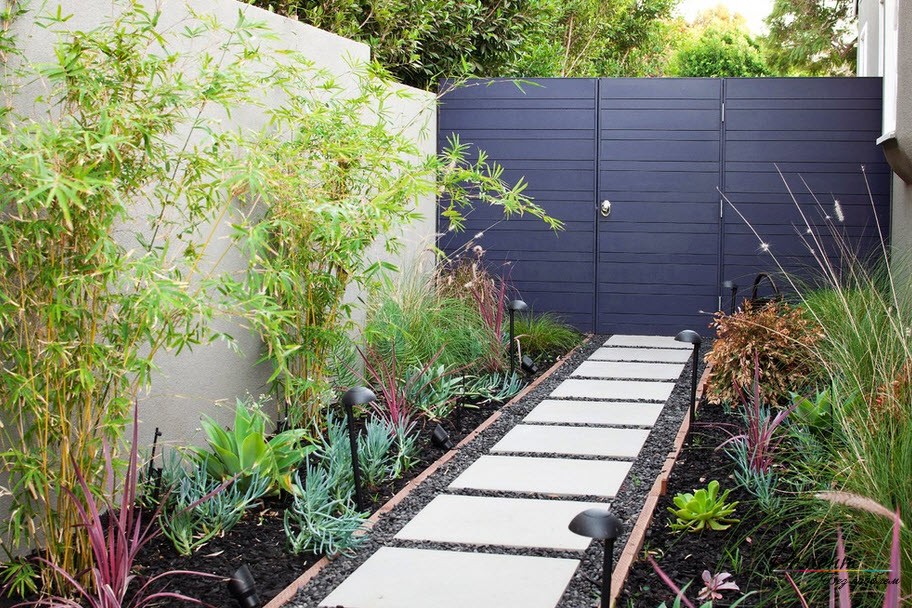 Japanese house
If you strictly follow the traditions of building Japanese houses, then for the construction you need to create a frame of wooden rafters and supports covered with a pitched roof: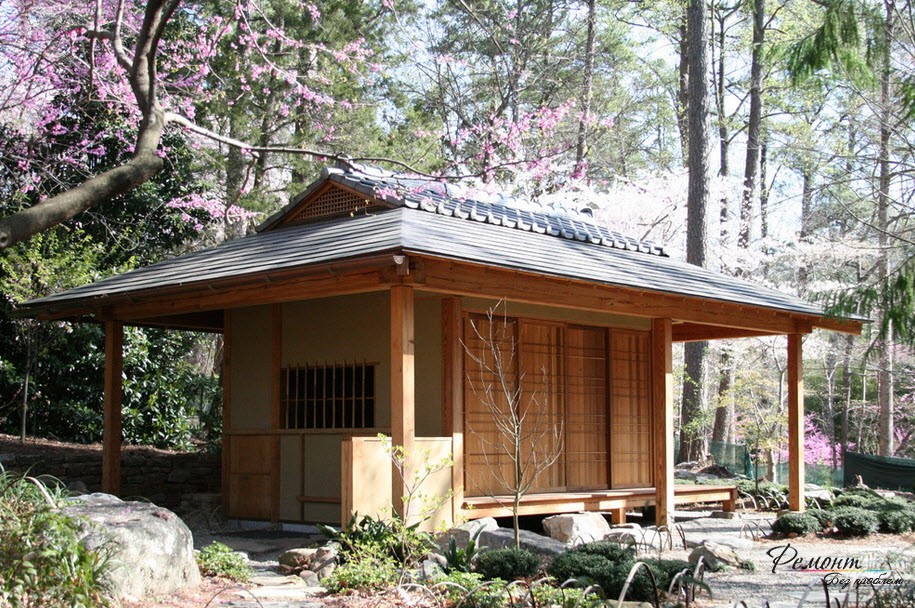 In front of the entrance to the house, you can equip a terrace with a wooden deck. Usually, part of such an extension is in the open air, and part is under a canopy: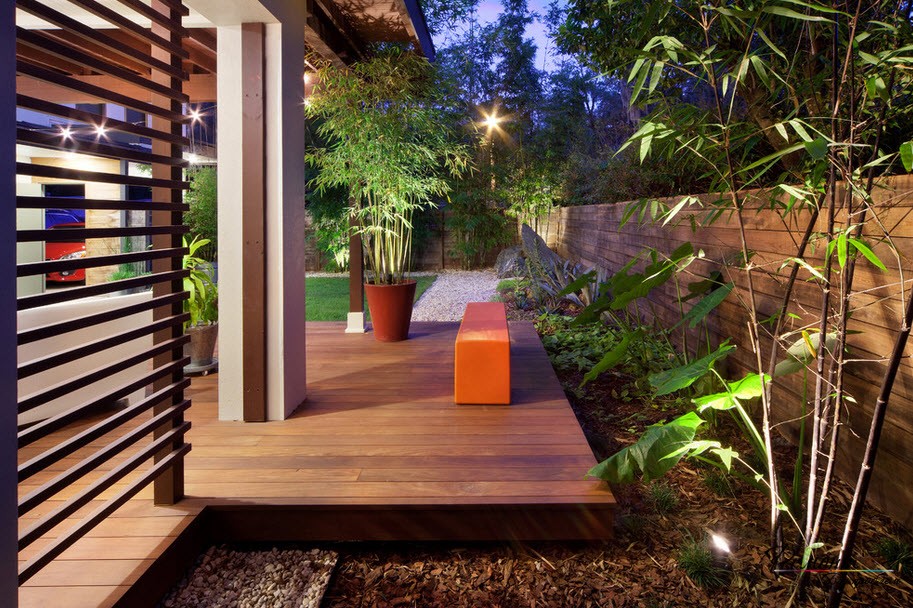 Wooden buildings are short-lived, therefore, in modern conditions, the most practical solution would be to build a house with individual stylized elements of the decor of Japanese houses. So, a completely European building can be supplemented with some details in this oriental style: finishing materials in the appropriate color scheme, a miniature rock garden or sliding doors: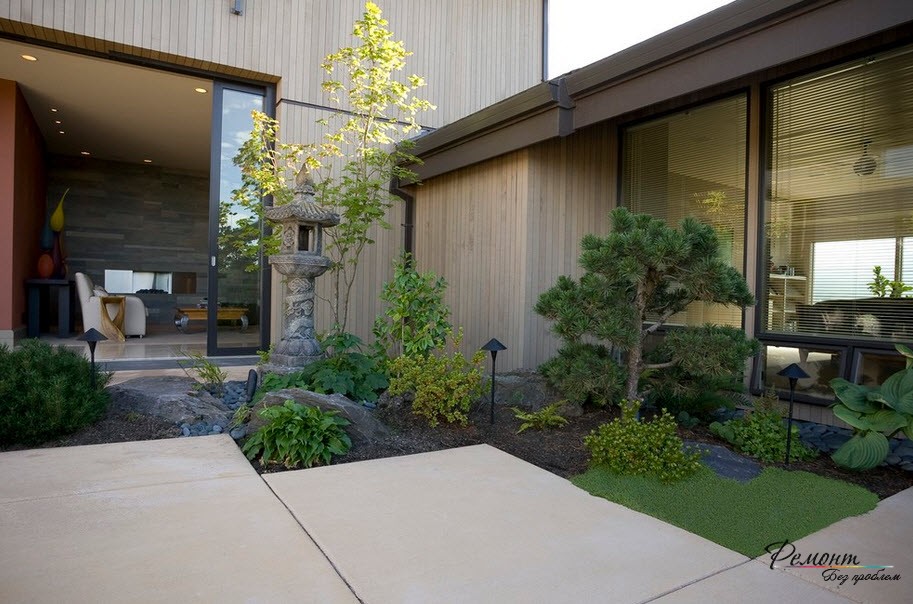 A small terrace can be decorated in a Japanese style using container landscaping with dwarf pines, bamboo, or other upright plants: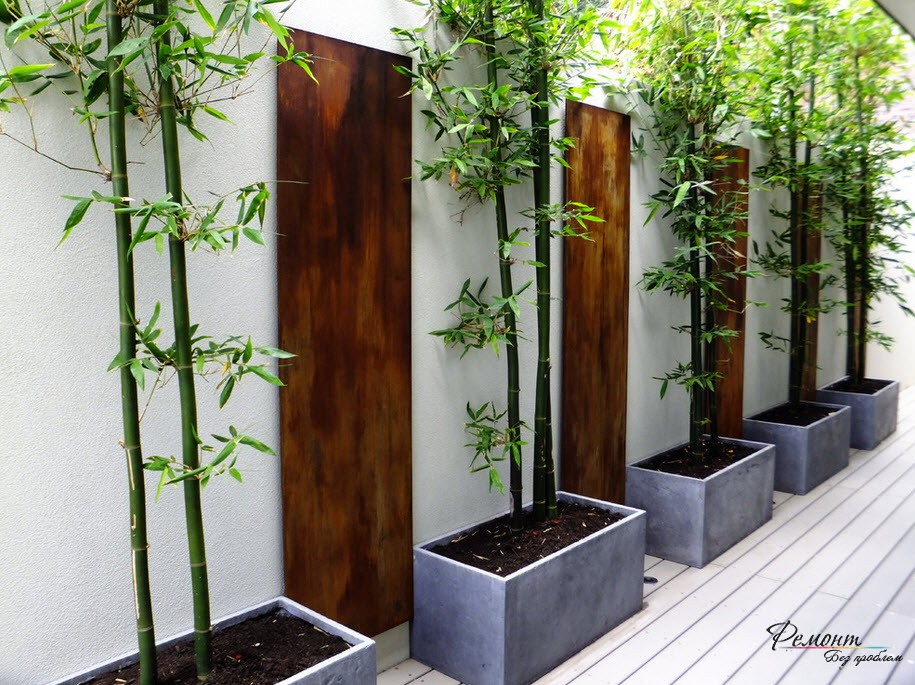 Interior in the style of the country of the rising sun
For the interior decoration of a home in the spirit of Japan, it is important to observe the principle of free space. There should be no unnecessary items: they distract from focusing on important thoughts.
The main thing in the interior of the Japanese style is the sliding partition doors. They should be lightweight, match the colors of the entire room. Such doors should open up a magnificent landscape: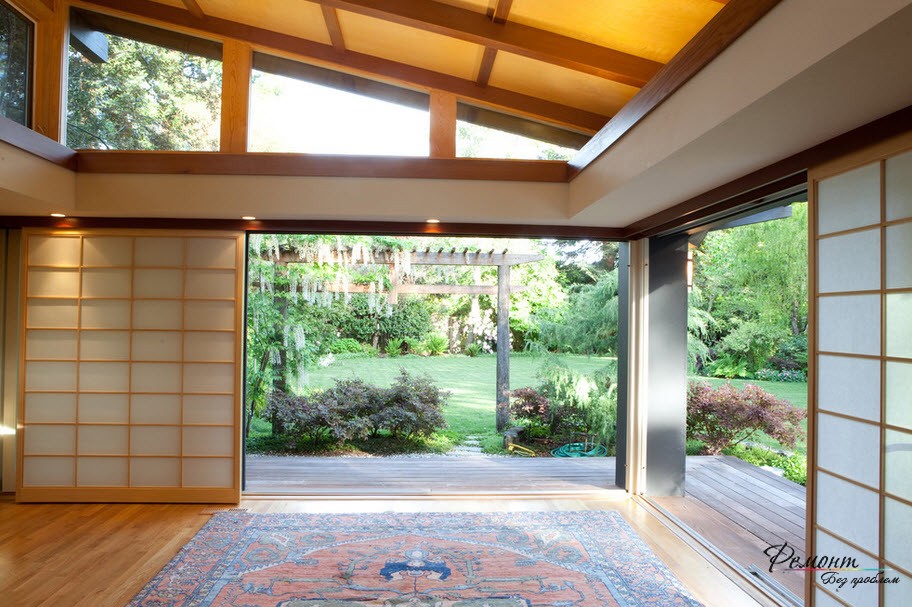 Or serve as a way to transform the interior space, creating different zones in one room: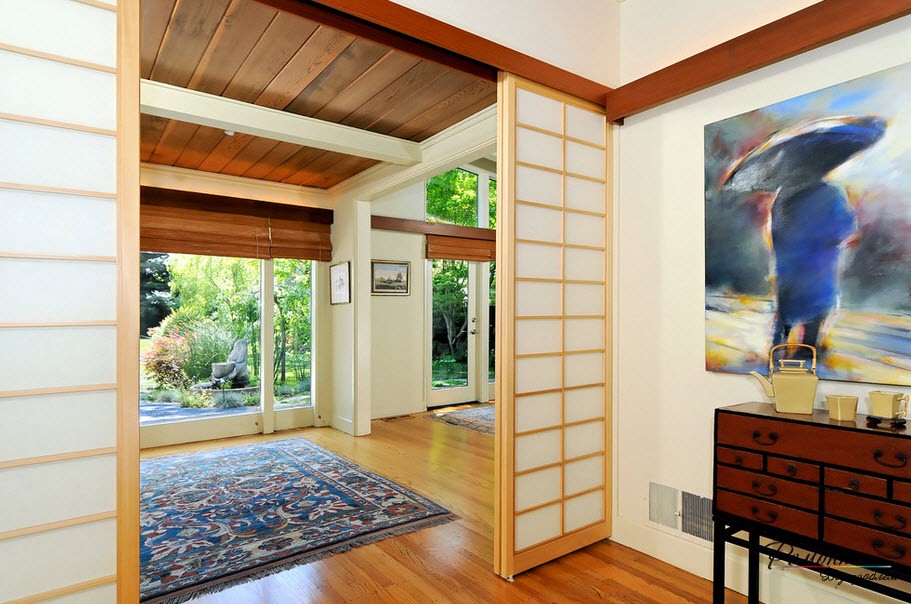 On the floor, you can use mats or a special covering that imitates straw rugs. A few decorations in bright colors will add a special charm to such a room. This can be a painting, carpet or soft pillows: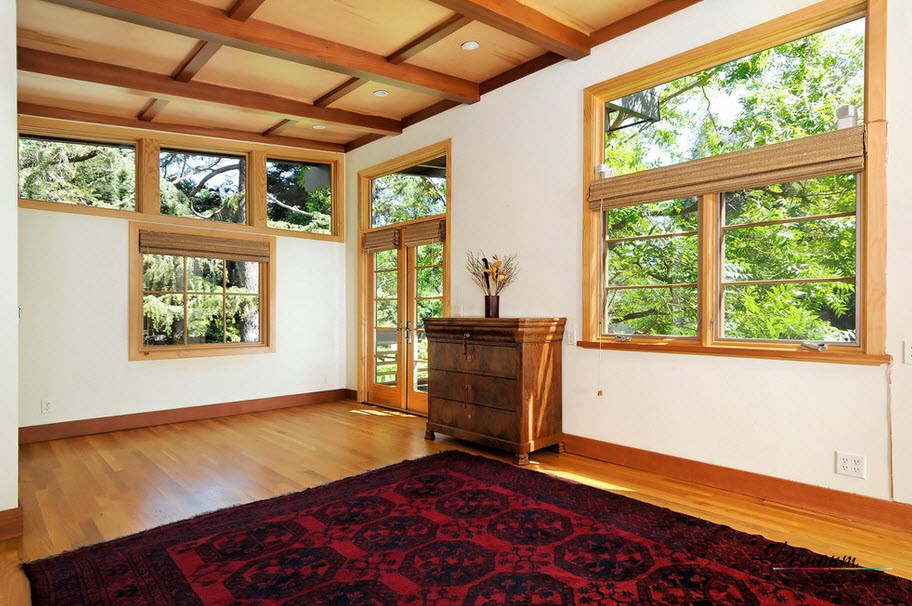 Of the few furniture in a classic Japanese dwelling, only small tables are present. To give the room a special Japanese-style atmosphere, you can use light wood furniture and Japanese curtains: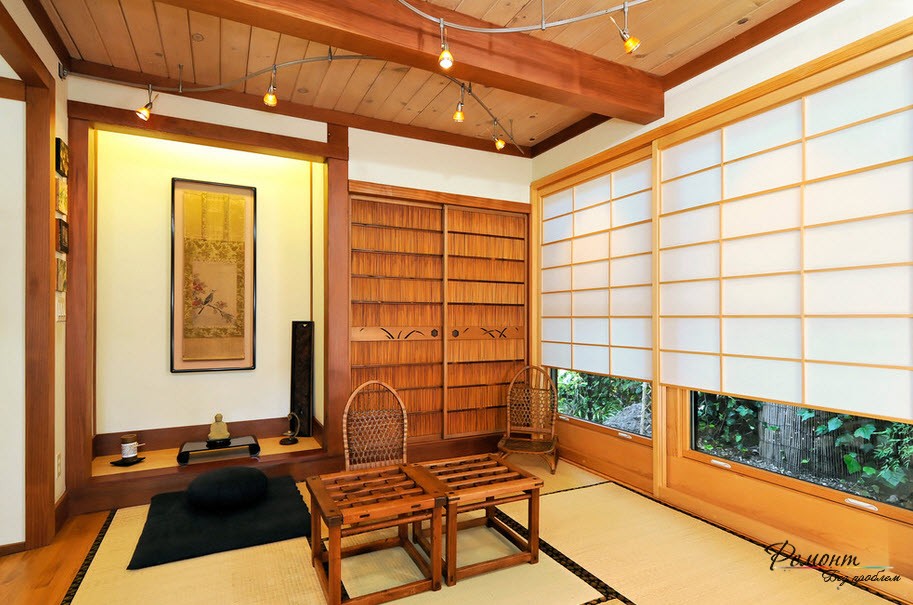 For Japanese-style decor, general characteristics should be highlighted:
the grace and beauty of a few decorative elements is emphasized;

natural materials are used for decoration: silk, bamboo, rice paper, stone;

predominance of dim colors of natural shades of milky, white, vanilla and beige with a contrasting combination of black or dark brown.
Japanese style is restraint, simple and strict forms, noble materials and an inseparable connection with nature.