A strict wooden parallelepiped made of wood, with windows and doors cut into it – this is how a mobile home-carriage with a trailer looks like, the owners of which love to travel, but do not want to depend on the whims of the hotel business. Comfort, coziness, mobility – that's "three whales", on which the foundation of this family home is based. Outside, the house is finished with clapboard, the only decoration is the windows and glass door, enclosed in dark brown frames.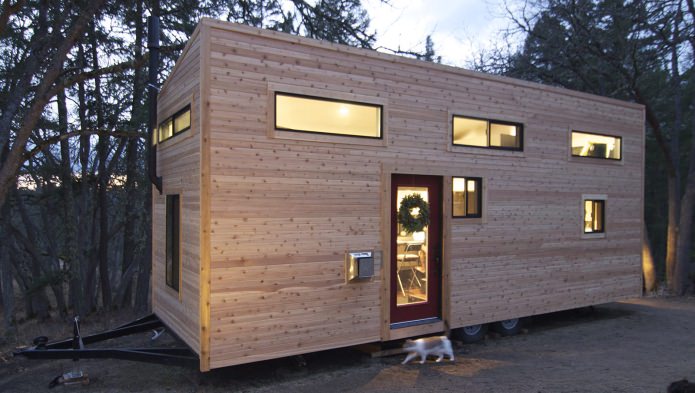 The interior of the RV is very discreet and expressive at the same time. It accommodates everything that is necessary for modern living – a kitchen, a dining room, a bedroom, and a recreation area. There is even a guest bedroom, as the hosts are welcoming and enjoy welcoming friends in their home..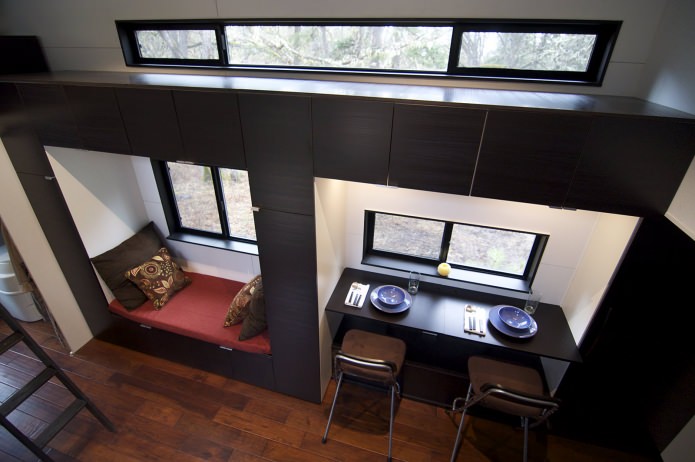 This mobile home wagon with a trailer can serve as a reference not only for decorating a trailer, but also if you want to build a small home on a regular foundation – for example, as a guest house. Everything is thought out to the smallest detail: in height it is divided into two "floors", lower – for common areas, upper – for sleeping places.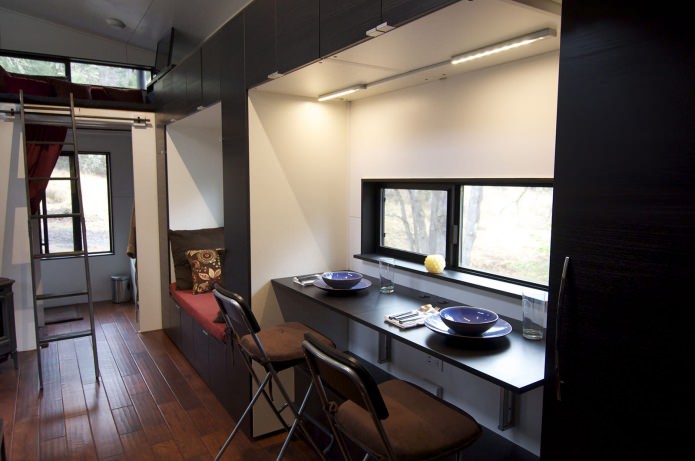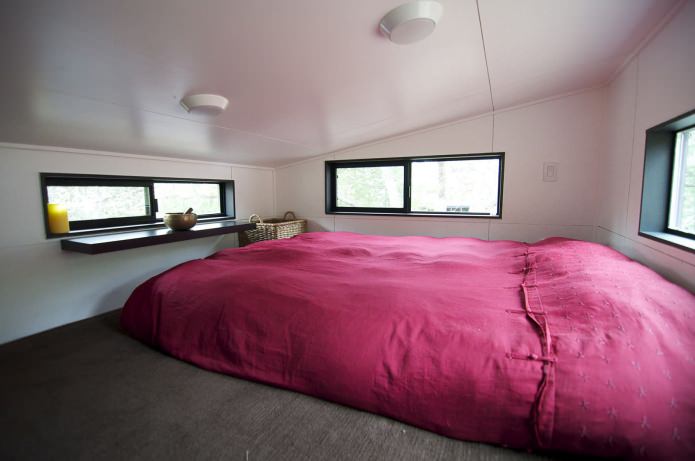 The interior of the mobile home is designed in a discreet light gray color, complemented by the color of dark wood, from which almost all internal structures are made. The living room on the first floor has "fireplace" – the stove, which heats the room, and allows you to admire the living fire through the glass, sitting opposite on a small cozy sofa by the window. It is arranged under one of the windows, and under the other, next door, there is a table and chairs for the dining area. They can fold to free up space.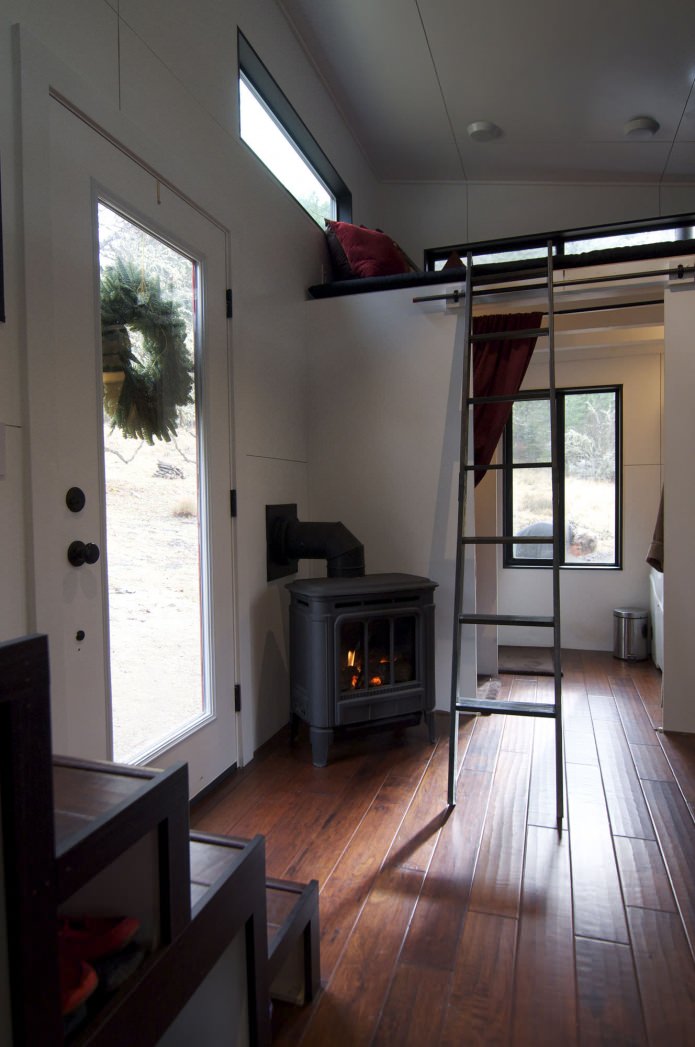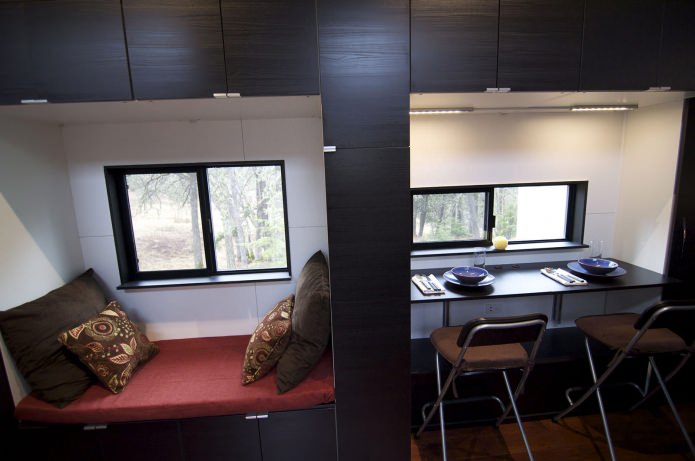 In a mobile home-wagon with a trailer, there are no ordinary partitions, instead of them there are wardrobes and lockers used for storing things. Above the recreation area is a guest bed. Here you can watch TV, relax and unwind alone.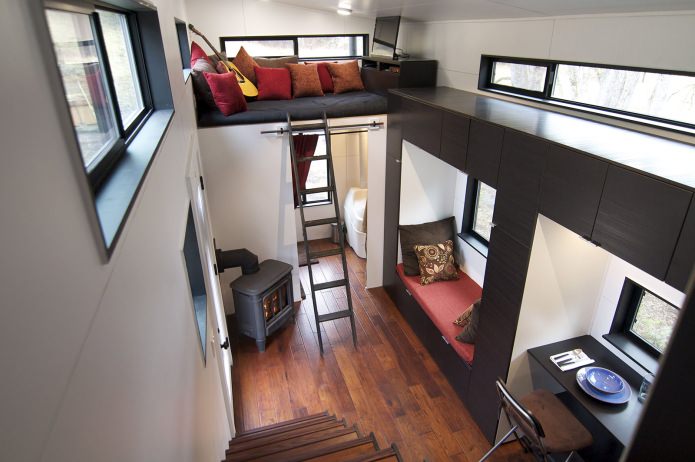 Master bedroom – above the kitchen, the steps leading to it also serve as a dressing room.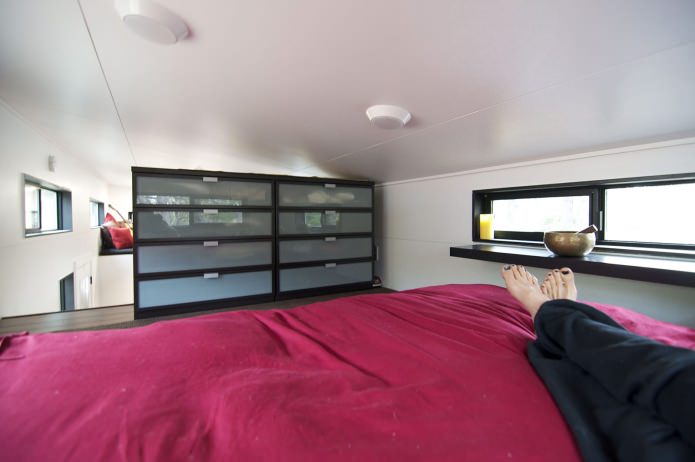 Much attention in the interior of the mobile home is given to the kitchen. Not only is there absolutely everything you need for cooking, you won't find a refrigerator of this size in every kitchen! Everything is explained simply – with a nomadic lifestyle, you have to carry a lot of products with you, so you need a place to store supplies.
Kitchen decoration – MDF, which allows you to save money, but the countertop is made of artificial stone, not cheap, but durable and practical material.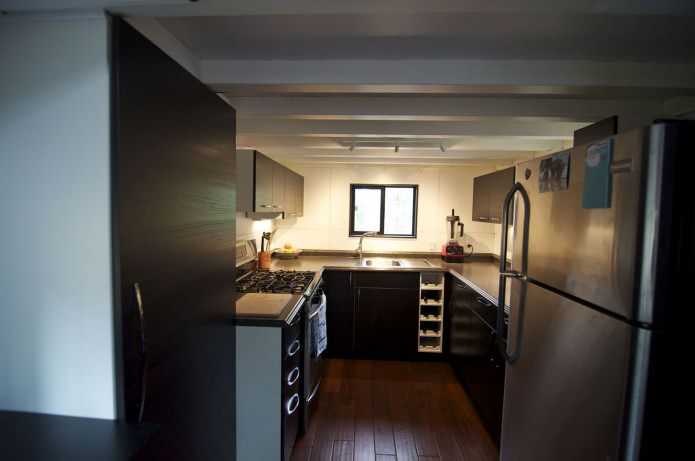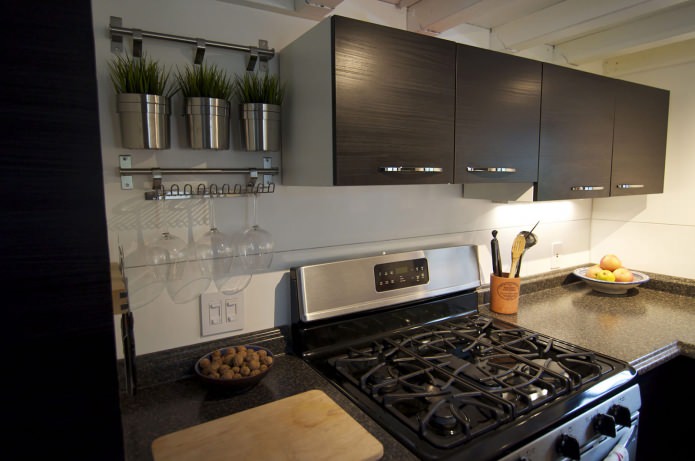 The mobile home-wagon with a trailer has a dry closet with a hood, a shower and a washbasin – they are separated from the main room by a compartment door.